Our members list new acquisitions and recently cataloged items almost every day of the year. Below, you'll find a few highlights from these recent additions...
An Examen Of Witches [Discours Des Sorciers]
by BOGUET, HENRY. ASHWIN, E. ALLEN (TRANSLATION). SUMMERS, MONTAGUE (EDITOR)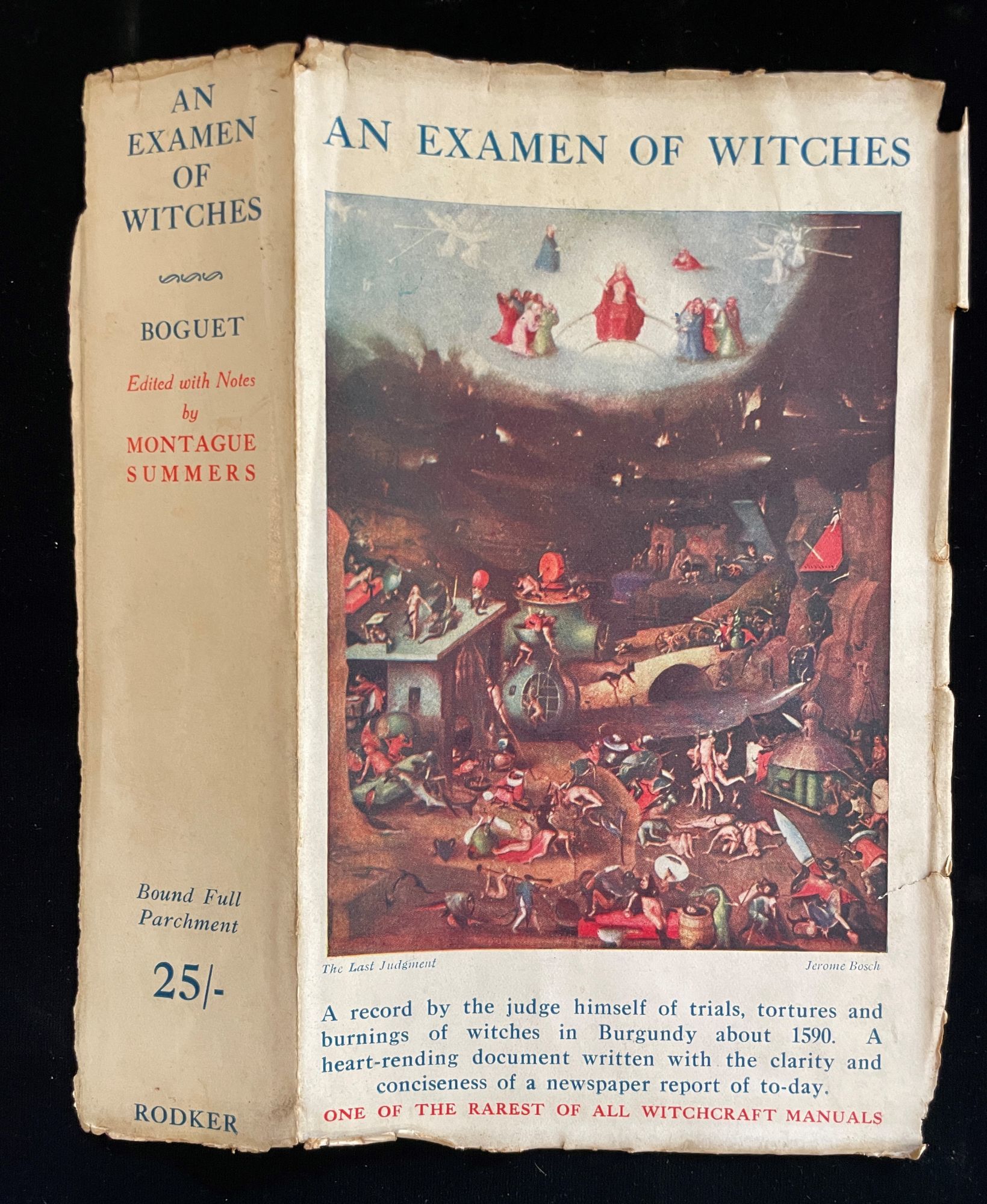 (London): John Rodker, 1929. 1st Edition Thus, Limited. Hardcover. Near Fine/Poor. Limited edition, this an un-numbered copy of 1275, "bound full parchment" as stated on dustjacket spine. 8vo, li + 328. Green linen on the spine is browned. Two ownership signatures on front pastedown, one 1934, the other 1959. Only the spine and the front panel remain of the original dustjacket, the front panel a pictorial of The Last Judgment by Jerome Bosch. Internally a near fine copy.
Offered by Johnnycake Books.
by C.S. Forester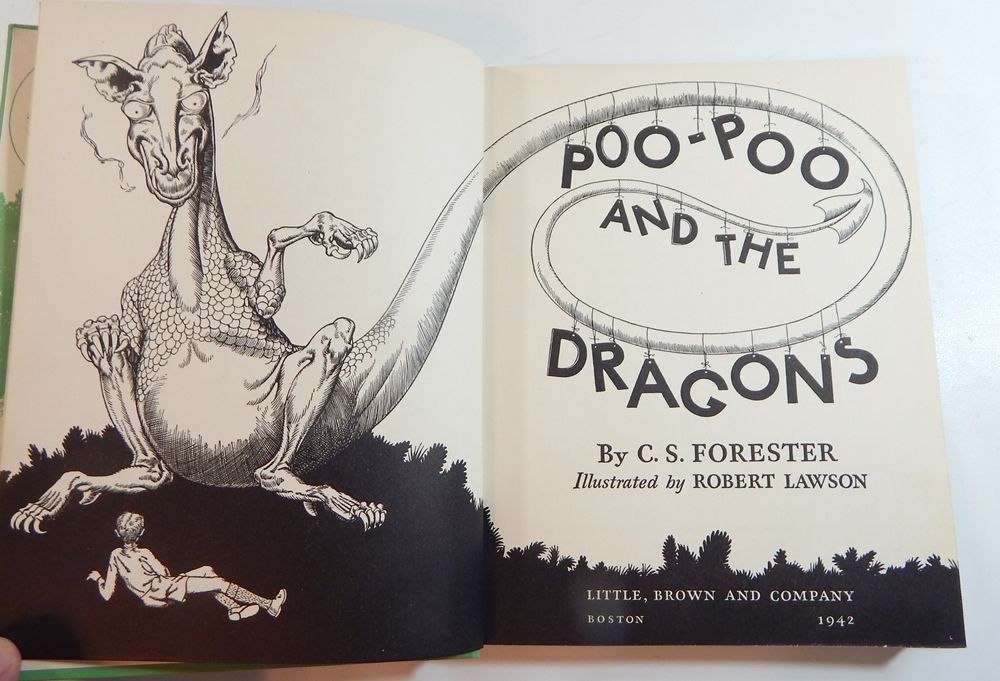 Boston: Little, Brown and Company, 1942. First US edition. Hardcover. Fine. 8vo. (144)pp. Green cloth printed in dark green on the spine and upper board. Illustrated endpapers. A fine, bright copy with only the barest trace of rubbing along the bottom edge. The dustwrapper is unclipped and is in near fine, bright condition with only a short closed marginal tear and creasing along the top.
Offered by Thorn Books.
$1,000,000! PUBLIC LIBRARY OF KENTUCKY. FREE READING FOR ALL AND HALF A MILLION IN GIFTS!! [caption title]
Louisville: Stackhouse Print, 1872. Broadside, 20 x 5 1/4 inches. Minor foxing, several horizontal folds. Very good. A handsomely produced broadside advertising a lottery to raise money to pay for a magnificent Victorian building, recently purchased for $210,000, to house the Public Library of Kentucky, located in Louisville. The library promised to be "open and free to the gratuitous use and enjoyment of all citizens of every State in the union." The lottery consisted of 100,000 lottery tickets to be sold for the chance at one of 1000 prizes to be handed out at the Second Grand Gift Concert, on Saturday, September 28, 1872. The drawing for the tickets was handled by "blind children from 10 to 15 years of age." The engraved view shows the grand, three-story building flying a large American flag, and dozens of people arriving by foot, by horse and carriage, and by horse- drawn streetcar.
Offered by William Reese Company.
CALIFORNIA POLITICAL BUTTON COLLECTION
A collection of 1950s and '60s political buttons supporting causes and candidates ranging from the Vietnam anti-war movement to Ronald Reagan's campaign for the California governorship. This group consists of 56 unique metal pinback buttons, which are housed in a period cardboard box. Most of the buttons are coated paper with metal backing; some are union printed.

Several of the political pins relate directly to Northern California. For example, a button for the Free Speech F.S.M. is associated with the 1964-65 student protest at the University of California, Berkeley, the first mass act of civil disobedience on an American college campus in the 1960s.

The orange and black Viva Kennedy button in this collection is representative of clubs formed by Latinx supporters of John F. Kennedy during his 1968 presidential campaign. The Viva Kennedy clubs began in Texas as a forum for Mexican American veterans to rally support for equal rights, and eventually spread to swing states with large Latinx populations like Arizona and California. They also promoted increased voter registration and political organization for the Latinx community.

Another button in this collection advocates "No on Prop 14". The Proposition 14 in question is the proposed amendment to the California Constitution which, had it passed, would have effectively allowed housing discrimination. The initiative was intended to counteract the effects of the Rumford Fair Housing Act, which was passed by the California Legislature in 1963 to help end racial discrimination by property owners and landlords who refused to rent or sell their property to people based on ethnicity, religion, sex, marital status, physical handicap, or familial status. It was drafted by William Byron Rumford, the first African American from Northern California to serve in the state legislature.

Overall, the buttons are in very good condition.
Offered by johnson rare books & archives.
by Elizabeth Bishop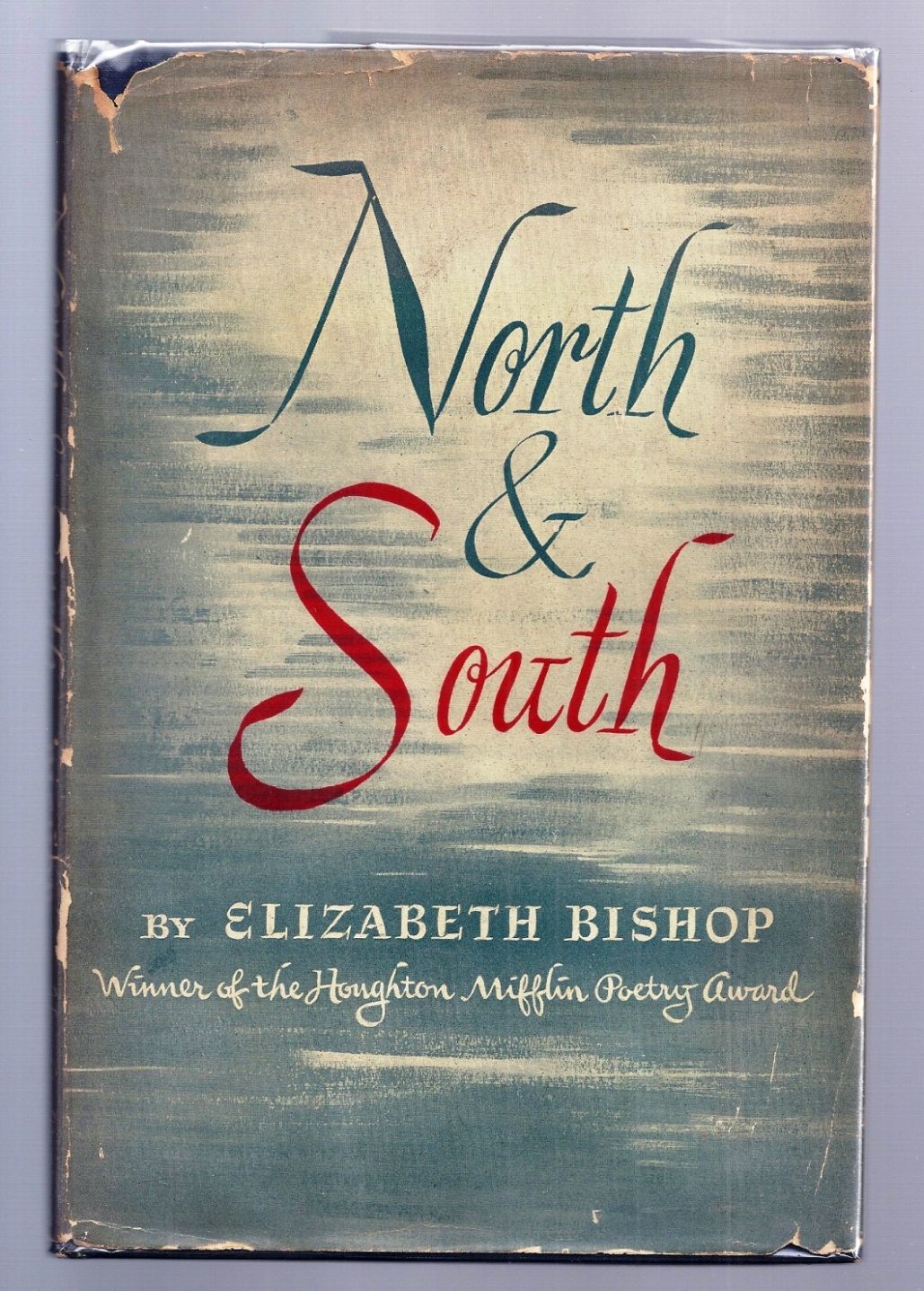 Boston: Houghton Mifflin Company, 1946. First Edition. Hardcover. Close to Fine in a Very Good dustwrapper with minor edgewear, a small chip on the front panel near the spine and a larger chip at the rear lower corner with a closed tear extending a few inches. Bishop's first book, of which only 1000 copies were printed. Winner of the Houghton Mifflin Poetry Award. Owner name of Marjorie Bailey neatly penned on the front endpaper, quite likely belonging to the noted professor of English and Dramatic Arts and Literature at Stanford University whose students included John Steinbeck and who is considered a great influence in Steinbeck's formative years.
Offered by Charles Agvent.
THE ADVENTURES OF BORBEE AND THE WISP
by UPTON, FLORENCE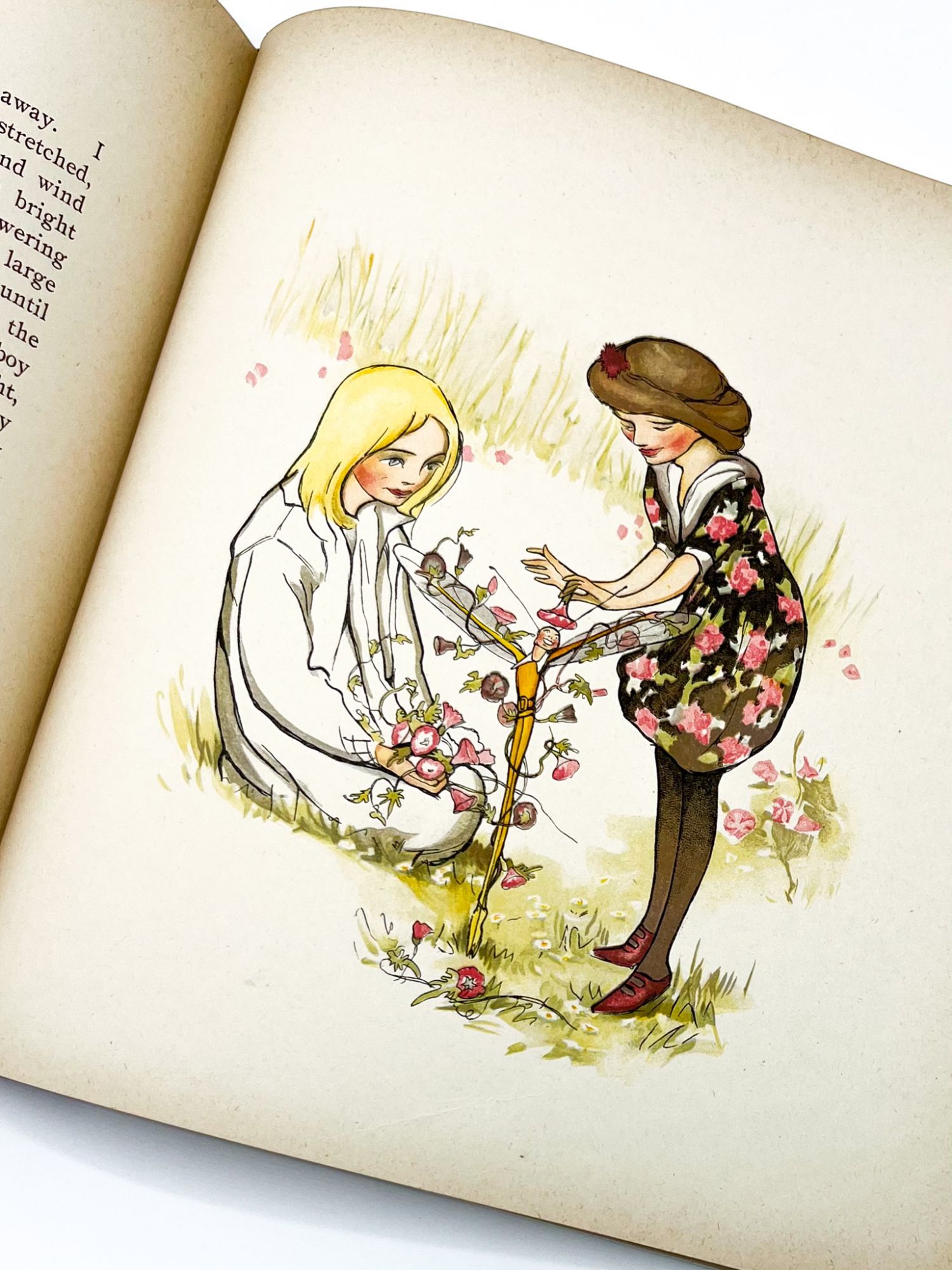 London: Longmans, Green & Co, 1908. First printing. Very good plus.. First edition of this beautifully illustrated Edwardian fantasy of an "unsophisticated little boy" who sets out to rescue a Princess on orders from a fairy. 9.75'' x 10''. Original red cloth spine with pictorial boards. Decorative endpapers. Illustrated throughout with full-page chromolithographs and additional line drawings in-text. Unpaginated. Some rubbing and wear to boards. Light soil to interior.
Offered by Type Punch Matrix.
by KLARMAN, SETH A.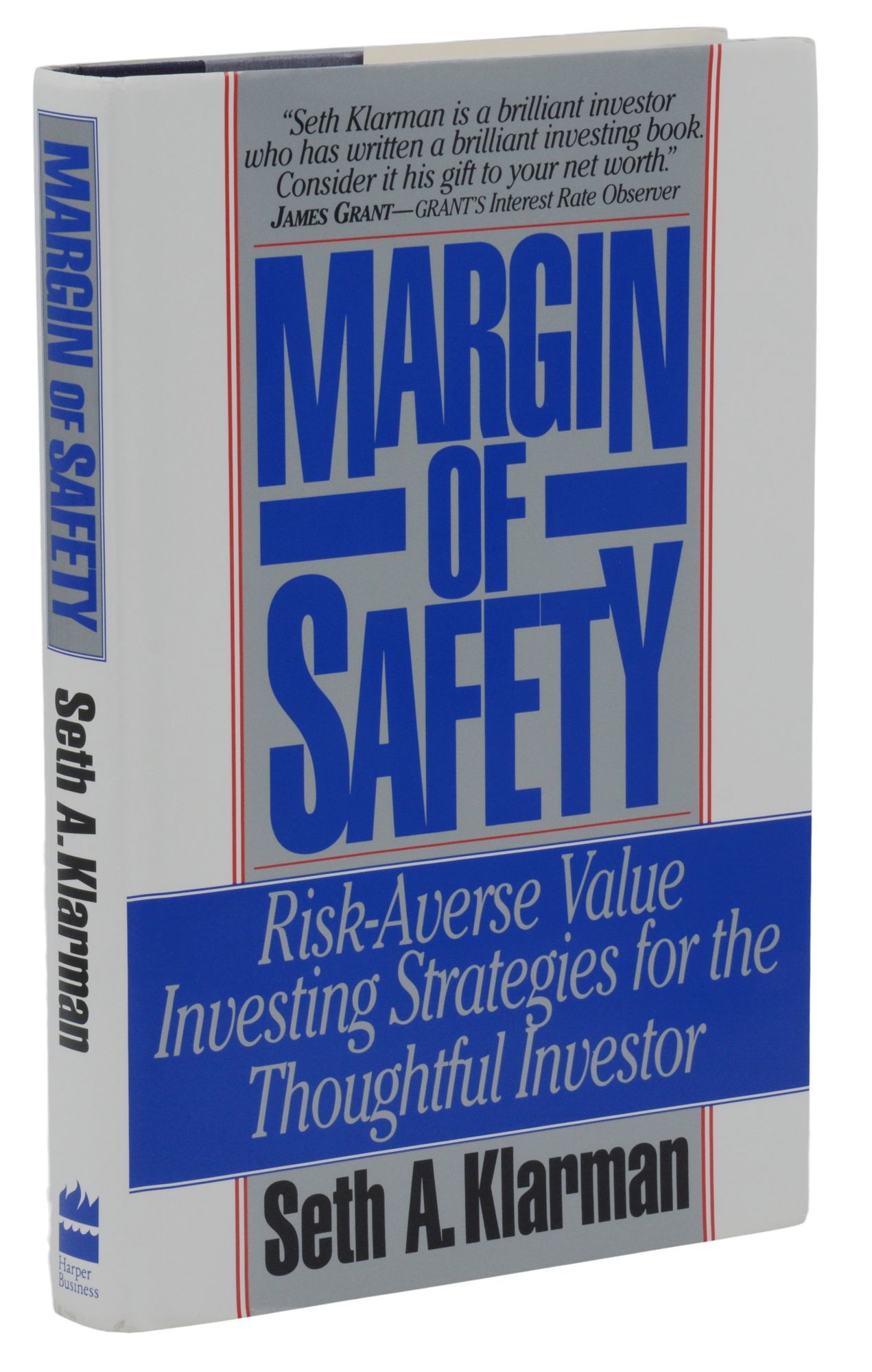 New York: HarperBusiness, 1991. Near Fine/Near Fine. First edition, second printing. Bound in publisher's blue paper covered boards of cloth spine with silver lettering. Near Fine with uneven sunning to bottom edge of front board, several preliminary pages are lightly creased. In a Near Fine unclipped dust jacket with light shelf wear. A nice copy.
Offered by Burnside Rare Books.
by Emily Brontë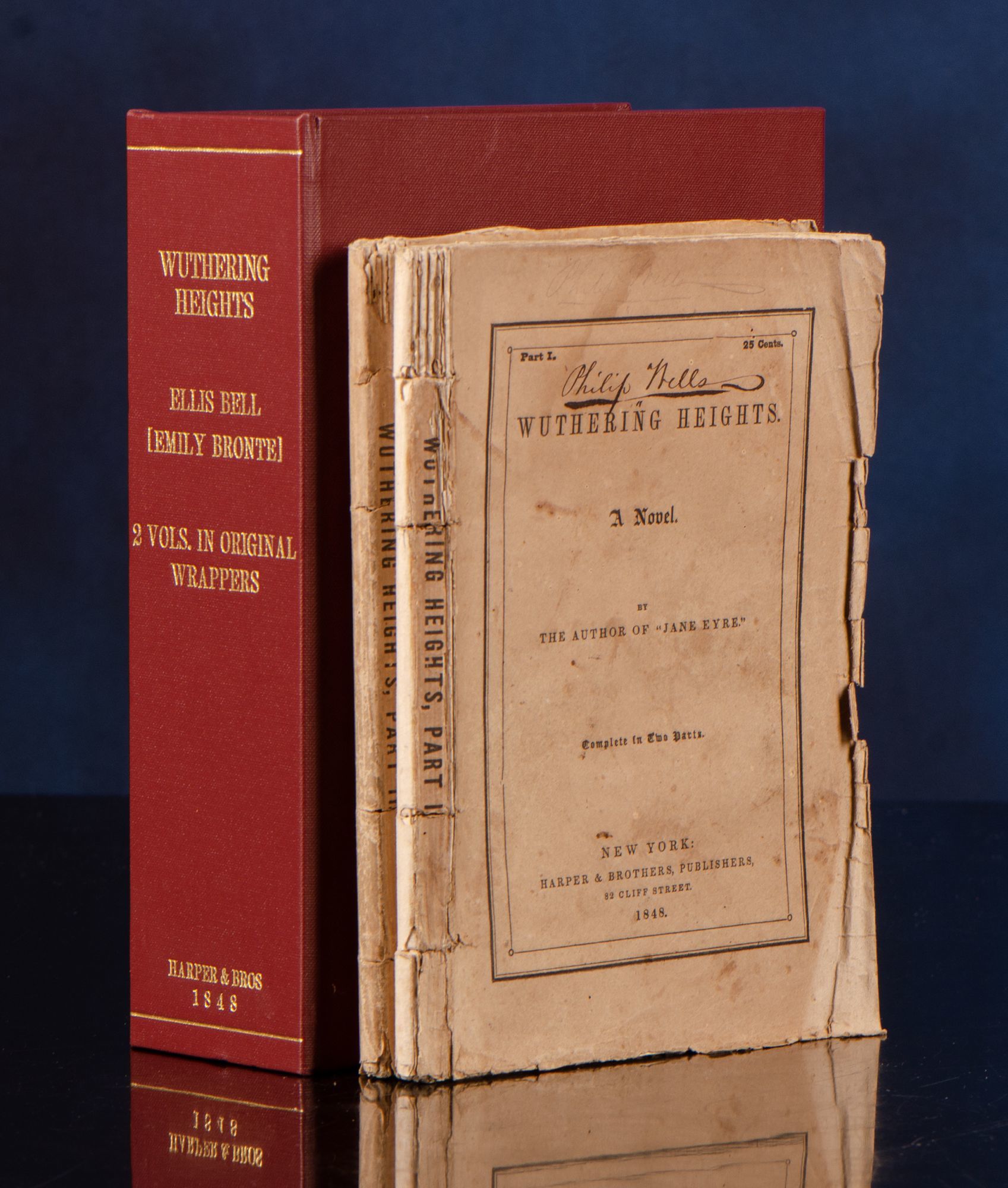 New York: Harper & Brothers, 1848. First American edition. Two octavo volumes (7 3/4 x 5 1/4 inches; 200 x 134 mm.) 144; 145-288 pp. All eight binders leaves present.

Publisher's printed buff paper wrappers with advertisements on the rear covers. Rear wrapper of part I missing. Rear wrapper of part II with advertisements as called for by Smith. Some slight curling, chipping and creasing to wrapper edges. Spines cocked and slightly chipped, but retaining the majority of lettering on part I and all of the lettering on part II. Early ink signature of Philip Wells on both front wrappers. Housed in a felt lined maroon cloth clamshell case with a felt divider, spine lettered in gilt.

Some scattered foxing and staining, which is to be expected. First gathering of part I with damp-stain on the top inside margin. Some creasing/wear to edges of text block, again as expected.

An amazing survival - one hundred and seventy-five years old - aside from the missing rear wrapper of part I this is an exceptionally wonderful 'untouched and unsophisticated' copy complete with all eight of the binders blank leaves, of this tremendously scarce first American edition in wrappers.

"Unlike other novels, such as Shirley and Villette where publication in wrappers was deliberate, the publication of Wuthering Heights in paper covers appears to be a late and rather crude expedient since titlepages were not made for the parts (PartII does not have any preliminary leaves), and the text is arbitrarily halved, a complete sentence carrying over from the first part to the second, which commences with Signature G... Wuthering Heights was published simultaneously in paper covers (2 parts, 25c each) and in cloth (75c) on April 21, 1848." (Smith p. 74).

The first American edition of this famous novel was published simultaneously in one cloth volume and in two parts with paper wrappers, both incorrectly attributing authorship to Emily's sister Charlotte. After the success of Charlotte's Jane Eyre (published by Smith, Elder, and Co. in October of 1847), Thomas Newby, the unscrupulous London publisher Anne and Emily Brontë had paid to publish Agnes Grey and Wuthering Heights, suggested that all three novels were the work of the best-selling "Currer Bell," the author of Jane Eyre.
Offered by David Brass Rare Books.
by BECKETT, SAMUEL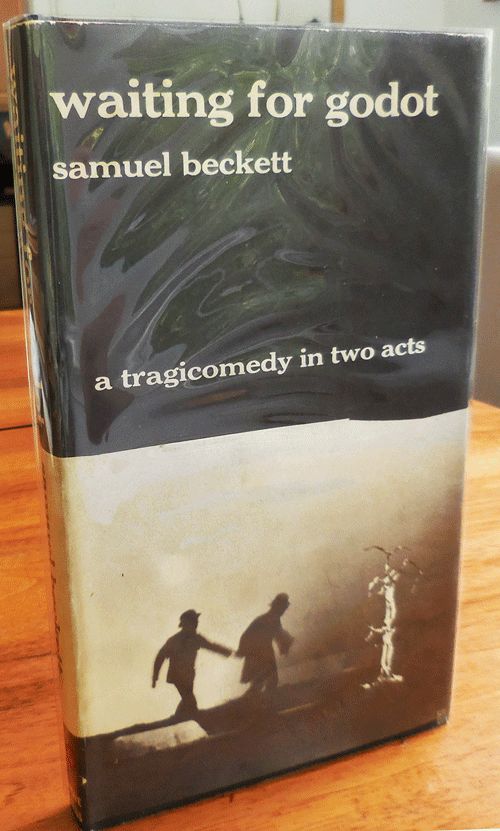 New York: Grove Press, 1954. First Edition. Cloth. Near Fine/Near Fine. Clothbound 8vo in dustwrapper. 60 pp. First edition in English of the author's best known work. A sparkling near fine copy in black cloth with brilliant spine lettering in near fine priced dustwrapper. One small chip at top of rear panel. Uncommon in this truly collectible condition. One of a handful of plays that define the 20th century dramatic experience. SIGNED by the author on the title page. Quite uncommon thus.
Offered by Derringer Books.
Fear and Loathing in Las Vegas
by THOMPSON, HUNTER S.; RALPH STEADMAN [ILLUSTRATIONS]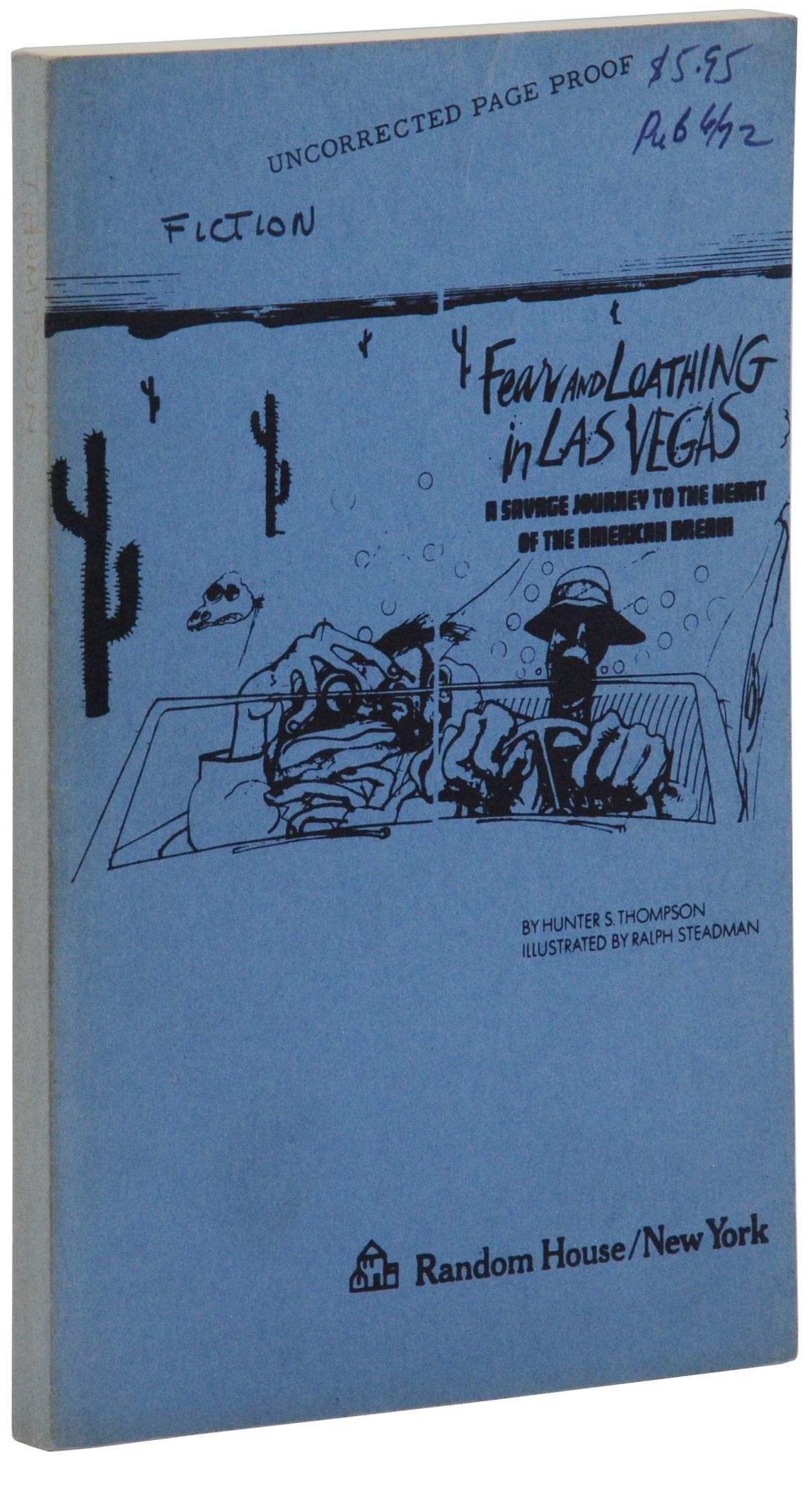 New York: Random House, 1971. First Edition. Near Fine. Advance uncorrected proof of the first edition. Bound in publisher's original blue wraps pritned in black labeled "Uncorrected Page Proof" on the top of the front cover. Near Fine with the author's last name handwritten in red ink to the spine and bottom textblock edge; fading to spine. Paperclip mark to top of front cover and the first several leaves are lightly bumped at the top corner. Contents lightly tanned and with a tiny spot to the textblock edge. The author's best-known and classic work, very uncommon in this format.
Offered by Burnside Rare Books.
THE HOBBIT OR THERE AND BACK AGAIN
by TOLKIEN, J. R. R.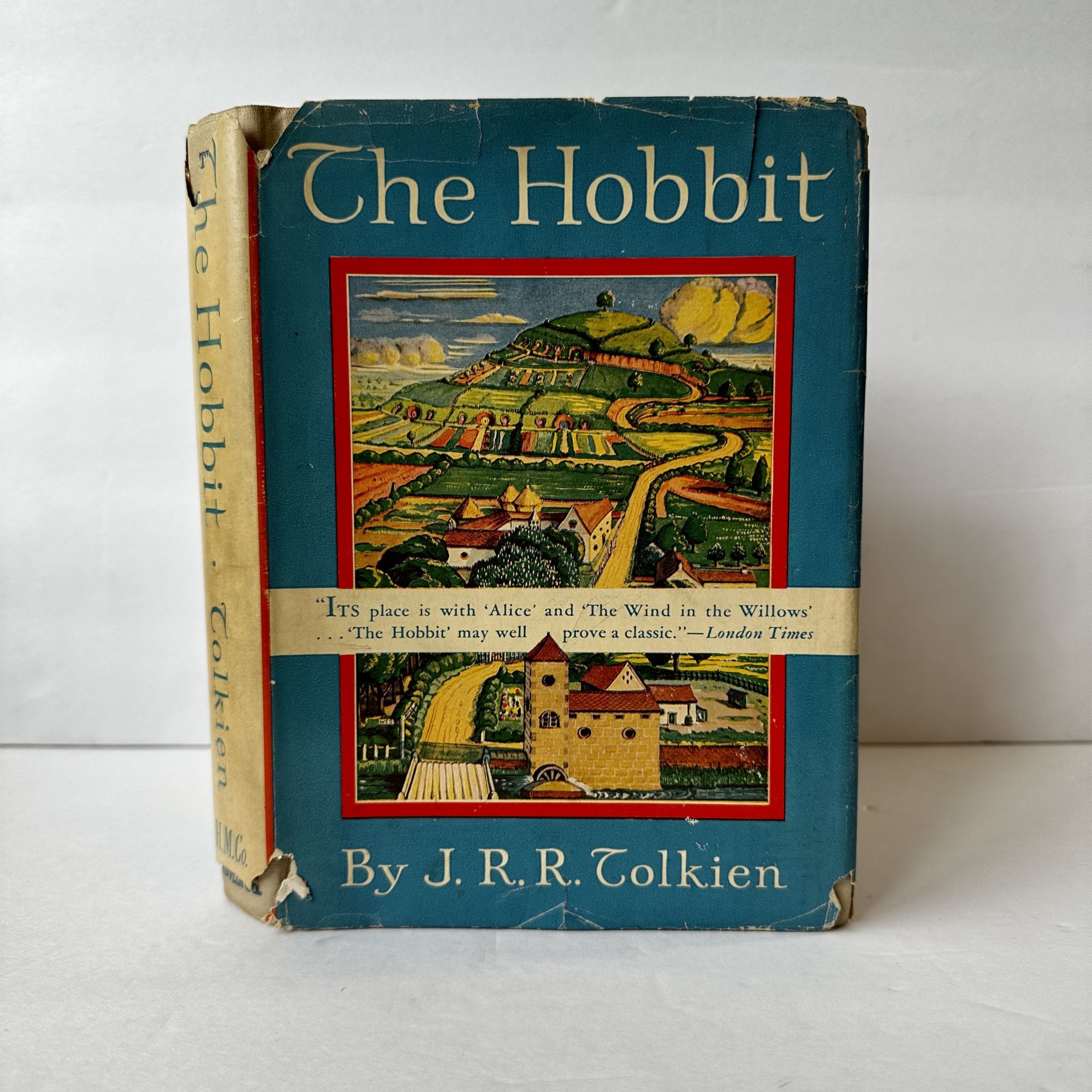 Boston and New York: Houghton Mifflin Company, 1938. First American Edition, First Printing, First Issue. Hardcover. Octavo, 310 pages; Near Fine/Very Good Minus; with publisher's unrestored jacket, beige spine with blue lettering, chips missing to head and tail of spine. Some wear and chipping along extremities, primarily to corners.
Original tan cloth, blue and red stamping, with bowing hobbit in red on the front board; Straight spine with no cocking. Very light bumping to corners.

First American Edition, First Printing, First Issue, with Chapter VII header reading VI and bowing hobbit logo on title page. With illustrated map endpapers and 13 illustrations, 4 in color.
Offered by Second Story Books.
by SALINGER, J.D.

(New York): Signet, 1953. Softcover. Fine. First paperback edition. Pages a little age-toned as usual, else a fine and bright unread copy.
Offered by Between the Covers Rare Books.
by BARRIE, J.M.; ATTWELL, MABEL LUCIE (ILLUSTRATIONS)
New York: Charles Scribner's Sons, 1921. First Edition. Hardcover. Very good. Attwell, Mabel Lucie. First U.S. edition with Attwell illustrations, quarto size, 193 pp. Sir James Matthew Barrie (1860-1937) wrote numerous novels and plays for both children and adults, but he is best known for "Peter Pan", a hugely successful play set in the magical world of Neverland; the play has been performed many times and has been adapted in films and literary works.

This volume is the first edition published in the United States with illustrations by Mabel Lucie Attwell (1879-1964); it would be reprinted several times and the true first is now somewhat scarce in the marketplace. During Attwell's career she would illustrate well over thirty books, in addition to posters, postcard and greeting cards. "Her pictures of chubby, winsome children enjoyed a tremendoud vogue in magazines and books for the young; and her [work]...continued to be incredibly popular through the thirties and into the forties" (n.b., quote from "The Dictionary of 20th Century British Book Illustrators" by Alan Horne).

DESCRIPTION: Bound in full green cloth over boards, the front board with a vigentte of Peter and Wendy beneath a tree with a house perched in its branches, two elf-like creatures and mushrooms at the ground at their feet, done in gilt, black, and light green with gilt lettering, gilt lettering on the spine, tissue-guarded frontis one of the twelve full-colour illustrations bound in throughout, title page with illustrated border, black-and-white in-text line drawing illustrations throughout; quarto size (9.75" by 7.5"), pagination: [i-ii] iii-viii, 1-185.

CONDITION: A solid very good copy, the boards clean other than a few light, stray marks, the corners with minimal rubbing, a strong, square text block, the interior is clean and bright, and entirely free of prior owner markings; the corners gently bumped, the cloth with light overall rubbing and a few small tears, both hinges starting (boards still firmly attached); a near fine interior in a good plus binding, overall a very good copy of this classic story.

CITATIONS: Baumgarten, Artist, p. 15; Horne, p. 79; note that the true first edition (with Attwell illustrations) has the date of "1921" on the title page, matching the date on the copyright page. Note also that this may be a subsequent early printing of the first edition (with Attwell illustrations) or a variant first printing, as Baumgarten calls for pictorial endpapers and this copy has plain endpapers.
Offered by Swan's Fine Books.
A Monograph of the Ramphastidae, or Family of Toucans
by John Gould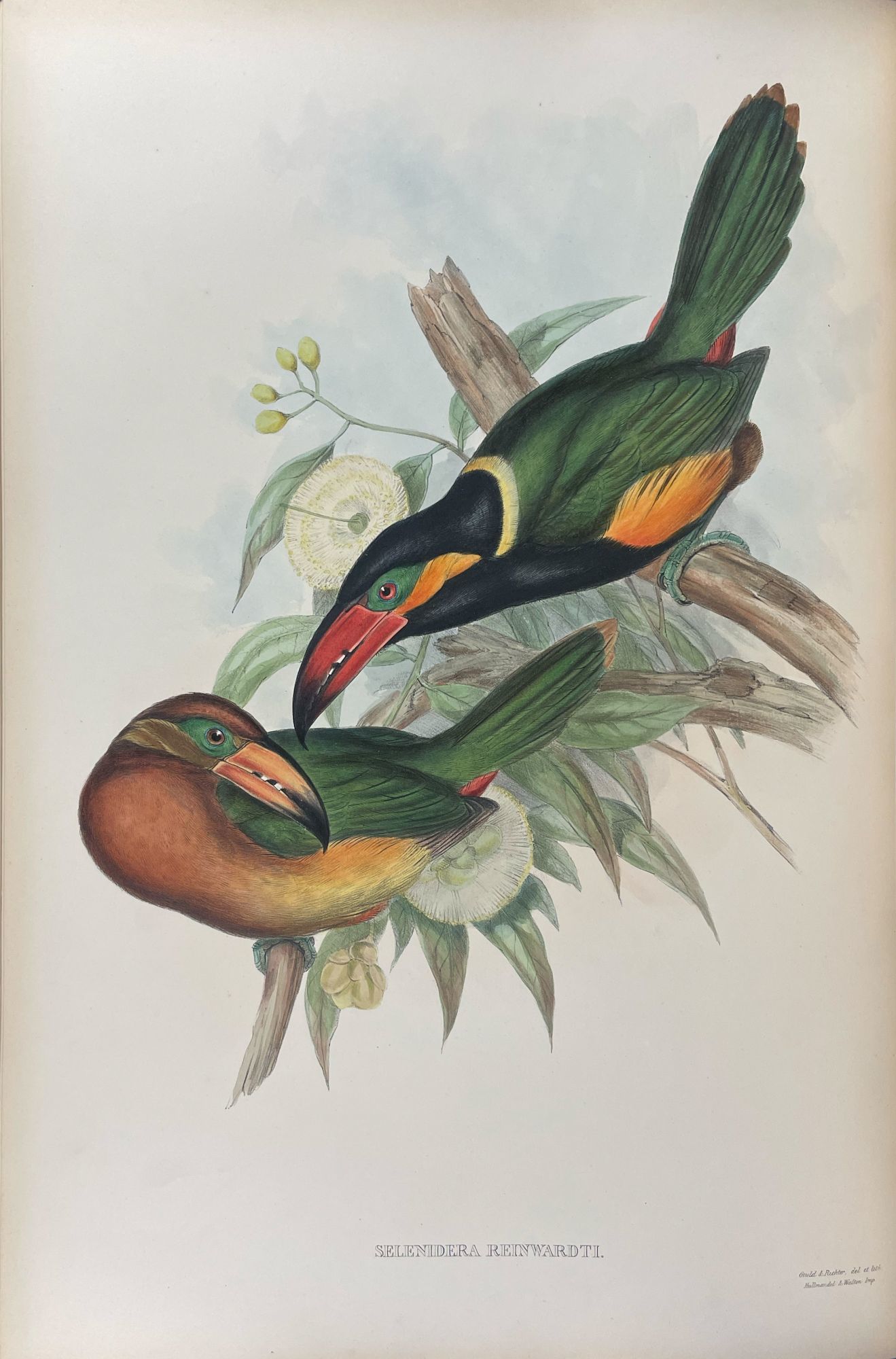 London: Taylor & Francis for the Author, 1854. Folio. (21 5/8 x 14 3/4 inches). 51 hand-coloured lithographic plates by Gould and Henry Constantine Richter, one uncolored lithographic plate by G. Scharf, all printed by Hullmandel & Walton. Publisher's full dark green morocco, covers elaborately tooled in blind and gilt.

A very fine copy of the second, revised and expanded, edition of Gould's first great ornithological monograph in the publisher's deluxe binding.

The chief glories of this work are the wonderful plates worked up by Richter from Gould's masterful sketches. The resulting images ably capture the vibrant colours and ready intelligence that many of these birds exhibit. The first edition of this work, published in 1834-1835, marked the first attempt to picture and describe the whole Toucan family. The range of these extraordinary birds is limited to Mexico, Central and South America and some of the West Indies. The first time a Toucan was described in print was by Gonzalo Fernandez de Oviedo y Valdes in 1526. The first use of the name 'Toucan' and the first illustration of the whole bird was in Andre Thevet's Singularitez de la France (Paris: 1555, pp.88-90). The family name Ramphastos as suggested by Linnaeus was taken from Aldrovandus. Gould considered the present edition as essentially a new work, both in terms of the number of new species described (51 plates compared to 33 in the first edition) and because of discoveries made in the Andes and Cordilleras, he proposed dividing the group into six genera rather than the previous two. The distinguished zoologist, Richard Owen, provided a specially written essay on the anatomy of the toucan, included here and accompanied by an uncoloured plate of details of the anatomical structures.
Offered by Donald A. Heald Rare Books.
Star Wars [Star Wars: Episode IV - A New Hope] (Original "I Saw Star Wars at Mann's Chinese Theatre" bumper sticker

Hollywood: Mann's Chinese Theatre, 1977. Vintage "I Saw Star Wars at Mann's Chinese Theatre" bumper sticker.

On May 25, 1977, without a traditional premiere, "Star Wars" opened in 32 theaters nationwide. According to J.W. Rinzler's 2007 book, "The Making of Star Wars: The Definitive Story Behind the Original Film," George Lucas was racing to finish the audio mix of the film for wide release on May 25, when he took a break to meet with his wife, Maria Lucas, at a Hamburger Hamlet, and saw a large crowd gathering in front of Mann's Chinese Theatre across the street. "So we got up when we were done, and I said, 'Let's go see what's going on out there.' We walked out the doors and I looked up at the marquee and said, 'Oh my God, it's 'Star Wars!' I forgot the film was going to be released today! Holy Moly!'"

Grauman's Chinese Theatre opened in 1927 with the premiere of Cecil B. DeMille's "The King of Kings," and has since been the home to countless premieres and three Academy Award ceremonies, as well as the 1977 launch of "Star Wars." In 1971 it was renamed Mann's Chinese Theatre and remained so until 2001, when it reverted to it's original name.

The film that started a multibillion dollar media empire (pun intended) which now includes ten additional live action films, animated shows, novels, comic books, video games, and countless tons of officially licensed merchandise, with no signs of slowing down. Winner of six Academy Awards, including Best Picture, Best Director, Best Original Screenplay, and Best Supporting Actor for Alec Guinness, and nominated for four more.

Set a long time ago in a galaxy far, far away, shot on location in California, Arizona, Mexico, Guatemala, Tunisia, and the UK

15 x 3.75 inches. Backing completely intact. Near Fine, with faint creasing at the bottom right corner. Bright and unfaded.
Offered by Royal Books.
Star Wars Punch-Out and Make-It Book
by STAR WARS; IB PENICK; PAGTRICIA WYNNE; CHARLOTTE STAUB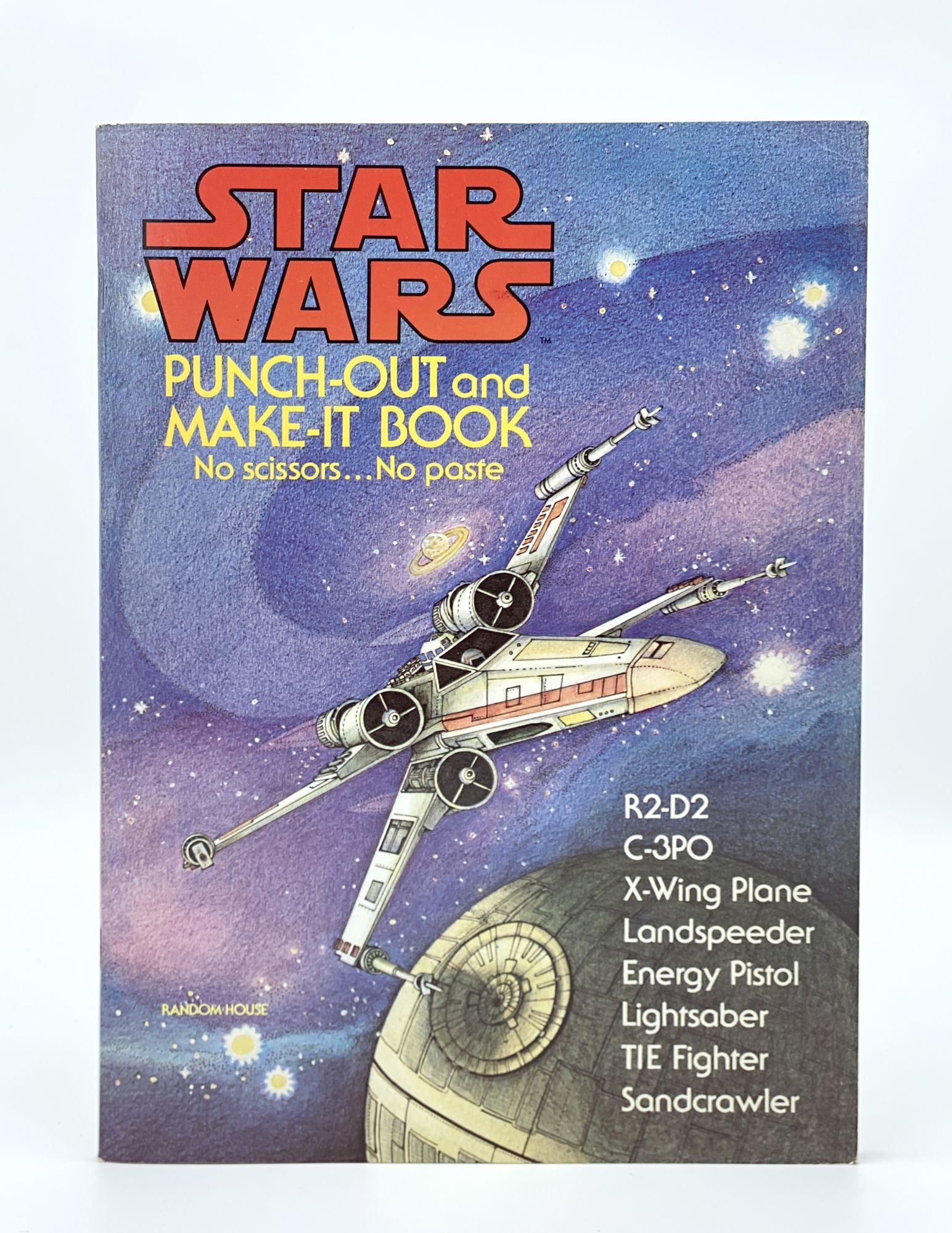 New York: Random House, 1978. A fine, complete, unused copy. 11.75 x 8.5 inches. [32] pages. Complete with all color cut outs preserved in unused pages. Stapled as issued in pictorial wrappers. The book allows readers to cut out and make: Rs-D2, C-3P0, X-Wing Plane, Landspeeder, Energy Pistol, Lightsaber, TIE Fighter, and Sandcrawler. Designed by Ib Penick, illustrated by Patricia Wynne, instructional drawings by Charlotte Staub.
Offered by Riverrun Books.
STAR WARS: From the Adventures of Luke Skywalker
by LUCAS, GEORGE; [FOSTER, ALAN DEAN]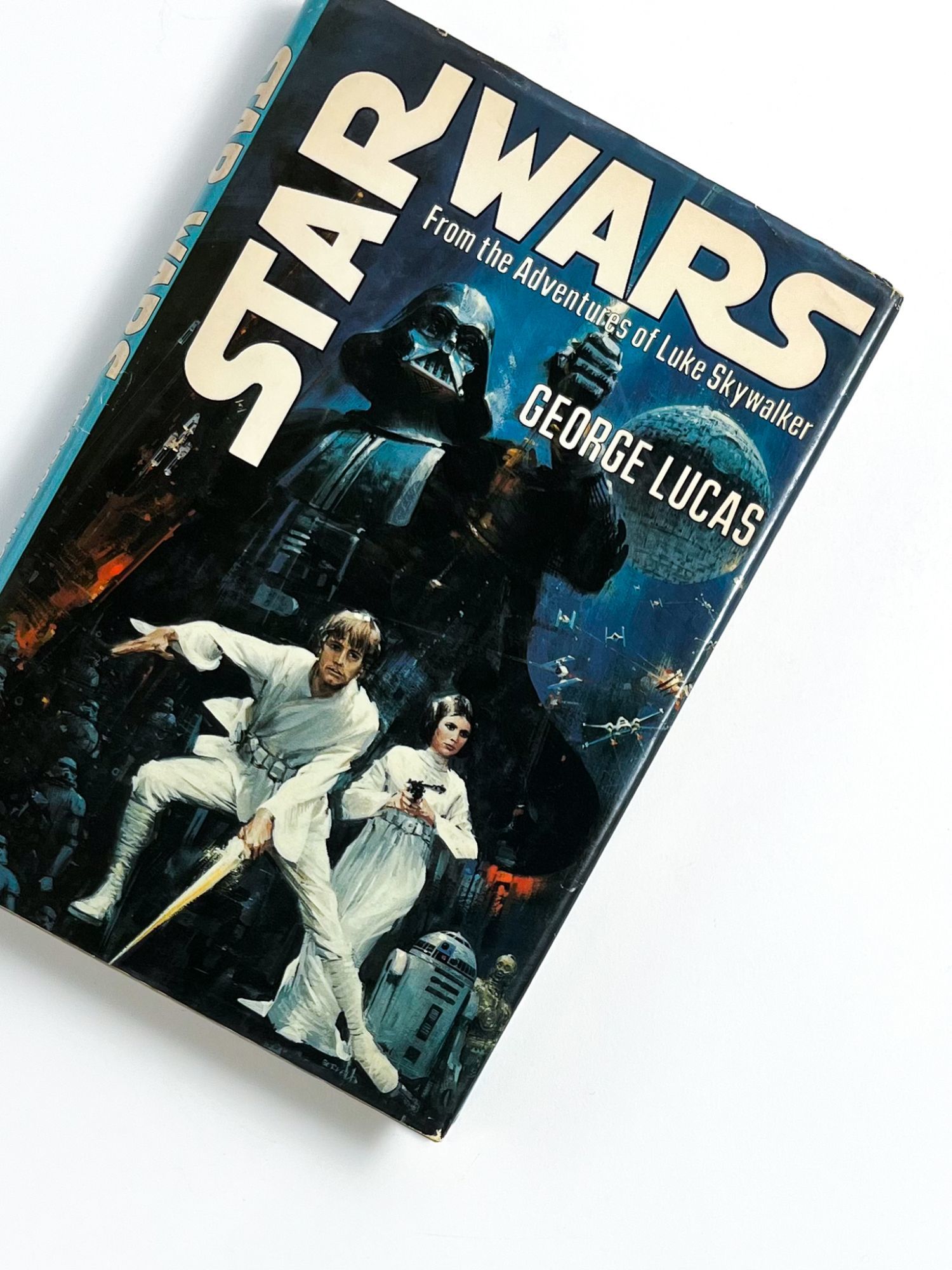 New York: Del Rey, 1976. First edition thus. Very good plus in a very good plus jacket.. First hardcover issue of Alan Dean Foster's ghostwritten novelization, released as part of the Science Fiction Book Club and published months before the film's release. One of a select number of genuinely scarce and collectible book club editions: issued after the paperback release, just months before the film itself appeared in theaters, and preceding the first trade hardcover edition by a year. Foster, currently waging his own valiant rebellion against Lucasfilm's new overlord, the Disney empire, for the royalties due him, is a giant of the media franchise novelization world: adapter not only of STAR WARS but also of Clash of the Titans, The Last Starfighter, several Star Trek, Terminator, Transformers, and any number of Alien properties. 8'' x 5.25''. Original light grey boards, blue-lettered spine. In original dust jacket clipped free of book club notice. Jacket painting by John Berkey. "S27" printed in gutter of page 183. Illustrated with two 8-page color photographic supplements. [4], 183, [1] pages. Just a bit of edgewear and faint soiling here and there. Slight lean. Underside of jacket of lightly toned. Overall clean, bright, and sound.
Offered by Type Punch Matrix.
THE NEW YORK COLLECTION FOR STOCKHOLM 1973. 30 Prints by Lichtenstein, Nevelson, Twombly, Warhol and others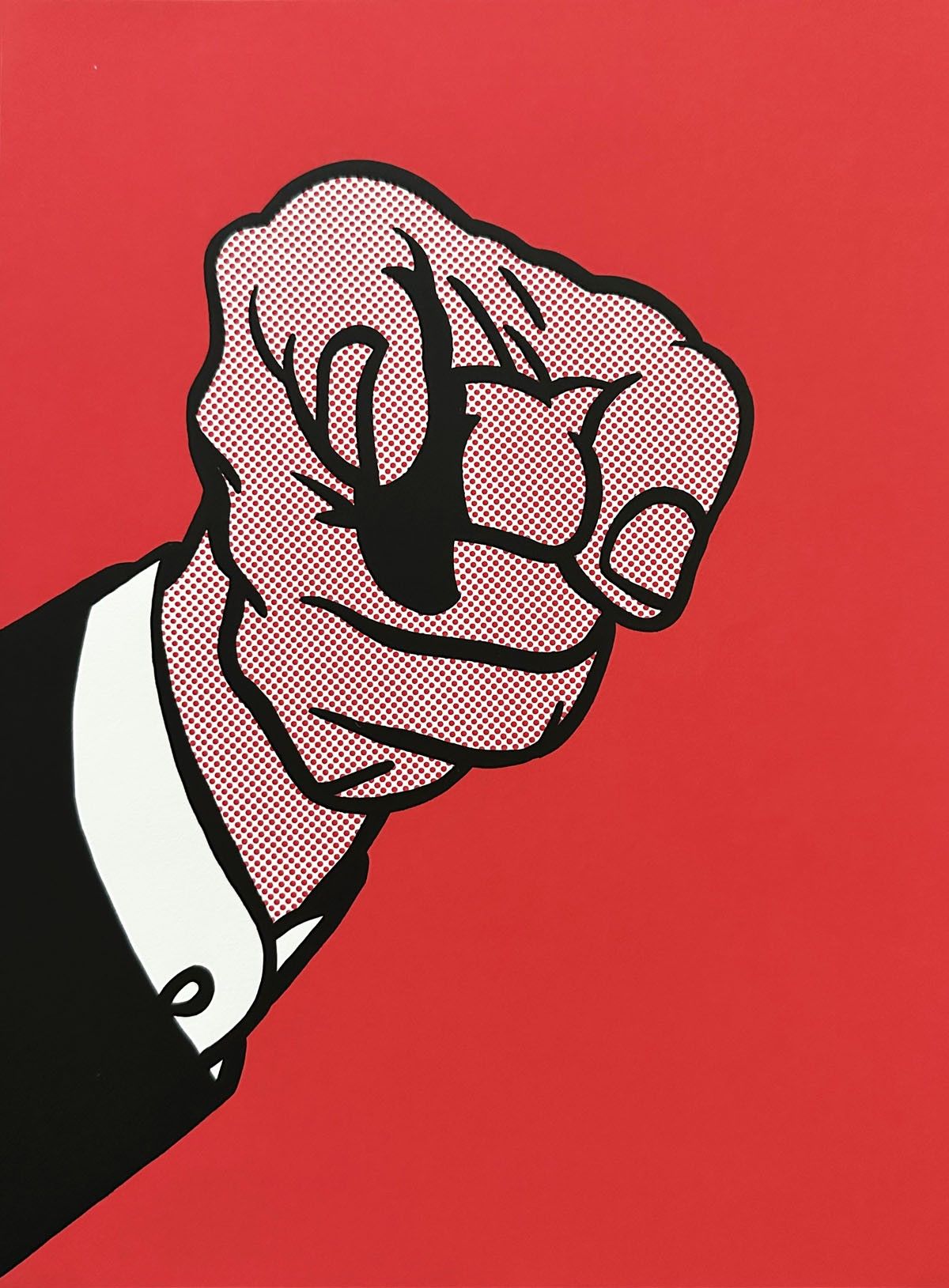 THE NEW YORK COLLECTION FOR STOCKHOLM 1973. A collection of works by American contemporary artists, presenting 30 works in a variety of media and paper; prints, multiples and photographs. The portfolio is a collaboration by the Moderna Museet in Stockholm and the New York-based group Experiments in Art and Technology (E.A.T.) it was published in 1973 in a limited numbered edition of 300 copies.
It includes the following artists: Lee Bontecou, Robert Breer, John Chamberlain, Walter de Maria, Jim Dine, Mark di Suvero, Oivind Fahlstrom, Dan Flavin, Red Grooms, Hans Haacke, Alex Hay, Donald Judd, Ellsworth Kelly, Sol LeWitt, Roy Lichtenstein, Robert Morris, Louise Nevelson, Kenneth Noland, Claes Oldenburg, Nam June Paik, Robert Rauschenberg, Larry Rivers, James Rosenquist, George Segal, Richard Serra, Keith Sonnier, Richard Stankiewicz, Cy Twombly, Andy Warhol and Robert Whitman.
All the works are signed by the artists, except for de Maria, Haacke and Lichtenstein, and Noland that bear a stamped signature. Loos as issued and complete, guarded in the original Honduras mahogany box with justification stamped inside. Box with some scratches.
Offered by Marninart.
Adventures of Huckleberry Finn: Tom Sawyer's Comrade
by Mark Twain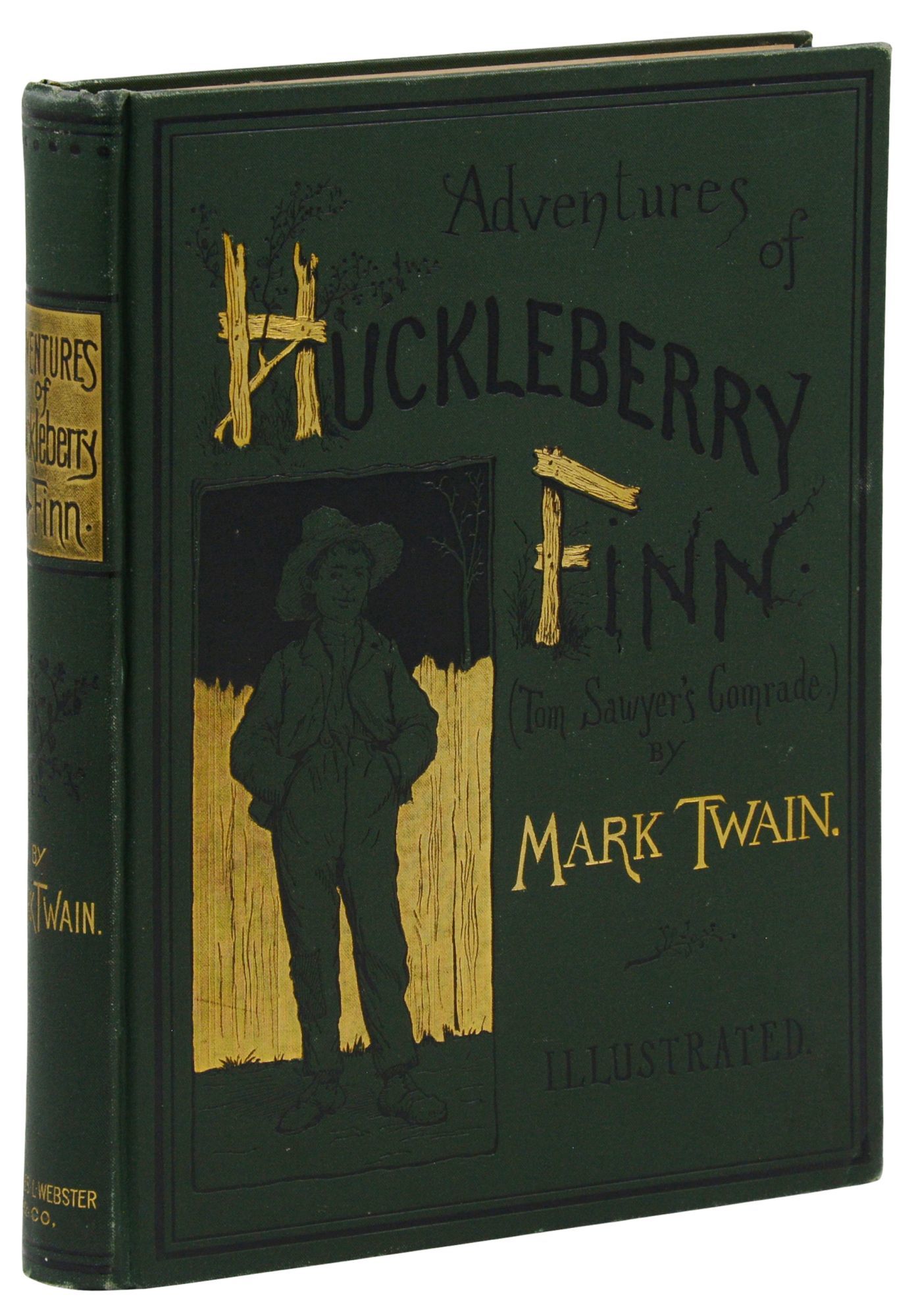 New York: Charles L. Webster & Co, 1885. First edition. First edition, first issue. (All three definitive points present: p. 9 has "Decided" instead of "Decides"; p. 13 lists illustration on p. 88 "Him and another Man"; p. 57 error "with the was" 11 lines up from bottom of text. Other points with no priority follow: frontispiece has table with tablecloth visible under bust, Heliotype Printing Co. imprint; last digit stamped on p. 155 page numbered "15"; correct trade issue straight fly on pg. 283. Title leaf is conjugate, copyright page dated 1884. Pg. 143 has "l" in "Col." missing. No signature mark on p. 161. BAL 3415. See MacDonnell, Kevin "Collecting Mark Twain.") 366 pp. Bound in publisher's pictorial green cloth stamped in black and gilt.

Fine. Bright gilt with hardly any rubbing and clean cloth. Negligible wear to extremities, a few strands of cloth frayed at foot. Bookseller's ticket on paste down and a brief old bookseller's description mounted on front free endpaper, describing this copy as "Fine. As new." Not having seen any new copies of this book in our lifetimes, we can only say that it does maintain a remarkable crispness to this day. A superb unsophisticated copy of the classic American novel.
Offered by Burnside Rare Books.
AUTOGRAPHS, SIGNED LETTERS, AND F.B.I. EPHEMERA
by HOOVER, J EDGAR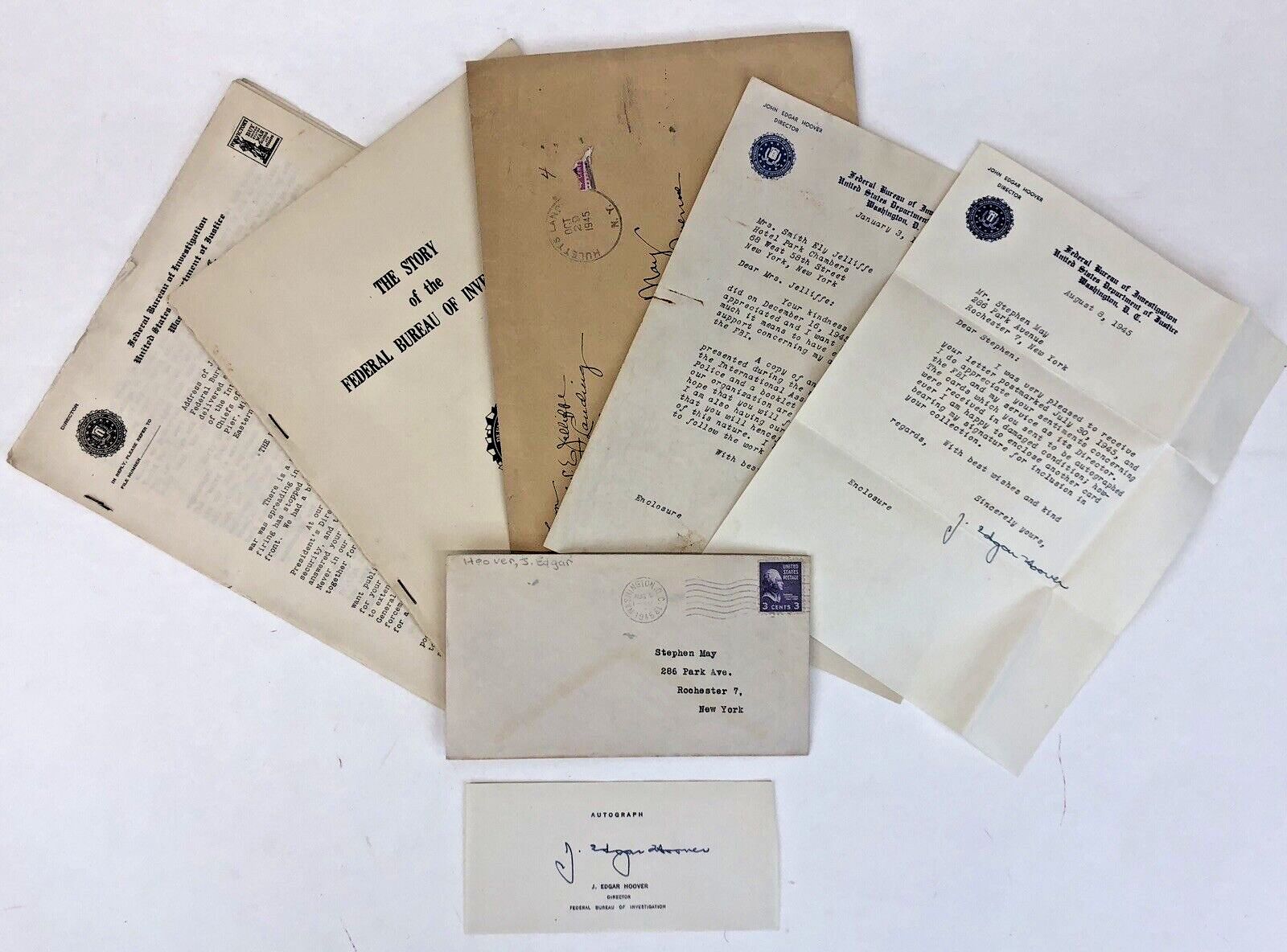 1945-1946. Collection of signed items and publications related to the Federal Bureau of Investigation's first Director, J. Edgar Hoover (1895-1972). This lot includes the following:

One-page typed letter signed by Hoover on official F.B.I. letterhead (TLS). Letter dated 1/3/1946 is addressed to Mrs. Jelliffe and expresses appreciation for her thoughtful correspondence. Condition is Very Good- with light age toning, creasing, and minor staining. Letter signed in blue ink and references enclosure of the the next item.

Seven-page typed transcript of address given by Hoover at the 52nd Annual Meeting of the International Association of Chiefs of Police in 1945 titled, "The Reconversion of Law Enforcement." The address discusses the roles and importance of cooperation of law enforcement agencies at the conclusion of the second World War: "After every great war or period of acute national emergency there has been a recession of moral fortitude. This one will be no exception. I hope as you do that the racketeers, the overlords, the desperados and the criminal scum who characterized the roaring twenties will not come back to the American scene. I fear, however, that this is wishful thinking. Once they get a start and find they can succeed, we shall face very serious trouble." Condition is Very Good- with light age toning to edges, light edgewear and creasing, and mild discoloration of staple.

One-page letter signed by Hoover on official F.B.I letterhead (TLS). Letter dated 9/8/45 is addressed to Stephen and thanks him for his thoughtful sentiments regarding the F.B.I and Hoover's role as Director. Condition is Very Good with very light age toning and creasing where the letter was folded. Signature is strong in blue ink. Letter also references the inclusion of the next item: an autograph.

Included in correspondence is J. Edgar Hoover's autograph on a 2" x 5" slip of white paper. Signature is strong in blue ink; Very Good condition with very light age toning.

Copy of "The Story of the Federal Bureau of Investigation." Published in 1945; Condition is Very Good- with light age toning, mild discoloration of staples, light creasing, and light wear to spine; 19 pages chronicling important moments in F.B.I. history: "The purpose of this report is to acquaint the youth of America with the work of the FBI". KW Consignment.
Provenance: Second Story Books is delighted to present this original, hand-signed item from the Stephen May Autograph Collection. As a youth in the 1940's, Stephen May (1931-2016) collected autographs of famous people, identifying individuals through Who's Who publications and contacting them with a thoughtful, lengthy, well-researched letter introducing himself, acknowledging the individuals' accomplishments, asking one or two pertinent questions and, finally, requesting that they return a signature. Some responded simply with an autograph on a provided 3x5 card while others included bonus material with the signature in the form of a poem, letter, friendly greeting, or words of advice for the teenage boy. Steve's collecting hobby became known among his family and wider circle of friends in the city of Rochester, NY, where his father, Arthur J. May, taught European history at the University of Rochester, and his mother, Hilda Jones May, was active in the community. Eventually, more people helped Steve in his pursuit, which accounts for the signatures with dates before or after the mid-40's and without the prompting of a letter from him. A few signatures are from the 19th century. The collection is a broad representation of the people and forces that shaped our world, and the culture, accomplishments, and innovations of the first half the 20th century. While the majority of the signatures in this collection have not been authenticated by a third-party service, all items in this collection have been carefully examined by Second Story Books Owner/President, Allan Stypeck, and we are happy to provide a Second Story Books letter of authenticity. Mr. Stypeck is Senior Member of the American Society of Appraisers and has conducted over 3,000 accredited appraisals since 1974 and has served in an official capacity for the Chicago Cubs, the International Tennis Hall of Fame, and the Naismith Basketball Foundation. Thank you!
Offered by Second Story Books.
For more info or to purchase this item, click here...
by Thomas Wolfe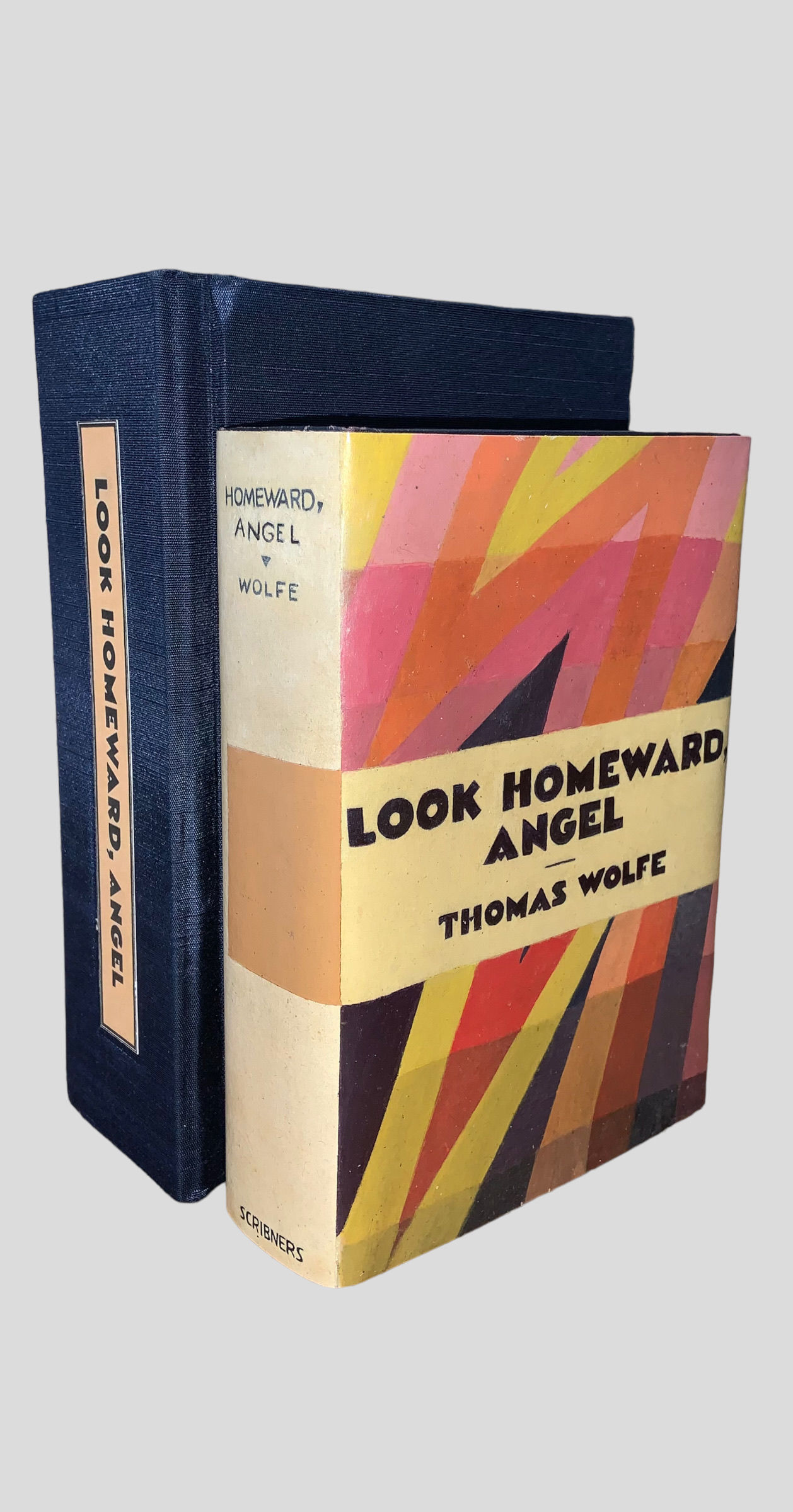 First Edition/First Printing with 1929 and the Scribner's Seal to the copyright page, also with first state points on pages 308 and 506. A Near Fine book in a Near Fine dust jacket. A spectacular copy of this high point in American Literature, the debut novel for Wolfe, and basis for multiple film and stage adaptations; scarce in the first printing and in this condition. This copy is in near fine condition with a square, tight binding, bright gold lettering over dark blue boards, and clean pages throughout with only a hint of age-toning; the book does show some light rubbing to the edges and a couple of faint smudges to the boards, else fine. Housed in a sharp and bright original near fine dust jacket that has benefitted from some professional restoration and reinforcement, giving this copy a beautiful presentation. Housed in a custom clamshell case by Octavaye. Not remaindered, not price clipped ($2.50 intact), not ex-library; in a fresh Mylar sleeve and will ship carefully wrapped in a sturdy box.
Offered by Grayshelf Books.
by James Watson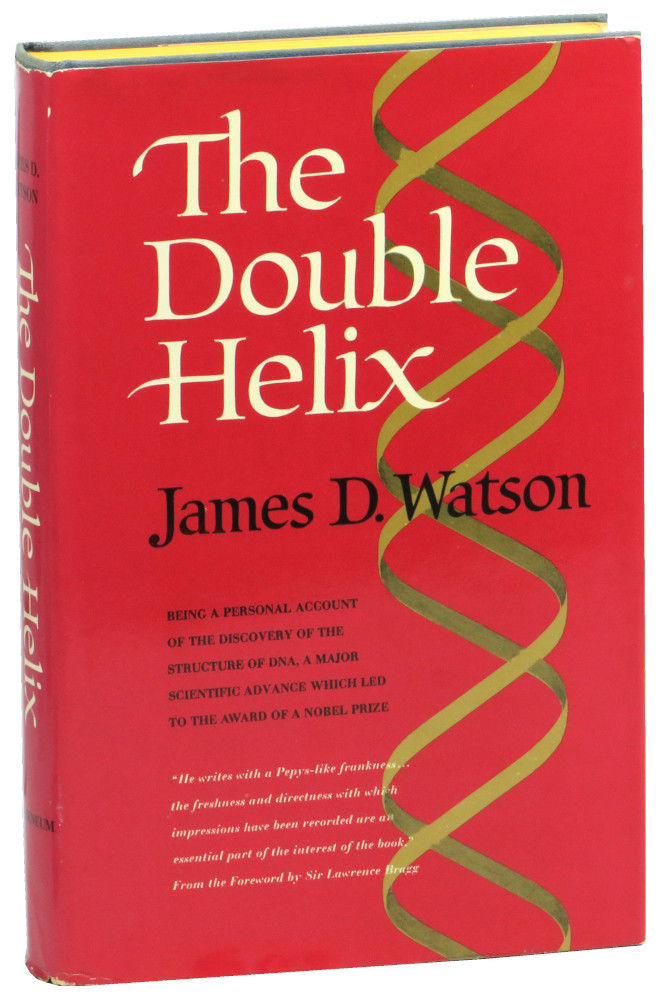 NY: Atheneum, 1968. Hardcover. Very Good. Hardcover. First Edition. Manufacturing defect to bottom edge of the title page to xiii where the signature was improperly cut and roughly separated causing a couple of tiny spots of loss and concomitant extra pieces to the edge, else a very good hardback in a slightly tanned jacket that has some minor edgewear to the extremities. Unclipped with $5.95 price present.
Offered by Kenneth Mallory.
The Story of the Irish Citizen Army
by O CATHASAIGH, P. (SEAN O'CASEY)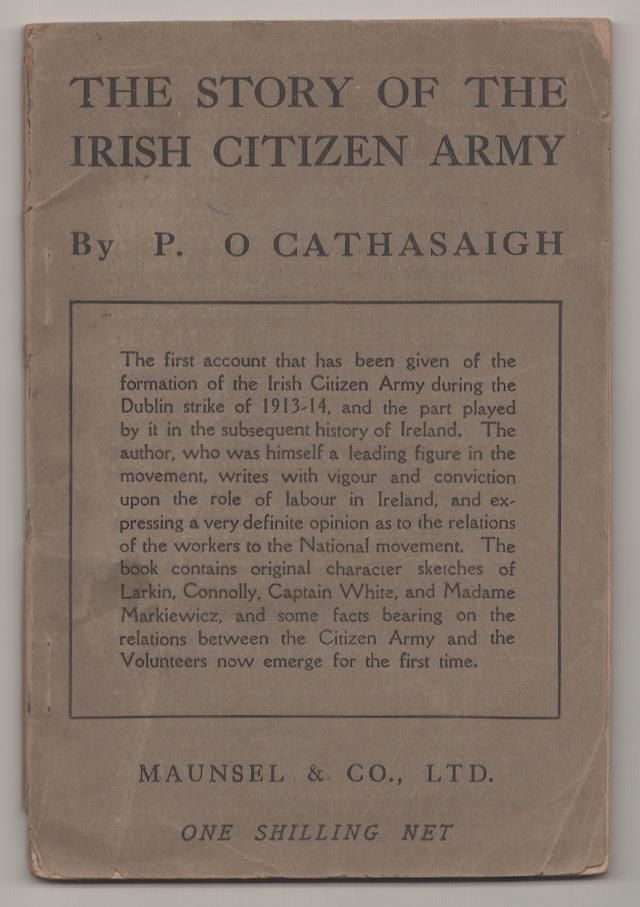 Dublin, Ireland: Maunsel & Co. Ltd, 1919. First edition. Softcover. 72 pages. The first book by Irish writer Sean O'Casey. An about very good copy in gray printed wrappers with some small chips to the spine ends, some creases and other wear. Internally a clean copy of this fragile book.
Offered by Jeff Hirsch Books.
by (BINDINGS - CHIVERS). (EXTRA-ILLUSTRATED BOOKS). DICKENS, CHARLES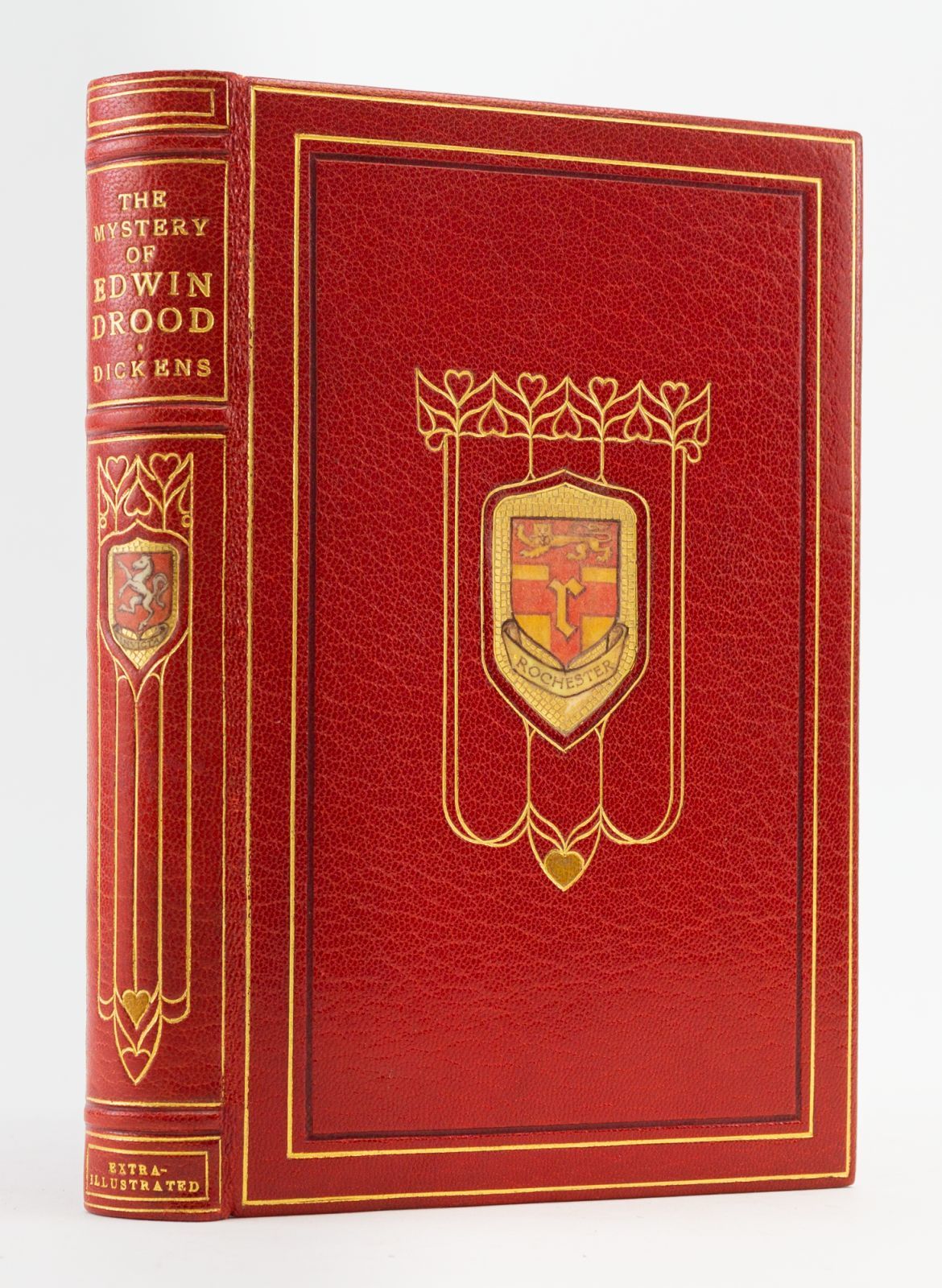 London: Chapman and Hall, 1870. FIRST EDITION in book form. 215 x 140 mm. (8 1/2 x 5 1/2). vii, [1] (blank), 190 pp. Without the leaf of publisher's ads.
VERY ATTRACTIVE SCARLET CRUSHED MOROCCO BY CEDRIC CHIVERS (stamp-signed on rear turn-in) ca. 1911, covers framed by one blind and two gilt fillets, upper cover with INLAID PAINTED VELLUCENT ESCUTCHEON with the arms of the city of Rochester within a "tiled" gilt frame, the inlay enclosed by Art Nouveau floral design incorporating a heart motif, an onlaid citron morocco heart at the foot of the design, three raised bands dividing the spine into two small compartments, slightly larger compartment with gilt titling, and an elongated compartment with inlaid vellucent and gilt escutcheon displaying the arms of the county of Kent, within similar Art Nouveau tooling featuring an onlaid citron heart, turn-ins ruled in gilt, with dot cornerpieces, leather hinges, red watered silk endleaves, all edges gilt. Frontispiece portrait, engraved vignette title, and 12 plates (as called for) by S. L. Fildes, EXTRA-ILLUSTRATED with reproductions of a black & white portrait of Fildes and an engraved portrait of John Forster (both taken from contemporary publications?), a reduced reproduction of the original green paper wrapper cover (all three of these mounted in heavy stock frames), additional calligraphed title page noting extra-illustrations, 16 ORIGINAL ILLUSTRATIONS, FOUR OF THESE WATERCOLORS, 13 dry-point, all but one mounted in heavy stock frames (one drawn directly on heavy stock), all captioned, and all with tissue guards. Front flyleaf with embossed ex-libris of Dana C. Bradford. With "The Last Book," a seven-page excerpt from Forster's "Life of Dickens," mounted in frames at rear, following a handwritten section title page. Slight rippling of some of the inserted leaves, text faintly yellowed because of paper stock (as no doubt in all copies), perhaps a whisper of wear to the binding, but still and easily a very fine copy.

In terms of content, illustration, binding, and condition, this item is obviously of very considerable appeal. Dickens' final, unfinished novel, "Edwin Drood," is a murder mystery that remains unsolved to this day. Set in a lightly fictionalized version of Rochester, near which Dickens was living, the plot involves a marriage engagement between the two orphans Drood and Rosa Budd, made by their parents and distasteful to both of them. When Drood disappears, suspicion falls heavily on Neville, another orphaned young man, who is in love with Rosa. Neville has the reader's sympathy, and we can only hope that Drood's sinister and scheming uncle Jasper is the culprit. A distinguished artist who did many famous portraits in his later years, Samuel Luke Fildes (1844-1927) began as an illustrator known especially for powerful black and white images of social realism; his career was measurably advanced by his selection as the artist to execute the plates in "Edwin Drood." Cedric Chivers opened his Bath bindery in the 1880s, producing various kinds of fine decorative bindings, but specializing in a "vellucent" binding based on the 18th century painted vellum work of Edwards of Halifax. Here, he has used the vellucent technique to create the shields with the arms of Rochester and Kent inlaid on the cover and spine. The anonymous watercolors here are extremely attractive, being skillfully done in pleasing colors. They are mostly depictions of the novel's localities, generally in Rochester..
Offered by Phillip J. Pirages Fine Books.
The Birds of America, from Drawings Made in the United States and Their Territories
by John James Audubon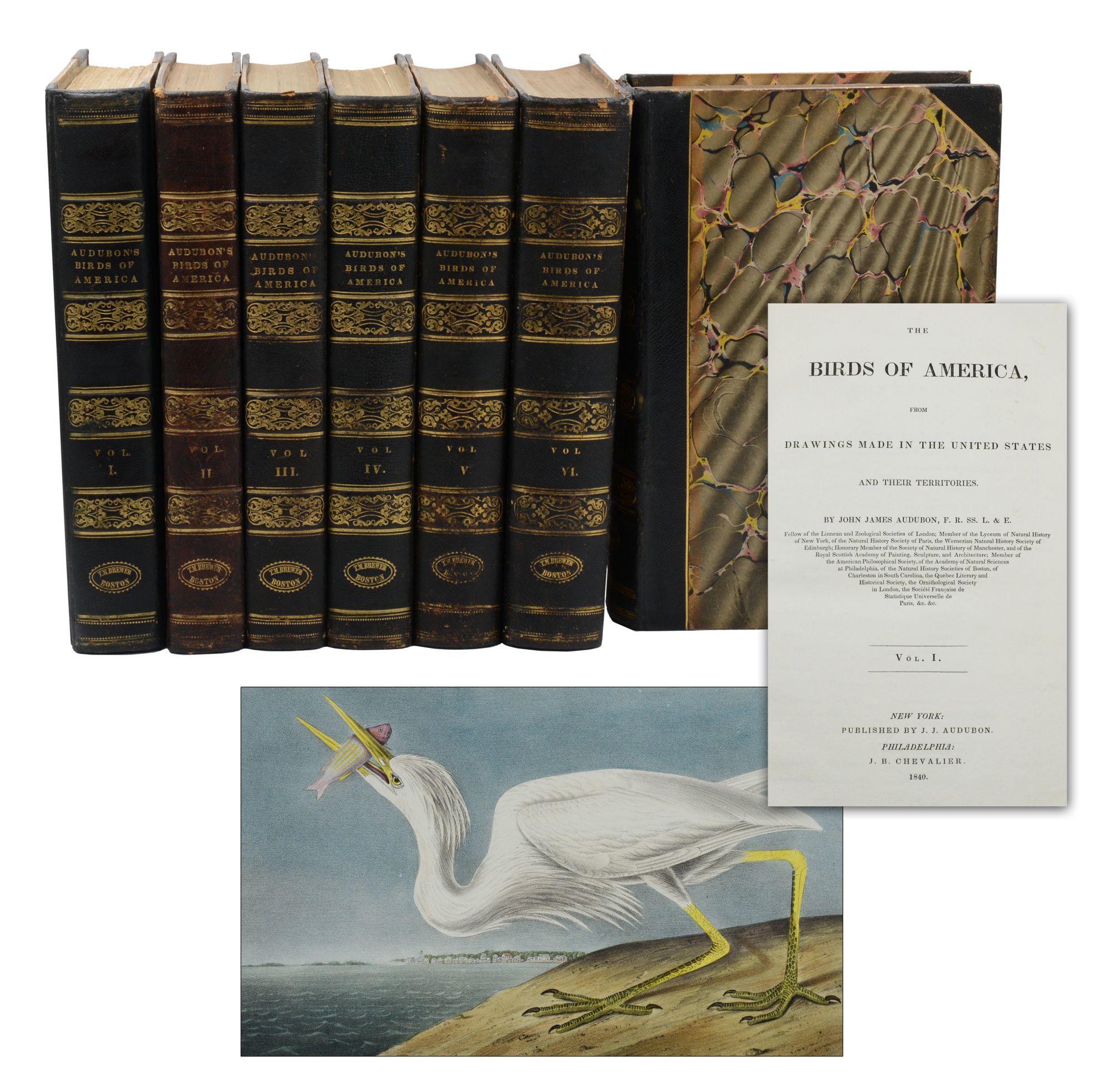 New York & Philadelphia: Published by J.J. Audubon and J.B. Chevalier, 1844. First Octavo Edition. First Octavo Edition. Complete in seven volumes. Bound in contemporary half green morocco and marbled boards, spines lettered and decorated in gilt, top edges gilt, marbled endpapers. Half titles present in all volumes, lists of additional subscribers at front or rear of volumes 1, 3, 4 & 5. With 500 beautiful hand-colored lithographed plates. Very Good+ with shelf rubbing to boards and a little chipping to leather, slightly different color leather used by binder for Vol. II, Vol. I rebacked with original spine strip laid on. Contents generally bright with very little reading wear, single ink checkmark spotted in margin of one volume, occasional offsetting and foxing to the tissue guards, and just a touch of foxing some plates and text leaves.

An exceptional set of the first octavo edition of Audubon's ornithological masterpiece, perhaps the paramount American color-plate book of the 19th century. This copy has an important provenance, formerly belonging to Thomas Mayo Brewer, with "T.M. Brewer, Boston" in gilt at the foot of each spine. Brewer (1814-1880) was a Boston-born naturalist, specializing in ornithology and zoology. According to the Linda Hall Library "He became a friend of John James Audubon in the 1830s, when Audubon did not have a lot of friends, and sent Audubon descriptions and specimens, usually of birds but sometimes mammals, as they came to him. Audubon rewarded Brewer with several eponyms. Brewer had sent Audubon a collection of small rodents from New England, and one, a mole from Martha's Vineyard, turned out to be a new species." Information provided to another former owner of this set is that it was presented by Audubon to Brewer, although we are unable to confirm this. For this octavo edition, the plates, accompanied for the first time by the text, were reduced and modified from the original Havell engravings for the London double-elephant folio. The plates were reduced by camera lucida and some of the backgrounds entirely changed or greatly modified. To the original plate count included in the double-elephant folio edition, the octavo edition adds 65 new images for a total of 500 plates, making it "the most extensive color plate book produced in America up to that time" (Reese). Included for the first time are seven new species and seventeen others, previously described in the Ornithological Biography but not illustrated, are also shown for the first time. The original compositions were altered so that only one species is depicted per plate. The text itself is a revision of the Ornithological Biography, rearranged according to Audubon's "A Synopsis of the Birds of North America" (1839). Audubon writes in his introduction to this edition that it is his wish that a work similar to his large work should be published "at such a price, as would enable every student or lover of nature to place it in his library."
Offered by Burnside Rare Books.
For more info or to purchase this item, click here...
An Inquiry into the Nature and Causes of the Wealth of Nations
by Adam Smith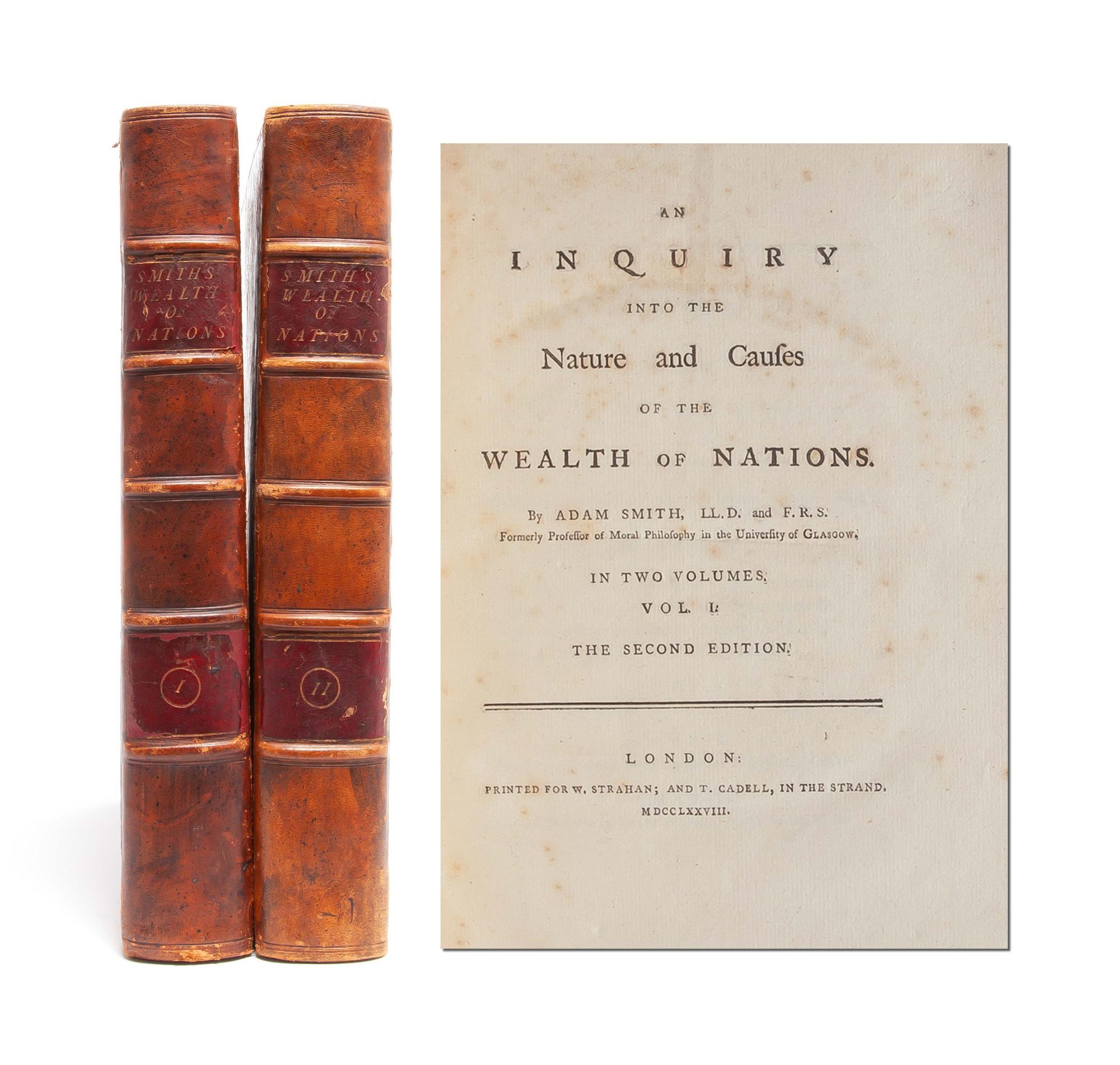 London: for W. Strahan and T. Cadell, 1778. Second edition. Very Good. 2 volumes, quarto (282 × 225 mm), half title in volume 2 (as called for), bound without the final blanks in each volume: [8], 510; [8], 589, [1, blank]. Contemporary tree calf, rebacked, preserving original red morocco spine labels, plain endpapers. Engraved armorial bookplate of the Leigh family ("Tout Vient de Dieu") and two Japanese bookseller's tickets to the front paste-down. Some insect damage to the leather boards, corners worn, light to moderate foxing throughout, mostly in volume 1, a few tears or blemishes, one or two signs of a contemporary reader's engagement with the text; a very good copy overall.

Second edition, first published in 1776, of this classic of economic thought, the only other edition to be published in quarto format, one of 500 copies. Long considered a straight reprint, this edition in fact contains "a number of alterations large and small, some providing new information, some correcting matters of fact, some perfecting the idiom, and a large number now documenting references in footnotes" (Todd).

Published in the same year as the American Declaration of Independence, Adam Smith's The Wealth of Nations was a magnum opus that shaped not only the future of a new republic, but that also urged longstanding sovereign governments to reconsider how and when they regulated markets. Arguing that economic growth comes not from government planning "but as the natural outcome of many people pursuing their own self-interest in the confines of an ordered polity," Smith encouraged economists and political policy-makers to leave free markets to their own operations and focus instead on fulfilling the duties of peace keeping, education, and public infrastructure that they owed their citizenry (The Wall Street Journal).
Offered by Whitmore Rare Books.
Love Story (Original photograph from the 1970 film)
N.p.: N.p., 1970. Vintage borderless reference photograph from the 1970 film, showing actors Ryan O'Neal and Ali MacGraw. Annotations in holograph ink and pencil on the verso.

Based on the 1970 novel by screenwriter Erich Segal. An enormously successful romantic drama about the tumultuous relationship between a working-class musician and a wealthy law student.

Shot on location in New York and Massachusetts.

8 x 10 inches. Near Fine, with light wear at the corners
Offered by Royal Books.
by Ismael Reed
Garden City: Doubleday, 1972. First Edition. First printing. Octavo (21cm). Original black cloth with red endpapers in supplied dust jacket. 23 photographs. 223 pp. Tape shadows to endpapers and covers; evidence of bookplate removal to front free endpaper; text block edges slightly foxed; just Good. Dust jacket is unclipped (priced $6.95), rubbed and creased with a few brief, closed tears; just VG.

A worn copy of Reed's third novel, a book praised by postmodern writer Thomas Pynchon, conservative critic Allan Bloom, and the rapper Tupac Shakur. On the occasion of the novel's reissue as a Penguin classic in 2017, the Guardian described the novel as one about "Voodoo, jazz, and white supremacy," which "reeks of some kind of immortal pertinence" ("Mumbo Jumbo" by Jonathan McAloon). Far from a pretty copy, but a surprisingly tough book to find in the First Edition.
Offered by Lorne Bair Rare Books.
For more information or to purchase this item, click here...
by Bernard Sacks
New York: Rudolph Field, 1931. Hardcover. Fine/Near Fine. First edition. Octavo. Blue cloth gilt. Fine in very near fine dust jacket with a little rubbing and soiling on the front panel. According to the dust jacket copy: "With the skill and the profundity of the Russian novelists, the author portrays a true story of the radical Jews on the East Side. This is the first book dealing with the subject, where the author reveals their lives and loves, as he has seen them, after living among them for nearly two score years.... It can not be denied that the majority of the radicals are honest in their convictions; that they sincerely believe in the doctrines they preach. It would be reasonable to expect that in order to justify their claims, when put to the test of practical life, they should live up to their principles. That in their everyday life, they show an example of that future ideal life they predict, when the great Revolution shall have been accomplished. The author presents an unbiased and unprejudiced spectacle; he portrays a true and startling account of the life of the Jewish people, as we have never known it..... Let us take an intimate view into the lives of the radicals, and observe them as if their tomorrow were today." Very uncommon novel of young radical Jews on the Lower East Side of New York City, and a surprisingly overlooked novel on the subject. *OCLC* locates 11 copies.
Offered by Between the Covers Rare Books.
The Wonderful World of Women's Wear Daily
by Katie Kelly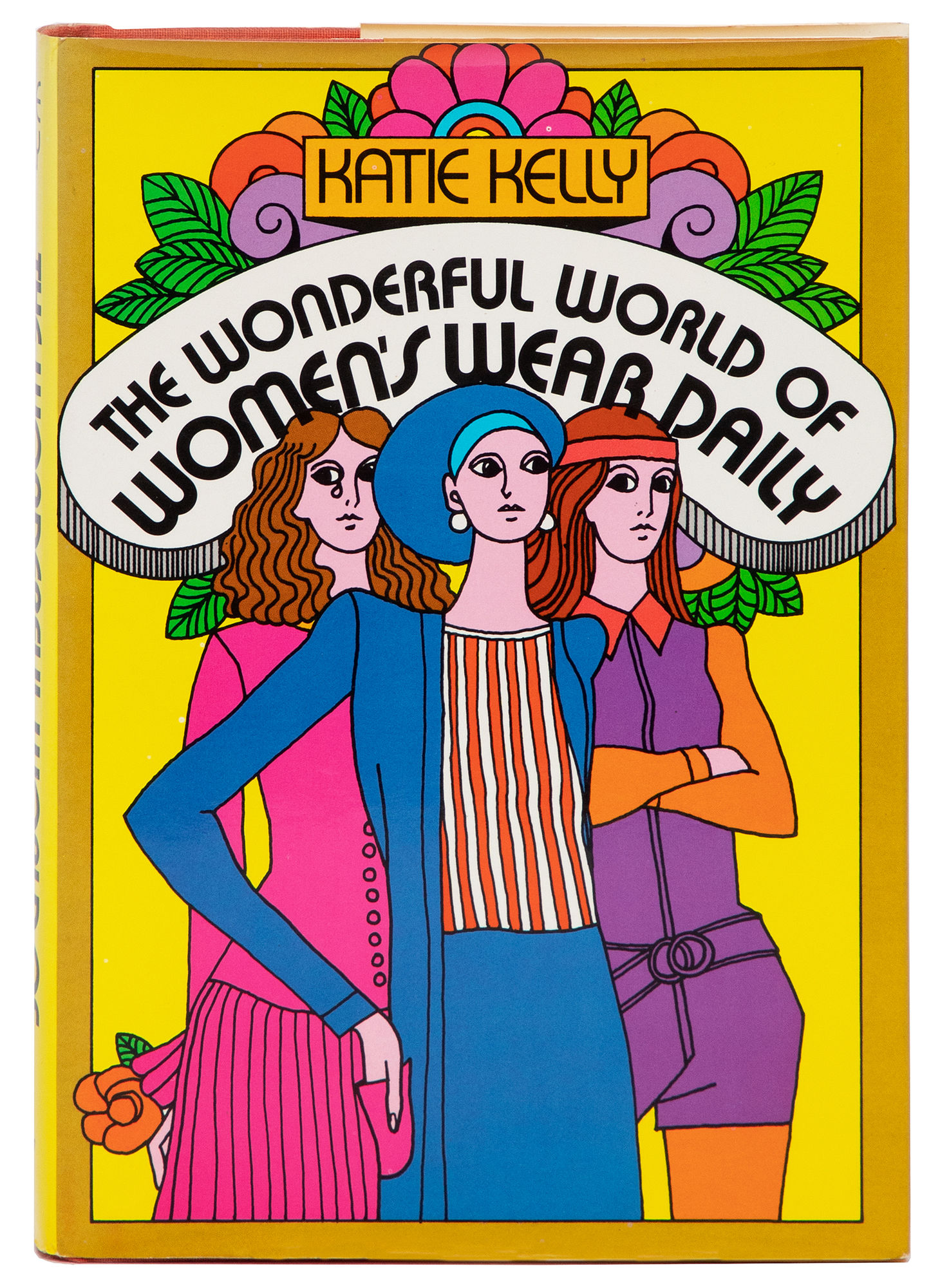 New York: Saturday Review Press, 1972. First edition of this account of the transformation of Women's Wear Daily from a garment-district trade publication to "one of the single most influential newspapers in the United States" under publisher John Fairchild, whose promotion of individual fashion designers transformed the industry. Kelly's mix of social anthropology, celebrity gossip, and economic analysis mirrors that of her subject, informing her reporting on the Midi Skirt disaster and the HotPants revolution: "who's to judge what's Straight or Camp these days?" A bright near-fine copy, in a spectacular pop dust jacket. Single volume, measuring 8.25 x 5.5 inches: [6], 247, [1]. Original coral cloth spine lettered in gilt, mustard paper boards stamped in gilt, edges untrimmed. Original unclipped color pictorial dust jacket. Light crease to jacket front flap, faint tidemark to jacket verso.
Offered by Honey & Wax Booksellers.
Learn more or purchase this item...
[Three Autograph Letters, Signed, from Alabama Plantation Owner Joseph Borden to His Friend and Business Associate, Dr. A.M. Garber of Livingston, Alabama]
Mobile, Al: April 13, May 12, and November 2, 1860. Very good.. Three manuscript documents, each [1]p., retaining original transmittal envelopes for first and last letters. One signed, "Jos Bordern," the others signed by Borden under his firm's name, "Borden & Buck." Also includes a short undated note to "Garbour" by John D. W. Catherford, indicating the whole group here was retained together by Garbour. Moderate toning and edge wear, one short tear reinforced on verso, minor creasing. A trio of business and personal letters between two Alabama friends, both medical doctors with extensive business interests in land and slaves, though these letters make no mention of the latter. In 1860, Dr. Joseph Borden owned thirty-eight slaves, ranging in age from infancy to seventy years. As a cotton planter's agent, Borden also dealt regularly with slave management for clients like Garber, for whom he managed a plantation, evidenced in part by the present letters.

In his earliest letter, dated April 13, 1860, Dr. Borden advises Dr, Garber on the prospect of selling part of the latter's plantation in Livingston. Alabama. Borden writes that a neighbor is interested in purchasing "that part of your lands which lie between him & the River." Borden encourages Garber to "require a large figure to make the separation." Borden also writes of the general state of the market, and a possible influence for its instability. In his May 12 letter, he observes, "I think we are going to have a tightness in the money market and it is not so easy to get discounts now as it has been. I believe we shall have a Blk.[Black] Republican Administration; some political demonstrations that will scare money changers and a scarcity of discounts." The third letter is brief, in which Borden reports on sales made for Garber at the Mobile cotton market; Borden reports from Mobile, "Market steady at 11c for a good [measurement] of 'middling,'" the latter a term for the quality or grade of cotton fiber.

In addition to his work in Alabama, Dr. Joseph Borden spent considerable time in California. While he may have served briefly in the Confederate Army during the Civil War, he reportedly appeared during the years of the conflict in the already-established Alabama Settlement in central California. The town was originally part of Fresno County, but according to legend, the town was later renamed in his honor by Governor Leland Stanford. An earlier name, "Arcola," was borrowed from the Sturwdick plantation which Borden may have represented in his cotton factor days. As the Alabama emigrant community grew after the conflict ended, Borden became its leader long before the new County of Madera split off from Fresno in 1893. Borden is now an unincorporated community in Madera County.

Dr. A. M. Garber, a physician who owned the plantation which Borden represented, did not join the California migration, though he had close ties to that state. One of his sons became a prominent San Francisco lawyer, attorney for Leland Stanford's widow, and owner of a palatial estate in the Berkeley area, called Oakland Hills. Whether Judge Garber played any part in the establishment of Dr. Borden's Alabama Settlement is unknown.
Offered by McBride Rare Books.
Learn more about or purchase this item here...
by Upton Sinclair
New York: Albert & Charles Boni, 1927. First Edition. 527pp. Octavo [19.5 cm] Dark brown cloth with the title stamped in yellow on the front board and backstrip. An oil derrick is stamped in yellow on the front board. Lacks the jacket. Better than very good. This ambitious novel tells the story of a relationship of a father and son, with the backdrop being the oil boom in southern California at the beginning of the twentieth century. Lawrence Clark Powell praised as "a novel of high California octane." The glut of cheap oil that Sinclair's novel chronicles contributed strongly to the car culture in Southern California. This novel was the basis for the celebrated film 'There Will Be Blood'
Offered by Tschanz Rare Books.
Dime Detective Magazine: Vol. 20, No. 4 (March 1936)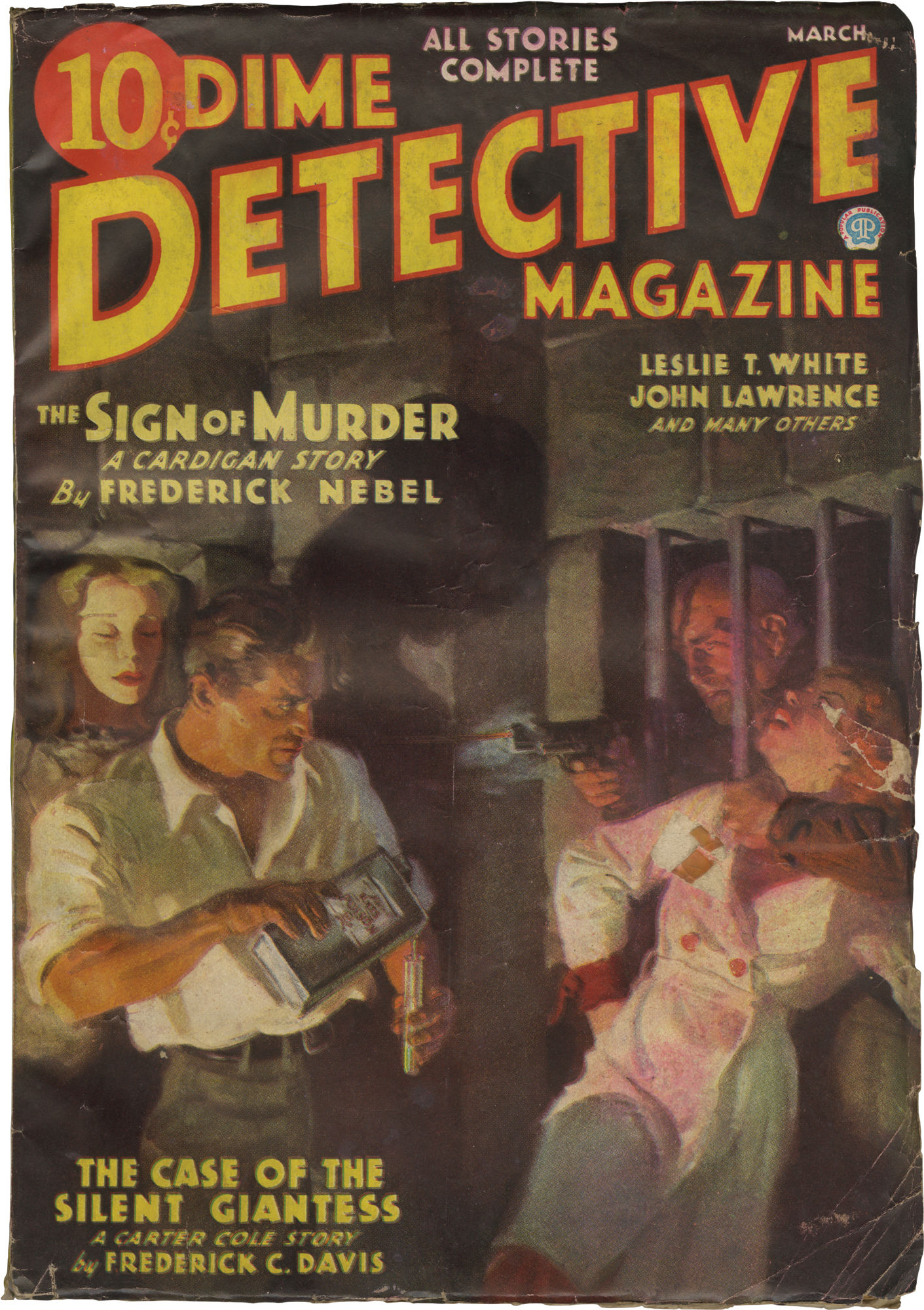 Chicago: Popular, 1936. Vol. 20, No. 4. Features contributions by Frederick Nebel, Leslie T. White, John Lawrence, Frederick C. Davis, and others.

7 x 10 inches. 64 leaves, rectos and versos. About Very Good plus in perfect bound wrappers, moderately edgeworn.
Offered by Royal Books.
The Employments of Women: A Cyclopaedia of Woman's Work
by Virginia Penny

Boston: Walker, Wise & Co, 1863. First edition. Original publisher's cloth binding stamped in blind with gilt to spine. Yellow endpapers. Measuring 190 x 120mm and collating complete: [2], [iii], iv-xxiii, [1, blank], 500. Loss to crown of spine and slight bowing to front board; gilt a bit dulled. Light scattered foxing throughout with all text legible. A groundbreaking book on American women's employment, the present title is scarce institutionally and in trade. Self-published and not widely sold in its first issue, the vast majority of OCLC listings are for likely digital copies with approximately 3 of these likely to be physical books. It has appeared only twice at auction (in 1912 and 1895) with the present being the only example on the market.

Virginia Penny's The Employments of Women was the first work of its kind published in America. released at the height of the Civil War as women filled labor shortages on both sides of the Mason-Dixon. A fervent believer in equal rights across race, gender, class, and bodily ability, Penny would later serve as the Kentucky delegate to the inclusive American Equal Rights Association. First, however, she dedicated herself to the present work. The Employments of Women presented to readers "a clear and succinct view of the condition of business in the United States, the openings for entering into business, the vacancies women may fill and the crowded marts they may avoid, the qualifications for a selected pursuit...the probable result pecuniarily of each calling...in short, it is intended as a business manual for women." Drawing on U.S. Census documents supplemented by her own extensive questionnaires and interviews "obtained from October 1859 to February 1861," Penny created identified five hundred potential occupations available to "women of the North, South, East, and West of this vast Republic," including women of color and women with disabilities. Her hope was that more of America's women would gain financial independence: "I strongly advocate the plan of every female having a practical knowledge of some occupation by which to earn a livelihood." Numerous positions are listed across finance, medicine, manufacturing, agriculture, and communication; notable, the book trade was field particularly open to women, with positions including printing, lithography, engraving, illustrating, binding, and decorative book arts.

Despite the groundbreaking nature of Penny's book and in the face of her own practical approach, the first edition of The Employments of Women "was not widely sold" (Biographical Dictionary of Women Economists). "After being denied financial backing...Penny used her inheritance to fund the 1863 first printing of her book," and the financial constraints and lack of advertising resulted in few copies being produced or distributed (BDWE). Her work would not reach a wide audience until 1866, when the rights were purchased by another publisher who re-released it under the new and more common title How Women Can Make Money.
Offered by Whitmore Rare Books.
by [ WINDOWPANE PRESS]. NORMAN, BONNIE THOMPSON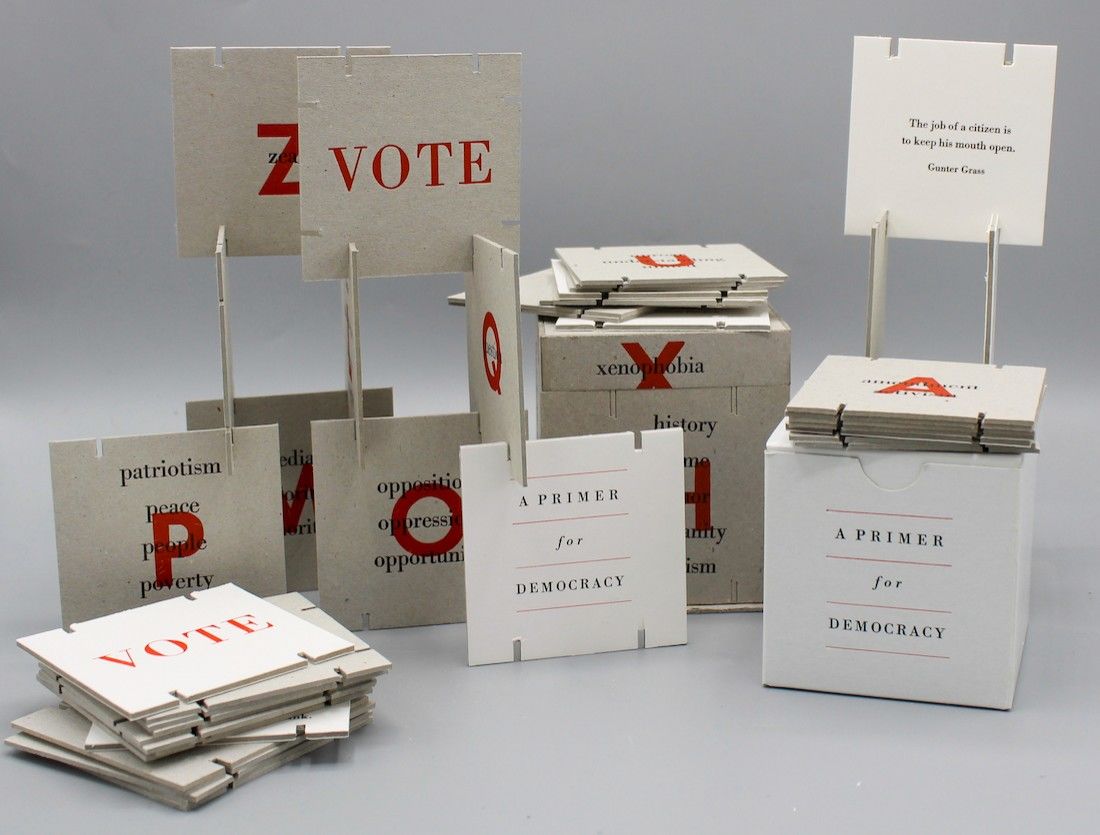 Seattle: Windowpane Press, 2004 Produced in a printing class taught by Norman at the Windowpane Press. The students were Dawn Endean, Patricia Halsell, Kaylea Trowbridge, and Elizabeth Walters. No limitation given. White lightweight card box titled in black and in color. . Box (3" cubed) enclosing forty-two notched cards that can be interlocked and stacked to make structures. Letterpress printed in black and in color. A fine copy. The notched cards bear slogans about democracy, civil rights, and the responsibilities of citizens. Twenty-six of the cards have a large printed letter and a corresponding caption, from A (for Amendment and Activism) to Z (Zeal). In the ongoing voting rights crisis, A Primer for Democracy seems more relevant than ever.
Offered by Michael R. Thompson Rare Books.
Illustrations of the Book of Job.
by William Blake

London: [plates dated] 1825 (and plate 1 dated 1828) [but published 1826]. Folio, 380 x 272 mm., engraved title and 21 engravings on thick white wove paper by William Blake, plates 5, 14, 18 and 20 with visible watermarks J WHATMAN / 1825' or 'J WHATMAN / TURKEY MILL / 1825'; sheet size: 376 x 268 mm (no. 20 slightly shorter but with deckle edge at foot). Mid-nineteenth century Russian calf-backed glazed green and black flexible marbled paper boards, a little scuffed along the edges. Printed white label to rear pastedown of bookseller Vasilii Ivanovich Klochkov (1861 - 1915) (see below); bookplate of Henri Focillon (1881 - 1943) to front pastedown( see also below).
First edition, limited to 100 sets on wove paper with the word 'Proof' (partially) removed (see below): 150 sets on India paper and 65 on "French" paper were also issued at the same time, the latter two having the word "Proof" on every plate except the title. A very interesting set as on all the plates except the title-page the word "Proof" which was intended to be omitted from this suite is clearly visible either faintly, in part, or almost in whole. Opinions vary but it seems likely that the word was blocked out with putty, which initially didn't work very well though other copies have no sign of the word. The finished plates (which were reprinted in 1874) have the word burnished off the plate completely.The engravings for the Book of Job were commissioned formally by John Linnell in an agreement of March 25, 1823. Despite a publication date of March 8, 1825 (the plates bear this date), they probably did not appear until early 1826 (the title label states 'March, 1826') and were sold sporadically by Linnell and his heirs (he died in 1882) over the course of the next century. Indeed, the family sold 68 sets of India proof copies at Christie's in 1918. Always fascinated by the Book of Job, Blake's engravings were based on a series of watercolors executed between 1805 and 1806 for his patron Thomas Butts concerning a debate between Satan and God concerning Job's piety. The plates are noteworthy as being the last complete series of engravings completed before Blake's death in 1827. The first edition was issued in 3 versions: 150 copies on laid India with the word 'Proof', 65 copies on French paper with 'Proof', and 100 on Whatman paper with the word 'Proof' erased as here.'It was produced while Blake was still working on Jerusalem, his most obscure book; yet the Illustrations are Blake's most lucid; and they are the Supreme example of his reading the Bible in its Spiritual Sense.' (S. Foster Damon, A Blake Dictionary, pg. 217). 'This [Illustrations for the Book of Job] was the last work he completed, upon the merits of which he received the highest congratulations from the following Royal Academicians: Sir Thomas Lawrence ... and many other artists of eminence.' (John Thomas Smith, Nollekens and His Times, 1828, reported in Blake Records, pg. 617). 'Are there any greater illustrations to be found? They are Blake's most ambitious, most unchallengeable, series. His inspiration was never richer, and his execution never more consistently maintained.' (Osbert Burdett, William Blake, 1926).
Henri Focillon (1881 - 1943) was a highly esteemed French art historian, and poet and lecturer, who became director of the Musée des Beaux-Arts in Lyon in 1913 where he served until 1924. He succeeded Emile Mâle at the Sorbonne, becoming Professor of Aesthetics in 1938 before his election as Professor to the Collège de France in 1938. His regular travels to the United States - he began to teach at Yale in 1932 - saw him marooned there at the outbreak of hostilities in 1939 and with the fall of France he remained there in exile. He spent the early years of the war travelling the US assessing support for France and was a supporter of de Gaulle and the Free French. Focillon, who wrote the first catalogue of the engraved work of Giovanni Battista Piranesi, died in New Haven in 1943. As an expert and connoisseur in the field - among many others - of engraving, it seems fitting that he owned this superb example of the final engraved work completed by William Blake.It must also be noted that prior to entering the collection of Focillon, this copy of the 'Illustrations of the Book of Job' had been in Russia. The discreet printed label to the rear pastedown adjacent to the spine is that of the pre-eminent St. Petersburg bookseller Vasilii Ivanovich Klochkov (1861 - 1915) whose bookshop was at Liteinyi Prospect 55. Although it now seems difficult, if not impossible, to trace a link between Klochkov and Focillon, it is worth noting that Focillon's son-in-law, Jurgis Baltrusaitis (1903 - 1988), was the son of a Lithuanian father (a Symbolist poet of the same name) and a Russian mother (a descendant of icon painters at the Imperial court) who became an art historian after studying with Focillon. Transmission from Baltrusaitis or his parents to Focillon seems the likeliest route although other emigrés may have been the conduit and Focillon's father Victor-Louis was himself a printmaker and a profound influence on his son's thought regarding prints. All such conjectures are speculative, however, it is clear, both from Klochkov's label and the Russian binding, that this copy of 'Illustrations of the Book of Job', with its particularly fine impressions, found itself in Russia prior to the revolution before travelling to France and entering Focillon's collection.
The full list of the plates with titles is as follows: Title-page.(1) Job and his Family.(2) Satan before the Throne of God.(3) The Destruction of Job's Sons.(4) The Messengers tell Job of his Misfortunes.(5) Satan going forth from the Presence of the Lord.(6) Satan smiting Job with Boils.(7) Job's Comforters.(8) Job's Despair.(9) The Vision of Eliphaz.(10) Job rebuked by his Friends.(11) Job's Evil Dreams.(12) The Wrath of Elihu.(13) The Lord answering Job out of the Whirlwind.(14) The Creation.(15) Behemoth and Leviathan.(16) The Fall of Satan.(17) The Vision of God.(18) Job's Sacrifice.(19) Job accepting Charity.(20) Job and his Daughters.(21) Job and his Wife restored to Prosperity.
Offered by John Windle, Bookseller.
For more info or to purchase this item, click here...
Organic Consumer Report vol. 54, no. 50 (Dec. 10, 1974): Fluoridation - Foiled Again! How to Beat City Hall
by [ANTI-FLUORIDATION] YIAMOUYIANNIS, JOHN (ET AL)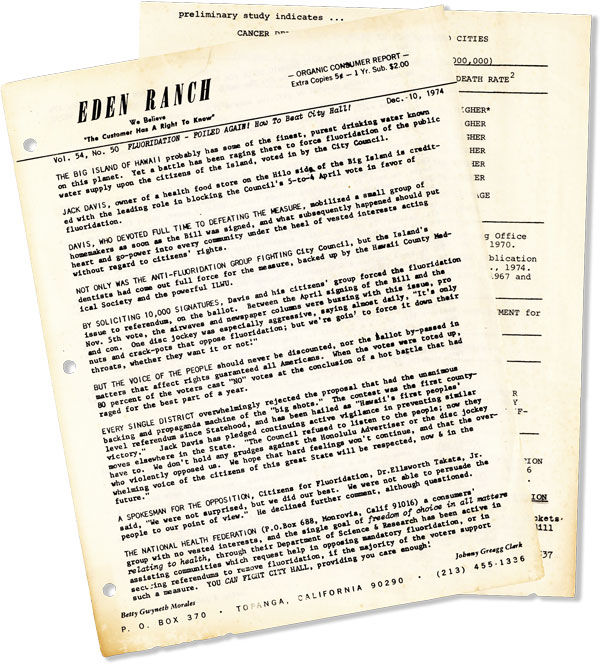 Topanga, CA: Eden Ranch / The National Health Federation, 1974. Original mimeographed newsletter. 1pp on single letter-sized sheet. Together with a supplementary fact sheet, dated 1/6/1975, headlined "preliminary study indictes...Cancer Death Rate Highest in Fluoridated Cities." First sheet with holes punched in left margin for binding; minor edgewear and aging; Very Good.

Two mailings relating to the National Health Federation's 1974 national campaign against fluoridation of drinking water. Relays news of an ongoing battle on the island of Hawaii to put fluoridation on a ballot referendum; fact sheet relays statistics assembled by Yiamouyiannis regarding a perceived correlation between fluoridation and incidents of cancer in eight American cities. The National Health Federation was a private advocacy organization for organic nutrition and alternative health, closely associated with the mail-order health supplement company Eden Ranch.
Offered by Lorne Bair Rare Books.
For more info or to purchase this item, click here...
George Washington and Alexander Hamilton, the War Freshly Won, Look to the Future of the Newly Independent Nation and Their Own Roles One of only 3 letters we found of Washington to Hamilton having reached the market in a century
18/10/1783. George Washington A rare letter of Washington to Hamilton, on the status of the post-war developments: The U.S. military establishment and standing army, the location of the new nation's capital, Indian affairs "The debate... on the residence of Congress which is yet in agitation has entirely thrown aside for some time the consideration of the Peace Establishment - when it is resumed I will take care that your application comes into view and shall be happy if any thing in my power may contribute to its success."
Public records reveal sales of letters of Washington to Hamilton in 1898 and 1954. We found reference of no other letters of Washington to Hamilton having reached the market. With the original preliminary agreement signed in November 1782, it was clear that the end of the Revolutionary War was coming. King George III issued a proclamation of cessation of hostilities on February 14, 1783, and Benjamin Franklin, representing the U.S., followed this with a similar declaration on February 20. The news of cessation of hostilities reached America by late March or early April, 1783. British commander Guy Carleton wrote Washington on April 6 acknowledging the official news of peace and making peace arrangements. The formal peace treaty– the Treaty of Paris – would be signed on September 3, 1783, and the British Army departed from New York on November 25.The Military Peace EstablishmentWhat would be next for the American military? What would it look like post-war? What would be its goals, strength, and priorities? Congress determined to appoint a committee to look into these questions. At this time Alexander Hamilton was a member of the Continental Congress. He presented his credentials to Congress in Philadelphia on November 25, 1782 and would resign in July of 1783. Hamilton wrote Washington on April 9, 1783, of the appointment of a committee, consisting of himself as chairman, plus James Madison, Samuel Osgood, James Wilson, and Oliver Ellsworth, "to consider what arrangements it will be proper to adopt in the different departments with reference to a peace." The committee would also report to Congress on plans for the future defense of the United States and for demobilization of the existing Continental Army. At Hamilton's request, Washington's advice was sought.
This is truly an extraordinary rarity. It is also interesting that the debate over the site of the capital would in time lead to the capital being located near Mount Vernon and named after Washington.
Offered by Raab Collection.
For more info or to purchase this item, click here...
Fur-Bearing Mammals of California: Their Natural History, Systematic Status and Relations to Man [Two-Volume Set]
by Joseph Grinnell, Joseph S. Dixon, & Jean M. Linsdale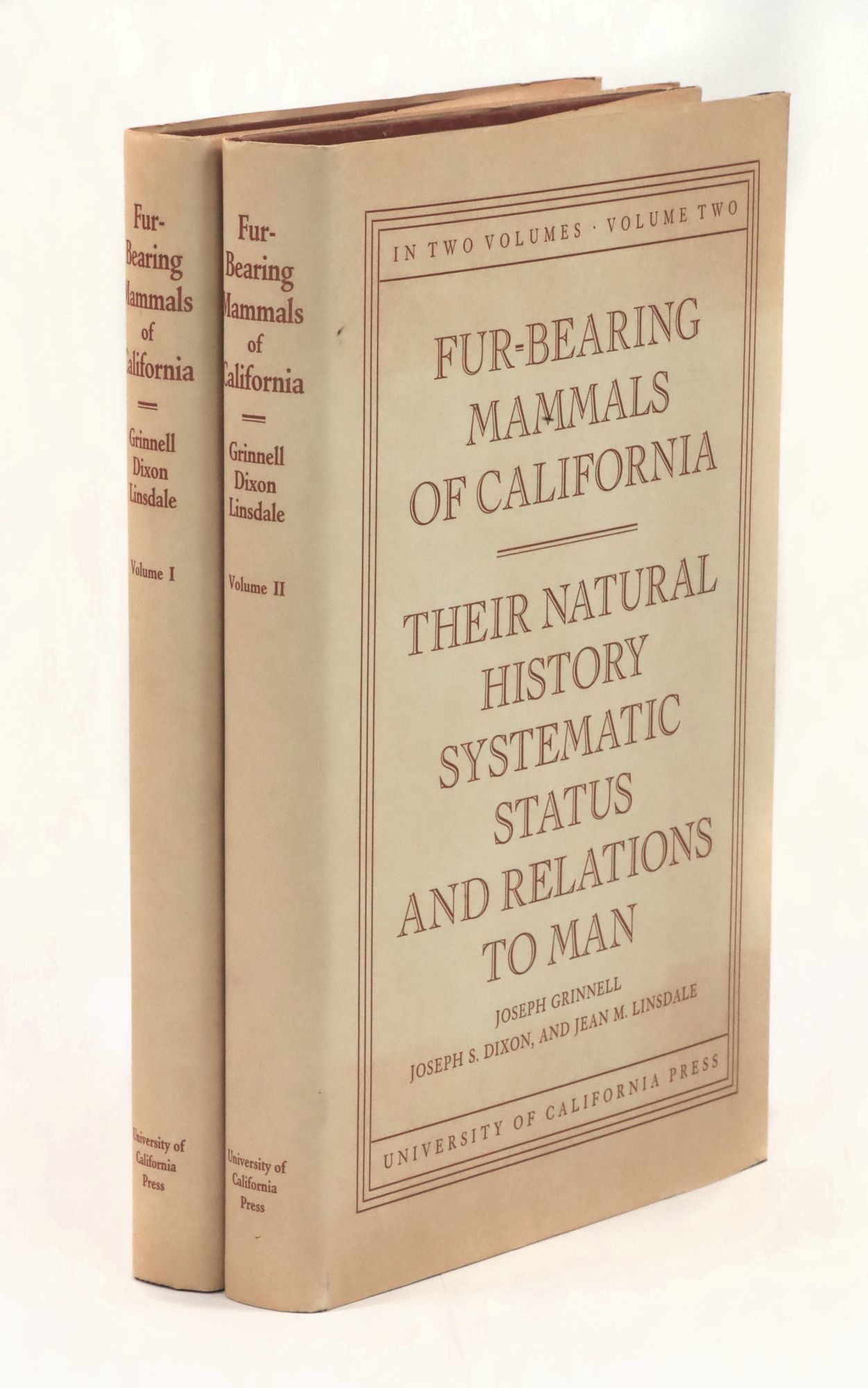 Berkeley: University of California Press, 1939. First Edition. Hardcover. Near fine. Two volumes, 6.75 x 10.25 inches, pp xii, 375; xiv, 377-777. Indexed, illustrated with photographs and line drawings, color frontispiece in each volume. A highly detailed work with separate chapters on opossum, bears, racoons, ring-tailed cats, martens, fisher, weasels, mink, wolverine, river otters, sea otters, spotted skunks, striped skunks, and badgers. Includes information on each species typical size and coloration, variations, breeding habits, behavior, distribution, population estimates, and more.
Offered by Walkabout Books.
For more info or to purchase this item, click here...
by Roald Dahl (Illustrations by Nancy Ekholm Burkert)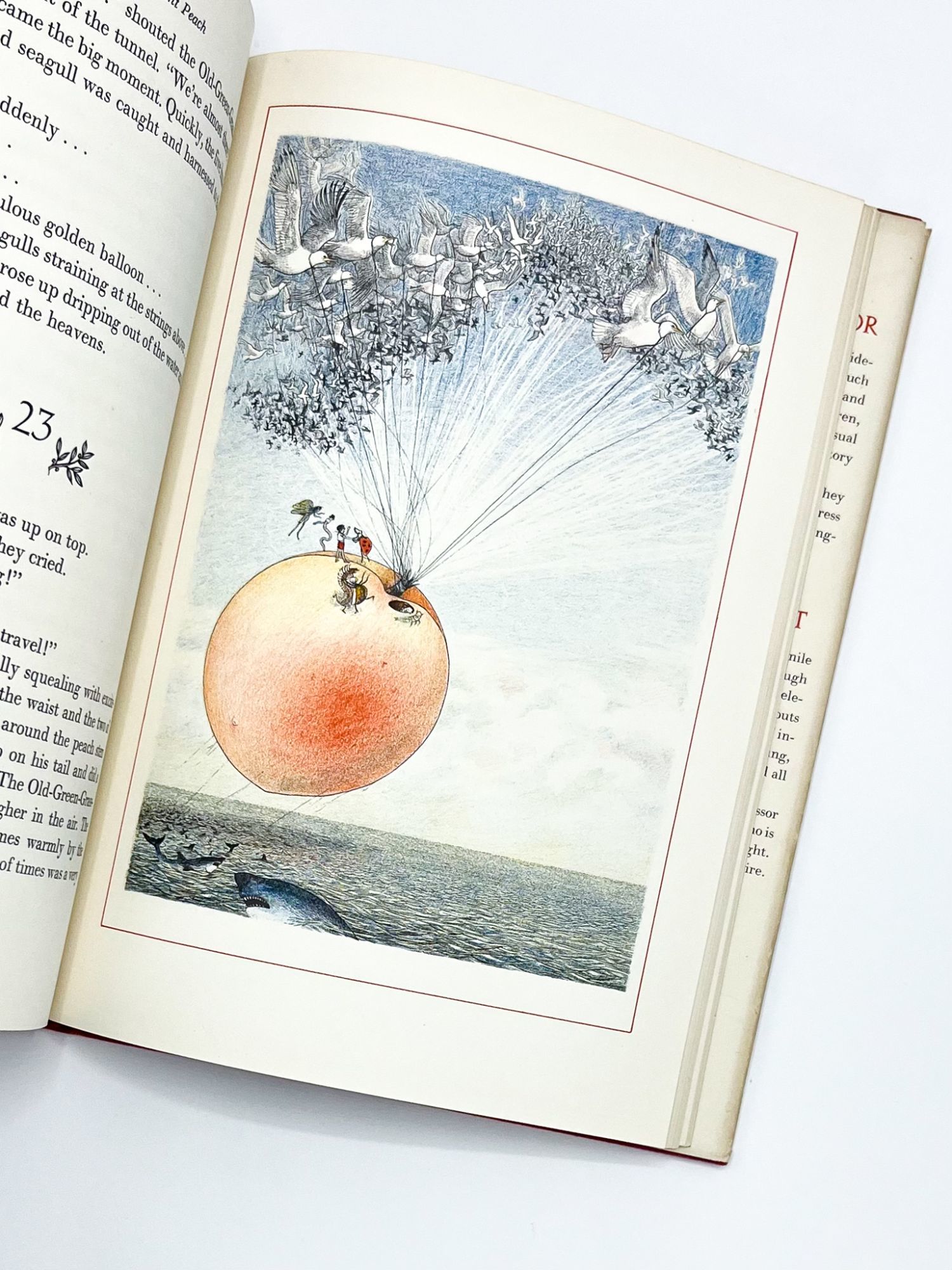 New York: Alfred A. Knopf, 1961. Fine in very good plus to near fine jacket. Signed first edition of one of Dahl's best children's books: characteristically bizarre, wicked, and heart-warming. When Dahl published his first book for children with Disney, GREMLINS (1943), he believed it was a happy one-off and focused instead on developing his career as a writer for adults. Nearly two decades later, Dahl published JAMES AND THE GIANT PEACH as his second children's book, finally moving into the field where his writing would develop into a powerful legacy. The darkness of Dahl's worlds for children have often been objected to by adults - this book regularly features on lists of banned or challenged books in American libraries - but for many children, it is the spark of fantasy within bleak settings that appeals to the imagination without becoming saccharine: Tim Burton famously told Dahl's widow he wanted to turn JAMES AND THE GIANT PEACH into a film because "it's the only book that ever gave me any hope when I was a child" (D IS FOR DAHL). A lovely copy, especially desirable signed by Dahl. 10'' x 6.75''. Original full blind-stamped red cloth, gilt-lettered spine. In original unclipped ($3.95) pictorial dust jacket. Green endpapers, yellow topstain. Illustrated by Burkert throughout in full color, red and black, and black and white. Wolff credited as binder in 5-line colophon. [8], 119, [1] pages. Signed by Dahl in blue ink on front endpaper. Light edgewear and toning to jacket with only shallow chipping at spine ends.
Offered by Type Punch Matrix.
For more information of to purchase this item, click here...
by Ian Fleming
Jonathan Cape, 1965. First British (and true first) Edition (first printing). The thirteenth James Bond book, the story of Bond's efforts to track down one of the most lethal hit-men in the world, "Pistols" Scaramanga. The issue without the "golden" gun on the front board. With the dust jacket design by Richard Chopping. Basis for the film. Fine/Near Fine -- incidental toning to the very top of the dust jacket flaps.. 1st Edition. Hardcover. Fine/Dust Jacket Included.
Offered by Bill Leone, Bookseller.
For more information or to purchase this item, click here...
The Green Hat (photoplay title: OUTCAST LADY) [Photoplay Edition]
by Michael Arlen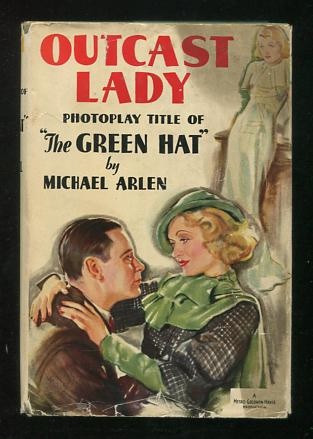 New York: Grosset & Dunlap. Very Good in Very Good dj. [1934] (c.1924). First Edition Thus. Hardcover. [modest wear to book extremties, minor soiling to edges of text block; the jacket shows some wear, and a few small nicks, along the top and bottom edges, with some minor creasing at the bottom edge of the front panel, light soiling to the rear panel, moderate fading to the spine]. (B&W photographic endpapers) Photoplay edition, a tie-in with the 1934 M-G-M film adaptation, entitled OUTCAST LADY, which starred Constance Bennett (who another bookseller offering this title seems to think is Marlene Dietrich) and Herbert Marshall (he of the wooden leg), and was directed by Robert Z. Leonard. This was Arlen's third novel, and its original success in both England and America catapulted its Armenian-born author to fame and fortune. The melodramatic story features a "shameless, shameful" woman who leads a hedonistic life in the mad whirl of London society as a rather perverse way of protecting the reputation of her dead husband, who had committed suicide on their wedding night. Written in what one critic called an "opium dream style," the book spawned both stage and film adaptations, all of which were bowdlerized to some degree due to story elements involving venereal disease and homosexuality. The 1925 stage version ran concurrently in New York and London, with Katharine Cornell and Tallulah Bankhead the respective headliners. The book and play were scandalous enough that the first film version, A WOMAN OF AFFAIRS (1928) with Greta Garbo and John Gilbert, bore only the discreet credit "from the story by Michael Arlen"; although by the time M-G-M got around to making this second version they at least credited the novel, they felt compelled (possibly due to the newly-tighted screws of the Production Code) to slap yet another title on it. Reflecting the belt-tightening that affected mid-Depression-era photoplay editions, this one eschews bound-in movie stills in favor of a montage of scenes on the endpapers (16 tiny photos altogether).
Offered by ReadInk.
For more information or to purchase this item, click here...
AT EASE. Stories I Tell to Friends (Signed)
by Dwight D. Eisenhower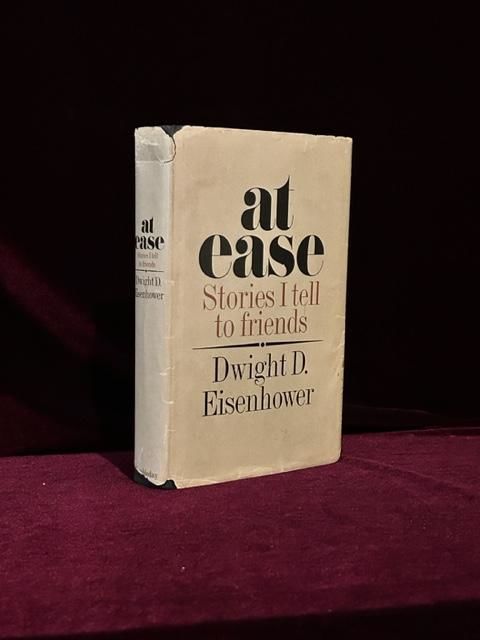 Garden City NY: Doubleday & Company, 1967. Hard Cover with Dust Jacket. Fine/Very Good. Large Octavo. SIGNED, INSCRIBED, AND DATED IN THE YEAR OF PUBLICATION BY DWIGHT D. EISENHOWER ON HALF TITLE PAGE. Early Printing. Price is $6.95 on front flap of dust jacket. A fine copy in a very good dust jacket with chip at dust jacket spine tips, small piece missing top of rear dust jacket panel, short closed tears. 400 pp.
Offered by Charles Parkhurst Books, Inc.
For more information or to purchase this item, click here...
THE COMMUNION SERVICE ACCORDING TO THE USE OF THE CHURCH OF ENGLAND, TOGETHER WITH THE KALENDAR
London: Printed by Alexander Moring at the De La More Press, 1903. No. 8 OF 20 COPIES PRINTED ON VELLUM (and 600 on paper). 250 x 155 mm. (9 7/8 x 6"). xiv, 272, [2] pp.Edited by Vernon Staley.
HANDSOME EGGPLANT MOROCCO BY RIVIERE & SON (stamp-signed in gilt on front turn-in), covers with a central cross outlined in gilt, surrounded by a gilt arabesque border filled with blind-stamped patterns, raised bands, one compartment with gilt lettering, others with central blind-stamped tool surrounded by lacy gilt pattern, arabesque rules, and patterning in blind, turn-ins with four gilt rules, vellum endleaves, all edges gilt. Printed in red and black, with several initials, one half-page illustration, 13 full-page illustrations, and 11 pictorial borders, engraved in wood and designed by Blanche McManus. Front pastedown with old catalogue description and the armorial bookplate of William Strang Steel; verso of first leaf (facing the title) with ink inscription noting the copy number and limitation, signed by A. Moring. Tomkinson, p. 210, no. 2. ◆The slightest hint of a bump to one corner, otherwise IN PRISTINE CONDITION inside and out.

This substantial vellum printing is appealing both to the eye and to the touch, with bright, buttery vellum leaves, a pleasing layout, and impressive illustrations, all bound up in an elegant binding by Riviere & Son. Clearly influenced by early printed prayerbooks as well as the work of the Kelmscott Press, the illustrations here are an unusual departure for American artist Blanche McManus (1869-1935), who is primarily known as an illustrator of children's books and as the author of several travelogues. The borders are a patchwork of small biblical scenes and images of saints and angels within architectural frames, highly reminiscent of the Books of Hours printed in Paris in the early 16th century. The full-page illustrations are especially impressive, breathing life into traditional Christian subject matter such as the Adoration of the Magi, the Crucifixion, and Pentecost, and brilliantly crisp against the white vellum, emitting a wonderful sense of energy and movement. The De La More Press was founded by Alexander Moring in 1895, and, while not in the first rank with Ashendene, Kelmscott, and Doves, it nevertheless produced handsome, high-quality books, and their vellum products would have been notable acquisitions for any collector. Not surprisingly, this luxury version of the book is rarely seen for sale.
Offered by Phillip J. Pirages Fine Books.
Wild Flowers of New England Photographed from Nature and Published: Parts II, III, IV, and VIII
by LINCOLN, EDWIN HALE (1848-1938)

Pittsfield, MA, 1904. (15 x 13 inches). Four portfolios, each portfolio with title, part title and two leaves of index, comprising 85 photographs, tipped onto heavy rag paper mounts with letterpress captions giving the subject's Latin binomial and common name in English. Within 4 cloth portfolios lettered in gilt. 85 photographs from Edwin Hale Lincoln's magnificent record of the wild flowers of New England: a masterpiece of American photography and an essential component of early twentieth-century American artistic sensibility.

Edwin Hale Lincoln (1848 - 1938) was born in Westminster, Massachusetts. Following service in the Civil War as a drummer boy and work as a page in the Massachusetts House of Representatives, he entered the photographic profession in Brockton in 1876. His early work included photographing yachts under full sail and documenting large estates. He visited Lenox initially in 1883 and moved permanently to the Berkshire area ten years later. His move coincided with the height of the development of Berkshire's "Summer Cottages," and Lincoln photographed many of these grand structures in the following years. Also at the end of the 19th-century, Lincoln began what was to become an extensive study of New England wild flowers, all photographed with a large-format view camera. The complete work, self-published between 1910 and 1914 in sixteen parts, forming eight volumes consisting of 400 platinum prints. This remarkable group of photographs from Lincoln's superb modernist photobook produced between 1893 and 1914 reveals Lincoln's direct and straightforward vision, his skill as a large format photographer, and his craftsmanship in producing notoriously difficult platinum prints. By combining the philosophical outlook of the Transcendentalists with a cool aesthetic modernism, the photographer's clear and precise approach to image-making stands out from the soft-focus styles of his Photo-Secessionist contemporaries. A proto-conservationist, Lincoln was painstaking in his attempts to photograph each specimen without further endangering the species: with this in mind he would carefully dig up the selected plant, wrap the roots in moss, and return to his studio. Here he replanted his finds, allowing them to continue to grow until they reached their peak. He then took the required photograph using only the natural light from a window in his studio, taking only a single exposure of each plant. The large negative was quickly developed and printed by hand on platinum paper. After the exposure was made, the plant was returned unharmed to the spot in the woods where he had found it. Lincoln's care and attention to the individual plants seems to have suffused the resulting images with vivacity, while his use of the platinum process, along with close-up shots against flat backgrounds, resulted in tonally complex images with remarkable depth. "With slow looking, each [print] becomes a marvel of order and ornament. Nature itself emerges as an artist of infinite inventiveness...Like Thoreau, [Lincoln] had a reverence for nature that was as uncompromising as his coolly objective vision" (Johnson). Lincoln developed strong connections with the American Arts & Crafts movement and his work appeared in several issues of Gustave Stickley's The Craftsman, the movement's preeminent publication. Lincoln's photographs of New England's wild flowers clearly portrayed in fine detail against plain backgrounds and handsomely printed with a strong range of tones can be viewed as elegant precursors to the "straight" and "pure" modernist photographs produced in the later 1920s and 1930s by Imogen Cunningham, Edward Weston, Ansel Adams, and other members of the loosely associated Group f.64. Part II: Honeysuckle, Dogwood, and Saxifrage Families. Part III: Rose Family Part IV: Rose and Heath Families. Part VIII: Mint and Figwort Families.

William B. Becker, "Permanent Authentic Records: The Arts & Crafts Photographs of Edwin Hale Lincoln," in History of Photography: an International Quarterly, vol. 13, no. 1, January 1989; Keith Davis, An American Century of Photography: From Dry-Plate to Digital, second edition, (Kansas City, 1999), pp. 57-58, pl. 49; William Ewing, Flora Photographica (London, 1991), pl. 73; Lisa Bush, Hankin'No Record So True': The Wildflower Photographs of Edwin Hale Lincoln, 1848-1938, September 19-October 26, 20O2.(Richard York Gallery Exhibition Catalogue); A Persistance of Vision: photographs by Edwin Hale Lincoln. (Lenox, Ma., 1981). (Lenox Library Association / Berkshire Museum Exhibition Catalogue); OCLC 15680365; RLIN NYPG82-B1373; William Robinson, A Certain Slant of Light: The First Hundred Years of New England Photography (Boston, 1980), pp. 170-72, p. 228; Julia Van Haaften, From Talbot to Stieglitz: Masterpieces of Early Photography from the New York Public Library (New York, 1982), p. 17, pls. 66 and 67. Ken Johnson, "Edwin Hale Lincoln: 'No Record so True'" in The New York Times, 18 October 2002.
Offered by Donald A. Heald Rare Books.
On the Origin of Species by Means of Natural Selection or The Preservation of Favoured Races in the Struggle for Life
by DARWIN, CHARLES

New York: D. Appleton and Company, 1860. Full Description: DARWIN, Charles. On the Origin of Species by Means of Natural Selection, or The Preservation of Favoured Faces in the Struggle for Life. New York: D. Appleton and Company, 1860.

First American edition, first issue, with two quotations on the verso of the half-title. One of only 1,500 copies printed. Octavo (7 5/8 x 5 inches; 195 x 125 mm). 432 pp. Folding lithographed diagram (speciation tree) facing p, 108.

Original dark brown bead-grain cloth with covers decoratively stamped in blind and spine ruled in gilt and blind and lettered in gilt. Original dark brown coated endpapers. A minor amount of foxing throughout. Page 70 with previous owner's marginal notes in red pencil. A small blindstamp to front flyleaf. Overall a near fine copy of the extremely scarce first issue of the first American edition. Housed in a custom black morocco clamshell.

One of the most influential scientific works of the nineteenth century, On the Origina of Species was (and still is) one of the most controversial. In it "Darwin not only drew an entirely new picture of the workings of organic nature; he revolutionized our methods of thinking and our outlook on the natural order of things. The recognition that constant change is the order of the universe had been finally established and a vast step forward in the uniformity of nature had been taken" (Printing and the Mind of Man).

Although published the same year as the second English edition, the text of the first American edition (with the two stereo reprints of the same year) is identical to the first English edition (Freeman 373), with the whale-bear story surviving intact.
Offered by Heritage Book Shop.
Bound for Glory; Illustrated with sketches by the author
by Woody Guthrie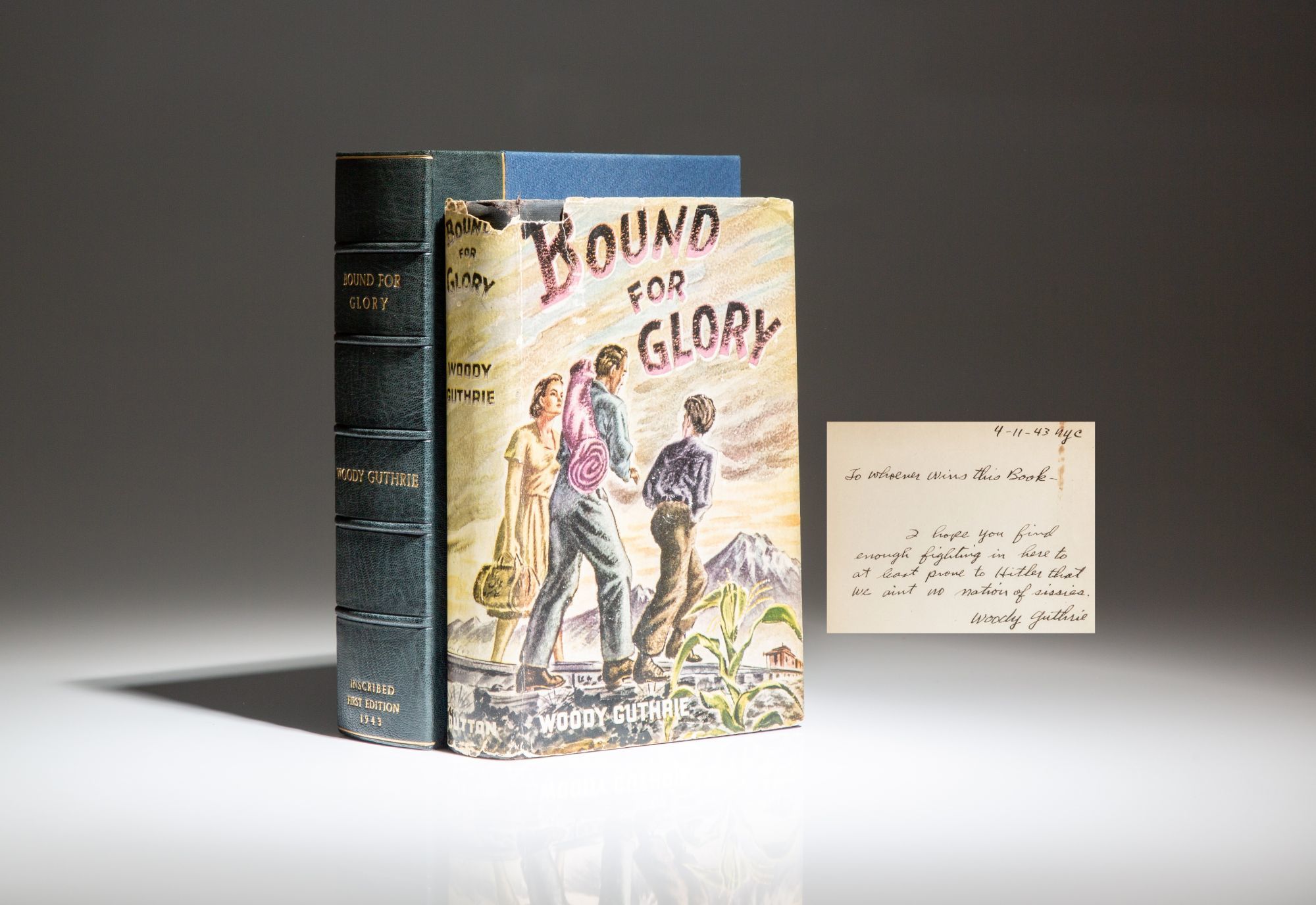 New York: E.P. Dutton & Co., Inc, 1943. First Edition. Cloth. Very good/good. Inscribed first edition, first printing of Bound for Glory by Woody Guthrie, in the second issue dust jacket.. Octavo, 428pp. Original black cloth, title in gilt on spine, gilt illustration on front cover. Stated "First Edition" on copyright page. Light wear to joints, front hinge starting. Solid text block, with a few short scratches to covers, small puncture to spine, and a touch of soiling to endpapers. Includes frontispiece portrait of the author. In the publisher's dust jacket, $3.00 retail price and "second printing" listed on front flap, small losses to corners and edges, light sunning to spine, vibrant illustrations. Housed in a custom blue half morocco clamshell case, title in gilt on spine with five raised bands. Inscribed by the author on the front free endpaper "4-11-43 NYC / To whoever wins this Book - I hope you find enough fighting in here to at least prove to Hitler that we aint no nation of sissies. Woody Guthrie." Woody Guthrie (1912-1967) released his autobiography Bound for Glory at the age of 31, three years after his most famous song, "This Land is Your Land" debuted. Guthrie's inscription, explicitly referencing Hitler, reinforces his anti-fascist politics and songwriting throughout the war period. He was part of the folk-protest group The Almanac Singers, which kept utopian ideals and supported the working-class man. In June 1943, Guthrie joined the U.S. Merchant Marine and wrote songs in support of sailors and unions but was moved into the U.S. Army in 1945 due to his (unofficial, but highly suspected) affiliation with the Communist Party.
Offered by First Edition Rare Books.
Large Collection of Late 19th and Early 20th Century Black Americana Sheet Music
Various cities including New York, Chicago, San Francisco, and Boston: various publishers, primarily circa 1890's to 1920s. Various sized quartos (most measuring approximately 31 x 23.5 cm or 35 x 26.5 cm). Original publisher's colorful wrappers; most circa 4-8 pp. Wrappers worn, many with detached covers, some with tape repairs or ink stamps, some toning to leaves, overall about good. A large collection of 160 pieces of English-language minstrel sheet music songs (including several title duplicates with different cover art), most depicting offensive stereotypes of Black people and caricatures and featuring titles that range from campy to violent. Some have lyrics, while some were instrumental pieces and piano solos.

The songs in this group include music written by Stephen Foster, Billy Rose, Kerry Mills, Bud De Sylva, Chris Schonberg, Wendell Hall, Thomas Allen, Theo Metz, Joe Hayden, Pat Rooney, Harry Von Tilzer, Thurland Chataway, and many others. These songs were mainly performed by white performers, often in blackface makeup. These performers included: Sophie Tucker, Rae Samuels, Tascot the White Coon, Josephine Sabel, Belle Gold, Morris Silver, Anna Held, Maud Lambert, Eddie Cantor, and others. Some of the titles include: After the 'Possum Hunt, At a Darky Camp Meeing, Aunt Jemima's Picnic Day, Cannibal Love, Chili Sauce Rag, Four Little Sugar Plums, I Am de Leadin' Lady ob de Town, I'm Gonna Bring a Watermelon to My Girl To-night, It Takes a Long Tall Brown-Skin Gal To Make a Preacher Lay His Bible Down, Koonville Koonlets, Little Sticks 'o Licorice, My Kickapoo Queen, Plantation Days, Underneath the Harlem Moon, and When the Boys From Dixie Eat the Melon on the Rhine.

A fascinating group which helps to shed light on many of the stereotypes held of African-Americans at the turn of the century. Although many are dominated by problematic ethnic stereotypes, there are also clear nods to a more European aesthetic. A complete list of titles is available upon request.
Offered by Bernett Penka Rare Books.
The 13 Clocks by James Thurber

New York: Simon and Schuster, 1950. First edition, first issue. Illustrated by Mark Simont. 124pp. 1 vols. 8vo. Original rose cloth-backed blue boards, illustrated dust jacket. Some light wear to jacket else fine. First edition, first issue. Illustrated by Mark Simont. 124pp. 1 vols. 8vo. INSCRIBED. One of Thurber's masterly fairy tales for adults.

Inscribed in Thurber's hand " Merry Christmas Morris & Margaret from Jim and Helen." (Thurber).
Offered by James Cummins, Bookseller.
Handmade Victorian Valentine, watercolor, manuscript, scrap and crayon
n.p., 1900. First Edition. Letter. Very good. Folding paper valentine with 'To my dear friend' and paste down scrap scene, interior showing nine handpainted hearts connected by pale blue lines, and the verse: Only a Greeting, Ever through life's pilgrimage, Be it thine to know, That sweet, helpful sympathy, Which loving hearts bestow. Opal Shott to Miss Moneyhun.
Offerd by Little Sages Books.
Frances Brundage. No publisher, place of publication or date. An 8 pp. heavy stock Valentine gift book with embossed die-cut covers. Four of the eight pages are full page chromolithograph illustrations. Appears to be the work of Frances Brundage. The remainder of the pages are rhyming verse. Front cover has Art Nouveau influenced poppy border. c1905. Measures 7 1/2" x 5 1/2". Condition: overall excellent.
Offered by Eclectibles.
Be My Valentine, Charlie Brown
by Charles M. Schulz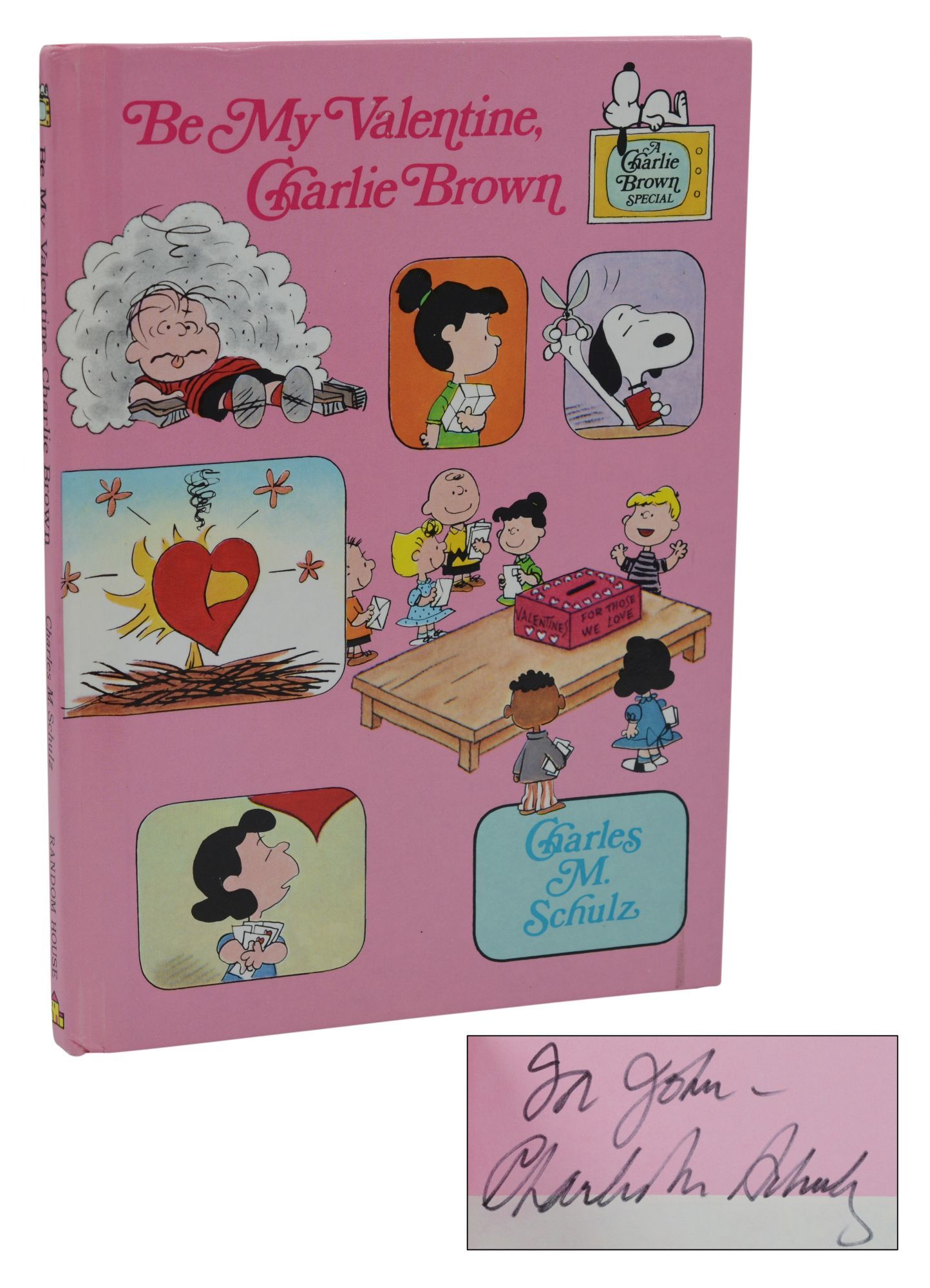 New York: Random House, 1976. Near Fine. Signed by Charles M. Schulz, inscribed to a former owner on the first page. Publisher's illustrated pink laminated boards, lacking a dust jacket. Near Fine, with corners bumped and light shelf wear, small scuff to bottom corner of front cover.
Offered by Burnside Rare Books.
by John Steinbeck (Illustrations by Jose Clemente Orozco)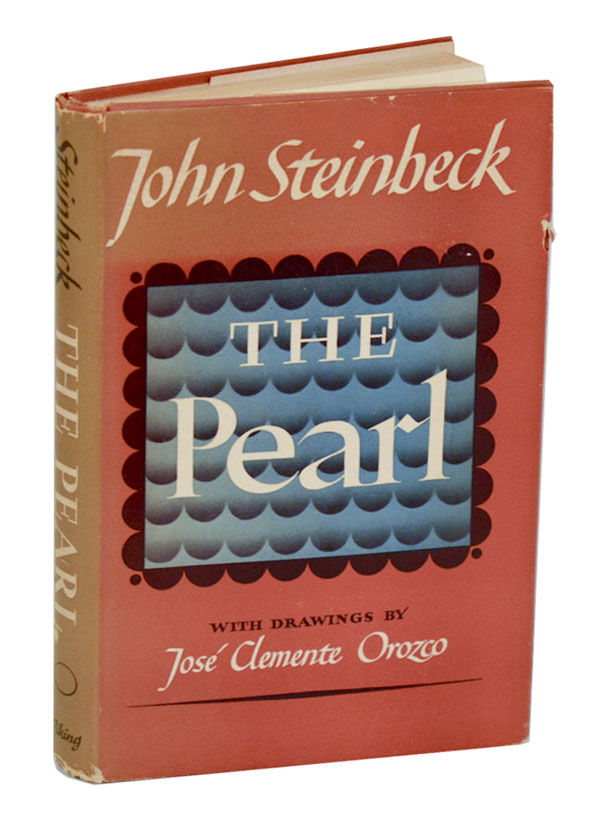 New York: The Viking Press, 1947. First edition. Hardcover. 122 pages. One of Steinbeck's more beloved works, a short novel that has some drawings by Jose Clemente Orozco. A very good copy in cloth boards and with some minor wear and in a very good second issue dust jacket with some small chips, tears, and some toning to the edges of the rear panel. Despite the issues, a solid copy of this book from the author of "The Grapes of Wrath" and "East of Eden.
Offered by Jeff Hirsch Books.
The History of the Decline and Fall of the Roman Empire
by Edward Gibbon
London: W. Strahan and T. Cadell, 1788. First Edition. Very Good. Complete in six volumes. All First Editions except volume 1, which is a Second Edition. Large quarto. Full contemporary mid-brown calf with early 20th century rebacks (vol. 1 fully renewed at the same time) and replaced endpapers, raised bands, red lettering piece and black numbering piece. Tips worn and exposed, boards edge-worn. Sporadic light foxing throughout. A handful of small closed tears and marginal stains. Vol. 1 has some offsetting from engraved frontispiece portrait to title page as well as heavy foxing to both; first page of preface torn and missing about half; small wax stain on pages 471-4. Vol. 2: both maps present with small marginal tears but no loss. Vol. 3: binder mistakenly placed duplicate of map, "The western Part of the Roman Empire," in previous volume rather than "The eastern Part..." map. An attractive set of Gibbons' magnificent history.
Offered by Burnside Rare Books.
Love Medicine [Signed]
by Louise Erdrich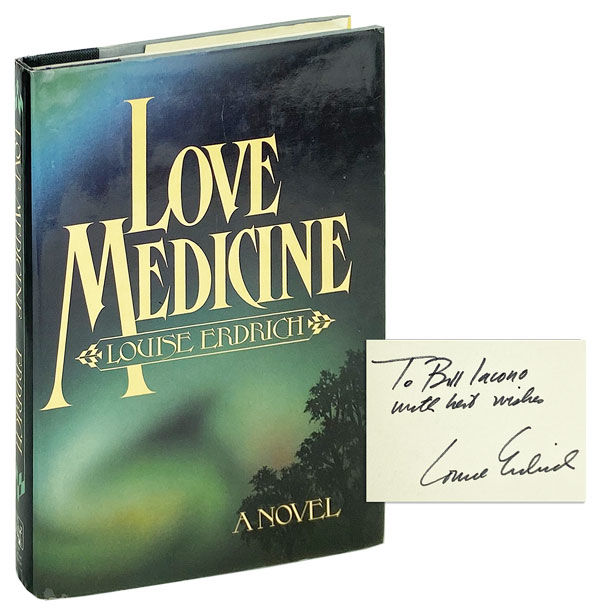 New York: Holt, Rinehart, and Winston, 1984. Very Good/Very Good. New York: Holt, Rinehart, and Winston, 1984. Third Printing. Signed by Erdrich with brief inscription to previous owner at front free endpaper. Octavo. 272 pp. Illustrated dust jacket. Blue and black boards stamped in gilt.

Dust jacket rubbed with some creasing along edges. Boards worn along edges with some minor fraying. Binding sound and pages unmarked.
Offered by Capitol Hill Books.
[The Decameron.] The Modell of Wit, Mirth, Eloquence, and Conversation
by BOCCACCIO, GIOVANNI (1313-1375)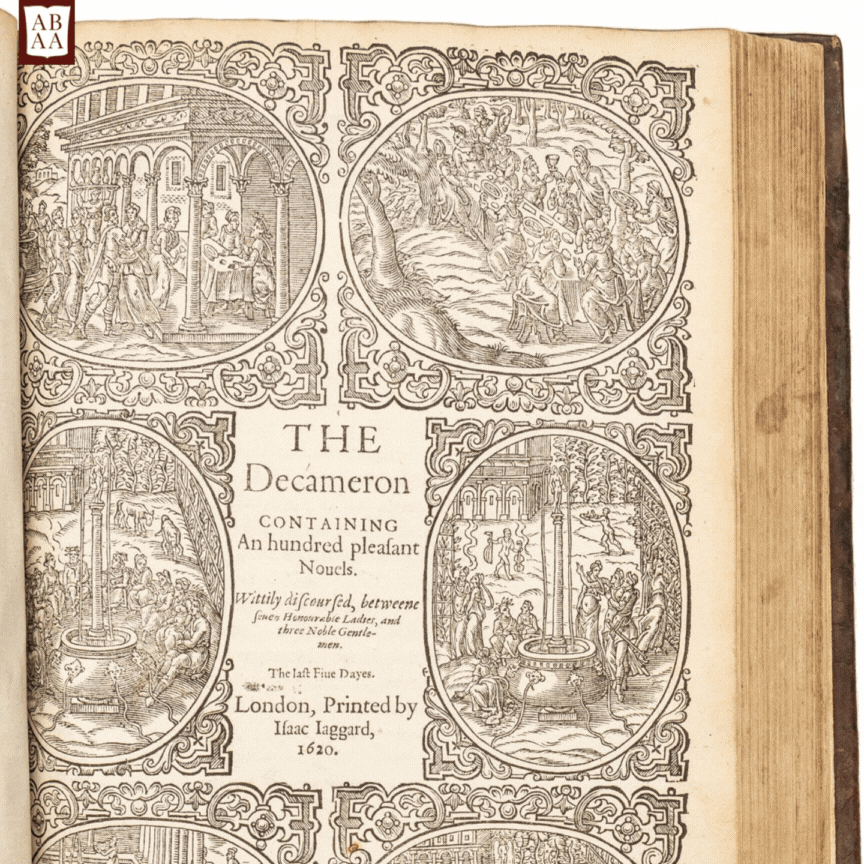 London: Printed by Isaac Jaggard, for Mathew Lownes, 1625 and, 1620. SECOND EDITION OF VOLUME ONE (1st 1620). FIRST EDITION OF VOLUME TWO. The first volume comprises Books 1-5. The second Books 6-10. Hardcover. Fine. Bound in contemporary English calf ruled in blind, neatly rebacked retaining the original spine, corners mended, later end-leaves. A crisp copy with minor scattered stains and clean tears (no loss). Light ink stain to first title, light dampstain to lower blank margin of first two gatherings, slight chipping to lower corner of first two lvs. Small rust holes in lvs. E3-4, M3-4, and Dd1-2; small marginal paper flaw to lvs. M1 and 2nd Dd3, lvs. O6 and Ss3 (Pt. 2) with tears in text (no loss), 2nd Oo2 with sm. repaired hole. With the bookplates of Shuttleworth Forcett; Kap Shuttleworth, Cawthorpe Hall; and Stuart W. Jackson; housed in chemise and half-morocco slipcase. Title page of the first volume printed with a woodcut border (McKerrow & Ferguson 212); The second volume with an illustrated woodcut title-page with six illustrations within oval frames. Illustrated throughout with small woodcut scenes. "The woodcuts are of French origin, based on those used in a 1558 French translation printed at Lyons by Guillaume Rouillé."

The printer John Wolfe may have attempted to publish either an Italian version or English translation of the "Decameron" in 1587, when it was entered on the Stationers' Register in his name, but no trace of this work survives, so we may presume it was never published.

"The "Decameron", collection of tales by Giovanni Boccaccio, probably composed between 1349 and 1353. The work is regarded as a masterpiece of classical Italian prose. While romantic in tone and form, it breaks from medieval sensibility in its insistence on the human ability to overcome, even exploit, fortune.

"The "Decameron" comprises a group of stories united by a frame story. As the frame narrative opens, 10 young people (seven women and three men) flee plague-stricken Florence in 1348 to a delightful villa in nearby Fiesole. Each person rules for a day and sets stipulations for the daily tales to be told by all participants, resulting in a collection of 100 pieces. Each day ends with a canzone (song), and some of these represent Boccaccio's finest poetry.

"Each daily collection of stories takes a different tone or theme. Day 1 consists of a witty discussion of human vices. On Day 2, fortune triumphs over its human playthings, but it is trounced by human will on Day 3. Day 4 is marked by tragic love stories. Day 5 brings happy endings to love that does not at first run smoothly. Wit and gaiety again reign on Day 6. Trickery, deceit, and often bawdy license run free on Days 7, 8, and 9. By Day 10, earlier themes are brought to a high pitch; the widely borrowed story "The Patient Griselda" closes the cycle of tales.

"It was probably in the years 1348-53 that Boccaccio composed the "Decameron" in the form in which it is read today. In the broad sweep of its range and its alternately tragic and comic views of life, it is rightly regarded as his masterpiece; its influence on Renaissance literature throughout Europe was enormous.

"The "Decameron" begins with the flight of 10 young people (7 women and 3 men) from plague-stricken Florence in 1348. They retire to a rich, well-watered countryside, where, in the course of a fortnight, each member of the party has a turn as king or queen over the others, deciding in detail how their day shall be spent and directing their leisurely walks, their outdoor conversations, their dances and songs, and, above all, their alternate storytelling. This storytelling occupies 10 days of the fortnight (the rest being set aside for personal adornment or for religious devotions); hence the title of the book itself, "Decameron", or "Ten Days' Work." The stories thus amount to 100 in all. Each of the days, moreover, ends with a canzone (song) for dancing sung by one of the storytellers, and these canzoni include some of Boccaccio's finest lyric poetry. In addition to the 100 stories, Boccaccio has a master theme, namely, the way of life of the refined bourgeoisie, who combined respect for conventions with an open-minded attitude to personal behaviour.

"The sombre tones of the opening passages of the book, in which the plague and the moral and social chaos that accompanies it are described in the grand manner, are in sharp contrast to the scintillating liveliness of Day I, which is spent almost entirely in witty disputation, and to the playful atmosphere of intrigue that characterizes the tales of adventure or deception related on Days II and III. With Day IV and its stories of unhappy love, the gloomy note returns; but Day V brings some relief, though it does not entirely dissipate the echo of solemnity, by giving happy endings to stories of love that does not at first run smoothly. Day VI reintroduces the gaiety of Day I and constitutes the overture to the great comic score, Days VII, VIII, and IX, which are given over to laughter, trickery, and license. Finally, in Day X, all the themes of the preceding days are brought to a high pitch, the impure made pure and the common made heroic.

"The prefaces to the days and to the individual stories and certain passages of especial magnificence based on classical models, with their select vocabulary and elaborate periods, have long held the attention of critics. But there is also another Boccaccio: the master of the spoken word and of the swift, vivid, tense narrative free from the proliferation of ornament. These two aspects of the "Decameron" made it the fountainhead of Italian literary prose for the following centuries.

"It is the spirit in which Boccaccio treats his subjects and his forms that is new. For the first time in the Middle Ages, Boccaccio in the "Decameron" deliberately shows people striving with fortune and learning to overcome it. To be truly noble, according to the "Decameron", people must accept life as it is, without bitterness, must accept, above all, the consequences of their own action, however contrary to their expectation or even tragic they may be. To realize our own earthly happiness, we must confine our desire to what is humanly possible and renounce the absolute without regret. Thus Boccaccio insists both on one's powers and on their inescapable limitations, without reference to the possible intervention of divine grace. A sense of spiritual realities and an affirmation of moral values underlying the frivolity even in the most licentious passages of the "Decameron" are features of Boccaccio's work that modern criticism has brought to light and that make it no longer possible to regard him only as an obscene mocker or sensual cynic."(Britannica).
Offered by Liber Antiquus.
Learn more or purchase this item...
by (BINDINGS - JEWELLED, SANGORSKI & SUTCLIFFE). TENNYSON, ALFRED LORD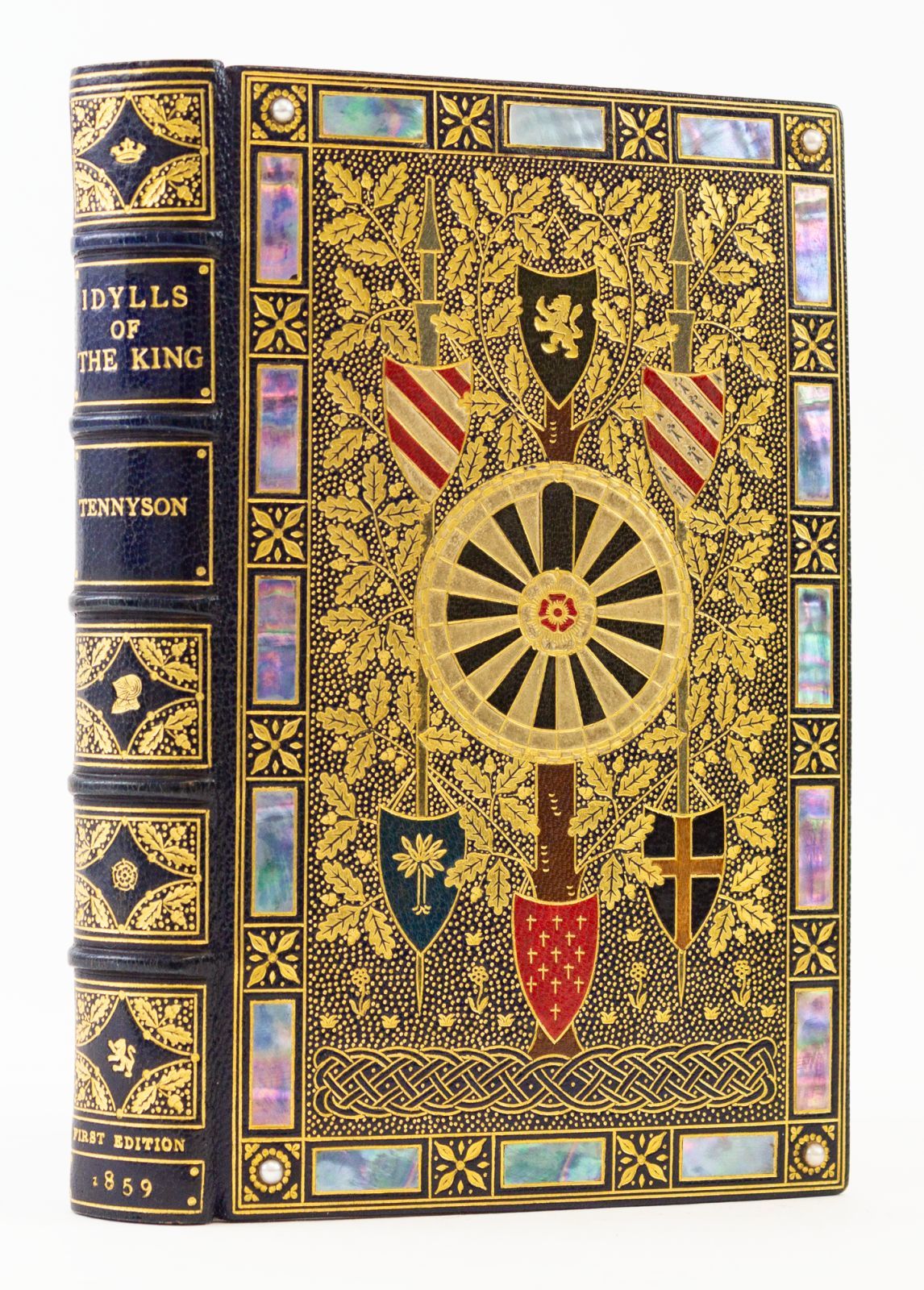 London: Edward Moxon and Co, 1859. FIRST EDITION, First Printing (verso of title page blank, rather than with imprint of Bradbury and Evans). 170 x 105 mm. (6 3/4 x 4 1/8"). 4 p.l., 261, [3] (blank), 8 (ads) pp.
SPLENDID DARK BLUE MOROCCO, RICHLY GILT, INLAID, AND BEJEWELLED BY SANGORSKI & SUTCLIFFE (signed with the binder's cipher in gilt on lower doublure), COVERS EACH WITH A BORDER OF 16 INLAID MOTHER OF PEARL RECTANGLES alternating with a square gilt floral motif, EACH CORNER SET WITH A PEARL surrounded by gilt dots, central panels pointillé in gilt, with a central oak tree of inlaid brown morocco trunk and gilt-stamped leaves and acorns, a gilt tree guard of a Celtic braid design at its base, the tree with two shields of inlaid colored morocco above and below a large central ornament, that on the upper cover a medallion representing the Round Table, with sections of alternating ivory and brown morocco and a red and white rose at center, that on the lower cover the arms of King Arthur (13 gold crowns on a shield of azure morocco), four additional multi-colored inlaid morocco shields with heraldry of Knights of the Round Table attached to pale gray-green morocco lances on either side of the oak, raised bands, spine compartments with acorn-and-oak-leaf cornerpieces on a pointillé background, at center either a crown, helmet, rose, or rampant lion in gilt, gilt lettering, gilt-ruled turn-ins with inlaid green and white waterlilies on each side, FULL IVORY PIGSKIN DOUBLURES ruled in gilt, with inlaid pink flowers and green leaves in each corner, upper doublure also with a large gilt sword, the hilt surrounded by additional inlaid flowers and leaves, a small inlaid turquoise banner with the word "Excalibur" in gilt below it, gilt-ruled white pigskin endleaves, cream-colored silk flyleaves, all edges gilt. Housed in a dark blue-gray morocco box with raised bands and gilt lettering, lined with velvet (the box spine faded to brown and with a few small stains). Wise 87; Ashley VII, 120; Sterling 924; Tinker 2077. For the binding: Ratcliffe, "Sangorski & Sutcliffe: One Hundred Jewelled Bookbindings" #97; Miriam Wieder Elkind, "Jewelled Bindings 1900-1939 Sangorski & Sutcliffe and Riviere: a checklist" in "The Book Collector 1975-1992," (this binding is item #54). ◆One leaf with lower corner repaired (well away from text), additional trivial imperfections internally, otherwise the contents quite fine, and THE BINDING IN PERFECT CONDITION.

Replete with references to the Arthurian legends that inspired Tennyson's series of poems, this is a binding for which the word "spectacular" has to be used. It is a memorable creation of Francis Sangorski (1875-1912) and George Sutcliffe (1878-1943), who had learned the craft of binding from Douglas Cockerell before founding their own bindery in 1901. As early as 1905, Sangorski & Sutcliffe began to specialize in custom-made jewelled bindings incorporating elaborately gilt and inlaid designs, and the bindery reached its zenith in the first dozen years of the 20th century, when their most gorgeous jewelled bindings were produced. Ratcliffe estimates that of these special bindings "no more than 300 were ever produced," and given the labor-intensive process required to produce a binding like the present one, this small number is not surprising. The delicate gilt tooling here would have required a great many hours of painstaking work, as would the precise inlays that reproduce the heraldic shields of Arthur's knights. Sangorski & Sutcliffe endeavored to incorporated imagery from the text they were binding into their designs, and their choices here evoke a noble and heroic effect, rich in symbolism. This volume also has significant textual value as the first publicly available printing of "Idylls" (a private printing of the first two "Idylls" had appeared in 1857.) Tennyson had a lifelong fascination with the stories of King Arthur and his knights, as demonstrated in early poems like "The Lady of Shalott" and continued in this first series of four "Idylls" ("Enid," "Vivien," "Elaine," and "Guinevere"), which would grow over a quarter century into a collection of a dozen long poems, including "The Passing of Arthur" and "The Holy Grail." Late in life, Tennyson noted, "I took the legendary stories of the Round Table as illustrations. I intended Arthur to represent the Ideal Soul of Man coming into contact with the warring elements of the flesh." Happily, our book was recognized from the beginning as a treasure, so the care of previous owners has insured the volume is little changed from the sparkling day it left the bindery..
Offered by Phillip J. Pirages Fine Books.
Learn more about or purchase this item...
The Philosophy of Andy Warhol (From A to B and Back Again) -- Titled Soup Can Drawing, Signed Twice
by Andy Warhol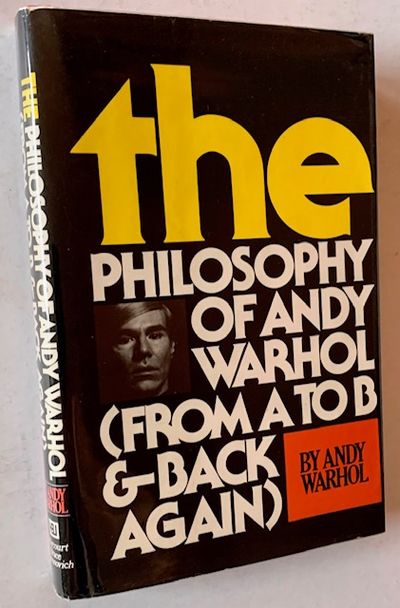 New York: Harcourt Brace Jovanovich, 1975. Boards. Fine/Fine. A true collector's copy of the 1975 stated 1st edition (with the correct requisite letter code). SIGNED IN FULL BY ANDY WARHOL, ALSO INITIALED BY HIM AND FEATURING A DISTINCT SOUP CAN, LABELED "CAMPBELL'S SOUP" IN HIS HAND. A gorgeous copy to boot, genuinely approaching pristine. Clean and Near Fine to Fine in a crisp, price-intact, Near Fine to Fine dustjacket. The sharpest copy this bookseller has seen.
Offered by Appledore Books.
The Drowning Pool (Signed First Edition)
by KENNETH MILLAR WRITING AS JOHN ROSS MACDONALD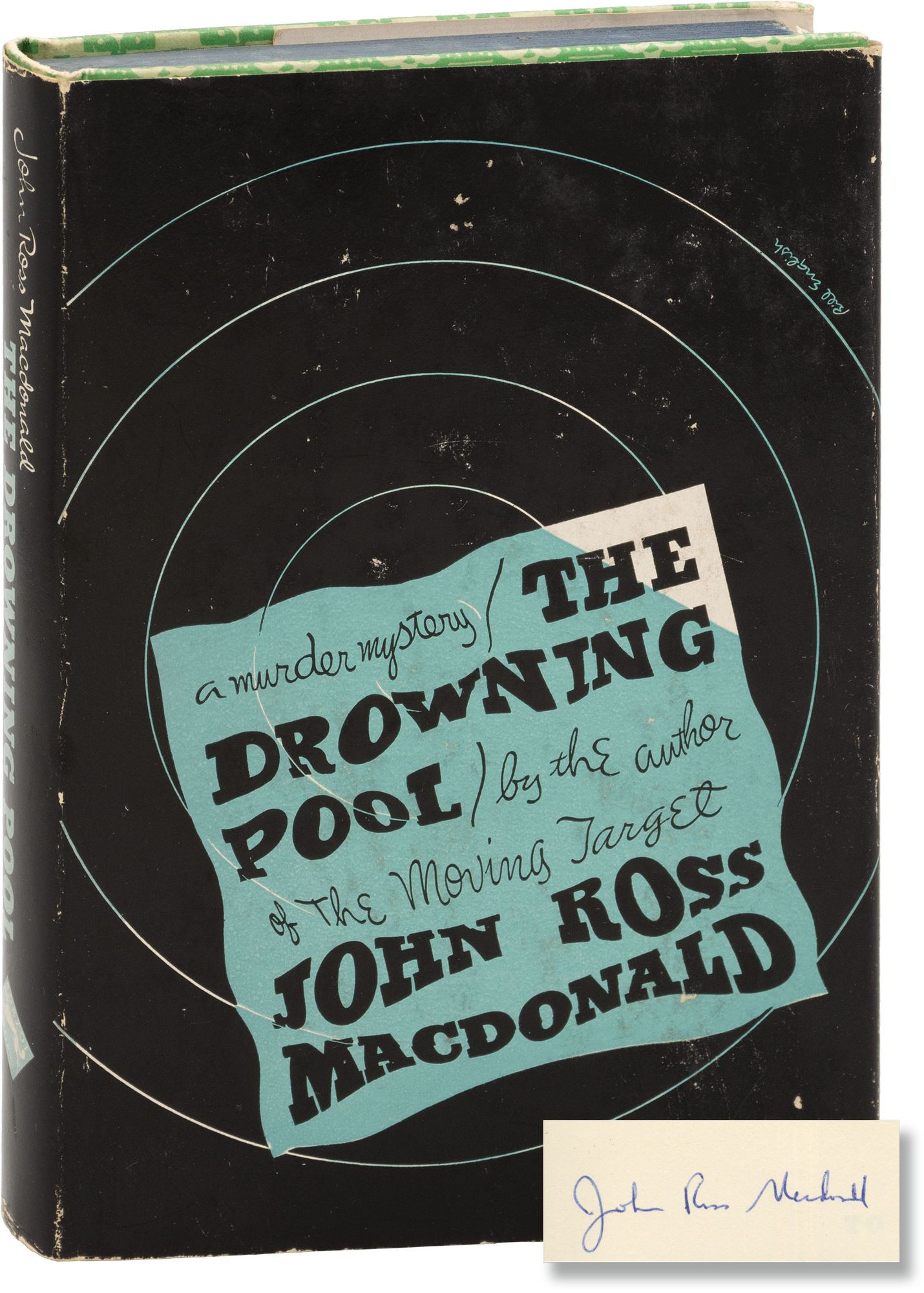 New York: Alfred A. Knopf, 1950. First Edition. First Edition. SIGNED by the author on the title page.

The second Lew Archer novel, basis for the 1975 film, the second of two Lew Archer adaptations featuring Paul Newman in the lead role (renamed "Harper").

Very Good plus in a Very Good plus dust jacket. Boards slightly warped, with faint foxing on the top page edges. Jacket moderately rubbed, with light wear on the spine ends. In a black cloth slipcase.
Offered by Royal Books.
The Sword of Welleran and Other Stories
by Lord Dunsany
London: George Allen & Sons, 1908. Very Good. London: George Allen & Sons, [1908]. First Edition in second state binding with just "George Allen" imprint at tail. Octavo. 243 pp. Ten black and white plates including frontis, all present. Publisher's green cloth with gilt lettering and sword decoration. Gilt top with deckled fore- and bottom edge.

Boards a bit edgeworn with light bumps to corners and rubbing down joints. Spine chipped and fraying at head and nudged at both ends, with some general dulling and soiling to cloth. Pages a touch toned along edges but unmarked. Opens easily between a few gatherings, but binding is sound.

A collection of short stories and fables, including "The Fortress Unvanquishable, Save For Sacnoth," "The Whirlpool," "The Kith of the Elf-Folk," and others.
Offered by Capitol Hill Books.
Twenty-Two Press Photographs of a Women's Fitness Program in Cleveland during World War Two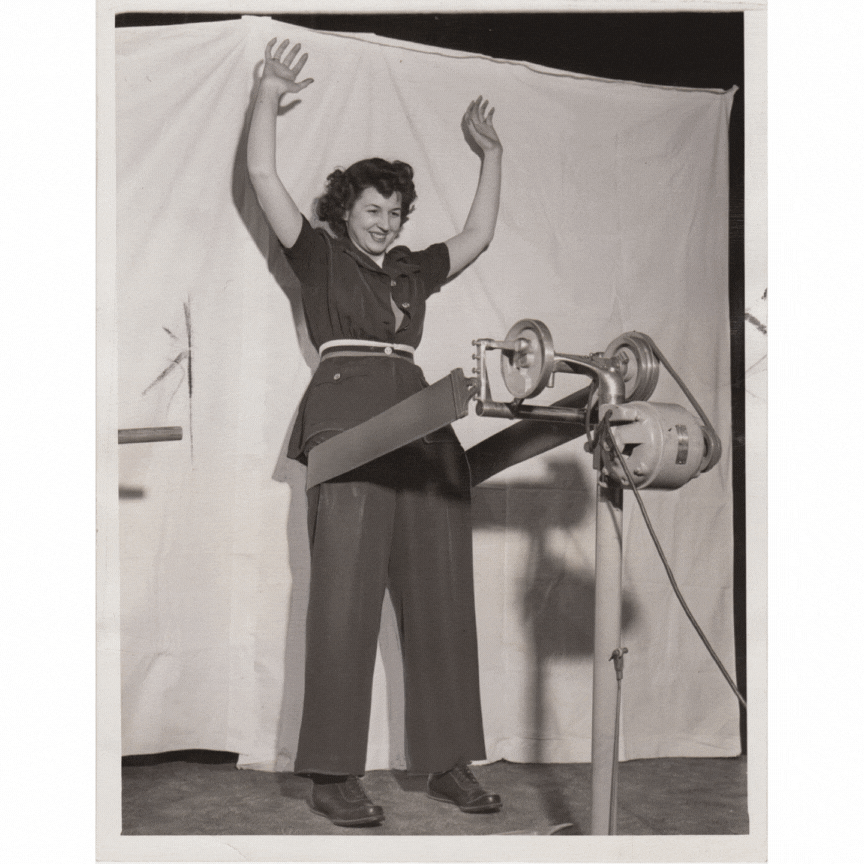 Cleveland, 1942. Silver prints, most 6 ½ by 9, with various editorial marks and identifiers to versos. A collection of women's fitness press photographs taken around Cleveland in 1942, from the archives of the Cleveland News. Excellent. A collection of twenty-two photographs documenting women's fitness programs in Cleveland in 1942. The programs, and corresponding articles in the Cleveland News, appear to be the work of Eleanor Dearnley, physical education teacher at Flora Stone Mather College. Other photographs show women's fitness activities at the Lakewood Community Center, also in Cleveland. There are several examples of similar local efforts in support of the national "Keep Fit for Victory" Campaign.

The photographs show women in a range of activities - basketball, stretching, calisthenics, volleyball, etc. Some of the photographs are graphically hand-painted by the editorial staff. Most pictures have corresponding articles pasted onto versos. The images are generally quite playful in nature - perhaps because it was early in the war or because the pictures were intended as morale boosters. A generally quite well-preserved group, in excellent condition except for the above-mentioned editorial marks.
Offered by Auger Down Books.
by Michael Nelson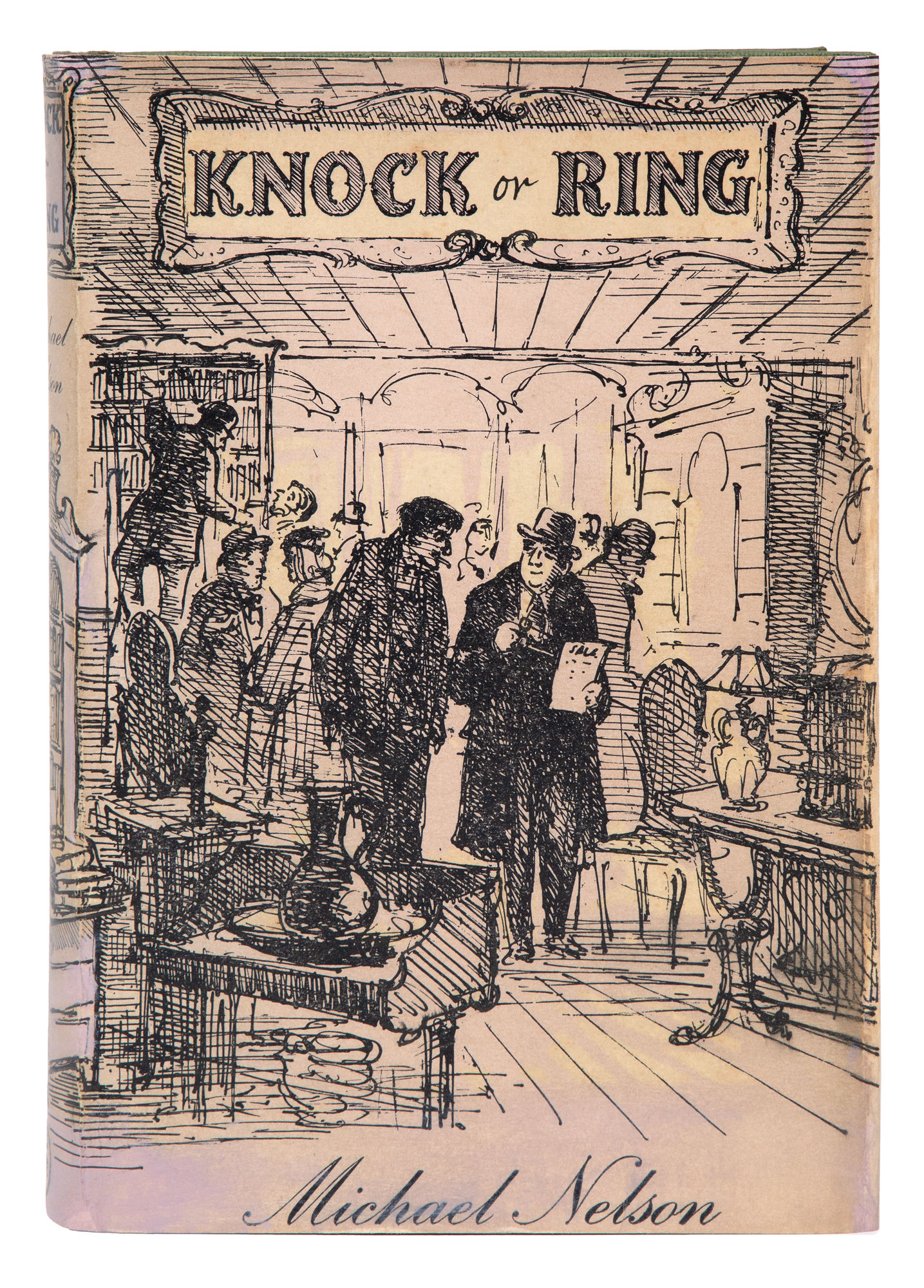 London: Jonathan Cape, 1957. First edition of this cheerfully cynical novel of the English book trade, following the sale of a country-house library dominated by a ring of London dealers: "To think we could have bought the books for shillings and he has to go and chuck money away. It makes me spit blood. Why people can't be friendly so that we can earn a bob or two, beats me." Although Michael Nelson worked primarily as a journalist, he briefly ran a bookshop in Winchester after World War II; the dust jacket announces: "This is a novel based on fact -- the author has taken place in knock-outs." This copy is inscribed by Nelson to the flamboyant British character actor James Robertson Justice in the year of publication: "from Michael Harrington Nelson / ex-ringer." A very good association copy, scarce inscribed. Single volume, measuring 7.25 x 5 inches: 255, [1]. Original green textured boards lettered in silver, unclipped pictorial dust jacket printed in black, white, and lavender. Ink inscription from Nelson to James Robertson Justice on front free endpaper. Light spotting to jacket.
Offered by Honey & Wax Booksellers.
by Leo Tolstoy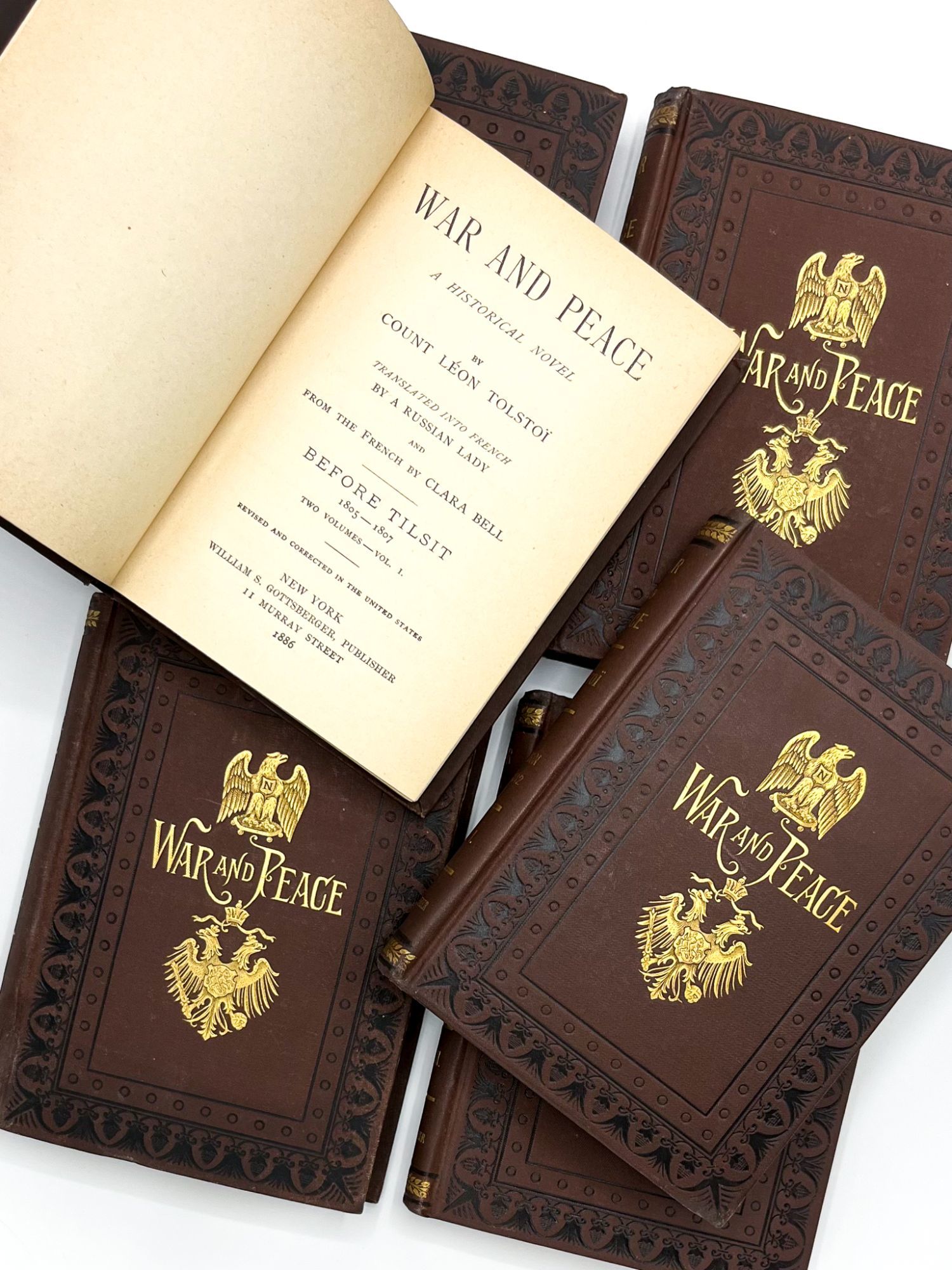 New York: William S. Gottsberger, 1886. First US edition. Near fine.. First edition in English of one of the great novels of the 19th century, an exceptionally fresh and bright set. A remarkably lovely set of this first English rendering of Tolstoy's monumental classic, translated by Clara Bell by way of the French. The novel's quality survived the linguistic journey intact; as an anonymous reviewer wrote, "the worst paraphrasing from Russian to French and from French to English cannot efface the brilliant effects of the original." Contemporary enthusiasm for the Russian novelists, and for Tolstoy in particular, was stronger and steadier in the US than in England: by the 1870s, "there were probably three times as many American as British translations, and their quality was generally superior as well" (May). Tolstoy had then the power not only to awe the Anglophone world, but to shock it; but those critics who found his novels "as dirty and obscene as the worst parts of Walt Whitman's Leaves of Grass" (Maurice Thompson) fell into obscurity without wounding their target, whose stature has never diminished. "There remains the greatest of all novelists-for what else can we call the author of War and Peace?" (Woolf).
Six volumes, 6'' x 4.5'' each. Original brown cloth with decorative stamping in black and bright gilt. Dark brown endpapers. All title pages dated 1886, Gottsberger imprint on versos. 322, [14] publisher's advertisements; 357, [1], [2] ads]; 321, [1]; 270, [10] ads; 290, [10] ads; 391, [1] pages. Housed in custom clamshell box. Early ink ownership signature to front free endpaper of one volume. Minor wear and slight bumping to extremities; one volume only with tiny dampstain at gutter and touch up to front joint. Overall clean and tight.
Offered by Type Punch Matrix.
Eight orihon (accordion format), finely woodblock-printed, of the complete Lotus Sutra [S.: Saddharmapundarikasutra; J.: Myohorengekyo]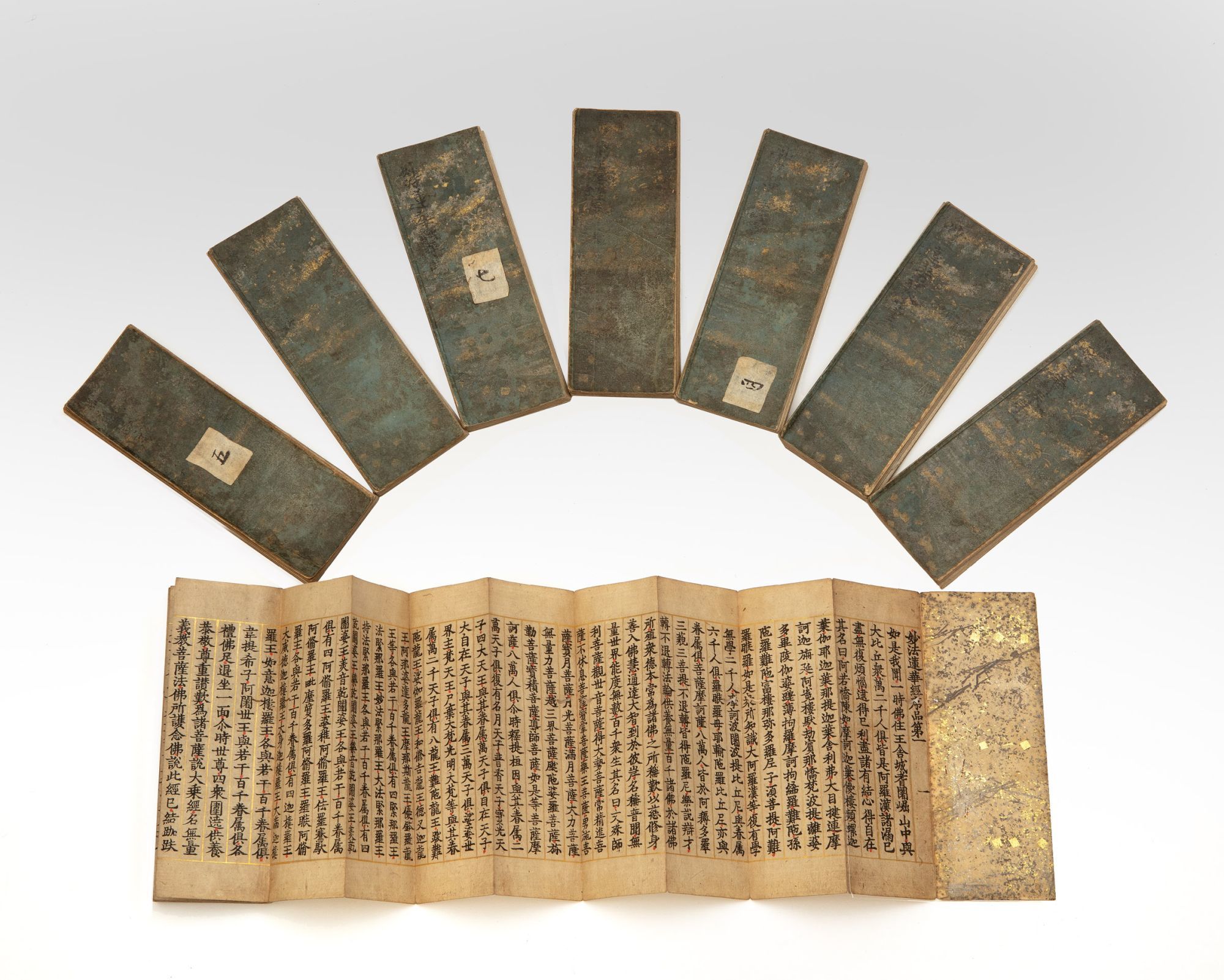 17 characters per column; 5 columns per page. Text-block height: 126 mm. Each column ruled in gold, with gold borders on top & bottom. Eight vols. (172 x 6285; 7260; 6830; 5980; 6530; 6280; 5860; 5125 mm.). Narrow 8vo, orig. semi-stiff blue boards (some rubbing), decorated on the outside with patterns in gold & silver of flowers, heightened with sprays of gold (kindei; "golden mud"); inner endpapers decorated with gold & silver speckles. Title and volume number in manuscript on each upper cover. [Japan, probably at Nara]: Kasuga-ban, mid- to late Kamakura (ca. 1250-1333).

A luxuriously produced and most unusual small-format kasuga-ban edition of the complete Lotus Sutra in 28 chapters, originally translated into Chinese by Kumarajiva and completed in 406. Our copy of this edition is a luxury version, with each column of text ruled in gold pigment. We have never seen a small-format kasuga-ban before.

The Lotus Sutra is the most influential of all sutra and "was highly influential in East Asia, inspiring both a range of devotional practices as well as the creation of new Buddhist schools that had no Indian analogues."-Buswell & Lopez, eds., The Princeton Dictionary of Buddhism, p. 730. For several Japanese schools of Buddhism, the Lotus Sutra remains their central text and is considered to be the only valid Buddhist sutra for the Degenerate Age.

These handsome scrolls have been printed on high-quality pale brown-gray paper (gampi, or mulberry fibers), and printed in bold, thick strokes, using lacquer-like black sumi ink, typical of Kamakura and Muromachi kasuga-ban printings (kasuga-ban is a general term for publications of the Nara monasteries; see below).

Kumarajiva (344-413), Buddhist monk, scholar, missionary, and translator, who came from the Silk Road kingdom of Kucha, was famous for his encyclopedic knowledge of Indian and Vendantic learning. He was the greatest translator of Buddhist scripture from Sanskrit into Chinese, and it was largely owing to his efforts and influence that Buddhist religious and philosophical ideas were disseminated in China. Following many years of study in Kucha and Kashmir, he arrived in Chang'an (now Xi'an), in 401. with a great reputation. He became known as "teacher of the nation." There, he headed a famous school of translators, and together they translated many important texts into Chinese, including the Vimalakirti, the Diamond, the Lotus, and the Amitabha sutra.

It is most unusual to find an early printing of a long sutra, like the Lotus Sutra, textually complete; usually one finds just one part of a text in one scroll. Complete sets of this work are of the greatest rarity.

PROVENANCE: our set has been signed twice by the Buddhist scholar and priest Dohan [Kakuhonbo] (1179-1252), a "Kamakura-period Shingon scholar-monk from Koyasan, who wrote extensively on the works of Kukai and Kakuban. He is well-known for his esoteric writings on the Pure Land."-Buswell & Lopez, eds., op. cit., pp. 263-64.

A fine and remarkable set, preserved in an attractive old wooden box. There is some relatively minor worming, touching some characters.

❧ K.B. Gardner, "Centres of Printing in Medieval Japan: late Heian to early Edo period" in British Library Occasional Papers 11. Japanese Studies (ed. by Yu-Ying Brown), London: 1990, p. 159-"The term Kasuga-ban became used more loosely, in a wider sense, to denote publications of the Nara monasteries in general, not only of the Kofukuji. The printing of Kasuga-ban in this broader sense flourished throughout the Kamakura period and up to the end of Muromachi (ca. 1570).".
Offered by Jonathan A. Hill, Bookseller.
You and the Computer: A Student's Guide
by General Electric Corp.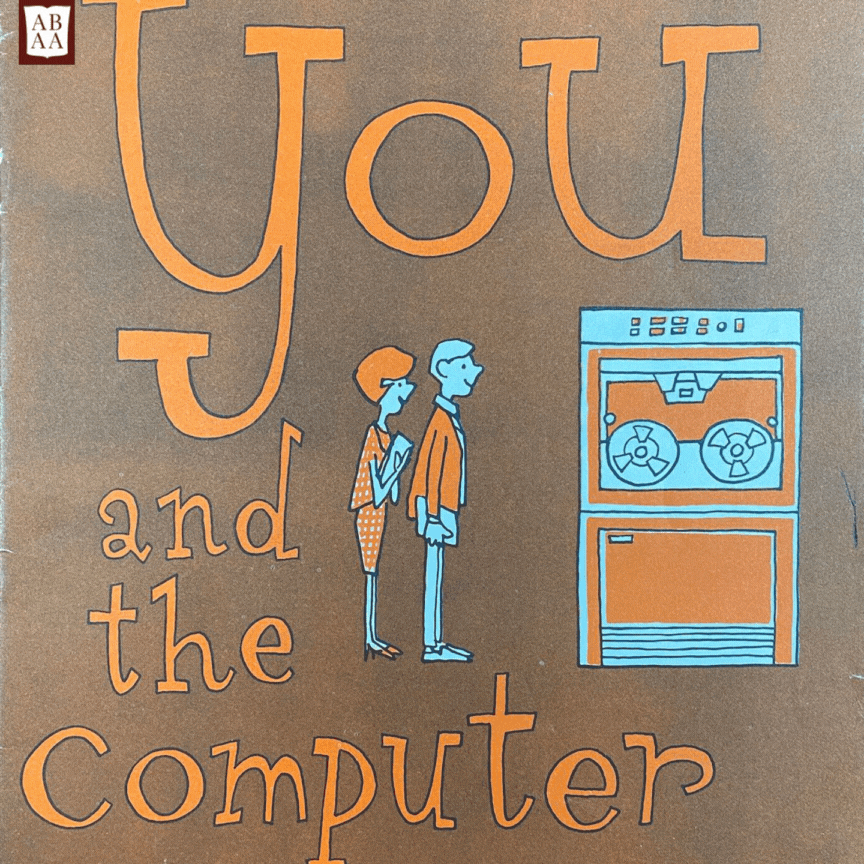 Schenectady, New York: General Electric, 1965. Very good. Folio (11" by 8.5"). 19 numbered pages with in-text illustrations and reproductions of photographs. Stapled in original illustrated wrappers (trifle wear along spine, 1-inch line on front cover in ink, lower cover dust soiled). Illustrated 1965 student's guide to computers and computing published by General Electric, no doubt issued in order to entice and recruit young talent: "The future clearly belongs to those who understand the computer. And, to a great extent, man's future progress depends on intelligent young people who are able to put the computer to work, solving our social, industrial, and scientific problems. As a major manufacturer of computers, and one of the nation's largest computer users, General Electric hopes that you, the student, will want to play an important role in the computer age -- your age" (p. 1).

The guide offers information about how computers work, what they are capable of, and how to best understand binary code and symbolic languages. Peppered throughout are cartoon illustrations intended to make the subject more approachable. Page 2 features photos of twelve young people (eight men and two women) who are integrating computers into their budding careers; notable are the two African-Americans (one male and one female).

We are reminded by the names of programming languages such as FORTRAN and COBAL (which we actually used in conjunction with punched cards). The depiction of "computer memory" (i.e. ferromagnetic ceramic "doughnuts") looks laughably primitive to us today. Our favorite image is on pp. 18-19: depicted is a clean-cut engineer gazing at room filled with computer hardware. Behold! The future!
Offered by Michael Laird Rare Books.
The Heliocentric Worlds of Sun Ra II
by SUN RA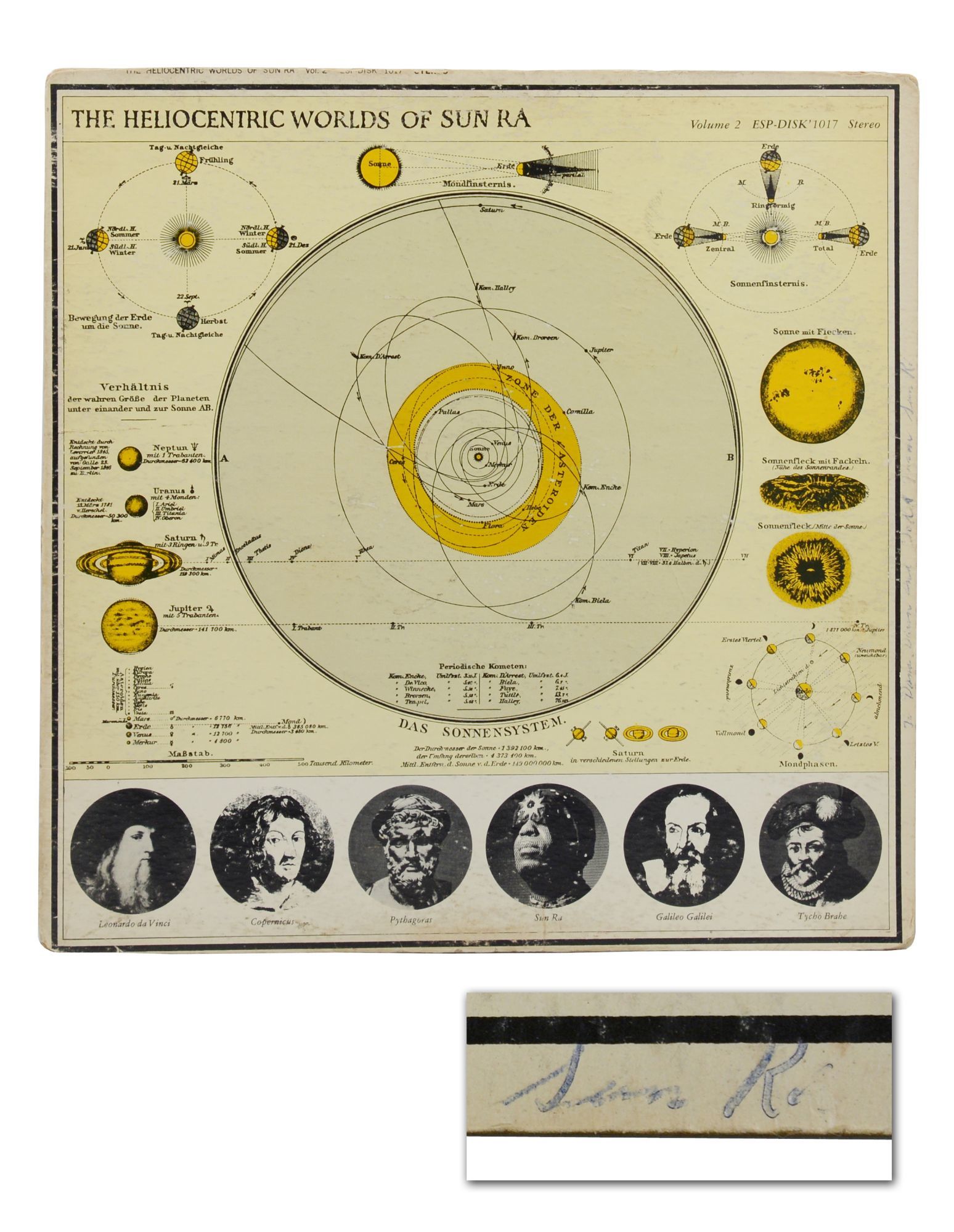 New York: ESP-Disk, 1966. Signed by Sun Ra on the front sleeve on the right side margin in blue ink, inscribed "To Dana, Dawn and Jodi from Sun Ra." Original pressing with "156 Fifth Avenue" address on the back cover. ESP-DISK 1017 Stereo LP. Fair album, with deep scratches to both side, in a Good sleeve with wear and chipping along seams, dampstain to rear sleeve. Modern 8" x 10" photo of Sun Ra laid in. A signed record of a major free jazz work by the eccentric jazz band leader, composer, and poet who maintained that he was from Saturn.
Offered by Burnside Rare Books.
The Adventures of Sherlock Holmes (Original poster for the 1984 television series)
by Paul Davis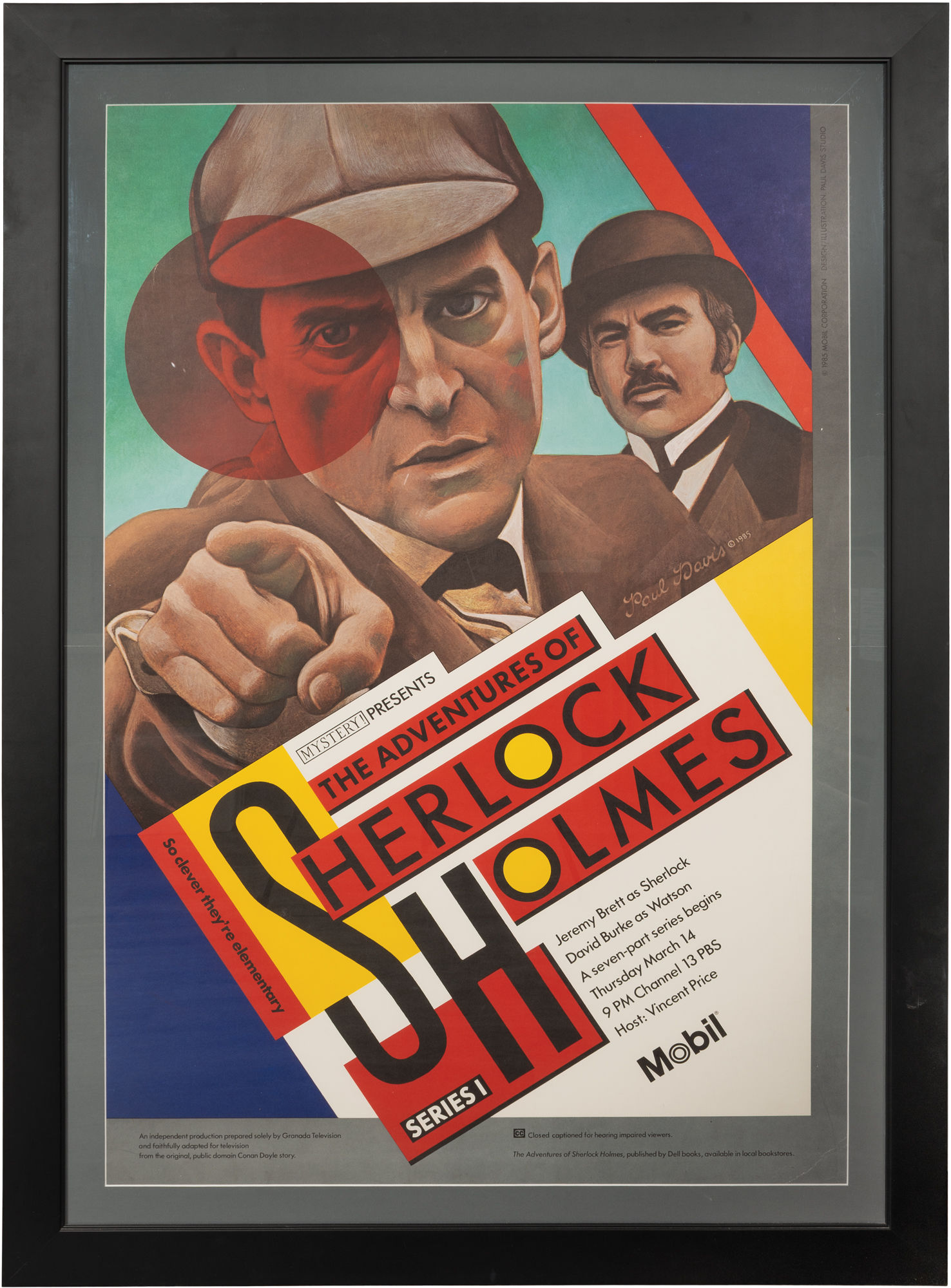 London: Granada Television, 1984. Vintage poster for the US run of the 1984 British television series. The show ran from April 24, 1984 to April 11, 1994 on PBS as part of the "Mystery!" anthology series in the US, and is considered by many to be the finest filmed version of Sherlock Holmes ever made. Rare.

The series was hosted by Vincent Price, and starred Jeremy Brett as Sherlock Holmes, with Watson played by David Burke in the first series, and by Edward Hardwicke in the second series. 43 of Arthur Conan Doyle's stories were adapted for the series, spanning 36 hourlong episodes and five feature-length television films.

Paul Davis worked as an illustrator for a number of prominent publications throughout the mid- and late-twentieth century, including "Life," "Time," "Playboy," "Look," "The Saturday Evening Post," "Harper's Bazaar," "Esquire," "The New York Times," and "The New Yorker," among many others. His work is held in collections at MoMa, and he is in the Hall of Fame of both the Art Directors Club and the Society of Illustrators. His paintings and advertising work were the subject of an exhibition in 1968 at the Galerie Delpire in Paris, as well as an exhibition at the Centre Georges Pompidou in 1977.

Approximately 29.5 x 44.5 inches. Housed in a black frame measuring 37.5 x 52 inches. Near Fine, unexamined out of frame.
Offered by Royal Books.
by Weldon Kees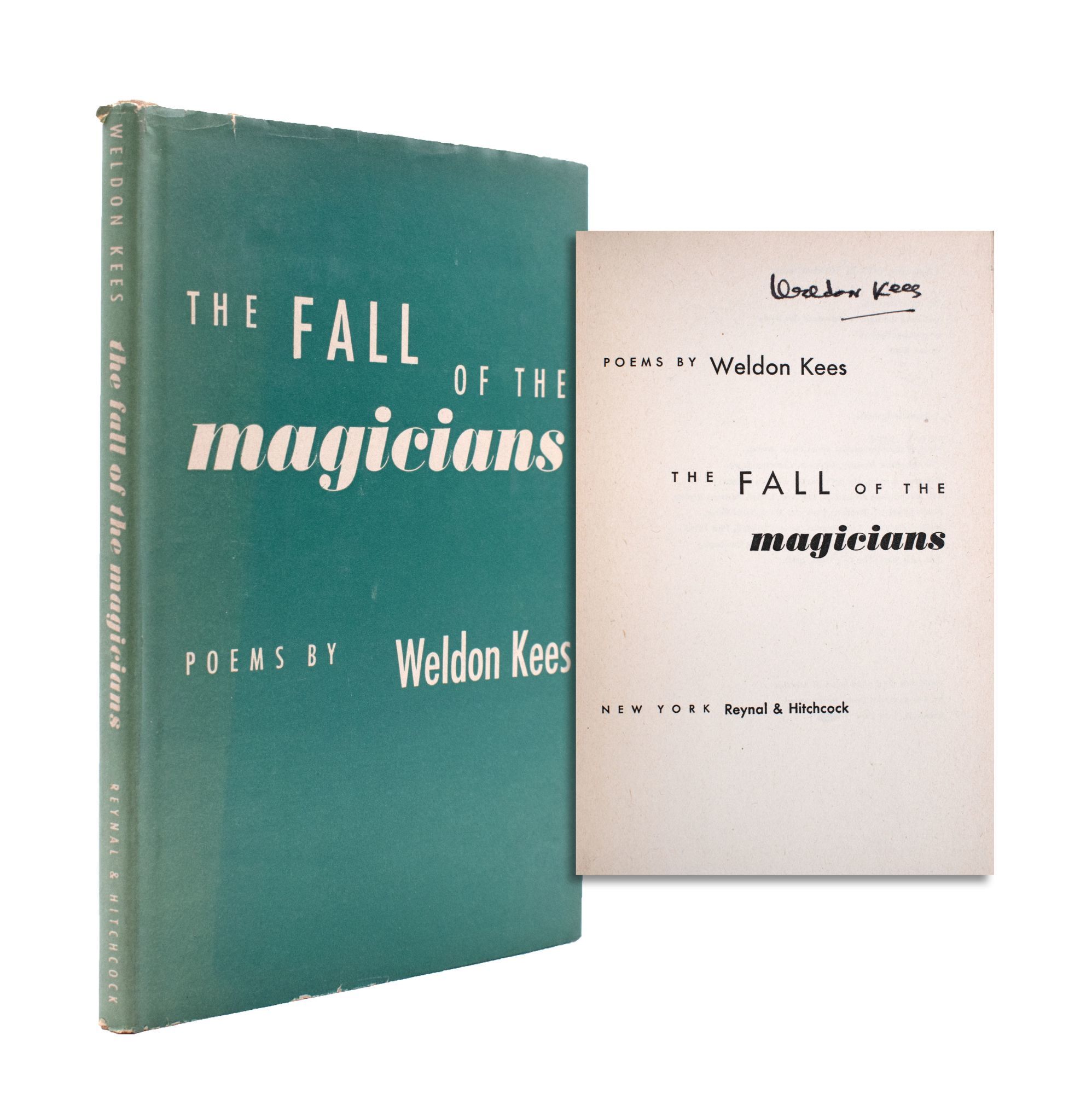 New York: Reynal and Hitchcock, 1947. First Edition of the author's second book. 55 pp. 1 vols. 12mo. Original grey cloth. Fine in an unclipped near fine dust jacket with some fading to spine and a closed tear to lower rear cover. First Edition of the author's second book. 55 pp. 1 vols. 12mo. SIGNED. Flat signed by Kees on the title-page.
Offered by James Cummins Bookseller.
Learn more about of purchase this item...
View all new listings on abaa.org...
Browse recent catalogs of rare books and print ephemera from ABAA members...
Please note, all items are unique, so if a link takes you to a blank page, the book has been sold!