Our members list new acquisitions and recently cataloged items almost every day of the year. Below, you'll find a few highlights from these recent additions...
Salman Rushdie collection: signed first editions and advanced proofs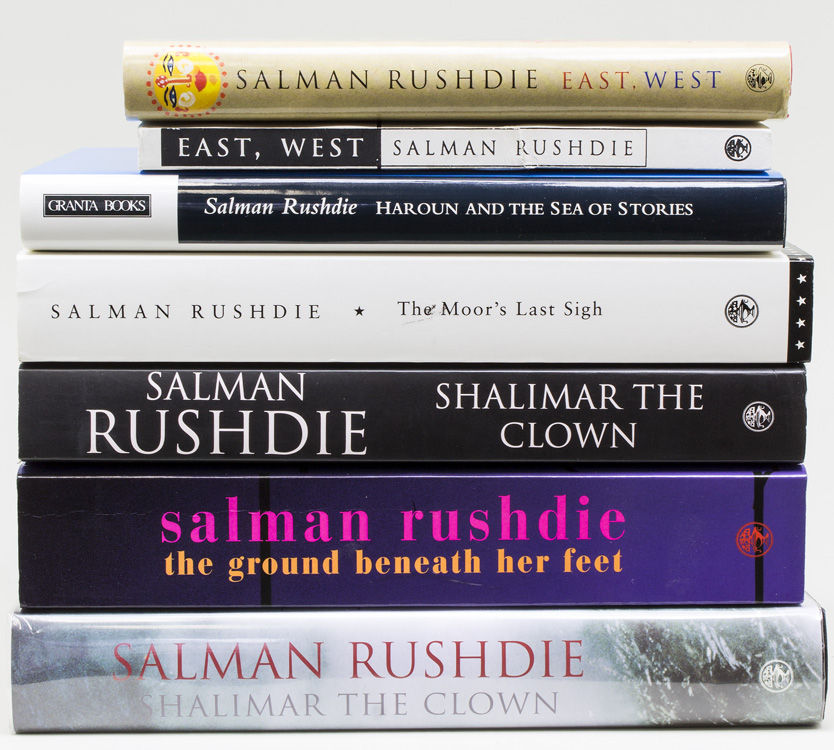 London: Jonathan Cape and Granta Books, 2005. All first UK editions. 7 vols. Aside from one or two minor blemishes, all the books are fine, as new copies. All first UK editions. 7 vols. A fine collection of Salman Rushdie works, including 3 signed first editions and 4 uncorrected proofs, as follows:

Haroun and the Sea of Stories, London:1990, signed by the author on a tipped in bookplate
East, West, London: 1994, signed by the author
East, West, Uncorrected proof, London: 1994
The Moor's Last Sigh, Uncorrected proof, #201 of 1,000, London: 1995
The Ground Beneath Her Feet, Uncorrected proof, London: 1999
Shalimar the Clown, signed and dated by the author, London: 2005
Shalimar the Clown, Uncorrected proof, London: 2005.
Offered by James Cummins Bookseller.
Nuremberg: Anton Koberger, 17 February 1483. The Ninth German Bible. 415 x 290 mm. (16 3/8 x 11 1/2"). Textually Complete. Text in double column, 50 lines, gothic type. (Without one flyleaf.) Two volumes.
Excellent contemporary Nuremberg "Koberger Publisher's" binding by the so-called Schedel Meister, featuring blind-stamped calf over thick wooden boards, upper covers with two frames, the outer one decorated with rosettes connected by leaf-wrapped staffs, the inner one stamped with repeating floral sprig lozenges, these frames enclosing a central panel with blind-tooled vines forming ogival compartments, each of these containing a botanical stamp, both volumes titled in blind at head of outer frame; lower covers with similar outer frame, inner frame with repeating griffin stamp, central panel with either botanical (volume I) or double-headed eagle (volume II) stamps, covers with intricately tooled brass corner- and centerpiece bosses, raised bands, original brass clasps and catches with newer leather straps, (spine of first volume restored ca. 1900, with newer endleaves). Capitals struck with red, more than 1,000 three-line Lombard initials in red, blue, or green, hundreds of slightly larger initials in red, blue, or green, some with penwork extensions, dozens of six- to eight-line initials in red and blue, some with pink and green penwork infilling, volume II opening with two six-line initials in blue or pink with white tracery on a background of delicately etched burnished gold, with acanthus leaf extensions, and 109 WOODCUTS BEAUTIFULLY COLORED BY A CONTEMPORARY HAND. Rear pastedowns with book label of Alexander Schippan. Goff B-632; BMC II, 424; ISTC ib00632000. For the binding: Schunke/Rabenau 11, 205; Kyriss 11, Tafelband 117. Thin vertical crack to spine of volume II, minor crackling or chafing to leather, other insignificant external wear, but the contemporary volumes handsome, sturdy, and well preserved. Inner margin of the opening five folios of the first volume expertly renewed without loss of text, the next 60 leaves with expert repair at the bottom of inner margin, occasional faint dampstains, smudges or small stains to margins, other trivial imperfections, but A VERY FINE COPY, the text clean, fresh, and bright, the margins ample, and the hand coloring extremely rich.
Offered by Phillip J. Pirages Fine Books.
The Pocket Encyclopaedia of World Aircraft in Color (6 volumes)
by MUNSON, KENNETH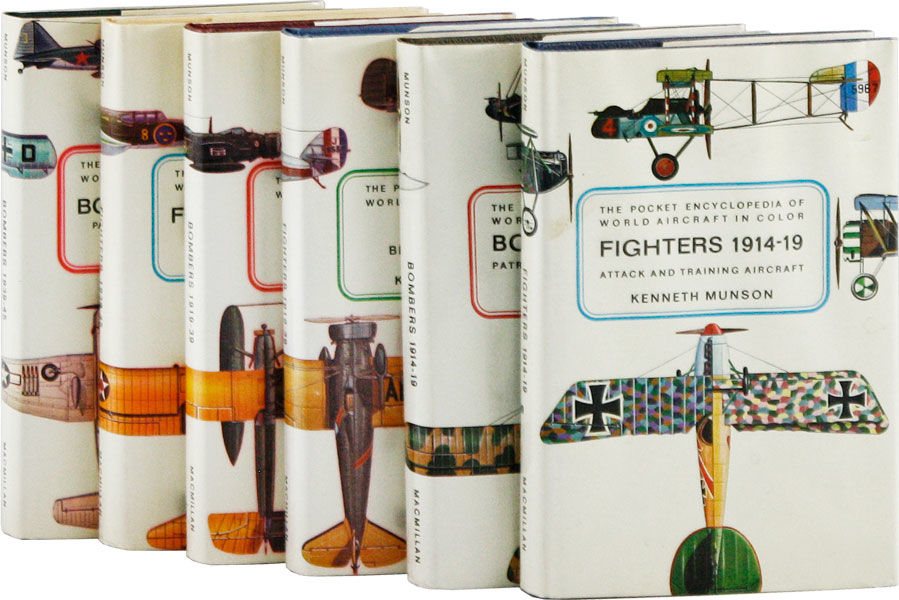 New York: Macmillan, 1968-69. First Edition. Mixed set, with first printings of Fighters 1914-19, Bombers 1914-19, and Bombers 1939-45; and first UK printings of Fighters Between the Wars 1919-39, Bombers Between the Wars 1919-39, and Fighters 1939-45. 12mo (19cm). Hardbacks in several colors of cloth, all stamped with gilt planes on front board, in original cream pictorial dust jackets; 183pp; 180pp; 164pp; 165,[1]pp; 163,[1]pp; 163,[1]pp; color illustrations throughout. Clean and sound, lightly rubbed, with neat ownership inscriptions to f.f.e.p.: Near Fine. Jackets unclipped, lightly rubbed, one or two small smudges, light toning to a few edges: Very Good to Near Fine.

Includes Fighters 1914-1919; Bombers 1914-1919; Fighters Between the Wars 1919-1939; Bombers Between the Wars 1919-1939; Fighters 1939-45; and Bombers 1939-45.
Offered by Lorne Bair Rare Books.
James Weldon Johnson's The Book of American Poetry, First Edition Anthology of the Harlem Renaissance, 1922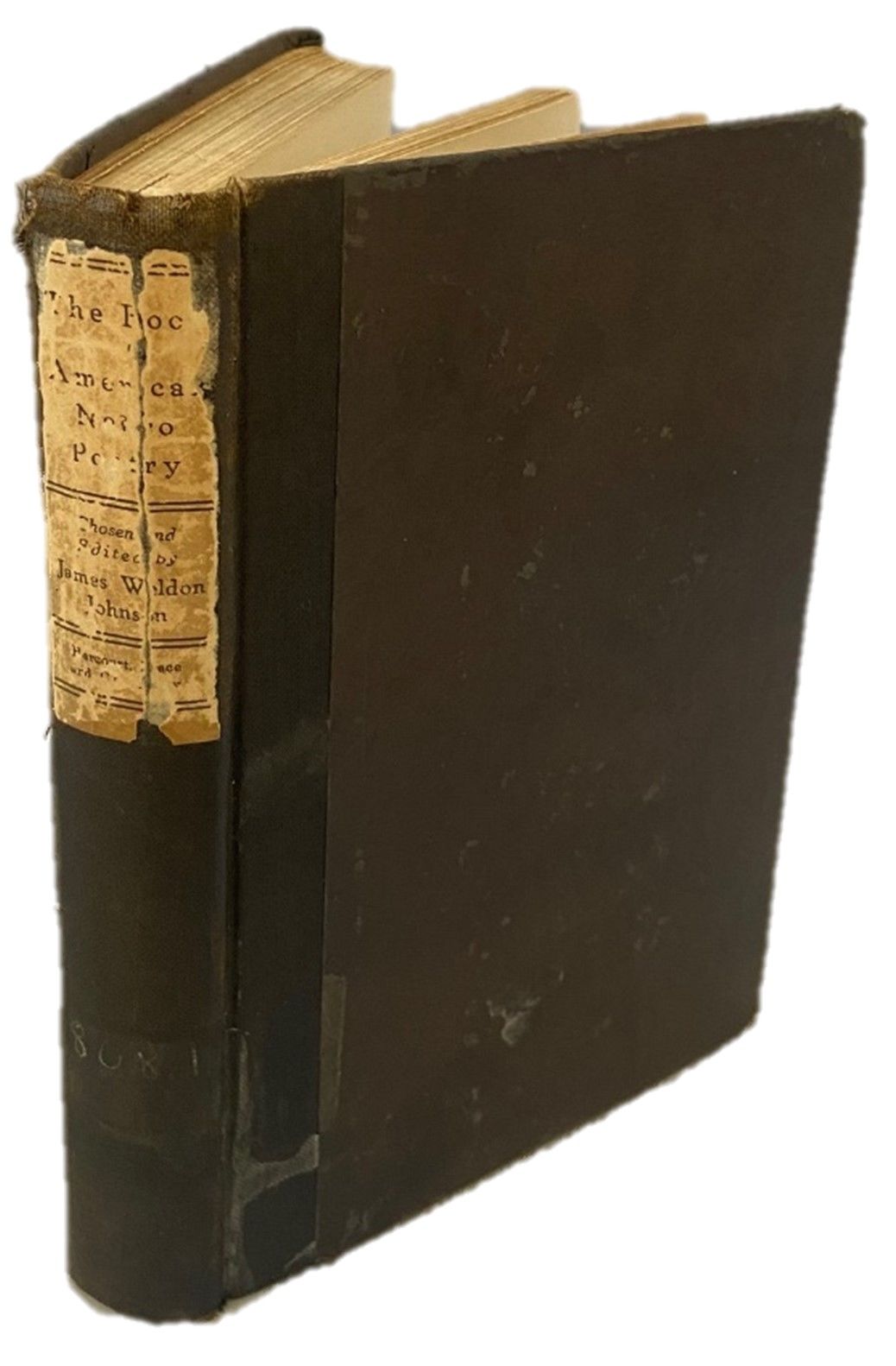 James Weldon Johnson. The Book of American Negro Poetry. Harcourt, Brace and Company: New York, 1922. First edition. Original brown boards with paper spine label. 5.5 x 8 inches. 217 pages. The first of its time, this anthology, compiled by James Weldon Johnson, contains the work of 31 poets, all prominent voices in the Harlem Renaissance. In the book's preface, Johnson writes, "A people may become great through many means, but there is only one measure by which its greatness is recognized and acknowledged. The final measure of the greatness of all people is the amount and standard of the literature and art they have produced. The world does not know that a people is great until that people produces great literature and art. No people that has produced great literature and art has ever been looked upon by the world as distinctly inferior." Johnson was the president of the NAACP at the time of publication, and the compilation was as much a part of his civil rights work as that position. His vision for its impact was clear. Anthology includes poetry by W.E.B Dubois, Claude McKay, Alice Dunbar-Nelson, and Johnson himself. Library reference number faintly written on spine. Ex libre with stamps to title page. Light shelf wear. Spine partially cracked but intact. Paper spine label worn but mostly legible. Text block clean and intact. Overall good condition.
Offered by Max Rambod.
by Neil Gaiman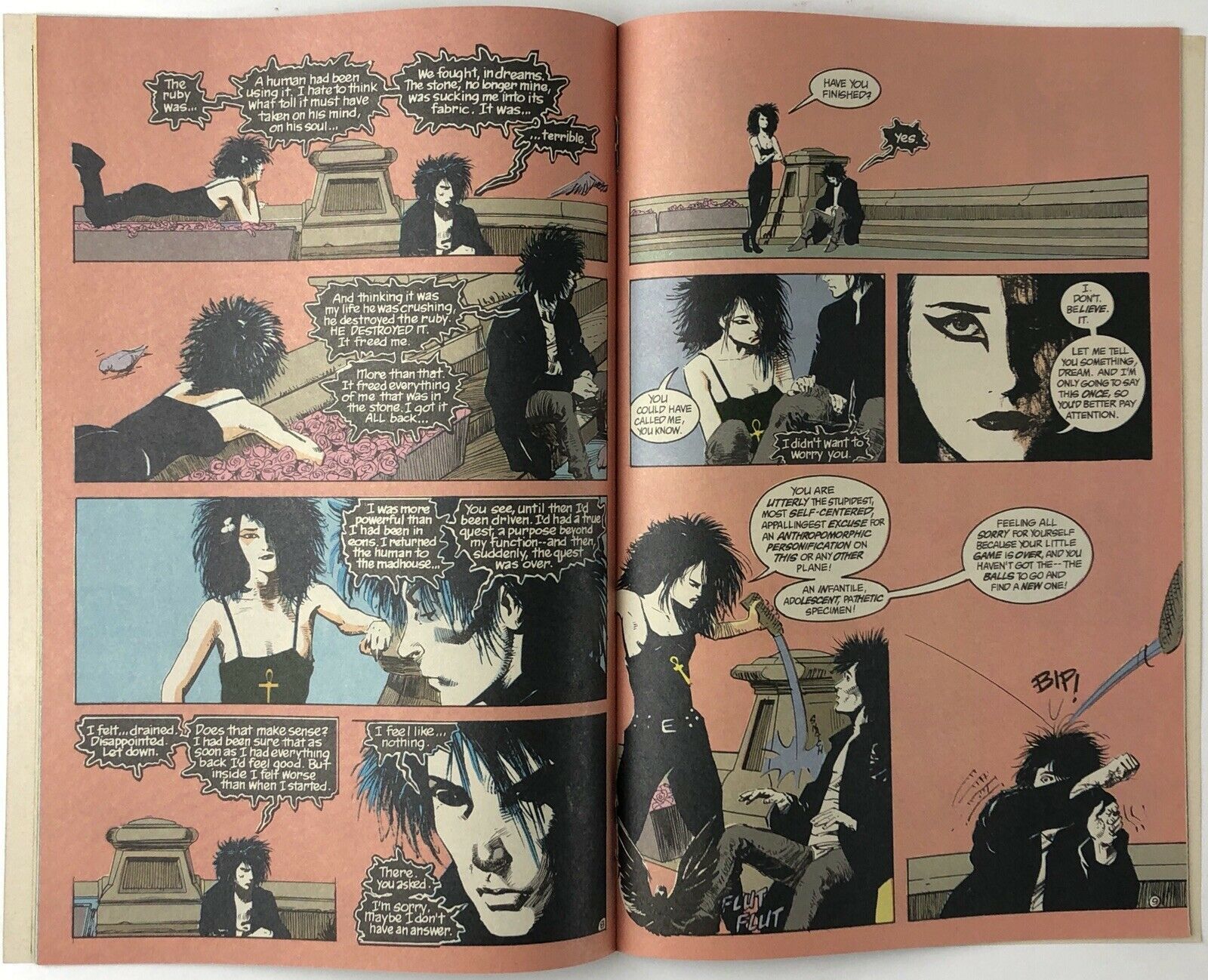 New York: DC Comics, 1989. Saddle-stitched. Condition is VF+ with light edge-wear and bumping corners (cover); minor crease/dent to bottom edge of spine (back cover); book has a slight vertical crease/bend visible on back cover (~1/4" from spine); a few very light stress marks on spine.
Offered by Second Story Books.
PICASSO, Femmes et Faunes, 12 dessins, lavis, aquarelles
by ANTONINA VALLENTIN - PABLO PICASSO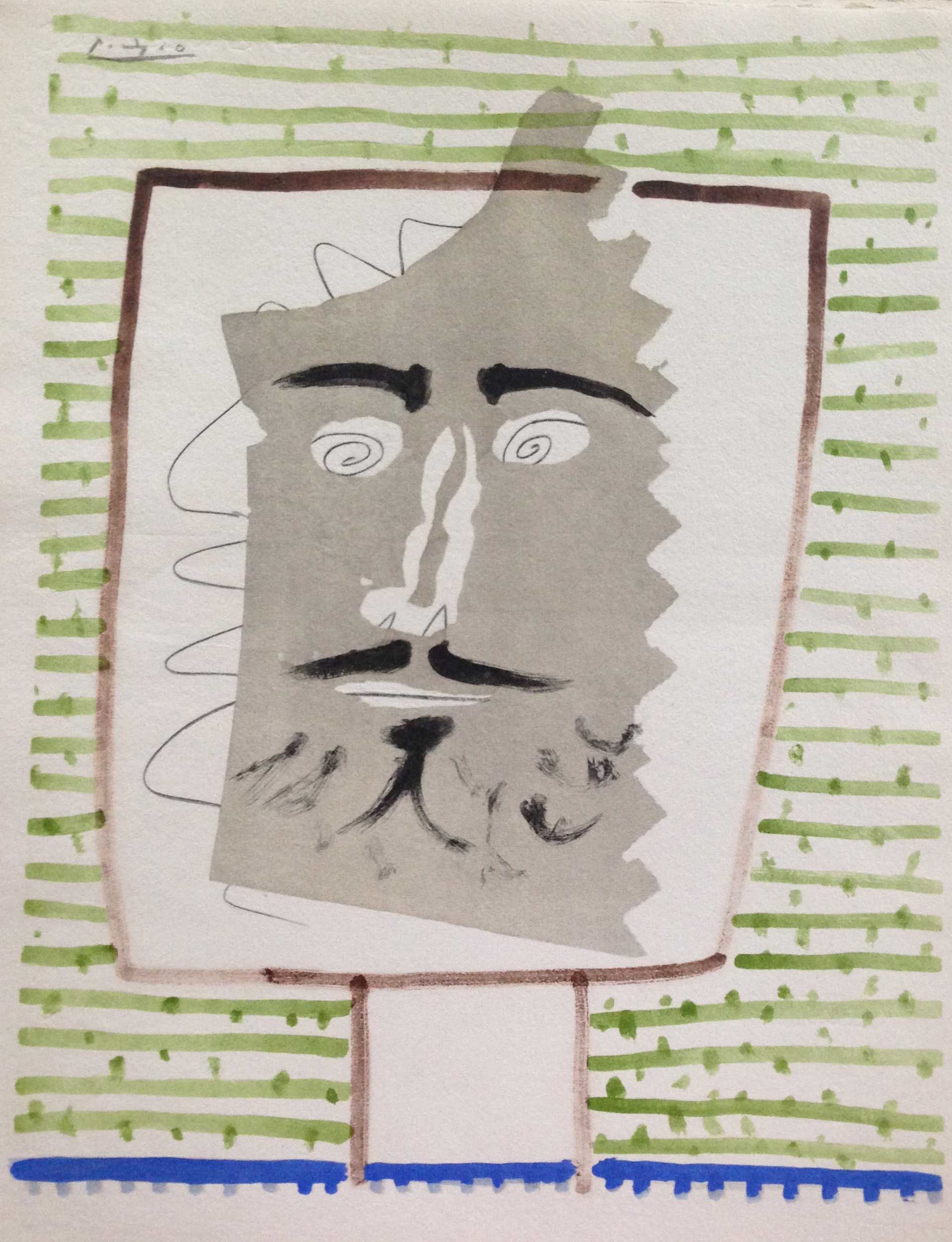 Foreword by Antonina Vallentin. Limited numbered edition of 200 copies + 26 H.C on Richard de Bas paper. Portfolio with 12 pochoirs of drawings after Picasso. Guarded in the original pictorial cloth folder. Folder worn.
Offered by Marinart.
BLEAK HOUSE. [Complete in 20-in-19 monthly serial parts.]
by Charles Dickens
1852. [20-in-19 serial parts] With Illustrations by H.K. Browne. London: Bradbury and Evans, 1852-1853. Original light blue-green pictorial wrappers.

First Edition, in the original 20-in-19 monthly serial parts that were issued from March 1852 through September 1853 (at the end of which time the novel was published in book form). Written just after DAVID COPPERFIELD and just before HARD TIMES, this is Dickens's famous attack on Chancery, the London legal system -- featuring such characters as the lawyer Tulkinghorn, the claimants Lord and Lady Dedlock, and of course the law firm of Jarndyce & Jarndyce. Though lives come to an end all around it, the case goes on and on, finally concluding when (surprise!) all of the fortune has been devoured by legal fees. Included are forty plates by "Phiz," of which ten are "dark plates" made possible by a new procedure. As for completeness of this set, all of the correct wrappers are in place (no substitutions!), all of the plates are of course present (with only one in Part IX followed by three in Part X, as is proper), all of the preliminary "Bleak House Advertiser" leaves are present, all but four of the 82 terminal ads are present, and all but one of the 25-or-so preliminary slips are present. (It is worth mentioning that Part XV does include the 8-page "Village Pastor" booklet -- "a rather scarce item (often wanting)" according to H&C.) And as for condition, first and foremost there is NO "improvement" of these parts -- no later spines, no repairs. Parts II through XVIII are near-fine to fine; as is often the case, the first and last parts show the most wear, mainly Part I's front wrapper (with an edge-chip) and Part XIX/XX's rear wrapper, as well as both parts' spines. In all, quite a collectible set of BLEAK HOUSE, housed in a(n edge-worn) full-calf pull-off case with red leather label. Hatton & Cleaver pp 273-304; Smith I pp 79-84. From the renowned Jeremy & Penny Martin Collection of literature, with their bookplate on the interior paper chemise.
Offered by Sumner & Stillman.
by ELIOT, T.S.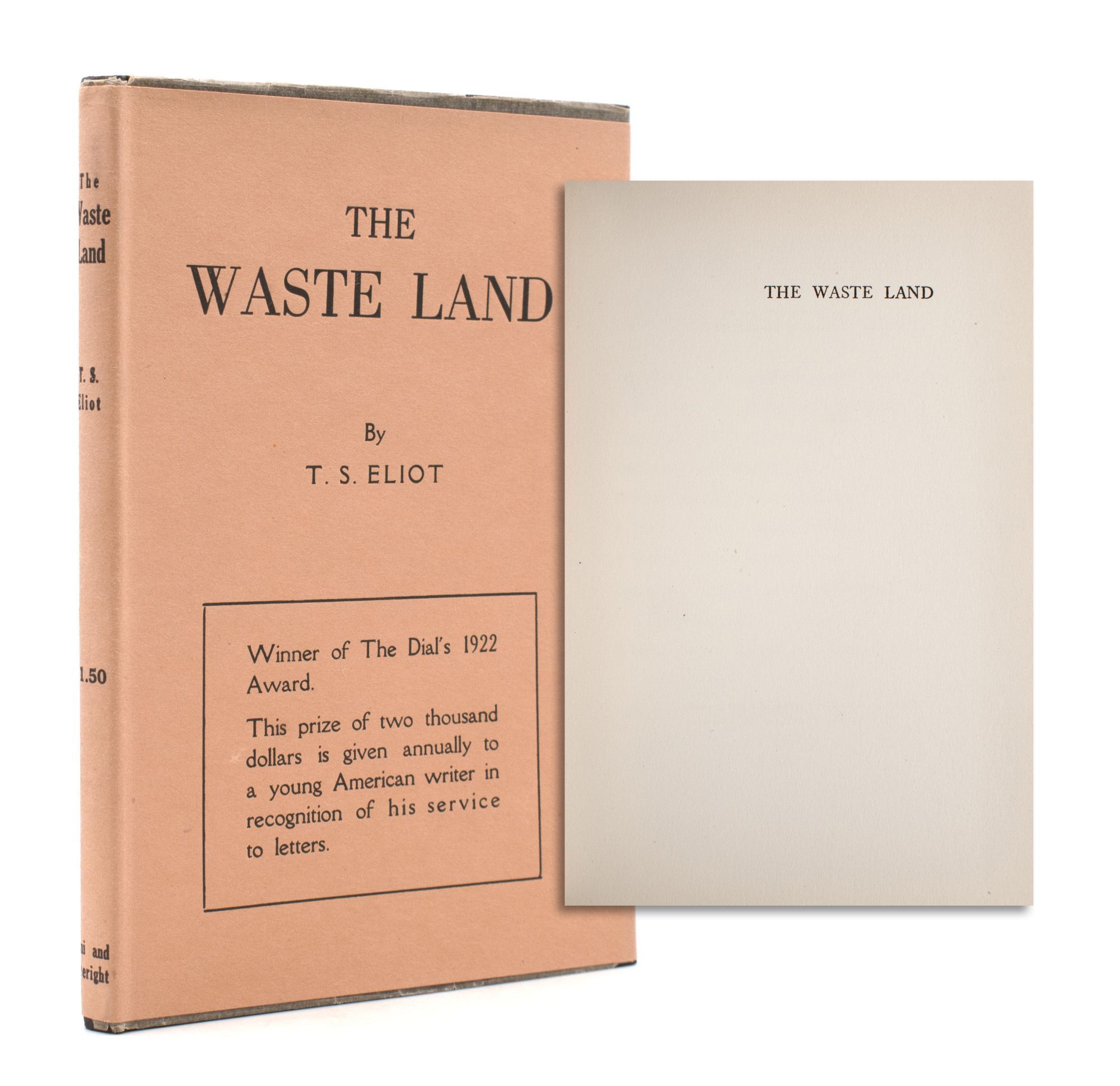 New York: Boni & Liveright, 1922. First edition, first issue, first state, no. 184 of 1000 copies (of which c. 500 are first issue). 64 pp. 1 vols. 8vo. Publisher's flexible black cloth, titled in gilt, in original glassine wrapper under printed salmon-colored dust-jacket, slighest chipping to glassine edges. Invisible scratch to rear panel of dust-jacket, below the Boni & Liveright logo. Truly a fine copy. First edition, first issue, first state, no. 184 of 1000 copies (of which c. 500 are first issue). 64 pp. 1 vols. 8vo. Superb copy of The Waste Land. First edition, first issue, first state, of this landmark modernist poem. T.S. Eliot, whose literary reputation was established with his first book in 1917, was awarded the annual literary prize of The Dial magazine for The Waste Land in 1922 by publisher Scofield Thayer, a friend and classmate from Milton Academy and Harvard. Thayer's aim was to establish Eliot and American literature among the vanguard of modern cultural activity. "It did not hurt that 1922 also saw the long-heralded publication of Joyce's Ulysses, or that in 1923 Eliot linked himself and Joyce with Einstein in the public mind in an essay entitled 'Ulysses, Order and Myth.' Meteorically, Eliot, Joyce, and, to a lesser extent, Pound were joined in a single glow - each nearly as notorious as Picasso" (ANB).
Offered by James Cummins Bookseller.
by Stephen King
Garden City: Doubleday, 1978. First edition stated with T39 gutter code. . Quarter black cloth over brown boards, gilt spine title. . Very good, spine a little rolled as usual, lower corner bumped, tight and square, some yellowing to edges, in a very good dust jacket with light edgewear and some yellowing to spine. $12.95 price on dust jacket flap.. 21.5x14.5 cm. . weight: 2.1 lb.
Offered by Lee Johnson's Zephyr Books.
Lady Windermere's Fan (Presentation Copy)
by Oscar Wilde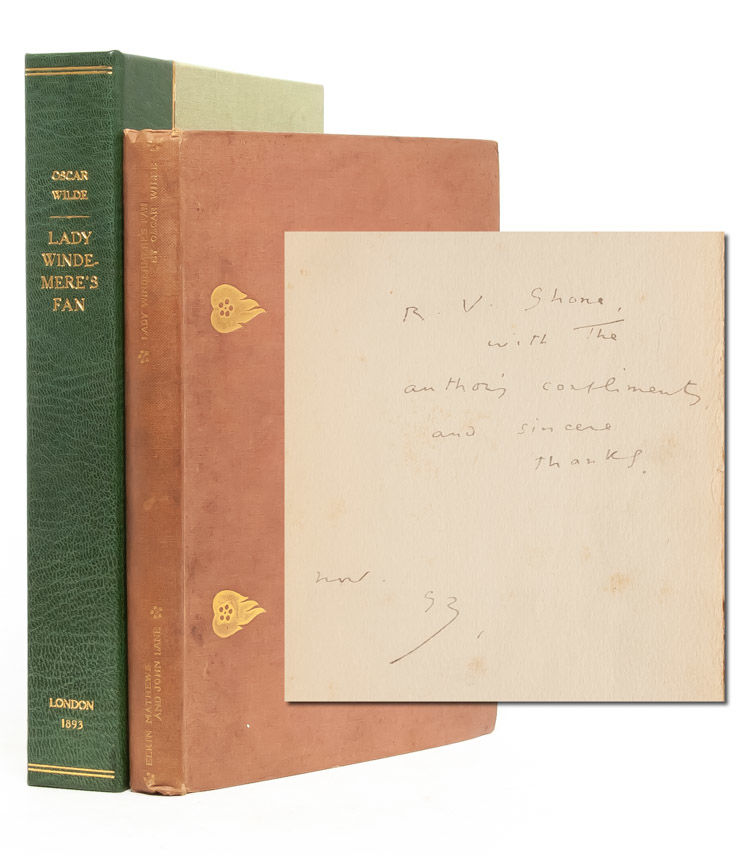 London: Elkin Mathews & John Lane, 1893. First edition. Near Fine. Original publisher's clothing binding with gilt to spine and boards. A Near Fine copy with the spine slightly toned. Bookplate of Governour Morris, Esquire to front pastedown. Light scattered foxing throughout. Collates: [12], 132, 14, [2]: complete, including the publisher's catalogue with pages uncut. Inscribed by Wilde on the first blank to the business manager of the St. James's Theater: "R. V. Shone with the author's compliments and sincere thanks. Nov. 93." Under the management of George Alexander and R. V. Shone, The St. James's Theater staged Lady Windermere's Fan, Wilde's first produced play, in 1892 the year before the book was released.

First editions signed by Wilde are scarce on the market, with Lady Windermere being particularly rare as only 500 copies of the first edition were printed (Mason). Auction records show that the six known association copies of this play were all signed trade editions, as the run of 50 large paper copies came out after. The most recent presentation copy of Lady Windermere, also presented to someone involved in the production, sold in 2018 at Leslie Hindman for $40,000. An exceptional example of Oscar Wilde presenting a first edition of his first produced play, with "sincere thanks" to the theatre manager who throughout his career would assist Wilde in dodging scandal and bad publicity.

Critics and scholars consider Lady Windermere's Fan to be Wilde's "first successful dramatic production" as well as an enduring masterpiece (Mendelssohn). Its success not only relied on his update to French comic models and tropes (including blackmail, revenge attempts, and the discovery of a lost child); success also came as a result of Wilde's own management of the premier. "What we want to do is to have all the real conditions of a success on our hands...Success is a science; if you have the right conditions, you get the result" he informed one of the actors (Mendelssohn). In addition to pulling on popular stars to perform, Wilde had the young men of his entourage arrive at the premier wearing green carnations in their buttonholes -- something that scandalized attendees when, in a metatheatrical moment, one of the characters onstage appeared with one as well, referencing its cost and symbolism for decadent immorality. Prim attendees were, in fact, surrounded by a generation of young men devoted to such aesthetic ideals and wearing the same flower. This very symbol born out of Lady Windermere would lead to a strong and important professional relationship between Wilde and this book's recipient, R.V. Shone, the business manager at the St. James.

In 1894, an anonymously published novel The Green Carnation exposed the sexual relationship between Wilde and Bosie, son to the Marquess of Queensbury -- a man who would become Wilde's nemesis to the end of his life. Though Wilde sought to dodge Queensbury socially, the marquess was roiling for public confrontation. "There was one place and time where he could be sure of seeing Wilde -- the St. James' Theatre on the opening night of The Importance of Being Earnest, when, as was his custom, he would take the stage after the performance to enjoy the acclaim of the audience. It was too good a chance to miss. Queensbury bought a ticket 'by fraud,' Wilde suggested --as orders had been given not to sell him one -- and some vegetables...His intention was to greet Oscar's appearance with a shower of vegetation and then stand up and make a public announcement" (Stratmann). Fortunately for Wilde, supporters including Shone prevented this from happening. Rumor about Queensbury's plan spread, notes were sent to Wilde, and Wilde appealed to Shone for assistance. Reaching out to Queensbury with apologies, Shone returned the marquess's money and explained that his seat had mistakenly been double-booked. Yet Shone and Wilde suspected this would not be the end, and so Shone arranged not only to refuse the marquess admission at the door, but to have police waiting at the entrance. It was this decision that prevented a disguised Queensbury and a paid prizefighter from sneaking in to pummel Wilde. Thwarted by Shone, "he contented himself with having a bouquet of vegetables, addressed to Wilde, delivered to the stage door" (Mikhail). Throughout his career staging work at St. James's, Wilde would rely on Shone's business sense to make performances a success, regardless what scandals they faced. An exceptional and rare association. Near Fine.
Offered by Whitmore Rare Books.
by [RENARD, EDOUARD]; [CHAMPIN, JEAN JACQUES]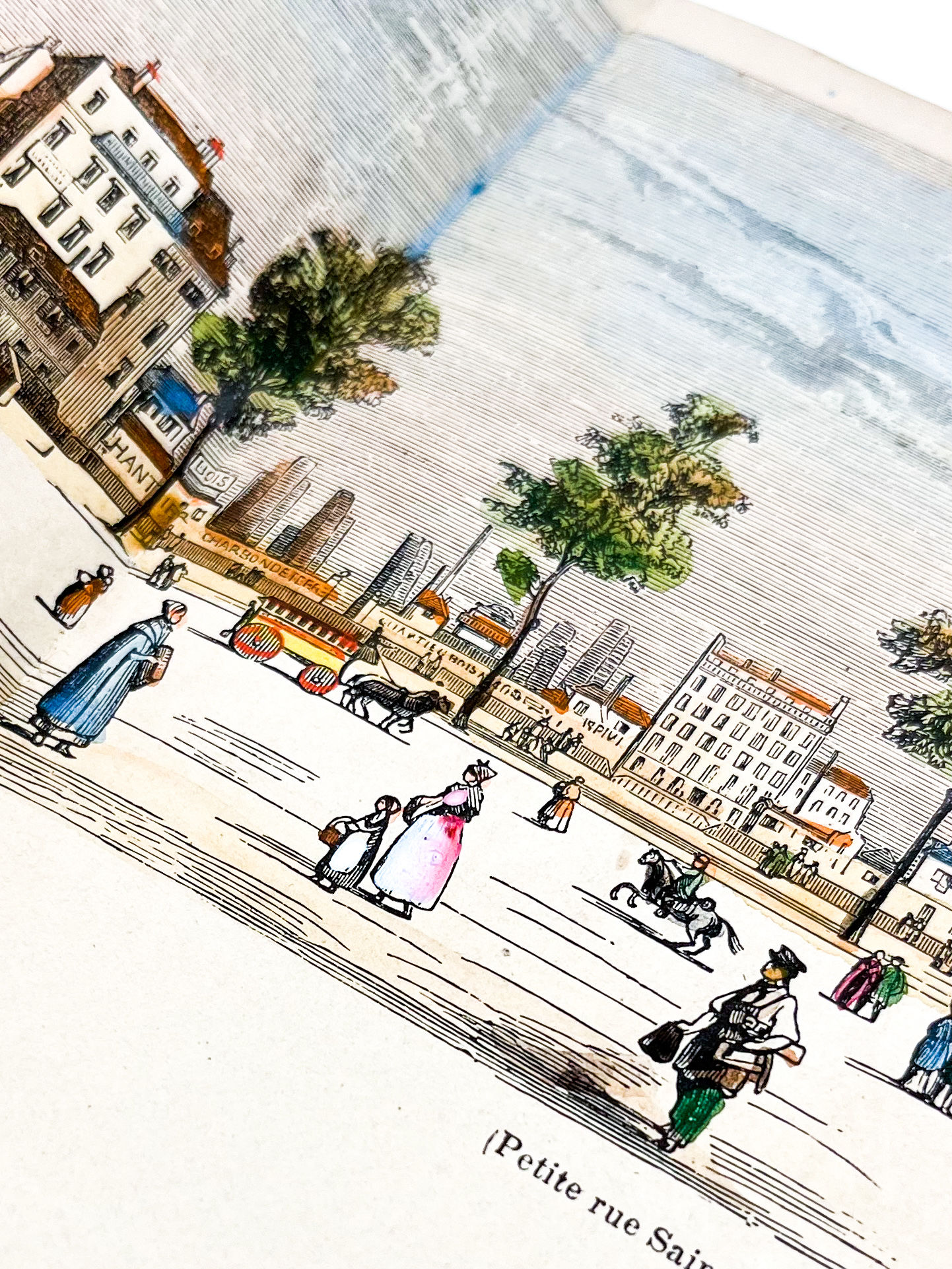 Paris: L'Illustration, 1846. First edition. Very good plus.. Remarkably intact first printing of this spectacular and sprawling mid-19th century Parisian panorama, an aesthetic predecessor of Ruscha's SUNSET STRIP. If the feeling of Ruscha's SUNSET STRIP is "less like the fluid cinematic pan [...] than a series of jolting jump cuts" (Parr, 182), the visual effect of BOULEVARDS DE PARIS is the polar opposite. This panorama is composed of an unbroken vista as though a reader is walking down the middle of the street, promenading alongside the residents of 1840s Paris. The engraving guides the viewer east from the Place de la Concorde to the Bastille, with the only jitters along the way resulting from an occasional millimeters'-worth misalignment of the sheets joined to create the epic snapshot of Paris on the eve of Haussmann's renovations.
BOULEVARDS DE PARIS was also produced in an uncolored form; this fully hand-colored edition is far scarcer on the market. It is also scarce institutionally, with OCLC locating only five holdings internationally. A beautiful copy of this unusual and complex production. 11'' x 7.5'' (folded); 11'' x 191'' (unfolded). Original brown cloth binding, stamped in gilt and blind. Accordion-folded sheet with hand-colored engravings, printed one side only. Boards with a bit of rubbing, lightly bumped corners; fabric of spine tender, with a couple spots of loss and closed tears. Panorama with scattered foxing, a couple panels lightly toned; a few folds with closed tears (the largest 6.5''), with several early paper reinforcements to reverse. Overall sound, with vibrant colors.
Offered by Type Punch Matrix.
High Noon (Original screenplay for the 1952 film)
by FRED ZINNEMANN (DIRECTOR); CARL FOREMAN (SCREENWRITER); GARY COOPER, THOMAS MITCHELL, LLOYD BRIDGES (STARRING)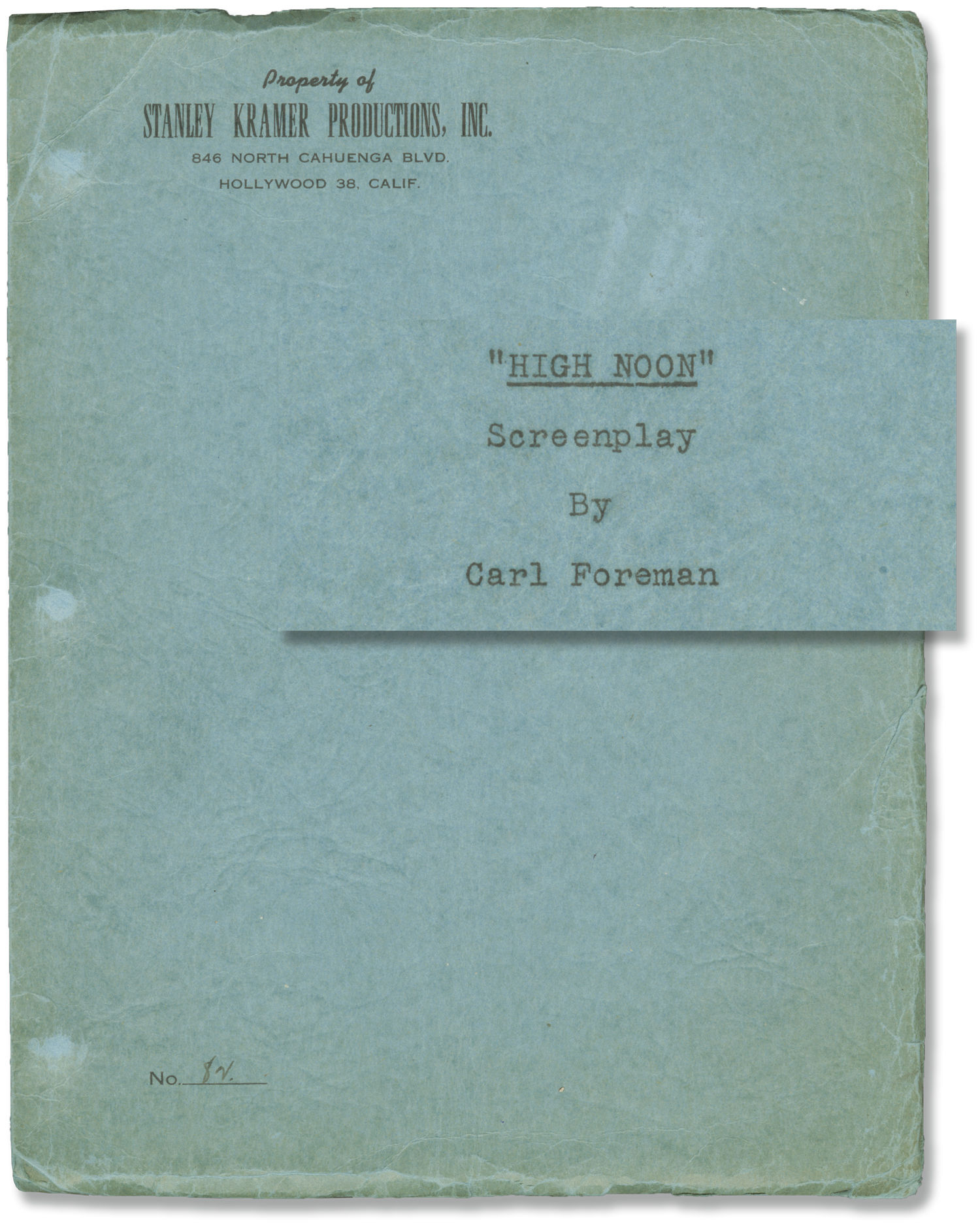 Hollywood: Stanley Kramer Productions, 1951. Early Draft script for the 1949 film, seen here under the working title "High Noon."

A town marshal faces off against three vengeful killers on the eve of his wedding. Nominated for seven Academy Awards, winning four, including Best Actor for Gary Cooper.

Set in New Mexico, shot on location in Warnerville and Jamestown, California.

Blue titled wrappers, noted as copy No. 82, with credits for screenwriter Carl Foreman. Title page present, with credits for Foreman. Draft dated 7/30/51. 119 leaves, with last page of text numbered 110. Mimeograph duplication, rectos only, with pink revision pages dated 8/7/51 throughout. Pages Near Fine, wrapper Very Good plus, bound internally with three gold brads. In a custom brown quarter-leather clamshell box.
Offered by Royal Books.
by Cormac McCarthy

New York: Random House, 1985. First Edition. Near Fine/Near Fine. An advance review copy of the first edition, first printing, with publisher's slip and prospectus laid in. Bound in publisher's crimson cloth quarter cloth over red paper covered boards, spine lettered in gilt, ruled in red. Near Fine with light lean to spine. In a Near Fine unclipped dust jacket with light fading to spine; blindside shows bleeding at spine ends and a small strip of toning. Several light creases and edge wear to publisher's laid in materials. A beautiful copy with review materials, and scarce thus.
Offered by Burnside Rare Books.
Typed Letter Signed [TLS] discussing possible titles for Watership Down and the famous map
Richard Adams
NP, 1970. First Edition. Very Good. LETTER SIGNED BY RICHARD ADAMS TO HIS PUBLISHER REX COLLINGS PROPOSING POSSIBLE TITLES FOR WATERSHIP DOWN AND DISCUSSING THE FAMOUS MAP. Written over two years before the 1972 publication of Watership Down, the letter reveals the collaborative relationship between Adams and Collings. Adams, clearly eager to collaborate with a publisher to whom he feels indebted, is touchingly self-effacing in the letter, declaring that Collings can "do better" with the title.

Watership Down: Origin and Publication
Watership Down was born on a long car ride, where Adams weaved an increasingly complex narrative about rabbits to his eager daughters, who later insisted that he write down the tale. Initially rejected by numerous publishers, Adams' manuscript finally reached Rex Collings, a minor one-man publisher. Collings understandably had trepidations about publishing violent lapine literature, which most publishers rejected for being too scary for children. He even asked his associate: "I've just taken on a novel about rabbits, one of them with extra-sensory perception. Do you think I'm mad?" Furthermore, in working with Adams, Collings risked collaborating with an unpublished writer. Of course, Collings took a brilliant chance, and unlike many other great novels, Watership Down was quickly recognized, winning the Carnegie Medal for the year's best children's book by a British subject.

The Title Watership Down
Adams' original title "Hazel and Fiver," didn't quite say "this book will sell 50 million copies" to publisher Rex Collings, who encouraged Adams to explore other titular options. While Adams credits Collings with the title Watership Down, the letter here proves otherwise, as Adams himself willingly abandoned his original title and presented Watership Down as an option. Adams and Collings, in collaboratively choosing the title, recognized that while Hazel and Fiver are important, as Adams original title prioritized, the sanctity of place is more central to this story. Like Manderley or Hogwarts or the Shire (that's Rebecca, Harry Potter, and The Lord of the Rings respectively), Watership Down represents a sacred place, a Promise Land that the characters are fighting for.

The Map
In the letter, Adams alludes to the famous map in Watership Down, a map that unlike the title, is published exactly as Adams describes-"a pull-out black-and-white map at two inches to the mile."

The letter reads:

Dear Rex,

"Hazel and Fiver"

A few suggestions for a better title. It's rather a difficult job. Let me know if you care for one - or if you can do better. You probably can.
I'm ready to talk to a cartographer. How about a pull-out black-and-white map at two inches to the mile?
Yours ever,

[signed] Richard
R.G. Adams
--------------------
On the enclosed page, Adams offers a list of "Possible Titles Instead of 'Hazel and Fiver'"
The Summer Wanderers.
The Prince with a Thousand Enemies.
Watership Down.
The Wildness and the Wet.
The Trembling of the Grass
The Delicate Turf.
Fiver's Blood.
The Miles of Turf.

Typed letter signed with autograph corrections. London: 8 October, 1970. Two pages. Cover page (signed "Richard"). Size: 5.75x8.25in; 149x210 mm). Leaf with title suggestions. Size: 8.25x11.3/4 in; 210x299 mm. Staple holes in top left margin; usual folds; otherwise fine.
Offered by Manhattan Rare Book Company.
Manifeste du Surrealisme [Manifesto of Surrealism]
by BRETON, ANDRE

Paris: Editions du Sagittaire, 1924. First Edition. Near Fine. First edition, a press copy with "S.P." for Service de Presse on the front cover. Signed by Andre Breton and inscribed to a French literary critic. Bound in publisher's original wraps printed in black. Near Fine with light soiling and wear to wraps and bumping or creased page corners throughout. Breton's first manifesto in which he defines Surrealism as "Psychic automatism in its pure state, by which one proposes to express-verbally, by means of the written word, or in any other manner-the actual functioning of thought. Dictated by thought, in the absence of any control exercised by reason, exempt from any aesthetic or moral concern.
Offered by Burnside Rare Books.
Symphony No. 2 "David" Dedicated to Albert Einstein, with Presentation Broadside to Einstein and Original Photograph
by [EINSTEIN, ALBERT. (1879 - 1955) ] AVIDOM, MENACHEM. (1908 - 1995)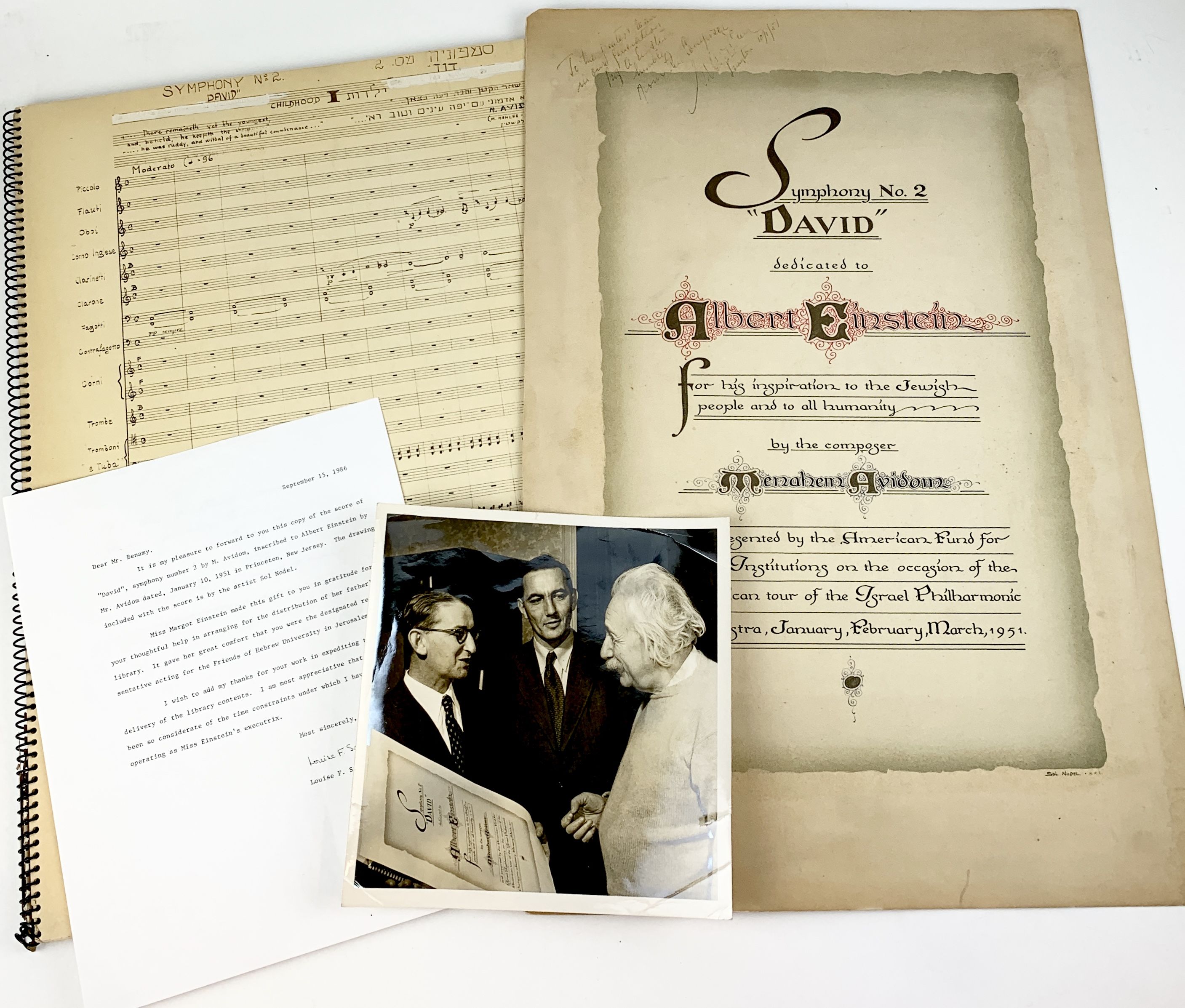 Tel-Aviv, Israel [New York]: Israeli Music Publications [Independent Music Publishers], [1951]. First edition. Used; Like New/Used; Like New. Large format published facsimile manuscript orchestral score. 85 pages. Folio (14 x 19 inch; 35 x 49 cm), spiral bound, plain boards; covers detached, generally sound internally. Together with an elaborate painted calligraphic presentation broadside (14 x 21 inch; 36 x 54 cm) of the Symphony to Albert Einstein by Sol Nodel (1951), "Symphony No. 2 'David' dedicated to Albert Einstein For his inspiration to the Jewish people and to all humanity by the composer Menahem Avidom and presented by the American Fund for Israel Institutions on the occasion of the American tour of the Israel Philharmonic Orchestra, January, February, March 1951," additionally inscribed by the composer in black ink upper left, "To the greatest man in our generation / Prof. A. Einstein / humbly / From the Composer / M. Avidom / Princeton 10/1/51." Together with an original 8 x 8 inch original photograph of the presentation to Einstein and a photocopy of a 1986 letter from Louise F. Sayen later presenting the score and broadside to a Mr. Benamy, noting that "Miss Margot Einstein made this gift to you in gratitude for your thoughtful help in arranging for the distribution of her father's library. It gave her great comfort that you were the designated representative for the Friends of Hebrew University in Jerusalem." In fine condition.
Israeli composer Menachem Avidom was born in Stanislaviv, Austria-Hungary and was apparently a cousin of Gustav Mahler. He studied in Paris, and a later four-year stint in Egypt led him to look beyond European modes on musical theory and composition. In 1939 he wrote musical arrangements for Yemenite-Jewish singer Bracha Zefira and these arrangements sparked his interest in the fusion of Middle Eastern and European music theories, in 1944 writing a series of pieces in the new style that defined the rest of his career as a composer. His compositions helped lay the groundwork for future Mizrahi and Sephardic (Middle Eastern Jewish) musicians in Israel. From 1945, he served as general secretary of the Israeli Philharmonic; in 1955 he was named director of ACUM, the Israeli Performing Rights Society. The presentation of his score to Einstein occurred during the first ever American tour of the Israel Philharmonic, during which the orchestra was conducted by Leonard Bernstein and Serge Koussevitzky and gave 53 concerts in 40 cities.
Einstein, a talented violinist, who adored Mozart and revered the music of Bach, once declared that had he not been a scientist he would have become a musician, and that the most joy in his life had come to him from his violin.
Offered by Schubertiade Music & Arts.
A Complete Life of General George A. Custer
by Frederick Whittaker

New York: Sheldon & Co., 1876. First Edition. Hardcover. Good. Octavo (24 cm), pp. [2], [v], vi -x, [1], 2 - 648, [2], including index. Pale red cloth with gilt and black titling and decorations. Frontispiece with tissue guard, numerous plates and vignette illustrations throughout. Previous owner's stamped name and address on inside front board, small stickers and pencil notations on front free endpaper. Spine cracked and moderate edge wear. No jacket, as issued. [O'Keefe 2540]The first biography of Custer, published just six months after his death, was the beginning of the "Custer myth," doing much to recast the much-criticized, bungling general as a great American hero, as evidenced by the dedication: "To the American people whose liberties he so gallantly defended, and especially to the American Cavalry, past and present whose greatest pride and brightest ornament he was."
Offered by Elk River.
A Single Man, First Edition 1964
by Christopher Isherwood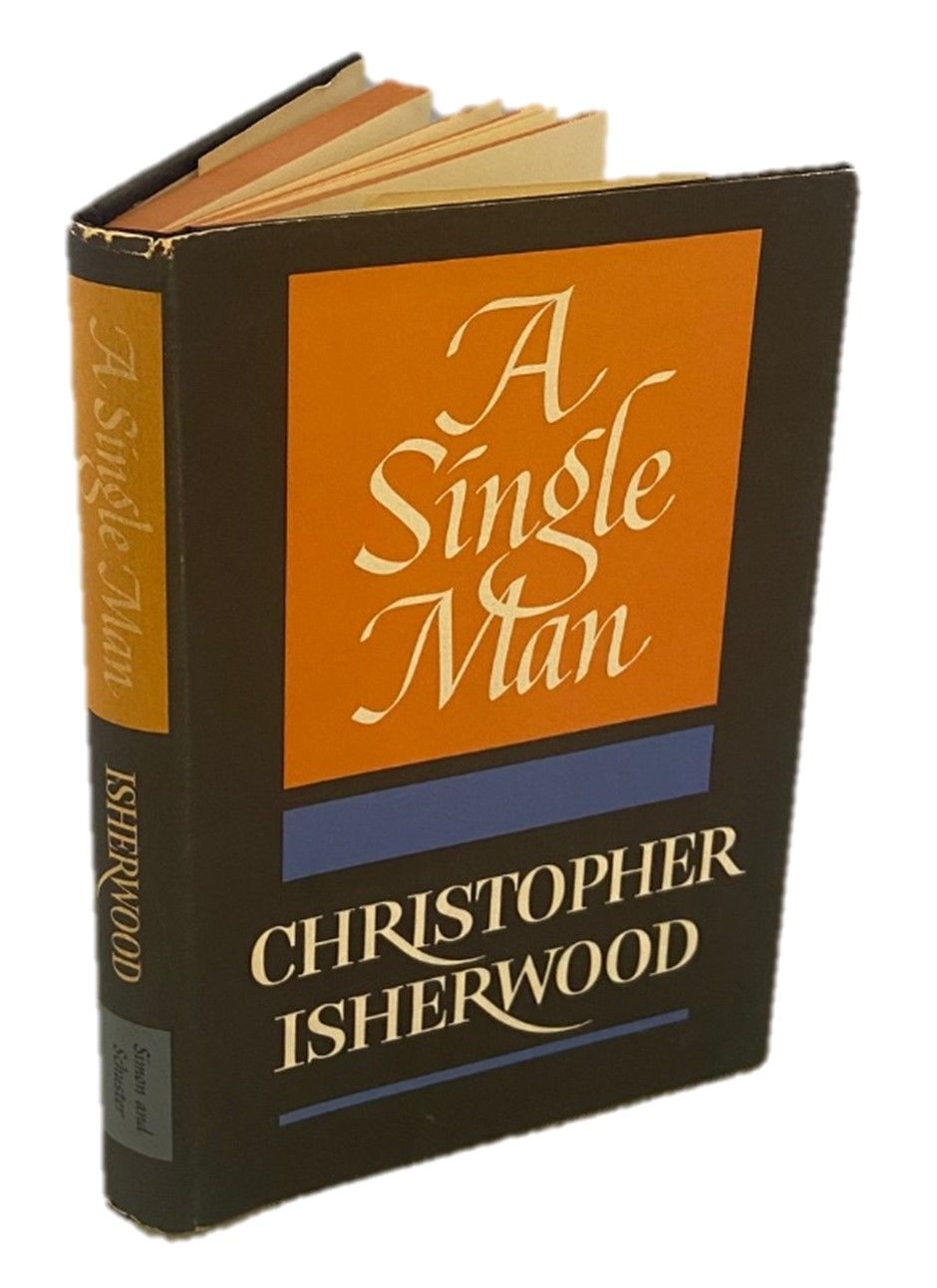 Simon and Schuster: New York, 1964. Measures 5.5 x 8 inches. 186 pages. Original dust jacket with title in attractive mid-century orange text box. Black boards with title imprinted in stylish black font. Silver title on spine. Back of jacket shows artistic black and white sketch of Isherwood. The story follows 58-year old English ex-pat George, a college professor grieving the death of his partner, Jim. Subtle and restrained with hidden feeling just beneath its surface, the book was published the same year as the Supreme Court passed the Civil Rights Act which provided the first set of protections for Americans on the basis of sexual orientation. Isherwood's portrayal of George, while spare, is deeply humanizing. A 1964 New York Times review of the book reads, "This is not the sort of novel that Christopher Isherwood's earlier works have led us to expect of him, and that is surely to his credit, for it is always interesting to see a writer branching out into something radically new rather than trying to live up to a certain kind of reputation." Very slight shelfwear to jacket. Textblock tight, bright and clean. Very good condition.
Offered by Max Rambod, Inc.
Grouping of Items relating to a Concert given in Rome on April 16, 1827 including Autograph Letter and Autograph Program
by PAGANINI, NICOLÒ. (1782–1840)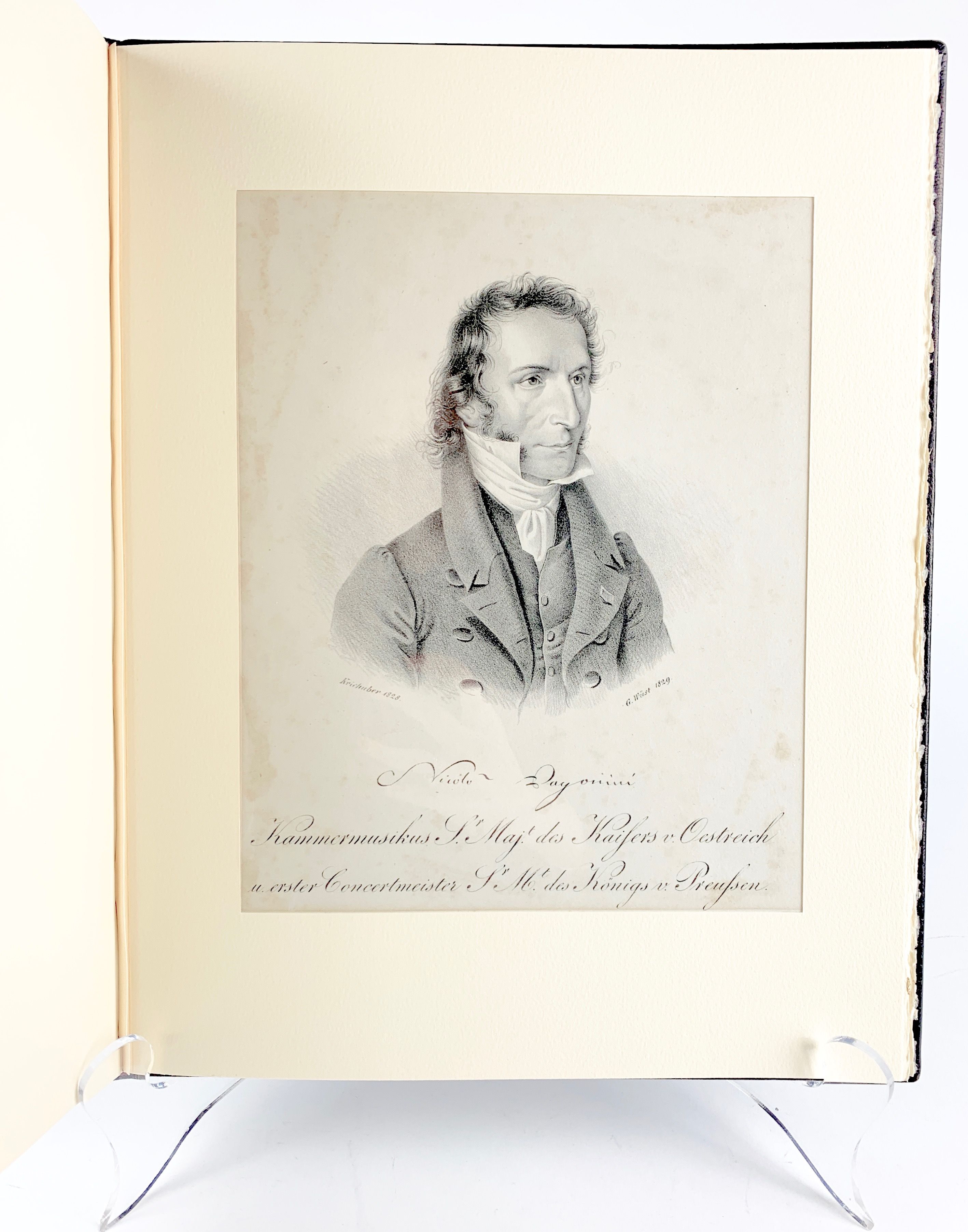 Used; Like New/Used; Like New. An important grouping of items, all relating to a concert given by the great violinist-composer in Rome on April 16, 1827. We have never seen any formal request for a concert by Paganini such as this and it is extraordinarily rare to encounter an entire grouping of related materials such as this. The included items are as follows and are contained in a luxurious custom full black morocco binding (11.4 x 14.5 inch; 29 x 30 cm) with inset facsimile signature and portrait to front board, each item individually and archivally set in its own plastic window within their respective handcut mounting pages:
1. Paganini's formal request asking permission of the Governor of Rome to give the concert. The document is handwritten by Paganini in the third person with two full "signatures" in the text. Under the address on the front panel, another hand has noted that approval was granted on April 11. The document has been written on two pages in a manner that permits opening it so the whole thing shows on one side. On fine laid paper. Excellent condition except for very minor faint foxing and traces of former framing. 11 5/8" x 10 5/8" when open showing full text.
2. Paganini's outline of the program, also holograph but in a much more typically flamboyant and bold hand and with several corrections, some of which were forceful enough to cause the ink to erode the paper. The last section of the program is on the verso. Large folio size, evenly browned with some foxing and traces of former framing. It has been professionally de-acidified and lined with mulberry tissue for strengthening. The program itself is fascinating: the Filarmonico Paganini (!) playing the Violin Concerto No. 2 (composed just the year before), an Italian symphony, sonatas, variations and arias.
3. The printed program. The program is exactly as Paganini has written it out except that whereas he had suggested prices of 3 to 5 scudos, the final prices were 1.50 to 3 scudos! Folio size, fine condition.
Joining the above three items is a rare lithographed portrait of Paganini by G. Wust after Kreihuber. Josef Kreihuger, the Viennese painter (1800–1876) is particularly known for his portraits including a great number of musicians. He executed this portrait in 1828, the year after the concert. It is a serious portrait, not a caricature, and thus depicts accurately what Paganini really looked like at the very time. Large folio size, some staining on edges and traces of former framing.
In the early years of his career, though he was very popular with the local audiences of Italy, especially in the areas surrounding Parma and Genoa, Paganini was still not very well known in the rest of Europe. Though his 1813 concert at La Scala in Milan attracted the attention of other prominent, though more conservative, musicians across Europe, his concert activities, however, remained limited to Italy. Finally, in 1827, he performed in Rome and Pope Leo XII honoured Paganini with the Order of the Golden Spur. Soon his fame spread across Europe with a concert tour that started in Vienna in August 1828, stopping in every major European city in Germany, Poland, and Bohemia until February 1831 in Strasbourg.
Offered by Schubertiade Music & Arts.
The Largest Autograph Album & Travel Log Ever Assembled: The Great Book of Farmer Turned Globetrotter Joseph Mikulec, An Unprecedented Cultural and Political Survey of an Era, With the Contributions of the Famous and So Many Whose Stories Have Never Been Told A global time capsule, the combined work of tens of thousands of people worldwide and in the United States, unearthed after a century, never before researched or offered publicly for sale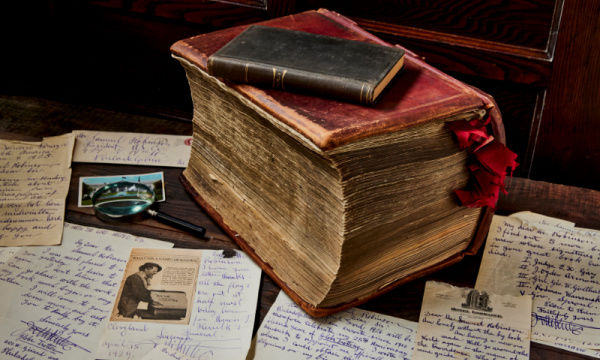 SIGNEDAmericana|Theodore Roosevelt|Calvin Coolidge|Warren Harding|Thomas Edison|Joseph Mikulec It was put together in an unmatched effort, unlikely ever to be rivaled. Mikulec traveled hundreds of thousands of miles, to every Continent except Antarctica, met tens of thousands who inscribed their thoughts and words to the world traveler, from world leaders to local merchants, from Theodore Roosevelt to the insurance salesman in Topeka to monarchs and leaders everywhere Mikulec's journey was made famous by four New York Times stories, reports by hundreds of local newspapers, and a silent movie clip shown in movie theaters all over the United States, among many other notices This remarkable survey gives unique insight into the multicultural society of the United States at the end of its great period of immigration It also captured the business world and the world of commerce and innovation during this important stretch Mikulec visited at least 33 countries in his travels, and there are entries in 23 languages in the album No person could contribute an autograph or note whom he had not personally met, which included six U.S. presidents, two monarchs and a prime minister of Great Britain, the president of China, leaders of Japan, Australia, India, Singapore, prime ministers of Canada, Thomas Edison, Andrew Carnegie, Enrico Caruso, countless moreJosef Mikulec was born in a small town in northern Croatia on January 15, 1878. His father was a farmer and he worked that farm. Then his father, who had accrued debt, sent him to work off that debt on yet another farm. But before his 20th birthday, his burgeoning desire to see the world took his life in another direction. His father had refused his request to travel abroad, but he convinced his mother to let him. "I always wanted to see the world," he would explain later. "This is the path I took to do that." He traveled to Italy, then Malta, where he got a job.He didn't want to go home, and found an English steamboat on its way to South Africa; so he got aboard and sailed for 35 days to Port Elizabeth, in time to witness some of the rumblings of the Boer War. From there he sailed the Southern Atlantic Ocean to South America, camping in the rain forests, and visiting Buenos Aires. Shortly after that, as he told, he went to Brazil, living there for six months as a "savage." He ate wild fruit, roots, and nuts, got lost in the rain forest, and almost died.At some point, a Croation publishing group agreed to pay him $10,000 if he could walk around the world in 5 years. He was to give the publication exclusive rights to his story at the end of that time. "Mine is not a college education. I could neither read nor write when I left Croatia… but travel is the greatest educator," he would elaborate.It is not clear whether he honored his commitment to this group or whether they honored theirs to him. But what is clear is that the first 25,000 miles he walked were but a drop in the bucket of what would be a near lifetime of travel, which would earn him the nickname "The World Traveler."Along his journey, on one trip to Italy, he saw a young man carrying an autograph book and got the idea that he could document his trip with such a book himself. This he did. He had begun to get letters from people he met, attesting to his visit. These were now replaced with books that would later be bound together, each book containing a number of pages, with the final weighing nearly 60 pounds, with more than a thousand pages of autographs.Really, his book was not an autograph book. It was much more. He was on search not of the signature but of the person, to meet face to face with the figure. No one could appear in his book unless he had personally met that person. In this process, he traveled in excess of 200,000 miles, wore out forty-four pairs of shoes, learned, by his own account, 8 languages, was the subject of an early silent newsreel, stepped foot on every habitable continent, sat down for interviews with nearly every major and many minor newspapers in a variety of languages, and met tens of thousands of people. The final count of signed notes in his book is more than 60,000.This book went with him around the world. "I have no address," he would say. "I spent last night in Newark. I don't know where I shall spend tonight."It traveled, as a whole or in constituent parts, on pack mule, rickshaw, pushcart, boat, vessel, and finally in his Ford automobile, which he took up. Word of his arrival in this town or the other, or the latest port, preceded him. "I make friends with the captains of the ships they sendword on ahead to the port… When I arrive there the reporters and cinema men are waiting."Mikulec's story was famous at the time. He was the subject of 4 pieces by the New York Times. In 1922, Pathe - a major film production company - featured him, his travels, and autographs, in a newsreel shown in virtually every movie theater in the United States, his adopted country. The newsreel can be viewed on youtube at http://www.filmpreservation.org/preserved-films/screening-room/pathe-news-no-15-1922. His portion begins at the 4:34 minute mark.He met Theodore Roosevelt 4 times, along with Warren G. Harding twice and 4 other Presidents. He lived as a native in the Brazilian rain forest, was in Johannesburg for the Boer War, was attacked from Native Americans in Yuma, Arizona, threatened with death a few times, and met incredible people all along the way.At the end, the book was so heavy that it could only be pushed in a custom cart that more or less resembled a baby pram. Very few of these autographs were simple signatures; most were signed notes, with many even the length of letters written right into the book. And Mikulec had a fondness for official stamps and seals, obtaining from the officials he visited the seals of their nations, states, cities and more; plus stamps from the businesses that used them. The book's final group of signatures is effectively late 1923.The specifics are unprecedented. He visited all told at least 33 countries: In Europe, England, Scotland, Denmark, Sweden, Belgium, Italy, Germany, Czechoslovakia, Netherlands, Yugoslavia, France, Poland, Ireland, and Switzerland. In Asia, Japan, China, Korea, Singapore, Palestine, Burma, India, and the Philippines. In the Americas, the United States, Canada, Mexico, Brazil, Cuba, Uruguay, Argentina, and Costa Rica. In Australasia, Australia and New Zealand. In Africa, Egypt. We have identified at least 23 languages entered into the book: English, French, Italian, Yiddish, Arabic, Serbo-Croatian, Polish, Spanish, Armenian, Hindi, Chinese, Japanese, Russian, Danish, Swedish, Ukrainian, Greek, Norwegian, Hungarian, Persian, Siamese, Portuguese, and Lithuanian.Around this time, he met with great autograph dealer ASW Rosenbach, who said of his book that it was "the most complete collection of contemporary autographs" in existence.As he approached his 50th birthday, he began to think about his legacy and also the legacy of the book. "This book is very precious and dear to me." He set about bringing together the nearly 200 newspaper articles in several languages that he had collected and wrote stories alongside them of events that he remembered. He wrote the names of some of the people that he met, their addresses, and dates. Of these he created yet a second bound book, which he began in February 1924.ProvenanceMikulec kept the books until 1925, when he sold them to Samuel Robinson. Robinson, an immigrant from Ireland, was a founding partner in the American Stores Company, the parent of Acme Markets. We obtained the book from a Robinson family descendant.The 2 BooksThere are over 1,000 pages in the main book, the pages of which are huge - 11 by 16 inches (the entirety is 10 inches thick) - and crammed full of handwriting on both sides of each page. They tell the story of a unique exploit, contain information from people great and obscure as they express themselves (sometimes at length), and show the world at Mikulec's moment in time more thoroughly and compellingly than any history book. Nothing like it has ever come to market; this was thought lost for almost a century.Mikulec described many of his very experiences in his second book from 1924. But he kept physical mementos in his great book as early as 1911. He traveled in 2 primary stretches, a break being necessitated because of the outbreak of World War I.1911: Australia, New Zealand, Tasmania, the PhilippinesIn early 1911, he went East, very far East. In May of 1911, Mikulec sailed for Australia, which was a jumping off point for him to go to New Zealand, whose cities were very young. He met Lord Islington, the Governor General of NZ, mayors and diplomats throughout that country, and visited Napier, New Plymouth, Wanganui, Christchurch and Wellington. From there, he traveled to Tasmania, visiting local figures and meeting, among many, Harry Baron, the Tasmanian Governor. He sailed back to Melbourne, Australia and traveled the East Coast, meeting Lord Denman, the Governor General of Australia.The following month, in October, he traveled to the Philippines, where he met the Governor General, W. Cameron Forbes.1911-1912: Japan, China, Singapore, Burma, IndiaBy the Winter of 1911, he found himself in Japan with a military escort. He was active there and met the mayors of Nagasaki, Yokohama, Kobe, Fusajiro, and Yokohama. He met the US Ambassador there, Charles Page Bryan.He was present for a speech by Admiral Togo and Admiral Saito Makoto, a great military leader and later Governor General and leader of South Korea. He met other military figures as well, in addition to academic figures and ordinary citizens. Some of these he met in July, during a trip to Manchuria and Shanghai, when he also met A. Roy. Knabenshue, a friend and supporter of the Wright Brothers and lead diplomatic presence in Asia.From there he traveled to Hong Kong, meeting with the Governor there, FH May; also Li Yuan Huong, President of China and Hsi Liang, Viceroy of Manchuria, who wrote him a small poem. In addition to Shanghai, he was in Tiantsen and Peking.In September, he was in Singapore, where he met Governor Arthur Young and in Burma the following month.He ended 1912 in India, where he traveled to Calcutta, Delhi, and Agra, among other places. There he met OM Creagh, the Commander in Chief of India, and Administrator of India Malcolm Hailey. He met Lord Carmichael, Governor of Bengal and Lord Curzon, Viceroy of India and Foreign Secretary (these last two he would meet later in the UK).He had met many of the leading figures in the East in his first year.1913 – the Middle East, Western Europe, a brief tourIn early 1913, he visited Alexandria and Cairo in Egypt and Jerusalem. In March and until the summer of 1913, he visited diplomats throughout Western Europe, visiting England, France, Germany, Denmark, Bohemia, Italy, Spain and Portugal. He bought the book around this time, inspired by vision of an Italian collecting autographs, and whereas until this point, the book consists of letters he received in person, applied to the book. From this point the signatures mainly appear on the pages of the book itself.1914-1918 – World War I, a respite.But as he did this, the war broke out. And we find him again in 1918 in the United States, based out of Philadelphia, bouncing up and down the East Coast.The United States1919-1922 – The Mid Atlantic; A political survey, in the United States and beyondBeginning in early 1918, with a tour of New York, Connecticut, Philadelphia and Boston, Mikulec used the stretch from DC to Boston as a home base, traveling up and down this corridor and from there making trips out west and south. During these stretches, he visited politicians, diplomats, business owners, titans of industry, presidents, cabinet members, artists, most state governors, and other elected officials.Among the presidential figures he visited and who contributed: U.S. Presidents and First Ladies: Theodore Roosevelt and Edith Kermit Roosevelt, William H. Taft, Woodrow Wilson and Edith Bolling Wilson, Warren Harding, Calvin Coolidge, and Herbert Hoover;Other American political people appearing in the album include vice president Thomas Marshall, presidential nominees Charles Evans Hughes, Al Smith, and William Jennings Bryan, cabinet members William G. MacAdoo, Josephus Daniels, Robert Lansing, and Andrew Mellon.Mikulec was equally fascinated by foreign relations and representatives, and he visited an untold number of ambassadors and consular officials, both in the United States and elsewhere. Just two examples are the French ambassador to the U.S , J.J. Jusserand, and the British ambassador in Washington, Edward Grey, famous for saying at the outbreak of World War I, "The lights are going out all over Europe and I doubt we will see them go on again in our lifetime".Some prominent military personnel made it into the album. These include Gen. John Pershing, ace Eddie Rickenbacker, Smedley D. Butler, most decorated U.S. Marine prior to WWII, Theodore Roosevelt, Jr., and Charles E. Stanton, famous for coining the memorable expression, ""Lafayette, we are here!"" in a speech he gave in Paris during the World War I.A few other celebrities are physicist Michael Pupin, and Samuel Gompers, founder of the American Federation of Labor (AFL).Mikulec visited literally thousands of businesses, from major corporations to small businesses of all kinds, from titans of industry to their employees, from the heads of major companies to the local market owner in a small town. A small representation: Andrew Carnegie; Thomas Edison; department store tycoons John Wanamaker and Bernard Gimbel; Jacob Ruppert, owner of the New York Yankees; stockbroker Charles Schwab; publisher George H. Putnam, founder Putnam's; and presidents of Lloyds of London and the Pennsylvania Railroad. Mikulec also visited steamship companies, like the Cunard Lines.He liked to visit factories, stores, car dealerships (like Packard Studebaker, and Cadillac), hotels (like the Waldorf Astoria, whose legendary chef Oscar has also signed), fraternal organizations, and banks (there are hundreds of bankers' autographs). In these he would often meet with senior executives and their employees of every station.He met leading figures in the cultural world, like Edward Robinson of the Metropolitan Museum of Art and Yale University president James Rowland Angell. He met boxers Jack Dempsey and Jess Willard, noted autograph collector ASW Rosenbach, and religious leaders like Cardinal James Gibbons.The combined work of tens of thousands, a time capsule and people-wide survey of the end of the great period of immigrationIn the U.S., the Immigration Act of 1924 limited the number of immigrants allowed entry into the United States. This album is a snapshot of the nation at the end of the great period of immigration, when between 1880 and 1924, more than 20 million immigrants arrived. The majority were from Southern, Eastern and Central Europe, and included 4 million Italians and 2 million Jews. Mikulec made it a point to visit these people at their shops, places of work, and amidst their activities. They contributed too. He emphasized this by visiting the newspapers that served these constituencies. He visited American newspapers published in English, but also those published in Italian, Yiddish, Greek, Japanese, Chinese, Serbian, Czech, and Polish. Entries by these immigrants run into the thousands, and many - though by no means all - are in their native languages. For example, there are 36 entries in Yiddish, many quite lengthy, and many more in Italian and Eastern European languages.He also met many leaders of the international business and banking communities, particularly in New York. One such example is Hisaakira Kano, an international banker and head of the Yokohama Specie Bank (YSB). The bank played a significant role in Japanese trade with China. For many years Kano was a Japanese representative Director at the Bank for International Settlements (BIS). Also: Ryoichiro Arai, a Japanese businessman who helped to build trade relationships between the United States and Japan, especially in the silk industry.1919 – First Trip westwardIn 1919, he reached out to the eastern Midwest, going from Philadelphia through Ohio and Michigan and ending in Indiana, collecting autographs of governors other prominent men and women along the way. He ended in Washington DC with a meeting with the Librarian of Congress.1920 – CanadaHis 1920 trip took him through upstate New York and into Canada. Here he met Canadian Prime Ministers Robert Borden and Arthur Meighen, and Prime Minister Devonshire, the Premier of Ontario and Governor General of Canada, as well as the Mayor of Toronto. This trip contains many other signatories in the business and political worlds. He would meet Gov. General Julian Byng in a 1921 trip to Montreal.1920 – Iowa, Colorado, St. Louis and West VirginiaThis trip saw him meet governors, politicians, and civic leaders from these states. He did so in Iowa City and Des Moines in Iowa; Ohama and Lincoln in Nebraska, Denver, Pueblo and Dodge City in Colorado; St. Louis and Kansas City in Missouri and a swing through Ohio and West Virginia heading home. There are many pages documenting this trip.1921 – Trip to England from CanadaFrom Canada, Mikulec took a boat to Liverpool and then went on to London. He called on 10 Downing Street, residence of the prime minister, where he was hosted. And during his time in England, he met British Kings Edward VIII, King George VI, and Prime Minister David Lloyd George, along with his cabinet. He visited the major and minor businesses there and added to his book politicians and diplomats as well. He met with the head of the British Museum Sir Frederic George Kenyon.1922 California, Texas, Florida and CubaThe pages from these areas are also full of fascinating people, from prominent to less prominent.Mikulec traveled through the Upper Midwest, before crossing into Canada, visiting Winnipeg and Calgary, gathering signatures of political and commercial leaders there. From there he saw the parks at Banff and headed to Vancouver, from which point he passed into Seattle and then to Portland, before heading south to Sacramento and San Francisco. He met the governor of California and many local leaders, before heading south to Los Angeles and Hollywood. He met many entertainment people, some in California and some in New York; we find silent film stars like Douglas Fairbanks, Mary Pickford, William Farnum, and Tom Mix; opera legend Enrico Caruso; plus William Fox, founder of 20th Century Fox, future NBC leader David Sarnoff, noted producers Carl Laemmle and Brian Foy, and Eugene Zukor, executive with Famous Players Lasky, a musical quotation from conductor Leopold Stokowski. It is a fascinating snapshot in particular of the new movie industry. There are many movie executives represented at various points in the book.From California, he traveled to El Paso, San Antonio, Houston, New Orleans, Mobile, AL, and Atlanta, meeting many people along the way.This time, he did not head back home to rest. He went from Charleston, SC to Tampa FL, where he caught a boat to Havana, Cuba, meeting with dignitaries there, before returning to the US via Key West, Miami, Palm Beach, and Jacksonville.
Offered by Raab Collection.
FLOWERS OF EVIL [with:] LES FLEURS DU MAL
by BAUDELAIRE, CHARLES, AND PIERRE-YVES TRéMOIS [ILLUSTRATOR]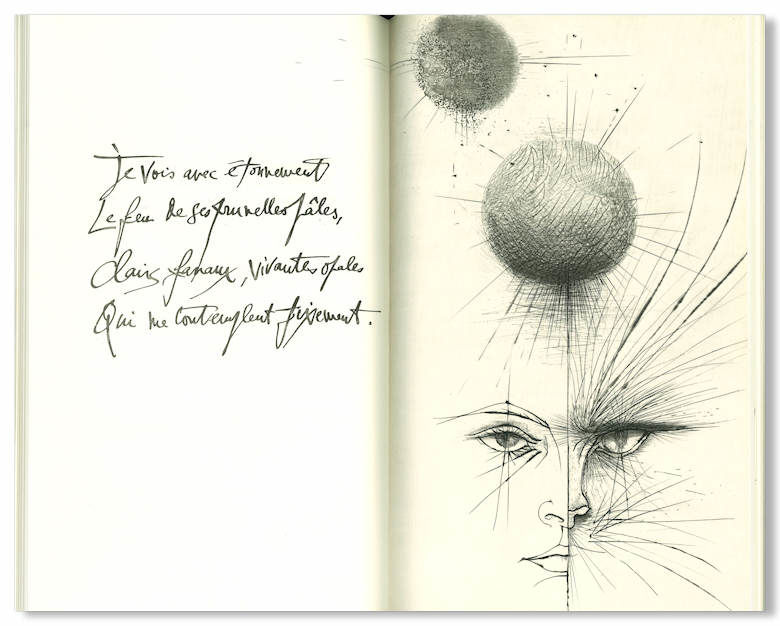 New York: The Limited Editions Club, 1971.. Two volumes. Quarto and octavo. Cloth and cloth and marbled boards. Illustrations. Trace of sun to spines, otherwise fine in slipcase with printed label. First edition in this format, printing the translations and most of the illustrations in the quarto volume, and the original French text in the octavo volume. Illustrated with original engravings by Tremois. One of 1500 numbered sets, printed by Colish, and signed by the artist. The translations include many of the standards by UK and US poets, edited by James Laver.
Offered by William Reese Company.
The Making of the African Queen, or How I Went to Africa with Bogart, Bacall and Huston and Almost Lost My Mind
by HEPBURN, KATHARINE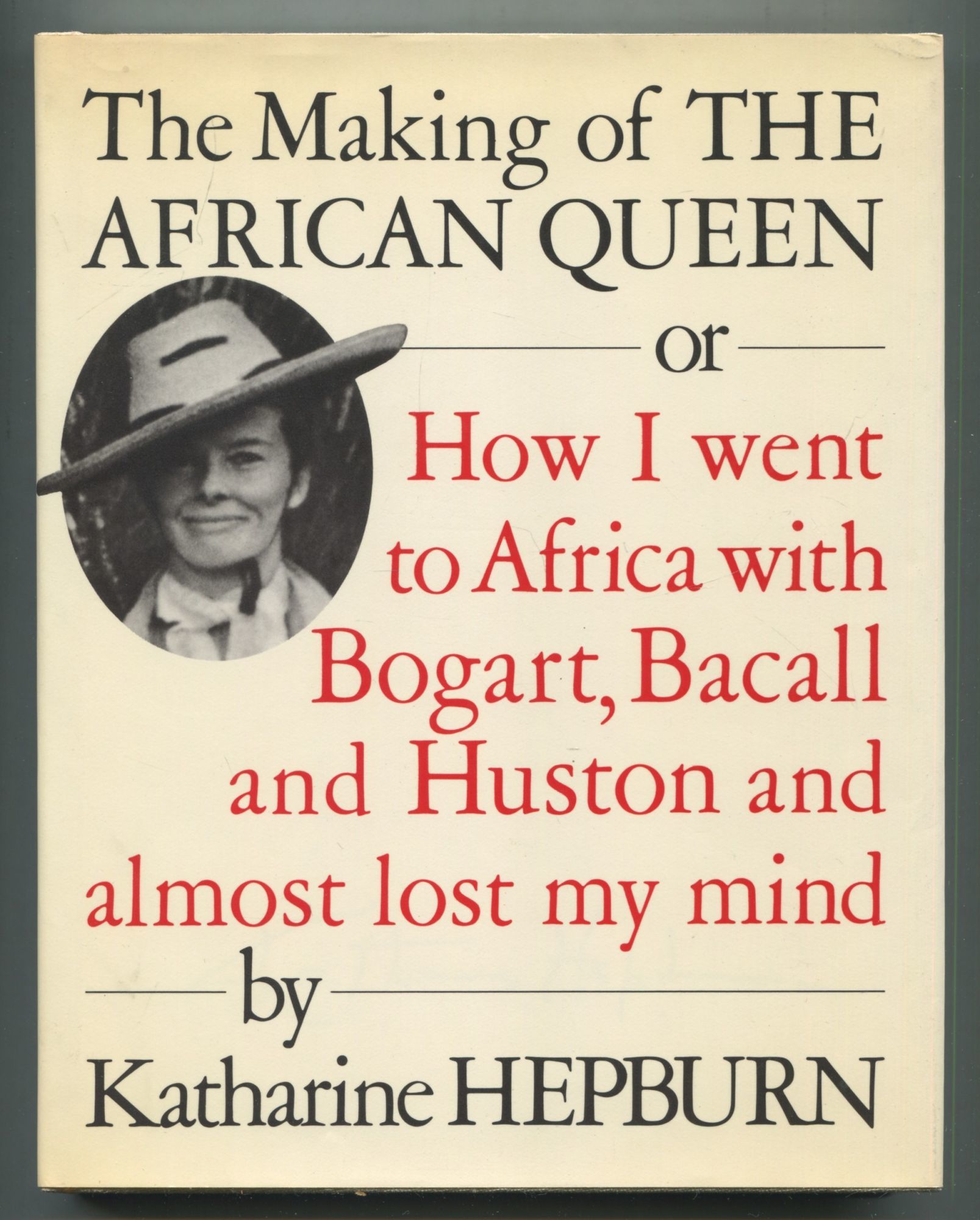 New York: Alfred A. Knopf, 1987. Hardcover. Fine/Fine. First Edition. 134pp. Fine in fine price-clipped dustwrapper. Inscribed to longtime Knopft editor: "For Toinette Lippe gratefully Katharine Hepburn.
Offered by Between the Covers Rare Books.
by Isobel Lennart
NY: Random House. Very Good in Very Good dust jacket. 1964. Hardcover. Music by Jule Styne. Lyrics by Bob Merrill. The basis for the 1968 Academy Award (Best Actress) winning film starring Barbra Streisand (her film debut) and Omar Sharif. Stated first printing. Very good in a very good (light edge wear) dust jacket.; 134 pages .
Offered by Grendel Books.
Funny Girl (Original photograph of Herbert Ross from the casting of the 1968 film)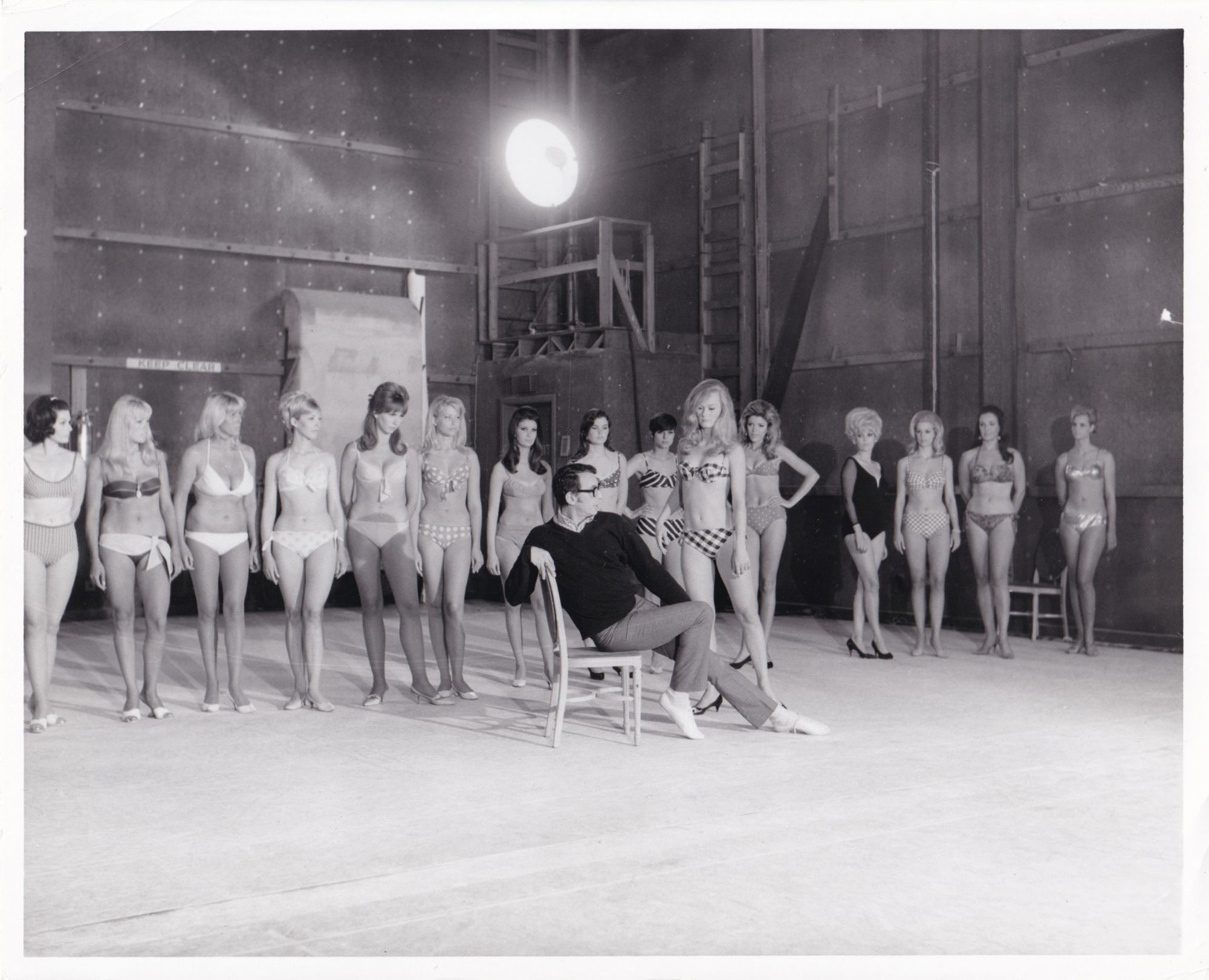 Culver City, CA: Columbia Pictures, 1967. Vintage reference photograph of choreographer and director of musical numbers, Herbert Ross, with a line of 15 girls in bikinis, from the casting of the 1968 film. Ross had previously worked with Streisand in her Broadway debut, in "I Can Get It for You Wholesale" (1962). 1967 "Columbia Pictures Corp." stamp on verso.

Based on the 1964 musical, with music by Julie Stein, lyrics by Bob Merrill, and book by Isobel Lennart, which was based on Lennart's 1964 biography, detailing the life of Broadway star Fanny Brice, and her tumultuous relationship with playboy Nick Arnstein. Lennart also adapted the work for the screen.

The film debut of Barbra Streisand, reprising her Tony nominated Broadway role.

Streisand would go on to win an Academy Award for Best Actress, and the film would be nominated for seven others, including Best Supporting Actress for Kay Medford, and Best Picture.

Set in New York, shot on location in California, New York, and New Jersey.

8 x 10 inches. Near Fine.
Offered by Royal Books.
Science Fiction Adventure - 1952 - 1954 [Complete in 9 issues]
by (DICK, PHILIP K., ISSAC ASIMOV, RAY BRADBURY, ET AL.)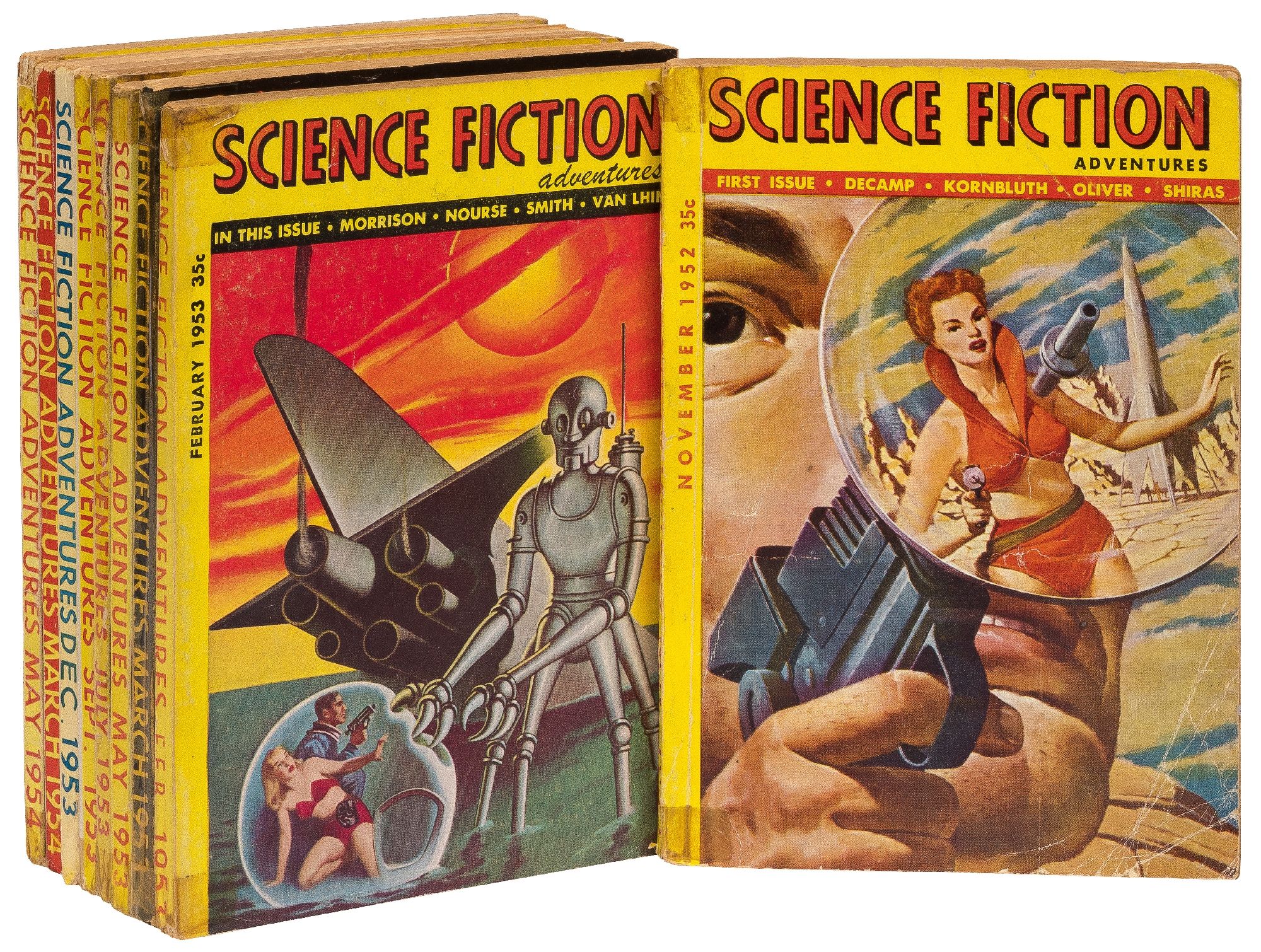 New York: Science Fiction Publications, 1954. Softcover. Very Good. Magazine. 12mos. Perfectbound in illustrated wrappers. Overall about very good with moderate wear and rubbing, some toning and contemporary tape reinforcement. A complete run of *Science Fiction Adventure*, a short-lived nine-issue anthology series edited by Lester del Rey. Contributors included L. Sprague de Camp, Damon Knight, Philip K. Dick, Poul Anderson, and Algis Budrys.
Offered by Between the Covers Rare Books.
Issac Asimov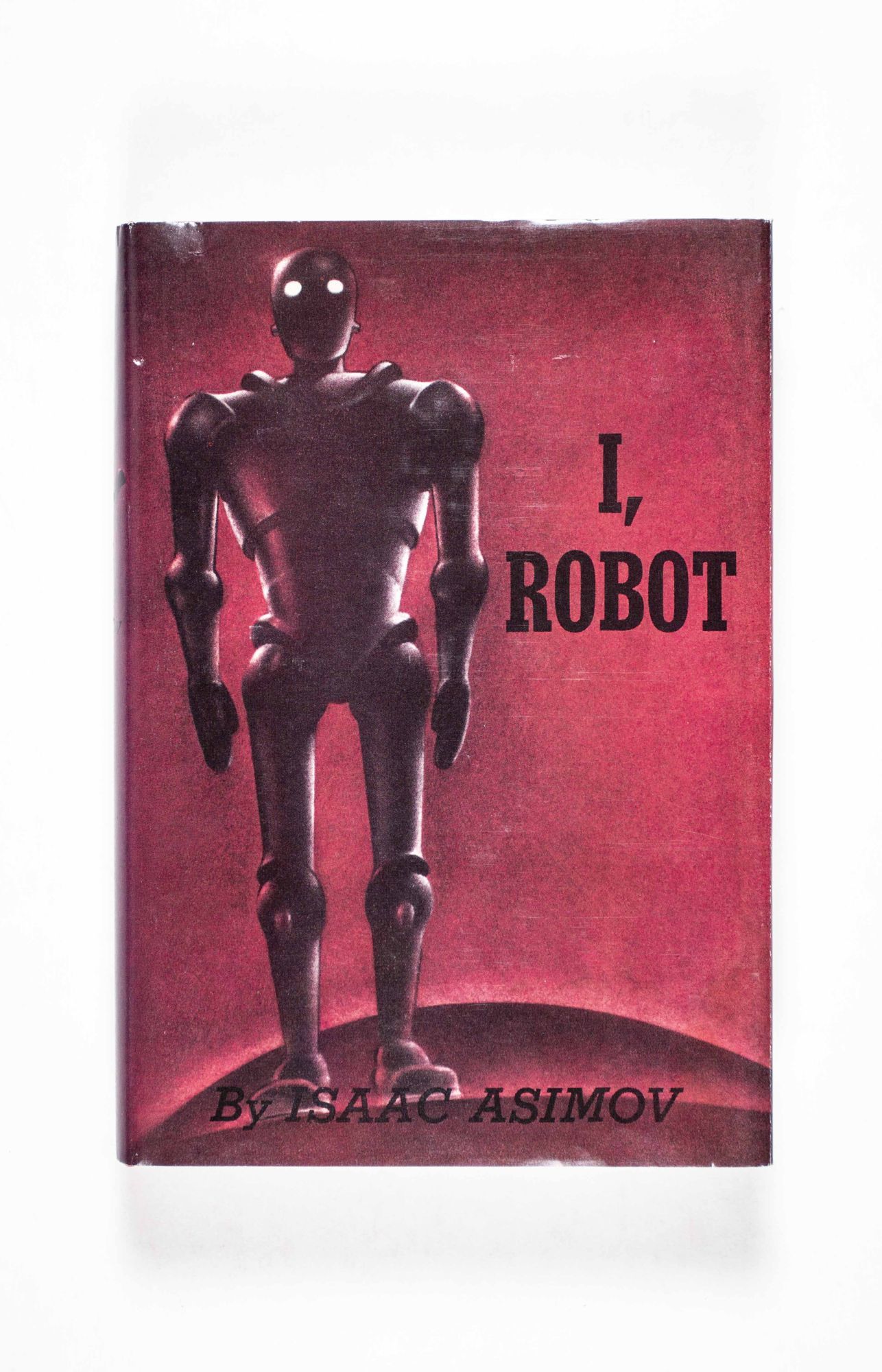 Shelton, Connecticut: The First Edition Library, 1978. Facsimile edition. Hardcover. Fine condition. Octavo. 253pp. Original red cloth with black-stamped vignette on cover, black lettering and ruling on spine, in original illustrated dustjacket in matching illustrated gray slipcase. True facsimile edition of the 1950 Gnome Press, Inc. Publication Date: December 1, 1950. Original Printing 5,000 copies. "To you, a robot is a robot. Gears and metal; electricity and positrons. -Mind and iron! Human-made! If necessary, human-destroyed. But you haven't worked with them, so you don't know them. They're a cleaner, better breed than we are." (Publisher) Printed First Edition Library publishing information laid in.
Offered by Eric Chaim Kline, Bookseller.
by Eve Babitz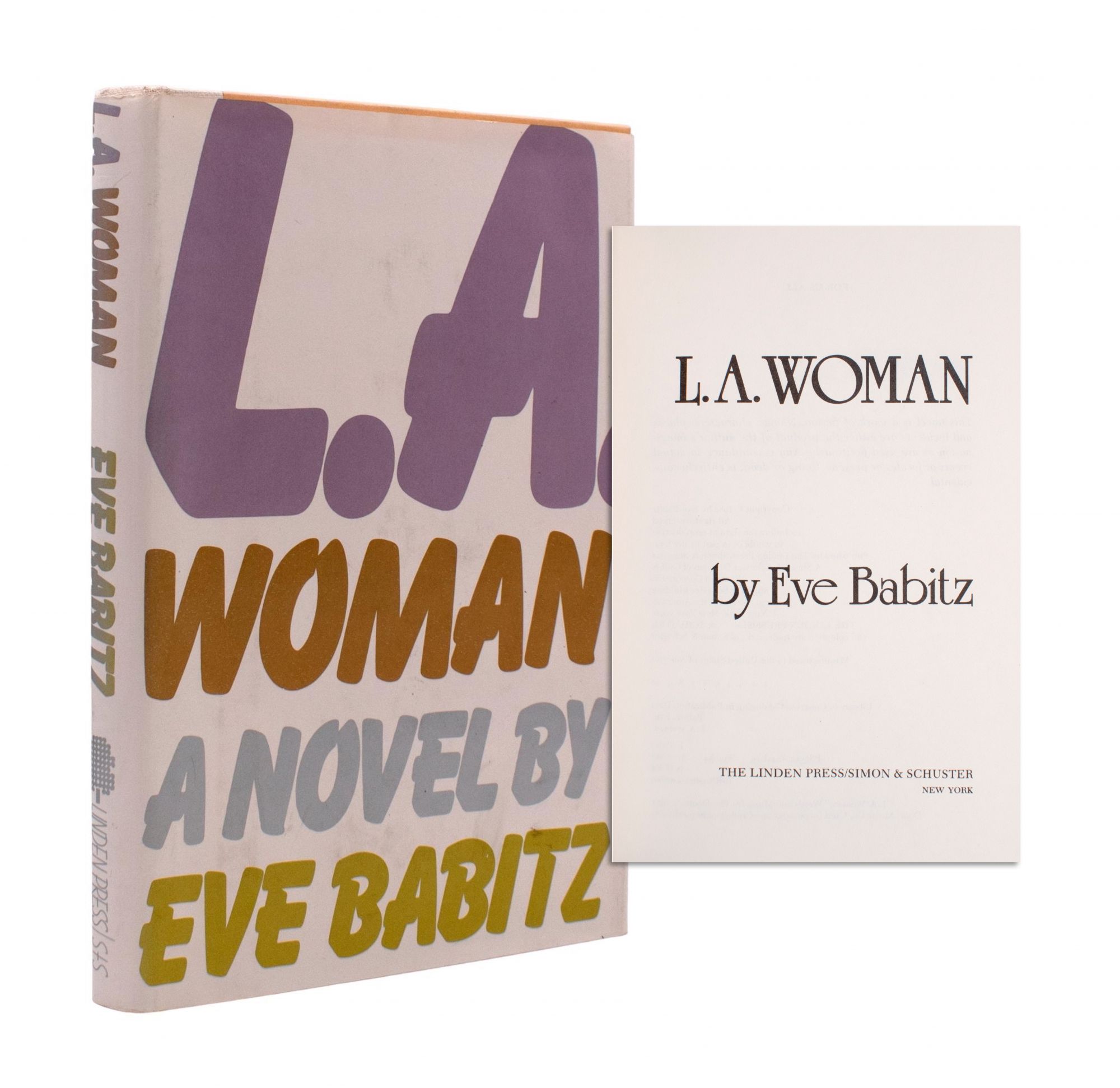 New York: Linden Press/Simon & Schuster, 1982. Half cloth boards, fine but for remainder stamp on bottom, which is the normal state of things in a cult book like this, in fine unclipped dust-jacket.
Offered by James Cummins Bookseller.
African-American Tennis Legend Althea Gibson Signed Photo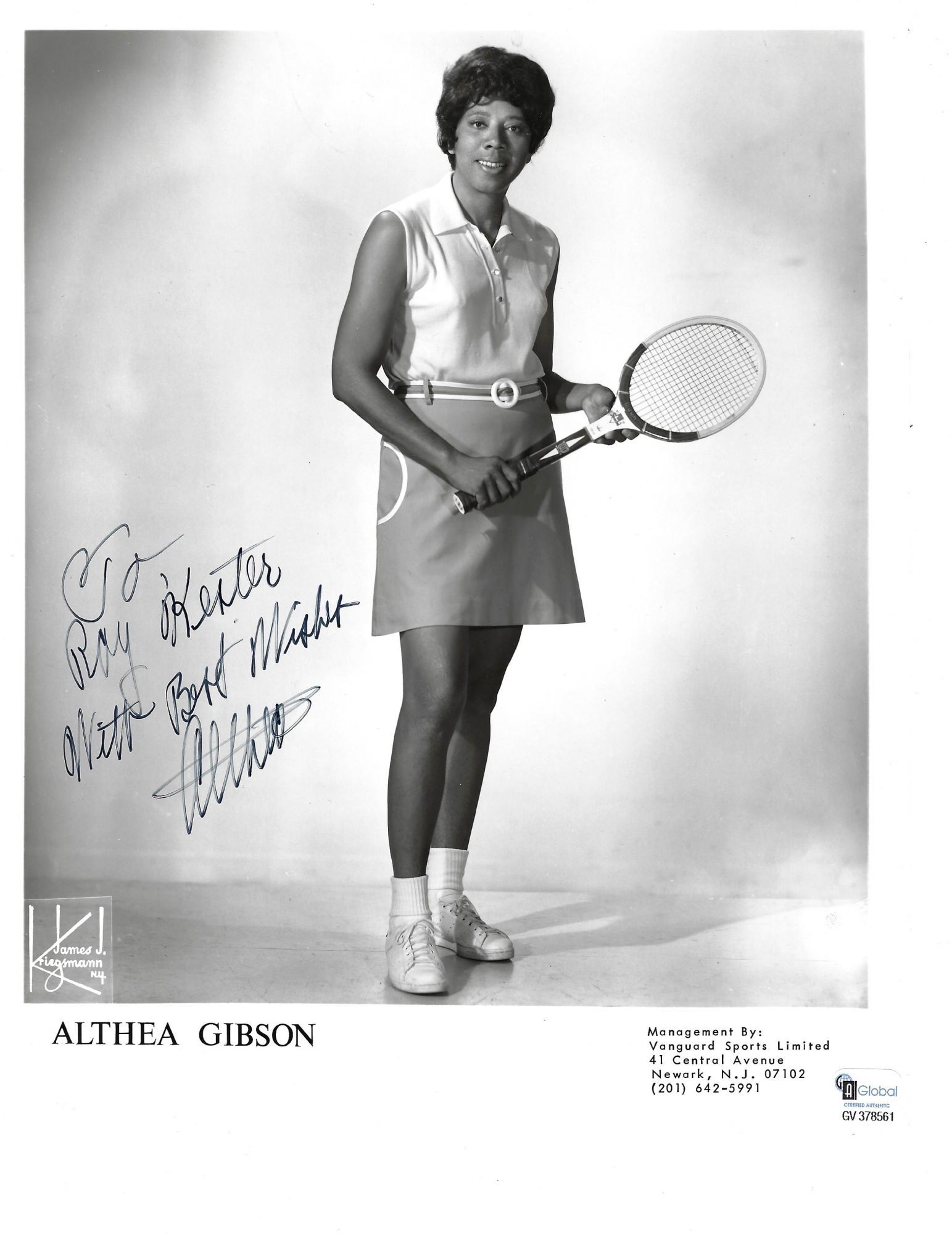 [African-American] Althea Gibson. Tennis legend, and first black athlete to cross the color line of international tennis. c. 1970. Photo signed. 10 x 8 in. Signed in black marker "To Ray Kenter with Best Wishes, Althea". Gibson became the first African-American to compete at the U.S. National Championships. Gibson had a jam-packed eight-year career, with all of her major championships coming from 1956 to 1958, when she appeared in a stunning 19 major finals and won 11 titles, including single and doubles championships at the Australian Open, French Open, Wimbledon, and the U.S. Nationals. Gibson was the first non-white woman to win a major tennis championship, and only one other woman of color had claimed this honor until Serena Williams won the US Open in 1999. At the height of her career, she was ranked No. 1 tennis player in the world; after she retired from tennis, Gibson became the first African-American to compete on the women's professional golf tour in 1960
Offered by Max Rambod, Inc.
by Kazuo Ishiguro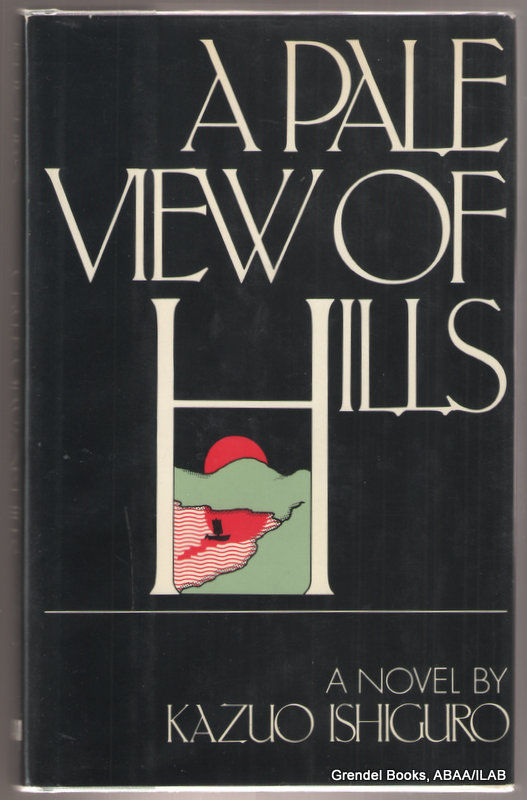 NY:: Putnam,. Near Fine in Near Fine dust jacket. 1982. First US Edition. Hardcover. The author's first book. Stated first American edition. Near fine in an about fine (light age toning to flap edges) dust jacket.; 183 pages .
Offered by Grendel Books.
[LITERARY ARCHIVE]. [SOCIAL REFORM]. Large archive of more than 1,000 pages of typescripts manuscripts, mostly unpublished; corrections and notations throughout
by LASKER, BRUNO (1880-1965, SOCIAL REFORM ADVOCATE)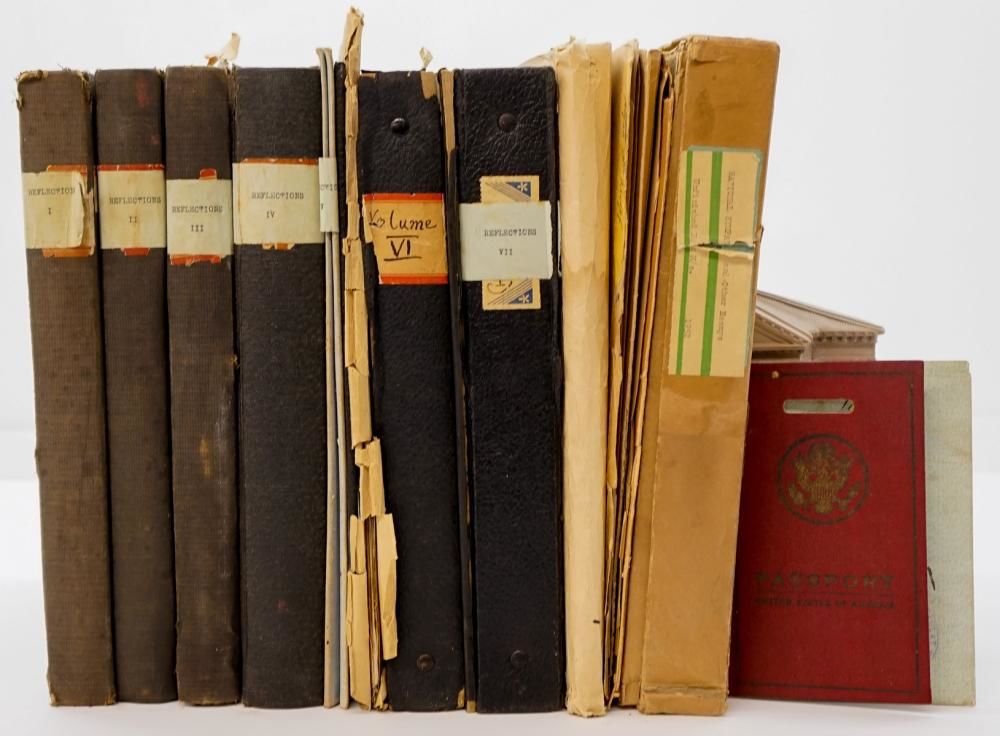 Together seven three-ring binder notebooks (binders worn, boards on vol. VI broken off) -- retained by us as out of "respect du fonds" -- containing approximately 876 typescript and manuscript pages. TOGETHER WITH: 29 file folders of articles, ideas, proposals, and miscellaneous publishing materials, consisting of approximate 300 typescript and manuscript pages, housed in a new Hollinger box. TOGETHER WITH: two of Lasker's passports (1921 and 1926) and a large b/w studio portrait photograph (undated). An important discovery. This is the private, largely unpublished literary archive of the noted social reformer Bruno Lasker (1880-1965), containing well over a thousand pages of typed and hand-written manuscripts. These writings date from 1923 until the year of his death in 1965. Lasker's social work is well known, and concerned racial prejudice and justice, trafficking and human rights, immigration and immigrants' rights, poverty in America and economic inequality. The present literary archive is hitherto UNKNOWN; without it, a full and balanced assessment of Bruno Lasker's life and work cannot be undertaken.

That the materials herein are mostly unpublished is attested by Lasker's own statement in the first of seven folio notebook diaries named "Reflections." In addition to the "Reflections," the archive also contains working typescripts of 29 essays, speeches, and proposals, including 19 writings which were evidently destined for a collection (to be entitled "Rational Sympathy") that never appeared. It is instructive to present the transcription of Lasker's handwritten "To My Executors" in its entirety, which appears in the seventh and final volume of his "Reflections" diaries:

"This is the seventh volume of what might be called a diary, though entries never were made with the frequency suggested by that term. It consists of original reflections, observations, and discussions, suggested either by experiences, by reading, or by verbal colloquies. Only a minute portion of this material therefore has ever entered into literary use [i.e. publication], and the bulk of it constitutes a continuous though not intentional progression of my major concerns, sentiments, and ideas over a large part of my life. Or rather, it constitutes a collection which represents my un-professional pre-occupations (sic). Those connected with my work are more likely to be embodied in memoranda, articles, prefaces, book reviews, reports, and lectures. These are for the most part either on record as printed documents or in the parallel series of binders, much larger in number (which has now reached vol. XXX), which I call my workbooks and which properly form an appendix to my recorded autobiography, made for the Oral History Project at Columbia University, and will be deposited with it in the archives of the Butler Library of that institution. [NOTE: the 30 volumes were indeed deposited at Columbia University -- Bruno Laster Papers 1923-1951].

"The present collection or diary, therefore, is unpublished literary raw material and on my decease may either be handed to some interested person to be mined for items worth preserving (perhaps even for the production -- such as I contemplate myself if I should find myself with enough time, energy and self-confidence for such a task -- of an unpretentious volume or two of short essays), or may also be appended to my MSS autobiography at Columbia University. Seattle, May 8, 1957. [signed] Bruno Lasker."
Offered by Michael Laird Rare Books.
Twenty Six Abandoned Gasoline Stations (Signed Limited Edition)
by BROUWS, JEFFREY

Santa Barbara, CA: Hand Job Press / Gas-n-Go Publications, 1992. First edition. Small softcover. One of only 1000 copies. Brouws homage to Ed Ruscha's first book, "Twenty Six Gasoline Stations." A fine copy in wrappers in a very near fine glassine dust jacket. Signed by Brouws on the limitation page although not called for.
Offered by Jeff Hirsch Books.
by RIFF, MOHAMMOD TI [PSEUDONYM OF CLIFF "RIFF" ATCHLEY]

Corvallis, OR: Motengator Press, 1983. First Edition. First edition. 354 pp. Bound in publisher's illustrated wraps. Very Good, corner crease to front wrap. A semi-autobiographical novel of drugs, adult bookshops, and politics by a Corvallis man who would run for governor of Oregon in 1986, a self-described "marijuana-smoking pornographer on a mission from God." The adult bookstore owner/author writes about a "porn king" from Albany, Oregon with many similarities to himself and speculates on the wonders that legalization of marijuana and prostitution would do for the state. Truly scarce; no copies in OCLC. In Givens Oregon Fiction Bibliography (2014), likely this very copy.
Offered by Burnside Rare Books.
by Mervyn Peake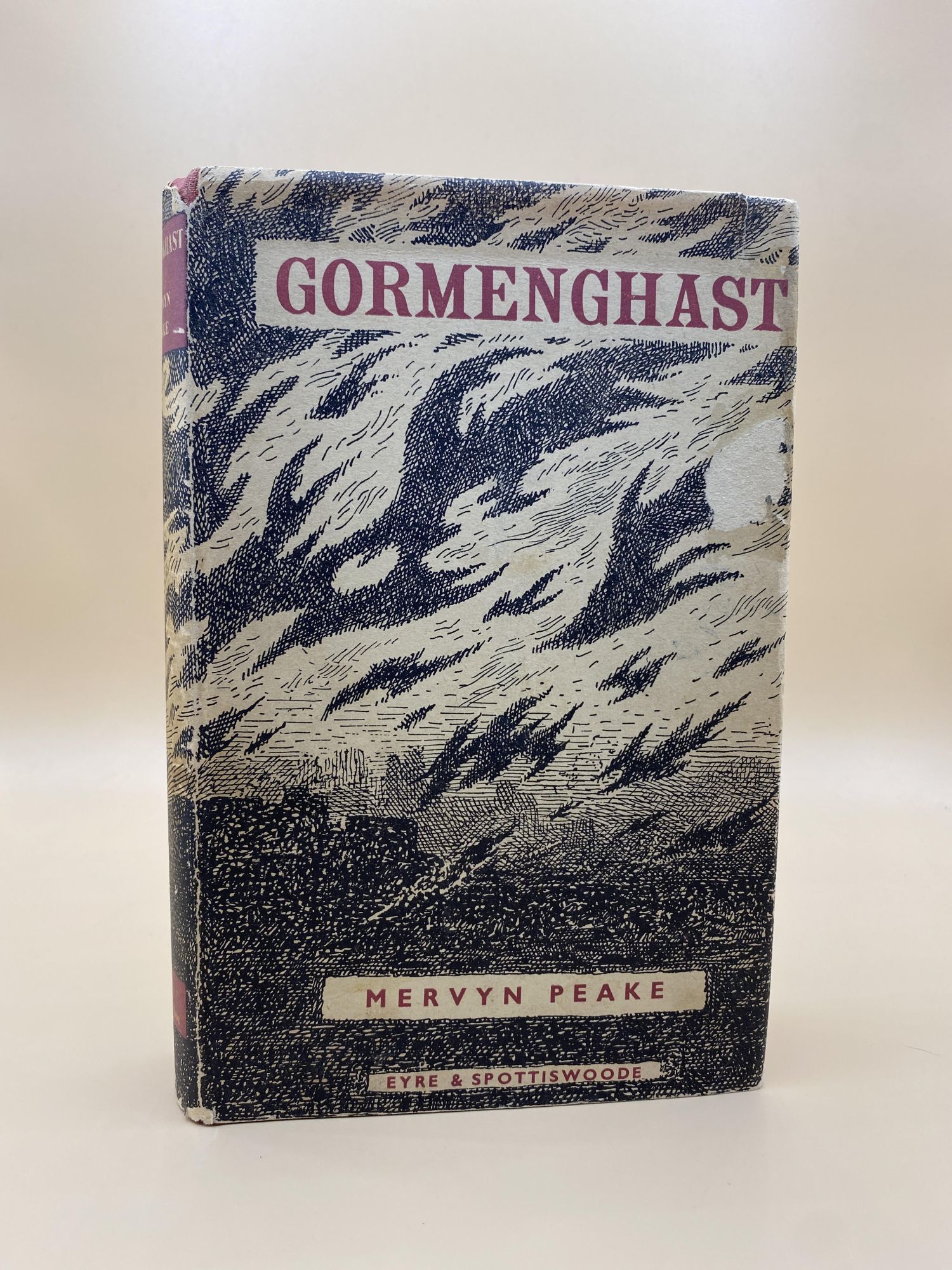 London: Eyre & Spottiswoode, 1950. First edition. Hardcover. Very good +. 453 pp. Octavo. [22 cm]. Red cloth over boards with original dust jacket. Dust jacket is fully intact with two [1 cm] tears: one at head of spine and one on top right corner. Small [1 in x 1.5 in] scuff on front panel of dust jacket, slightly marring illustration. Corners ever so slightly bumped. Head and tail of spine exhibiting some minor signs of shelf wear. A rare first printing of the second installment of Peake's trilogy outlining the boyhood and adolescence of Titus Groan, the Lord of the titular Gormenghast Castle.
Offered by Ken Sanders Rare Books.
Bookbinding: its Background and Technique
by Edith Diehl

New York: Rinehard & Co, 1946. First Edition. First printing, with Rinehart device present on verso of each title page. Two volumes in publisher's card slipcase; octavo (24cm), black cloth, titled in gilt on spines; 251pp, [46] leaves of plates + 406pp; illus. Private embossed ownership stamp to each title page; front free endpaper of second volume slightly darkened from a laid-in clipping, still a tight, fresh, Near Fine set in the original slipcase which is clean but slightly bruised at bottom edge and with a brief split to lower joint, Very Good. Lovely copy of this authoritative and still indispensable reference work for collectors, binders, and historians.
Offered by Lorne Bair Rare Books.
(LIMITED EDITIONS CLUB). ULYSSES Signed by both Author and Illustrator, before Joyce, in a Fit of Pique, Quit Participating
by JOYCE, JAMES. HENRI MATISSE, ILLUSTRATOR.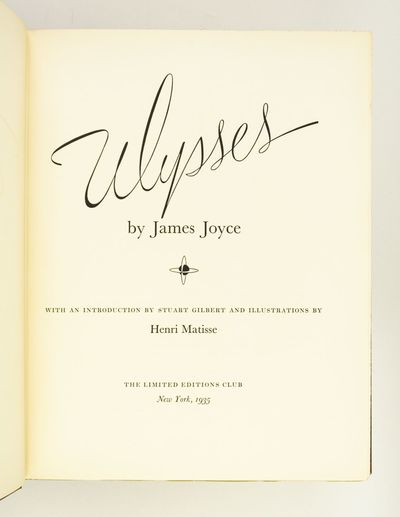 ONE OF 250 SPECIAL COPIES SIGNED BY BOTH JOYCE AND MATISSE. Introduction by Stuart Gilbert.

Publisher's original brown buckram, embossed in gilt and titled on front cover and on flat spine, the decorations from a design by LeRoy H. Appleton. In the publisher's slipcase.
WITH 26 ILLUSTRATIONS BY HENRI MATISSE, depicting the Calypso, Aeolus, Cyclops, Nausicaa, Circe, and Ithaca episodes from Homer's "Odyssey."
Front pastedown with evidence of bookplate removal. Slocum & Cahoon A-22; Quarto-Millenary 71; "The Artist and the Book" 197.

Slipcase with only the most trivial signs of wear, text with half a dozen tiny, faint marginal smudges (from the printing process), but A VERY FINE COPY--clean and fresh internally, and in an unworn binding.

This is an unusually well-preserved copy of the only book illustrated by Matisse to be published in America, and one of the great collaborations of artist and author in the annals of 20th century private press publication. In the opinion of art publisher Monroe Wheeler, "it was a great idea to bring [Joyce and Matisse] together" since they were "celebrities of the same generation, of similar virtuosity." Newman says that this work and the Limited Editions Club "Lysistrata" "stand as landmarks in the history of the illustrated book," and that "Ulysses" is almost certainly the most famous work among LEC publications designed by George Macy. Matisse's illustrations are curious in that they were based not on "Ulysses," a work the artist had not read when he was asked to make etchings for the text, but on Homer's "Odyssey," from which Joyce's book obviously derives. "Following Matisse's wishes, the preparatory studies were grouped in front of each corresponding print, allowing the viewer to see the progression from sketch to finished composition." (Grolier Club Exhibition) Joyce was furious when he learned that Matisse had chosen to illustrate scenes from Homer's "Odyssey," rather than from Joyce's novel, and as a consequence, he stopped signing the present Limited Editions Club printing in a fit of pique, after affixing his signature to 250 copies (whereas Matisse signed them all). Although the LEC edition of "Ulysses" is far from a rare book in the marketplace, obtaining a copy of the volume and the slipcase in the very fine condition seen here is becoming increasingly difficult.
Offered by Phillip J. Pirages Fine Books.
by J.D. Salinger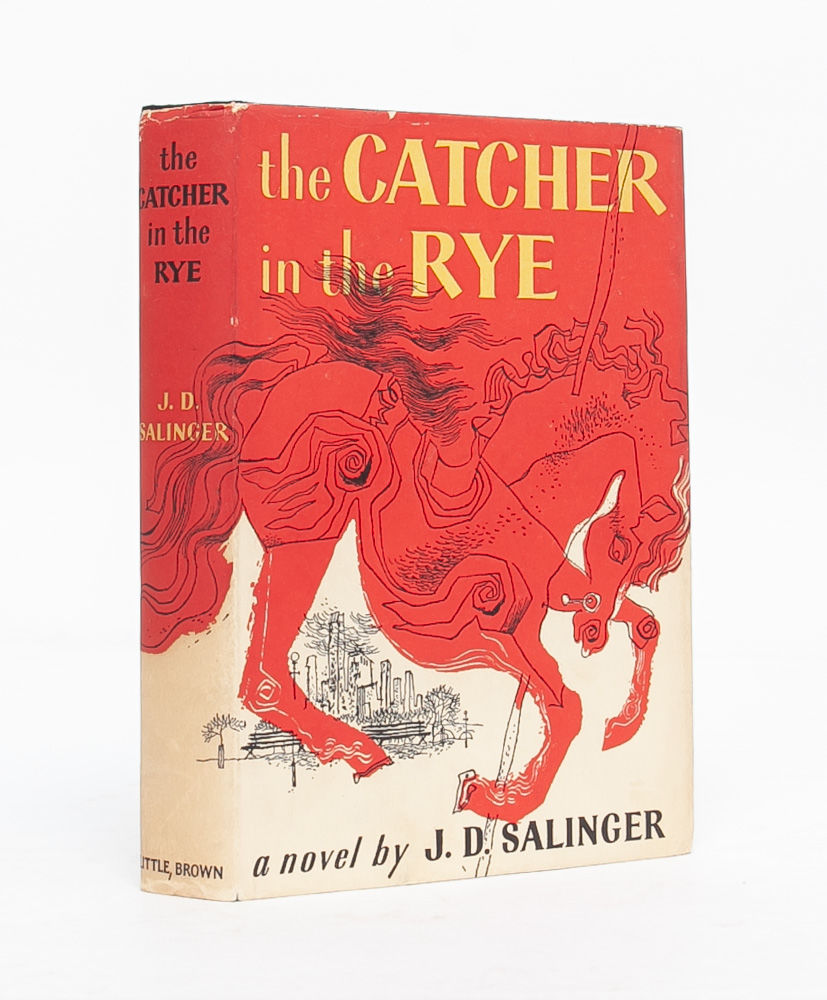 Boston: Little, Brown & Co, 1951. First edition. Near Fine/Near Fine. A Near Fine copy of the book in like dust jacket. Book with a previous owner's name, "Cole," written on the closed lower text-block, black mark to the upper text block, some bleed through to the upper margin of the corresponding pages, and one small mark on the half-title. Otherwise clean boards, bright spine gilt and clean internally. Near Fine dust jacket with slight wear at the spine ends, white color on the spine just a trifle toned and lower front corner bumped (book as well). All wear to jacket matching up with the book, making this an authentic copy, not a marriage with a later issue jacket. With all relevant issue points, including original price (in the correct place on the flap), Salinger's hair touching the upper edge of the rear panel, and "First Edition" stated on the copyright page.

Salinger's novel was not the first coming-of-age story to highlight teenage angst, but it sits squarely as the pinnacle of those efforts. It offers Holden Caulfield's perspective on school, New York City, sexuality, family and friends, and, of course, phonies, with a subtext on alienation and loneliness running throughout the book. "In American writing, there are three perfect books, which seem to speak to every reader and condition: 'Huckleberry Finn,' 'The Great Gatsby,' and 'The Catcher in the Rye.' Of the three, only 'Catcher' defines an entire region of human experience: it is—in French and Dutch as much as in English—the handbook of the adolescent heart" (The New Yorker). Near Fine in Near Fine dust jacket.
Offered by Whitmore Rare Books.
by James Joyce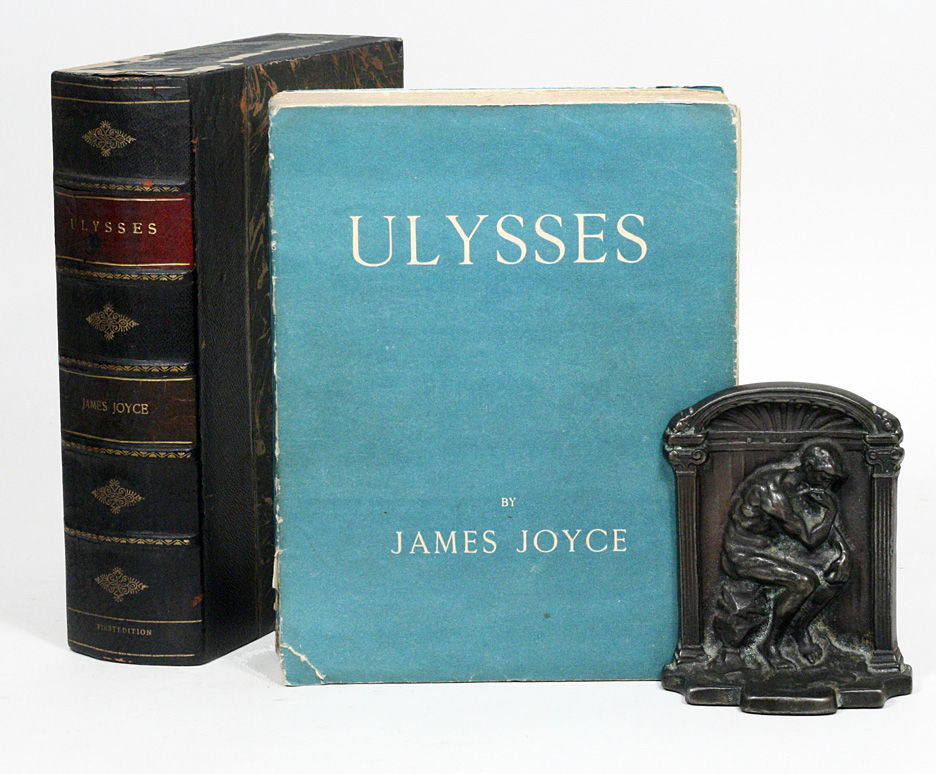 Paris: Shakespeare and Co, 1922. First edition. Original wrappers. Very Good. FIRST EDITION IN UNRESTORED ORIGINAL WRAPPERS.

Number 349 of 750 printed on handmade paper (out of a total edition of 1000). Paris: Shakespeare and Co., 1922. Quarto, original blue-green wrappers, early custom half-leather box. Wrappers with light rubbing to edges, wear to spine with approximately one-inch chip below first spine band, very mild crease to about first 30 leaves; front wrapper holding, but very tender at joint. Some wear to slipcase.

A very good copy of what is generally considered the most influential novel of the twentieth-century; rare in unrestored original wrappers.
Offered by Manhattan Rare Book Company.
by KENT, NIAL [PSEUDONYM OF WILLIAM LEROY THOMAS]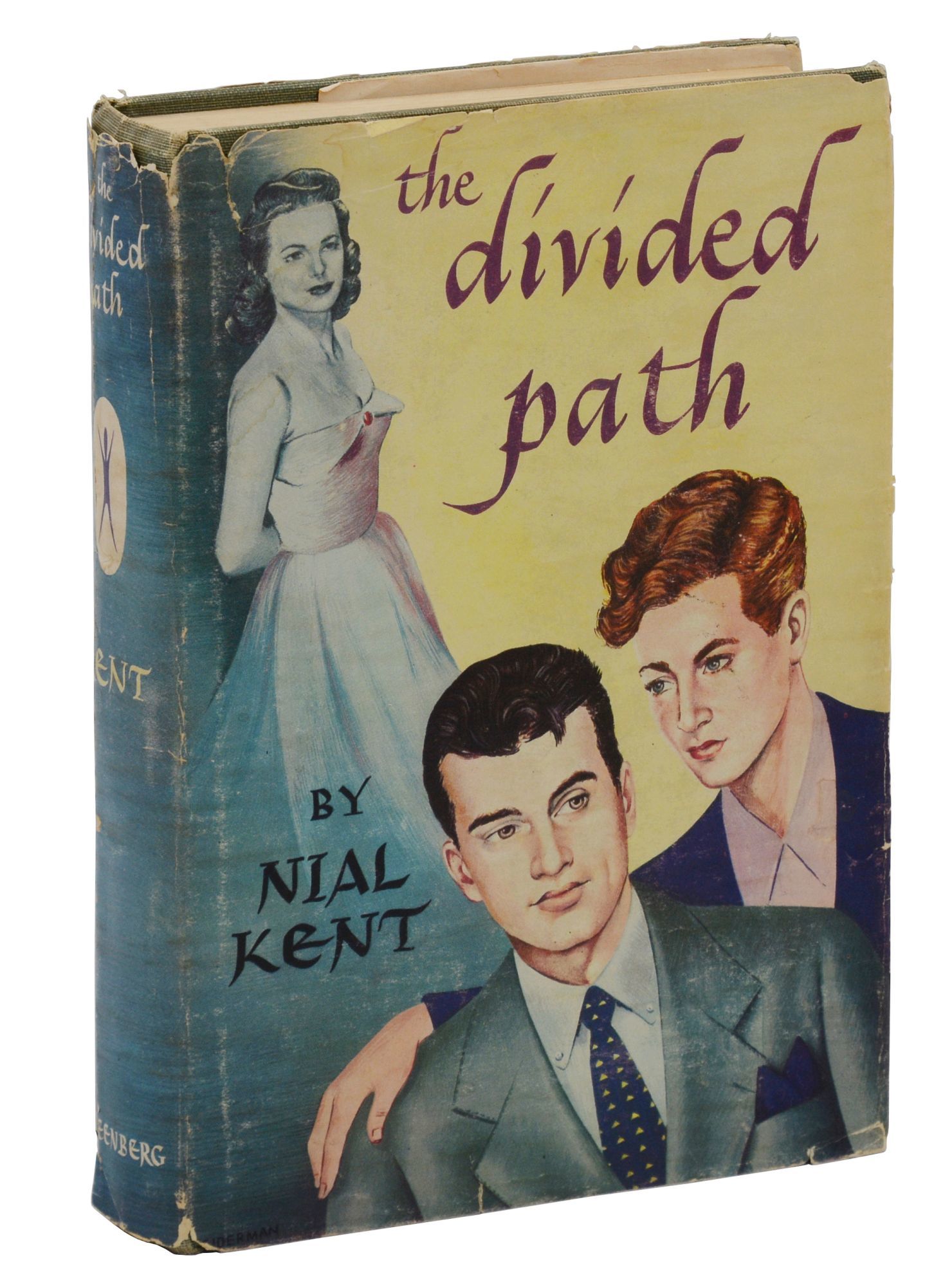 New York: Greenberg: Publisher, 1949. First Edition. First edition. [iv], 447, [1] pp. Bound in publisher's blue cloth with silver lettering. Very Good+ with light mottling to cloth, light wear, in an About Very Good example of the fragile dust jacket, price intact, with chips at extremities and wear along folds, vertical crease to spine panel, two tape mends to verso, spine dampstaining visible on verso only. A decent copy of a book typically found in very rough shape.

An uncommon gay coming-of-age novel mentioned in Anthony Slide's Lost Gay Novels. Slide calls it "very much a novel for gay readers of the day" with "some wonderful description of New York gay life in the 1940s," although savaged by critics for its sentimentality.
Offered by Burnside Rare Books.
by Gore Vidal (Writing as Katherine Everard)
New York: Pyramid, 1950. First Edition. First Edition, a paperback original.

Very Good plus in wrappers, with light wear and creasing at the corners, and reader creases along the spine.
Offered by Royal Books.
[Flyer]: Demonstrate Against the KKK and White Supremacists Attacks: Death to the Klan!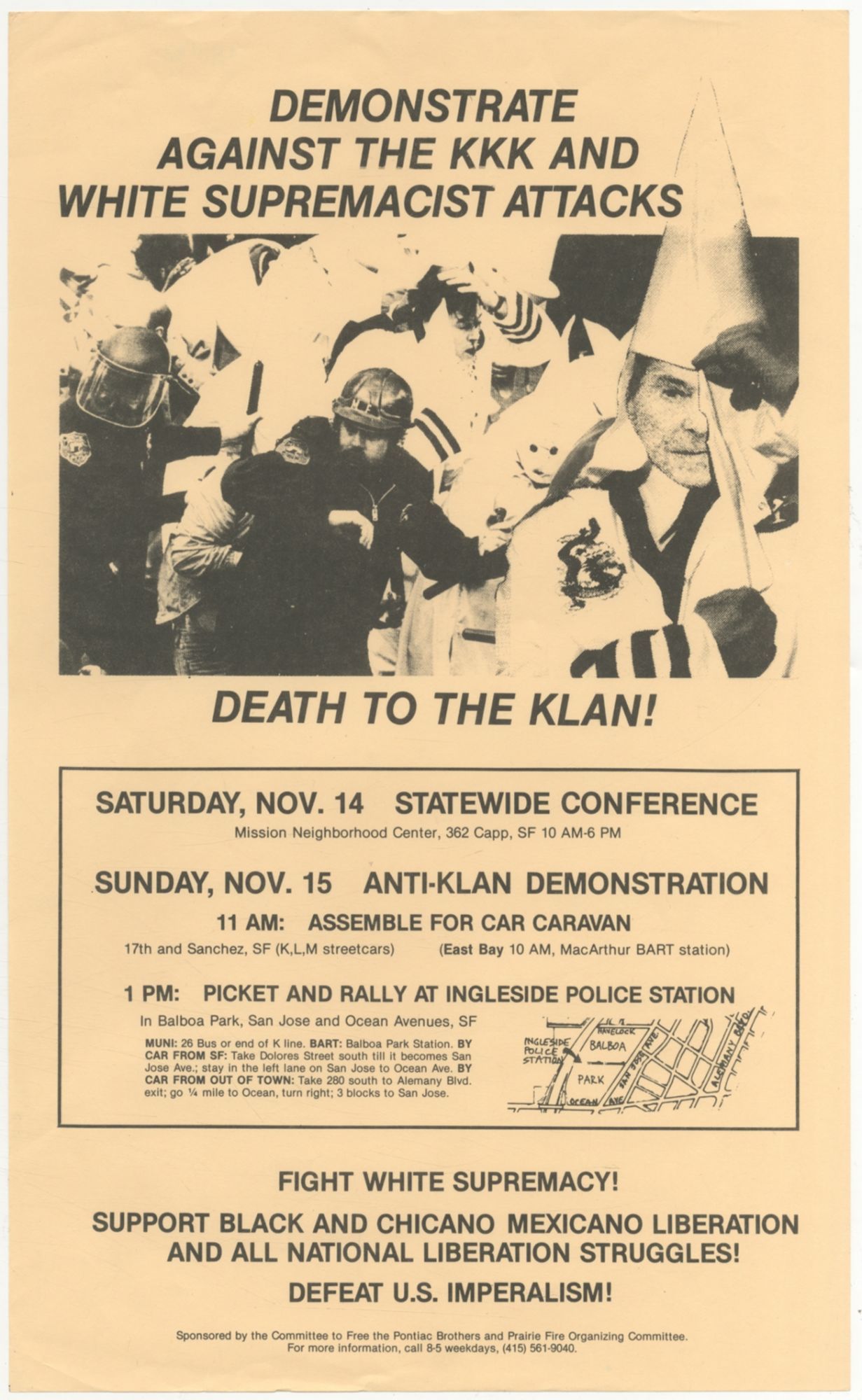 San Francisco: Committee to Free the Pontiac Brothers and Prairie Fire Organizing Committee, 1980. Unbound. Fine. Photomechanically reproduced flyer on 8.5" x 14" paper. About fine with slight edgewear.
A flyer for a weekend protest against the KKK with conferences and demonstrations urging people to "fight white supremacy;" "support black and Chicano Mexicano liberation and all national liberation struggles;" "defeat U.S. imperialism." Depicted are police in riot gear and Ronald Reagan's face behind the white sheet of the Klan. The protests were organized by the John Brown Anti-Klan Committee who were known for using violent gestures and bombings to get their point across. Beginning in 1978 by white anti-racists, with possible ties to the leftist group, The Weather Underground, members would hand out flyers during the infamous punk shows of the Bay Area in the 1980s. Soon bands like the Dead Kennedys were proud sponsors, advancing the group's messages with benefit concerts. Participants in the JBAKC were linked to numerous other radical groups and some believe they were merely a front for the May 19th Communist Movement.
Offered by Bolerium Books.
The First KKK Parade in the Northeast - Racist Anti-Immigrant March
This real photo postcard shows racism rearing its head in rural Milo, Maine with the Ku Klux Klan parading in white hoods in their first Northeastern public march. Milo, Maine: Clement Studio, 1923. September 3rd, 1923. Black and white silver gelatin photograph. 5.25" x 3.5" inches.
This event was the first Klan parade in the Northeast as well as the shadowy organization's first daylight parade nationwide. Milo is a small town in central Maine whose centennial anniversary included the march of 75 Klansmen pictured. The Klansmen are seen in their fully white hooded regalia, some with American flags in tow, marching through the sleepy town. The Klan in this area directed its intimidation at the Catholic population including the French-Canadians and Irish who formed sizable minorities in the state. Maine had an active and conspicuous Klan revival in the 1920s, with Milo being but one of a handful of locations within the state to see shows of force by the KKK as well as open recruitment.
Anti-immigrant sentiment was high in the 1920s, a time when the Klan was flourishing following D.W. Griffith's 1915 film The Birth of a Nation, a hallmark in white supremacist propaganda, mythologizing the founding of the first Klan. The Klan employed marketing techniques and a fraternal structure to maintain white supremacy, opposing Jews, the Catholic Church and African Americans as rightful members of American society. Its membership peaked between 1.5 and 4 million in 1924 before declining rapidly in the late 1920's. Minor small stain along upper margin, not affecting image. Overall in very good condition and rare.
Offered by Max Rambod, Inc.
The Unstrung Harp; or, Mr. Earbrass Writes a Novel
by Edward Gorey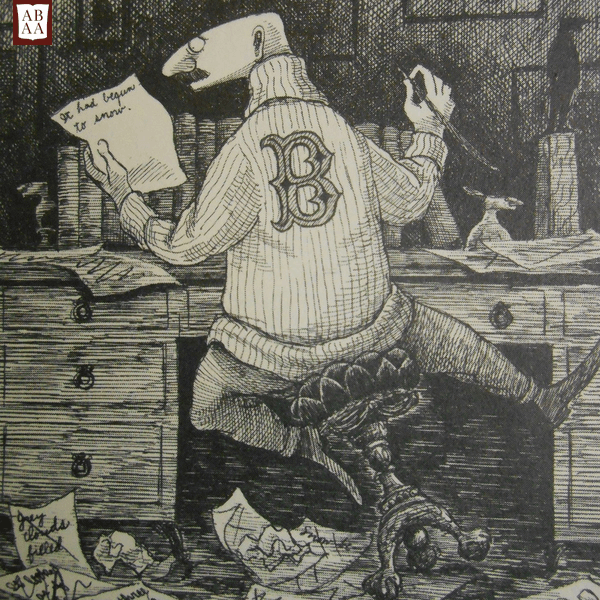 New York / Boston: Duell, Sloan and Pearce / Little, Brown and Company, 1953. First Edition. Hardcover. Near fine/near fine. Gorey, Edward. First printing of Gorey's first book, duodecimo size, 64 pp., signed by Edward Gorey. "The Unstrung Harp has the distinction of being virtually the only Gorey book where the written word is as lengthy as the illustrations are detailed. It is said that you should write about that which is familiar to you, and Mr. Gorey did just that in this book." Often referred to as "a small masterpiece", "The Unstrung Harp" is clearly an autobiographical work and offers insights into his creative process in a manner which draws the reader both into the work itself and into the mind of Edward Gorey.

Edward St. John Gorey (1925-2000) is well-known and well-loved for his poisonously funny picture books which are complex, humorous, serious, and provocative. However, this book, his first published work, may be a bit different than many Gorey fans might expect; he was still developing his signature style and therefore the illustrations "are wonderfully complex while still exhibiting a looseness of line that is not present in later works." The "tale is of an author struggling to find the right story to fit a title plucked at random from a list of hopeful book titles (a practice Gorey indulged in). It goes on to detail all the attendant difficulties involved in writing a novel" - indeed, one can clearly envision Gorey experiencing the same exact agonies as his title character (n.b., above quotes from the web site of the Goreyana blogspot).

DESCRIPTION: Pictorial paper-covered boards, the illustration a wrap-around by Edward Gorey in three colours, black lettering on both boards and spine, brown endpapers, signed by Edward Gorey on the title page in his usual style (beneath his printed name which has been crossed through), "First Edition" stated on title page (matches the first issue points in Toledano), the story unfolds with text on the verso of each page and a full-page illustration on the recto of each facing page; duodecimo size (7.5" by 5"), unpaginated with 32 leaves (64 pages). In the original dust jacket with the same wrap-around Gorey illustration as on the boards, the front flap with a summary of the book and showing the original price of $2.00, the back flap with a "review" by C.F. Earbrass, followed by a short bio of the author.
CONDITION: Near fine, the paper boards clean, the corners straight without rubbing, a strong, square text block with solid hinges, the interior is clean and bright, and it is entirely free of prior owner markings; some minor edgewear to the bottom edges of the boards, gentle bumping to the head and tail of the spine, and a very small area of light soiling to the lower corner of the front board (not obstructing text or the illustration). The dust jacket is also near fine, unclipped, with a minute amount of edgewear to the head and tail of the spine and where the flaps meet the panels, one light stray mark to the front panel near the joint. Overall a near fine copy of Gorey's first book, somewhat scarce in marketplace, particularly when signed.

CITATION: Toledano A1a.
Offered by Swan's Fine Books.
View all new listings on abaa.org...
Browse recent catalogs of rare books and print ephemera from ABAA members...
Please note, all items are unique, so if a link takes you to a blank page, the book has been sold!