Our members list new acquisitions and recently cataloged items almost every day of the year. Below, you'll find a few highlights from these recent additions...
Barcelona. A round mauve poster for the Museu Picasso in Barcelona, with numerous instances of Picasso's signature printed in the middle; protected in a mylar sleeve; not examined out of sleeve; very good condition. LR consignment. Dimensions: diameter 24 3/8 inches.
Offered by Second Story Books.
Lynd Ward's Last Unfinished Wordless Novel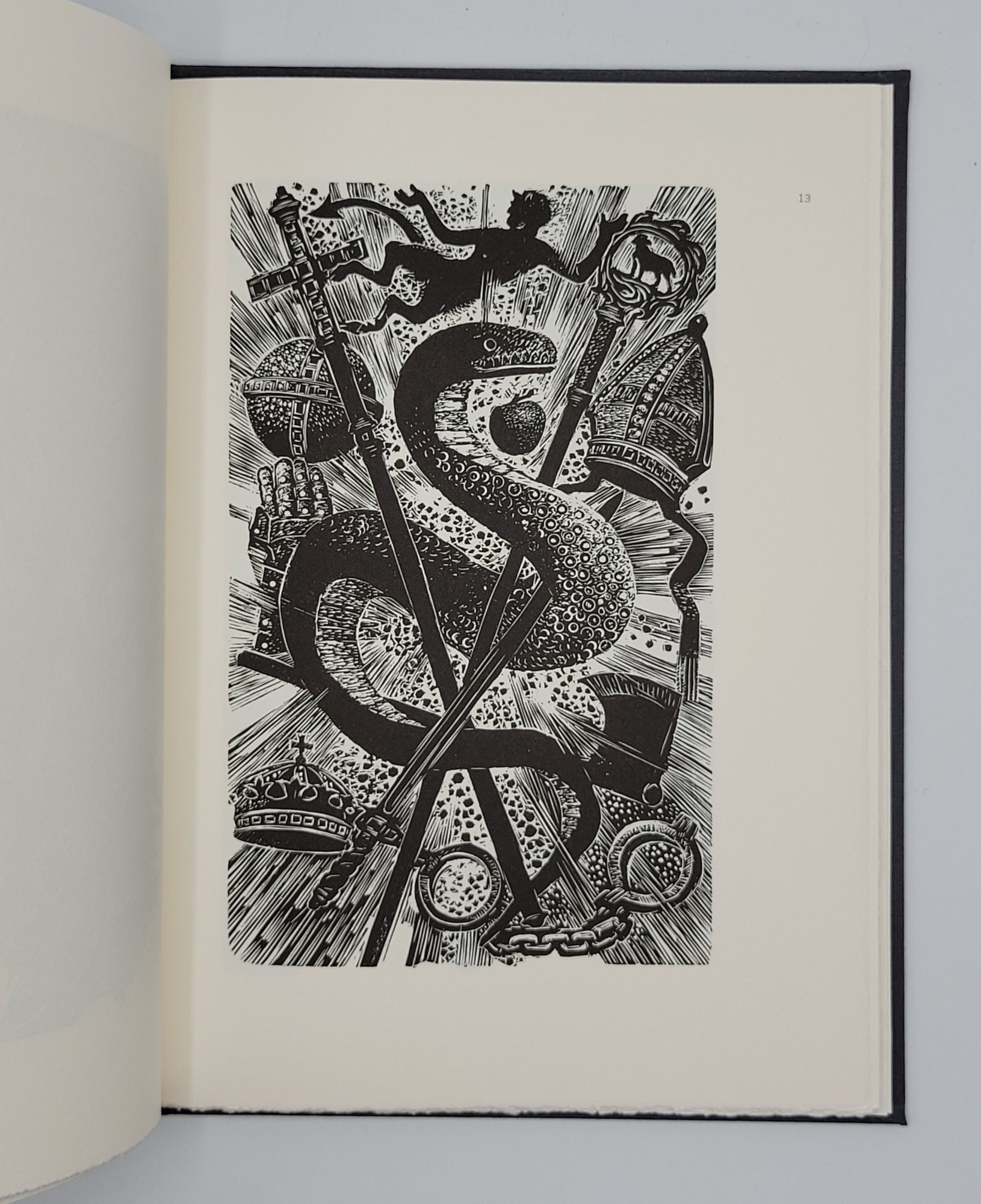 [Newark, NJ]: Rutgers University Libraries, 2001. First edition. Hardcover. Near fine. Quarto [27.5 cm] in grey cloth with gilt-stamped title on backstrip. No jacket as issued. Minor bumping to top fore-edge corners of covers, else Fine. Publisher's erratum laid in. Twenty-six woodcuts by Ward. This work includes a three page introduction by Michael McCurdy, and a five page description of the unfinished blocks by Michael Joseph. This edition was limited to 100 numbered copies and 25 lettered copies; this is copy 32.

From the introduction: "With the previously unprinted engravings found in this book, we experience a 1960s attempt by Lynd Ward at a novel in wood - some thirty years after Vertigo, his last published woodcut story. He planned a sequence of forty-four blocks, but only twenty-six were complete enough to be included here. Although we can see the same eye-catching compositional strength in these blocks that characterize Ward's early work, his human figures are no longer art deco, and the pictures take on an increased display of textures.
Offered by Ken Sanders Rare Books.
Volume II: More Living Animals
by MEGGENDORFER, LOTHAR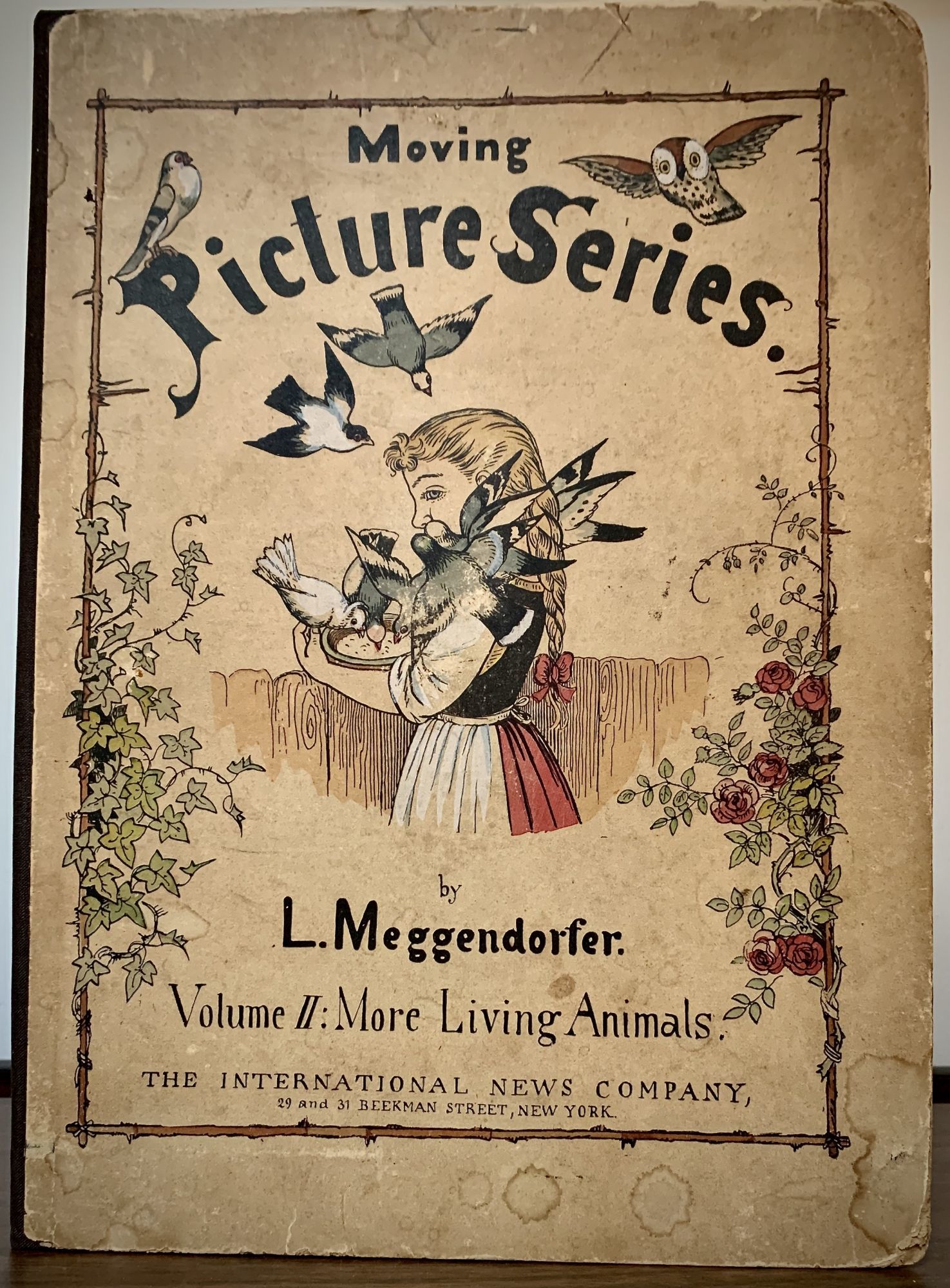 New York: International News Company, 1884. First American edition. Hardcover. Orig. publisher's pictorial boards in a multitude of colors, black cloth spine rebacked. Very good. 13 unnumbered pages. 32.5 x 23.5 cm. Pop-up book, six full-page chromolithographed plates, (The cart horse -- The flock of sheep -- The little girl and the doves -- The student and the dog -- The fox and the chickens -- The owl) -- Pictures taken from various editions published by J.F. Schreiber. Each with a movable tab to set the scene in motion, the levers moves up and down. All levers in working order. The text, rhyming poetry in English. The German edition, [Aus dem Leben], has the same front cover illustration. "There is little doubt that the most elaborate and ingenious movables ever produced were those of the German Lothar Meggendorfer (1847-1925) made during the 1880s and 1890s....the mechanisms and operations of Meggedorfer's books - not to mention the originality of the figures -- are far superior to any others published before or since. The devices that operated the various figures in his books consisted of a series of inter-connecting cardboard levers sandwiched between the coloured illustration on the front of the oblong leaf and the dummy pasted behind it. The animated limbs and heads were cut-out models on the front of the picture, and moving the tab set the whole scene in motion [see: HAINING, Movable Books, pp.65-73]. Some damp stains at lower cover, corner wear.
Offered by Roy Young Bookseller.
Collection of 18 Generator Press Chapbooks
by BYRUM, JOHN; KOSTELANETZ. RICHARD; BECKETT, TOM; SILLIMAN, RON; PERLMAN, JOHN, ET AL.

Mentor, OH: Generator Press. Softcover. Near fine. Located outside Cleveland, Ohio, Generator Press was founded in 1986 by poet John Byrum, who characterized it as "an alternative micropress devoted to all types of experimental writing." It published the annual Generator Magazine (an international anthology of experimental writing and visual poetry), as well as a chapbook series featuring the work of a range of contemporary visual and language poets. The press was most active in its first 10 years, but put out sporadic publications through at least 2004. This collection includes most of the non-periodical titles published, many of which are now scarce. Includes are: SASE: A Mail Installation (Miekal And,1990); Moebius (Bruce Andrews, 1993); A Matter of Habit (Dennis Barone, 1995); i.e. (John Byrum, 1987); Meant (John Byrum, 1987); Meat of Four Percepts (John Byrum, 1994); Separations (Tom Beckett, 1988); Vanishing Points of Resemblance (Tom Beckett, 2004); William Said (Arnold Falleder, 1994); (untitled) (Peter Ganick, 1989); What I'm Doing (Arleen Hartman, 1997); Trains Sl:ay Huns (Craig Hill, 1990); March (Richard Kostelanetz, 1990); Inter(ir)ruptions (Hank Lazer, 1992); Invading Reagan (Stephen-Paul Martin, 1990); Pornography (Susan Smith Nash, 1992); Beacons Imaging Within / As Promises (John Perlman, 1990); and Jones (Ron Silliman, 1993). Most are in fine condition; a few are lightly toned.
Offered by Walkabout Books.
Quarterly Review of Literature. Volume XIII, Numbers 3/4
-- Contains first excerpt from Juneteenth by Ralph Ellison.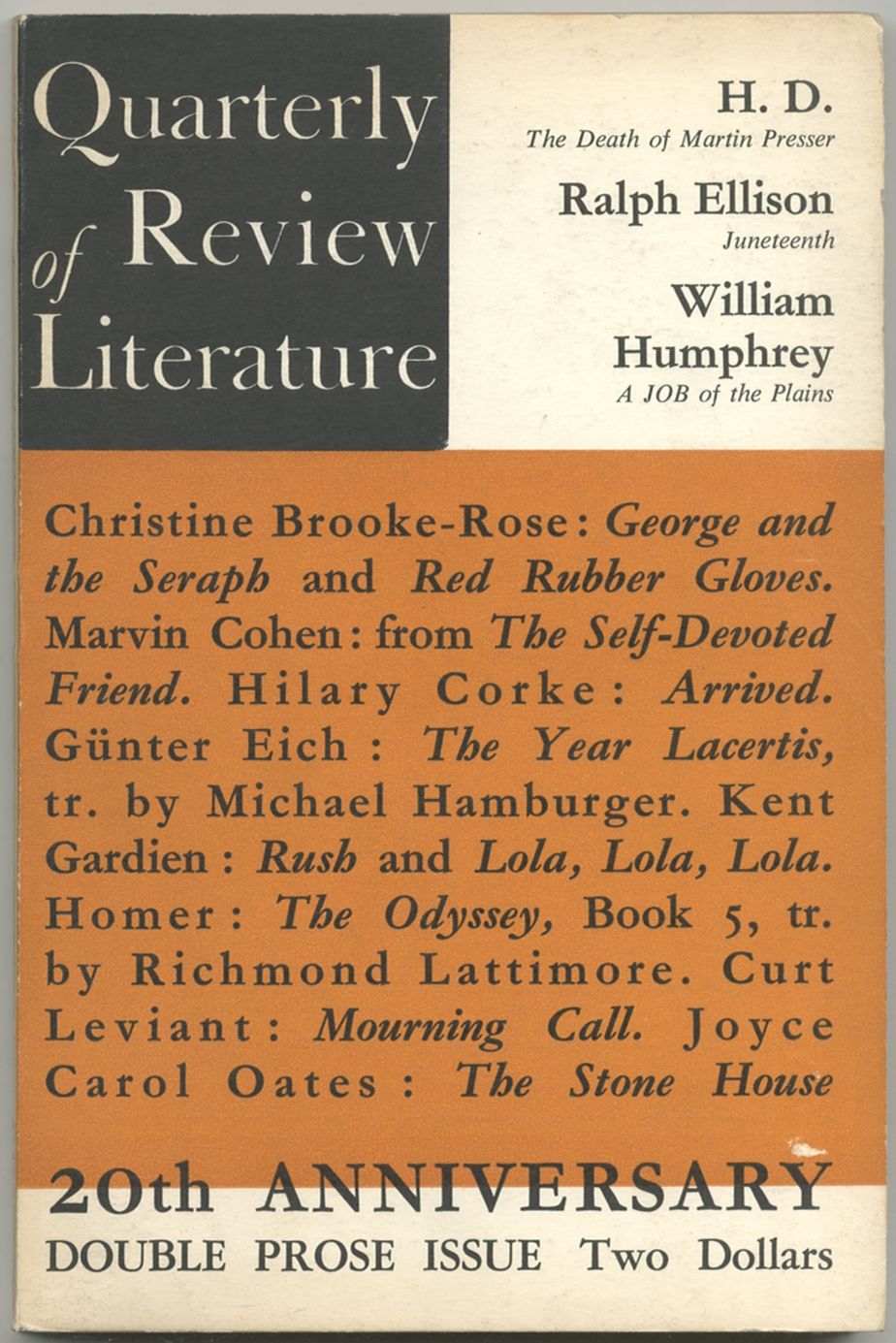 Annandale-on-Hudson, New York: Bard College, 1965. Softcover. Near Fine. Magazine. Octavo. Printed paper wrappers. Small scuff on front wrap, else very near fine. This issue includes Ralph Ellison's "Juneteenth.
Offered by Between the Covers Rare Books.
by Lynne Reid Banks
London: Chatto & Windus, 1968. First edition of this unsettling novel of Jewish-Arab relations, published in the wake of the Six-Day War. The narrative follows Gerda, a grief-stricken Jewish exile in Acre who copes with the loss of her son by illegally adopting Lebanese refugees: "Every child comes from something, comes with something. These two fell into my arms with no past and now they are being taken away again." Children at the Gate is the third novel by Lynne Reid Banks, best known for her 1960 debut, The L-Shaped Room, and for her 1980 children's book, The Indian in the Cupboard. She wrote Children at the Gate during her years on an Israeli kibbutz, where she and sculptor Chaim Stephenson raised their family. She dedicates the novel to "all half-and-halfs, especially Adiel and Gillon," her sons. For more on Banks, see Celia Brayfield, The Accidental Feminists. A near-fine copy. Single volume, measuring 7.75 x 5 inches: 295, [1]. Original green textured boards lettered in gilt, unclipped color pictorial dust jacket. Bookseller label of Exclusive Books, Johannesburg, to front pastedown. Lightest rubbing to jacket, small stain to rear panel, last page creased.
Offered by Honey & Wax Books.
THE HELMET OF MAMBRINO. With an Introduction by Francis P. Farquhar
by KING, CLARENCE

San Francisco: The Book Club of California, 1938. First Edition Thus. Slipcased. Fine. Sm. 8vo. xx,(2),21,(3)pp. Title printed in red & black. Edition limited to 350 copies printed by The University of California Press. Vellum-like spine over marbled boards. Slipcase. This copy inscribed by the great bookman Carl I. Wheat, "To James D. Hart, with best wishes from fellow member of WOOFFB and the Roxburghe Club of San Francisco. March 9, 1944." James D. Hart was an English professor and later became the Director of the Bancroft Library at U. C. Berkeley.
Offered by Kenneth Karmiole.
Richard P. Feynman's Niels Bohr International Gold Medal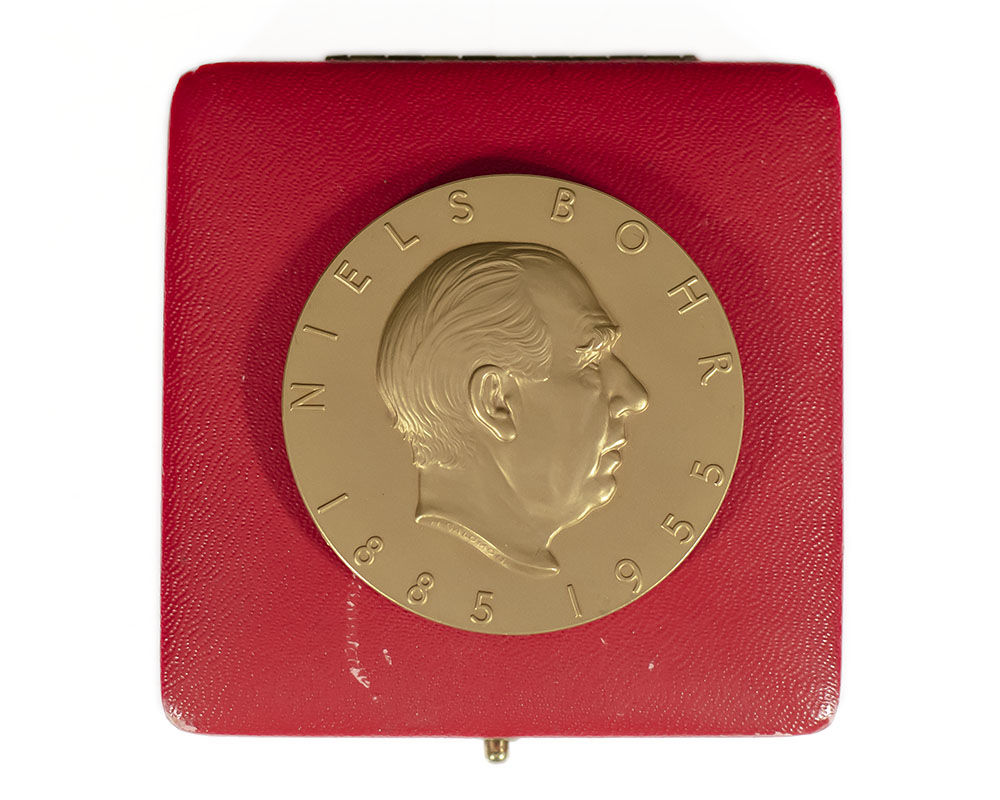 [1973]. Richard P. Feynman's Niels Bohr International Gold Medal, conferred upon him in 1973. Gold, the medal features a bust of Bohr on the obverse and an atom on the reverse, with the edge engraved, "Richard P. Feynman." Awarded since 1955 for "outstanding work by an engineer or physicist for the peaceful utilization of atomic energy", the Niels Bohr International Gold Medal is administered by the Danish Society of Engineers (Denmark) in collaboration with the Niels Bohr Institute and the Royal Danish Academy of Sciences. Recipients of the award include: Niels Bohr, John Cockroft, Isidor Isaac Rabi, Werner Karl Heisenberg, Richard P. Feynman, and Jens Norskov. In fine condition. Housed in a custom red leather case.
American theoretical physicist Richard Phillips Feynman was best known for his his work in the path integral formulation of quantum mechanics, the theory of quantum electrodynamics, the physics of the superfluidity of supercooled liquid helium, as well as his work in particle physics for which he proposed the parton model. During his lifetime, Feynman became one of the best-known scientists in the world. He was a keen popularizer of physics through both books and lectures, including a 1959 talk on top-down nanotechnology called There's Plenty of Room at the Bottom and the three-volume publication of his undergraduate lectures, The Feynman Lectures on Physics. Ranging from the most basic principles of Newtonian physics through such formidable theories as general relativity and quantum mechanics, Feynman's lectures stand as a monument of clear exposition and deep insight. Along with his work in theoretical physics, Feynman has been credited with pioneering the field of quantum computing and introducing the concept of nanotechnology. For his contributions to the development of quantum electrodynamics, Feynman received the Nobel Prize in Physics in 1965 jointly with Julian Schwinger and Shin'ichiro Tomonaga. In addition to the Nobel Prize and Niels Bohr International Gold Medal, Feynman received the Oersted Medal in 1972 and the National Medal of Science in 1979.
Offered by Raptis Rare Books.
by [HIGHSMITH, PATRICIA] WRITING AS CLAIRE MORGAN

New York: Bantam Books, 1953. First Thus. Very Good. First paperback edition. [vi], 249 pp. Illustrated wraps with pink edges. Very Good with subtle creasing to wraps, corner crease to back wrap, a little musty. A lesbian romance novel by the crime author known for The Talented Mr. Ripley and Strangers on a Train. It inspired the 2015 film Carol.
Offered by Burnside Rare Books.
by CATHER, WILLA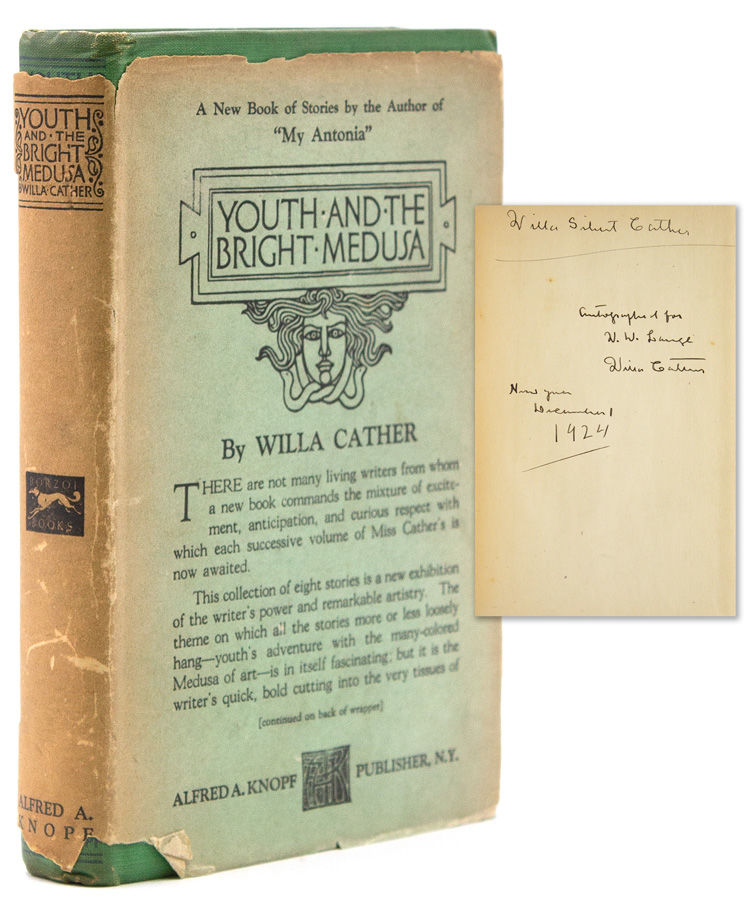 New York: Knopf, 1920. First Printing, with 1920 on the title-page. 303pp. 1 vols. 8vo. Publisher's cloth, in green printed chipped clipped dj. First Printing, with 1920 on the title-page. 303pp. 1 vols. 8vo. Inscribed to W.W. Lange. Signed on ffep "Willa Siebert Cather" and below "autographed for W.W. Lange Willa Cather New York December 1, 1924.
Offered by James Cummins Bookseller.
The Quare Fellow: A Comedy-Drama
by BEHAN, BRENDAN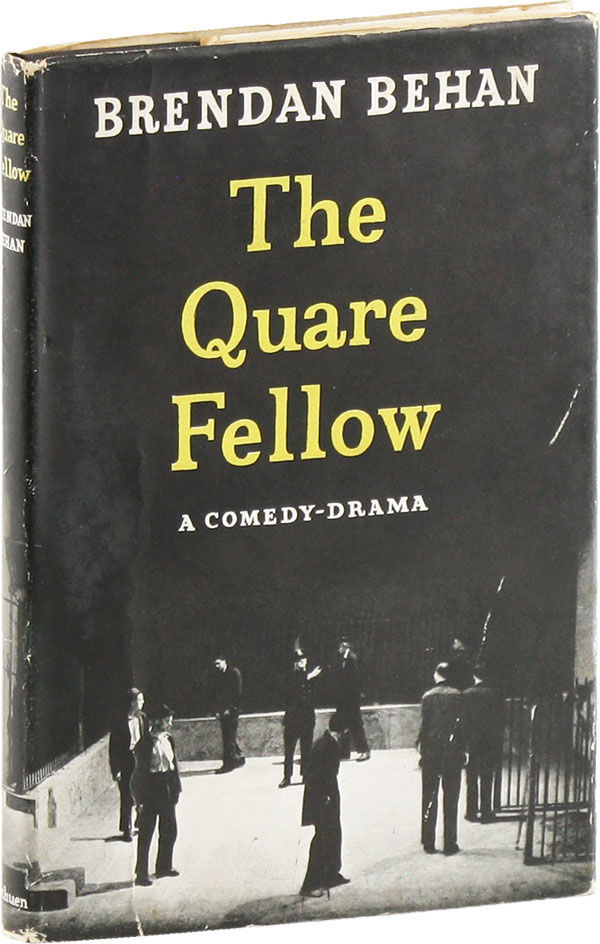 London: Methuen & Co., Ltd, 1956. First Edition. First Impression. Octavo (19cm); black paper-covered boards, with titles stamped in gilt on spine; dustjacket; [vi],86pp, with photographic frontispiece portrait of the author. Faint foxing to endpapers and upper edge of textblock, else Near Fine. Dustjacket is unclipped (priced 10s.6d. net), lighlty edgeworn, with a faint crease to lower front panel, and some scattered foxing on verso; Very Good+. The Irish author's first book and first play, basis for the 1962 film adaptation by Arthur Dreifuss, starring Patrick McGoohan, Sylvia Syms, and Walter Macken.
Offered by Lorne Bair Rare Books.
by WHITE, W.L.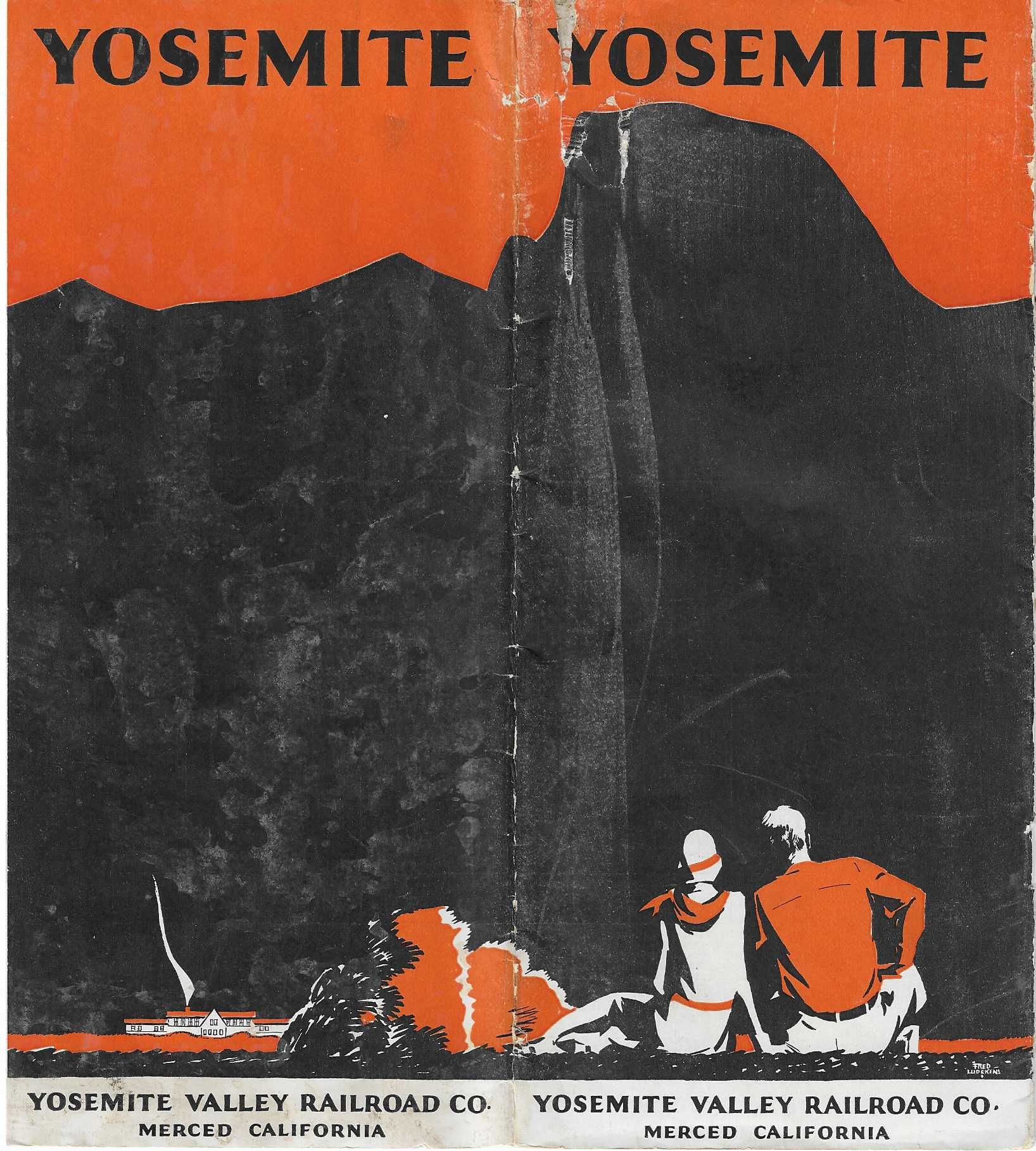 Merced, CA: Yosemite Valley Railroad Company, 1929. [12]pp. Square quarto [23 cm x 20 cm] Illustrated wrappers. About very good. Vertical fold as issued. Tape to closed tear at front panel. Textblock coming loose. Promotional guide from the Yosemite Valley Railroad touting trips to the park. Illustrated with captioned black and white views and maps. Lists accommodations and rates.

"The natural gateway to the magic valley - Yosemite! From the world's farthest corners thousands come every year to revel in the scenic beauty and unique charm of this great playground. And now the trip by rail to Yosemite is finer than ever before - and so easily arranged.
Offered by Tschanz Rare Books.
General Dwight D. Eisenhower Announces He Has Been Called to Washington by President Roosevelt and General George C. Marshall to Begin the Planning of Operation Overlord - "D-Day" "An emergency situation has arisen which demands my immediate presence in Washington""
31/12/1943. Dwight D. Eisenhower He says this in his farewell letter to Free French Leader Henri Giraud, once an American favorite but who had been squeezed out of power by Charles de GaulleIke regrets Giraud's demotion, but stresses his new work doing the "very many and important tasks you have in creating a balanced military fighting machine. Again permit me to express my regret and to wish you every success."Henri Giraud commanded the French 9th Army during the Battle of France and was taken prisoner on May 18, 1940. He escaped confinement in Konigstein, Germany in April 1942 and made his way to Vichy. He supported Petain's National Revolution but refused to collaborate with the Germans. Giraud escaped and was picked up by a British submarine and taken to Gibraltar on the eve of the Allied landings in North Africa. The Americans, who were put off by Charles de Gaulle, leader of the Free French, were anxious to find an alternative to him and planned to install Giraud as governor and commander of French military forces. Though the British, who knew De Gaulle was popular in France, were more circumspect about him than the Americans, the Allies bestowed the title of Civil and Military Governor of French North and West Africa on Giraud. The Free French refused to accept the imposition. De Gaulle and Giraud were summoned to Casablanca for the conference in January 1943.The Casablanca Conference was held at the Anfa Hotel in Casablanca in French Morocco from January 14 to 24, 1943, to plan the Allied European strategy for the next phase of World War II. In attendance were President Franklin D. Roosevelt and Prime Minister Winston Churchill. Also attending were the sovereign of Morocco Sultan, and representing the French, both Generals Charles de Gaulle and Henry Giraud. There Roosevelt insisted the French reach an accommodation or lose American support. Roosevelt and Churchill effected a public rapprochement between Giraud, who was effectively the French Military and Civil Commander in Chief, and de Gaulle, but the two men remained at odds.On February 6, 1943, Lt. General Dwight D. Eisenhower was named commander of the Allied armies in the African theater of operations (Tunisia, Algeria and Morocco), based on a decision made by President Roosevelt and Prime Minister Churchill at Casablanca. Previously, Eisenhower's command was limited to U.S. forces in North Africa.The upshot of the negotiations at Casablanca was an Allied understanding that a program to equip the French Army should be started immediately. In a February 23, 1943, letter to Giraud, Eisenhower first stressed the United States Government's desire and policy to equip the French forces properly as fast as shipping be allocated for that purpose. The principle of a rearmament had been recognized by the American government and made the subject of an explicit statement Eisenhower had made on behalf of the U.S. government.In May 1943, de Gaulle was fighting for pre-eminence among the expatriate French factions based in North Africa, and the Americans were backing Giraud. On June 3, 1943, the French Committee of National Liberation accepted an arrangement under which generals Giraud and de Gaulle would serve as co-presidents. Two weeks later, General Eisenhower, for the purpose of coordinating military operations with the French Army based in North Africa, met with both generals and insisted that the control of the French forces remain in the hands of Giraud. Although Eisenhower tried to deliver this message gently, his point angered General de Gaulle, who viewed Eisenhower's demand as a breach of French sovereignty. By autumn, de Gaulle had won the power struggle for leadership of the Free French movement, but the Americans and British were not resigned to the result.De Gaulle made an attempt to reassure the Allies that he could be trusted by winning some credit with Eisenhower. The two men met at the end of 1943 to sort out a serious difficulty that had blown up over the deployment of French forces in Italy. In November, a French Expeditionary Force of two French divisions had been sent to Italy to join the American Fifth Army. This French force, formed out of the regular French army in North Africa, had been armed by the Americans. It gave the French their first opportunity to play a serious role in the war. The next French division to go to Italy was assumed to be one of the original Free French divisions commanded by Diego Brosset, but since his unit had been equipped by the British it was difficult to integrate into an American army. Giraud had done nothing to re-equip it with American matériel because he did not want to divert resources from what he saw as 'his' and not de Gaulle's divisions. When the American high command refused to accept the Brosset division as is, Giraud offered another division of the regular army, the 9th Colonial, one supported by Eisenhower. But De Gaulle overruled this decision. This was not merely a skirmish against Giraud: it would have been a terrible blow to the morale of the Free French officers to be excluded from the fighting in Italy. Giraud was forced out of the co-presidency in November 1943. Eisenhower in turn overruled de Gaulle and threatened to suspend the entire French rearmament program. All the ingredients of a major crisis were in place.In mid-December Giraud wrote Eisenhower confirming French refusal to send the 9th Colonial, and Eisenhower responded expressing concern at the decision. Eisenhower notes that Giraud had originally proposed the 1st Motorized Infantry Division under General Diego Brosset, but that since they were equipped with British equipment, it would be overly cumbersome to create useful supply lines. This caused the French to change course and re-equip Brosset, which pleased Ike. But Giraud was on the way out and in a matter of months would be gone.On the last day of December, Eisenhower wrote his farewell letter to Giraud, and this is that very letter. In it, he expresses his regret, and also informs Giraud that he (Ike) was being called home urgently. This would prove to relate to Operation Overlord. Typed letter signed, on his Allied Force Headquarters letterhead, December 31, 1943, to Giraud. "An emergency situation has arisen which demands my immediate presence in Washington. I truly regret leaving without the opportunity for telling you goodbye, especially as upon my return here I will remain possibly only a few hours before leaving for the United Kingdom."I have just learned that you are re-arming the Brosset Division with American equipment as rapidly as possible. Nothing could be better news to me. It evidences again your readiness to sacrifice some of your own desires in order to promote the best interests of France and of complete understanding among the Allies."Permit me to congratulate you upon the acquisition of General de Lattre de Tassigny as a subordinate. He called on me recently and made a most favorable impression. I feel sure that in him you have a man to whom you can turn over much of the field work in the organizing, training and fighting of the French Forces to leave you free for the very many and important tasks you have in creating a balanced military fighting machine. Again permit me to express my regret and to wish you every success."The emergency Ike mentions related to planning of Operation Overlord, the Allied Landing in France. On January 2, 1944, Ike arrived in Washington. General George Marshal had ordered him to rest before beginning the planning for Operation Overlord, but the trip was hardly relaxing. Ike met with Marshall and President Roosevelt about Overlord. He and Mamie paid a hurried visit to son John at West Point and then spent a few days alone together. When Eisenhower arrived in London two weeks later, it was a great relief. Finally, he could get to real detailed planning!Ike threw himself and his staff into planning the Allied invasion of France. Hitler had had four years to fortify the French coast, and predictions of Allied casualties were high. But Ike and his commanders grew steadily more confident that spring. Allied bombing was having an impact in the West and the Red Army steadily gained ground in the East. On June 1, Ike moved his command post from London to Portsmouth, where he lived in a tiny trailer that he christened "my circus wagon." It was here that he gave the go-ahead for a June 5 landing which was called back due to bad weather. Ike's meteorologist forecast a brief window of clear weather for June 6. Sensing that it was now or never, in the early morning of June 5, Ike gave the order, "OK, let's go." Operation Overlord occurred on June 6, 1944 - D-Day, and was a great success.
Offered by Rabb Collection.
[Translated from Urdu] - Victory of Truth / Final Things of the Battle of Europe / Germany Has Laid Down Its Arms / The War is Over / O Lord, Safe May Our Sovereign Remain
by PUNJAB PUBLICITY COMMITTEE - END OF WORLD WAR II

Lahore : Mufeed-e-Aam Press for the Punjab Publicity Committee, [1945]. As issued. Very good; a bit of darkening to the paper along the vertical margins; two small snags in blank areas, but no loss; modest old folds and minor "rumples".. Broadside meas. appx. 40 x 30 inches; in Urdu.
A striking broadside published in Lahore announcing the end of the war.
Offfered by Palinurus Antiquarian Books.
[ORIGINAL AUTOGRAPH MANUSCRIPT BY GENERAL JOHN GIBBON ENTITLED "CUSTER AND HIS ORDERS," BEING AN ACCOUNT OF DELIBERATIONS AND PLANNING LEADING UP TO THE BATTLE OF THE LITTLE BIG HORN, AND GIBBON'S REFLECTIONS ON CUSTER'S FAILURE TO FOLLOW HIS ORDERS]
by GIBBON, JOHN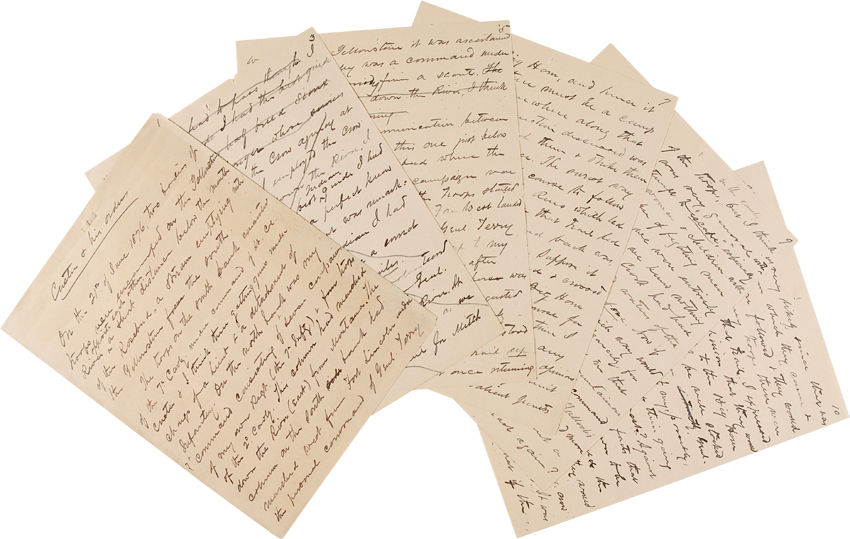 [N.p., 1890. 19pp., plus an additional nine lines of manuscript note on two other slips of paper. Main text written on 9 3/4 x 7 1/2-inch sheets. Approximately 2500 total words. Several sheets with penciled cross-outs, but very easily readable overall. Minor edge wear. Near fine. In a half green morocco and white cloth folding case, spine gilt, leather labels. An exceedingly interesting and important firsthand account of the planning leading up to the massacre at the Little Big Horn in June 1876, written by Gen. John Gibbon, who was involved in the planning and operations, and was one of Custer's superior officers. Gibbon and his troops were among the first to arrive at the scene of the battle, and helped to bury Custer's dead and evacuate the survivors.

A major question surrounding the Custer tragedy was whether or not Custer exceeded or ignored his orders in attacking the Sioux before the arrival of Gibbon and his reinforcements. This manuscript recounts the deliberations conducted by Gen. Alfred Terry and his officers, including Custer and Gibbon, and gives a great deal of information on the decision-making process, the plans at which they arrived, and the orders under which Custer was to operate. Gibbon wrote about his experiences in the Sioux Campaign in an 1877 article called "Last Summer's Expedition Against the Sioux and Its Great Catastrophe," which also appeared as a chapter in his posthumously published memoir, ADVENTURES ON THE WESTERN FRONTIER. The information in the present manuscript is not included in either of those works, however, and to our knowledge the present manuscript is completely unpublished.

Gibbon begins by explaining that on June 21, 1876 he and his 7th Infantry troops were camped on the north bank of the Yellowstone River, with Custer and his 7th Cavalry camped on the south bank. He relates that the two separate columns had already conferred three times and were about to meet for a fourth conference, all under the supervision of commanding Gen. Alfred Terry. Gibbon writes that at the first conference with Terry he offered Terry the services of his trusted scout, Mitch Bouyer, who eventually died with Custer's men: "I little thought that I was sending poor faithful Mitch to his death." Gibbon also briefly discusses his second conference with Terry, before describing a third conference, which took place in Gibbon's tent. At that meeting Terry chastised Major Marcus Reno for "following the Indian trail up the Rosebud instead of at once returning & reporting what he had discovered; thus not only losing precious time, but running the risk of being discovered by the Indians."

Gibbon continues:

"Shortly afterwards Custer's command made its appearance on the southern bank & I accompanied Genl. Terry on the [ship] Far West across the River & Custer found us on board....We sat down at a table & with a map before us discussed the situation. My Crow scouts had reported seeing smoke in the valley of the Little Big Horn and hence it was inferred there must be a camp of Indians somewhere along that stream. The question discussed was how to approach them & strike them to the best advantage....I think Genl. Terry had already made up his mind, when the discussion took place, to send Custer with a command to follow up the trail discovered by Reno....In the course of the discussion I proposed the question what would the Indians probably do when they were disturbed."

Gibbon goes on to discuss the various questions that were posed, and impressions that were given, at the meeting. Among these was the presumption that the Sioux would attempt to "escape" rather than stand and fight. Gibbon notes that they were ignorant of the "desperate fight" that Crook had waged at the headwaters of the Rosebud just a few days earlier.

Very importantly, Gibbon writes:

"I suggested it would be advisable for Custer to keep on up the Rosebud; instead of following the trail over into the Little Big Horn valley, & after crossing over nearer to the mountains approach the supposed Indian camp from the south. This would not only interpose his force between the Indians & their refuge (the Big Horn Mountains) but would give my command the requisite time to get up, as I had the longest distance to pass over. This was agreed to apparently on the part of all....Custer was directed to examine the head of that valley and endeavor to send a messenger down it to communicate to Genl. Terry news of his progress & any information of importance he may have gained. This was regarded as a matter of some considerable moment as it would bring us news of the other columns & might possibly cause a modification of our movement."

Gibbon concludes by discussing Custer's failure to follow his orders, and why he may have done so:

"It is now a matter of history that Genl. Terry received no message from Custer...nor received any message from him of any kind, nor ever saw him again. It is also well known that Custer did not follow the line of march marked out for him at the conference. It is difficult to account for Custer's failure to endeavor to communicate with Genl. Terry, as desired...except upon the supposition that when in the vicinity of the head of that valley on the day he struck the Indians camp his mind may have been so engrossed by his preparations for the conflict before him as to cause him to overlook it for the time....His reasons for not conforming to the 'desires' of his Dept. Comdr. as expressed in the letter of instructions can never now be known....This is a case which forms no exception to the general rule which prevails in all well disciplined military bodies that the wishes of the commander are always when possible to be construed as orders."

John Gibbon (1827-96) was born in the Holmesburg neighborhood of Philadelphia and attended West Point, graduating in 1847. During the Mexican-American War he was stationed in Florida, helping to keep the peace between American settlers and Seminole Indians and assisting the evacuation of Seminoles to Oklahoma Territory. This experience kindled in him a sympathy for American Indians that would last the rest of his life. Gibbon taught artillery at West Point and produced an influential treatise on the subject. Despite family ties to the Confederacy, he fought for the Union during the Civil War and was involved in many important battles, including Antietam. At Gettysburg he led forces against Pickett's Charge, and was wounded on Cemetery Hill. Later, Gibbon helped block the Confederate escape route at the Battle of Appomattox Courthouse, and he was one of the three commissioners who received the Confederate surrender at Appomattox. After the Civil War he commanded an infantry unit in Montana Territory and took part in the 1876 campaign against the Sioux. Gibbon's men were among the first to arrive at the scene of the battle of the Little Big Horn, and helped to bury Custer's dead and evacuate the survivors. The following year he led a bloody attack on the Nez Perce, led by Chief Joseph, at the Battle of the Big Hole. Afterward, Gibbon and Chief Joseph would become friends. In 1885, Gibbon, now a brigadier general, took command of the Department of Columbia, and placed Seattle under martial law during the anti-Chinese riots of 1886. Aside from his ARTILLERISTS MANUAL of 1859, Gibbon wrote two other books, PERSONAL RECOLLECTIONS OF THE CIVIL WAR and ADVENTURES ON THE WESTERN FRONTIER, both published posthumously.

An exciting, informative, and unpublished firsthand account of the planning that preceded the massacre of Custer and his men at the Little Big Horn, by one who was intimately involved in the process.
Offered by William Reese Company.
This Gun For Hire (First Edition)
by GRAHAM GREENE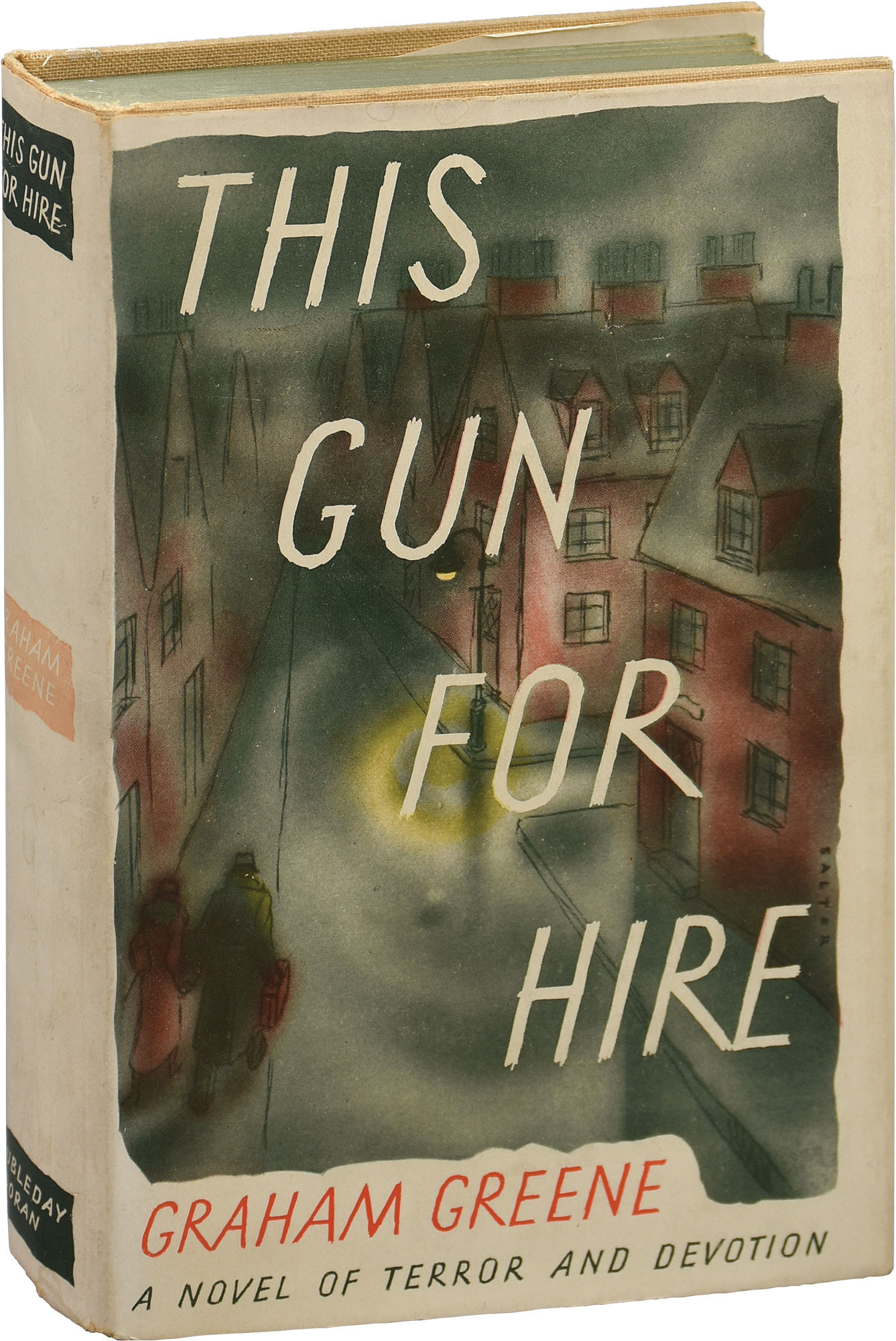 Garden City: Doubleday, Doran, 1936. First American Edition, preceding the British by one month. Basis for the classic 1942 film noir directed by Frank Tuttle, starring Veronica Lake, Alan Ladd, and Robert Preston.

From the library of Otto Penzler.

Fine in a bright, Near Fine dust jacket. Tiny stamped letter "D" on the front pastedown. Jacket is bright and clean, with the lightest fading to the spine as is usually found, and a few tiny nicks to the spine ends, rear panel, and flap folds.
Offered by Royal Books.
QUEEN OF THE FISHES. AN ADAPTATION IN ENGLISH OF A FAIRY TALE OF VALOIS
by (ERAGNY PRESS). RUST, MARGARET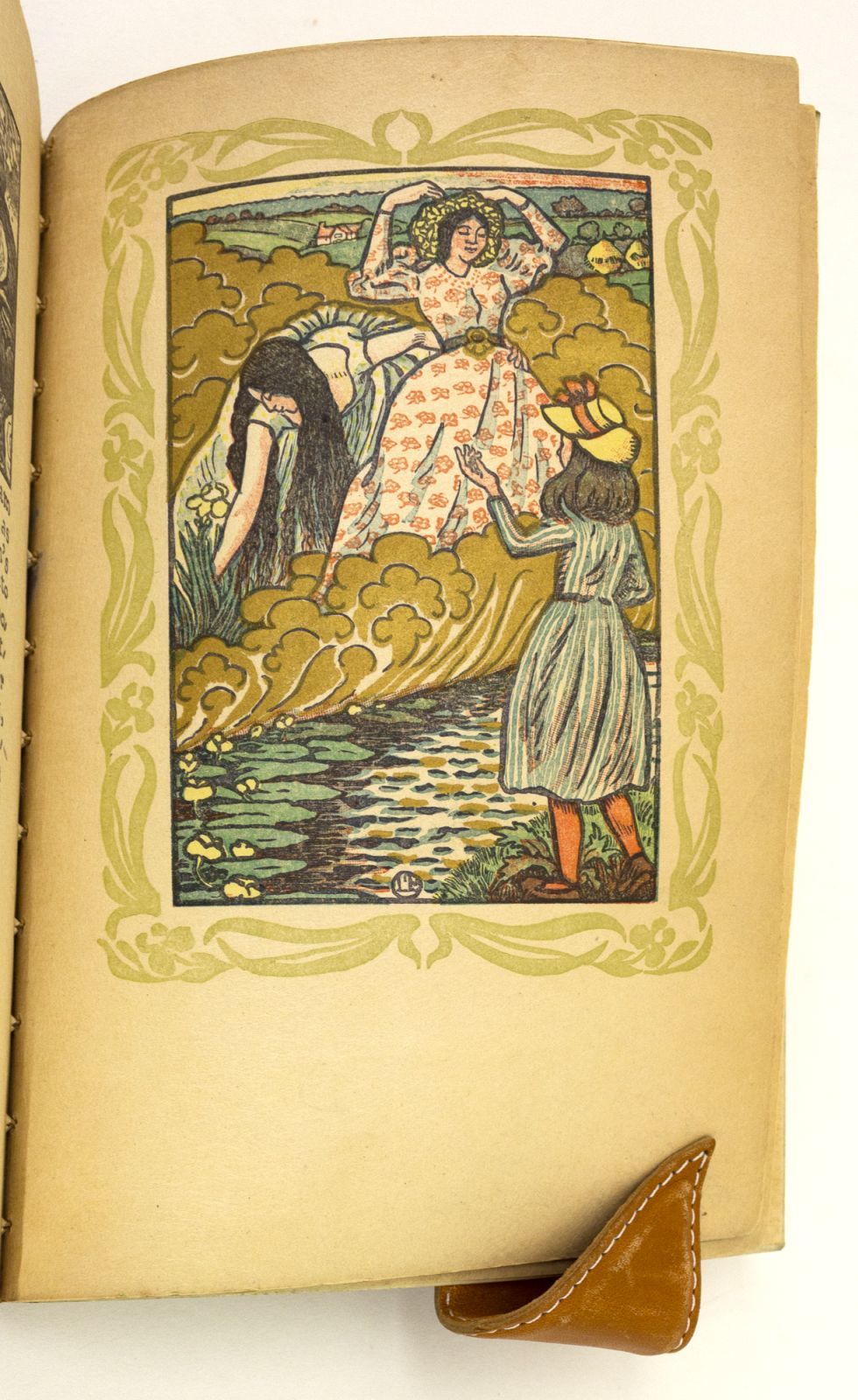 Epping [Essex]: Eragny Press, 1894. No. 88 OF 150 COPIES (120 of which were for sale). 193 x 130 mm. (7 5 /8 x 5 1/4"). 4 p.l. (2 blank), 14 pp., [1] leaf (i.e., 12 French-fold leaves).
Publisher's limp vellum, front cover with gilt iris device in upper quadrant, smooth spine (front flyleaf neatly reattached). In a modern cream cardboard chemise with blue leather label on back, inside matching slipcase. Five pages with frame of irises printed in gold or green, iris spray tailpiece on final page of text printed in red, printer's device in colophon, and 16 woodcuts by Esther and Lucien Pissarro, five of these printed in color. Text handwritten and reproduced by process. Printed on light brown paper stock. Franklin, p. 206; Ransom, p. 261; Tomkinson, p. 52. Covers rather splayed and with a hint of soiling, otherwise fine, with almost no signs of use.

This is an attractive copy of the first book issued by the Eragny Press, a whimsical volume that set the tone for the kind of books for which it would become known. Operated between 1894 and World War I by Lucien and Esther Pissarro, the Eragny Press produced charming books of the highest quality but in design unlike the other major private presses at work in England. The delicate wood engravings, the typically patterned paper bindings, and in general the inclination to be fresh and pretty rather than elegant, grand, or luxuriant gave this press a distinctive place in the movement. Lucien, who studied art under his father, the Impressionist painter Camille Pissarro, came to England hoping to get his woodcuts published and searching for an opportunity to make lovely books, two goals that were accomplished with the help of Charles Ricketts, the founder of the Vale Press, who shared his newly created Vale Type with Pissarro. Cave says that the Eragny Press books "had a charm and freshness quite unlike anything to be found in the work of any other private press, and in the printing of colored wood engravings in particular the press excelled." The text here is a retelling of an old French fairy tale, in which a peasant boy and girl escape their mundane existence by transforming into a mighty oak and a splendid fish. The text, Franklin explains, was "photographed from Lucien's handwriting, and so gives a kind of unity with his illustrations." The latter are "far more complex and carefully organized than at first sight; their shadows and forms always delicate and deserving a careful long look. In that way, it is a beautiful book for children, though nobody is or ever was likely to let them get hold of it." A book that would never be readily available given its limited press run, the work is uncommonly encountered for sale.
Offered by Phillip J. Pirages Fine Books.
THE CELEBRATED JUMPING FROG by Mark Twain (Samuel Clemens)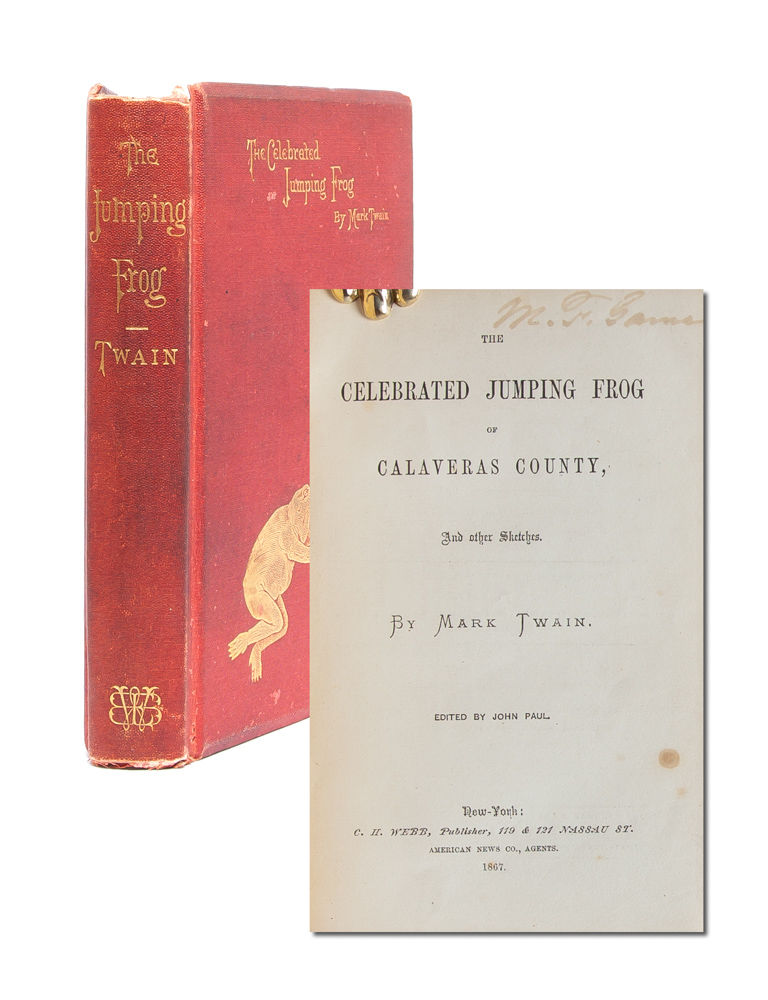 New York: C. H. Webb, 1867. First edition. Very Good. First issue of Mark Twain's first book. "Copies were bound simultaneously in green, terra cotta, dark brown, lavender, blue deep purple, maroon and red cloth" (MacDonnell, "The Primary First Editions of Mark Twain, Firsts, Vol. 8, no. 7/8). This copy features the gilt stamp of the leaping frog positioned to the lower left of the front cover as usual (some copies have the gilt stamp of the leaping frog in the centre of the front cover, though no priority has been established between the two); it has all of the points of a first issue as delineated by BAL.
Small octavo. Original terra cotta cloth over bevelled boards, gilt lettered spine, front cover lettered in gilt with gilt stamp of jumping frog to lower left and blind to rear cover, brown coated endpapers. Cloth a bit soiled, and some wear to extremities largely concentrated on spine ends, including loss to the crown. Bump to rear fore-edge. Bookplate of M. F. Game to front pastedown; contemporary ownership signatures of the same to the front endpaper and header of title. Minimal foxing internally and two signatures reinserted, but Very Good overall.
Mark Twain, with his account of the jumping frog, produced the most famous tale in California, if not Western, history. This little gem of humor that introduced the famed author's first book gave him international prominence. As his publisher, Charles Henry Webb, noted, "By his story of the Frog, he scaled the heights of popularity at a single jump." Twain's compilation of tales, along with those of Bret Harte, continues to romanticize and popularize the Gold Rush. The story of the lead-loaded frog (named Daniel Webster) made Angels Camp one of the best-known tourist attractions in the gold country. Twain first learned of the story of the jumping frog when he prospected in the vicinity of Jackass Hill in Tuolumne County. On a rainy January day in 1865 Twain and a friend, James Gillis, went into the bar at the Angels Camp Hotel in nearby Calaveras County and heard a gentleman by the name of Ben Coon tell the amusing story of the trained frog. He repeated the story to Artemus Ward, who in turn encouraged him to write it up and send it to Ward's publisher, Carleton, in New York: C. H. Webb, 1867. The tale's popularity spread across America and Europe until it was collected in the present volume.
Offered by Whitmore Rare Books.

The Very Hungry Caterpillar (First Edition)
by CARLE, ERIC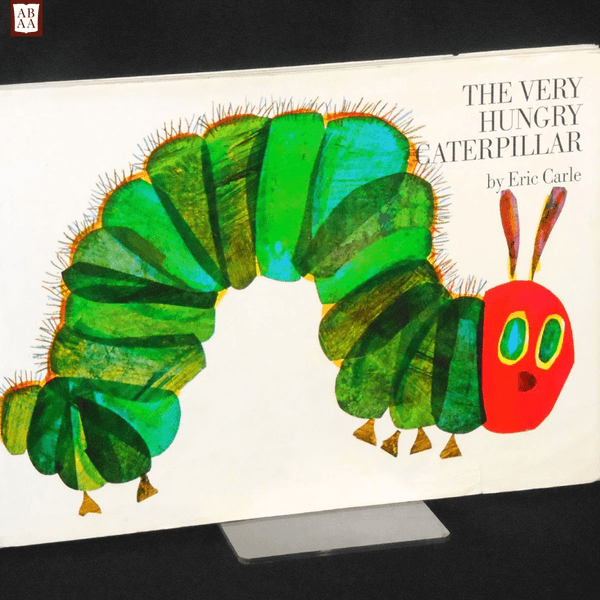 New York and Cleveland: The World Publishing Company, 1969. First Edition. Hardcover. Near fine/very good. Carle, Eric. First printing, oblong quarto, 28 pp., in first issue dust jacket. Eric Carle (b. 1929) is known world-wide for this, his third book, which has been translated into more than 60 languages and has sold more than 50 million copies, garnering numerous awards along the way including the American Institute of Graphic Arts Award in 1970 and the Nakamori Reader's Prize in Japan in 1975; Carle was awarded the Laura Ingalls Wilder Medal in 2003 by the American Library Association and was a U.S. nominee for the Hans Christian Andersen Award in 2010.

Carle's style consists of using hand-painted tissue papers and creating a collage, which is then reproduced via offset colour lithography. This book, with its multiple die-cut pages as the caterpillar eats his way through various foodstuffs, created such a challenge for US printers that the publisher eventually found a printer in Japan.

DESCRIPTION: This copy bound in decorated cloth over boards (per Loker, the first issue was bound in either cloth or glossy boards), the image of a caterpillar on the front and a leaf on the back, code of "A3450" printed on the back board near the bottom joint, decorative endpapers, copyright page begins with "1" denoting the first printing; oblong quarto (11 7/8" by 8 3/8"), unpaginated with [28] pp. per Loker (irregular collation). The matching publisher's dust jacket has the same design on the front and back panels (including the code of "A3450"), front flap has both corners clipped (apparently the case with every copy of the first issue, including the author's own copy), this copy with a sticker at the upper corner of the front flap upon which is marked a price of "3.95", summary of the book on the front flap, picture of the author with his two children on the back flap with short author bio.

CONDITION: Volume near fine, with clean boards, straight corners without rubbing, a strong, square text block with solid hinges, the interior is clean and bright, and entirely free of prior owner markings; some areas of very light wear to the cloth, most noticeable at the head and tail of the spine (the cloth not rubbed, rather the colour is wearing away) and a few, scattered, very light marks to the leaf and caterpillar designs, the interior with a few minute specks of foxing, else fine. The dust jacket (clipped, as apparently were all copies) very good; complete, the colours on both panels deep and true, a few light spots of soil and overall minor edgewear, most noticeable at the head and tail of the spine with very small chips at the joints, but no loss of text (please see pictures and request more if needed).

CITATION: Loker, One Hundred Books, no. 99.
Offered by Swan's Fine Books.
Manual on Confession (Confessionale–Defecerunt) and other texts; in Latin and Italian, decorated manuscript on paper
by ST. ANTONINUS OF FLORENCE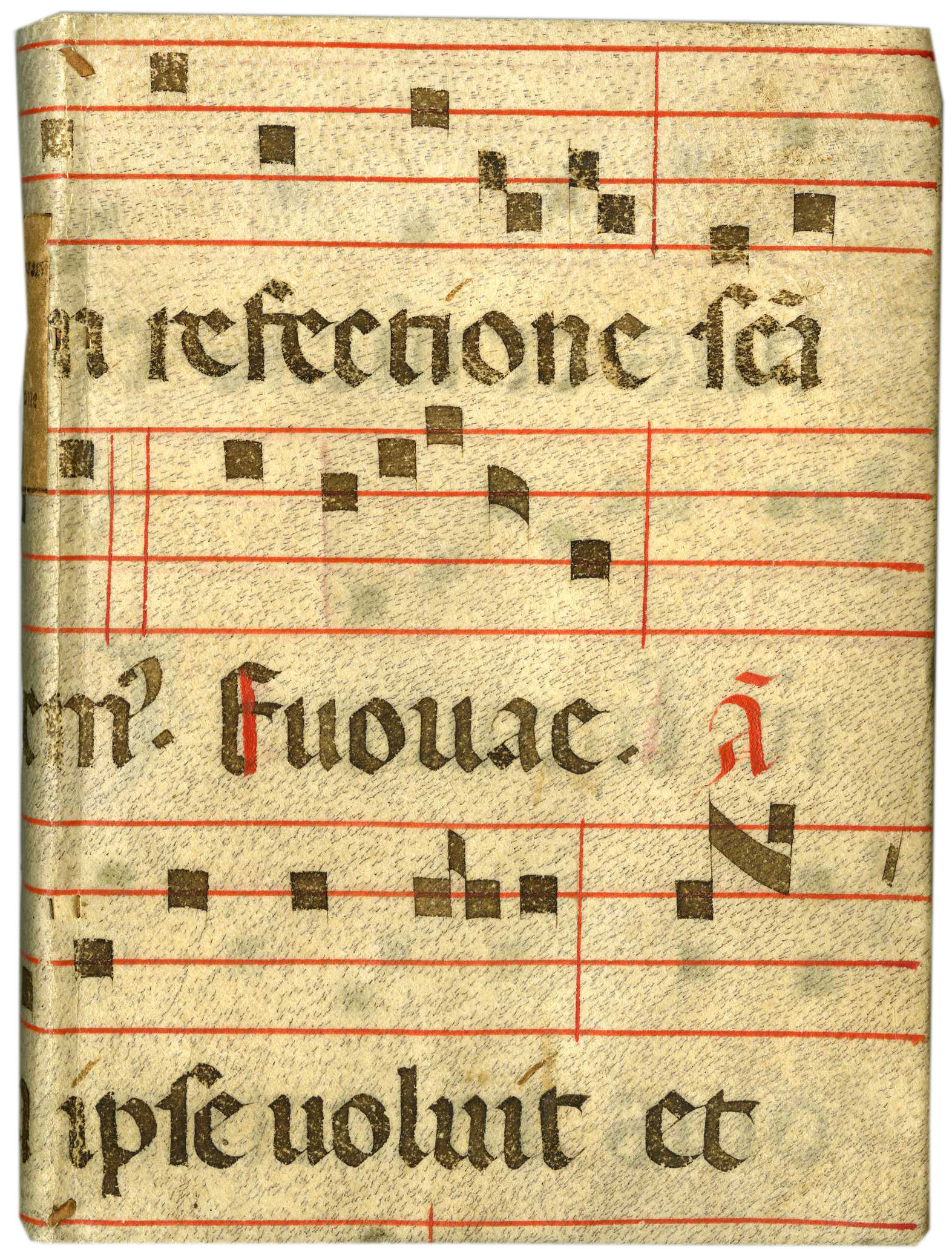 FIFTEENTH-CENTURY POCKET HANDBOOK FOR CONFESSORS. Dimensions 165 x 120 mm., 112 folios, complete, written in a humanistic minuscule in light brown ink, by four distinct hands, all of them apparently contemporary or near contemporary, 2-line red initials, 9-line opening initial painted in blue with red penwork extending into the margin, a few marginal notes.
BINDING: limp vellum, reusing part of a leaf from a fifteenth-century Choir Book, with a seventeenth-century label on the spine.
TEXT: This pocket handbook of confession contains texts to assist the confessor in his practical and daily tasks, notably the popular manual for confessors named Confessionale-Defecerunt. The additional textshere are also of special interest, including an extract on women's dress codes and the appended model of confession redacted in the vernacular.
PROVENANCE: copied and decorated in Italy as per watermarks and linguistic features, with added passages in the vernacular (ff. 108-109v). There are two colophons that provide most likely a date of 1462, although this has been misread as "1402" because the third number in the date has apparently been abraded; later in a Continental private collection.
CONDITION: overall good condition. Full description and images available.
Offered by Les Enluminures.
[MINIATURE "BLOOK" BOX MADE OF SILVER]
by CREAZIONI ORAFE SACCHETTI (GIANFRANCO SACCHETTI)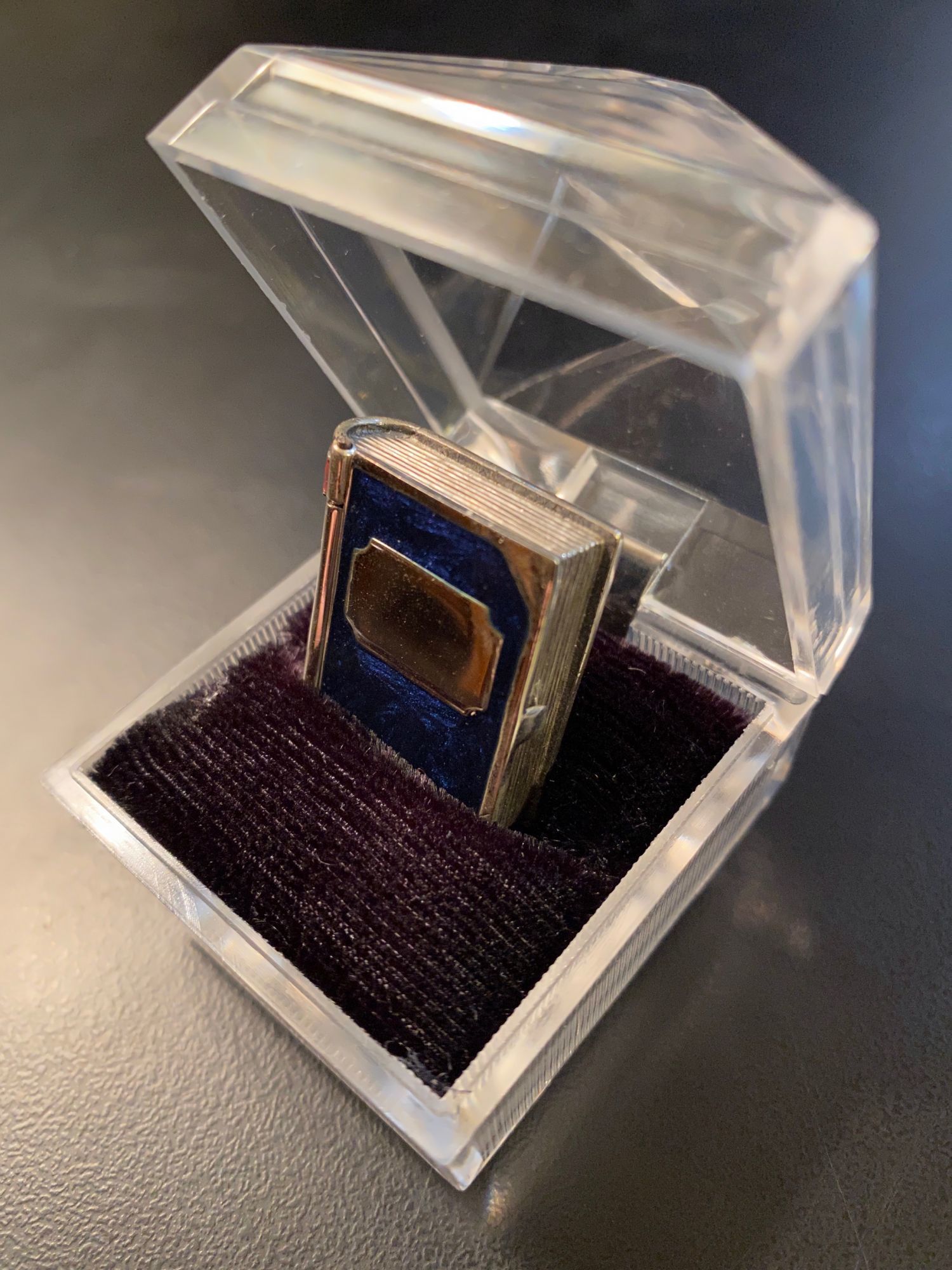 Arezzo, Italy: Sacchetti, n.d.. Near Fine. Miniature silver "blook" (28 x 22 x 7 mm), with blue enamel "covers" and red enamel "spine labels," hinged at front cover which opens to reveal a tiny compartment, edges of "textblock" appropriately striated, and the latch on the "fore-edge" in perfect working order. Excellent, and highly curious silver "Blook," created out of sterling silver by a well-known Tuscan silversmith: Gianfranco Sacchetti Arezzo Italie. On the "spine" of the book is Sacchetti's name and maker's mark (318 AR), as well as the silver grading 925 (i.e. 92.5%) in which the numbers are microscopic. Our specimen is perfect in every way.
The term "Blook" was coined by Mindell Dubansky of the Metropolitan Museum of Art; it is the contraction of the words "Book Look," and refers to an object that looks like a book.
Offered by Michael Laird Rare Books.
The Wind's Twelve Quarters: Short Stories
by LE GUIN, URSULA K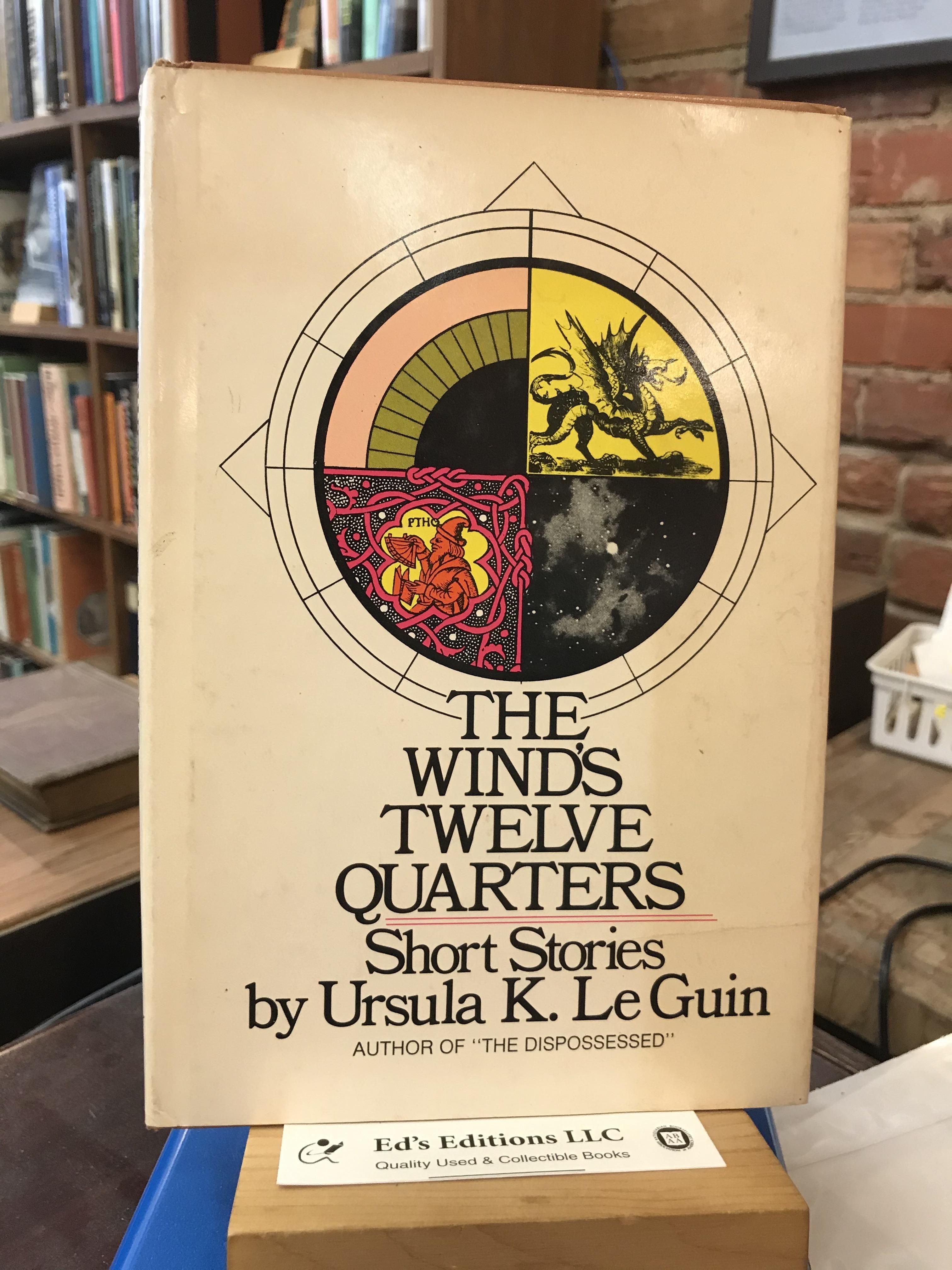 Harper & Row, 1975-01-01. Hardcover. Good. Book Club Edition with gutter code G07 on page 245. Jacket has minor age soiling and wear with some overall scuffing, binding is good, pages are clean and bright with no marks or notations found. Jacket is now wrapped in a clear protective sleeve to prevent further wear.
Offered by Ed's Editions.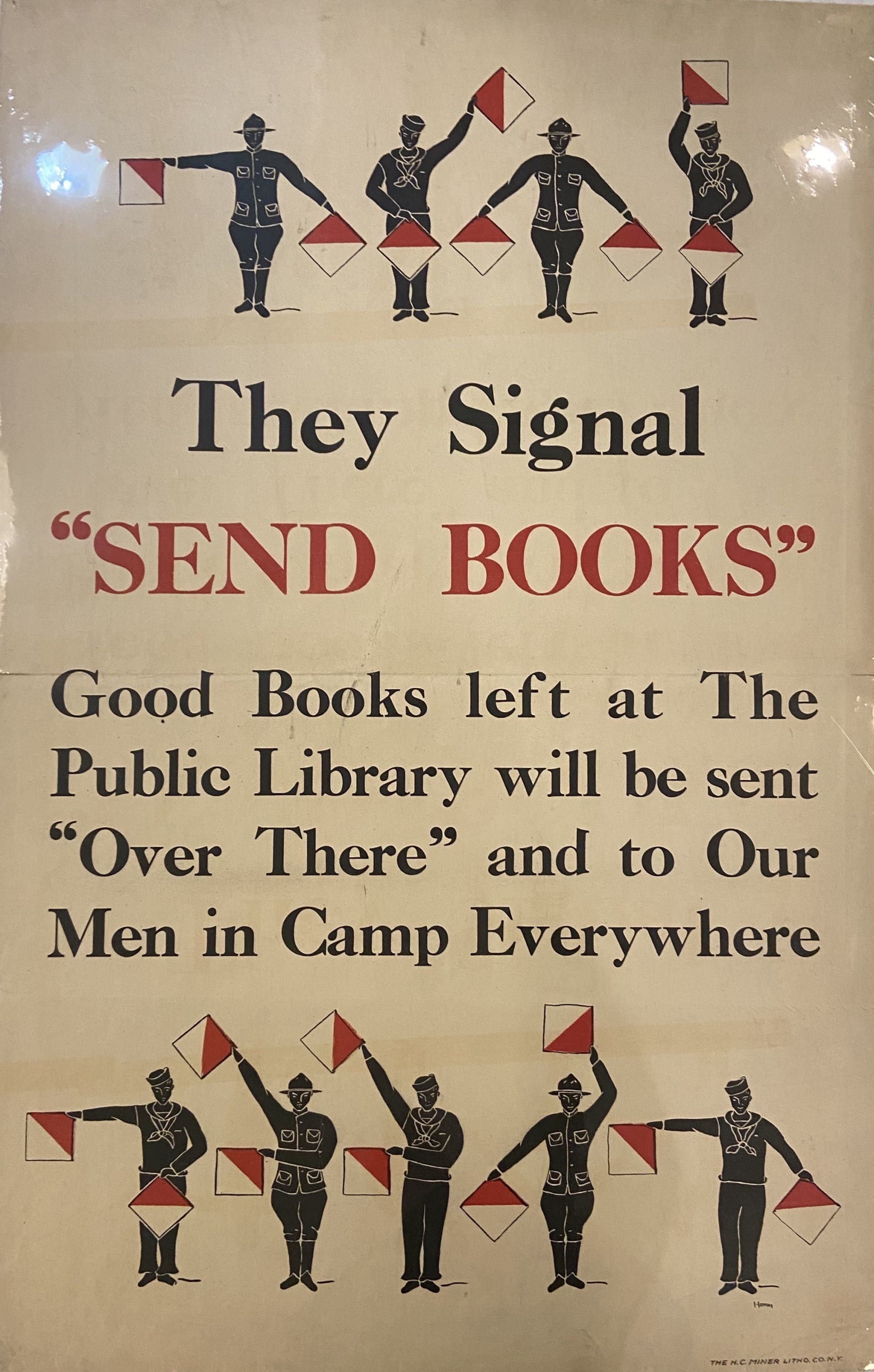 New York: H.C. Miner Litho Co. Poster mounted on linen. Page measures 37 1/2" x 24 3/8". Scuffing, toning and folds, mounted on old linen.
This charming World War I era poster reads "Good Books left at the Public Library will be sent "Over There" and to Our Men in Camp Everywhere. Features illustrations of soldiers and sailors holding semaphores signaling "Send Books", as indicated in the title.
In 1917, the American Library Association (ALA) established the Library War Service to provide library services to soldiers in training camps and overseas. Up to ten million books were donated, and 36 "camp libraries" were set up on military bases. Scarce.
Offered by Argosy Book Store.
Jungle Book. (pop-up). COLOR PICTORIAL BOARDS, IN A COLOR PICTORIAL SLIPCASE.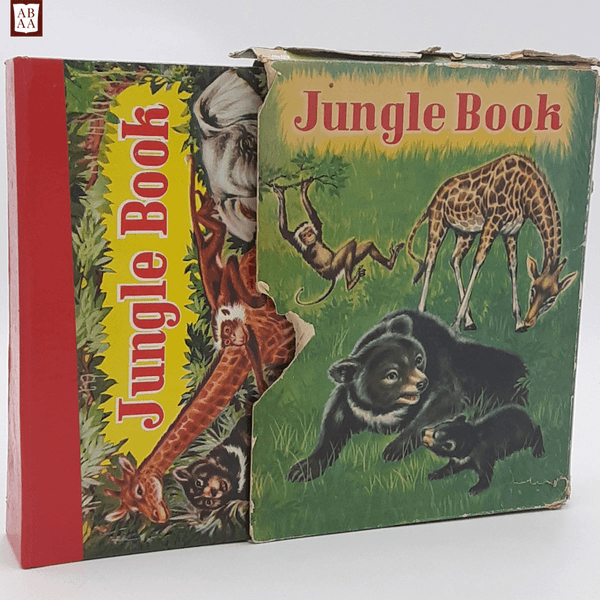 Made in Japan.: No publisher., circa 1950. Color pictorial boards, in a color pictorial slipcase. Very good, in a good slipcase with moderate wear and some chipping.. 20.5x16.5 cm. . An uncommon children's book in remarkable condition in the fragile slipcase. weight: 0.7 lb. 12 full page color images including endpapers, some with moving parts, others with noise makers.
Offered by Zephyr Books.
Fer-de-Lance (A Nero Wolfe Mystery)
by Rex Stout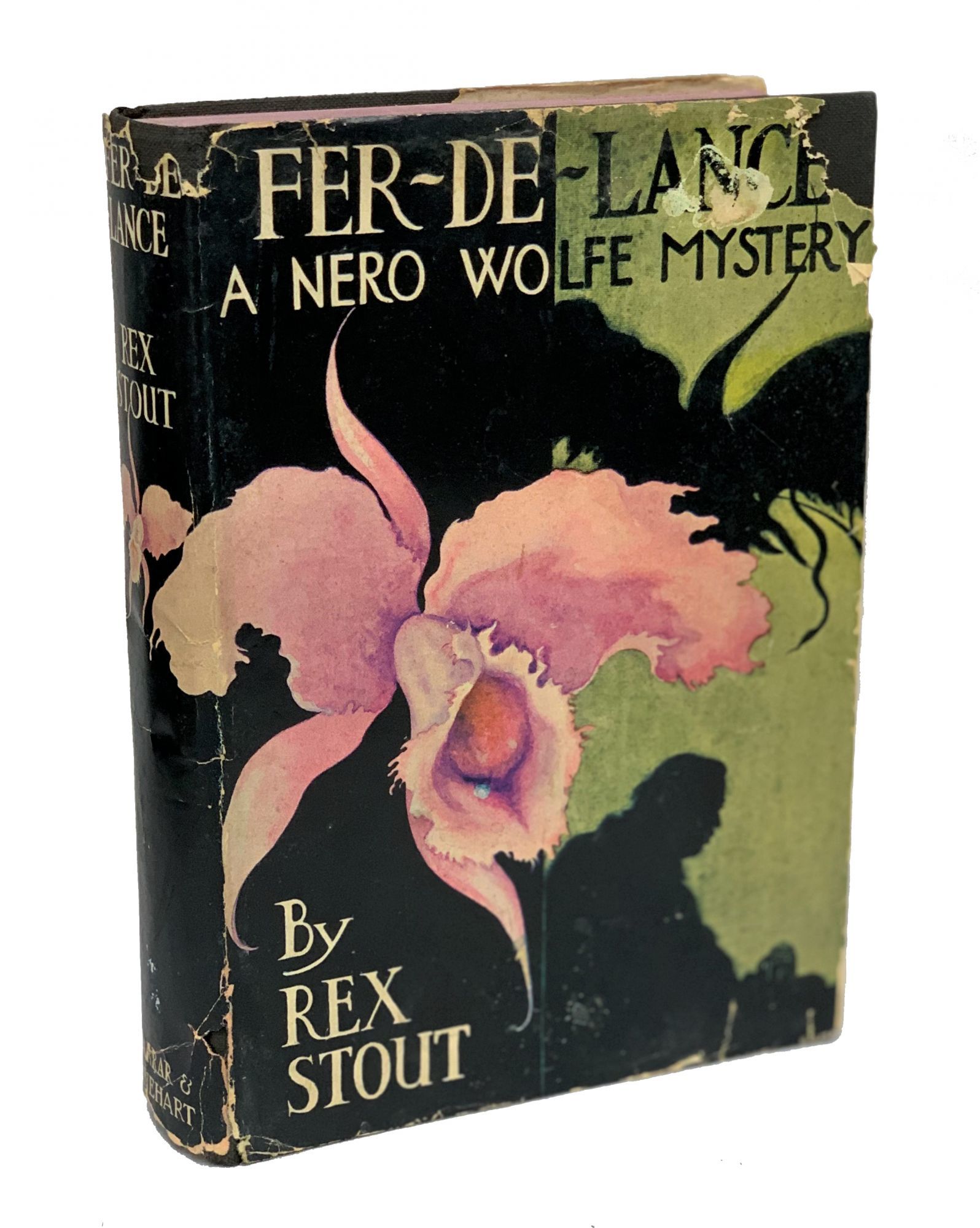 New York: Farrar & Rinehart, 1934 First edition, first printing. Original publisher's black cloth, front board and spine lettered in gilt; original first issue dust jacket. Near fine; in an unclipped with several small tears and creases, usual edge wear, loss to upper corner of front panel and spine ends. A completely untouched example of the scarce original dust jacket, free of any repairs or restoration. First Edition. Hard Cover. Very Good/Dust Jacket Included.
Offered by B&B Rare Books.
Dennis the Menace -- a collection of eleven vintage paperback books
by KETCHAM, HANK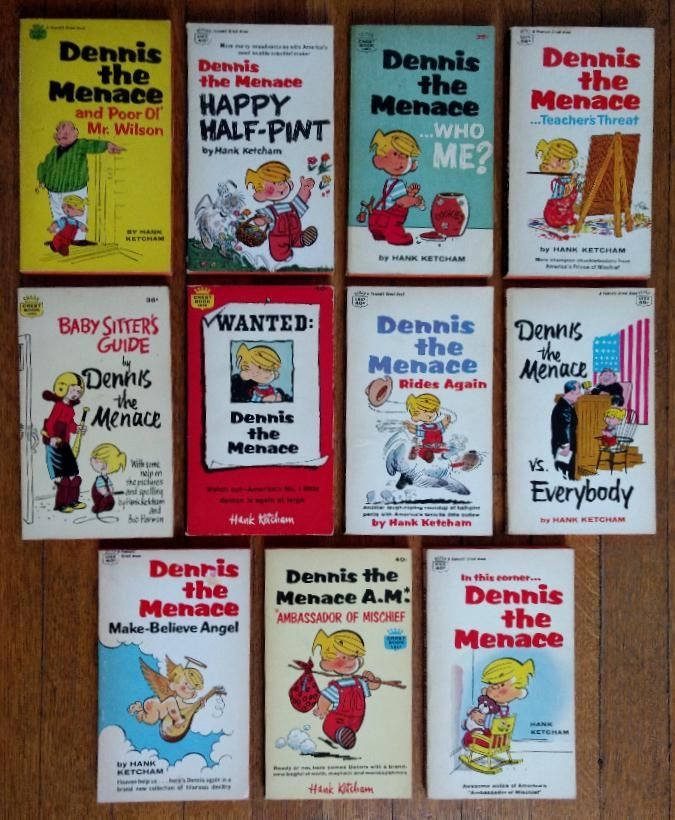 Greenwich CT: Fawcett Publications (Fawcett Crest Books). Very Good+. 1960s. Various printings. Softcover. [all books have tight bindings and uncreased spines; a few exhibit some light wear to the extremities and/or minor surface blemishes, but each is in at least Very Good+ condition, with several approaching Fine]. Mass Market PB (cartoons) The nine books in this set, with publisher's numbers, printings, and dates (as nearly as can be determined), are: Baby Sitter's Guide by Dennis the Menace (Crest s493; 2nd ptg, 1964): Dennis the Menace, Teacher's Threat ([Fawcett Crest k874; 4th ptg?, 1959?); Dennis the Menace, Make-Believe Angel (Fawcett Crest k966; 1st ptg?, 1964); Dennis the Menace, Happy Half-Pint (Fawcett Crest k860; 1st ptg?, 1962?); Dennis the Menace and Poor Ol' Mr. Wilson (Fawcett Crest k1007; 1st ptg, 1967); Dennis the Menace, Who Me? (Crest s651; 1st ptg, 1963); Dennis the Menace Rides Again (Fawcett Crest k887; 1960?); Dennis the Menace A.M.* *Ambassador of Mischief (Crest k867; (1st ptg?), 1961?); Dennis the Menace vs. Everybody (Fawcett Crest k903; 1962?); In This Corner, Dennis the Menace [Fawcett Crest k900; 2nd ptg, 1966); Wanted: Dennis the Menace (Crest k888; 1956?).
Offered by ReadInk.
View all new listings on abaa.org...
Browse recent catalogs of rare books and print ephemera from ABAA members...
Please note, all items are unique, so if a link takes you to a blank page, the book has been sold!