Our members list new acquisitions and recently cataloged items almost every day of the year. Below, you'll find a few highlights from these recent additions...
Narrative of Sojourner Truth; a Bondswoman of Olden Time, Emancipated by the New York Legislature in the Early Part of the Present Century; WITH A History of her Labors and Correspondence, Drawn from her "Book OF Life"
by Sojourner Truth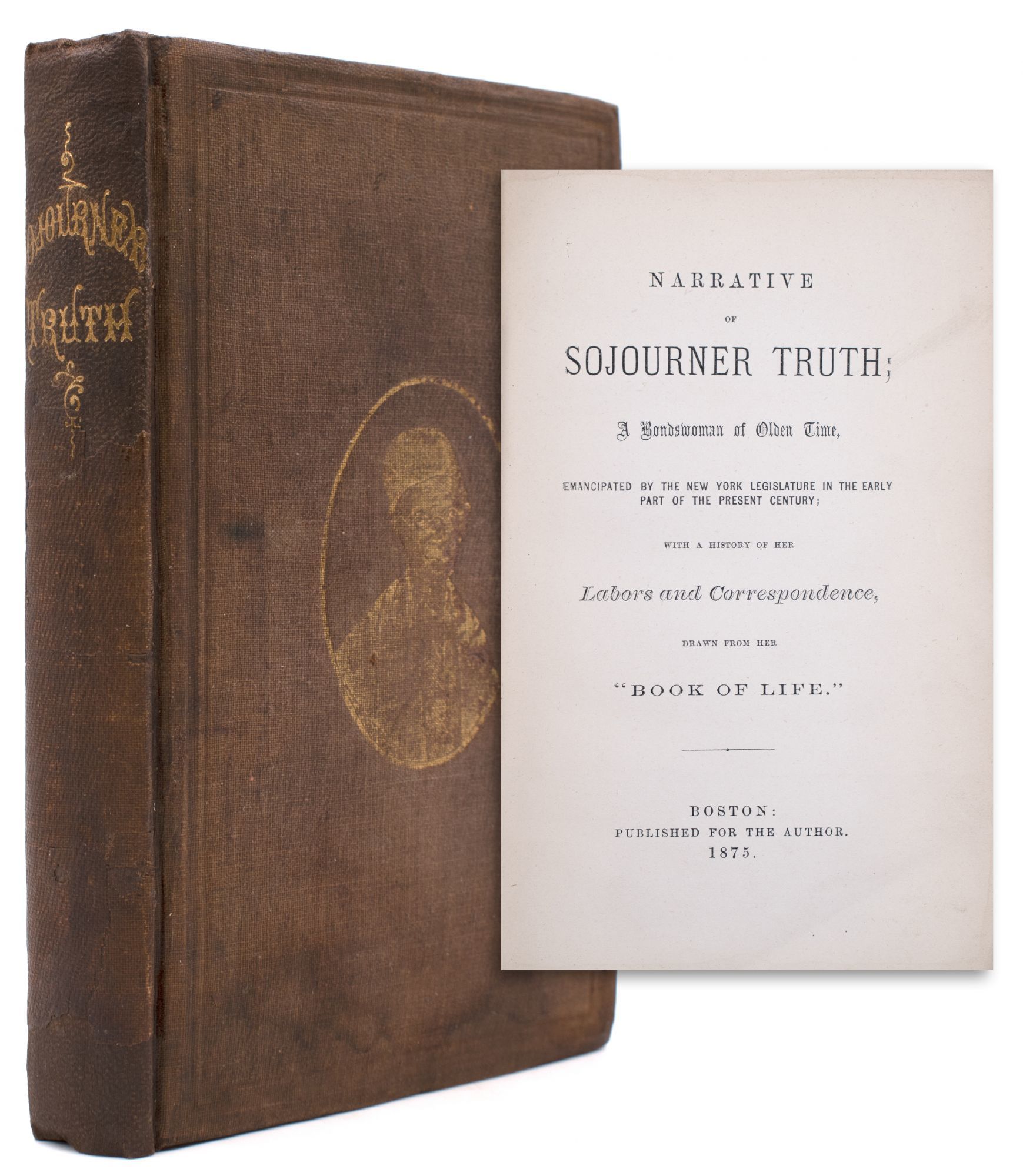 Boston: Published for the Author, 1875. First enlarged edition of the Narrative, and the first edition of the Book of Life. Portrait frontispiece. xi, [1 (blank)], 13-320pp. Half title and errata slip. 8vo. Publisher's brown cloth, rebacked. Minor staining to the covers and wear to the gilt. First enlarged edition of the Narrative, and the first edition of the Book of Life. Portrait frontispiece. xi, [1 (blank)], 13-320pp. Half title and errata slip. 8vo. "Ar'n't I a Woman?" Sojourner Truth's Narrative is a landmark in African-American and women's history. Born into slavery as Isabella Baumfree in Ulster County, New York in the late eighteenth century, she won her emancipation under New York state law in 1827 and adopted the name Sojourner Truth in 1843. After a time as a domestic in New York City she embarked on a lifelong career as an advocate for civil and women's rights, travelling and speaking widely. She lived for a time at the utopian "Northampton Association" in western Massachusetts, and dictated her story to Olive Gilbert, publishing the first edition of the Narrative in 1850.

"A legend in her own time, Sojourner Truth's indomitable will has won her a permanent place in American History" - Blockson. "In modern times she has come to stand for the conjunction of race, class, and gender in American liberal reform and symbolizes the unintimidated, articulate black woman. Acutely intelligent although totally unschooled, Truth represents a type of inspired, naive witness that has long appealed to Americans suspicious of over-education" - ANB

This revised 1875 edition of the Narrative retains the Preface by abolitionist William Lloyd Garrison. This new edition contains significant changes: "[f]or example in 1875, in addition to edits to the text itself, Truth decided to expand her biography and had Frances W. Titus edit a selection from her scrapbook, titling it, 'Book of Life,' replacing the original appendix by Theodore D. Weld, 'Slavery A System of Inherent Cruelty.'"
Offered by James Cummins Bookseller.
Stride Toward Freedom; The Montgomery Story
by KING, MARTIN LUTHER JR.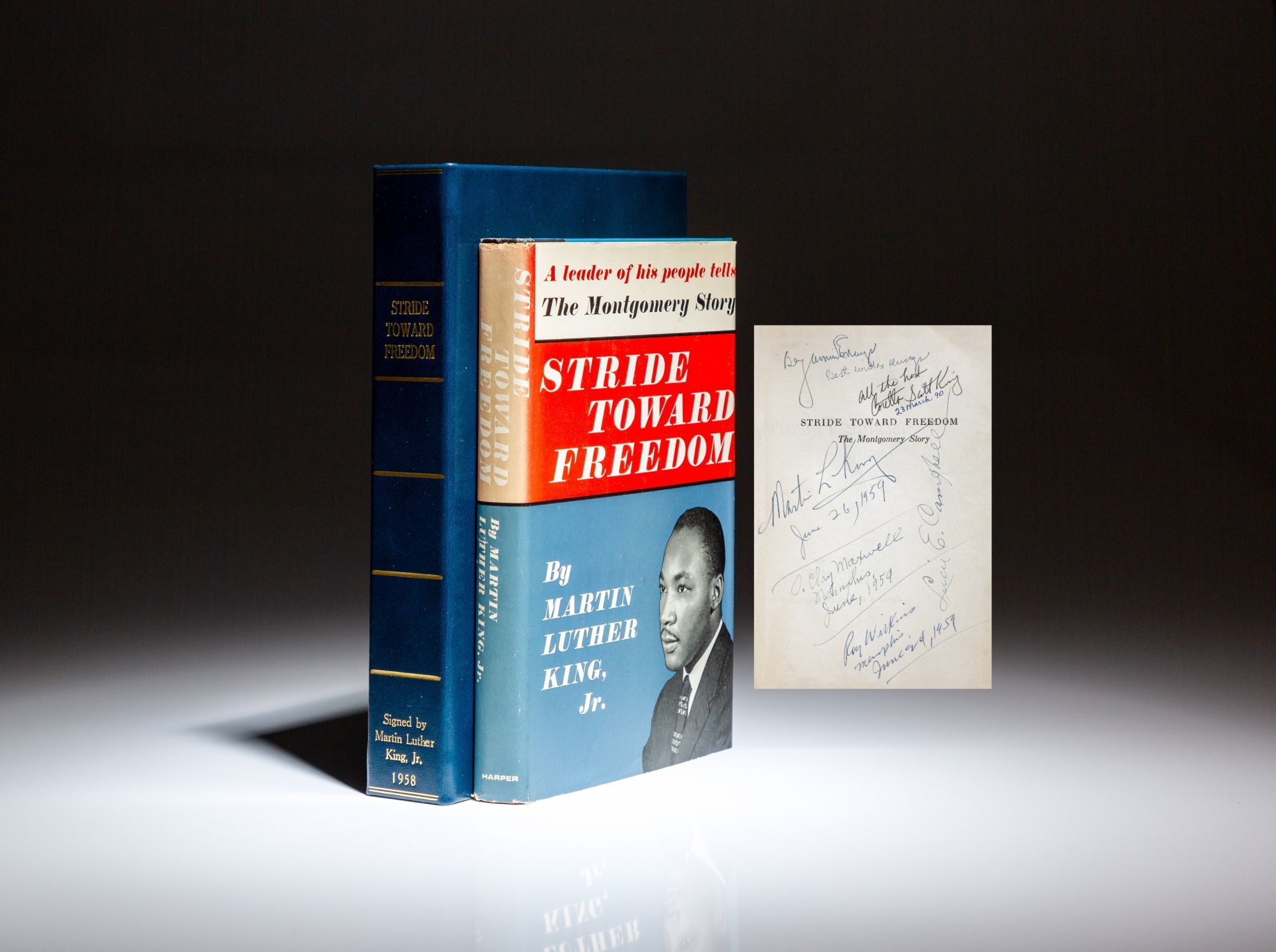 New York: Harper & Brothers, Publishers, 1958. First Edition, Early Printing. Cloth. Very good/near fine. Signed first edition of Stride Toward Freedom: The Montgomery Story by Martin Luther King, Jr., with an incredible collection of signatures, including the author, Martin Luther King Jr., Coretta Scott King, Jesse Jackson, Benjamin E. Mays, Rev. O. Cl. Octavo, 230pp. Blue cloth, black on spine, title stamped in silver. A first edition, early printing, with the "L-H" date stamp on copyright page. Three pen marks from the previous owner in the final chapter. Lacking the front free endpaper, with some offsetting. Expert restoration to the front hinge, which had been previously reinforced with non-archival tape. In the publisher's first state dust jacket, $2.95 on front flap, toning to spine, a near fine example. Housed in custom blue leather clamshell, lined with marbled papers, title on spine in gilt. Includes the following signatures: "Martin L. King / June 26, 1959" - "All the best / Coretta Scott King / 23 March 90" - "O. Clay Maxwell / Memphis / June, 1959" - "Roy Wilkins / Memphis / June 24, 1959" - "Lucie E. Campbell" - "Benjamin E. Mays / Best Wishes Always" - "9/27/92 / Pasquell, / Keep Hope Alive! / Jesse Jackson." Provenance: From the estate of Pasquall "Bo" Duckett, with his ownership inscription on the front pastedown endpaper. Mr. Duckett was a civil rights activist, historian, and organizer in Memphis. Purchased from his estate in 2021. This work includes signatures from the following notable individuals:
· Benjamin E. Mays (1894 - 1984) - President of Morehouse College, mentor to Martin Luther King, Jr. and intellectual leader of the civil rights movement.
· Roy Wilkins (1901-1981) - prominent civil rights activist and Executive Director of the NAACP.
· Rev. Dr. O. Clay Maxwell (1885-1973) - Pastor at Mount Olivet Baptist Church in New York.
· Lucie E. Campbell (1885-1963) - civil rights activist, musician, and prolific gospel composer.
· Jesse Jackson (b. 1941) - politician, political activist and Baptist minister.
· Martin Luther King, Jr. (1929-1968) - civil rights leader and recipient of the Nobel Peace Prize.
· Coretta Scott King (1927-2006) - author, activist, and wife of Martin Luther King, Jr.
Offered by First Edition Rare Books.
Archive of Correspondence between Georgia O'Keeffe and Mym Tuma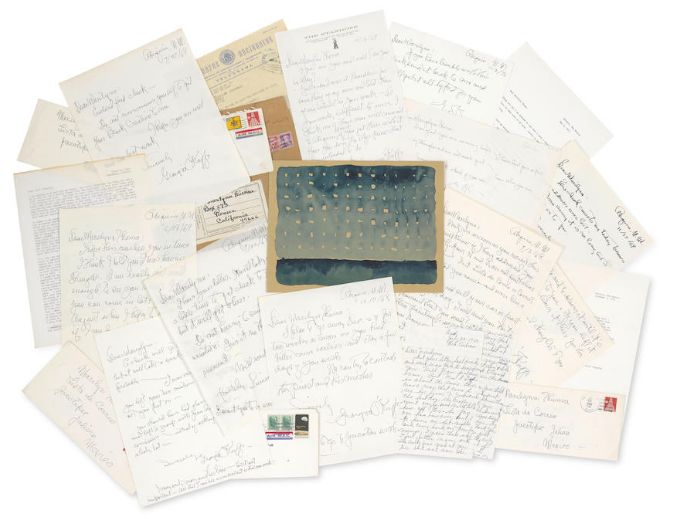 Archive of 18 Autograph and Typed Letters Signed ("Georgia O'Keeffe" and "G.OK."), to artist Marilyn Thuma (aka Mym Tuma), beginning May 14, 1964, and continuing through May 8, 1973, including 12 autograph letters or notes signed (2 greeting cards), 6 typed letters signed, one autograph note unsigned, and one typed typed letter unsigned, all with original transmittal envelopes, 3 vintage photographs of the landscapes surrounding O'Keeffe's Abiquiu ranch, an autograph label addressed to Tuma on the front of a trimmed envelope, and archival file copies accomplished later of Thuma's letters to O'Keefe, various sizes, a complete list provided below. Provenance: Georgia O'Keeffe; to artist Marilyn Thuma (a.k.a. Mym Tuma).
A fascinating archive of signed correspondence from O'Keeffe to an emerging young artist, offering support in myriad ways, artistic, emotional and financial. After reading an article on O'Keeffe and her art, a bold young Marilyn Thuma (Mym Tuma), fresh out of the Stanford University graduate painting program, sent O'Keefe a brief letter asking to visit her in New Mexico. Somewhat surprisingly, O'Keeffe responds quickly with a quick but warm note on an oversize Starlight Night note card, "Yes/ GOK/ Thanks for your page!"
Thus begins a nearly 10-year relationship, with Tuma coming to Ghost Ranch that summer for the first time. By 1968, Tuma was living in Jocotepec, Mexico, and again visited O'Keefe, having now established a correspondence in which O'Keeffe is clearly engaged in assisting her younger protegee. She writes to Tuma on July 3, 1968, "Do not sell your car or part with your dog. I will send you the two thousand that you need to get your next three paintings done...." And again, in a footnote to her July 20, 1968, letter, O'Keeffe adds urgently, "I want you to be working—free in your mind."
Over the next 3 years, O'Keeffe continues to add advice, connections, inspirations, money, including personal gifts such as her safari chair, clothing, and significantly, the ram's skull from Ghost Ranch. O'Keeffe buys art from Tuma, and helps her get her footing in the art world, with constant encouragement. On April 13, 1969, she writes from the Stanhope in New York, "Yesterday I was at Knoedlers for something of my own and told them of my interest in your work ... think one of their men will come out to see it...."
The early letters, with the archival correspondence from Tuma, evince a relationship of a shared and evolving vision, and a genuine care.
While the letters continue through 1973, something in the relationship changes in late 1971, evidenced by a change in tone in the letters. Whether because of O'Keeffe's deteriorating health and disposition, or for another reason, the later letters are much briefer, typed and sometimes sharp in tone, most strikingly in a one line note to Tuma, after Tuma had required paid medical attention during a visit, "I think you had better pay the bill when you have some money."
Capturing the arc of a friendship, this fantastic correspondence shows O'Keeffe as mentor, much in the way that her correspondence with artist Yayoi Kusama does. Kusama also wrote to O'Keeffe out of the blue in 1955, beginning a mentoring relationship with her as well, and providing a major stepping stone for Kusama in the art world. Covering a span of nearly 10 years, and with moments of tenderness, obvious care, as well as sparring, this correspondence offers an important glimpse into O'Keeffe's role as mentor to younger women artists in her later years.
Offered by Seth Kaller.
by PLINY, THE ELDER
All the Knowledge of the Ancients PLINY, the Elder. The Historie of the World. Commonly called, The Naturall Historie of C. Plinius Secundus. Translated into English by Philemon Holland Doctor in Physicke. London: Impensis G. B.;Adam Islip, 1601. First complete edition in English. Two folio volumes in one (12 3/4 x 8 1/4 inches; 322 x 210 mm). [58], 614, [42, index]; [12], 632, [84, index] pp. Bound without the preliminary blank leaf in Volume I and the final blank leaf in Volume II. Also bound without the errata/colophon leaf in Volume II. Title of Volume I within decorative woodcut border (McKerrow and Ferguson 148), woodcut printerís device (McKerrow 330) on title of Volume II, decorative woodcut and typographic head- and tail-pieces and initials. According to McKerrow & Ferguson 148, "This spectacular border was used in several distinguished books of Elizabethan era (such as the 1586 Holinshed's Chronicle and the 1598 Chaucer). The border is dated '1574' (bottom center) and signed with the artist's monogram 'NH' (top center), purportedly by Nicholas Hilliard (1547-1619), the famous Elizabethan portrait-painter and miniaturist, as well as the cutter's monogram 'CT.'" Contemporary paneled calf, rebacked. Spine with contemporary red calf spine label, lettered in gilt. All edges red. Edges with rubbing and corners bumped. The title-page to Volume I is backed and with some old ink notes and previous owner's signature. The next three leaves after the title-page in Volume I (To the Reader) have marginal repairs and lower outer corners renewed. Some minor worming occasionally throughout. The most prominent being in the fore-edge margin of signatures F-I in Volume I, not affecting text, and signatures Kk-Mm in volume II, just barely touching text. Some minor dampstaining to the first few leaves, and some general light toning throughout. The second to last leaf of "Table" in volume II (Ppp5) with some repairs and a tear, with some text lacking. The last leaf of "Table" in volume II (Ppp6) is lacking small portions of the leaf and is backed. Still a very good copy of this important book, with the beautiful title-page. "The 'Natural History' of Pliny the Elder is more than a natural history: it is an encyclopaedia of all the knowledge of the ancient world...When [Pliny] died the ëNatural Historyí (the sole extant work out of one hundred and two volumes from his pen) was still incomplete. It comprises thirty-seven books dealing with mathematics and physics, geography and astronomy, medicine and zoology, anthropology and physiology, philosophy and history, agriculture and mineralogy, the arts and letters. He is scrupulous in his acknowledgement of his sources...and the whole of the first book is devoted to the tables of contents and authorities which bear witness to his method. The Historia soon became a standard book of reference" (Printing and the Mind of Man 5, describing the 1469 editio princeps). "The workís influence throughout the Middle Ages was very great, and it was the first important scientific book to be printed, the editio princeps appearing in 1469. It first appeared in English in 1566 in a translation of Pierre de Changiís French abridgement, which only covered the first sixteen books. The entire text was first rendered into English by Philemon Holland, that indefatigable translator of the classics whom Thomas Further called the ëtranslator generall of his ageí (quoted in D.N.B.); it was his most popular translation" (Norman Library).
Offered by Heritage Book Shop.
by DUNBAR, PAUL LAURENCE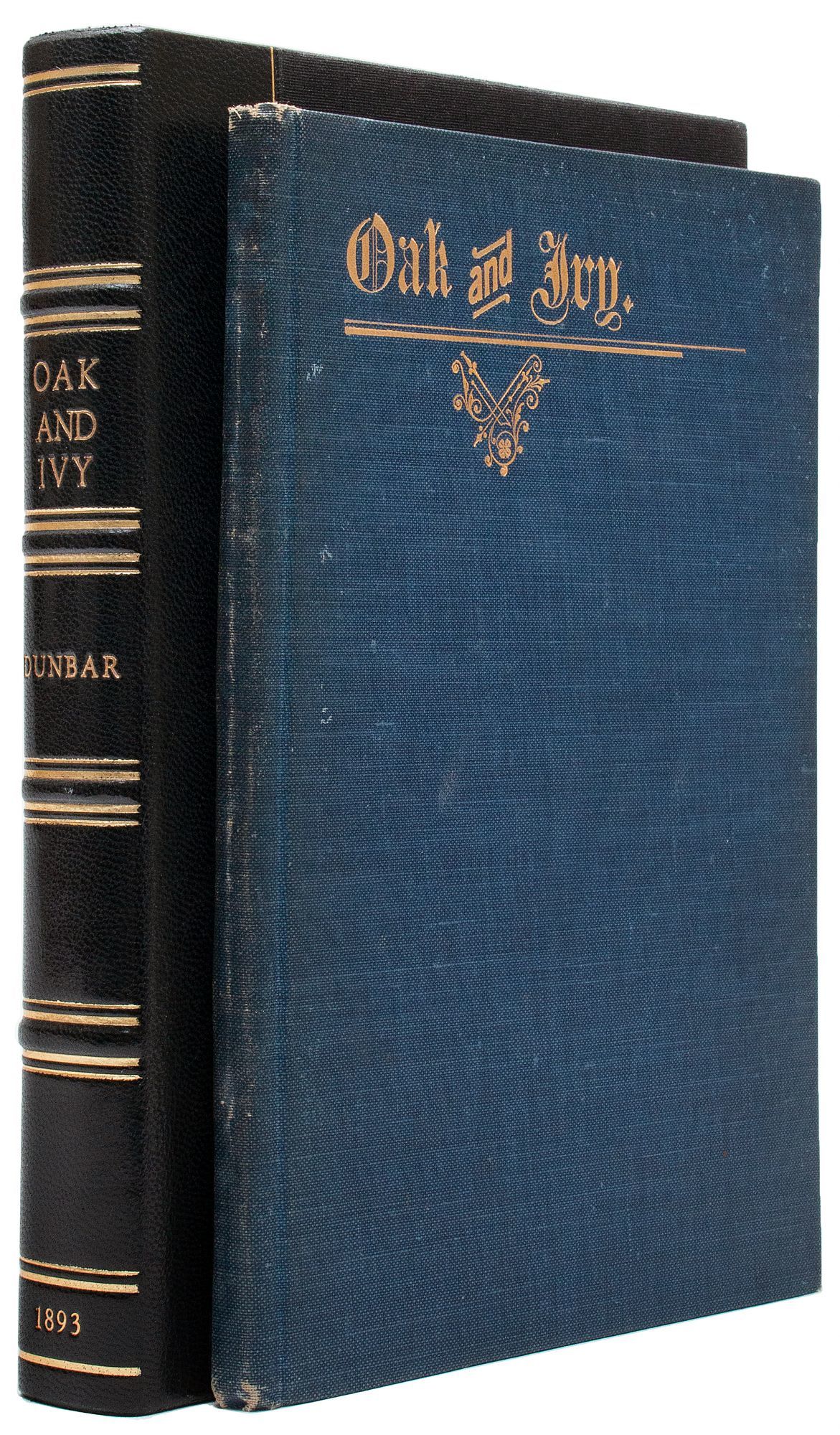 Dayton, Ohio: Press of United Brethren Publishing House, 1893. First and only edition of the very scarce first book by African-American poet Paul Laurence Dunbar, presented by his mother to the principal of The Preparatory High School for Colored Youth in Washington, D.C., upon its re-dedication as Dunbar High School in 1917. The ambitious son of former slaves, Dunbar published Oak and Ivy at his own expense at the age of 21, selling copies of the volume to passengers in the elevator he operated in downtown Dayton, Ohio. His efforts eventually attracted the attention of Frederick Douglass, who hired him to work the Haitian Pavilion at the Chicago World's Fair, and William Dean Howells, who reviewed Dunbar's second collection in Harper's Weekly, gaining him a national readership. Dunbar became the first African-American poet to make a living as a writer, notable for working in two different registers. The poems he called his "majors" employ conventional English diction and meter, as in "Ode to Ethiopia:" "Be proud, my Race, in mind and soul; / Thy name is writ on Glory's scroll / In characters of fire." Those poems he termed "minors" are written in a lyrical African-American dialect: "It's hot today. The bees is buzzin' / Kinder don't-keer-like aroun.'"
Although Dunbar died young of tuberculosis in 1906, his work paved the way for the Harlem Renaissance of the 1920s, inspiring Langston Hughes, among others. The 1917 renaming of Washington, D.C.'s Preparatory High School for Colored Youth in Dunbar's honor testifies to his lasting influence. The dedication ceremonies took place over the course of a week, and Matilda Jane Dunbar, his mother, was honored by the students and faculty on the first day. Born into slavery in Kentucky, she moved to Dayton after the Civil War and worked as a laundress while raising her children. Although she was not formally educated, Matilda taught her son to read when he very young, shared the memories of plantation life that inspired many of the poems, and supported him emotionally and financially throughout his life. He dedicated Oak and Ivy to "My Mother, who has ever been my guide, teacher, and inspiration." This copy of Oak and Ivy was presented by Matilda Dunbar to the principal of Dunbar High School on the occasion of the school's re-naming. BAL 4916; Blockson 6021. A moving association copy of Dunbar's scarce and fragile first book.
Offered by Honey & Wax Booksellers.
Collection of posters documenting the West Berlin squatting scene and related autonomous groups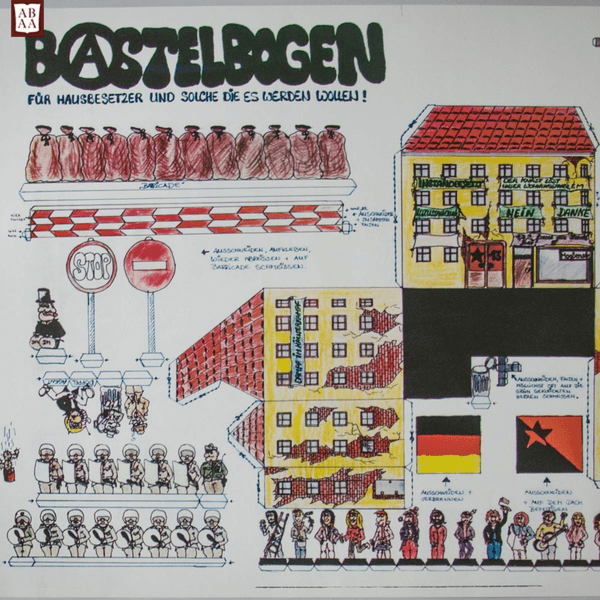 Berlin: various, ca. 1978-1984. Various formats, ca. 30 × 45 to 85 × 60 cm. Most posters are in very good condition; a few show light creasing and/or old pin holes. Most are offset printed, some silk screened. Most feature photographs, drawings, and other illustrations; many show striking photomontage compositions by Kurt Jotter. Color is used sparingly, though many feature red lettering, some are in full color, and a number are on color paper stock. A collection of seventy broadsides and posters documenting the West-Berlin "squatter" movement from the 1970s and early 1980s. (with an additional thirty-three posters by related autonomous groups in West Berlin). The West Berlin squatter movement continues to fascinate and divide today; its demands for affordable, socially just housing are echoed in today's heated debates about urban development for a united Berlin. Many believe that the phenomenon of occupied-and often vigorously defended-buildings played a key role in preserving Berlin's historical core and raising awareness of the historical significance of the imperial tenements. The squatters are also seen, on the one hand, as having enriched and motivated the leftist political scene more broadly. Thus, squatted properties were a way to implement various social and political centres in the 1970s, often with specific functions (such as homes for immigrants or disenfranchised youth). By the early 1980s, the squatter movement intensified and some 170 houses were occupied in West Berlin alone, as well as in other cities of West Germany. Some believed in constructive engagement with conservative politicians and investors, and formulated more moderate demands taken up by political movements such as the early Green Party (Bündnis 90/Die Grünen). Others were vigorously opposed to compromise and pursued a hard line of protests and violent conflict. For a third subset, life in squatted housing projects was less of a political movement than a lifestyle choice entailing heavy drug use and an excessive festival culture that pursued no concrete changes.
This group of posters documents the various forms and roles of the squatter communities, as well as the general politics of occupied housing, the housing shortage, and the protests against real estate development as pursued by investors in conjunction with the West Berlin senate. The bulk of this collection (items 1- 37) was used for an exhibition in Summer 2013 entitled "Wohnungsnot und Mieterkämpfe im Plakat" (Housing Shortages and Tenant Resistance in the Poster Medium). Largely arranged chronologically, they offer an overview of the scene's development, while also constituting various thematic, political and designer- oriented clusters. Thirty-three additional posters from the same period, in a similarly good state of preservation, enhance the multifaceted picture the collection paints, and an additional 33 posters relate to other causes and events organized by autonomous groups, student organizers, and independent protesters in Berlin in the 1970s and early 1980s. Among them are the poster for the iconic Tunix Kongress held January 27-29, 1978 (featuring Michel Foucault, Gilles Deleuze, Felix Guattari and others), the poster of the Tuwat Herbstfest 1981, and the poster of a student-organized discussion on the Vietnam War Crimes Tribunal held 1977 and featuring a talk by Rudi Dutschke. Many posters are anonymously designed. Among the outstanding known designers and illustrators are Klaus Staeck, whose Plakat-Aktion "Würden Sie dieser Frau ein Zimmer vermieten" (1971) became one of the most iconic documents of the early housing movement; Harald Juch, a skilled caricaturist part of the West Berlin squatting community; and Kurt Jotter, who designed the most visually interesting posters in the collection. The author of a series of photo-montage posters on a range of left-wing issues in the 1970s, Jotter viewed himself as an inheritor of the Dada tradition and occasionally used the pseudonym "Dada-neu." In 1977 he published a Dada-influenced manifesto and in the late 1980s he was part of the political art activist group "Büro für ungewöhnliche Maßnahmen" (Office for unusual measures). One of his most daring designs included in the collection is a 1981 photomontage poster combining a press conference by the anti-squatter Senator for the Interior Heinrich Lummer with the body of a protestor who died demonstrating against a campaign of evictions.
The collection represents a valuable source for further research on the politics, practice and aesthetics of this movement. One scholar notes that despite "a growing body of literature on the role of '1968' as a watershed moment in the evolution of new social movements in West Germany, there remains little empirical work on the role of squatter movements within a broader matrix of protest and resistance" (Vasudevan, in The city is ours: squatting and autonomous movements in Europe from the 1970s to the present, 2014, p. 132). See also Vasudevan, ed., Metropolitan preoccupations: the spatial politics of squatting in Berlin (2015).
Offered by Bernett Penka Rare Books.
We command you to visit the sick, educate the orphan, relieve the distressed, bury the dead. The genius of Odd-Fellowship. Our field of labor.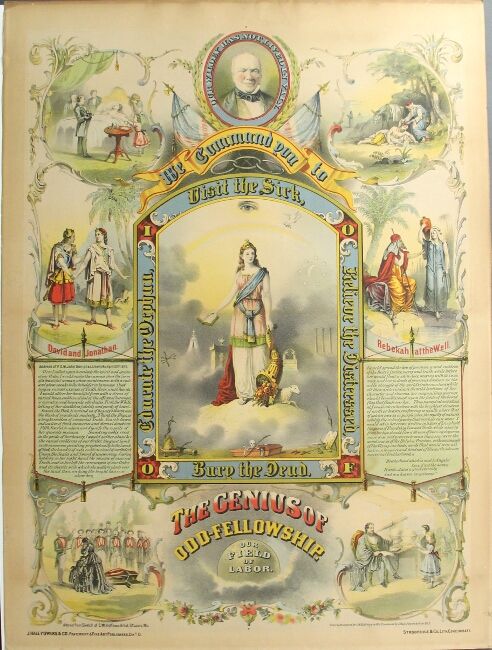 Cincinnati: J. Hale Powers & Co., Strobridge Co., lithog, 1873. Broadside (approx. 24" x 18"), showing 8 composite images corresponding to the directives in the title, and including an oval vignette at the top the IOOF founder, Thomas Wildey, and including the text of an address by P.G.M. John Doniphan of Liberty, Missouri, April 26, 1870. Light toning, especially on the verso from an old wood frame, very small cracks at the margins; in all, very good. "Altered from a sketch by C. W. Hoffman, artist, St. Louis, Mo ... Copyright secured by C. W. Hoffman in 1871. Purchased by J. Hale Powers & Co., 1873." The Independent Order of Odd Fellows aims to provide a framework that promotes personal and social development. For members, the degrees in odd fellowship emphasize a leaving of the old life and the start of a better one and of helping those in need. The command of the IOOF is to "visit the sick, relieve the distressed, bury the dead and educate the orphan." Members today are dedicated "to improve and elevate the character of mankind by promoting the principles of friendship, love, truth, faith, hope, charity and universal justice; to help make the world a better place to live in, by aiding each other, the community, the less fortunate, the youth, the elderly, and the environment in every way possible; to promote good will and harmony amongst peoples and nations through the principle of universal fraternity, holding the belief that all men and women regardless of race, nationality, religion, social status, gender, rank and station are brothers and sisters" (from oddfellows.org.). Not found in OCLC.
Offered by Rulon-Miller Books.
Virginia Woolf: A Biography - Volumes 1 & 2 [Complete Set]
by BELL, QUENTIN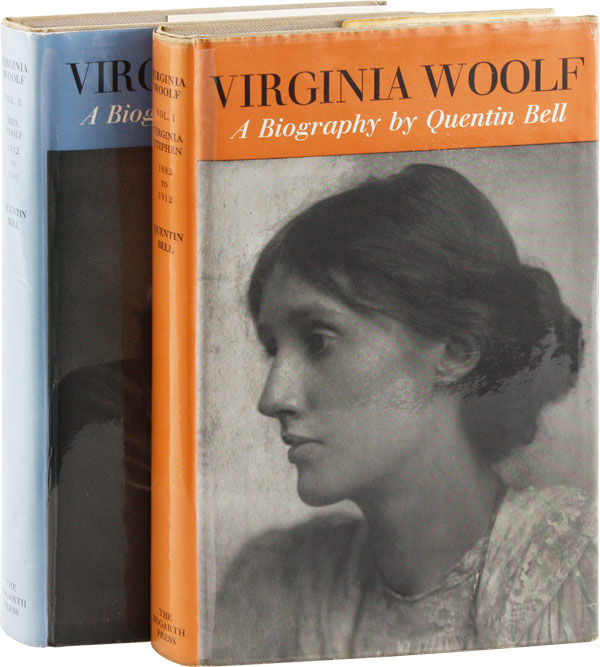 London: The Hogarth Press Ltd, 1972. First Editions. First Impressions. Two octavo volumes (24cm); pale gray cloth, with titles stamped in gilt on spines; dustjackets; xvi,230,[2]; xii,300pp. Gentle sunning to upper board edges. some faint, scattered foxing to text edges, with upper corners gently bumped on Vol.2; Very Good+. Dustjackets are unclipped (priced £3), lightly edgeworn, with some gentle laminate lift along the front joints, and a thin strip of toning/dust-soil along the upper edge of Vol.1; Very Good+
Offered by Lorne Bair Rare Books.
ASK FOR AMMEN'S COUGH SYRUP IT WILL CURE YOUR COLD.
c. 1900. ASK FOR AMMEN'S COUGH SYRUP IT WILL CURE YOUR COLD. 4 x 3.Label printed with lithographed illustration of a young girl.
Offered by L'Estampe Originale.
Put Money In Thy Purse: A Diary of the Film Othello (Signed, First Edition)
by MAC LIAMMOIR, MICHAEL; PREFACE BY ORSON WELLES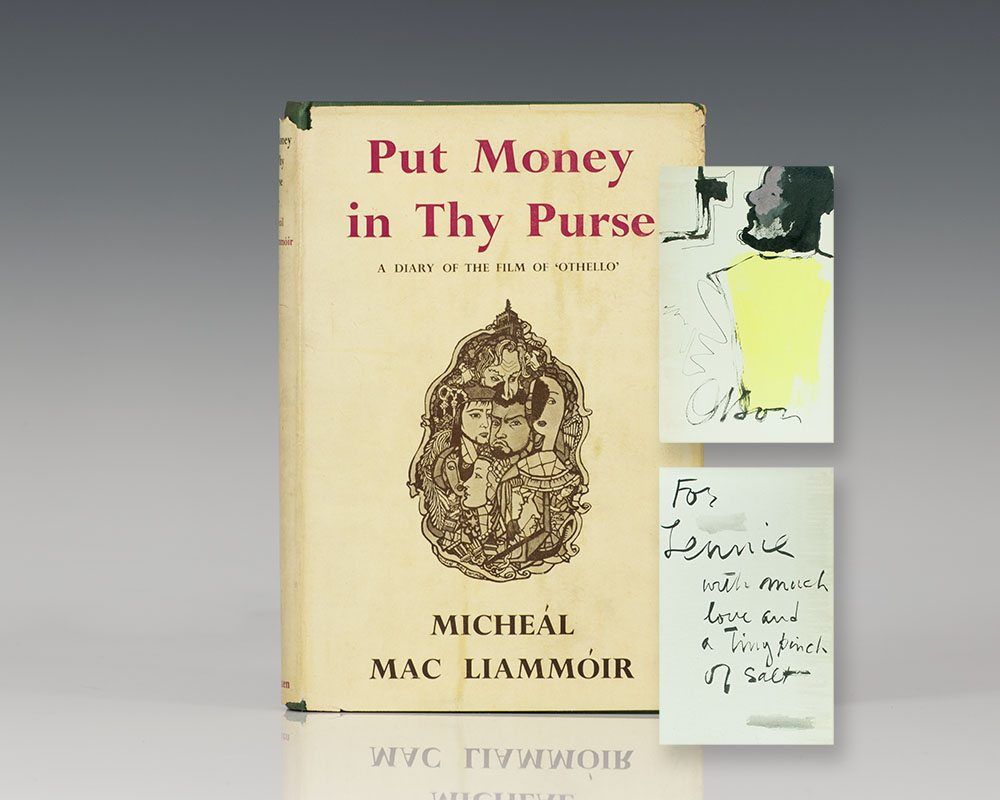 London: Methuen, 1952. First edition of this work on the film Othello. Octavo, original cloth, frontispiece of Welles as Othello. Association copy, inscribed by Orson Welles and with a painting (self-portrait) done by him across the front endpaper and the front pastedown of a self-portrait of Welles in black, purple and yellow paint and is inscribed "For Lennie with much love and a tiny pinch of salt Orson." The recipient, New York Post columnist Leonard Lyons was an early champion of Welles and the two were close friends for decades. Near fine in a very good dust jacket. Rare and desirable with such a warm inscription by one of the finest actors of the twentieth century. Othello is a 1951 drama film directed and produced by Orson Welles, who also adapted the Shakespearean play and played the title role. Recipient of the Palme d'Or at the 1952 Cannes Film Festival, the film was distributed by United Artists when it was released in the United States in 1955. Othello was filmed on location over a three-year period in Morocco, Venice, Tuscany and Rome and at the Scalera Studios in Rome. In addition to Orson Welles, the cast consisted of Micheal MacLiammoir as Iago, Robert Coote as Roderigo, Suzanne Cloutier as Desdemona, Michael Laurence as Cassio, Fay Compton as Emilia and Doris Dowling as Bianca.
Offered by Raptis Rare Books.
Belle de jour (Original photograph of Catherine Deneuve and Luis Bunuel from the set of the 1967 film)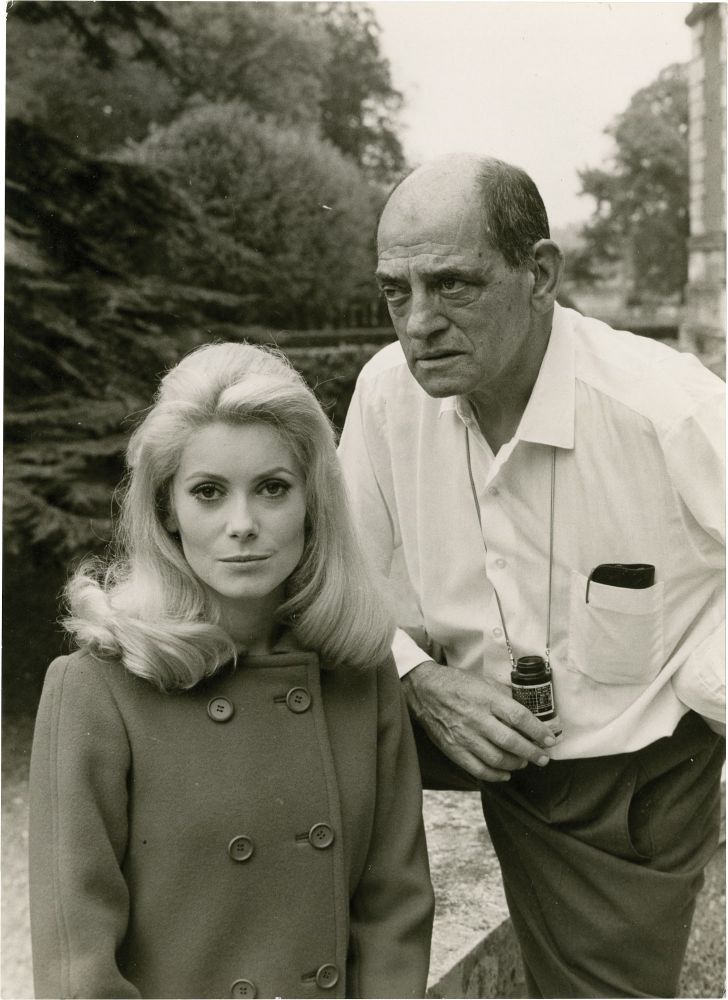 Paris: Robert et Raymond Hakim / Sud-Films Distribution, 1967. Vintage black-and-white borderless still photograph of Catherine Deneuve and director Luis Bunuel on the set of the 1967 film. With the French producer's stamp on the verso ("Robert et Raymond Hakim"), and a printed list of credits in French.
Buñuel's first color film, about a young housewife who begins working in a brothel while her husband is at work, with tragic consequences for him and a jealous client involved in organized crime. Winner of the Golden Lion at the 1967 Venice Film Festival.
5 x 7 inches. Near Fine. Criterion Collection. Ebert I. Godard, Histoire(s) du cinema. Rosenbaum 1000. Vogel, Film as a Subversive Art.
Offered by Royal Books.
by Frank Herbert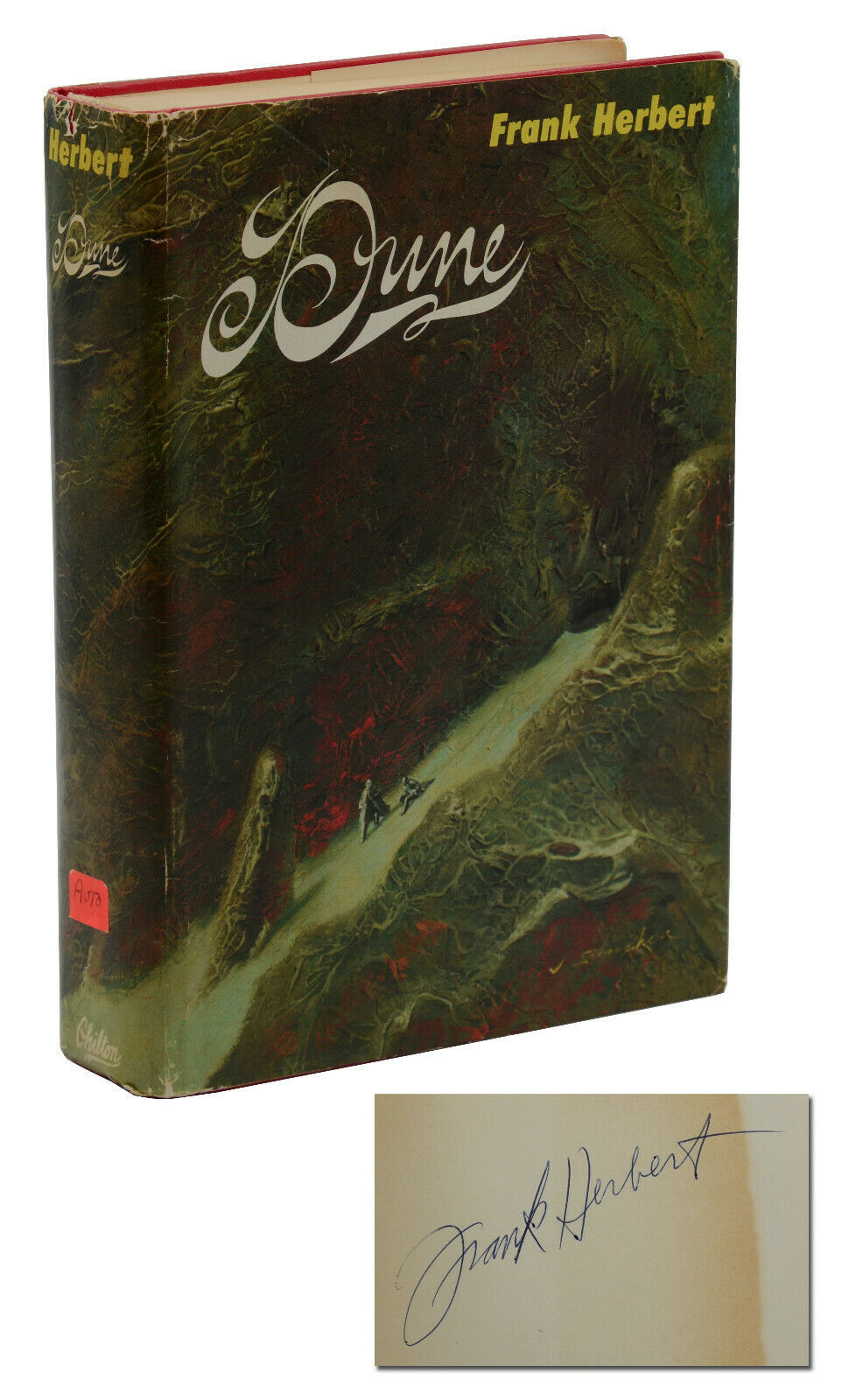 Philadelphia: Chilton Book Company, 1965. Book Club Edition. Near Fine/Very Good. Book club edition. Signed by Frank Herbert on the front free endpaper. In publisher's original red leatherette binding with titles stamped in silver on the spine. Near Fine with light leant o binding, trivial wear to corners and spine ends; offsetting to front endsheet from a formerly laid in newsclipping, affecting Herbert's signature; rear inner hinge worn. In a Very Good dust jacket with BCE statement on front flap clipped, small old orange label adhered to spine, light edge wear and toning.
Offered by Burnside Rare Books.
A YELLOW FEVER EPIDEMIC HOW IT STARTED AND HOW THE CITY WAS SAVED Parere medico sulla malattia febrile
by PALLONI, GAETANO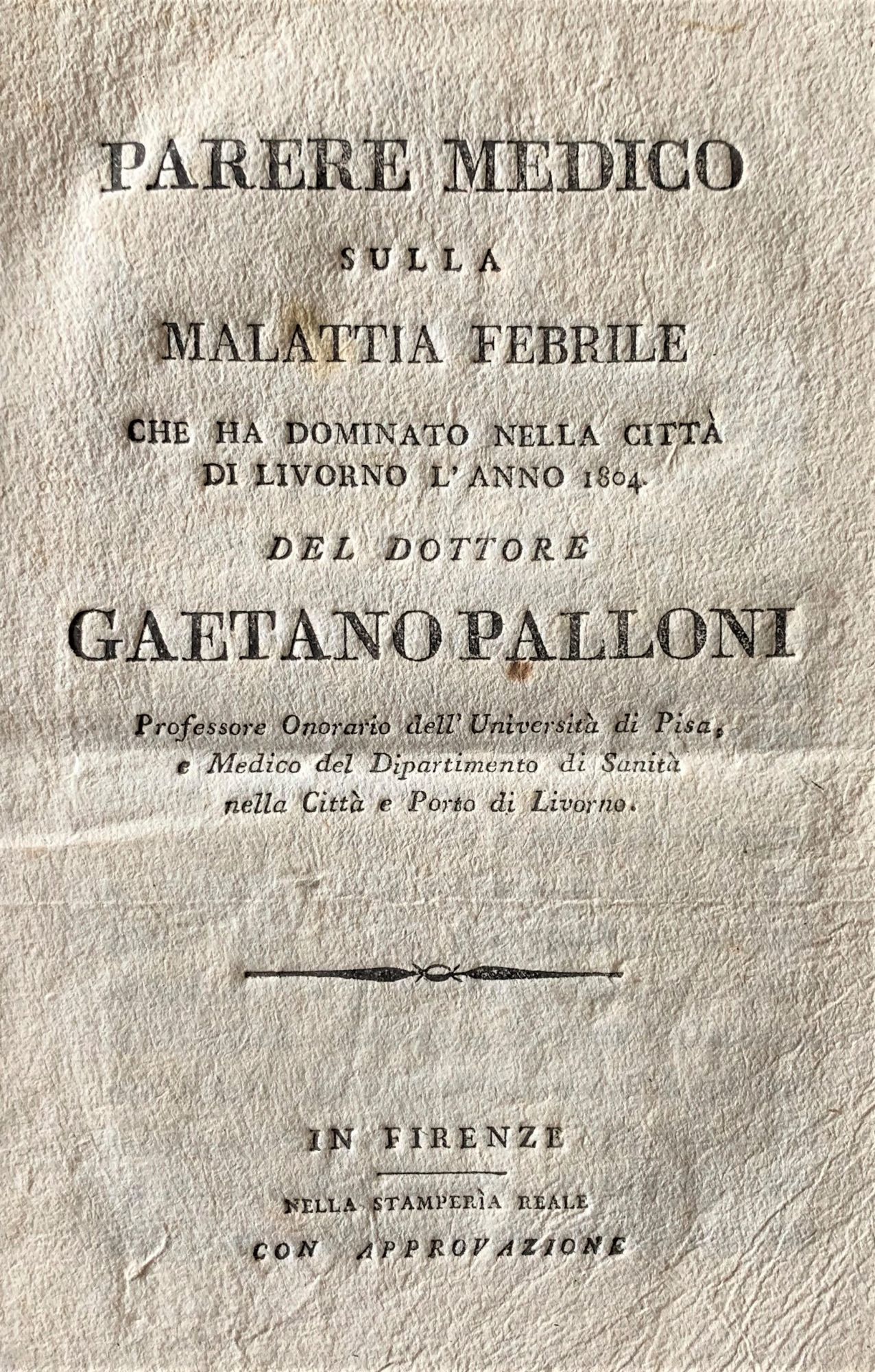 8vo. 34 pp. Bound in slightly later binder's waste wrappers, uncut. An excellent copy of an exceedingly rare medical text. First edition, a reflection on the four-month long yellow fever epidemic in Livorno by the doctor who saved the city. In August 1804, a ship sailing from Spain docked in the port of Livorno carrying a crew suffering the advanced stages of the disease. No quarantine measures were taken because Spain was usually considered a safe country of origin, so yellow fever spread rapidly through the Tuscan city. City officials called Palloni, already a celebrated physician and epidemiologist in Florence, to travel to Livorno and address the problem. He instated rigorous quarantine, sanitation, and isolation measures for all city residents, and the epidemic was over before the end of the year. In the text, he stresses that systems of this kind are necessary in all countries to stop the spread of deadly viruses; in a note on page 21-22, he recalls the 1793 epidemic in Philadelphia that spread to New York due to a failure to institute the necessary sanitation measures.
We have located only 2 copies of this timely book in U.S. collections (Harvard and NLM).
Offered by Rootenberg Rare Books.
UNTRODDEN STREETS OF TIME by John Falkner [pseudonym of E.F. Gale]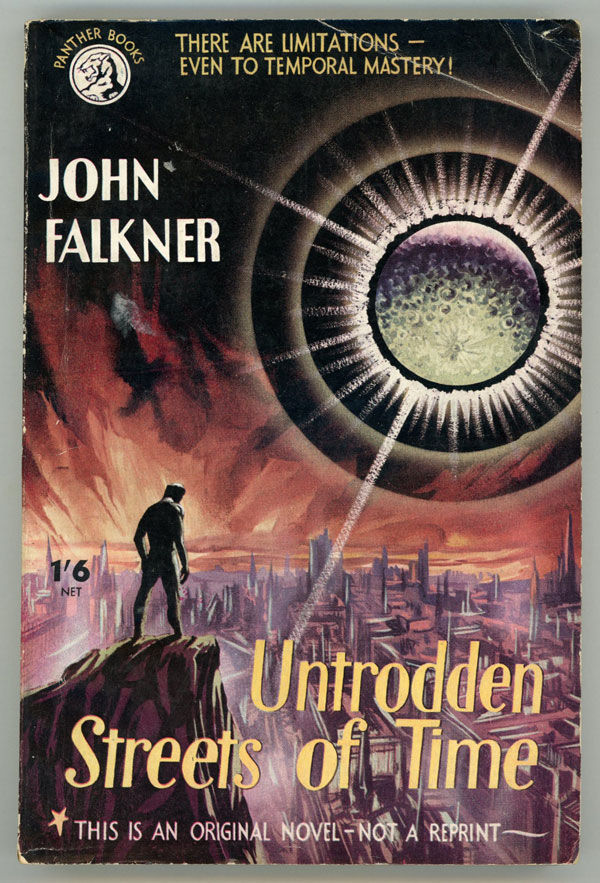 London: Panther Books, 1954. Octavo, cover art by John Richards, pictorial wrappers. First edition. Panther Books 136. The one man who knows how to time travel goes into the far future in order to save humanity, which is threatened with extinction from a plague virus, but he becomes caught up in the struggles of the future society -- and a love affair. "An ambitious story, but disappointingly handled." - Harbottle and Holland. Clarke, Tale of the Future (1978), p. 103. Reginald 05019. Harbottle and Holland A192. Front cover edges rubbed, touch of dust soiling to rear cover, a bright, nearly fine copy.
Offered by L.W. Currey.
May Day vs. Labor Day: A Comparison of the Social Significance of the Two Days of Labor Celebration
by JOHNSON, OLIVE M.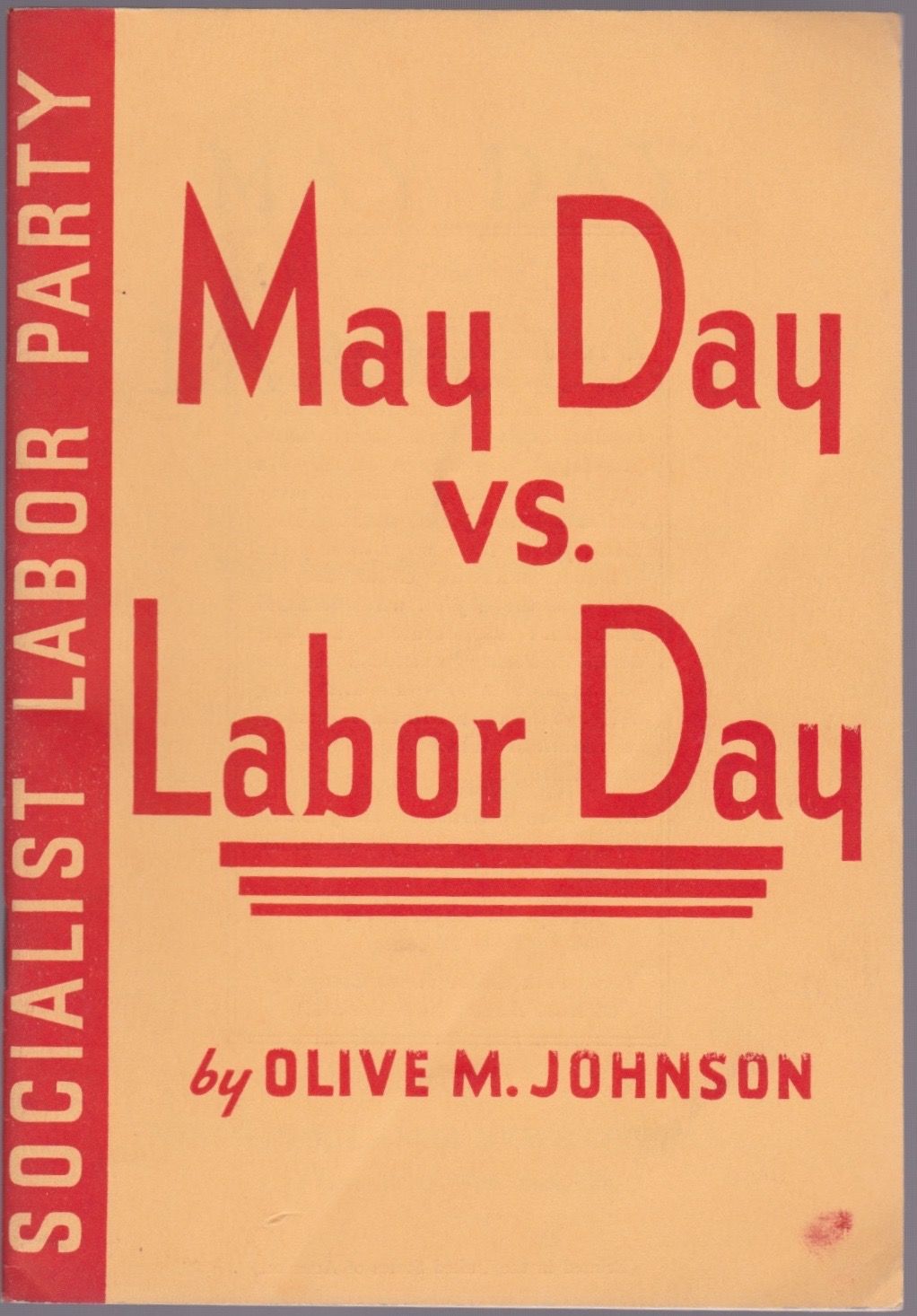 New York: New York Labor News Company, 1936. First Edition. 12mo (7 1/4 x 5 inches; 183 x 126 mm), 40 pages in stapled wrappers.

A spirited -- rollicking, even! -- essay, with attacks on "fakers," "impostors," "swindlers," and other enemies of the working class.

May Day is the true holiday of the proletariat, the author says, while Labor Day in the U.S. is fake because it "sticks to the hollow pretense of a brotherhood between capital and labor..."

Issued by the radical Socialist Labor Party, the pamphlet argues that American labor leaders have eagerly embraced the capitalist class. "The 'labor' leaders travel through the country in the grandest style, stop at the 'swellest' hotels--often as not, manned with non-union labor. Where they go, liquor flows expensively and plentifully--sometimes swinishly." (page 30)

The author, Olive M. Johnson (1872-1954), was a longtime activist, editor, and pamphleteer for the Socialist Labor Party.

This pamphlet is peak agit-prop. SCARCE.

CONDITION: Light soling and creasing to wrappers. Pages clean and unmarked. A Very Good or better copy.
Offered by Le Bookiniste.
Nicknames of the States [Advertising/Promotional Map]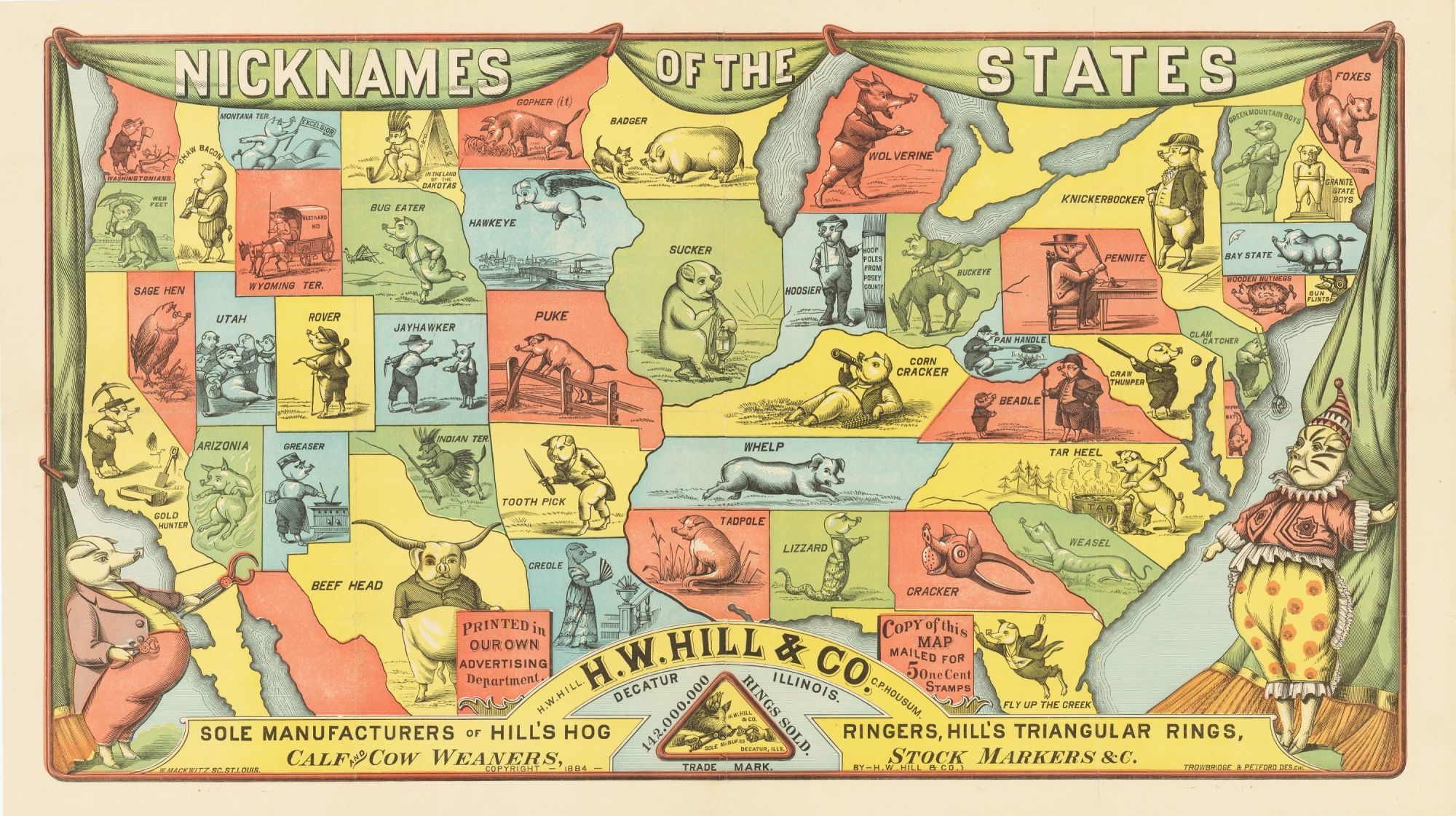 Decatur, IL: H.W. Hill & Co, 1884. Lithograph printed in color, 12" x 22" at neat line, plus margins. Old folds, with some minor tears and separations mended on verso; very good. A colorful, clever, appealing and rare promotional map of the United States published by "the sole manufacturer of Hill's Hog Ringers, Hill's Triangular Rings, Calf & Cow Weaners, Stock Markers &c." Each state is identified by its nickname and illustrated by a pig exhibiting a corresponding character or actions. Thus for example the pig in Massachusetts, the "Bay State," is baying at the moon; the pig in Louisiana, the "Tadpole" state, has the tail of a tadpole; and the pig in North Carolina, the "Tar Heel" state, tends a vat of boiling tar. At lower left a well-dressed and prosperous pig holds the two types of tongs used to attach a ring to a hog's nose, while the lower right corner features a pig in a harlequin costume. Antique Map Price Record lists no examples of this map on the market in the past 30 years.
Offered by Walkabout Books.
by SHARPE, PHILIP B.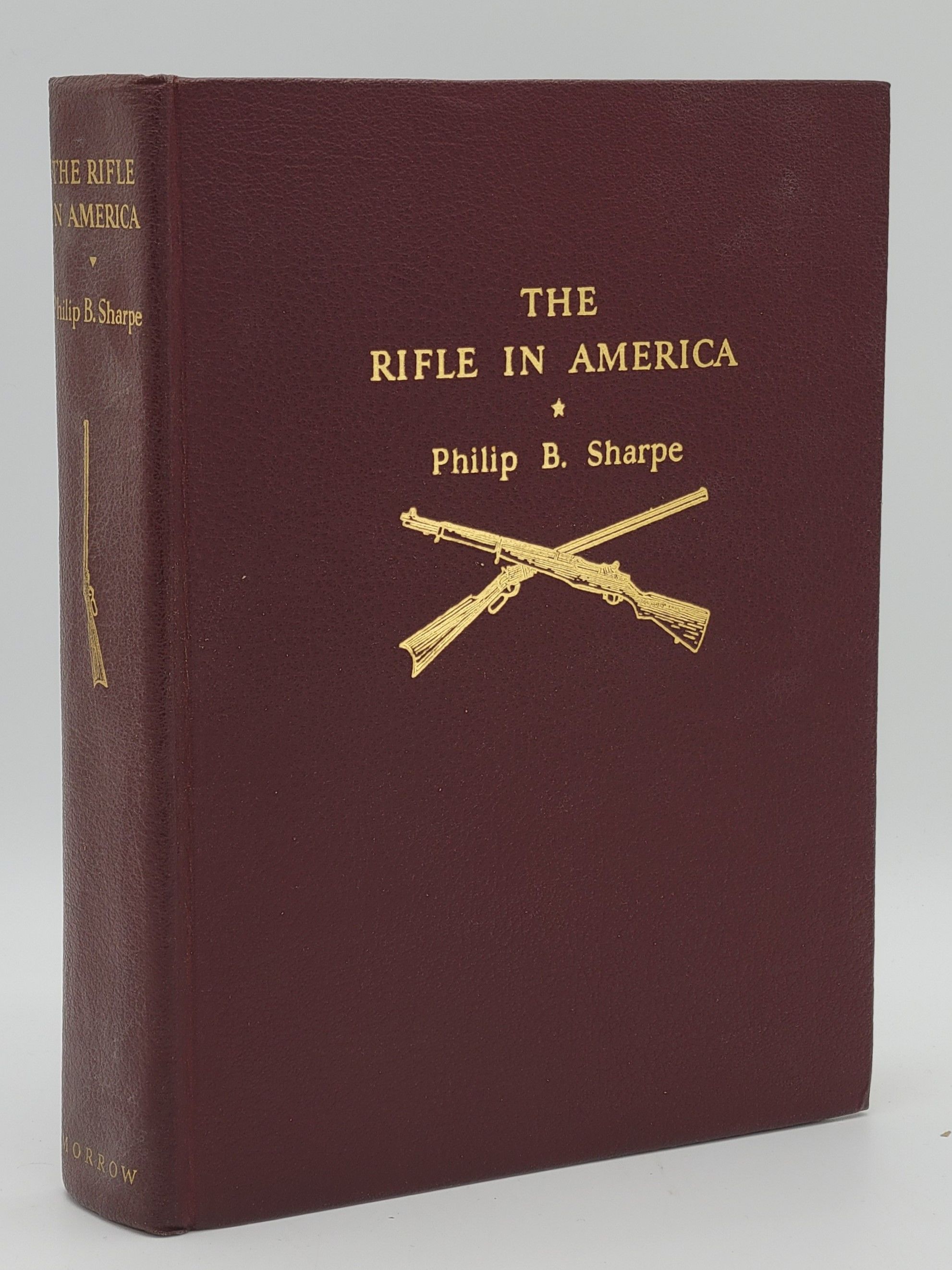 New York.: William Morrow., 1938. 1st Edition.. Brown leatherette, gilt titles, . Near fine, owner's ink name to ffep, in a good slipcase. . 27.2x20.2 cm. . Signed by the author on the ffep. Heavy book, will require extra shipping. weight: 5.1 lb. Introduction by Julian S. Hatcher. Numerous illustrations.
Offered by Lee Johnson's Zepher Books.
Walden, [or Life in the Woods]. In Two Volumes
by Henry David Thoreau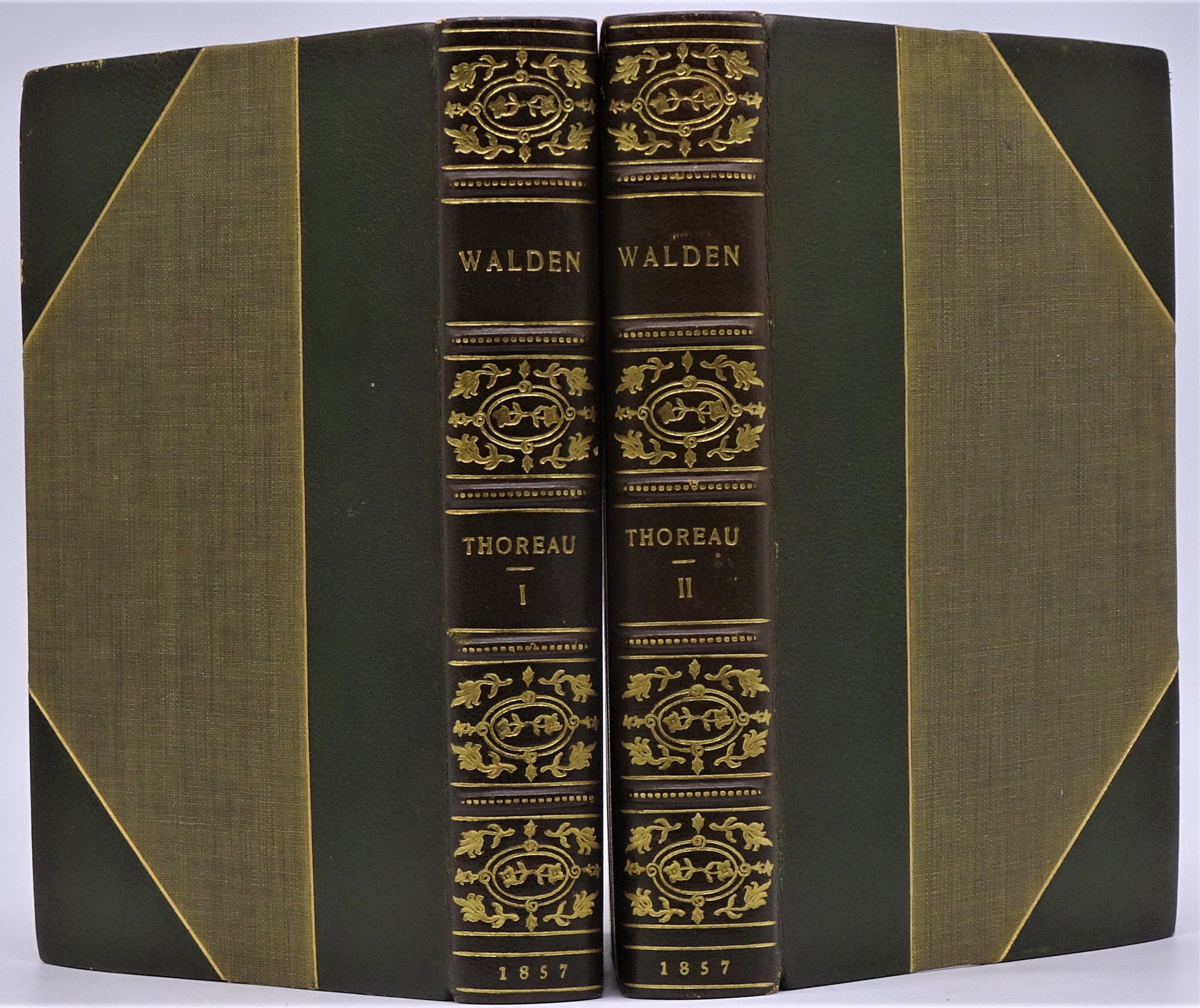 Boston and New York: Houghton Mifflin and Co., 1897. xliii, 7-259, vi, 261-522 pages. Each volume with added title page, engraved, with vignette, with alternative title: ..." Life in the Woods." Includes index. With few exceptions, the illustrations from photographs taken by A. W. Hosmer. Each volume with 13 illustrations plus vignettes and frontispieces. Handsomely rebound in mid-20th century half morocco over green buckram boards, floral gilt spines, top edges gilt, marbled end papers, the period bookplate of O. R. Kiefer. Near Fine, light wear at edges of boards, a few small scratches. An uncommon edition of Thoreau's masterpiece, especially so in fine binding. . First Houghton Illustrated Edition . Half Morocco. Near Fine. 8vo - over 7¾" - 9¾" tall.
Offered by Dale Steffey Books.
Le Comte de Monte-Christo; [The Count of Monte-Cristo]
by Alexandre Dumas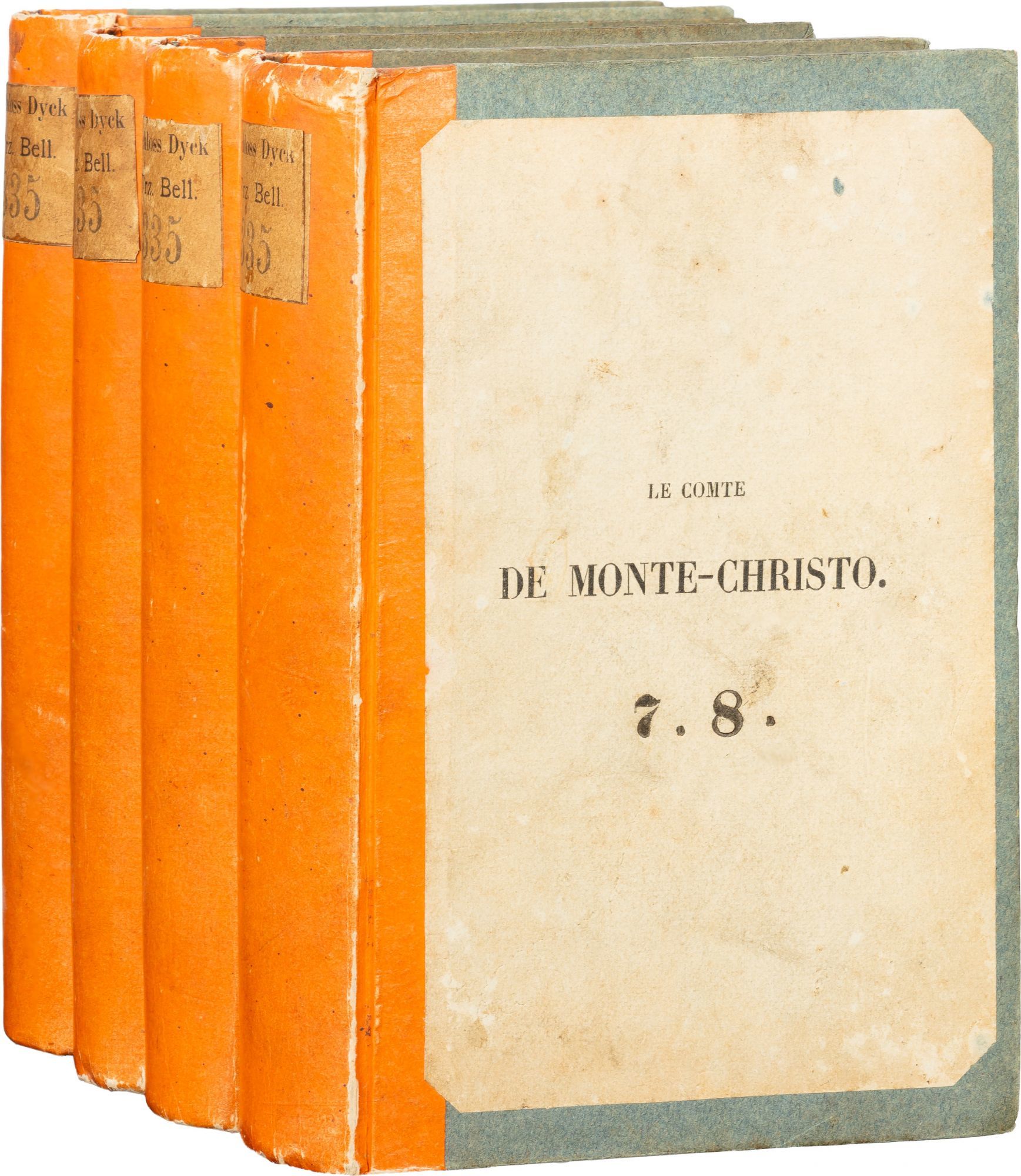 Brussels: Société belge de librairie Hauman et ce, 1846. First Edition. Hardcover. Very good. 8 vols. in 4. 1st edition (many issues simultaneous or nearly so), the first 6 dated 1845, the last 2 dated 1846. Contemporary half orange paper, gray boards (a German bradel binding), paper labels on each spine ("Schloss Dyck Frz Bell" above a stamped "335"), complete with all 8 half-titles those for vols. I, III, V, and VII bound in at the front of each of the 4 volumes, those for vols. II, IV, VI, and VIII mounted on each front cover, the vol. I and III title pages inverted, with handwritten corrections, 4 text pages with minor marginal wear, else very good.
Offered by Biblioctopus.
THE IRON CLADS IN THE RIVER ARE ABOUT TO MAKE AN ATTACK ON US AND I SHOULD NOT BE SURPRISED IF THE SHOULD BE UPON US SOME STILL DARK NIGHT. . .. WE DON'T MEAN TO RUN AND GIVE UP THE BLOCKADE." Letter from the first African-American graduate of Yale who became the U.S. Navy's only African-American Ship's Surgeon during the Civil War
by R.H.G. [RICHARD H. GREEN]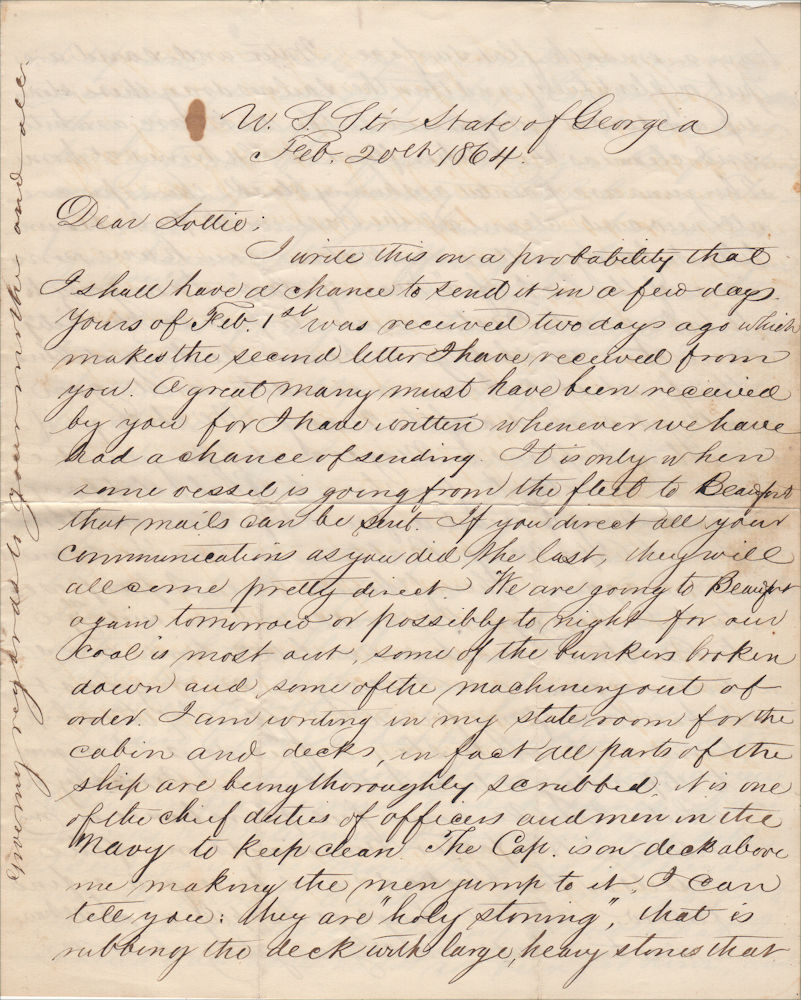 U. S. Steamer State of Georgia off the Carolina Coast. Unbound. Very good. This six-page letter is datelined, "U.S.St'r State of Georgia / Feb. 20th 1864". It was sent by Richard H. Green, an African-American Ship's Surgeon, to his fiancé, Lottie [Charlotte A. Caldwell] of Bennington, Vermont. There is no mailing envelope. A transcript will be provided.
Although Richard Green had long been known as a Yale alumnus, it wasn't until the school purchased and processed a collection of papers in 2014 that it discovered not only was he an African-American, but that in 1857 he became Yale's first African-American graduate.
Green was the son of a well-regarded free black shoemaker who had settled in New Haven in 1833. In the 1850 census, Green was identified as a 17-year-old "mulatto" clerk, and ten years later in 1860 as a 26-year-old "black" teacher. He later attended medical school at Dartmouth and joined the Navy during the Civil War as an Assistant Surgeon. Green sent this letter to his white fiancé, Lottie, while participating in the Union blockade off the Carolina coast. Following the war, the couple married and settled in Hoosick, New York where Green opened a medical practice. There, he changed the spelling of his surname to Greene, and in the 1870 census was listed as a white man. No post-war documents identify him as an African-American.
Green devotes half of this letter to discussing marriage plans with Lotte. In the other half, he describes life aboard ship and the concerns about Confederate ironclads. Some excerpts include:
"It is one of the chief duties . . . in the Navy to keep clean. The Cap. Is on deck . . . making the men jump to it. . .. They are "holy stoning", that is scrubbing the deck with large, heavy stones that have a smooth flat surface. Water and sand are put on plentifully and then the sailors drag these stones up and down by ropes until the decks are all white and clean, all the brass work polished untill it fairly glitters, and then you have some idea of the look of a 'Man of War. . .. "Newbern has been attacked by the enemy and . . . the railroad . . . may be in their hands. . .. They have been repulsed once but they are massing their forces near it in great numbers and what happen is impossible to tell. Some rebel soldiers have . . . ran away and say that all the others would do the same if they could. . .. They say that the iron clads in the river are about to make an attack on us and I should not be surprised if they should be upon us some still dark night. . .. I expect we shall share pretty hard for there is no possibility of piercing any of their iron sides by shot. . .. We don't mean to run and give up the blockade. . .. The fort here fires with astonishing accuracy - they fired a shot over six miles which fell about one hundred yards a stern of the Quaker City. . .. When we get to Beaufort we are going to give a big dinner and invite some ladies from shore including some of the backers of the contraband schools that have been established here." . Exceptionally scarce. At the time of listing no other Richard Green letters are for sale in the trade. The Rare Book Hub identifies no other sales of Green letters except for those in Yale's 2014 purchase, and OCLC shows that to be the only institutional holding.
Offered by Read'Em Again Books & Paper.
ROUMELI TRAVELS IN NORTHERN GREECE
by LEIGH FERMOR, PATRICK
[London]: John Murray, 1966. Gilt cloth boards. Photographs by Joan Eyres- Monsell. Jacket design and map by John Craxton. First edition. Edges a bit dusty, extreme lower forecorner of binding and last third of text block show an old tidemark, otherwise a good copy in pictorial dust jacket with discoloration and loss along the lower portion of the lower panel. A good reading copy. First edition of this travel account, a companion volume to his earlier MANI TRAVELS IN THE SOUTHERN PELOPONNESE.
Offered by William Reese Company.
The World is Round/The World is Not Flat
by Gertrude Stein & Clement Hurd, Illustrated by Edith Thatcher Hurd.
SF: Arion Press, 1986. Paperback. Very good. 400cc. Pink cloth circular boards printed in blue with companion square volume and balloon. Box rubbed, else both books and balloon in very good condition.
Offered by Kenneth Mallory, Bookseller.
by Johannes Buchholtz. (Translated by Edwin Bjorkman.)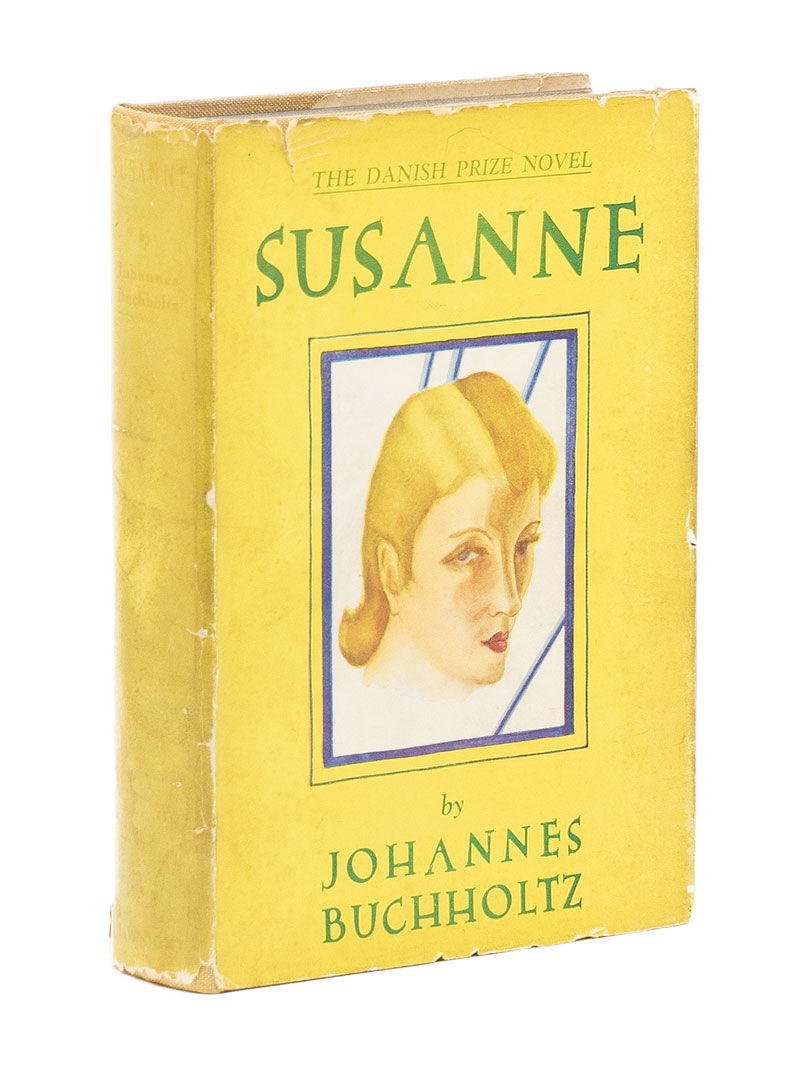 New York: Liveright, 1933. First American Edition, #FirstPrinting. Hardcover. Inscribed by translator Edwin Bjorkman to his wife on front free endpaper in year of publication. Bjorkman (b. Stockholm, 1866, died Asheville, NC, 1951) was a journalist, literary critic, and translator. Versatile and energetic, Bjorkman served variously as director for the Scandinavian Bureau of the American Committee on public information, literary editor for the Asheville Times, director of the North Carolina Federal Writers Project for the WPA, etc. etc. He was an eminent translator of plays etc., including the works of Strindberg, Schnitzler, et al.
Offered by The Captain's Bookshelf.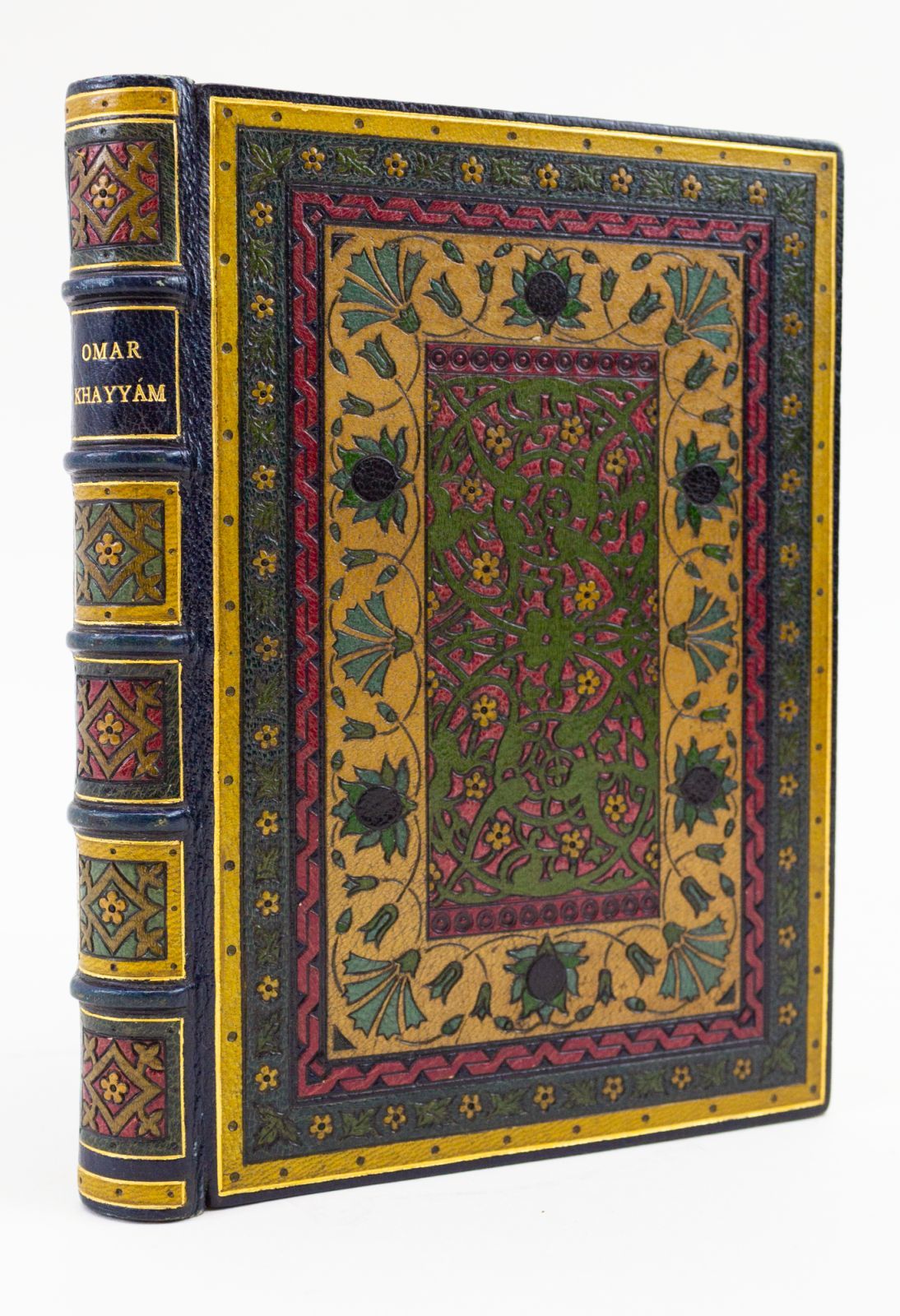 London: [Printed by Spottiswoode, Ballantyne & Co. for] George G. Harrap, 1920. 161 x 111 mm. (6 3/8 x 4 1/2"). 92, [2] pp. Translated by Edward FitzGerald.
LOVELY DARK BLUE CRUSHED MOROCCO BY CARTER (see below), ELABORATELY INLAID TO A PERSIAN DESIGN, covers with concentric outer frames of inlaid citron morocco, teal morocco with inlaid citron flowers and green leaves, an inlaid chain design of red morocco, central panel of upper cover with a wide fawn-colored morocco inner frame inlaid with turquoise morocco flowers, some with black morocco center, enclosing a rectangle of green morocco inlaid with pink and citron morocco to create a flowering vine, raised bands, spine compartments outlined in gilt, and framed with inlaid morocco in citron or gray enclosing an olive brown morocco lozenge sprouting a trefoil into each corner and with a small citron morocco flower inlaid at center, all on a background of either turquoise or pink morocco, gilt lettering, turn-ins with inlaid chain border of red morocco (the binding WITH A TOTAL OF MORE THAN 600 INLAYS), all edges gilt. Illustrated title page printed in colors, decorative text borders printed in pastel hues, and 12 black & white plates by Willy Pogany laid down within decorative frames. With the binder's original pencil sketch of the design laid in at front (old tape marks to verso of sketch and to front free endpaper from being originally tipped on); inlaid slip noting the book was bound by Carter "the binder of some of the miniature books in the Library of the Queen's Doll House." A breath of rubbing to corners, small, faint stain to margin of title page, light offsetting from plates, other trivial imperfections, but a very appealing copy, clean and fresh internally, in a beautifully preserved binding.
This is a pretty edition of the perennially popular Persian poem in a dazzlingly intricate binding. An inlaid typed note from a former owner identifies the binder responsible for this work of art as "Carter," who had bound some of the (postage-stamp-sized) books created for Queen Mary's Doll House in the 1920s. Preeminent London bindery Sangorski & Sutcliffe was awarded the commission for binding these books, according to "Cinderella of the Arts: A Short History of Sangorski & Sutcliffe," which reports that the workshop "bound tiny books in the finest Levant goatskin, complete with gilt edges, raised bands, and hand-tooled gold decoration throughout. They even made tiny ex-libris plates to be pasted on the inside boards. Queen Mary was so impressed by the high standard of workmanship she wrote a personal note of thanks to all the many contributors." Carter must have been one of the finishers who participated in this project, although we have not been able to find any further information about him.
The inlaid sketch of the binding design, noting the colors to be used, reveals an interesting decision by the artisan: when executing the central panel, he chose to inlay the pink morocco that actually forms the background into the green morocco that forms the main design element, consisting of complex swirls of vine and leaves. This reversal of the usual order of things (design laid into background) might seem a practical solution, as the green vine takes up most of the space in the panel, but it certainly wasn't an easy short cut. In places where mere slivers of pink background show through, our artist had to cut and carefully inlay irregularly shaped pieces less than a millimeter wide in spots—a task that required an especially high level of dexterity and expertise. Perhaps it posed less difficulty for someone who had worked on tiny doll house bookbindings; the present small octavo volume would, in comparison, seem like a double elephant folio.
The preface to this charming edition of "The Rubaiyat" relates its path to immortality: the translation done by Edward FitzGerald (1809-83) from a manuscript in the Bodleian Library at Oxford was published by Quaritch in 1859, but sold so poorly that "it was relegated to a box at the publisher's door in which book were offered at one penny." The poet and Pre-Raphaelite artist Dante Gabriel Rossetti bought one of these remaindered copies, and was so take by the text that he read it to literary friends, including the poet and critic Algernon Swinburne. The poem was championed by the fashionable literary set, and was soon being published in editions from basic to luxurious. The black & white plates here are the work of Hungarian artist Willy Pogany (1882-1955), who immigrated in 1914 to America, where he found success as an illustrator and set designer, known particularly for his depictions of exotic locales and ancient times. In addition to illustrating such works as "The Arabian Nights" and "The Golden Fleece," Pogany designed sets for the Metropolitan Opera and Broadway productions.
Offered by Phillip J. Pirages Fine Books & Manuscripts.
Rabbit is Rich (Signed Limited Edition)
by John Updike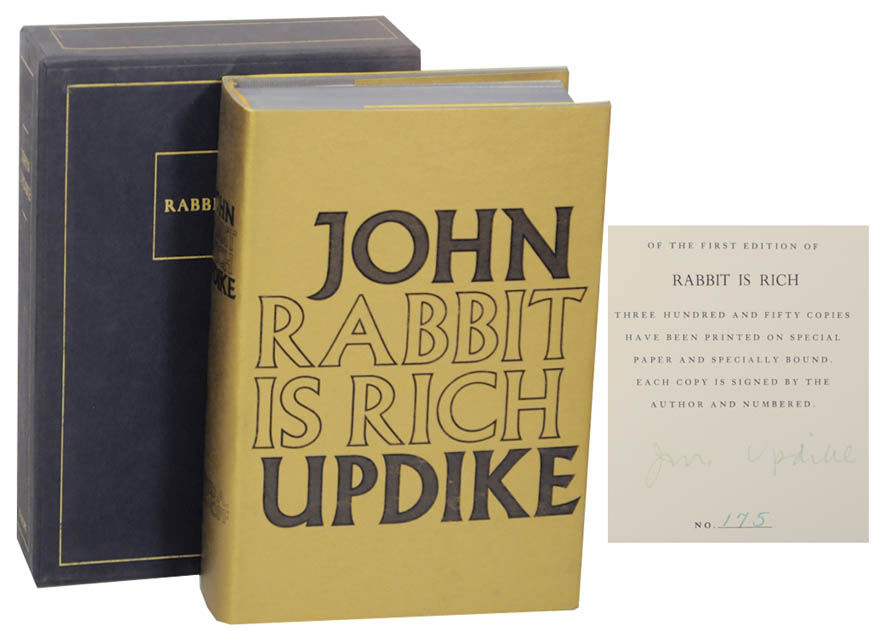 New York: Alfred A. Knopf, 1981. First edition and first printing. Hardcover. Number 175 of from an edition of 350 specially printed and bound copies. The third novel in the Rabbit Harry Angstrom series. Winner of the Pulitzer Prize. A very near fine copy in a very near fine dust jacket that differs from the trade edition in a near fine slipcase with some slight sunning to the opening. Signed by Updike on the limitation page.
Offered by Jeff Hirsch Books.
The American Diary of a Japanese Girl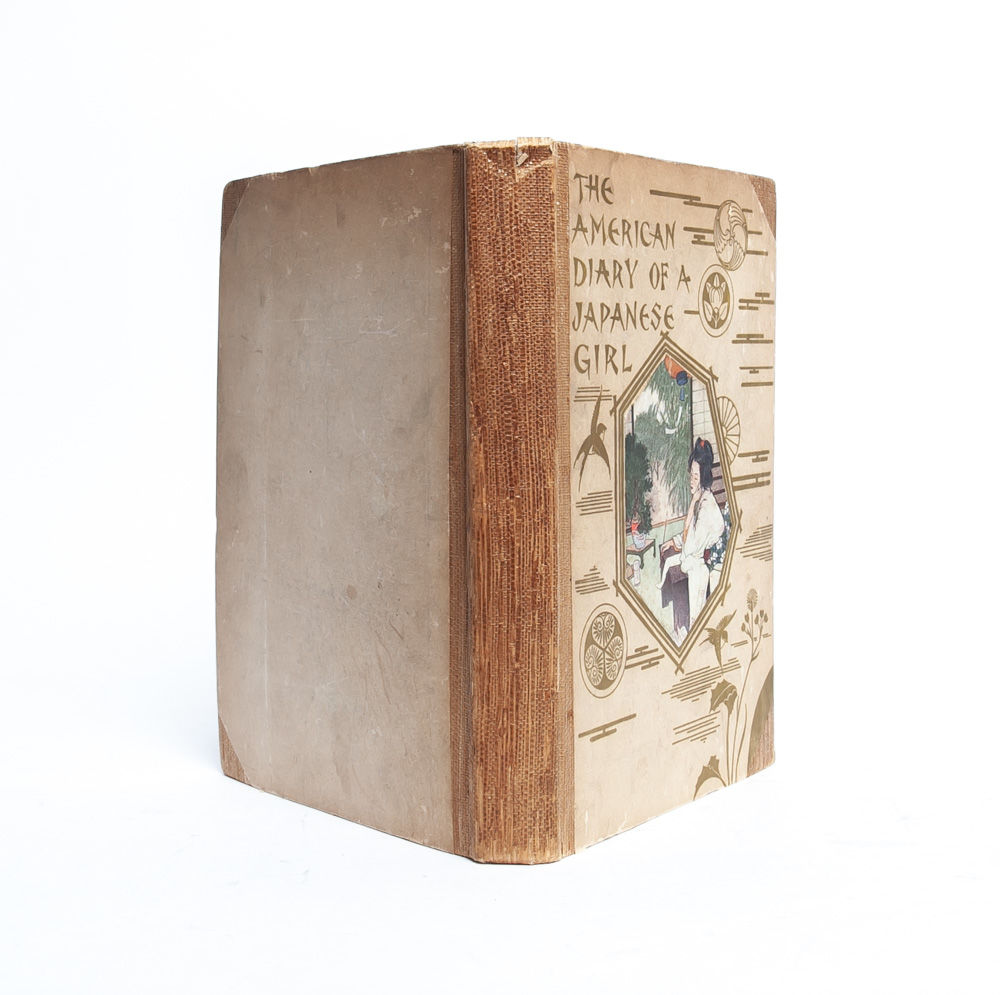 New York: Frederick A. Stokes Company, 1902. First edition. Near Fine. Original half bamboo mat over pictorial boards, retaining its bright colors and gilt with its delicate spine intact. Small snag to crown of spine. A touch of toning to the boards and some gentle shelfwear to bottom edges; front hinge a bit tender but holding. Contemporary ownership signature to front endpaper. Internally complete and pleasing. A work that has become scarce, likely owing to the delicacy of its binding, OCLC reports fewer than 50 surviving in libraries, it has not sold at auction since 1924. The present is the only example on the market.

"The first American novel by a writer of Japanese ancestry, The American Diary of a Japanese Girl is a landmark of modern American fiction and Japanese-American transcendentalism. First published in 1902, Yone Noguchi's novel describes the turn-of-the-century adventures of Tokyo belle Miss Morning Glory in a first person narrative that the New York Times called 'perfectly ingenuous and unconventional.' Initially published as an authentic journal, the Diary was later revealed to be a playful autobiographical fiction written by a man. No less than her creator, Miss Morning Glory delights in disguises, unabashedly switching gender, class, and ethnic roles. Targeting the American fantasy of Madame Butterfly, Noguchi's New Woman heroine prays for 'something more decent than marriage'" (Franey).

In many ways, Miss Morning Glory and her creator are reflections of each other; both question social definitions imposed upon them, pressing for a more complex and less binary understanding of individuality and humanness. Yone Noguchi, the son of a sculptor, lived in the United States from 1893-1904. During that time he was "an immigrant and a student-laborer who came to America in hopes of becoming an English language poet. He was very much connected with the Japanese American community...but at the same time really wanted to 'belong' in America. He had no idea about the kind of racism and Orientalism he would face" (Sueyoshi). His isolation and feelings of difference were both heightened and assuaged through his romantic and sexual relationships. A bisexual man, he engaged in a longterm affair with the poet Charles Warren Stoddard as well as with two white women, Ethel Armes and Leonie Gilmour before marrying Matsu Takeda. Near Fine.
Offered by Whitmore Rare Books.
The Grapes of Wrath by John Steinbeck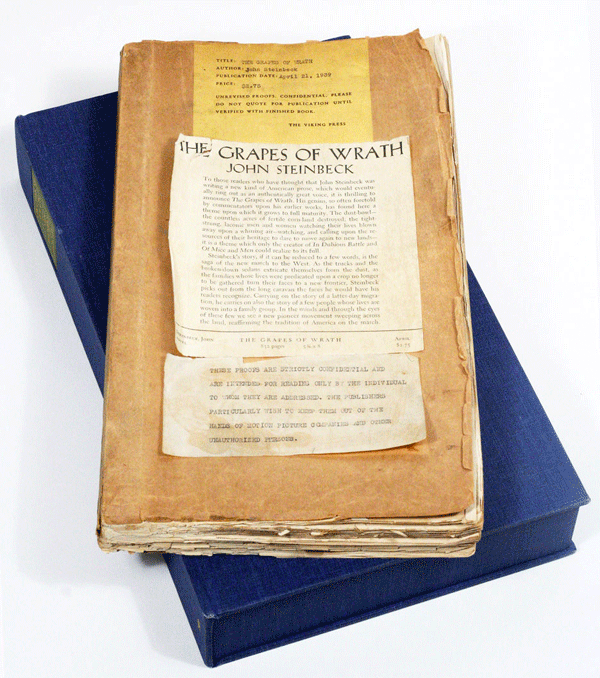 New York: Viking Press, 1939. #FirstEdition proof. Original wrappers. Very Good.
EXCEEDINGLY RARE GALLEY PROOFS - THE EARLIEST OBTAINABLE FORMAT, PRECEDING THE FIRST EDITION - OF ONE OF THE GREATEST AND MOST ICONIC AMERICAN NOVELS.
These extremely rare uncorrected proofs - marked "unrevised" and "confidential" on cover - were most likely printed for in-house editing and offered to only a handful of select reviewers. Primitively produced in paper wrappers with slips affixed to the cover noting among other things the proposed publication date ("April 21, 1939") and price ("$2.75"), and with the pages numbered by hand in pencil, the proofs provide a fascinating window into the creation of the novel.
It is certain there were changes made between this early state of the novel and the final, published version. As Bradford Morrow notes, "Even a cursory examination of these galley proofs reveals a number of textual differences between this and the final published version, and undoubtedly a meticulous collation of this text against the published text would uncover further variant passages" (Morrow, John Steinbeck: A Collection of Books & Manuscripts, Formed by Harry Valentine). Morrow 103.
Although the crudely and hastily cut sheets are long by book standards (approx. 12.5 inches in length), they are actually "halved" sheets of galleys. Steinbeck's own copy of the galleys is an "unhalved" set - approximately 24 inches long - and it is unclear if there are any textual differences between the two sets. An "unhalved set" like Steinbeck's, is almost certainly unobtainable, with only evidence of one copy having been on the market. The present "halved" set is one of only two or possibly three sets we've been able to locate having been offered for sale in the past fifty years, with the description of the first appearance (Jenkins, 1977) claiming (incorrectly) that it was the "only known and apparently only surviving set of original galley proofs."

The format is not listed in the Goldstone and Payne Bibliography, nor present in the Viking publishers archive at the University of Texas Ransom Center.
New York: Viking Press, before April 1939. Folio (approx. 7.5 x 12.5 inches), original brown paper wrappers with publisher's printed and typed labels to front wrapper; custom box. 324 sheets, numbered in pencil in the margins, printed on rectos only. Some edgewear to both wrappers and pages, some pages with tears and chips (almost exclusively in the margins).
ONE OF THE MOST IMPORTANT WORKS OF AMERICAN LITERATURE, IN EXTREMELY RARE, PRE-PUBLICATION STATE.
Offered by Manhattan Rare Book Company.
THE BRIDGE OVER THE RIVER KWAI by Pierre Boulle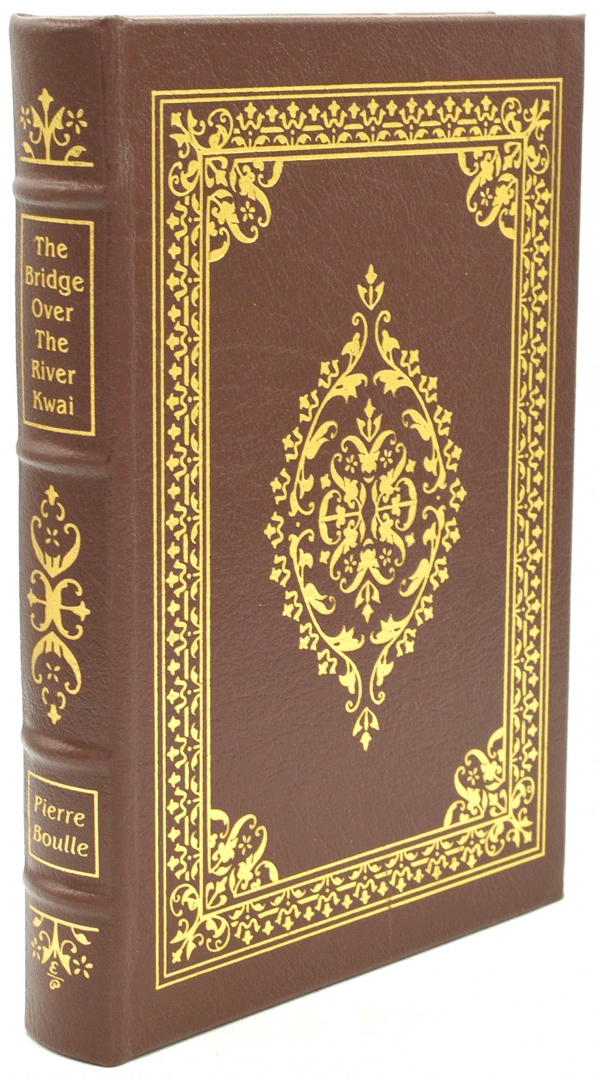 Norwalk CT: Easton Press, 1992. Full Leather. Very Good binding. Translated by Xan Fielding. Bound in the publisher's full brown leather with elaborate decorations in gold, silk ribbon bound in, all edges gilt, and silk moire endpapers.. Faint marks to the gilt edges. No marks of any kind in the book. Very Good binding.
Offered by Black Swan Books.
GHOSTS AND GREASEPAINT: A STORY OF THE DAYS THAT WERE by W. "Popie" MacQueen-Pope.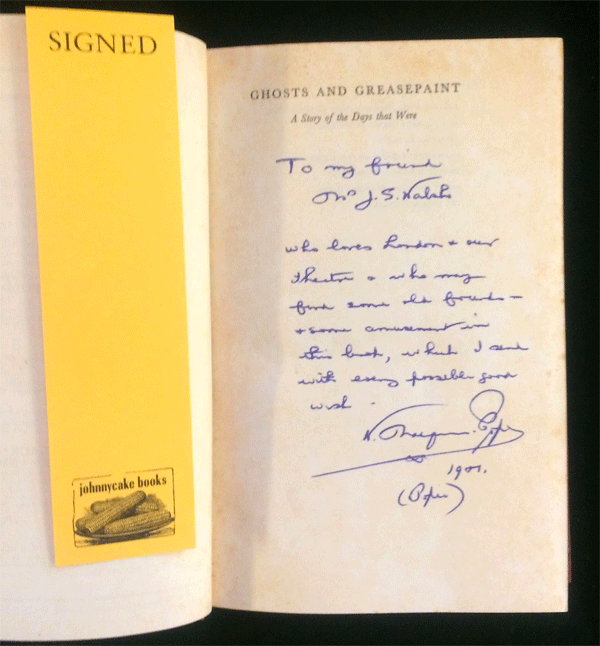 London: Robert Hale Limited, 1951. 1st Edition. Hardcover. Very Good+. Memoir by British theatre historian/author and publicist MacQueen-Pope known as Popie (1888 - 1960). Inscribed on the ffe: "To my friend Mr. J. S. Walsh who loves London + our theatre + who may find some old friends + some amusement in this book, which I send with every possible good wish. W. MacQueen Pope 1951 (Popie)" Solid copy, some foxing to prelims and title page, otherwise quite nice.
Offered by Johnnycake Books.
Photograph signed ("Jerrie Cobb") and inscribed, showing Cobb in flight suit before a jet fighter.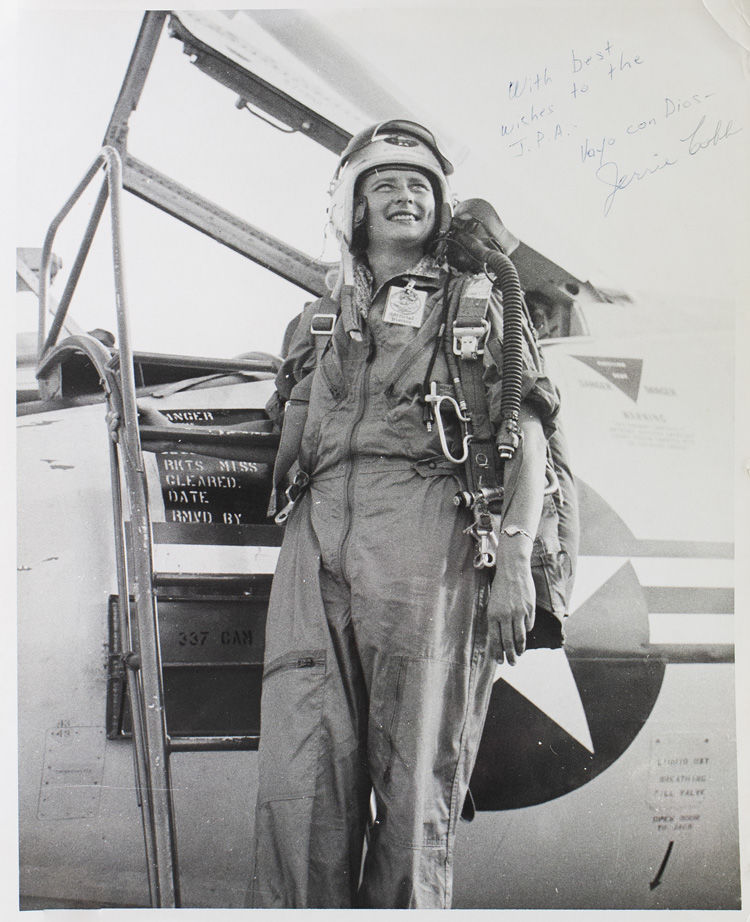 1961. 10 x 8 inches. Creasing to upper right corner. 10 x 8 inches. INSCRIBED: "With best wishes to the J.P.A. [Junior Philatelic Association] Vaya con Dios Jerrie Cobb".
Cobb (1931-2019) was teaching men to fly by the age of 19, and in her twenties set several records for speed, distance and altitude. She was part of the Mercury 13, a group of women who, in a privately funded venture in 1959, underwent the same physiological testing that the men of the Mercury 7 program were subjected to. She was the first of the group to undergo the testing and the only one to pass all three phases. Nevertheless she was not considered a candidate for space travel by NASA, though she was appointed as a consultant to the space program in 1961.
Offered by James Cummins Bookseller.
by GOETHE, WOLFGANG VON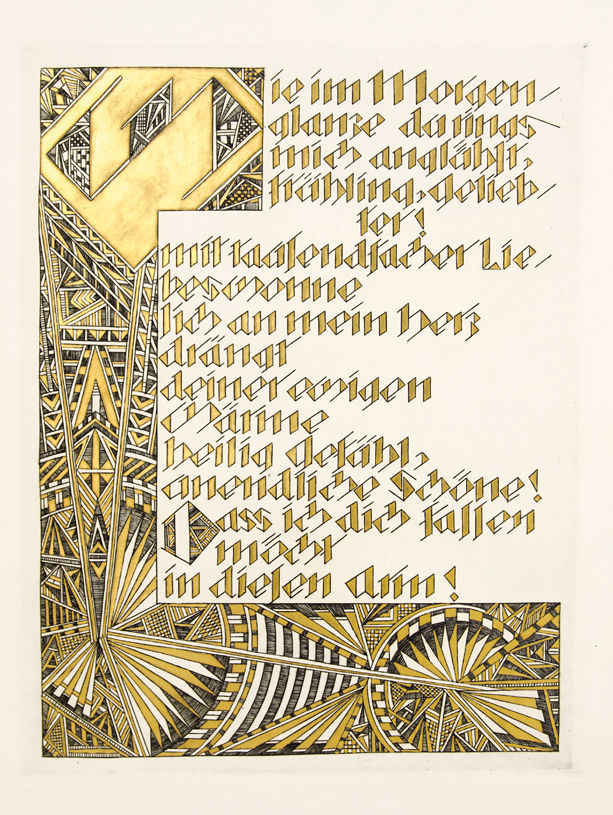 Worpswede, 1924. Uphoff, Fritz. Quarto. (20)ff. Within an edition of 100 copies, this is copy number one of version "no. 4." Signed by all the contributors: Ludwig Tügel, who designed the type, Carl Emil Uphoff, one of the printers and one of the founders of the Worpswede artists' colony, with his brother Fritz, who was responsible for the four full-page etchings and the ornamental giltwork throughout. Fritz Uphoff's signature also appears on each of the etchings. His illustrations, all of which center on the figure of a man contorted against himself or against an unseen external force, capture the dichotomy of these paired Goethe poems. By juxtaposing Prometheus, the ultimate rebel, with Ganymede, the ultimate acolyte, Goethe posited the human condition as a continual paradox between conformity and defiance. Uphoff's etchings evoke that internal dissonance. The book itself, by opting for a thoroughly modern design hinging on Art Deco motifs and a newly designed typeface (Tugel-Antiqua) over more Classical or Germanic conventions, embodies Goethe's philosophy. With its sumptuous giltwork on every page's border and on every letter of text, it exalts its content and one of Germany's most celebrated writers. At the same time, it scoffs at expectations, lauding the abilities of its artists and designers—Tügel and the Uphoff brothers—whose own vision admits its creation. A deeply fascinating effort in design and execution, bound in full vellum with the title tooled in gold to upper cover and the number 4 in gold at the spine. Endpapers boast full gilt design, matching those found throughout the book. Housed in fleece-lined slipcase likewise covered in vellum and with a gilt motif to match the one found on the volume's first page. A fine copy, with only trace instances of rubbing.
Offered by Bromer Booksellers.
by F. Scott Fitzgerald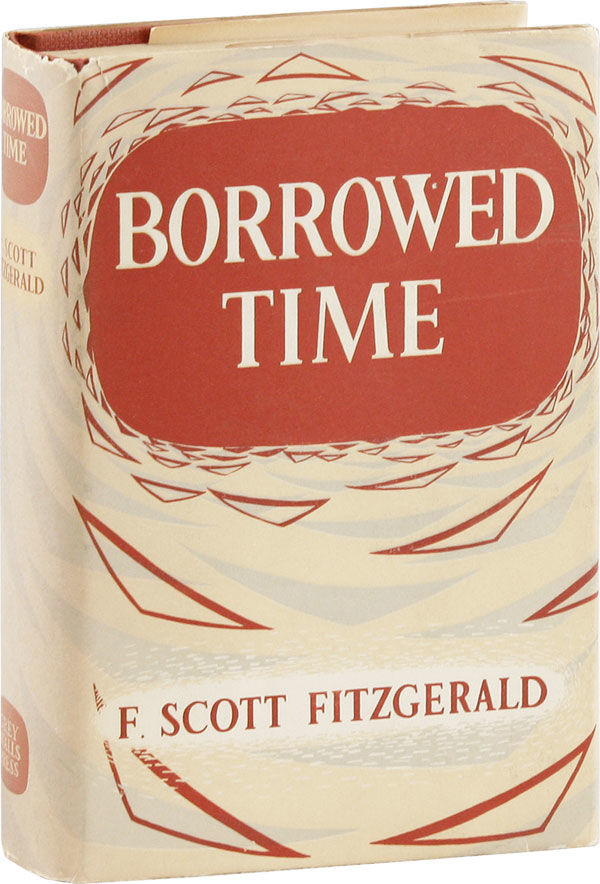 London: The Grey Walls Press, 1951. First Edition. First Impression. Octavo (19cm); brick red paper-covered boards, with titles stamped in black on spine; dustjacket; [6],7-366,[2]pp. Fine in a Very Good+ dustjacket, unclipped (priced 12s.6d. net), gently spine-sunned, with some wear to spine ends, and a few tiny nicks and tears. Posthumously published collection of nine short stories, selected by Alan and Jennifer Ross; all of the stories were previously published, but are collected here under this title for the first time.
Offered by Lorne Bair Rare Books.
[Archive]: Civilian Conservation Corps Metal Footlocker and Ephemera. Washington State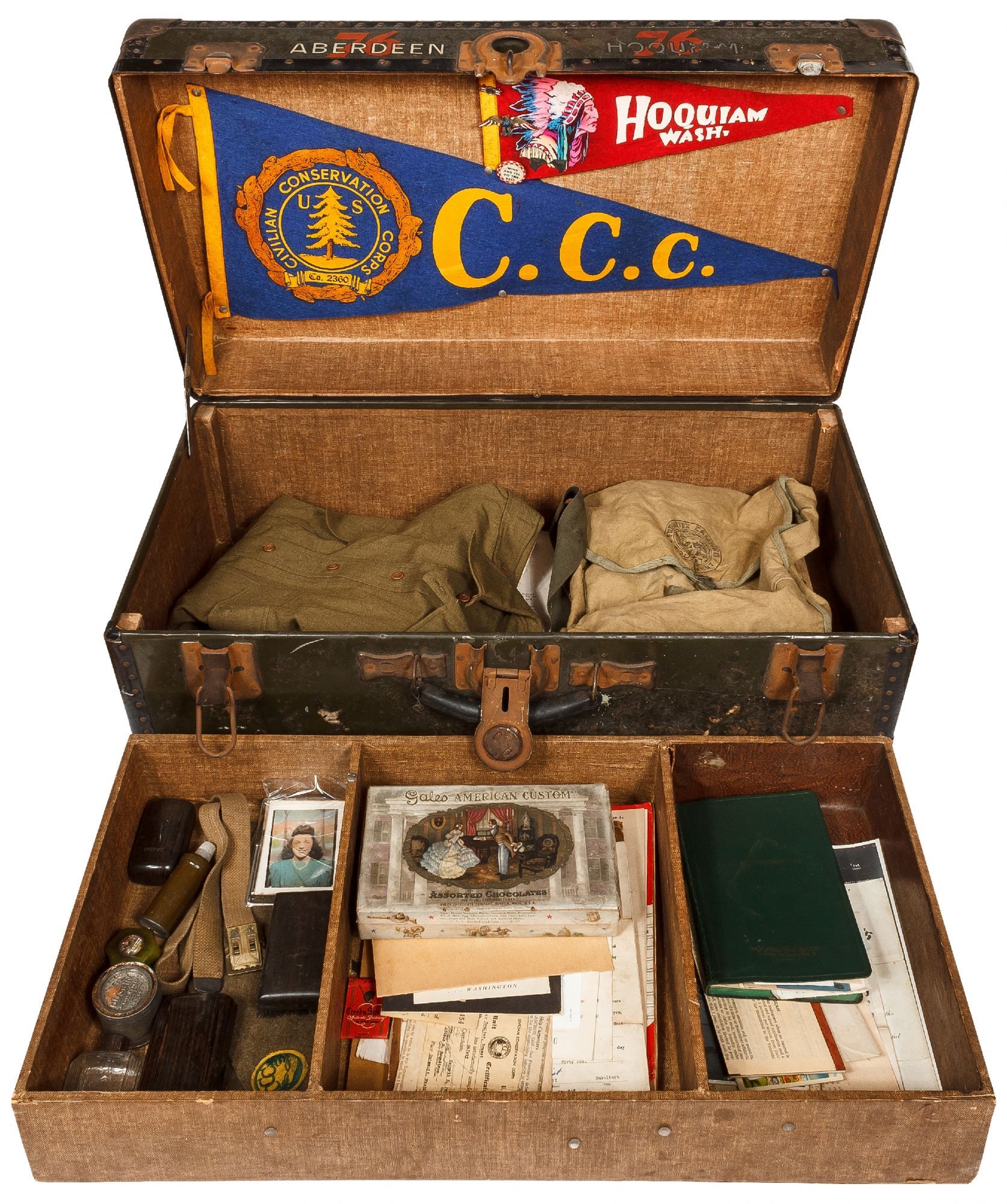 Pittsburgh, Pennsylvania; Quinault, Washington, 1941. Unbound. Near Fine. Olive drab metal footlocker owned by CCC member Ernest Coulter measuring 30" x 16" x 12". Handpainted on the lid is his name and hometown of Pittsburgh, Pennsylvania, and his destination, Quinault, Washington, plus a stylized profile portrait of a Native American in full headdress. Painted on the front edge, on either side of the lock, is "Aberdeen" and "Hoquiam" and the number "76" (twice). A bit of rust on the metal, the handles, hinges, and latches are intact, with the front lock bent. Two pennants are tacked to the inside of the lid: a blue and yellow CCC pennant with the logo of the CCC Company 2360 at the left; a red, yellow, and white pennant for Hoquiam, with a similarly stylized portrait, in profile, of a Native American. Included in the main body of the trunk are two green uniform-style shirts, with double front pockets with flaps and shoulder straps, a small day pack with the imprint of "Frontier Camping Equipment" on the flap, and a box with a few other pieces of memorabilia. A removable tray in the top of the trunk, sectioned into three compartments, contains parts of his kit, plus papers, 15 photos, 100 negatives, and other items.
Ernest Coulter (1923-2012) was born in Johnstown, Pennsylvania, but moved to Pittsburgh with his family at an early age. He had completed one year of high school, and his occupation was listed as "stockboy" when he joined the CCC in early 1941, at the age of 17. He was sent first to Camp Oronoco for conditioning, and then on to Camp Quinault near Hoquiam, Washington with Company 2360. This CCC company was composed of some 180 junior enrollees, primarily from Pennsylvania. According to his discharge papers Coulter served from January 18 to June 4, 1941 doing "park improvement (saw & ax)," in the newly established (1938) Olympic National Park. National Park Service history states: "Of all the projects undertaken by the Civilian Conservation Corps in Olympic National Park, perhaps none has more historical significance and present conspicuous visual impact than the main administration buildings at the Park headquarters in Port Angeles, Washington. It was only with extensive utilization of CCC labor, combined with large sums of money funneled to the Park through two other New Deal economic relief programs, that the establishment of the Park headquarters was assured." Coulter served with the CCC from January until June 1941.
He returned to Pittsburgh, but with the United States' entrance into World War II , he joined the Army. Papers in this foot locker indicate he served at Camp Butner in North Carolina, as a private, on guard duty with the Medical Department from March to September 1943. He was honorably discharged on September 28, his discharge papers are included here. He later applied for disability for an unspecified injury to his hands. Besides his discharge papers, which list his character as "excellent," the footlocker contains a copy of his enlistment record, a copy of the Liberty Overseas edition of the Pittsburgh Sun-Telegraph, Vol. 33, No. 107, from November 1943 [12 pp.]; and a printed brochure, "Zolar's Individual Horoscope and Lucky Guide," [NY: 1943] for Coulter's birth date. Post war material includes Coulter's Selective Service System / Occupation Certificate and his release from military service; eight pay stubs from the U.S. Rubber Company (1947); application for a disability pension (denied); miscellaneous postcards, a small (unused) address book, etc. The CCC, created in 1933, was known as Franklin Roosevelt's "forest army." It drew recruits from the relief rolls and employed them in conservation and forestry jobs in support of the National Park Service and other public works projects. Originally, CCC recruits were given two sets of clothes, a blue denim work outfit and a repurposed World War I style Army olive drab uniform for dress. According to National Park Service history, when Franklin Roosevelt visited a camp near Warm Springs, he was surprised by the poor quality of the uniforms and asked the Department of the Navy to design a special CCC uniform. These were in widespread use by 1939. As the country recovered from the depression and began to gear up for military defense, enrollment in the CCC decreased. In mid-1942, Congress voted to disband it.
An interesting group of images, printed material and artifacts that document the odyssey on one young American man from the CCC to the Army and beyond.
Offered by Between the Covers Rare Books.
by BAKER, MATT [ARTIST]; KATZ, JACK [ARTIST]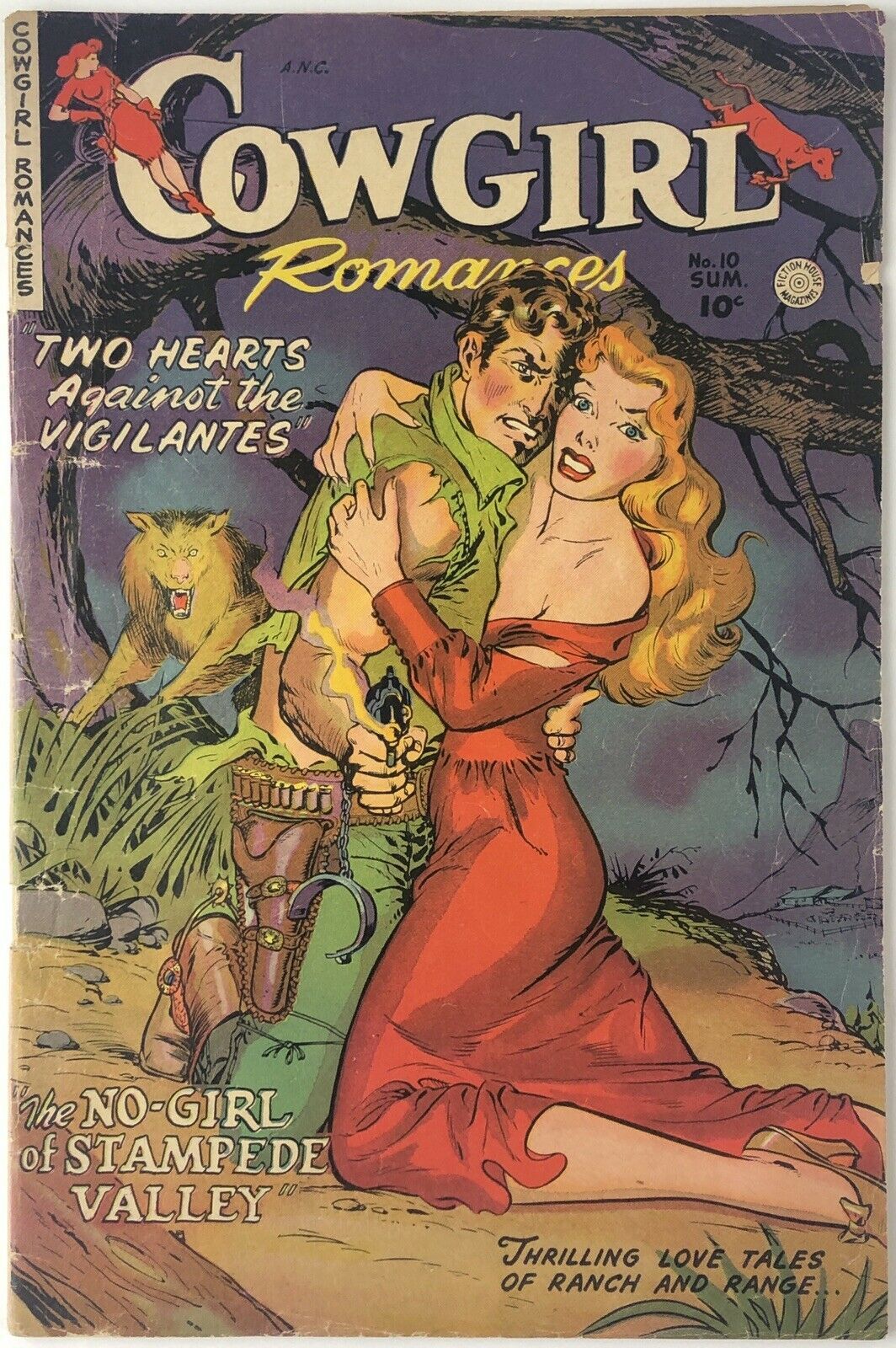 New York: Love Romances Publishing Co. (Fiction House), 1952. Softcover. VG; Covers have creasing and wear; stress marks along spine, ~1/4" tearing around staples, slight tearing along spine edges; small tears along fore edge of both covers.
Offered by Second Story Books.
CURIOSITY: Live from Mars (Poster)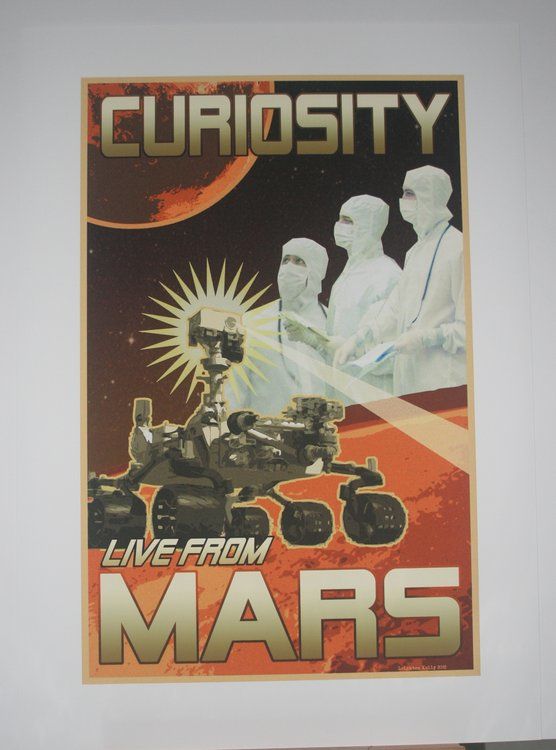 [ Newburyport, MA ]: MDTV, 2012. First Edition. Fine. First Edition. 17 x 24 inches (sheet size) with approx 2 inch white margins. One of only twelve copies produced. Printed on archival paper using a large format ink jet printer with pigmented archival inks. Colors bright and vibrant! Between 2009 and 2014 Mark Davis of MDTV produced two documentaries about the Curiosity Rover Mission (aka Mars Science Laboratory). One for National Geographic (MARTIAN MEGA ROVER, aired August 2012) ) and one for The Discovery Channel (RED PLANET ROVER, aired December 2014). While MDTV was gathering primary source material at Caltech's Jet Propulsion Laboratory (JPL), a poster project was commissioned by Project Scientist John Grotzinger of Caltech/JPL at the suggestion of JPL engineer Adam Steltzner. Steltzner envisioned the posters as motivational posters to be displayed in the areas where the rovers were being built, much like WWII war effort posters. MDTV agreed to take on the task of design and production. While the project was not finished in time to fulfill their intended purpose, these posters remain a vibrant and very visual representation of the scientists at work, and add to the visual record of the space program.

Three different poster designs were created and produced - one titled "Curiosity, Live from MARS", a conceptual piece highlighting the scientists and the Mars rover. The second "MARS Science Laboratory", shows the delivery of the rover to the surface. And the third, "Insatiable Curiosity", showing the rover on the surface of Mars. The edition was designed by artist Leighton Kelly and printed by Rob Day of Zeno Design on archival paper using a large format ink jet printer with pigmented archival inks.

Of the original twelves copies of each poster design printed, three sets (one of each design) were given to the JPL Scientist who commissioned the project, two sets to other people at JPL, one set was kept by MDTV, one set by the artist, and one single poster was sold to an engineer at JPL.

Kuenzig Books purchased the entire remaining production run from MDTV - four sets plus two additional posters and one triplet. We have (as of this writing) one remaining complete set and a few individual posters. They will not be reprinted.

NOTE: Since these were envisioned strictly as internal motivational posters, they were not signed or otherwise marked as a limited edition on the posters.
Offered by Kuenzig Books.
Album Olympique: Le Reflet Fidèle de la XIème Olympiade
Paris: Le Petit Parisien, 1936. First edition. Softcover. g. Folio. 62, [2]pp. Original illustrated wrappers. Front cover superbly illustrated by Paul Ordner, renowned commercial illustrator and poster artist. Exquisite commemorative album published by "Le Petit Parisien," the prominent French newspaper during the Third Republic with the biggest newspaper circulation in the world at this time. This work is a superb photographic record of the1936 Berlin Olympic Games with hundreds of photogravures depicting the major sportive events and actors of the XIth Olympiad. Some rubbing on spine and along front joint. Minor chipping and closed tear at upper corner of front wrap. Upper corners bumped, thus slightly affecting pages throughout. Very minor age-toning along paper margin. Text in French. Wrappers in overall good, interior in good+ condition.
Offered by Eric Chaim Kline Bookseller.
by Gerard Malanga & Andy Warhol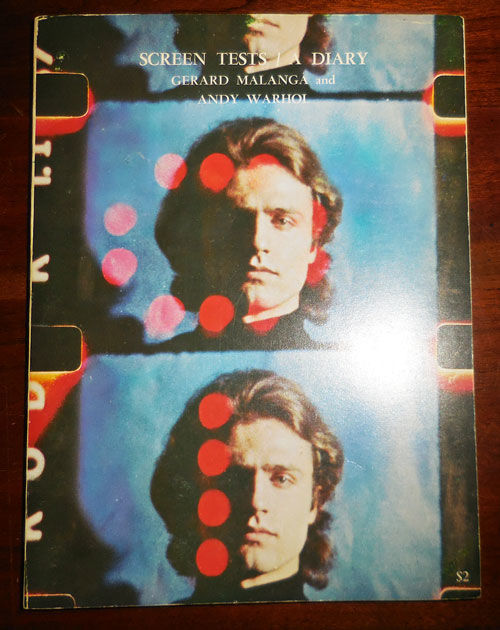 New York: Kulchur Press, 1967. First edition. Paperback. Very Good +. Paperbound quarto. First edition. With 54 leaves. The book reproduces stark photographic portraits of visitors to The Factory in the mid-1960's taken with Warhol's 16mm camera. Each portrait is printed on acetate with diary entries by Malanga on the facing page of each. Folks who are familiar with this book's construction know that it is extremely fragile and subject to page separation if opened to wide or to harshly. This copy's binding is still intact and their is no creasing at all at spine. We have been careful not to open this book very widely. One of the better copies we have handled. Binding is fragile. Overall in very good plus condition with some very light cover wear. One of the most desirable of the books associated with Warhol.
Offered by Derringer Books.
Officially Licensed XIII Olympic Winter Games Coloring Book, 1980, Lake Placid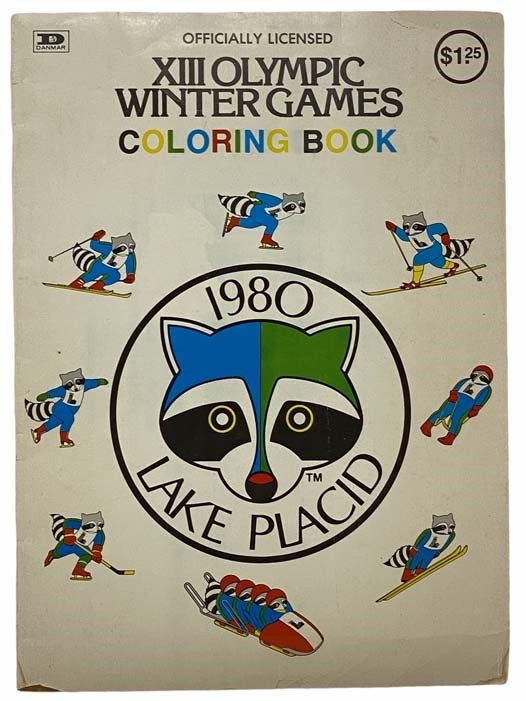 New York: Danmar Promotions, 1978. Stapled Binding. Near Fine. All pages unmarked. Bottom corner of front wrapper stained, a few creases to wrappers. 1978 Stapled Binding. An oversized coloring book for the Olympic Games held in 1980 at Lake Placid, depicting numerous Olympic events performed by a cartoon raccoon.
Offered by Yesterday's Muse.
by Forrest Carter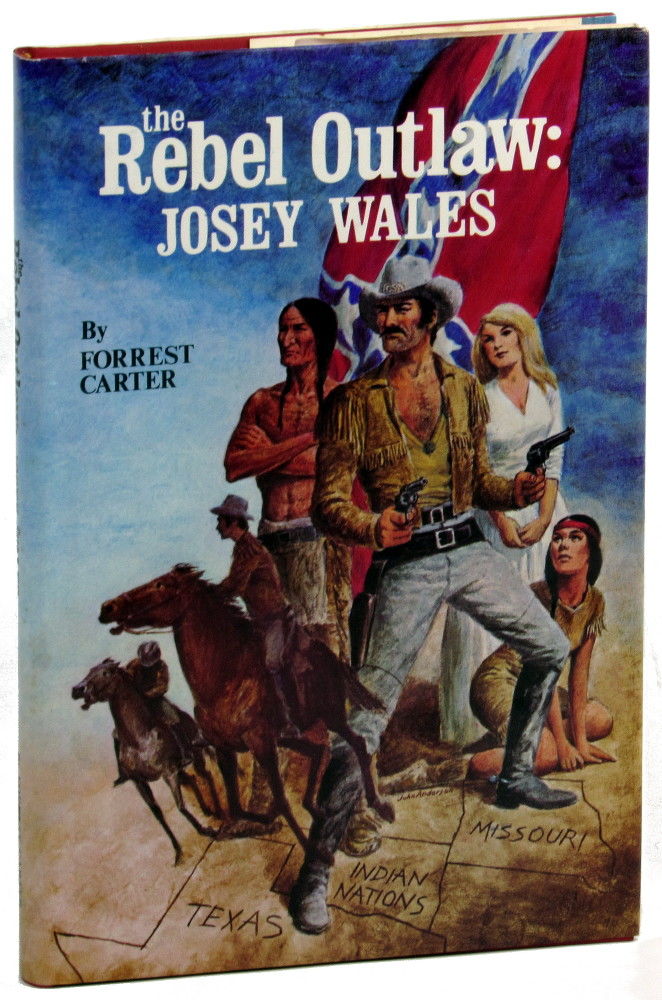 Gantt: Whipporwhill Press, 1973. Hardcover. Fine. First Edition. Tiny bit of foxing to top edge of textblock, endpapers show just some light offsetting, else a fine, likely unread copy. Jacket shows just the lightest rubbing, but is otherwise fine and much nicer than usually seen.

One of a supposed print run of 75 copies, the majority of which were allegedly pulped by agreement with Clint Eastwood when he bought the rights to produce the film The Outlaw Josey Wales. While no one has been able to prove one way or another the truth behind this bit of lore, the book is truly scarce, and nice copies very thin on the ground.
Offered by Kenneth Mallory.
Olympischer Sportkalender 1957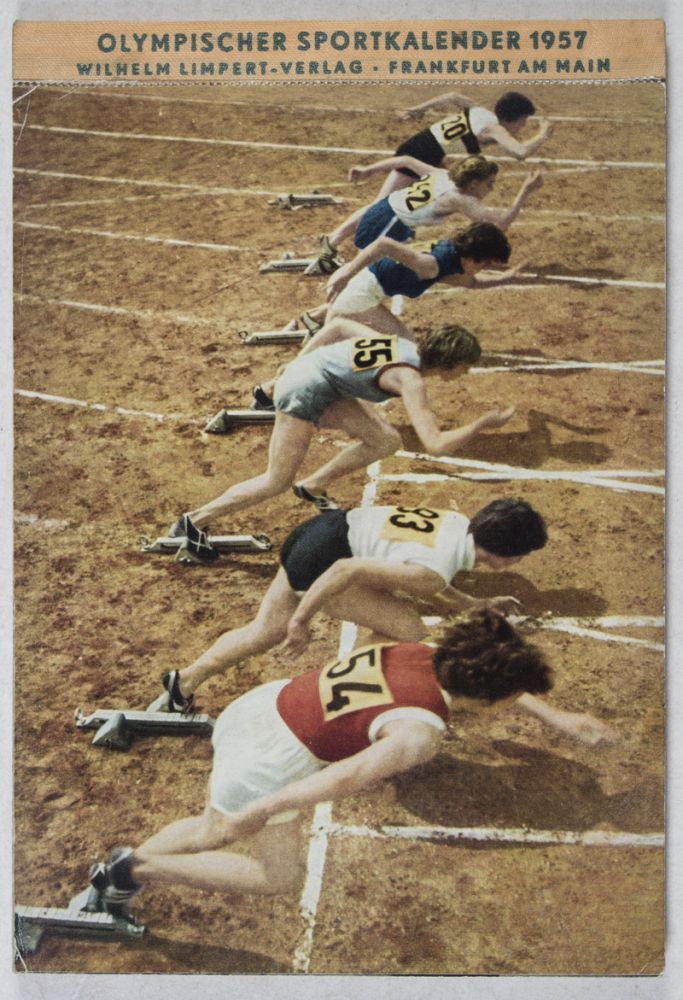 Frankfurt am Main: Wilhelm Limpert in Zusammenarbeit mit der Deutschen Olympischen Gesellschaft, n/d. Softcover. vg. Lg. 8vo. Photographic color wraps with top-edge in orange cloth. Stiff card board back cover, as published. Binding protected by modern mylar. 52 leaves with b/w reproductions of photographs on recto, text on verso. The plates show athletes as well as some children in various types of sports such as alpine skiing, ice-hockey, bob sledding, figure-skating, fencing, judo, gymnastics, rowing, boxing, handball, etc. Some of the athletes shown are: Edgar Basel, Anger Holm, Zenta Gastl, Maria Sander, Günther Dohrow, Rita Czech, Dafoe-Bowden, H. G. Winckler, and others. The photographs were not taken during Olympic events, but at various international competitions, at practice, and other events. Photographs by H. v. d. Becke, Sickert, Clausing, Roebild-Hartig, Schlundt, Kindermann, Helmut Worsch, AP, L. Viereck, Liselott Diem, and others. The text are quotes, poems, excerpts by famous writers such as Goethe, Kipling, Schiller, Lord Byron, Rilke, Heine, Carl Zuckmayer, etc., as well as some unknown & anonymous persons. Very minor creasing and rubbing to edges of front wrapper. Text in German. Scarce 1957 sports calendar. Calendars such as these were published in-between Olympic Games to keep the spirit of the Games alive.
Offered by Eric Chaim Kline Bookseller.
by Francis Weber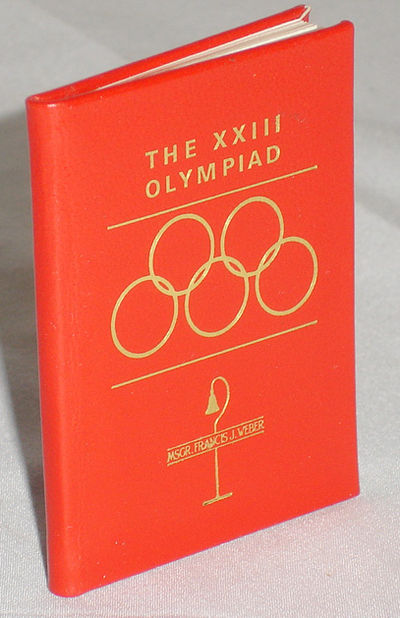 By the Author [at the Junipero Serra Press, San Fernando, CA, nd. Ca.1984). Limited Edition. 5.3 x 7.3cm. 14(1)pp., frontispiece Olympic stamp tipped in, bound in red morocco lettered and decorate in gilt, all edges gilt. A fine bright copy. Francis Weber was not only a miniature book collector but also the author of many works. (Inventory #: 019436)
Offered by Alcuin Books.
WATER, WORLD & WEISSMULLER: A Biography
by Narda Onyx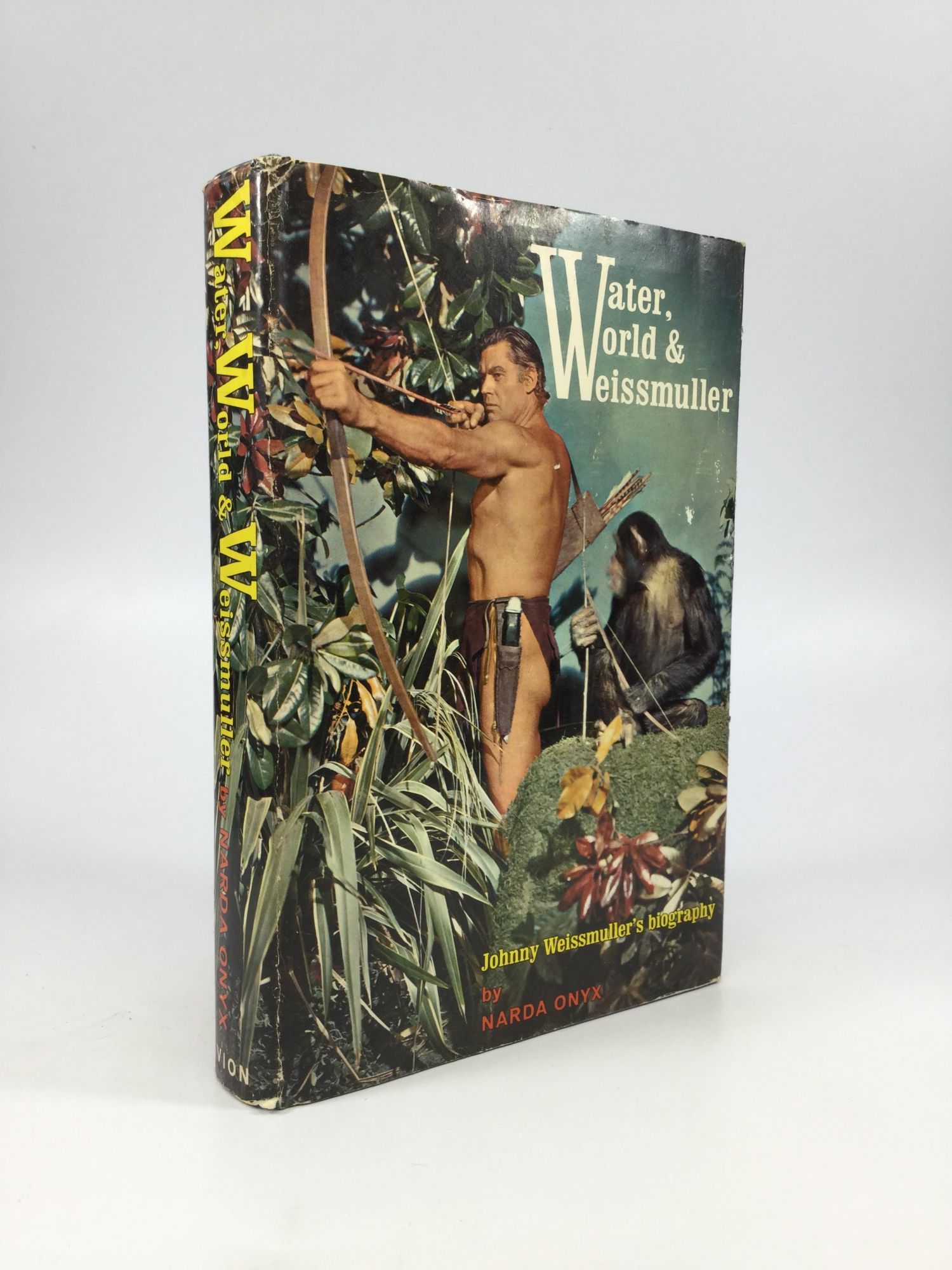 Los Angeles: VION Publishing Company, Inc, 1964. First Edition. Hardcover. Very good/Very good. Authorized biography of the Austro-Hungarian-born American competitive swimmer and actor. Best known for playing Tarzan in films of the 1930s and '40s, Weissmuller (1904-84) won five Olympic gold medals and set 67 world records. Frontispiece illustration, with textual photographs. This copy is inscribed by Johnny Weissmuller on the title page. Octavo. Original blue cloth binding, with gilt titles. A bit of dust staining and spotting to the top edge. The dust jacket is lightly edgeworn, with some unobtrusive staining; otherwise very good.
Offered by johnson books & archives.
Schönheit im Olympischen Kampf
by Leni Reifenstahl

Berlin: Deutschen Verlag, 1937. First edition. Gravure plates. 1 vols. 4to. Text in German, French, English, Italian and Spanish. Orange cloth gilt, with discreet previous owner's inscription in German on "Olympic Rings" page, else Fine. In very good plus photographically illustrated dust jacket, with light shelf wear and spine ends and joints re-enforced on verso. First edition. Gravure plates. 1 vols. 4to. Riefenstahl's magnificent photographic chronicle of the 1936 Olympics in Berlin, including a photograph of Jessie Owens taking off for his world-record jump (p. 100). At the end is a section on the photographer and her team at work. A fascinating production, issued in conjunction with her film, Olympia. Roth 101, pp. 96-7; Auer, p. 255; Parr/Badger I, p.151 ("a lavish photobook")
Offered by James Cummins, Bookseller.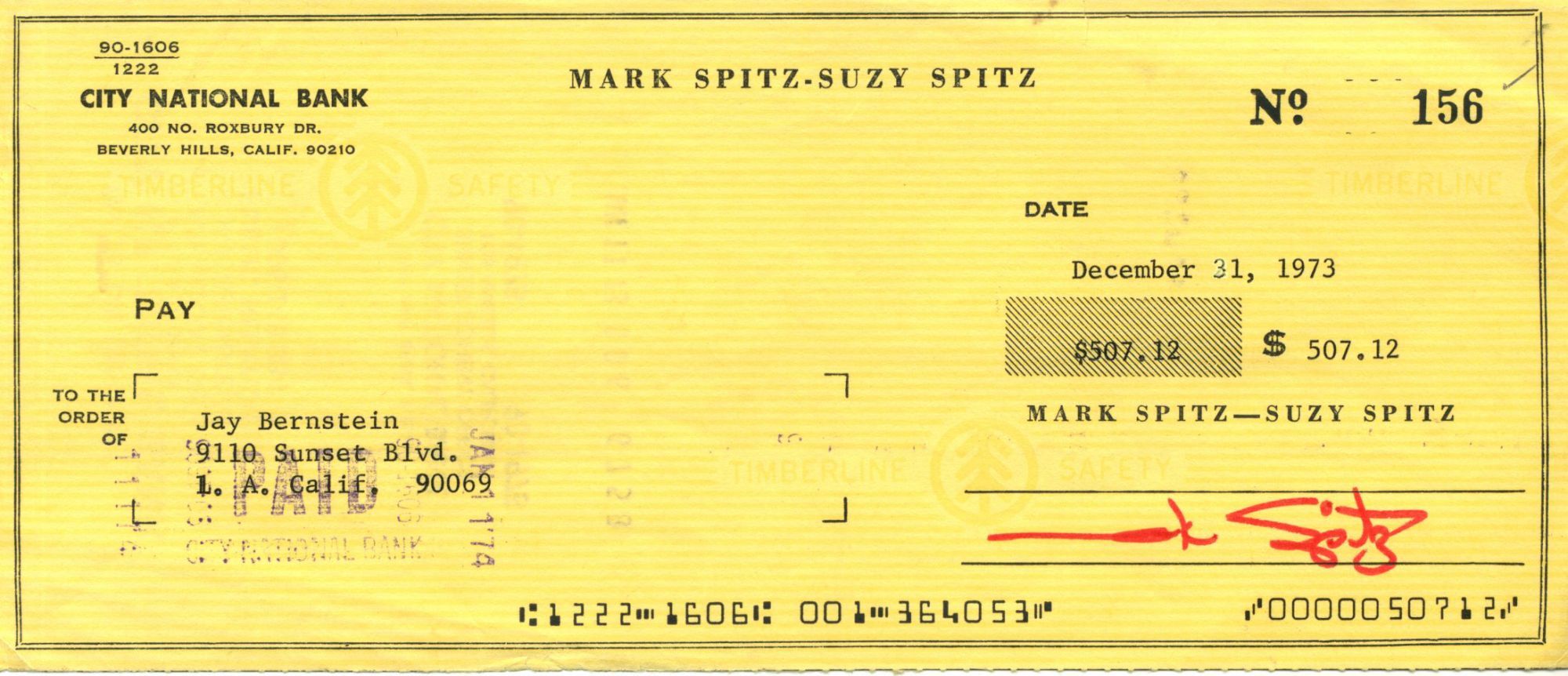 Swimmer for the US in the 1968 and 1972 Olympics, won more gold medals in a single Olympics than any athlete in history. Signed check headed "Mark Spitz - Suzy Spitz" and dated "December 31, 1973". One year after his fame became world wide. The signature is in red felt tip, large and bold, signed "Mark Spitz". Excellent condition.
Offered by Max Rambod.
by Gertrude Stein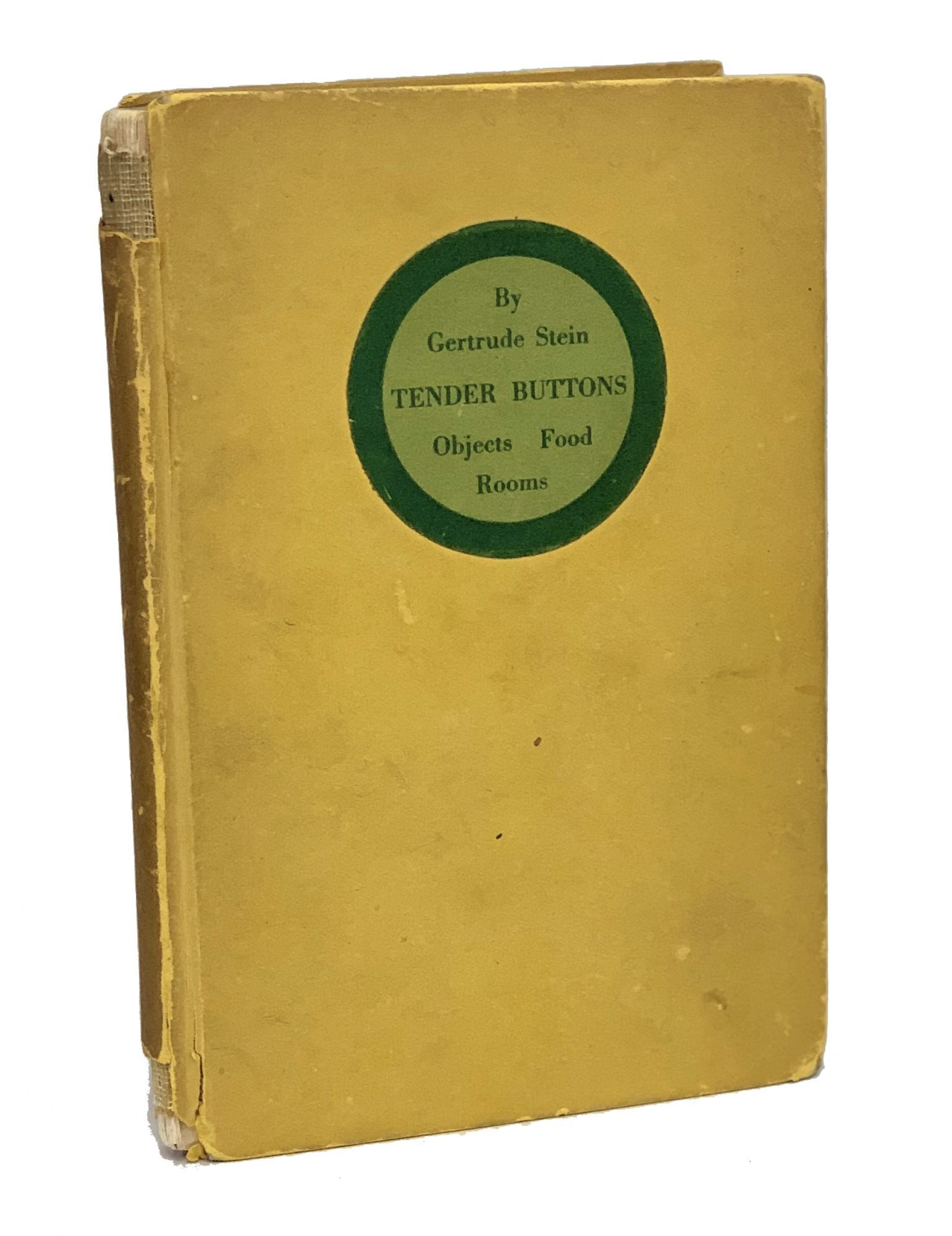 New York: Claire Marie, 1914 First edition. Publisher's yellow paper covered boards, green label with green lettering to front cover. Spine toned and cracked with loss to the ends, covers lightly soiled and rubbed, former owner bookplate to front pastedown, mild offsetting to front endpaper, else a good example of a scarce Stein work.
Lauded as "a masterpiece in verbal Cubism," Gertrude Stein's 1914 Tender Buttons looks at the mundane in three parts: Objects, Food, and Rooms. She juxtaposes familiar objects and spaces with unconventional descriptions, and this structure encourages the reader to imagine them in a new light, in much the same way Cubist visual artists were doing at the time. The text also reveals the intimacy of Stein with her long-time partner Alice B. Toklas, and the title Tender Buttons has been interpreted as a reference to female nipples. First Edition. Hard Cover. Good.
Offered by B&B Rare Books.
The storming of the Bastille. "Prise de la Bastille par les Bourgeois et les braves Gardes Françaises de la bonne Ville de Paris, le 14 Juillet 1789. Dédiée à la Nation.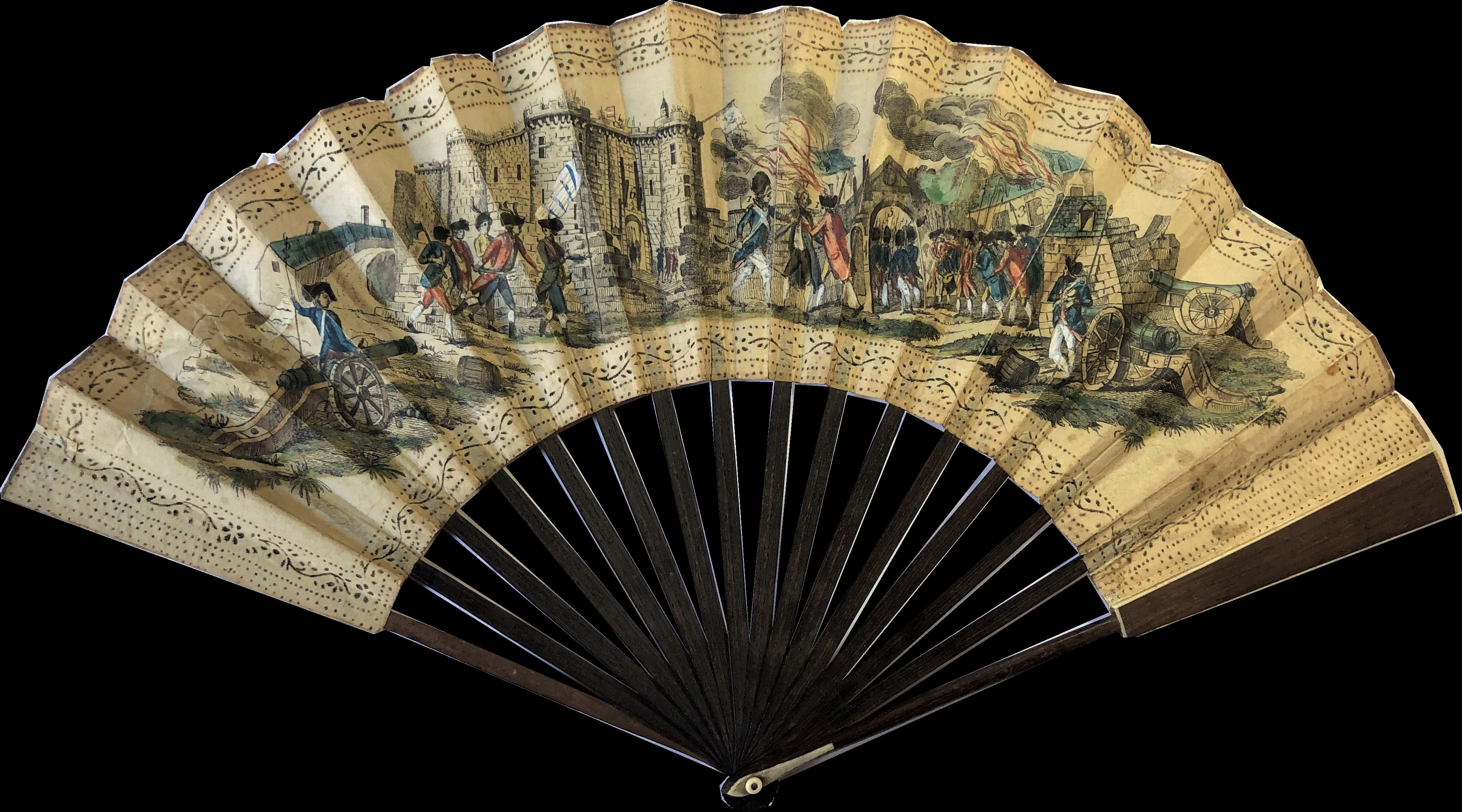 [France, 1789. Hand-colored engraved folding paper fan, printed on recto and verso on two adhered sheets, the recto with a full-width etched and engraved scene of the taking of the Bastille, colored in watercolors and white gouache, within stencil-printed decorative border, the verso with an engraved poem; mounted on original plain wooden sticks, the guards with narrow fillets of decorative bone along edges and at rivet, the unfolded leaf measuring approx. 137 x 500 mm., total fan measurement 208 x 500 (10 3/4 x 20 in.).
Condition: a few small chips and old paper patches, mainly to the borders, one small patch within the engraved area, affecting only the background, slight wear along a few pleats, one or two small stains, 2 words slightly rubbed on verso, a guard relined.
A fine ephemeral survival: a rare fan on a popular and dramatic theme, no doubt issued soon after the event depicted. Although by July 14 1789, the Bastille was nearly empty, and its historical reality was that of "the least cruel of all the [French] state prisons" (Marion, Dictionnaire des Institutions francaises, p. 40), its potency as a visually imposing symbol of tyranny was undiminished. The day of its storming by a crowd of about 1000 "bourgeois" was unfortunately one of intense bloodshed, with over 100 people, including 98 attackers, several soldiers and the garrison commander the Marquis de Launay, losing their lives. De Launay's head and that of Jacques de Flesselles, "Prévôt des Marchands," were later paraded on pikes. This commemorative fan for ladies avoids all gore.
Offered by Musinsky Rare Books.
by Joan Didion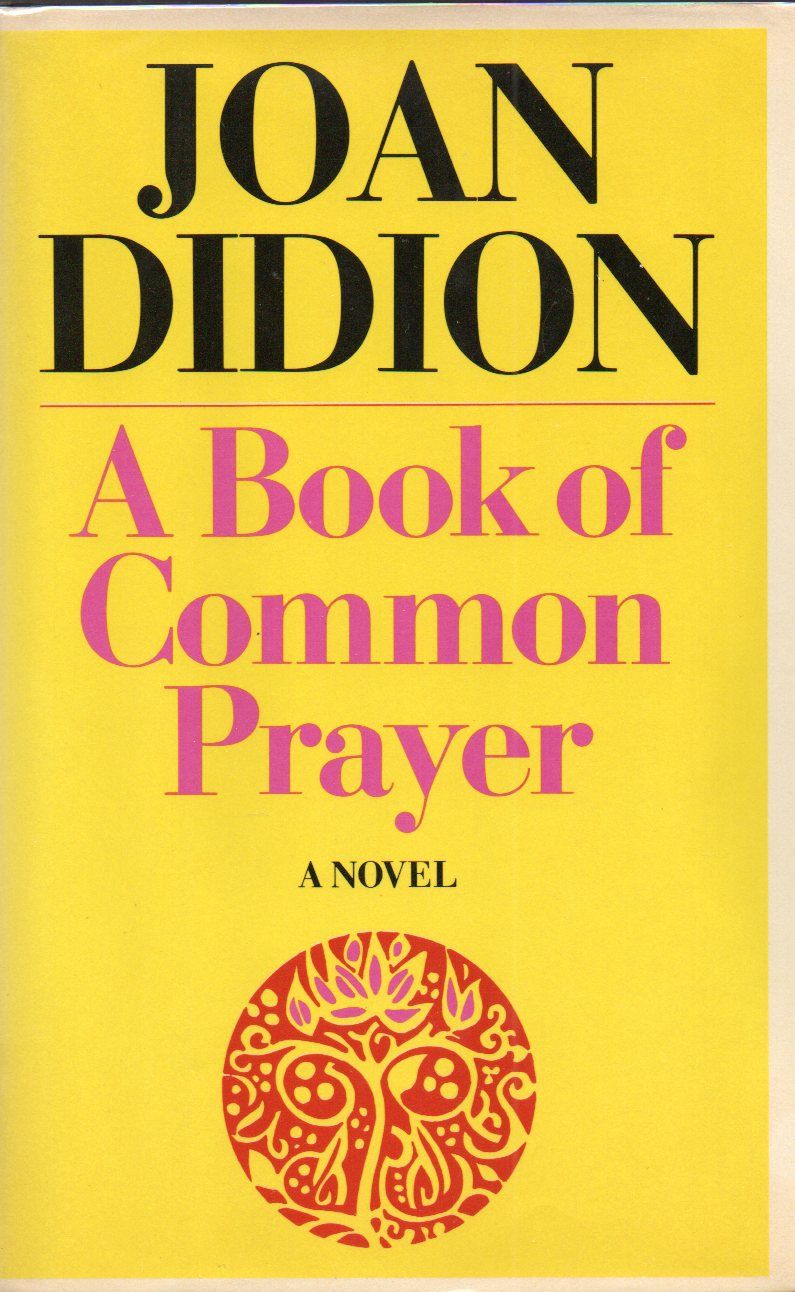 Simon and Schuster, 1977. First Edition (first printing). The third novel by the author of SLOUCHING TOWARDS BETHLEHEM and THE YEAR OF MAGICAL THINKING, the story of a woman who is left by her husband's death a large arable piece of property in a country called Boca Grande. Near Fine/Fine but for incidental fading to the dust jacket spine. A very clean copy. Signed by Didion on the title page. Signed by Author. 1st Edition. Hardcover. Near Fine/Fine.
Offered by Bill Leone, Bookseller.
Poissons Ecrevisses et Crabes, de diverses couleurs et figures extraordinaires...
by Louis Renard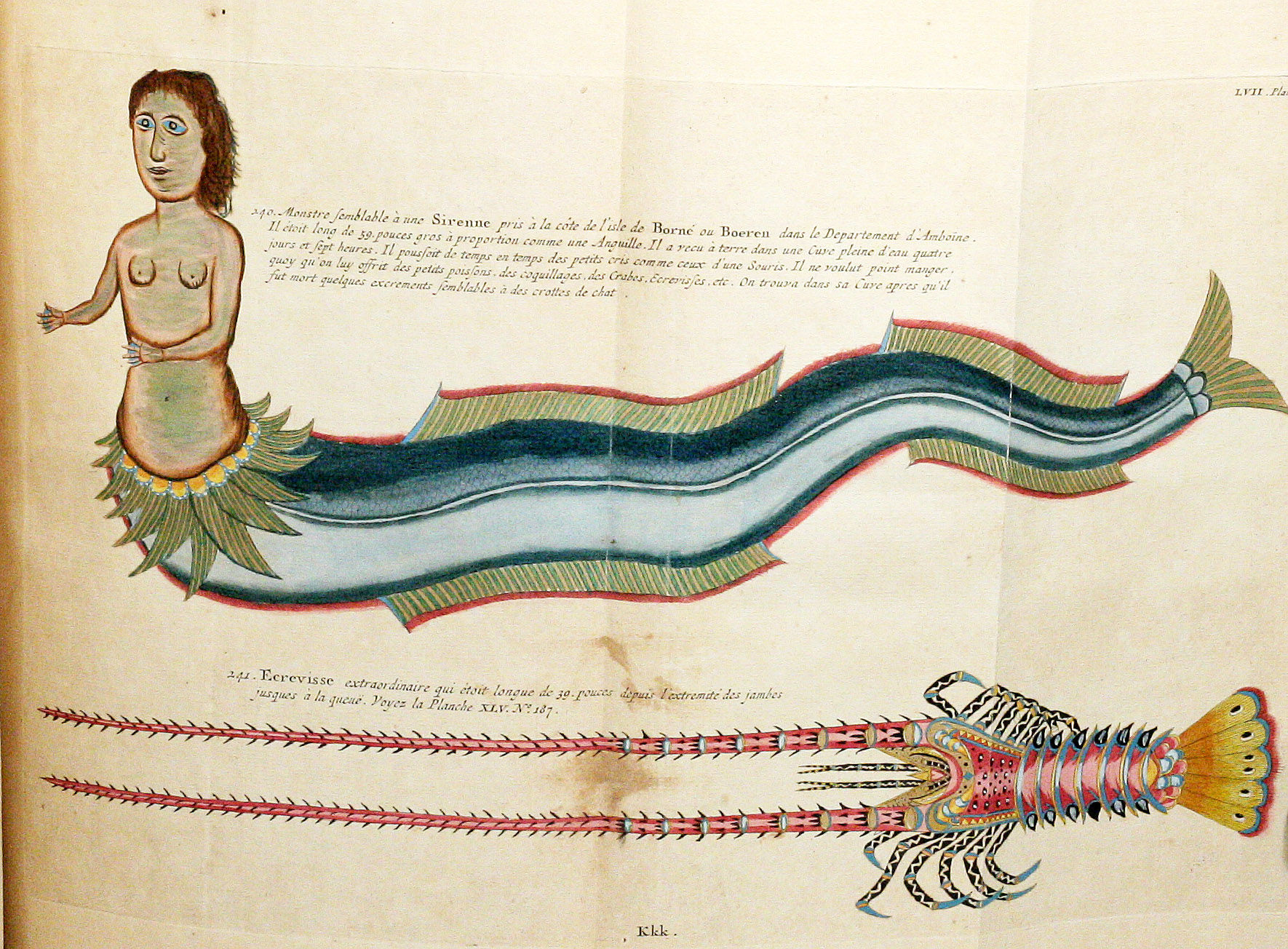 Amsterdam: Chez Reinier & Josué Ottens, 1754. Second Edition. Contemporary calf gilt. Very Good. ONE OF ONLY 35 KNOWN EXTANT COPIES OF THE MAGNIFICENT SECOND EDITION OF RENARD'S FANTASTICAL COLLECTION OF ICHTHYOLOGICAL ILLUSTRATIONS; THE FIRST BOOK WITH COLOR PLATES ON FISH. COMPLETE WITH 460 HAND-COLORED ILLUSTRATIONS ON 100 PLATES. A STUNNING COPY WITH VIVID COLOR IN A BEAUTIFUL CONTEMPORARY BINDING. Louis Renard, publisher, bookseller, bond broker, and perhaps even spy, never actually traveled to compile this famous collection of 460 hand-colored illustrations, but rather aggregated "images copied exactly from drawings belonging to Mr Baltazar Coyett - the governor and director of Ambon and Banda (1694-1706) - who had the fish captured and painted... and a collection of drawings belonging to Mr Van der Stel, governor of the Molucca Islands, who had the fish drawn by the artist Samuel Fallours." (GLA). This might explain how is it that "[d]espite the book's promises of authenticity, many of the fish bear no similarity to any living creatures" at all. (GLA). This is probably most apparent with the final plate, which depicts a mermaid that is claimed to have been caught off Borne (presumably the island of Buru)!

This second edition of Poissons, Ecrevisses et Crabes was published shortly after Renard's death in 1746. "The first edition of the book was published by Louis Renard in Amsterdam in about 1719" in a run of 100 copies. "The second edition appeared in 1754 under the auspices of the prominent publishers Reinier and Josué Ottens, also of Amsterdam. The firm of Ottens purchased about thirty unbound copies of the first edition from Renard's estate, had the plates coloured, replaced the original undated title-page and added a preface by Aernout Vosmaer as well as a 'Declaration' by Renard (suppressed in all but one known copy of the first edition); they then printed some 70 additional copies [from the original copper plates] to make up a second edition." (GUL).

According to Theodore Pietsch, who conducted a thorough survey of all editions in 1995, only thirty-four copies of this second edition survive today. (The present copy was unrecorded, bringing the total to 35 known extant copies.)

Renard's own history is quite colorful. "He was born in France circa 1678, to a Huguenot family that eventually fled to the Netherlands to escape religious persecution. Renard settled in Amsterdam in 1699, and became a member of the Walloon (French Reformed) Church.... ln 1703, he became a citizen of Amsterdam and, in the same year, married Germaine de la Feuille. Under the influence of his father-in-law, Daniel de la Feuille, Renard established himself as a book dealer and publisher." What's perhaps most interesting is that "in the [book's] dedication, Renard identifies himself as a 'secret agent on behalf of the British Crown.' Primarily employed by George I and George II, his duties included searching ships leaving Amsterdam to prevent arms from reaching James Stuart, the Roman Catholic 'Old Pretender' to the British throne-thereby helping to guarantee Protestant succession. While his role was hardly 'secret,' he may have thought that revealing this would garner attention and also help sell his books." (Reitmeyer).

References:

BHL: Grace Costantino, Biodiversity Heritage Library, "Renard's Book of Fantastical Fish".

GUL: Julie Gardham, Glasgow University Library, "Louis Renard: Poissons, Ecrevisses et Crabes".

Reitmeyer, Mai Qaraman (2012). Louis Renard and His Book of Extraordinary Creatures. Natural Histories: Extraordinary Rare Book Selections from the American Museum of Natural History Library (pp. 33-34). New York: Sterling Publishing.

Landwehr 158; Nissen ZBI 3361; Sabin 69600. Theodre W. Pietsch: Fishes Crayfishes and Crabs, Louis Renard's Natural History of the Rarest Curiosities of the Seas of the Indies. Baltimore, 1995. Sabin 69600.

Poissons Ecrevisses et Crabes, de diverses couleurs et figures extraordinaires, que l'on trouve autour des Isles Moluques, et sur les côtes des Terres Australes... Divisé en deux tomes, dont le premier a été copié sur les originaux de Monsr. Baltazar Coyett... Le second tome a été formé sur les recueils de Monsr. Adrien Vander Stell. Amsterdam: Chez Reinier & Josué Ottens, 1754.

Two volumes in one. Large folio (16 x 10 3/8 in; 407 x 264 mm), contemporary full calf with elaborately gilt-decorated spine and boards, marbled endpapers, dyed edges; custom felt-lined box. Complete with title printed in red and black, two-page dedication to George I, four-page "Preface,'' two-page "Declaration sur cet ouvrage,'' two-page "Avertissement de l'Editeur,'' four-page "Table Alphabetique,'' half-titles before each volume, 100 hand-colored engraved plates (one folding) after Samuel Fallours and others, each showing two or more subjects. Sympathetic repairs to spine and joints, small abrasion to marbled paper on front pastedown, foxing to text leaves at beginning and end; some spots to mermaid plate. Plates in superb condition with color extraordinarily bright.

Offered by Manhatten Rare Book Company.
American Photographic Album containing 97 carte-de-visite photographs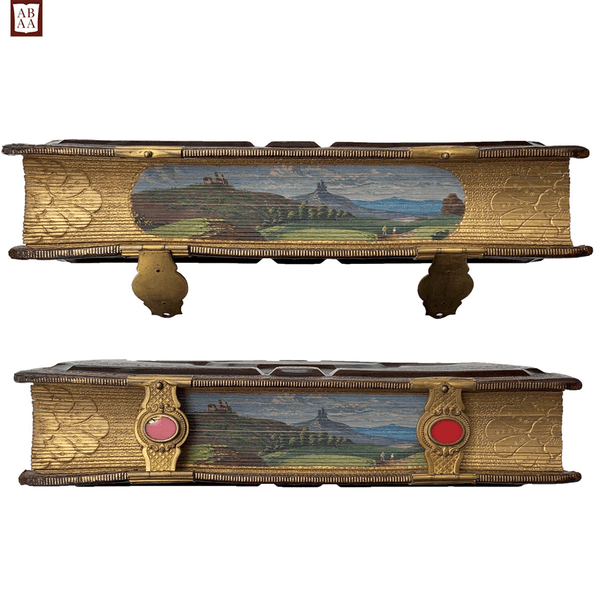 New York:: Major & Knapp, Lithographers, [no date, ca. 1864/5]., 1864. Small folio. [4] pp., 25 card-leaves with decorative motifs on each leaf printed by the lithographer. The title names the litho-printer source. There is no printed date given. The binding is the original full morocco over wooden carved boards, two brass clasps fitted with two rondelles of rose glass, elaborate gilt ornamentation on both covers and spine, the fore-edges heavily gauffered and with gilt leaf applied, with each edge hand-painted with a triptych probably significant to the owner of the album (meaning personal images), showing landscape views of upstate New York (near Batavia is a good guess).
THIS ALBUM IS AN OUTSTANDING SPECIMEN OF THE FIRST PROVABLE FORE-EDGE PAINTINGS MADE IN THE UNITED SATES. The earliest provable American fore-edge paintings are on New York photographic albums from the 1860s. Why are these albums proven to be this early? Because the photographers are often known and when they worked is known. Sometimes the photographs themselves are dated. Because there are a number of these New York deluxe format photographic albums have fore-edge paintings applied by hand, by commission, each are different and follow this pattern. This type of American bindings are all photo albums, all from New York City, and represent a fashion that probably did not last more than a few years. A person who wants a photo album could have a deluxe format of the album, full goatskin leather, various sizes and thicknesses. This is a particularly fine specimen, as it is in excellent condition, large size (larger than some others), and contains a generous selection of family photographs.
Among the numerous photographs within are named persons (however, the photos and the named labels are now mixed up, some may be correct, some are misleading): Alva Smith, Nastran T. Smith, Mrs. H. T. Smith (Mary J. Ellicott Patkin), Mrs. Wilbur Smith (Eva Dolbeer), Henry J. Cross, Mrs. H. J. Cross (Julia Smith), Vantia Smith, Sarepta H. Smith, Colton B. Smith, Alice Smith, Addis Stocking Goulde, Cecilia J. Smith, Hettie Ida Smith [Griswold], Herbert E, Smith, H. E. Smith, Mrs. C. B. Smith (Blanche Vander Bogart), Henry A. Cross, Frank Cross, M. Holder, Will Smith, Joseph A. Sleeper, Alonzo Luce, Mary J. Stephens [Jane Colton Stephens daughter], Ruth Colton Luce, [Ohio cousins], Hosmer Kellogg (Mrs. Graves' father), Mrs. Edna Kellogg (daughter Pierpont Seymours), Henry Seymours (son Pierpont Seymour), Eunice Graves (mother + Eunice), Chester Seymour, Miss Maria Stocking, Miss Worthington, and many more names found within. / As a fore-edge painting specimen, this piece, with so many carte-de-visite photographs, may have dates associated with those photographs that could point to the date when this album was bought and painted. Of the lithographers: Joseph F. Knapp 1832-1891, The patriarch of the Knapp family Lithographer of the firm Sarony Major & Knapp , Major & Knapp, The Knapp Co. and a founder and president of Metropolitan Life Insurance. His life story along with two other generations of his family is told in the new book The Knapps Lived Here by Ken Spooner. Between 1859-1863 the firm operated under the name of Sarony, Major, Knapp. From 1863/4, Major & Knapp are seen in New York. "Henry B. Major and "Joseph F. Knapp" are known to have operated in New York from 1864 till the 1870s. The firm, especially with Spooner, was interested in the new art of photography. SEE: L. Jeff Weber, Annotated Dictionary of Fore-edge Painting Artist & Binders, pp. 26-7.
Offered by Jeff Weber Rare Books.
Broadside playbill for a performance of Rossini's opera Othello at the Teater zu Wiesbaden on 16 July 1835
Wiesbaden: C. Schellenberg, 1835. Narrow folio (ca. 360 x 205 mm). Named cast includes Madame and Herr Rosner, Herr Jaskewitz, and Herr Pfeifer. Performed in Italian.

Slightly worn; upper corners creased; minor spotting to right margin. Otello was first peformed in Naples at the Teatro del Fondo on 4 December 1816.
Offered by J. & J. Lubrano Music Antiquarians.
L.A. Confidential (Signed, First Edition)
by James Ellroy

New York: Mysterious Press, 1990. First Edition. Hard Cover with Dust Jacket. Fine/Fine. Octavo. SIGNED BY JAMES ELLROY ON TITLE PAGE without personalization. $19.95 price on Dust Jacket front flap. A fine copy in a fine dust jacket. 496 pp.
Offered by Charles Parkhurst Books, Inc.
Louisa May Alcott: The Children's Friend.
by CHENEY, EDNAH D[OW].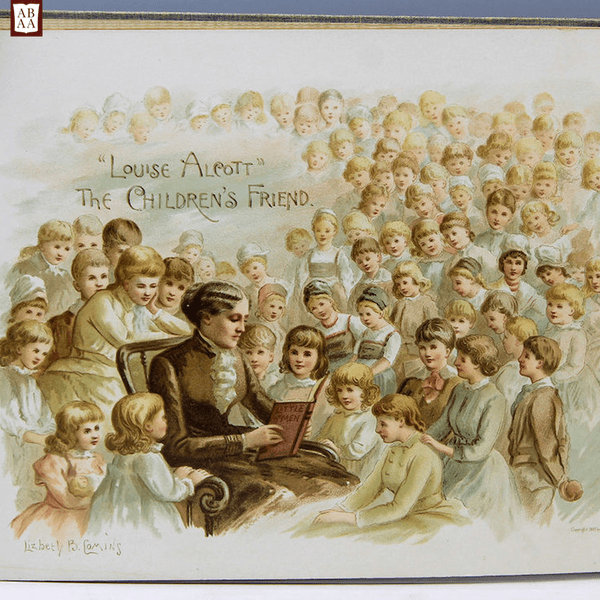 Boston L. Prang & Company [ 1889 ] First edition of "the first biography of the celebrated author, [which] includes important selections of Louisa May Alcott's now lost diary on life at the Fruitlands commune—the ill-fated social experiment of… [her father] Amos Bronson Alcott," (ANB). Note that, while the copyright date in the present item is 1888, it was actually published in 1889. Publisher's light blue linen stamped in silver and bordered in dark blue. . Oblong quarto. With a charming chromolithograph frontispiece, four plates, and four half-page illustrations, all by Lizbeth B. Comins. Chromolithographed by Louis Prang (1802 – 1929). Some toning to cloth, mostly to back cover. Ink gift signature, dated 1891, to preliminary blank. Light dampstaining to lower edge of about ten leaves. A very good copy of the rare first biography of Alcott. Ednah Dow Littlehale Cheney (1824 – 1904) was an educator, suffragist, abolitionist, and overall social reformer. She established numerous important institutions including the New England Hospital for Women and Children, which offered medical education and surgical experience for women doctors; the Boston School of Design, a coeducational training school for art careers; and the Horticultural School for Women in Boston, as well as the Massachusetts Women's School Suffrage Association. Cheney was the secretary of the New England Hospital for Women and Children for twenty-seven years and its president for fifteen years. Along with Alcott, Cheney was also a friend of Ralph Waldo Emerson, as well as Margaret Fuller, Elizabeth Palmer Peabody, Julia Ward Howe, and James Freeman Clark. She admired Emerson and published important essays on his work as well as that of Goethe. Cheney's passion for philosophy eventually led her to a teaching position at the Concord School of Philosophy.
Offered by Michael R. Thompson Rare Books.
Lynd Ward's Last Unfinished Wordless Novel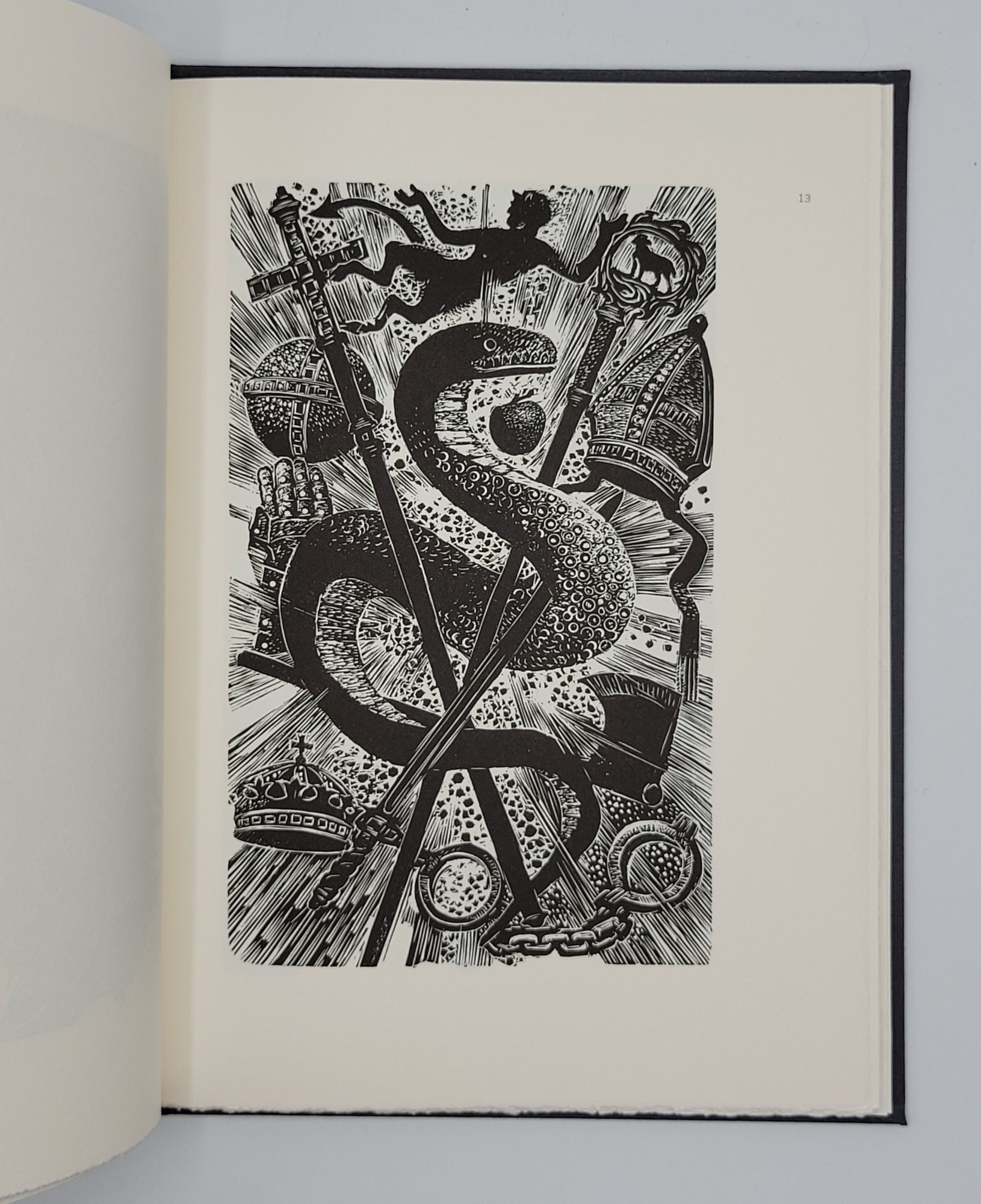 [Newark, NJ]: Rutgers University Libraries, 2001. First edition. Hardcover. Near fine. Quarto [27.5 cm] in grey cloth with gilt-stamped title on backstrip. No jacket as issued. Minor bumping to top fore-edge corners of covers, else Fine. Publisher's erratum laid in. Twenty-six woodcuts by Ward. This work includes a three page introduction by Michael McCurdy, and a five page description of the unfinished blocks by Michael Joseph. This edition was limited to 100 numbered copies and 25 lettered copies; this is copy 32.

From the introduction: "With the previously unprinted engravings found in this book, we experience a 1960s attempt by Lynd Ward at a novel in wood - some thirty years after Vertigo, his last published woodcut story. He planned a sequence of forty-four blocks, but only twenty-six were complete enough to be included here. Although we can see the same eye-catching compositional strength in these blocks that characterize Ward's early work, his human figures are no longer art deco, and the pictures take on an increased display of textures.
Offered by Ken Sanders Rare Books.
Volume II: More Living Animals
by MEGGENDORFER, LOTHAR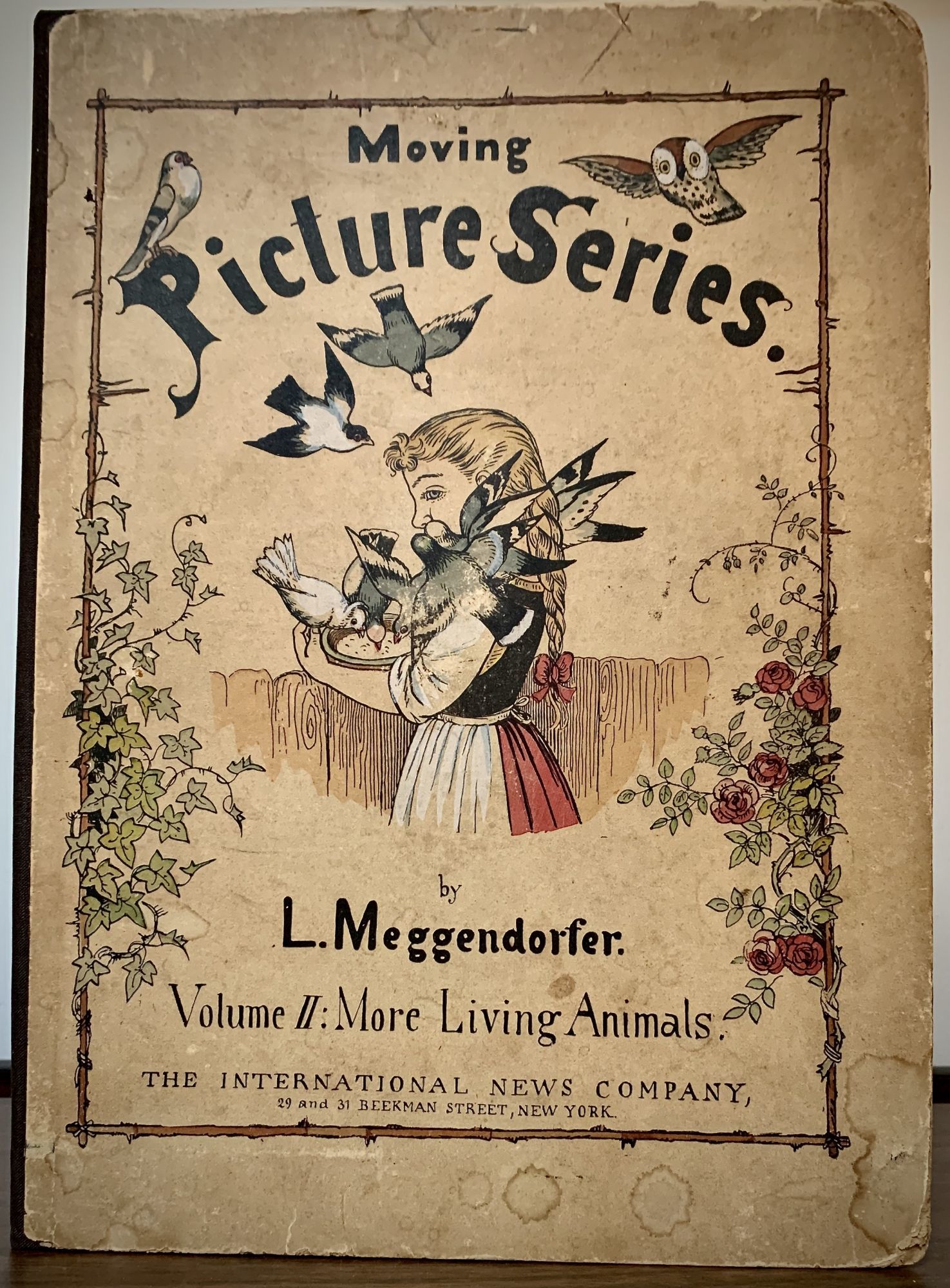 New York: International News Company, 1884. First American edition. Hardcover. Orig. publisher's pictorial boards in a multitude of colors, black cloth spine rebacked. Very good. 13 unnumbered pages. 32.5 x 23.5 cm. Pop-up book, six full-page chromolithographed plates, (The cart horse -- The flock of sheep -- The little girl and the doves -- The student and the dog -- The fox and the chickens -- The owl) -- Pictures taken from various editions published by J.F. Schreiber. Each with a movable tab to set the scene in motion, the levers moves up and down. All levers in working order. The text, rhyming poetry in English. The German edition, [Aus dem Leben], has the same front cover illustration. "There is little doubt that the most elaborate and ingenious movables ever produced were those of the German Lothar Meggendorfer (1847-1925) made during the 1880s and 1890s....the mechanisms and operations of Meggedorfer's books - not to mention the originality of the figures -- are far superior to any others published before or since. The devices that operated the various figures in his books consisted of a series of inter-connecting cardboard levers sandwiched between the coloured illustration on the front of the oblong leaf and the dummy pasted behind it. The animated limbs and heads were cut-out models on the front of the picture, and moving the tab set the whole scene in motion [see: HAINING, Movable Books, pp.65-73]. Some damp stains at lower cover, corner wear.
Offered by Roy Young Bookseller.
View all new listings on abaa.org...
Browse recent catalogs of rare books and print ephemera from ABAA members...
Please note, all items are unique, so if a link takes you to a blank page, the book has been sold!