Our members list new acquisitions and recently cataloged items almost every day of the year. Below, you'll find a few highlights from these recent additions...
King Kong - Original Folded One Sheet Movie Poster (1976)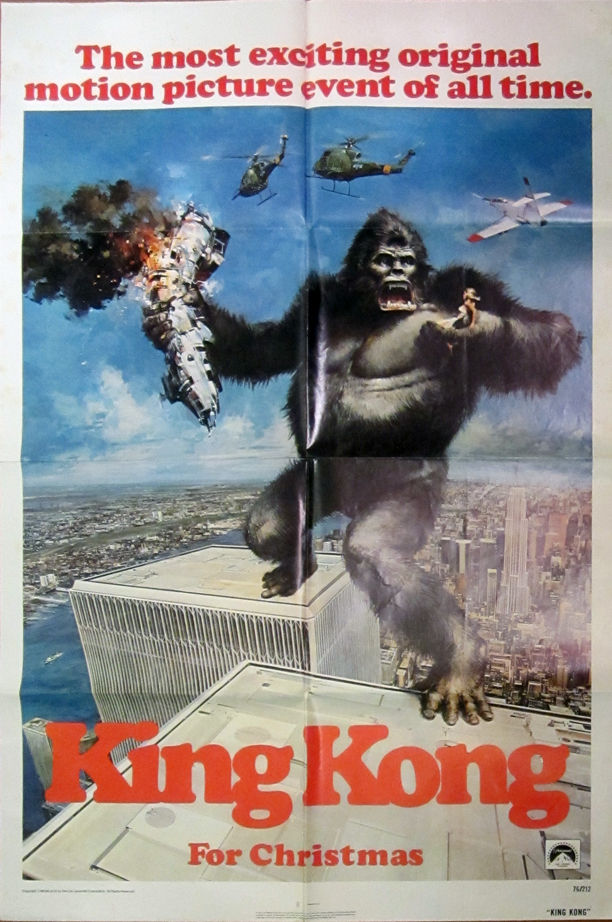 by WALLACE, EDGAR AND COOPER, MERIAN C.
Los Angeles: Paramount Pictures, 1976. 76/212. "For Christmas". The original teaser poster for the 1976 version of this classic movie story, hence no credits appear on this version, just one great graphic poster ! Near Fine, small tears at center fold and light age toning in white margins of poster. . First Printing. Original One Sheet Movie Poste. Near Fine. 27" x 41".
Offered by Dale Steffey Books.
Godzilla (Original double weight photograph from the 1954 film)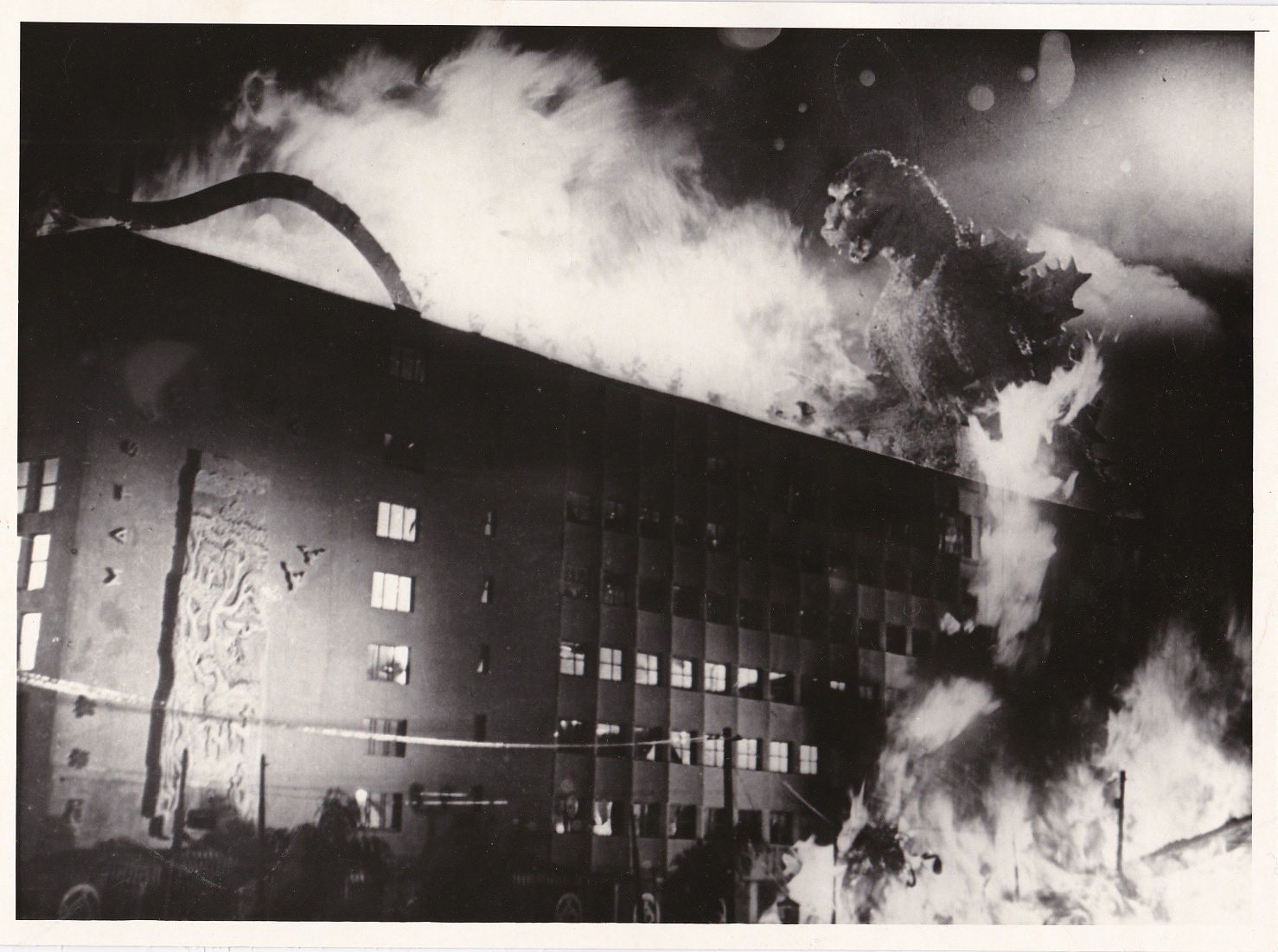 by HONDA, ISHIRO (DIRECTOR, SCREENWRITER); TAKEO MURATA, SHIGERU KAYAMA (SCREENWRITER); AKIRA TAKARADA, MOMOKO KOCHI, AKIHIKO HIRATA, TAKASHI SHIMURA, FUYUKI MURAKAMI (STARRING)
Tokyo: Toho Company, 1954. Vintage double weight photograph from the 1954 film, the first appearance of Godzilla, who would go on to appear in countless other Japanese monster movies, as well as non-Japanese ones. With holograph annotations on the verso.

The original Godzilla film is one of the first Kaiju films, a Japanese sub-genre of films featuring giant monsters attacking cities and engaging in violent confrontation with the military and other monsters. The film was an allegory for the effects of the hydrogen bomb and radioactive contamination, and gave way to a long series and whole genres and sub-genres of related films dealing with similar themes of invasion, contamination, and global catastrophe.

Shot on location in Tokyo. 10 x 7 inches. Near Fine. BFI 680. Criterion Collection 594.
Offered by Royal Books.
by WALLACE, EDGAR & COOPER, MERIAN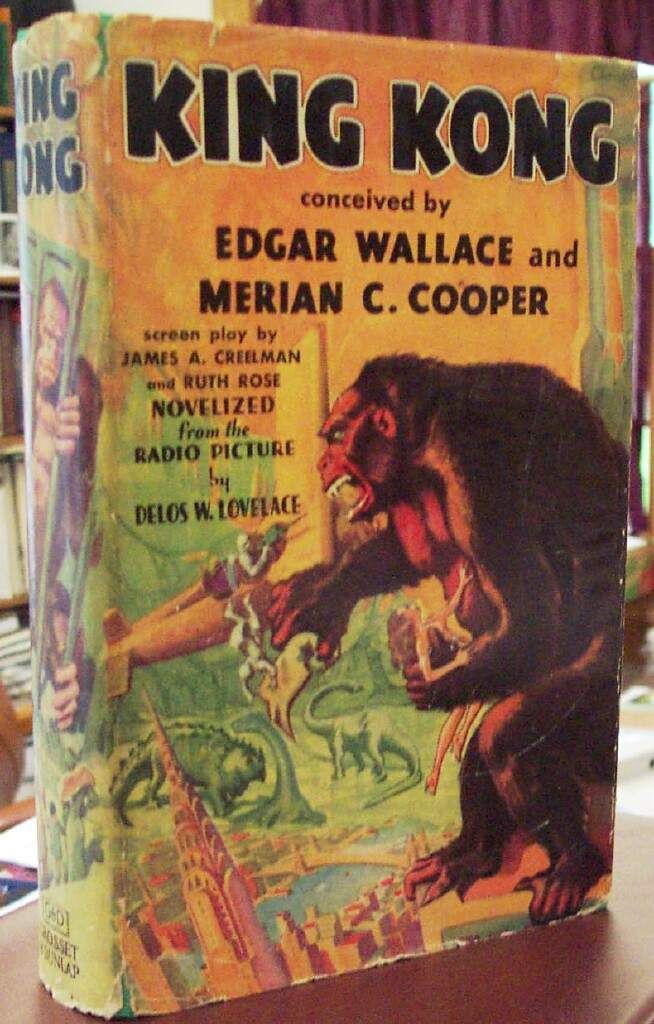 KING KONG, Grosset & Dunlap, 1932, first edition, some expert professional color retouch to the fore edge margins of the covers, else near fine in bright vg/vg+ full color pictorial dust-wrapper with some light wear and tear and chipping, the latter quite shallow and only at the spine and flap extremities. Stills from this marvelous groundbreaking epic film (the first of now three such productions) make up the photo end-papers. A very nice copy.
Offered by Fine Books Company.
by DICKINSON, EMILY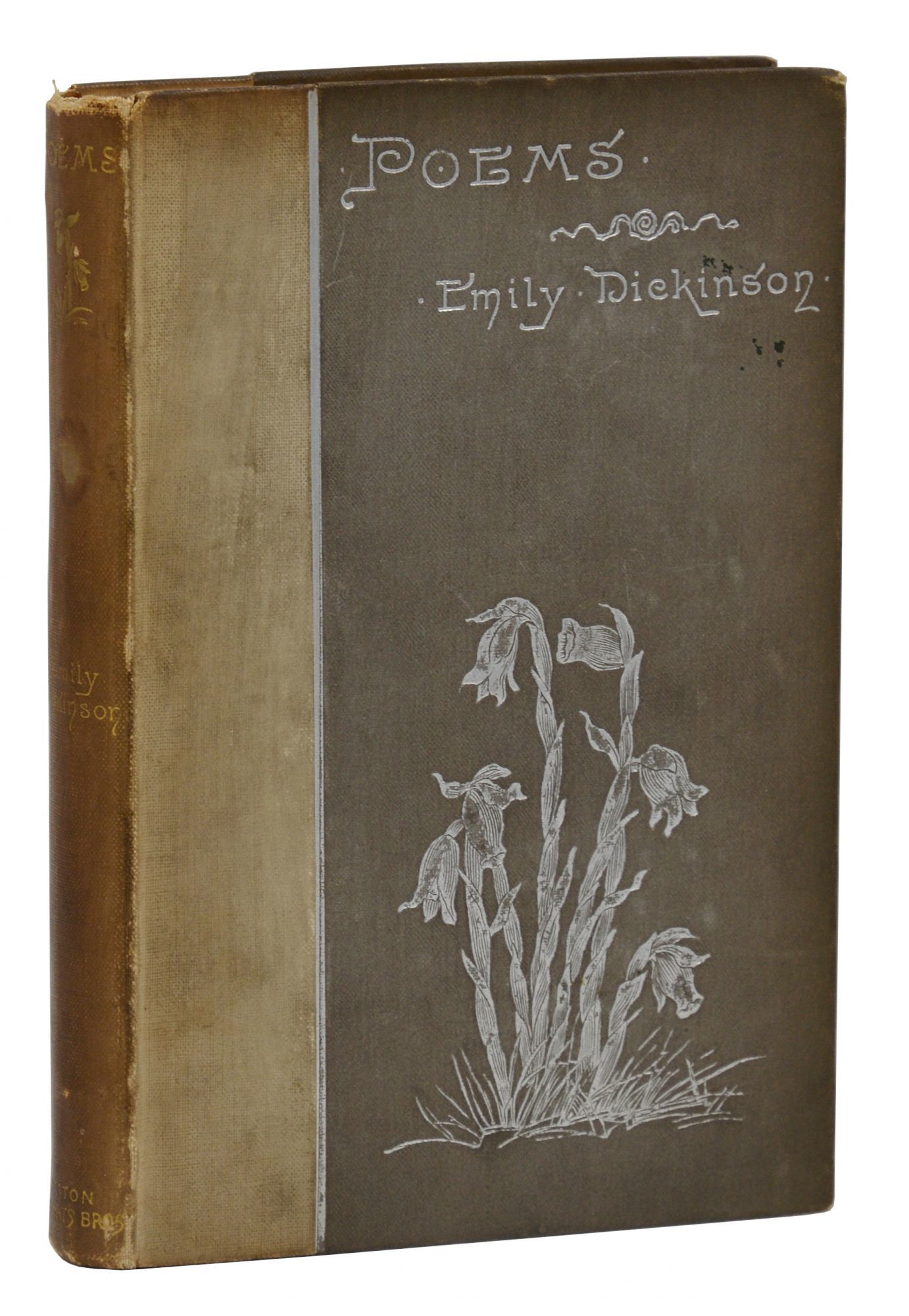 Boston: Roberts Brothers, 1892. Third Edition. Good. Third edition. Bound in publisher's original grey cloth over tan cloth spine stamped in silver on the front cover and in gilt on the spine. Good. Lean to binding, cloth grubby and edge-worn, spine browned. Front free endpaper nearly detached, pages toned, browning to endsheets.
Offered by Burnside Rare Books.
Wings Over The Waves. Collection of 110 Exhibition Display Photographs and a Presentation Album for "Wings Over the Waves: Naval Aviation Exhibition," Leeds, 1945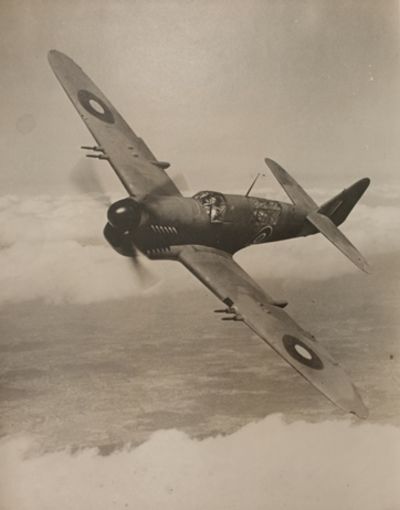 [95 large naval press photographs, each approx. 15 1/2]95 large naval press photographs, each approx. 15 1/2" x 19 1/2", from the "Wings Over the Waves" exhibition in Leeds, UK, March 16-April 7, 1945, most annotated verso, documenting the role of the British Royal Navy's Fleet Air Arm and the importance of the Swordfish, Barracuda, and Fulmar planes during WWII, together with 15 smaller photographs, most approx. 15 1/2" by 15 1/2", 5 pieces of exhibition ephemera, and a presentation album comprised of 38 photographs of the formal opening, the exhibits, the famous visitors, with related press clippings and correspondence. Most photographs appear to have been displayed in the exhibition, featuring aircraft carriers and warplanes in action in the Atlantic, the Mediterranean, and European land campaigns, with images of paratroopers, bombers, aerial maneuvers and formations, reconnaissance missions, aircraft during landing and on deck, as well as life onboard the carriers. Photographs housed in archival cases, some cockling and minor abrasions, most with light to moderate edgewear, a few creased corners, many with pinholes indicating their use in the exhibition. Most undated, ca. 1940-1945.
Album: oblong folio; half morocco. Sheffield, 1945. The "Wings Over the Waves" exhibition drew over 100,000 regional visitors, and the album is a personal souvenir of one of its organizers, Mr. J.R.G. Marchetti, Deputy Regional Controller at the Ministry of Aircraft Production, Sheffield. The opening lunch was attended by a number of important military officers and celebrities, including Lord Harewood, Lt. Laurence Olivier and Lt. Cmdr. Ralph Richardson. The album includes signed photos of Olivier and Richardson, in addition to statistics and details about the exhibition's organization, individual displays, and attendance. Together with the photographs, the material is a vivid picture of the importance of aerial combat during WWII and the tremendous publicity it generated for the navy. It also reveals the sophisticated and diverse communication strategies used by the British Ministry of Information at a moment when public attention was shifting from Europe to the Pacific theater. With approx. 5 additional duplicates.
Offered by Bernett Penka Rare Books.
Artistic Pussy and her studio: Moving pictures with other tales, a moveable toybook from Lothar Meggendorfer.
by MEGGENDORFER, LOTHAR.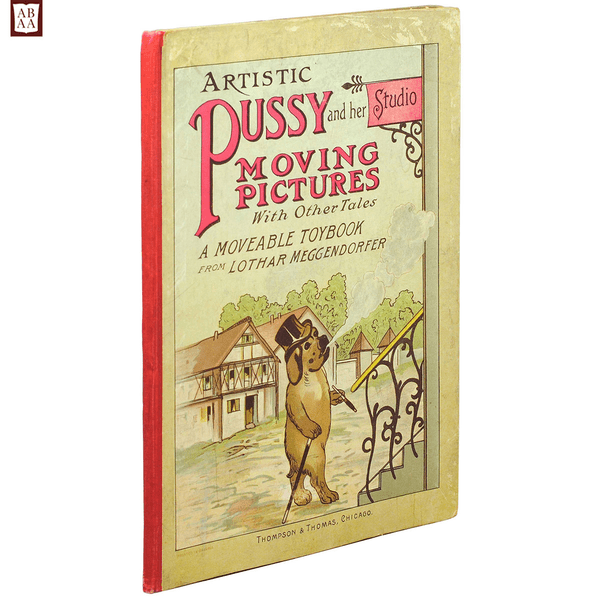 Chicago: Thompson & Thomas, 1890? Large 8vo (310 x 225 mm), (16) pp., six with mounted full-page, full-color lithographed plates with moveable parts. Illustrated glazed boards with red cloth backstrip. Upper cover lightly worn, hinges repaired, colour illustrations bright and clean with some small closed tears and chips, mainly around the inner margins and pull-tabs, some extending into the plates, hen's leg torn off but present. Moveable parts on four plates function well; two only in part. A good copy of a complicated and delicate book. Delightfully odd moveable illustrations including two of cats painting pictures of dogs and one of a monkey attempting to soothe a crying baby. Surprisingly, WorldCat lists only 3 copies of the American imprint in institutional libraries (there was also a London edition, scarcer still and apparently only held at the Library of Congress).
Offered by John Windle, Antiquarian Bookseller.
by HEMINGWAY, ERNEST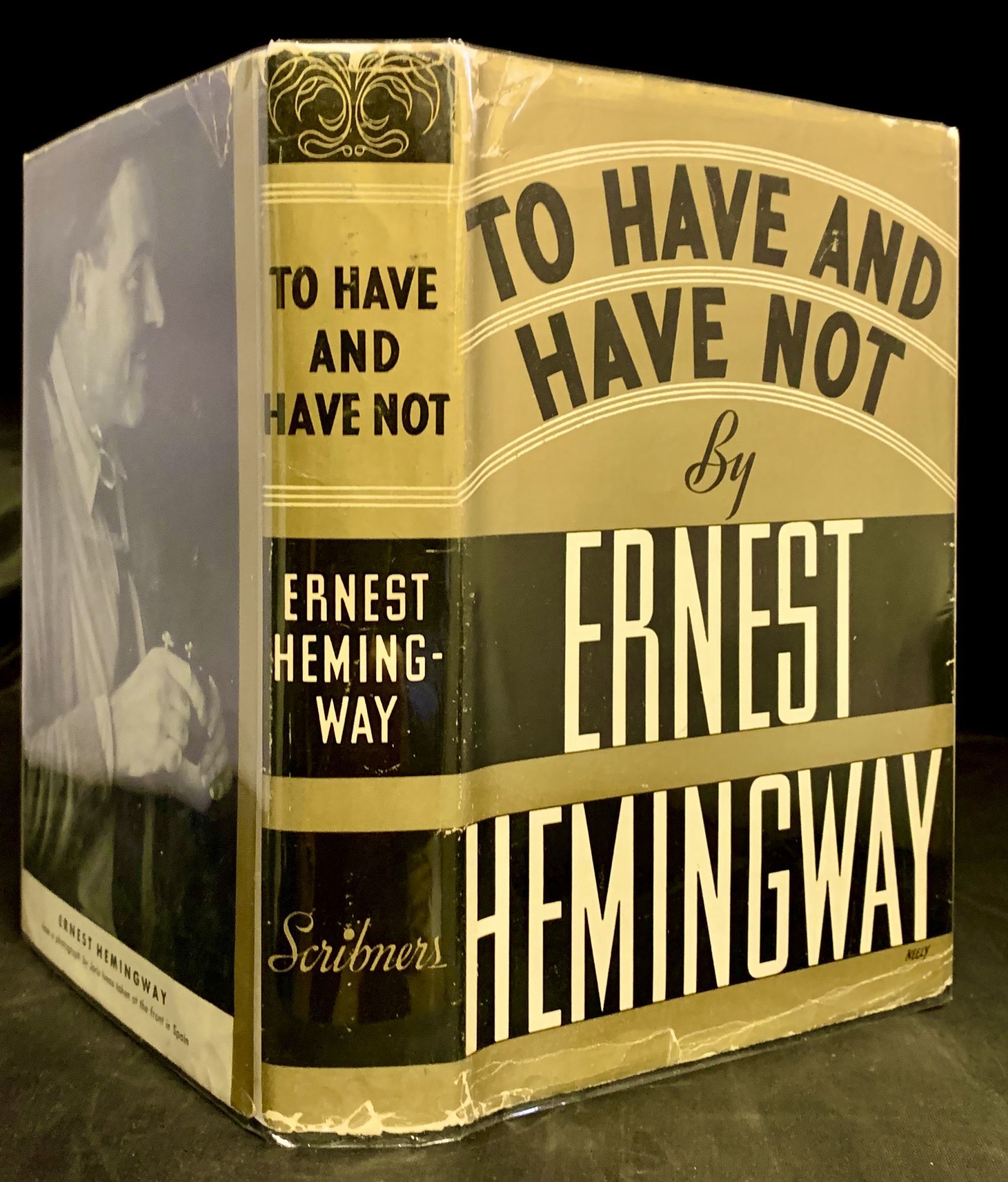 New York: Charles Scribner's Sons, 1937. First edition. Hardcover. Publisher's black cloth lettered in gilt. backstrip with two green labels lettered and decorated in gilt. Very good/Near fine. 262 pages. 21 x 14 cm. With first edition confirmed by letter A on verso of title. This novel served as the basis for Howard Hawk's film co-scripted by Faulkner that starred Humphrey Bogart as Harry Morgan and co-starred Lauren Becall. This effort was Hemingway's first long work of fiction since "A Farewell to Arms," published eight years earlier. Original unclipped dust wrapper with $2.50 price. Interior contents and covers clean and fresh, with slight chipping at spine ends and corners of the dust wrapper.
Offered by Roy Young Bookseller.
by CLEARY, BEVERLY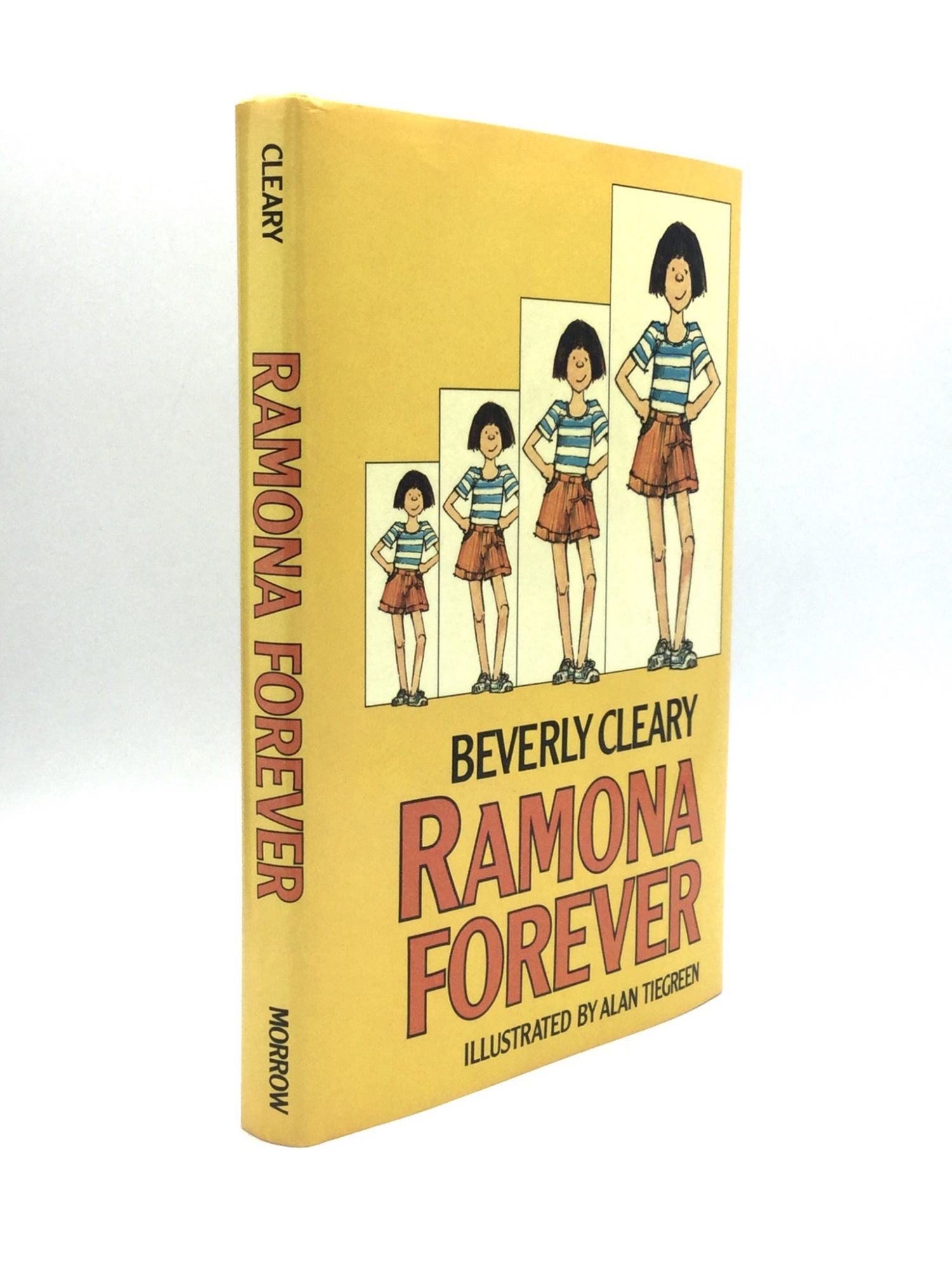 New York: William Morrow, 1984. First Edition. Hardcover. Fine/Fine. First edition, first printing. Signed by Beverly Cleary on the half-title. The seventh book featuring wonderful, blunderful Ramona Quimby.
Best known for her characters Ramona Quimby and Beezus Quimby, Henry Huggins and his dog Ribsy, and Ralph S. Mouse, Cleary (b.1916, d. 2021) was one of America's most successful authors - 91 million copies of her books have been sold worldwide since her first was published in 1950. The majority of Cleary's books are set in the Grant Park neighborhood of northeast Portland, Oregon, where she was raised, and she has been credited as one of the first authors of children's literature to figure emotional realism in the narratives of her characters, often children in middle class families.
Illustrated by Alan Tiegreen. Octavo. Original orange paper-covered boards over a yellow cloth spine, with black stamping. A fine copy in a fine dust jacket.
Offered by johnson rare books & archives.
FrameUp; the opening defense statement made by Angela Y. Davis, march 29, 1972
by DAVIS, ANGELA Y.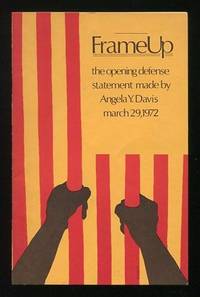 San Francisco: National United Committee to Free Angela Davis. Near Fine. [1972]. First Edition. Stapled wraps. [the teensiest bit of wear to lower right corner of front cover, a couple of teeny-tiny brown spots near bottom of front cover; otherwise flawless]. (3 B&W photographs) The full text of Davis's statement in Santa Clara County Superior Court, on the opening day of her trial for murder, kidnapping and conspiracy, which arose out of her involvement with August 7, 1970 incident in Marin County, California, in which a Superior Court judge was killed in the aftermath of an armed disruption and takeover of the courtroom during the trial of a member of the Black Panthers for his role in the stabbing of a prison guard. (Davis had purchased the weapons that were used in the incident.) Davis had gone on the lam after the issuance of a warrant for her arrest, and was captured by the FBI two months later, in October 1970. Her prosecution was widely regarded as politically-motivated, and a nationwide movement arose to gain her release; at her trial, she was eventually found not guilty on all counts. This booklet was issued shortly after her acquittal, which is referenced in the introduction.
Offered by ReadInk.
James Joyce Reading "Anna Livia Plurabelle"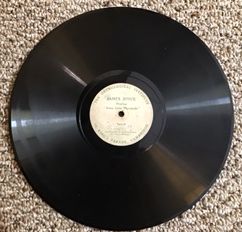 Orthological Institute. First Edition; 1st Pressing. Phonograph Record. A 12" shellac 78rpm phonograph record, good+. The labels on each side of the record are of different sizes: Part I is 2 3/4" and Part II is 3 3/8" There is a lot of surface noise making the record difficult to hear. Joyce's voice sounds distant, Well-worn. ; 12".
Offered by Beasley Books.
SIX original hand-colored flower prints from Curtis's Botanical Magazine 1840 - each one matted and with accompanying letterpress texts
by CURTIS, SAMUEL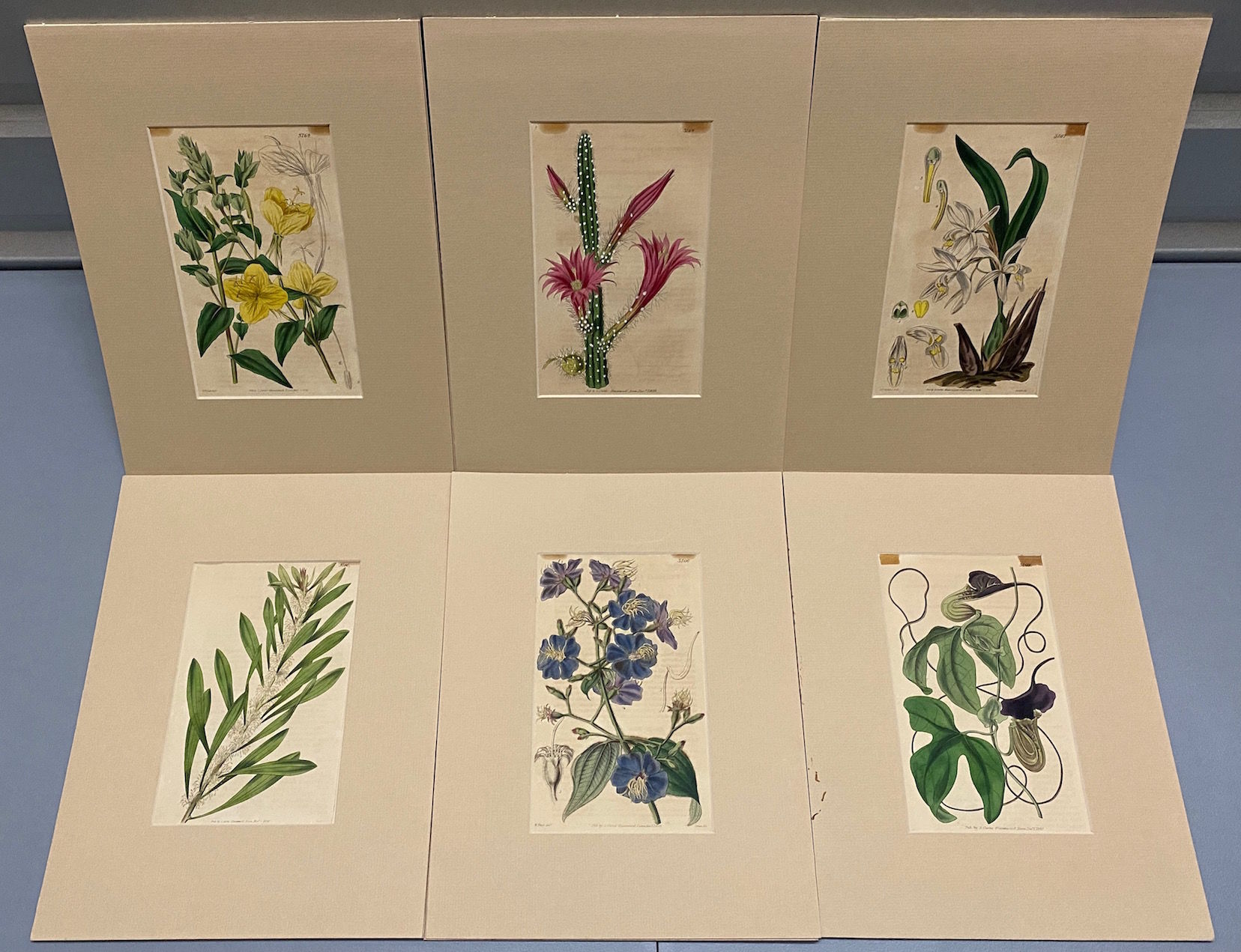 London: For the Proprietor Samuel Curtis, 1840. First Edition. Very good. A quantity of 6 hand-colored engravings, matted, stained at the tape hinges in the upper margins (SEE IMAGES), each print with accompanying descriptive text loosely laid in (some foxing as commonly), pl. 3769 matte with staining to left margin, not affecting print. With defects as described, and priced accordingly. Attractive collection of hand-colored engraved prints from the famed "Curtis's Botanical Magazine," vol. 66 (1840).

Offered by Michael Laird Rare Books.
Despite Straight Lines: An Analysis of his Graphic Constructions
by ALBERS, JOSEF AND FRANçOIS BUCHER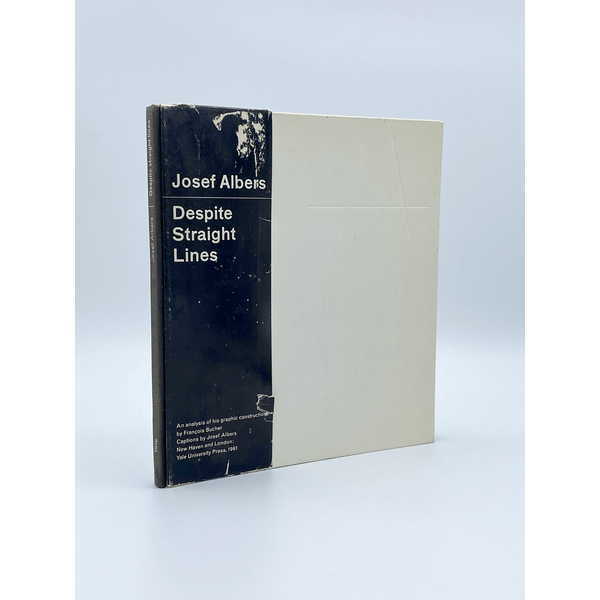 New Haven: Yale University Press, 1961. A few small stains on covers, overslip with some tears and wear, some light rubbing of spine lettering, sheet edges lightly toned, generally in well-preserved condition. 4to (22.5 x 20.8 cm). 87, [1] pages. Duo-tone reproductions. Original black quarter cloth, white embossed boards, with the scarce printed overslip for the front cover. First edition, inscribed by Albers on the half-title: "Signed for Adam Lewis January 1971 / Josef Albers." Lewis is a graduate of the Yale School or Art and Architecture. With the small errata slip laid-in.
Offered by Riverrun Books.
Original Carbon Typescript for Part I of "Howl"
by GINSBERG, ALLEN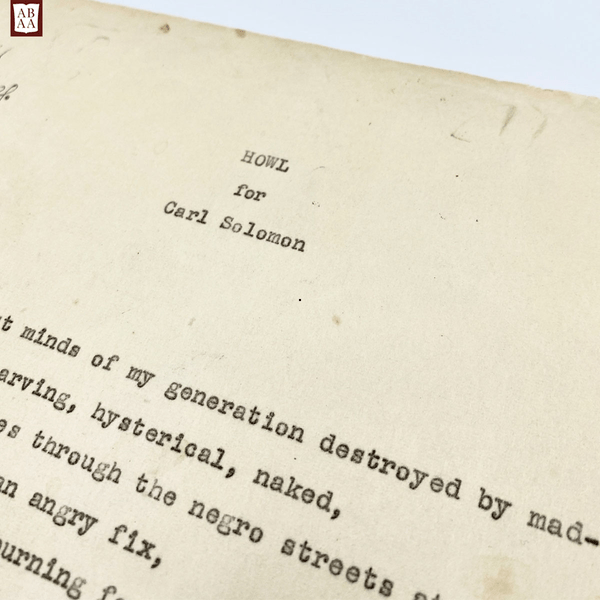 [San Francisco], [1955/6]. First Edition. Very good. Eleven carbon typescript leaves; 27.5 x 21.4 cm. Double-spaced, typed rectos only on plain paper. Folded in half, possibly for mailing. All pages evenly toned. Mild creasing and chipping to edges throughout. "By / Allen Ginsberg" penned to first page in an unknown hand (almost certainly not Ginsberg's). Page numbers penciled in unknown hand (but probably Ginsberg's) to upper right corner of each leaf. Several small, unobtrusive stains to first leaf. A faint ink scribble (possibly a letter "M") to lower edge of second page. One word crossed out in pencil ("iron," likely Ginsberg's) on page eight. Lacking last leaf - the twelfth - containing final nine lines of Part I. A first edition of HOWL: Original Draft Facsimiles and Variant Versions [etc.] edited by Barry Miles is provided (Harper & Row, 1986. Near fine in like jacket).

Previously unknown original carbon typescript of the most important postwar American poem: Allen Ginsberg's "Howl." Almost certainly the only surviving draft version of this iconic poem remaining in private hands, and the only one to ever be separately offered for sale. This copy was struck from what has become known as the fifth draft (so identified in HOWL: Original Draft Facsimiles and Variant Versions [etc.]. Barry Miles, Editor. New York: Harper & Row, 1986) and most likely dates from early 1956. It is this draft that Ginsberg read in what is the earliest known recording of the poem at Oregon's Reed College from February 1956 (indeed you can hear him turning the pages at precisely the right time on the recording), performed just three months after the legendary Six Gallery reading where the poem debuted. This copy of "Howl" was discovered among the papers of bohemian and arts benefactor Annie Ruff, and is the exact carbon struck on Ginsbergs own typewriter from the top ribbon copy now housed at Stanford among Ginsberg's papers. Ginsberg was known to have created carbons of the poem, and the peculiarities both of Ginsberg's typewriter and of this particular typing (i.e. matching orientations of the text vis-à-vis the page edges on the top copy vs. the carbon, parallel impressions evidencing matching strike timing and strength) - as well as revisions visible on both the top copy and this carbon - exactly match the original held at Stanford. It is not a fair copy, and we can also state definitively that it is not a later reproduction or duplication of any kind. The typescript here offered differs significantly from both the later published versions (ditto and City Lights), and perhaps more importantly from even the known top-copy draft at Stanford. Words erased and retyped in the top copy are visible in the carbon, as are other changes evidenced in comparison to the published and the digitized versions. As such, this typescript remains a rare window into Ginsberg's creative process, and an important document of this landmark poem. But perhaps most importantly, page seven is here in the carbon as it was originally typed, before Ginsberg retyped the entire page, changing it significantly. This original version is lacking from Ginsberg's papers and had previously only been known by the recently discovered February 1956 Reed College reading, the earliest known recording of the poem, which follows the text of the carbon here offered (indeed you can hear him turning the pages at precisely the right time on the recording), and was recorded just three months after the poems legendary debut at the Six Gallery reading. While the Six Gallery reading where "Howl" was debuted in an early form in October 1955, and the subsequent re-staging of this event in March of 1956 (the first time the poem was read in its entirety), made Ginsberg locally famous and even drew journalists like The New York Times's Richard Eberhart to document the nascent Beat Scene, no one was prepared for the effect the poem would have on both literature and the culture at large when it was published in the Fall of 1956 by Lawrence Ferlinghetti's City Lights Books. The book sold through its initial 1000-copy print run in just a few months, and a second printing of 1500 was ordered from the printer Villiers in London (who did handsome, inexpenive letterpress work). But when the books arrived in San Francisco from the UK, more than 500 copies were seized by US Customs authorities for obscenity, an event which (along with Ferlinghetti and City Lights employee Shig Murao's arrest later that year for selling HOWL), brought the poem - and its author - immediately to national attention, a position neither has relinquished. As the title of the 2006 book in honor of the poem's fiftieth anniversary described "Howl," it was without exaggeration "the poem that changed America." The City Lights edition has never been out of print, having sold upwards of a million copies, and the poem pioneered not only a more confessional mode of American poetry, but helped launch numerous youth movements from beatniks to hippies, Situationists to punks. The poem is a landmark in the history of gay rights, free speech, protest, censorship, and the counterculture. Only Eliot's "The Wasteland" rivals it in modern American poetry in terms of influence, legacy, and importance. Along with Kerouac's ON THE ROAD and Burrough's NAKED LUNCH, it is a cornerstone of the Beat movement and remains Ginsberg's most enduring work. A singular opportunity and monument of American literature.
Offered by Brian Cassidy Bookseller at TPM.
A Grand Ole Opry Program Signed By Dozens Of The Stars Of The Early 1960s On Their Photographs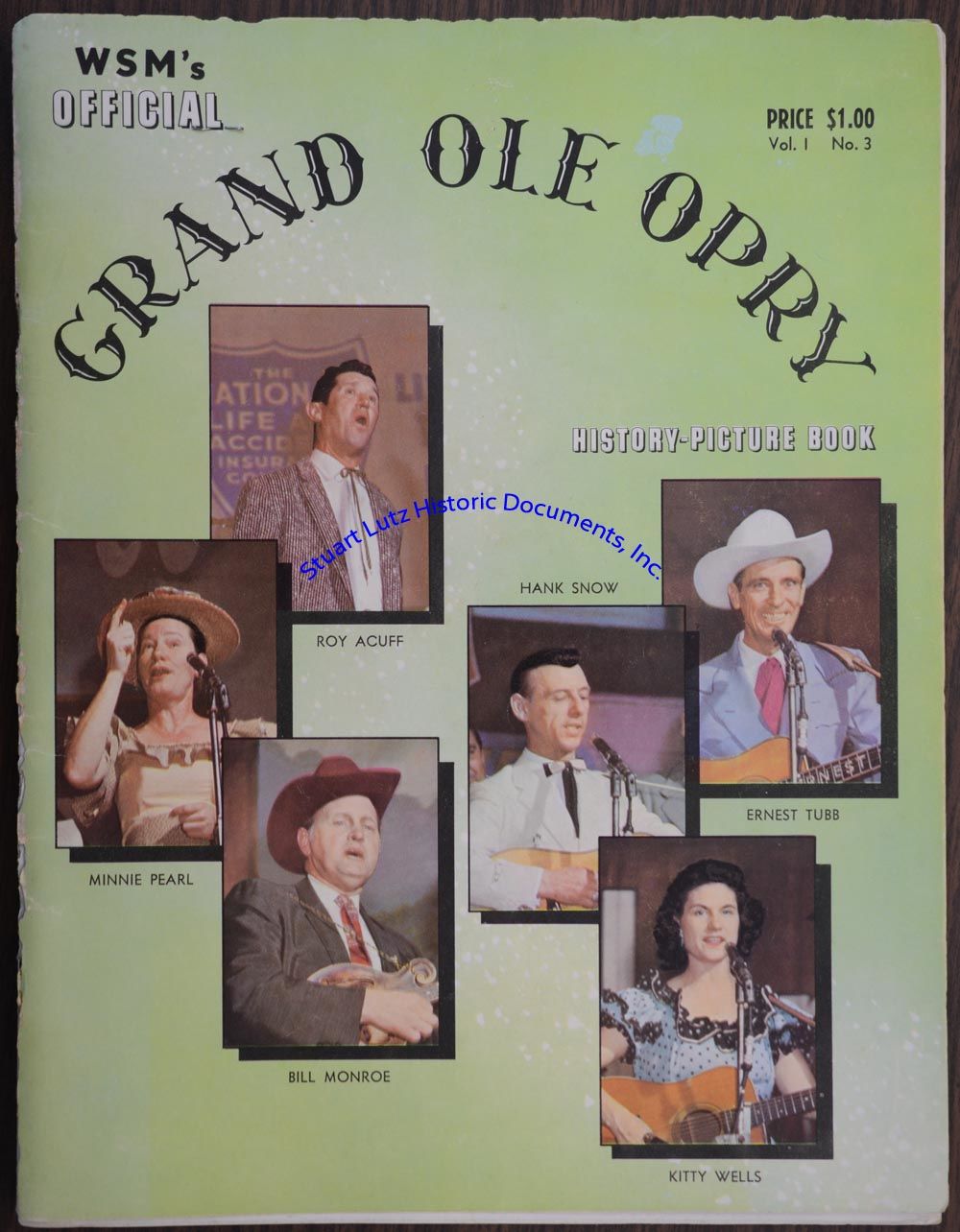 SB. 64pg. 8" x 10". No date [early 1960s]. No place [Nashville]. A soft cover booklet entitled WSM's Official Grand Ole Opry History-Picture Book signed by many country stars. The book was owned by a young fan named Mike, and he inserted many small black and white photographs of himself with the stars, who then signed the booklet. Some of the signers include Roy Acuff [full sized page], Chet Atkins [smaller image], June Carter [full sized page], Grandpa Jones [smaller image], Hawkshaw Hawkins [smaller image], Ferlin Husky [full sized page], Lester Flatt [smaller image], Minnie Pearl [full sized page], Jim Reeves [full sized page], Marty Robbins [full sized page], Hank Snow [full sized page], Ernest Tubb [full sized page], Porter Wagoner [smaller image], Faron Young [full sized page] and Roy Drusky [inserted 8" x 10" signed photograph]. It is also signed by lesser stars such as Carl Butler, Archie Campbell, Cowboy Copas, Wilma Lee and Stoney Cooper, Skeeter Davis, Roy Drusky, Billy Grammar, George Hamilton, Cousin Jody, the Jordanaires, Stringbean, Billy Walker and Del Wood. There are also a few color interior pages. There is some fading to the green cover and a tear halfway up the spine. A fine memento of the heyday of country music.
Offered by Stuart Lutz, Historic Documents.
by TED BERRIGAN, ROBERT CREELEY, ALLEN GINSBERG, HETTIE JONES, BILL BERKSON, ROBERT BLY, JOE BRAINARD, KENWARD ELMSLIE, DONALD HALL, RON PADGETT, EILEEN MYLES, GARY SNYDER, AMIRI BARAKA, ALICE NOTLEY, JIM HARRISON, DIANE DI PRIMA, ED SANDERS, ANDREI CODRESCU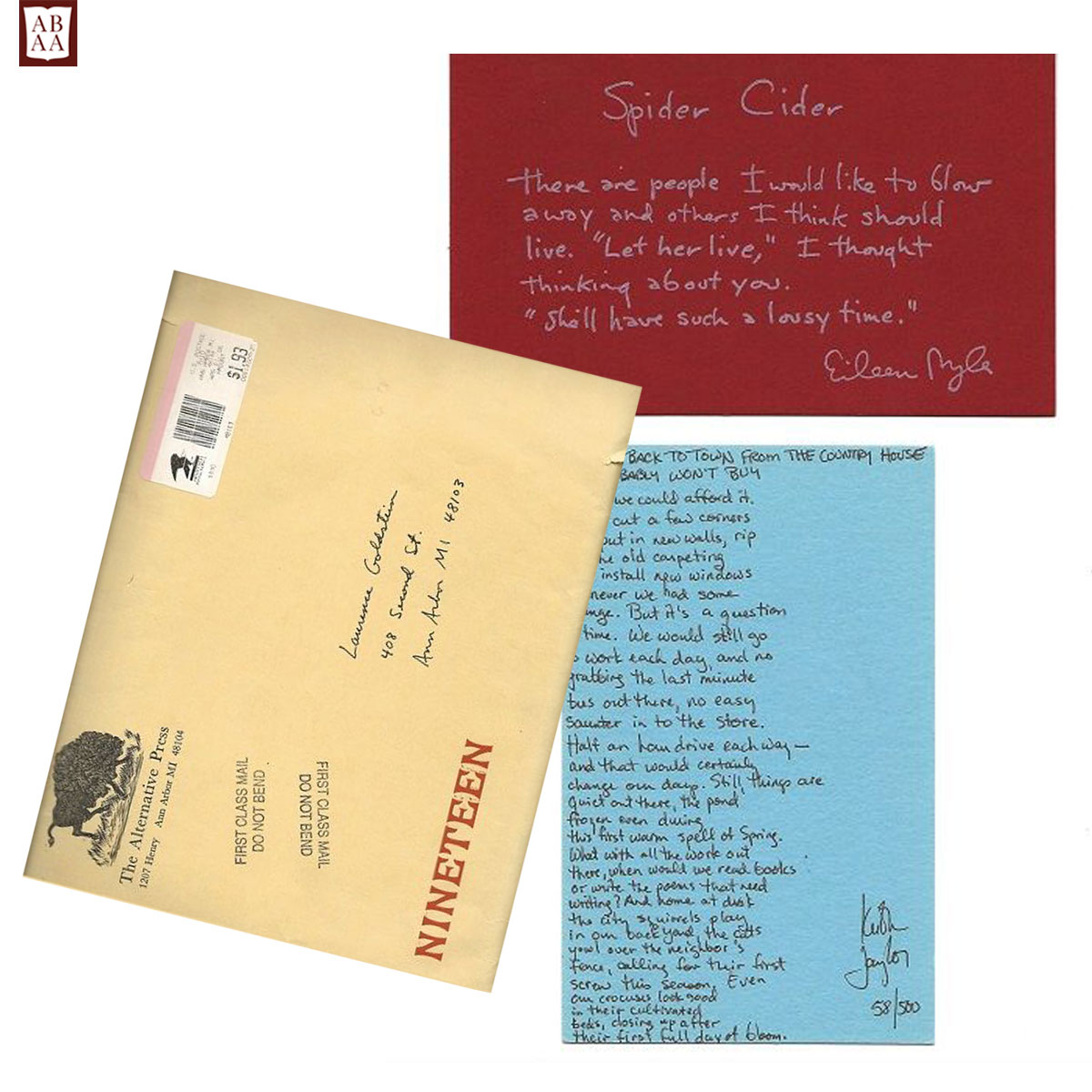 Grindstone City, Ann Arbor, Detroit: The Alternative Press, 1990. Over fifty items published and printed at the Alternative Press, including postcards, bookmarks, bumberstickers, broadsides, even a tea bag. Many items are illustrated, some with art and drawings by Ann Mikolowski, who served as the art director and co-founder of the press. Ken Mikolowski was the founder, editor, and publisher of the press. Included are hand written poems, signed, by Kenward Elmslie, Eileen Myles, Robert Creeley, Faye Kicknosway, and Keith Taylor. The archive is housed in a large manila envelope with The Alternative Press address and logo printed in the upper left corner. Also included in the archive is a three page script of introductory notes, for an event honoring Ken and Ann Mikolowski, and introducing Robert Creeley as the event's speaker. Overall, very minimal wear to this remarkable collection of Alternative Press publications. Unique and fine.
Offered by Jett W. Whitehead Rare Books.
Collectors, Forgers - And A Writer: A Memoir [Limited Edition, Signed]
by James Michener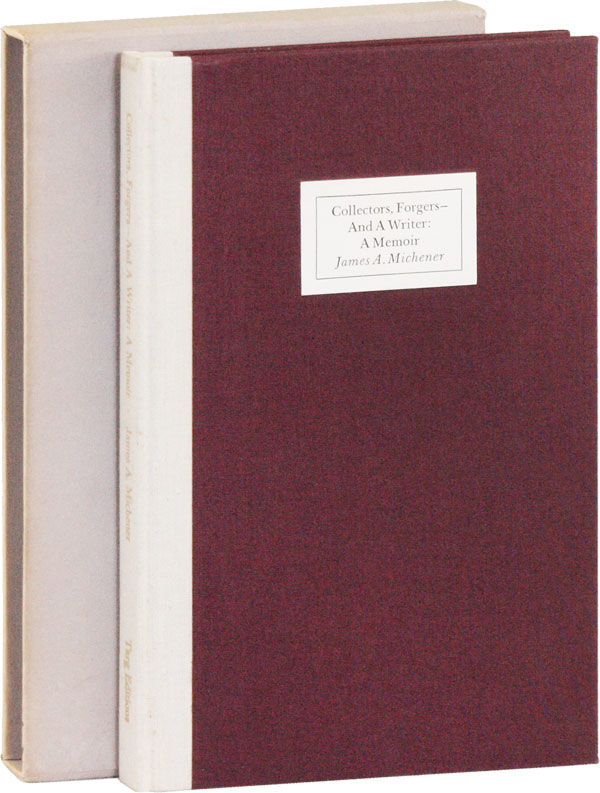 New York: Targ Editions, 1983. First, Limited Edition. One of 250 numbered copies specially bound and signed by the author. Octavo (24.5cm); purple cloth-covered boards and beige cloth backstrip, with titles stamped in gilt on spine, and printed title label mounted to upper front cover; publisher's original paper-covered slipcase; [iv],[4],5-64,[4]pp. Fine in a Near Fine slipcase, with some trivial wear and mild sunning around the opening. An attractive bibliophile memoir by the Pulitzer Prize-winning author, and among his more uncommon works.
Offered by Lorne Bair Rare Books.
Les Psaumes de David, Mis en Vers François
by GENEVA PSALTER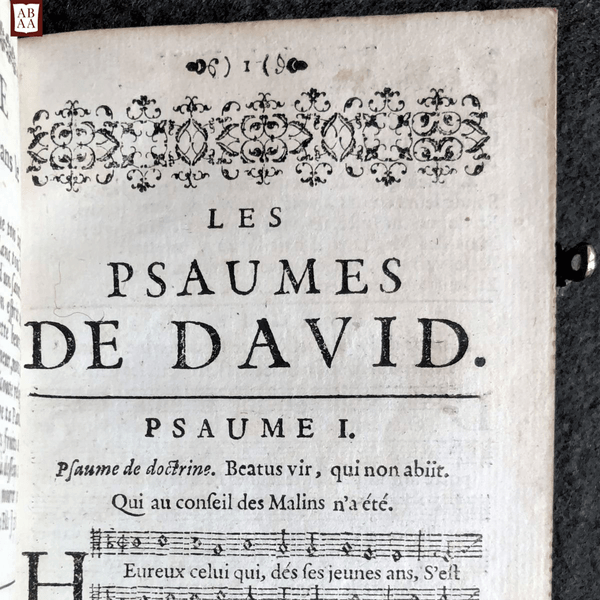 Neuchâtel: Jean Pistorius, 1704. 12mo (140 x 82 mm). [16], 216, [8]; 34, [2] pages. Typographic music. First two leaves with small rust holes from the nail holding the edge pin, short closed tear in last leaf. Contemporary painted silver-gilt-tooled parchment over thin wooden boards, covers with dogtooth border framing two assymetrical flowering plants at top and at bottom with small bird and star tools, painted green, light brown and red, at center a wreathed cartouche containing the tooled initials "AL" on upper cover and a simple cruciform ornament on lower cover, the cartouches painted light brown and flanked by two cherubs and leafy ornaments, flat spine with ornamental panels, pair of leather and metal fore-edge pin clasps on lower cover, attaching to edge pins on upper cover, edges stained red and with gauffered borders, front pastedown and rear endpapers of bronze-varnish paper: the design, of leafy volutes and an eagle, in gold ink over a color block print of violet and red blossoms and leaves, front free endpaper overlaid with a stenciled brocade paper with a simple overpainted drap d'or design in thick green and orange gouache; paper spine liners form a different block-printed paper. The gilding slightly rubbed in places, colors faded, but overall in very good condition. Provenance: Grandson de Blonay, bookplate.***

A pocket Calvinist hymnal in a lovely painted and silver-gilt-tooled Swiss or South German binding. The covers with their cheerful and colorful flowers, birds, cherubs, and stars open to reveal endpapers with gold-patterned eagles and foliage on a muted colored ground.

The French psalter of the Reformed church, first established in 1562, underwent multiple revisions. The 150 psalms of this edition, officially sanctioned by the Protestant Church of Geneva (under the aegis of the Académie de Genève), are in the version of Valentin Conrart, who died in 1675 after completing only 51 psalms, and Marc-Antoine de La Bastide, who finished the rest. While revising the text, Conrart and his successor maintained the meters of the earlier versions, so that the same melodies, derived from Gregorian chant as well as popular tunes, could continue to be used.

Johann Pistorius published repeated editions of this hymnal for about 30 years, starting ca. 1700; his 1729 and 1730 editions were printed in Basel. The official approbation, dated 1679 (date of the first edition of this version), prefaces the text, which is printed in small types. Each psalm opens with four or five lines of printed music, providing the melody. Tables at the end include a concordance to the incipits of earlier versions (also printed following the title of each psalm). Part 2 contains Les formes des prieres ecclesiastiques (drop-title) and various prayers.

This copy possibly remained in the town of its printing until the twentieth century: it was owned by the de Blonay family, whose imposing Château de Grandson in Neuchâtel remains one of the best-preserved medieval castles in Switzerland.

The Zwischgold-tooled painted parchment binding, with its owner's stamped initials, may also be Swiss. While it shares technical elements with the Germanic Bauerneinbände (peasant bindings), the tooling is more detailed and it lacks the mosaic bands that characterize those usually somewhat cruder bindings. The endpapers preserve a fine example of bronze-varnish paper (Bronzefirnispapier) in which the gold-colored ink pattern has been stamped over block-printed paper. These papers were produced only from about 1680 to the 1730s, after which brocade paper became more popular. The front free endpaper was covered over at a somewhat later date with a mounted sheet of white-stencilled brocade paper sporting a rather primitive "drap d'or" onlay of thick gouache (the endpaper and following flyleaf are dented by the edge-pin nails slightly protruding from the inner front cover, but, unlike the title-leaf they are not pierced).
Offered by Musinsky Rare Books.
Women…Our Wounded Need Your Care! (Recruiting broadside.)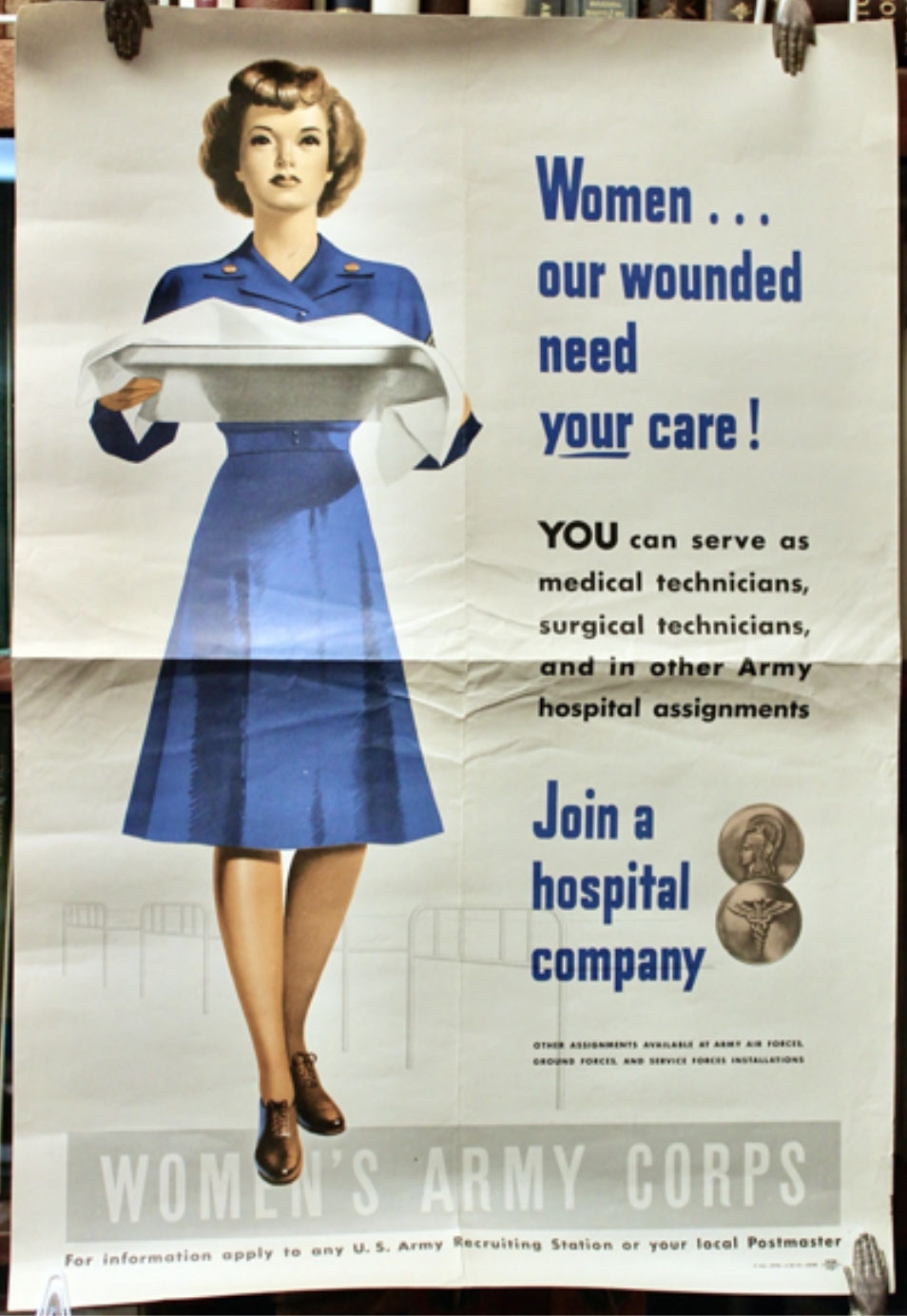 Washington, DC: United States Army Recruiting Publicity Bureau, 1945. Broadside (17" x 25"). With full-color printed illustration of a woman medical technician, in uniform, carrying a tray of medical instruments. Also with two medals, printed in bronze, bearing the emblems of the U.S. Army Medical Corps. Text printed in blue, black, and gray. Some creasing. A very good, bright, and clean copy of this uncommon item encouraging women to serve in Army hospital assignments.
Full text as follows: "Women…our wounded need your care! You can serve as medical technicians, surgical technicians, and other Army hospital assignments. Join a hospital company. Other assignments available at Army Air Forces, Ground Forces, and Service Forces installations."
The Women's Army Corps evolved from the Women's Auxiliary Army Corps, a civilian organization of women working with the United States Army, when Congress granted military status to its members in 1943. Forty percent of WAC members were assigned to positions as weather observers, radio and control tower operators, and aerial photograph analysts. Many other women worked as cryptographers, medical technicians, and mechanics. As the war entered its last two years, and as the WAC fought for further inclusion in the ranks of the Army, more women were enlisted in roles previously reserved for men (Yellin).
Offered by Michael R. Thompson Rare Books and found in their catalog "Women's Studies."
by DR. SEUSS (THEODOR GEISEL)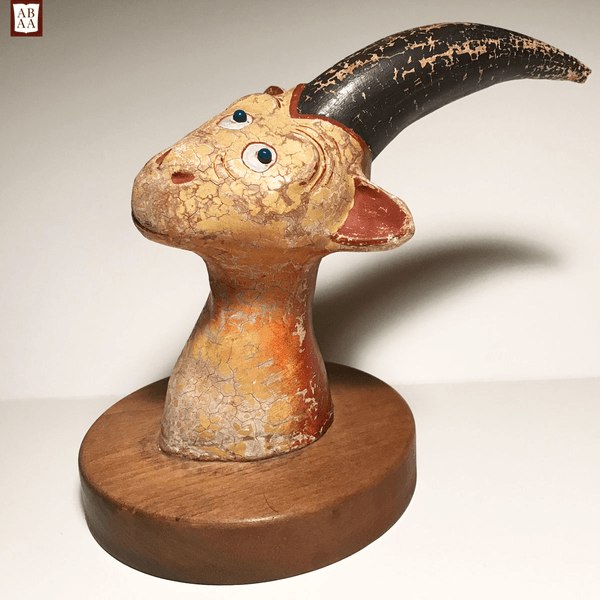 Original painted clay/plaster mounted on wood, a Modeled head of a unicorn from the Seuss System of Unorthodox Taxidermy [designed and hand-crafted by the artist]. One of three mounted trophy heads produced in 1938 for the Dr. Seuss Zoo (together with the Blue-Green Abelard and the Tufted Guzzard).
Original paint (rubbed and crazed), with printed label on verso. Measures 7 x 5-3/4 inches; mount: Diameter 5 inches. Provenance: Seubert Family.
Offered by Battledore.
The LaSalle, A Companion Car to Cadillac
by WILSON, EDWARD ARTHUR (ILLUSTRATOR)

Detroit: Cadillac Motor Company, 1927. Softcover. Very good. 9.5" x 12" (oblong), 19 pp, bound in heavy cardstock with mounted color illustration on front cover. Light dust-soiling and a few stray marks on wrappers, contents clean; very good. Includes 6 beautiful full-page color illustrations showing the LaSalle in various environments and many smaller illustrations relating to the exploration of North America by René-Robert Cavelier, Sieur de La Salle. Wilson (1886-1970) was a prolific illustrator, lithographer, and painter known for his illustrations of children's classics and books with maritime themes, as well as advertisements, bookplates, magazine covers, postage stamps, and war posters. This book intoduces the LaSalle to the market, presenting it as a perfect everyday car -- smaller and less expensive than the Cadillac but with "that refined performance, distinguished appearance, and luxury of appointments which [customers] are accustomed to accept as indispensable factors in motoring." Most of the text discusses the car's design elements, construction quality, and performance in general terms; the last two pages contain specifications. Uncommon; nine copies located in OCLC.
Offered by Walkabout Books.
Spring in New Hampshire and Other Poems (Signed, First Edition)
by MCKAY, CLAUDE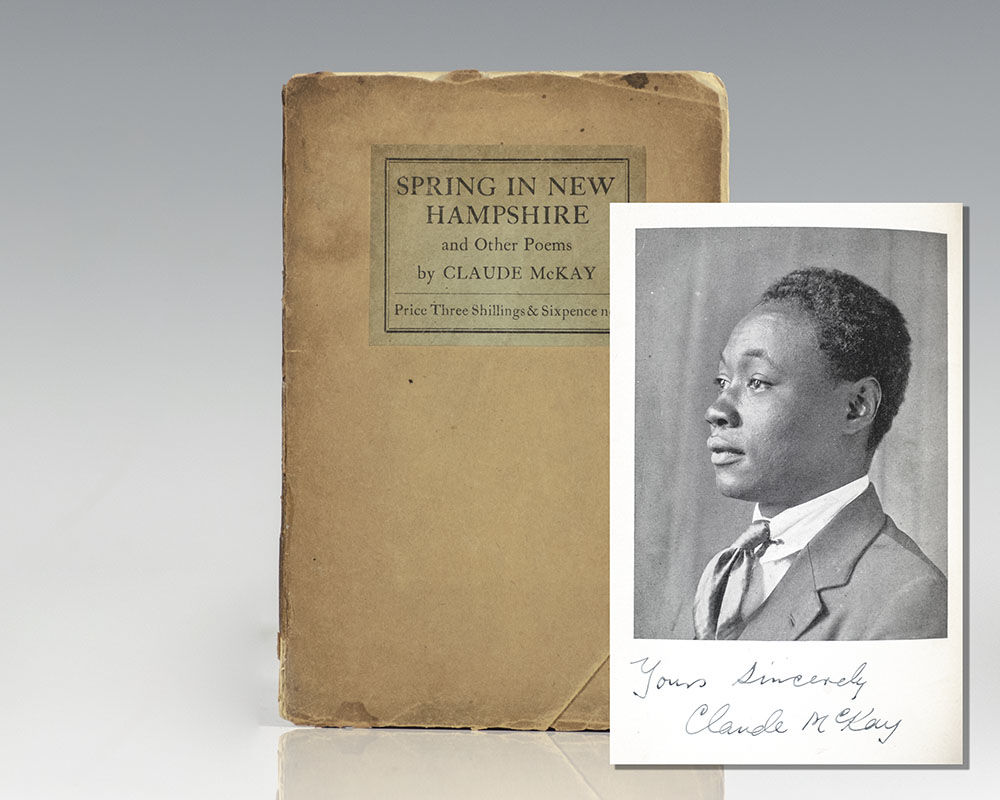 London: Grant Richards, 1920. First edition of McKay's seminal volume of 31 poems including iconic works such as Harlem Dancer and The Lynching, published in London shortly before his return to America as a leader of the Harlem Renaissance. Octavo, original wrappers, frontispiece. Boldly signed by the author underneath the frontispiece, In very good condition. Books signed by McKay are rare. Here "McKay's affection for the sonnet, the 'little song' of 14 lines his grand style favored," stands out, affirming his influential view of "the sonnet as an exceptionally transnational poetic design... In McKay's conception it ranked as a fellow vagabond equipped with centuries of worldly advice on living through the century of the color line. For him, the sonnet's thousand preceding voices whispered lessons for the emergence of black literary modernism" (Maxwell, ed., Complete Poems, xxxiv-vi). His sonnets are an elemental bridge between the "formally conventional critiques of racism offered by Phillis Wheatley, Frances E.W. Harper, James Corrothers and Paul Laurence Dunbar and the radically thematic and experimental affronts of those who came after him. Linking the past with the present, the old with the new, McKay's Harlem poetry... adds another dimension to our understanding of the complicated ways in which race, modernity and modernism intersect" (Hathaway et al., Race and Modern Artist, 64). All but five of the 31 poems here were reprinted in full in Harlem Shadows (1922), with "The Choice" (37) reprinted there as "The Wild Goat" (Hathaway, 57n). "Love Song," "Reminiscences," "Sukee River"(second version) appeared in Cambridge Magazine (Summer 1920); "Harlem Dancer" appeared in Seven Arts under an alias (1917), with other select poems appearing in Pearson's and The Liberator. Blockson 6467.
Offered by Raptis Rare Books.
Le Portrait de Dorian Gray (wood engraving, inscribed by the artist)
by [WILDE, OSCAR]; SIMÉON, FERNAND (ARTIST); [COQ, ANDRÉ]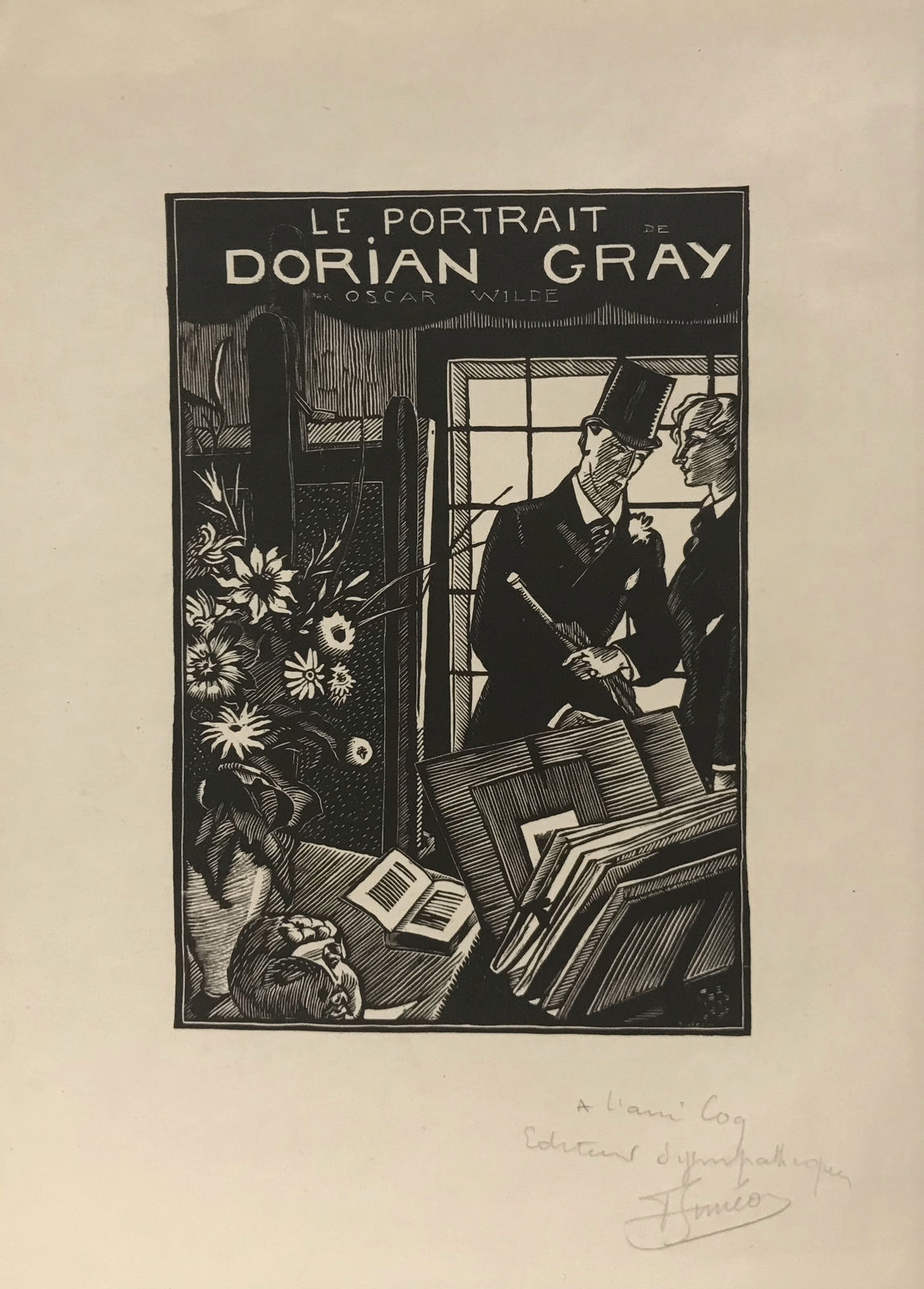 Paris: Édition Mornay, 1920. Inscribed presentation copy of this striking wood engraving by Art Deco illustrator Fernand Siméon (1884-1928), featuring Oscar Wilde's Dorian Gray. Siméon's stylized image, which captures the aesthetic sensibility and sinister undercurrent of Wilde's 1890 novel, was issued as the frontispiece to Mornay's 1920 French edition. Siméon has warmly inscribed this engraving to Paris publisher André Coq, who hired Siméon to illustrate Anatole France's Marguerite that same year. A fine signed print. Wood engraving, measuring 5 x 3.5 inches, printed in black on a sheet of ivory paper measuring 7.75 x 5.5 inches, tipped to a slightly larger backing sheet. Inscribed in pencil beneath image: "A l'ami Coq / Editeur sympathetique / F Siméon."
Offered by Honey & Wax Booksellers.
(Press Brochure): World Heavyweight Championship Fight. Joe Frazier (Champion) vs Muhammad Ali (Challenger) at Madison Square Garden March 8, 1971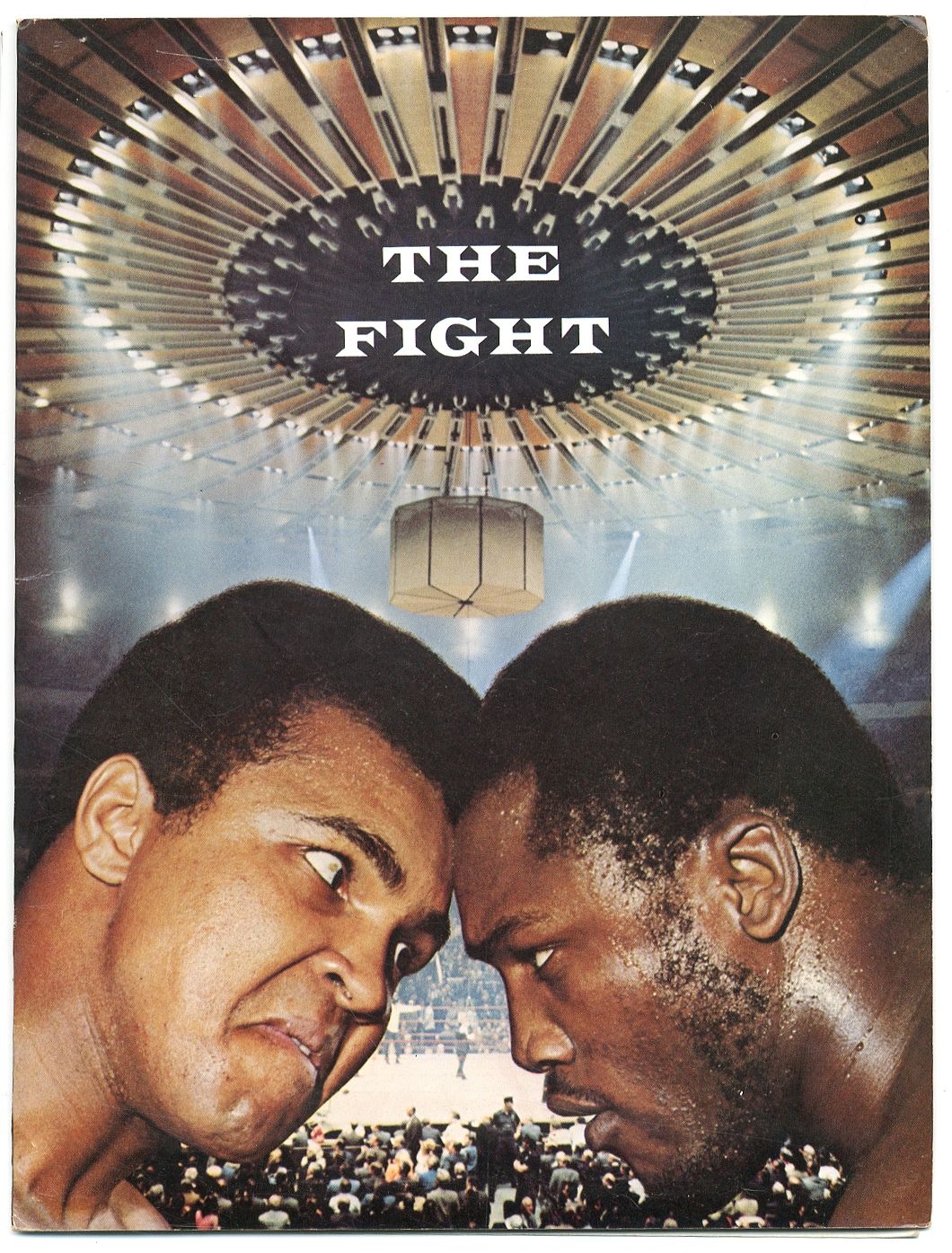 New York: Madison Square Garden Boxing, Inc. In Association with Fight of Champions / Printed by Thomas A. Koppel & Son Co, 1971. Softcover. Fine. Quarto. 25 mimeographed leaves printed rectos only, stapled into a color folder, photograph of the fighters on the front wrap, LeRoy Neiman painting on the rear. Very light wear, fine.
Includes a biographical sketch of Frazier by John F.X. Condon. An important and classic heavyweight championship fight that had repercussions beyond the ring, Ali was trying to regain the title that had been stripped from him when he was stripped of the title for refusing induction in the Army. Frazier retained his title in a fight that went the distance. Scarce.
Offered by Between the Covers Rare Books.
The Underground Railroad (Signed, First Edition)
by Colson Whitehead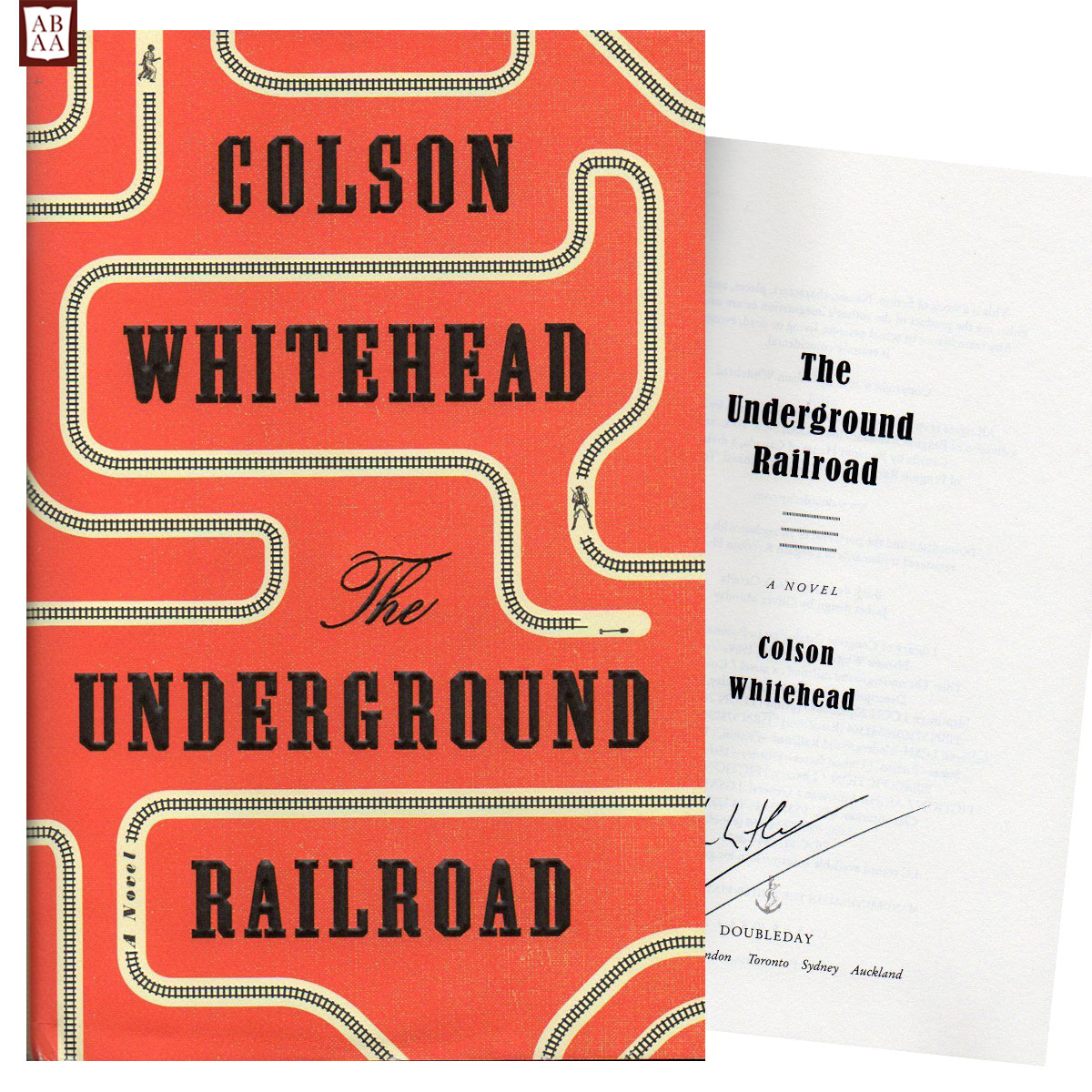 Doubleday, 2016. First Edition (first printing).
The sixth novel by the author of THE NICKEL BOYS and JOHN HENRY DAYS, the chronicle of a young slave's adventures as she makes a desperate bid for freedom in the antebellum South. Named as an Oprah Book Club selection and winner of both the Pulitzer Prize and the National Book Award. Also, longlisted for the Man Booker Prize in Britain. Fine/Fine. Signed by Whitehead on the title page. Hardcover. Fine/Fine.
Offered by Bill Leone, Bookseller.
The Pop-Up Pinocchio; Being the Life And Adventures Of A Wooden Puppet Who Finally Became A Real Boy
by LENTZ, HAROLD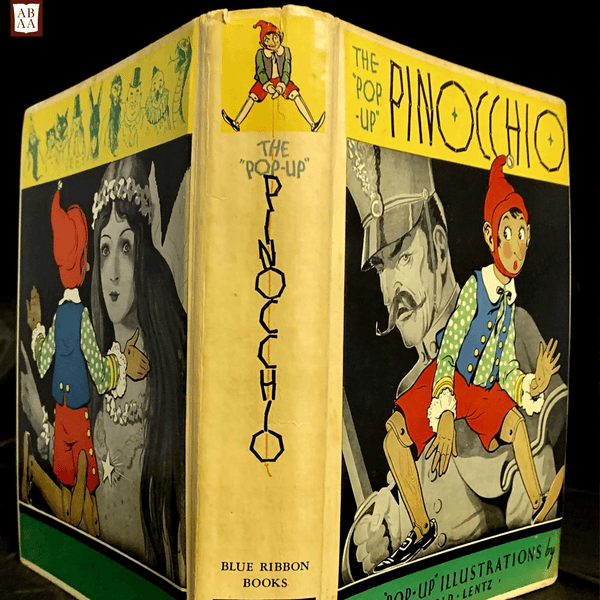 New York: Blue Ribbon Rooks, Inc, 1932. First edition. Hardcover. Orig. decorated thick boards. Very good in tattered dust wrapper. Lent, Harold. 96 pages. 22 x 16.5 cm. Illustrated with four pop-ups in a multitude of colors, and numerous black and white illustrations in the text. Carlo Collodi (Italian, 1826-1890) was responsible for the original Pinocchio writing the "Story of a Marionette, and also called "Le avventure di Pinocchio," which was published weekly in Il Giornale per i Bambini. Illustrated endpapers in color by Lentz. Two tiny nicks at backstrip head and foot, a firm, very sound binding.
Offered by Roy Young Bookseller.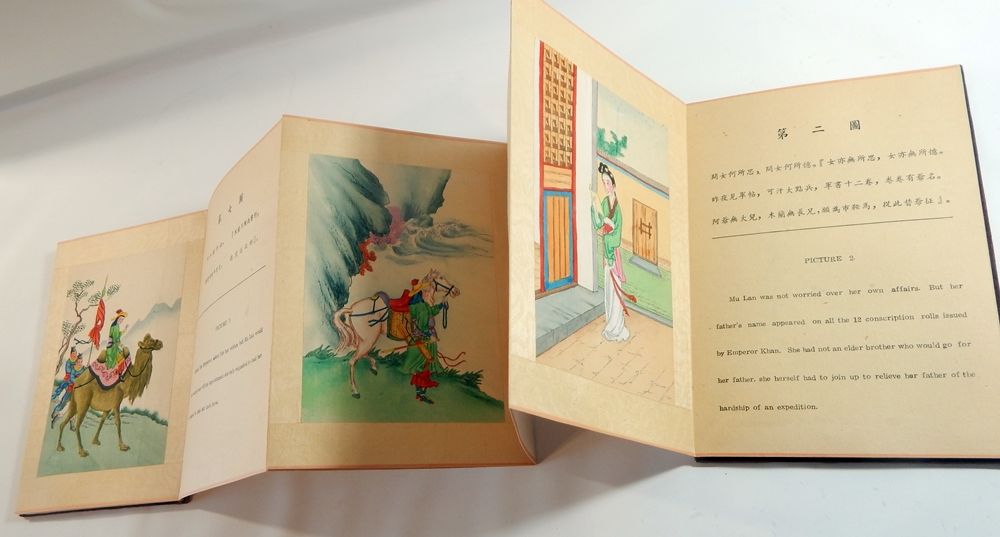 China: n.p., 1920. Near fine. Hardcover. 8vo. Accordion book bound in Asian style. Brown silk cloth boards, lettering panel on the upper board. Title page in Chinese and English. This is followed by 10 sets of two pages, the right hand page with the story of Mu Lan in Chinese and English, and the left hand with a painting on silk illustrating the story. The silk paintings are bright and unfaded, showing vibrant pigmentation, and artistically executed with lovely shading effects.
This is the story of the young woman who enlisted in the army in place of her father, keeping her sex concealed until the end, when she was rewarded for her courageous acts. Basis for the movie by Disney. The corners and edges of the boards are worn in places, but the text block is in fine condition. Scarce.
Offered by Thorn Books.
The Tarot of California. Redrawn from a nineteenth century Italian Piedmont Deck
By Fred Martin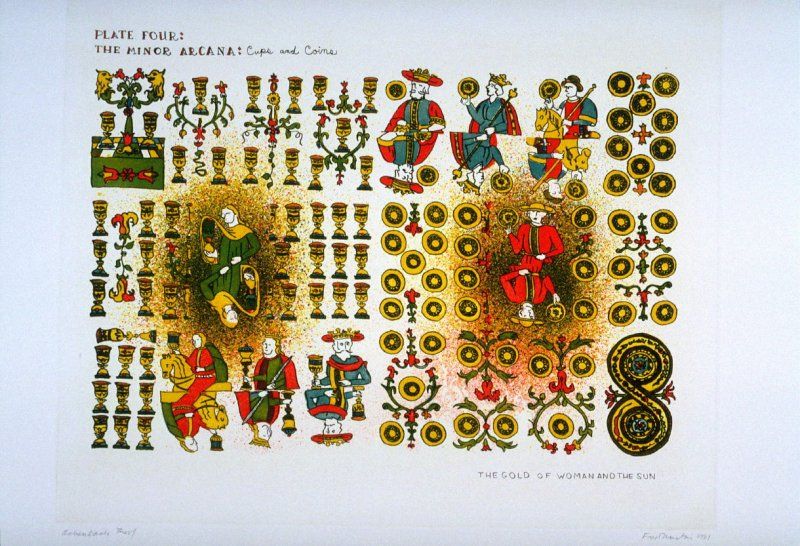 Palo Alto: 3 EP Ltd, 1981. First edition. A portfolio of six colored etchings and aquatints, drawn by the artist on copper and zinc plates, printed by Ikuru Kuwahara, signed, numbered, and dated by the artist. Overall size 22-1/2 inches x 27 inches, plate size 17-1/2 in x 22 in. Copy 19 of 20 numbered sets on Arches plus six proof sets of which 3 were on Stonehenge paper. Fine condition in publisher's folding linen case. Fred Martin's works are held by numerous institutions, including The New York Museum of Modern Art, The Fine Arts Museums of San Francisco, The National Gallery, Washington, etc. An account of the development of his Tarot images is on the artist's web site (fredmartin[dot]net).
Offered by Thomas A. Goldwasser Rare Books.
Original Pen and Ink Manuscript Collection of Tarot and Esoteric Self-instruction Notebooks
[San Francisco, 1980. Very good.. Four black binders. Approximately [130] leaves of handwritten text and pen/ink illustrations, some with ink washes. The notebooks are divided into four parts, A-D. The various parts total about 130 individual leaves of manuscript notes in blue and black ink with corresponding illustrations and various types of notebook paper. In some cases, text is written on both sides of each leaf. Each divided part describes the author's understanding of the Tarot card divination system with both the minor and major arcana hierarchy. In very good condition with each sheet in mylar and unmounted on black crepe paper. Some age wear to paper and reinforced black tape on binders, otherwise clean, bright, and legible. The collection is either a student's book of notes or a lecturer's book of teaching notes, more likely a student of self-directed Tarot and esoteric thought instruction. From the style of drawings and the description of each individual card, the creator is most likely using the Waite-Rider-Smith Tarot deck as reference. The illustrations reflect the artistic style of Pamela Colman Smith directly. While there are no name attribution's for the creator, there are references to well-known Tarot instructors and occult scholars, including Paul Foster Case and Jason Lotterhand. In 1978, Lotterhand published "The Thursday Night Tarot" book and edited by his friend and student, Arisa Victor. The book contained the "essence" of the Thursday night messages as they related to the 22 cards of the major arcana. He began his training with BOTA (Builders of the Adytum founded by Dr. Paul Foster Case) in 1933 and later served as Director of the organization. Both teachers used the Cabala and Hermetic symbolism as a framework because it was comprehensive enough without the complexity of Eastern thought systems. The method taught the elements of the tarot representing the rich symbolism associated with the 22 letters of the Hebrew alphabet and paired them with the illustrations of the Tarot. In various meditations on the "keys" of the images, those practices convey insights through the power of suggestion to the subconscious mind. This system, as influenced from Victorian era occultist Arthur Waite, utilized symbolism as the key to the Tarot. In The Key to the Tarot, Waite writes: "The true Tarot is symbolism; it speaks no other language and offers no other signs." This collection of primary source manuscripts and original art is an example of theosophical thought, outsider art, alchemical studies, and the continued idea of self-directed tarot and esoteric knowledge teaching, beginning at the turn of the century. There are also references to addresses and names of people based in San Francisco, thus alluding the creator was Bay Area, CA based. There are also a couple of drawings of the Golden Gate Bridge. The author is personally contemplative and responds to the tarot's interpretative and intuitive nature of philosophical divination echoing the alchemical motto, "Solve et Coagula," or dissolve the body and build up the spirit....
Offered by McBride Rare Books.
Real Sailor-Songs. Two Hundred Illustrations
by John Ashton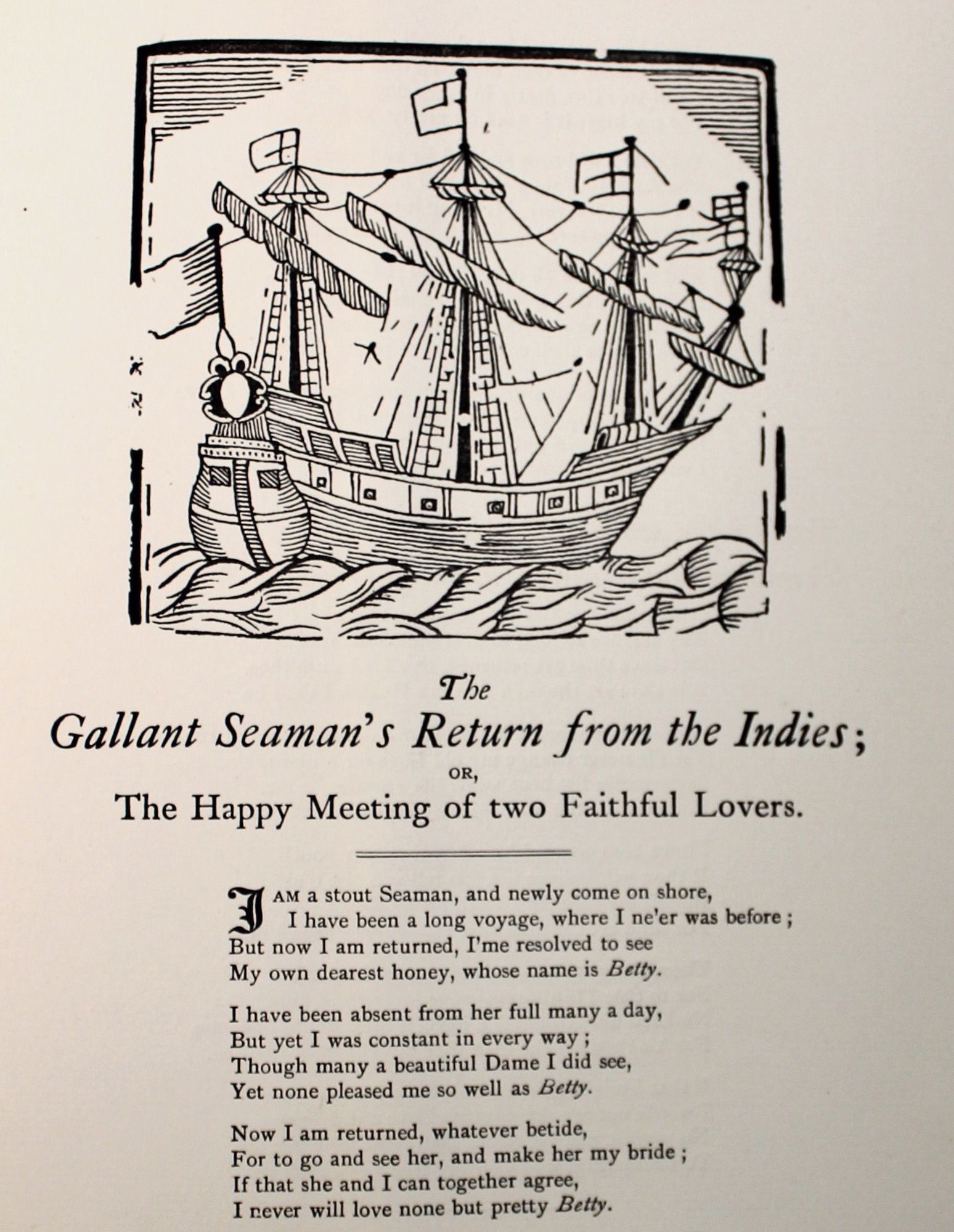 London: Leadenhall Press, 1891. First edition. Half vellum over blue paper boards, gilt spine, gilt coat-of-arms on front cover. Covers stamped in black and red. With 32 facsimiles of nautical song broadsides mounted on brown paper stubs. With a total of 200 half-page illustrations, initials, headpieces, and tailpieces (some by Joseph Crawhall). Some yellowing to vellum, as usual. Some wear to seam where vellum meets paper on front board. Front hinge somewhat tender. Some rubbing to extremities. Edges untrimmed. Some toning to endpapers and some occasional toning to leaves from brown paper stubs. Twentieth century bookplate (Ex Libris Oliver Collection) to front pastedown. Overall a very good, clean copy of this lively and ambitious Leadenhall Press production.
The present work collects almost 130 sea shanties and other songs written by sailors from the seventeenth through nineteenth centuries. The songs are organized into sections according to relevant themes in the nautical life: sea fights, press gangs, disasters, life ashore, and love. The miscellaneous section at the end of the book covers everything from "Davy Jones's Locker" and "The Downfall of Piracy" to "The Female Smuggler" to "The Sailor's Widow's Lament."
Offered by Michael R. Thompson Rare Books.
Wakyomaru. Early Japanese advertising art for patent medicine cure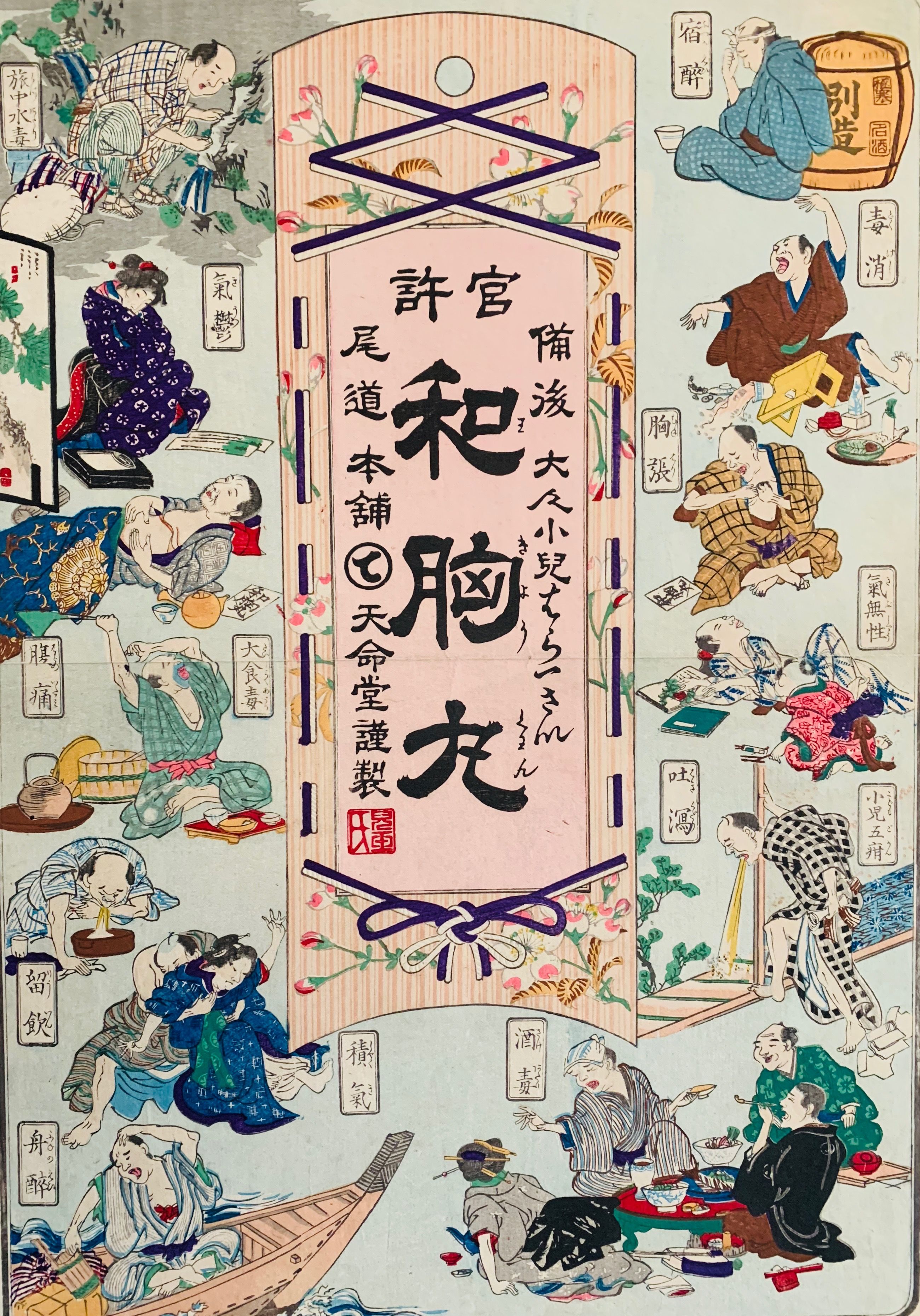 1870-1900· Hiroshima. Illustrated color-printed advertising broadside promoting Wakyomaru,a medicinal powder manufactured by Tenmai-Do. This woodblock print depicts, in no uncertain terms, the digestive-tract ailments that this powder can cure: from morning sickness, food poisoning, heartburn, low energy, vomiting and diarrhea, to colic in children, alcohol poisoning, chest and stomach pain, gastritis, overeating, and stomach troubles that can lead to depression! A viewer receives a particular graphic view of the dietary and emotional stress of life in Japan during the Meiji era.
Offered by Marc Selvaggio, Books & Ephemera.
Pete Rice Magazine A very scarce and desirable western pulp title.
by GRIDLEY, AUSTIN AKA BEN CONLON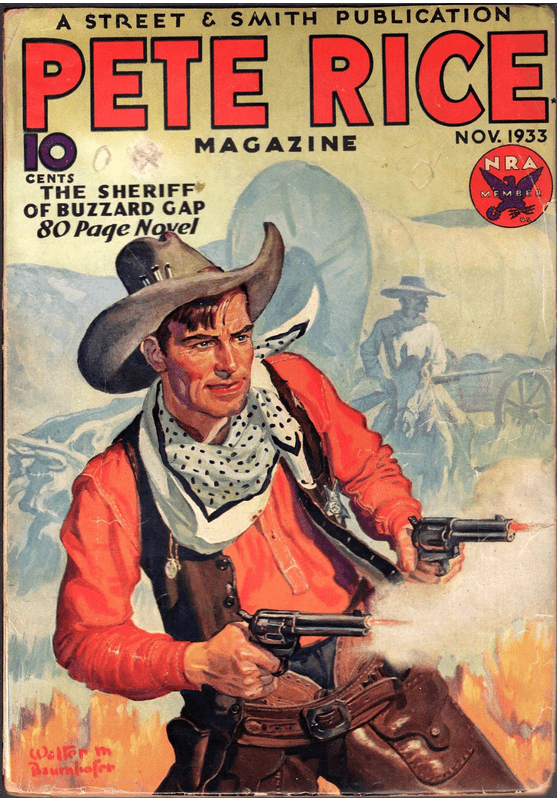 Pete Rice Magazine was one of several single character hero pulp titles published by Street & Smith. With a cover date of November 1933 for the first issue, he appeared just eight months after Doc Savage appeared on the stands and nine months after Nick Carter. The title changed to Pete Rice Western Adventures with the September 1935 issue and continued as such until the end of the run. Austin Gridley was the Street & Smith house author that the Pete Rice stories appeared under however most were written by a pulp author named of Ben Conlon.
In "Cheap Thrills", Ron Goulart describes the Pete Rice realm as "built around a cowboy with a coterie of distinctive sidekicks." In his book "The Pulp Western," John Dinan considered Pete Rice more a modern detective than your typical pulp fiction cowboy, "as the crimes and circumstances surrounding them were modern and not particularly western (e.g., counterfeiting)." Nick Carr cites Link Huller as referencing telephones and cars popping up in the stories occasionally. Pete seemed to be stuck somewhere between the old west and the early 20th century. The first 26 issues had nice striking cover art by Walter Baumhofer. Starting with the January 1936 issue, R.G. Harris took over and continued until the end of the run with the June 1936 issue.
Pete Rice has traditionally been a very difficult run to put together and to obtain all 32 issues can be quite a daunting task. Average condition is about VG/FN with many high grade. $8,500.00 Nov 1933 #1 (VG), Dec 1933 #2 (VG sm int tp), Jan 1934 #3 (VG+), Feb 1934 (FR/G), Mar 1934 (G, int tp), April 1934 (G), May 1934 (int. tp. G), June 1934 (FN/VF), July 1934 (FN), Aug 1934 (FN/VF), Sept 1934 (FN-), Oct 1934 (FN-), Nov 1934 (int. tp. G/VG), Dec 1934 (FN/VF), Jan 1935 (FN/VF), Feb 1935 (FN/VF), Mar 1935 (FN/VF), April 1935 (VG), May 1935 (G/VG), June 1935 (VG-), July 1935 (int. tp. G), Aug 1935 (VG), Sept 1935 (FN/VF), Oct 1935 (2" tear, VG), Nov 1935 (FR/G), Dec 1935 (FR/G), Jan 1936 (FN/VF), Feb 1936 (VG), Mar 1936 (FN), April 1936 (VG/FN), May 1936 (FN-), Jun 1936 (FN-)
Offered by Fantasy Illustrated.
Desert Notes Reflections in the Eye of a Raven
by Barry Lopez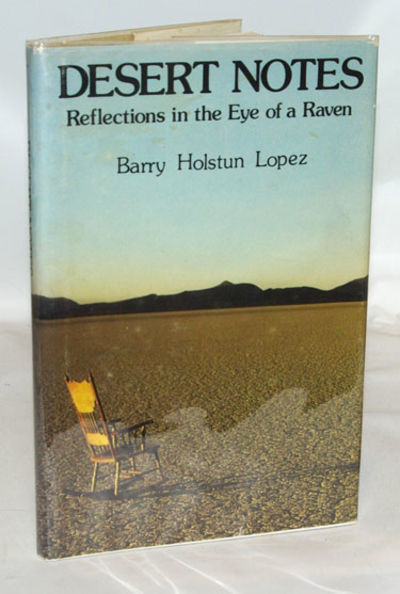 Kansas City: Sheed, Andrews & McMeel, Inc., (1976). First Edition. First Printing Fine in tan cloth covered boards with bold brown text on the spine. An octavo of 8 3/8 by 5 1/2 inches. In a very near fine, unclipped dust jacket with very slight rubbing to the front panel. Signed by the author on the title page. 89 pages of text. Illustrated with a frontispiece from a black and white photograph. A collection of eleven essays.
Offered by Town's End Books.
The Cat and the Moon and Certain Poems
by YEATS, W.B.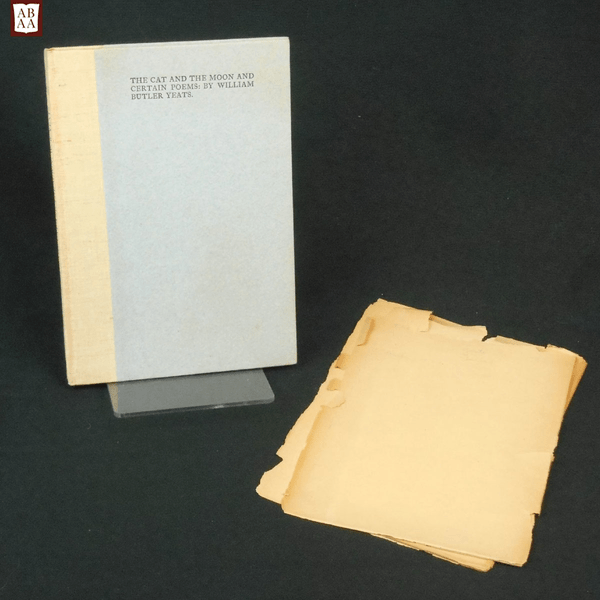 Merrion Square, Dublin, Irland: The Cuala Press [Elizabeth Corbet Yeats], 1924. First and Limited Edition. Hardcover. Near fine/poor. First printing of this collection, one of 500 copies, octavo size, 51 pp., signed by Yeats. William Butler Yeats (1865-1939) is acknowledged by many as "supreme among modern Irish poets". He was awarded the Nobel Prize in Literature in 1923 (the first Irish to be so recognized), at which time he was "one of Dublin's great established figures, both in his own right and as the representative of the cultural renaissance which...had set in motion the Irish revolution and war of independence." Throughout his life, and throughout his poetry - which is still read and loved today - Yeats is recognized as supremely Irish, with his life and poetry reflective of his Irish identity.

This book of mostly poems, as well as a short, one-act play "The Cat and the Moon", was dedicated to Lady Gregory (Isabella Augusta, Lady Gregory (1852-1932)) who, with Yeats and Edward Martyn, co-founded the Irish Literary Theatre and the Abbey Theatre. Several of the poems appeared in print previously in various publications such as "The Dial"; in the Preface, Yeats states: "[n]ow that I have just read through the poems in this little book, I renew an impression...- an odour, a breath, that suggests to me Indian or Japanese poems and legends..."

Contains the poems "Youth and Age", "Leda and the Swan", "Meditations in time of Civil War", etc. Of interest are the notes Yeats includes at the end explaining at times certain lines, at times his inspiration to write certain of the works, but always giving a glimpse into the poet's mind.
DESCRIPTION: Bound in full laid blue paper over boards with a buff linen spine, black lettering debossed on the front board, paper spine label with black lettering, all edges uncut, blue endpapers matching the binding, title page with woodcut of a unicorn in red by Robert Gregory, signature of Yeats in black ink underneath the book's title on the title page, most of the signatures are unopened, colophon in red, one of 500 copies (unnumbered); printed on paper made in Ireland, octavo size (8 1/2" by 5 5/8"), pagination: [i-viii] [1] 2-41 [1 blank] [colophon]. With the original plain paper wrapper.

CONDITION: Near fine, with clean boards, the linen spine clean and unworn, perfectly straight corners without rubbing, a strong, square text block with solid hinges, the interior is clean and bright, and entirely free of prior owner markings; some of the usual offsetting on the endpapers and a couple gutters just beginning to crack, else fine. The paper wrapper poor, most of the spine portion missing so the two panels and flaps are in separate pieces, light vintage pencilled notations on the back panel.

CITATION: Wade no. 145.
Offered by Swan's Fine Books.
American Ornithology: or, the Natural History of the Birds of the United States
by WILSON, ALEXANDER; CHARLES LUCIEN BONAPARTE; WILLIAM JARDINE.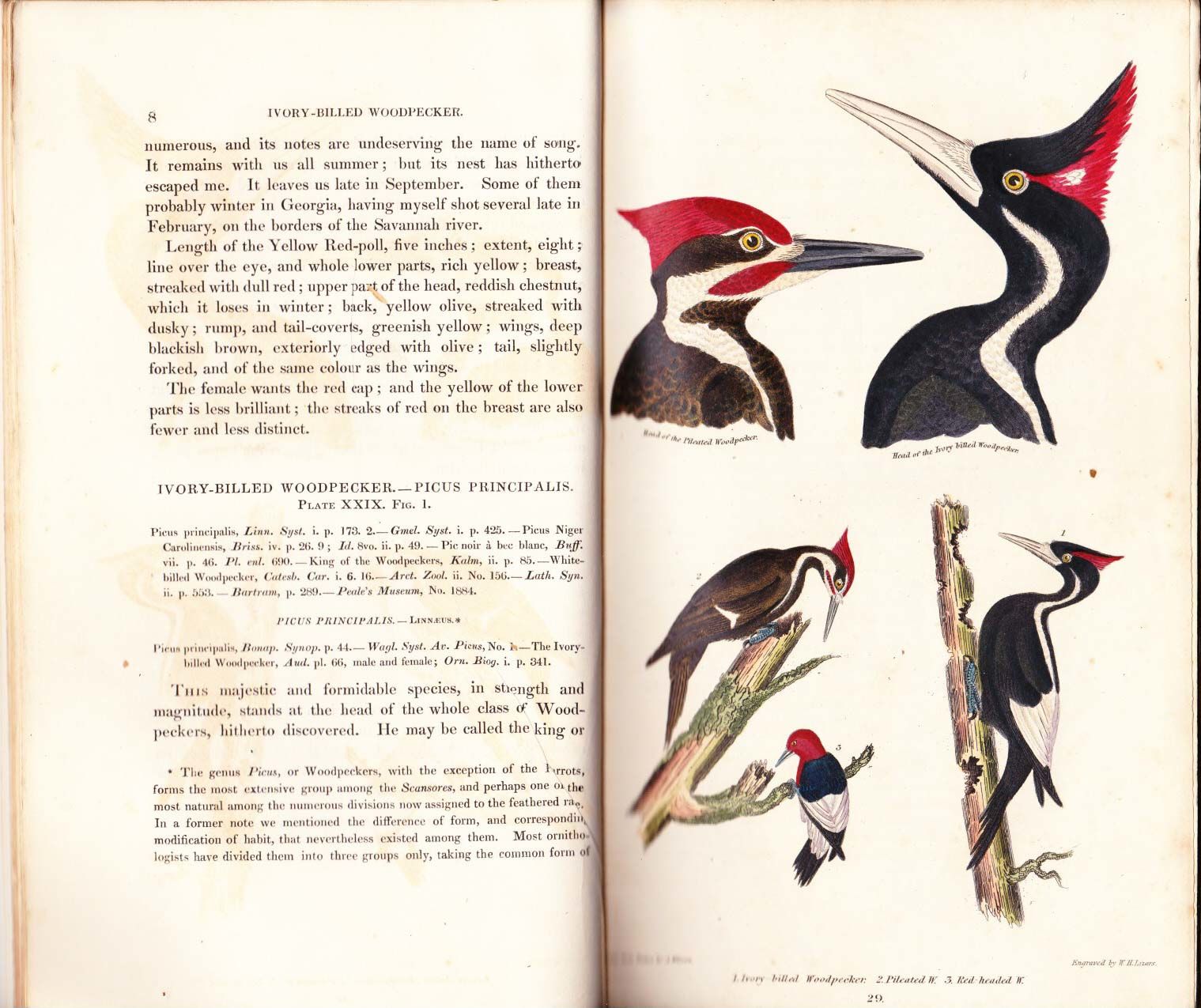 London and Edinburgh : Whittaker, Treacher, & Arnot; Stirling and Kenney, 1832. First British edition. Very Good/The main part of this work consists of a reprint of Wilson and Ord's "American Ornithology" (1808-14), plus all but the last volume of Bonaparte's "American Ornithology" (because the last volume did not appear until 1833). In addition, Jardine contributed copious notes and a life of Wilson. The plates were all engraved afresh by W. H. Lizars from the originals drawn by Wilson, TItian Peale, and A. Rider. . 3 volumes octavo (23 cm). cvii, 408, and 28 plates; vii, 399, and 33 plates; viii, 523, and 41 plates. All plates printed by Lizars and colored by hand. Bound in recent green buckram with black leather title labels stamped in gilt. Scattered light foxing, but most plates bright and clear.
Offered by Rodger Friedman Rare Book Studio.
SCRAPBOOK Of MILK & CREAM BOTTLE CAPS / TOPS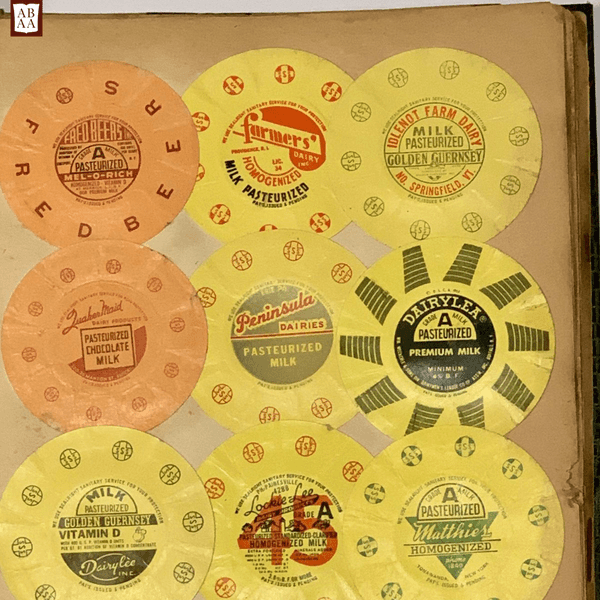 (n. p.), 1938. Album two-toned, green & white faux leather, internal string tie. Color pictorial onlay to front cover [chipped at bottom]. Album shows wear & soiling, with mounting paper age-toned & brittle, showing a bit of edge-chipping. Penciled to front cover inside: "Sept 1938". Tops used, though generally in Very Good condition.. 55 leaves of mounting paper, of which 24 have a total of 262 circular, printed paper / foil milk bottle tops, mounted 9 - 15 per page [all mounted on leaf recto]. Album: 14" x 10-5/8". Tops: various sizes & colors, 2-7/8" - 4-1/8"

A no-doubt unique collection of milk bottle tops / caps from the late 1930s, generally from the North East U.S., e.g., Sheffield Farms, Maplehurst; R. G. Miller & Sons, Hartford CT; New London & Mohegan Dairies, Inc., New London [CT]. That said, we find others from as far afield as A. R. Beavers & Sons, North Tazewell, VA & Superior Dairies Inc, St. Augustine FL.
Offered by Tavistock Books.
New Orleans, The City Unique. St. Charles Hotel, New Orleans, LA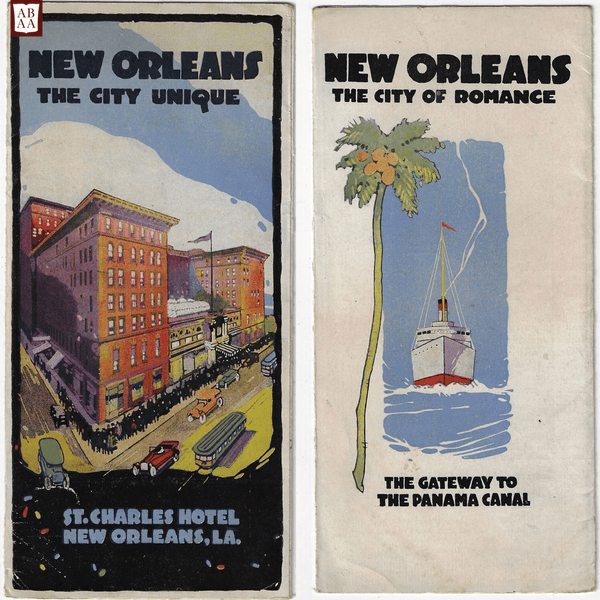 Alfred S. Amer & Co. Ltd, Proprietors. Softcover. Very good. Undated, ca. 1920. Four-panel folding brochure with very nice cover art, illustrated internally with drawings in color and b/w half-tone photographs. Some general handling wear; very good. Text promotes both the hotel and New Orleans ("the City of Romance") and includes a section on Mardi Gras. The hotel included large spaces to accomodate conventions, meetings, and receptions, and the brochure includes a list of organizations that had "taken advantage of the excellent facilities and servies afforded" -- among them the Western Fruit Jobbers's Association, Association of Dining Car Superintendants, and Cotton Conference of Southern Governors. Rooms for two with private bath began at $5.00 a night.
Offered by Walkabout Books.
The Elephant Vanishes (Signed)
by Haruki Murakami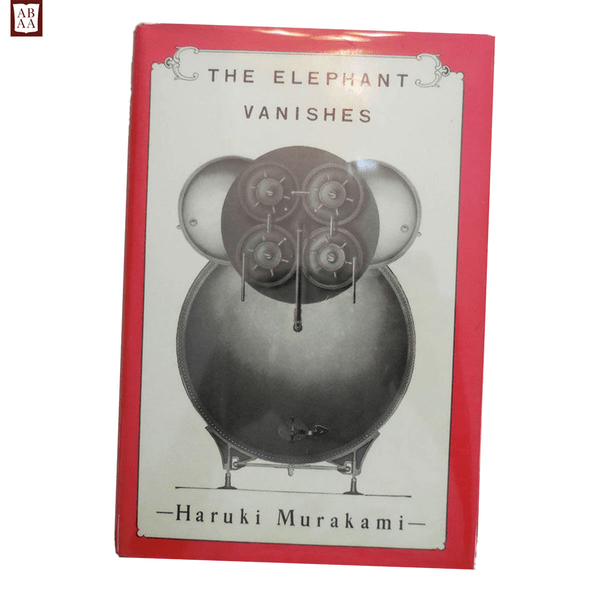 New York: Alfred Knopf, 1993. First American edition. Hardcover. Near Fine/near fine. Stated first edition. The first American printing of this novel by the author of A Wild Sheep Chase. Translated from the Japanese by Alfred Birnbaum and Jay Rubin. 327 pp. A handsome near fine copy with neat narrow remainder line to top of text block right at spine. Dustwrapper is in bright near fine or better condition. This copy has been both SIGNED and stamped by the author on the title page. A book not often found signed.
Offered by Derringer Books.
His Dark Materials (American Editions)
by Philip Pullman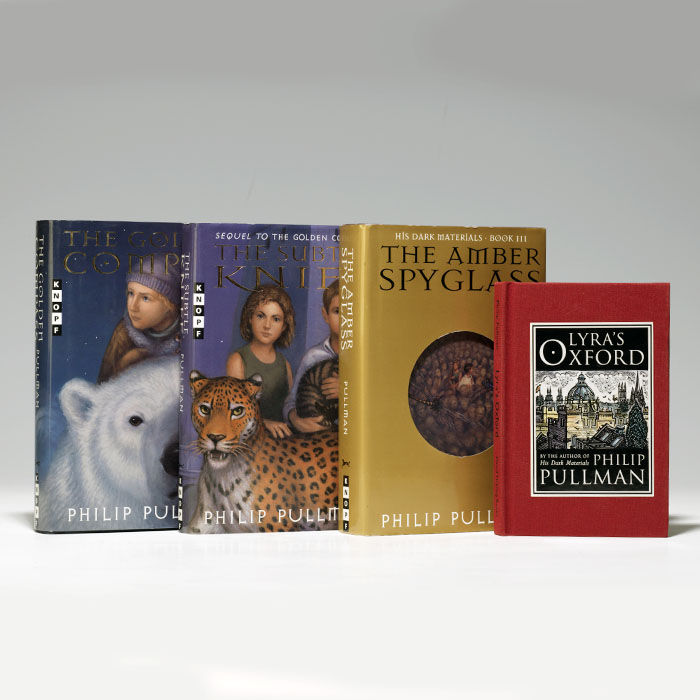 1996. Signed. PULLMAN, Philip. The Golden Compass. WITH: The Subtle Knife. WITH: The Amber Spyglass. WITH: Lyra's Oxford. New York: Alfred A. Knopf, 1996-2003. Together, four volumes. Octavo, original half navy cloth gilt (Books I, II), illustrated paper boards (Book III), original dust jackets. Lyra's Oxford: 12mo, original pictorial red cloth, mounted cover illustration.
First American editions of Pullman's celebrated trilogy—the second two books signed by Pullman on the title pages—together with the companion volume, Lyra's Oxford. A former schoolteacher and accomplished playwright, Pullman followed several historical and realistic novels with this literate, sophisticated series, "perhaps the most highly acclaimed work of fantasy for young adults published in the 1990s, The Dark Materials series is filled with moral ambiguity rather than clear-cut didacticism, and readers as well as [protagonist] Lyra must grapple with the difficult questions raised by the story" (Fantasy and Horror 7-311). "Initially [Pullman] simply planned to infuse his story with Miltonian atmosphere. Soon, however, Milton's theme, the Fall of Man, crept into the novel. [Pullman explains,] 'My story resolved itself into an account of the necessity of growing up, and a refusal to lament the loss of innocence'" (The New Yorker).
The final installment, The Amber Spyglass, became the first children's novel ever to win the Whitbread Book of the Year Award (2001). The Golden Compass first published in Britain in 1995 as Northern Lights; other volumes published in Britain in the same years, under the same titles. Text of Lyra's Oxford with slightest toning to edges. A fine and desirable set, signed in two volumes.
Offered by Bauman Rare Books.
The Art Of Maurice Sendak - 1st Edition/1st Printing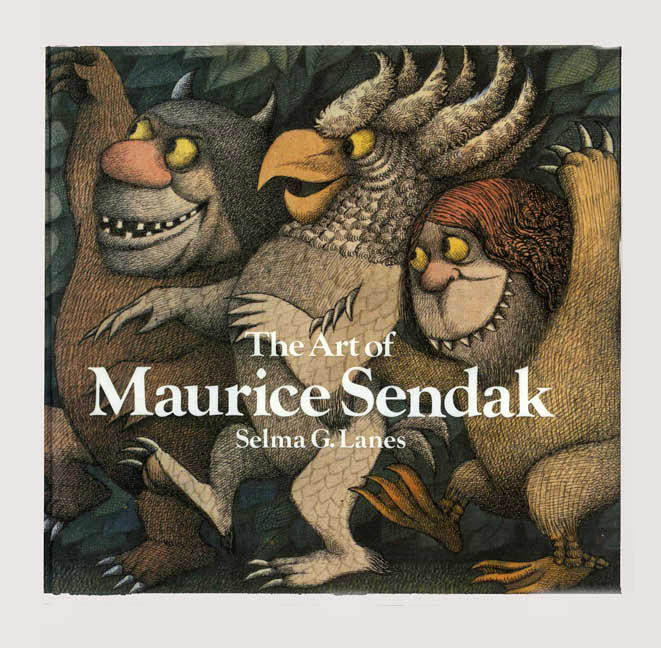 New York: Harry N. Abrams, Inc.. Fine in Fine dust jacket. 1980. First Edition; First Printing; Signed by Biographee. Cloth. 0810944480 . A Fine printing of the first edition, decorated cloth in the original printed glassine dust-jacket . Signed and dated Dec-80 by Maurice Sendak on the first flyleaf; As creator of Caldecott winningWhere the Wild Things Are, In the Night Kitchen, Higglety Pigglety Pop!, and the illustrations of countless other memorable children's books, legendary Maurice Sendak, ranked among the best known and best-loved artists in America; Color Illustrations; 278 pages.
Offered by Books Tell You Why, Inc.
Winnie the Pooh (Signed, First Edition)
by A.A. Milne (Illustrations by Ernest H. Shepard)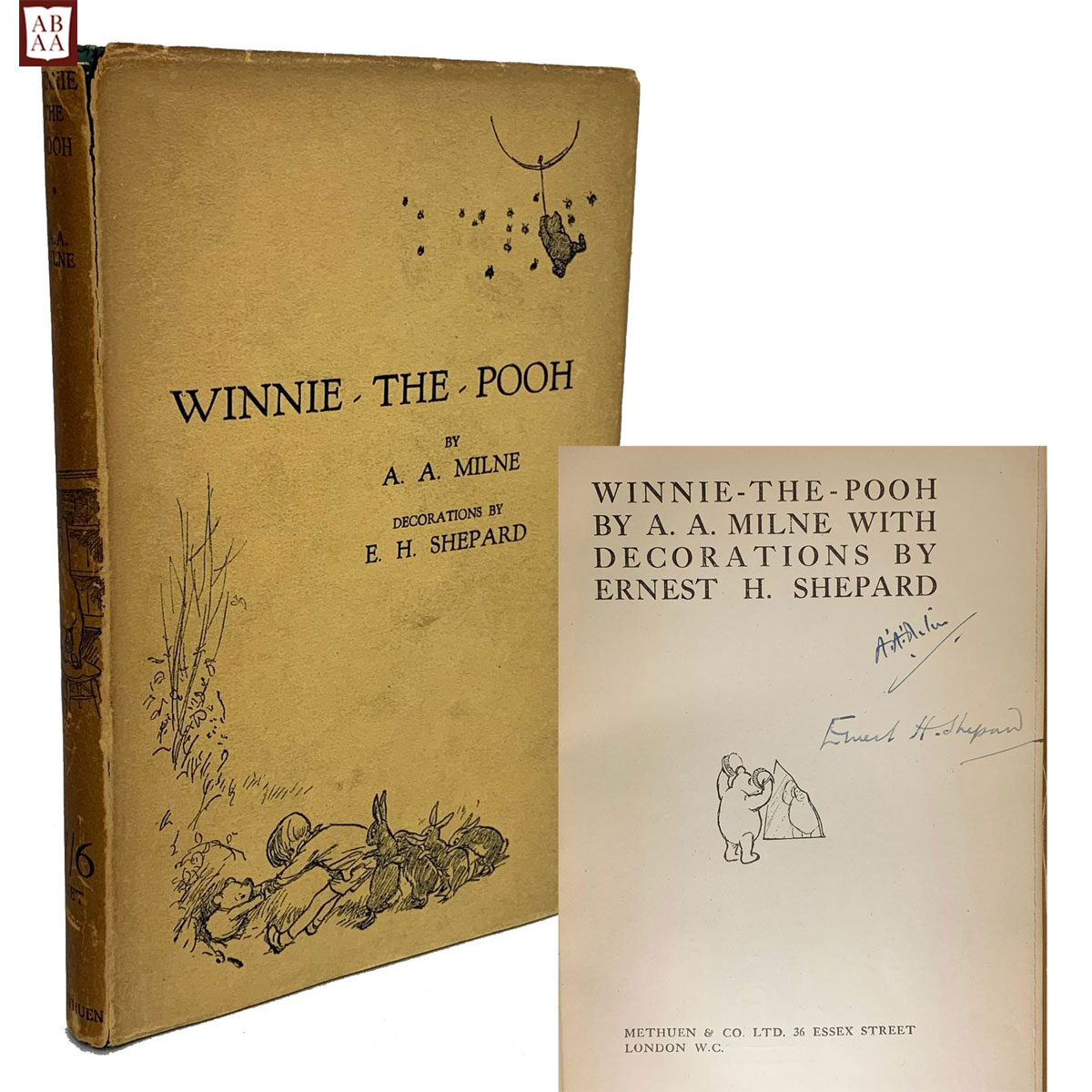 London: Methuen and Co., 1926 Illustrated by Ernest H. Shepard. First edition, first printing, first state dust jacket with "117th Thousand" to rear flap. Signed by Milne and Shepard to the title page. Publisher's dark green cloth, decorated in gilt to front board with an illustration of Christopher Robin and Pooh, lettered in gilt to spine, top edge gilt, illustrated map endpapers; in the original tan pictorial dust jacket printed with Shepard's illustrations in black. An excellent copy with only some very minor rubbing to the spine ends and slight offsetting to the endpaper; in the jacket with some toning to the spine and some chipping with minor loss to the spine ends, else very good. Overall, a very attractive copy, exceptionally scarce signed by both author and illustrator. Housed in a custom folding box with leather spine label, lettered in gilt. Winnie-the-Pooh is the second in Milne's series of children's books featuring the adventures of the teddy bear character Winnie the Pooh and his friends. Each telling an individual and complete story, the chapters of Winnie-the-Pooh can be read independently of one another. Milne created the story of Winnie the Pooh for his son Christopher Robin, who had a teddy bear named Edward Bear. In his introduction, Milne explains how Edward Bear became Winnie the Pooh, although he notes that "we can't remember whether Winnie is called after Pooh, or Pooh after Winnie." The name "Winnie" comes from a bear that the Milnes saw at the London Zoo, while the name "Pooh" is from a swan whom the fictional Christopher Robin encountered in When We Were Very Young (1924).. Signed by Author and Illustrator. First Edition.. Hard Cover. Near Fine/Dust Jacket Included.
Offered by B & B Rare Books.
All 18 Christmas Numbers from HOUSEHOLD WORDS and ALL THE YEAR ROUND
by Charles Dickens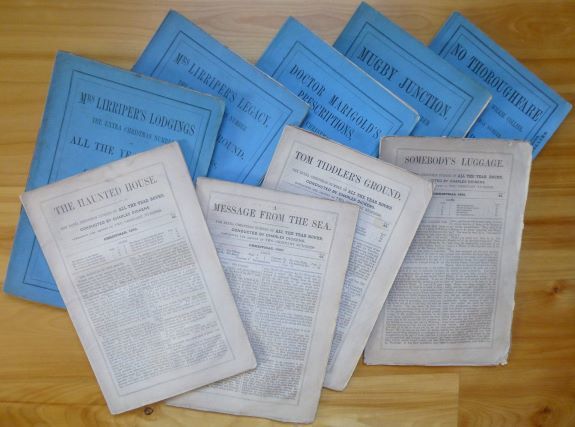 1850. This is a complete set Dickens's annual "Extra Christmas Numbers" -- all nine of HOUSEHOLD WORDS, followed by all nine of ALL THE YEAR ROUND. London: Dec. 1850 - Dec. 1858 and Dec. 1859 - Dec. 1867. Original self-wrappers (first 13 numbers) and original blue printed wrappers (last five numbers) -- as issued. First Editions of all eighteen pieces. Dickens was the editor (or "conductor") of both of these periodicals -- one rising out of the ashes of the other -- but he also wrote at least part of the Christmas story in each of these eighteen numbers.
The stories in HOUSEHOLD WORDS are: 1850 ("A Christmas Tree" is by CD) 1851 ("What Christmas is, as we Grow Older" is by CD) 1852 A ROUND OF STORIES ("The Poor Relation's Story" and "The Child's Story" are by CD) 1853 ANOTHER ROUND OF STORIES ("The Schoolboy's Story" and "Nobody's Story" are by CD) 1854 THE SEVEN POOR TRAVELLERS ("The First Poor Traveller" and "The Road" are by CD) 1855 THE HOLLY-TREE INN ("The Guest," "The Boots" and "The Bill" are by CD; the rest is by Wilkie Collins) 1856 THE WRECK OF THE GOLDEN MARY (most of "The Wreck" plus the hymn on p. 21 are by CD; the rest is by Wilkie Collins) 1857 THE PERILS OF CERTAIN ENGLISH PRISONERS (chapters I and III are by CD; chapter II is by Wilkie Collins) 1858 A HOUSE TO LET ("Going into Society" is by CD) The stories in ALL THE YEAR ROUND are: 1859 THE HAUNTED HOUSE ("The Mortals in the House," "The Ghost in Master B's Room" and "The Ghost in the Corner Room" are by CD -- as well as all but one of the other opening paragraphs) 1860 A MESSAGE FROM THE SEA (chapters I, II and V, plus passages in other chapters, are by CD; the rest is by Wilkie Collins) 1861 TOM TIDDLER'S GROUND (chapters I, VI and VII are by CD) 1862 SOMEBODY'S LUGGAGE (the first, second, part of the third, seventh and tenth chapters are by CD) 1863 MRS. LIRRIPER'S LODGINGS (chapters I and VII are by CD) 1864 MRS. LIRRIPER'S LEGACY (chapters I and VII are by CD) 1865 DOCTOR MARIGOLD'S PRESCRIPTIONS (chapters I, VI and VIII are by CD) 1866 MUGBY JUNCTION (the first four chapters are by CD -- as indicated on the front cover) 1867 NO THOROUGHFARE (the Overture, Act III, and parts of Acts I and IV are by CD; the rest is by Wilkie Collins, listed as co-author) All eighteen numbers are in very good-plus or near-fine condition, with only very minor edge-wear and soil (though the 1851 issue has a couple of closed tears on the front wrapper and an ink-mark on the rear). Five of the numbers (HhW 1854 through 1858) still have unopened leaves; a few appear that they might once have been bound up (though not trimmed or anything). They are housed in a modern cloth case with inner chemise. Though the last five numbers (the ones in blue wrappers) are not uncommon, the others have become rather scarce; it is now quite unusual to encounter a complete collection of all eighteen. Eckel pp 193-197 ("In good state they [a complete set] are hard to find" -- this in 1932!).
Offered by Sumner & Stillman.
by Oscar Wilde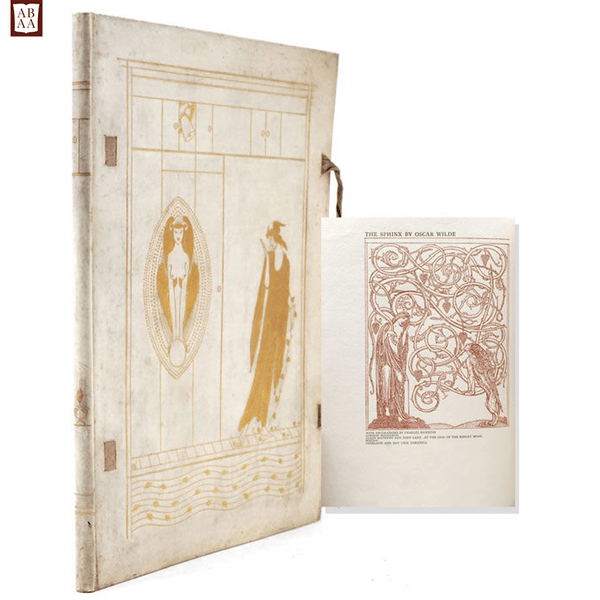 London: Elkin Mathews and John Lane. At the Sign of the Bodley Head. Boston Copeland and Day LXIX Cornhill, 1894. LARGE PAPER, one of 25 copies. Printed by the Ballantyne Press. Illustrated by Charles Ricketts with wood-engraved title page, half and full-page designs, ornamental initials. Printed in red, black and green. Unpaginated. 1 vols. Slender 8vo (10 x 7-3/8 inches.). Original full vellum gilt, with fantastic designs, including 2 weird female sphinx on both sides by Charles Ricketts, uncut The deluxe binding has "extra ornaments to the sides and inner marges of the binding and with ribbons". The binding is signed by Ricketts with monogram CR on the upper cover; the monogram of the binder, Leighton Son and Hodge, appears on the lower cover. The deluxe issue has an added lower border on the binding and ties. Fine copy, custom half morocco clamshell box. Ricketts, Charles. LARGE PAPER, one of 25 copies. Printed by the Ballantyne Press. Illustrated by Charles Ricketts with wood-engraved title page, half and full-page designs, ornamental initials. Printed in red, black and green. Unpaginated. 1 vols. Slender 8vo (10 x 7-3/8 inches.). One of 25. "The monsters of the Egyptian room at the British Museum live again in his weird, sometimes repulsive, but all the same stately and impressive lines. The vellum binding, the various symbolic designs, the quaint rubricated initials and the general arrangement of the text, all by Mr. Ricketts' sympathetic art, are most subtly infused by the spirit of the poem..." (Pall Mall Budget, June 21, 1894). This was the last book Wilde published before his imprisonment.
"the most beautiful and consummately designed trade book of the 1890s" - Nelson
With the bookplate of novelist Anthony Powell (1905-2000), about whose suite of novels, A Dance to the Music of Time, Guy Davenport observed, "The only book I know that takes Proust's habitual narrative gestures, Anglicizes them, and succeeds in the effort. In fact, Powell is the best critical study of Proust."
A CHOICE COPY OF ONE OF THE MOST BEAUTIFUL BOOKS OF THE 1890s. Mason 362; Nelson, A View from the Bodley Head, pp.45- 46 passim; Wick, THE TURN OF A CENTURY 1885-1910, Number 10; Ray, Illustrator and the Book, 262. Provenance: Anthony Powell (his bookplate).
Offered by James Cummins Bookseller.
View all new listings on abaa.org...
Browse recent catalogs of rare books and print ephemera from ABAA members...
Please note, all items are unique, so if a link takes you to a blank page, the book has been sold!