Our members list new acquisitions and recently cataloged items almost every day of the year. Below, you'll find a few highlights from these recent additions...
by HOFFMAN, E.T.A. RALPH MANHEIM, TRANSLATOR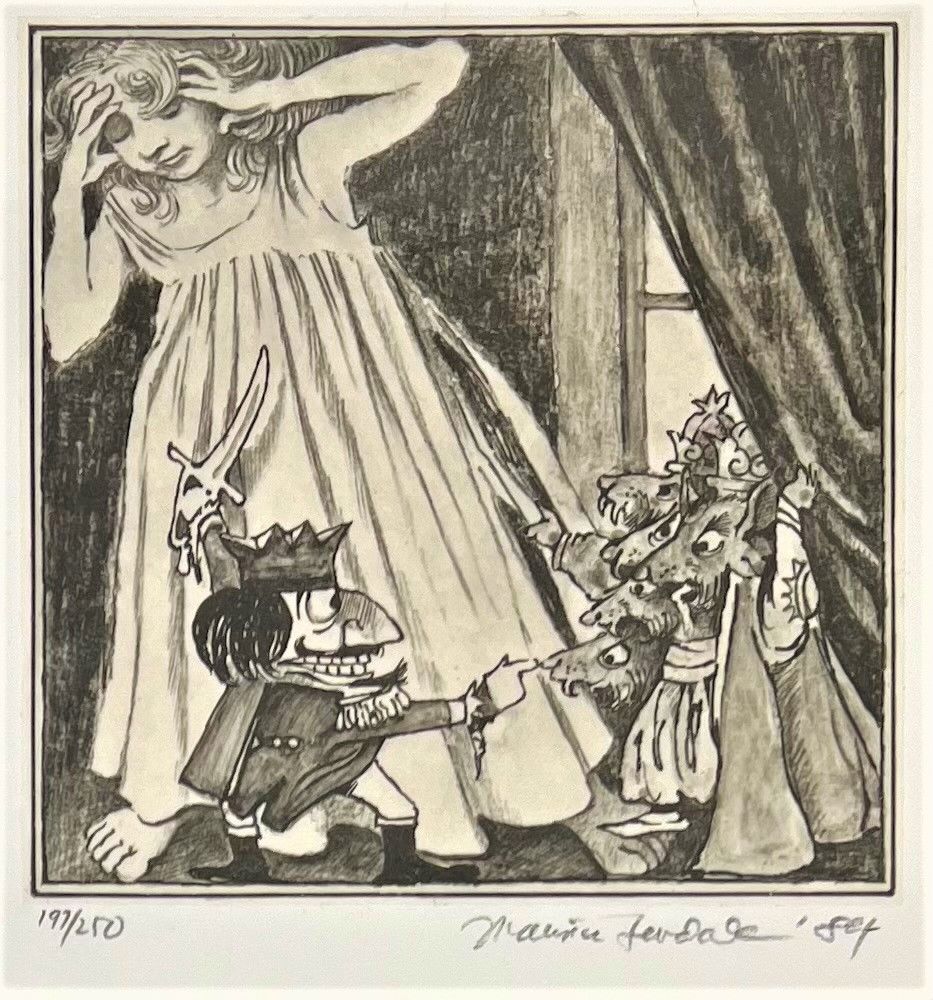 New York: Crown Publishers Inc, 1984. Limited Edition. Cloth. Fine/very good +. Maurice SENDAK. [HOLIDAY: CHRISTMAS]. Maurice SENDAK, illustrator. SIGNED and numbered LIMITED EDITION 197/250 copies. First edition. Small 4to; xiv [iv], 102pp; grey cloth over board, blind stamped frame around the silver-stamped title on the front, silver stamped lettering on spine; color pictorial endpapers; limited edition statement page signed and numbered; color decorated title page; color illustrations throughout; housed in a grey cloth slipcase, light sunning to open edge and a short tear in the cloth; fine in a very good plus slipcase.

Included is a numbered, dated, and signed lithograph on mulberry paper, the workshop chop mark in the lower right margin. 197/250. Fine. In the book's introduction, Sendak sets forth the background of the book and his involvement in the reworking of the Nutcracker ballet with Kent Stowell of the Pacific Northwest Ballet company. More closely following the 1816 short story by E.T.A. Hoffman, and Tchaikovsky's dramatic music interpretation, a new ballet was born, and from the ballet, a lavishly illustrated book.
Offered by Sandra L. Hoekstra, Bookseller.
by Mikhail Bulgakov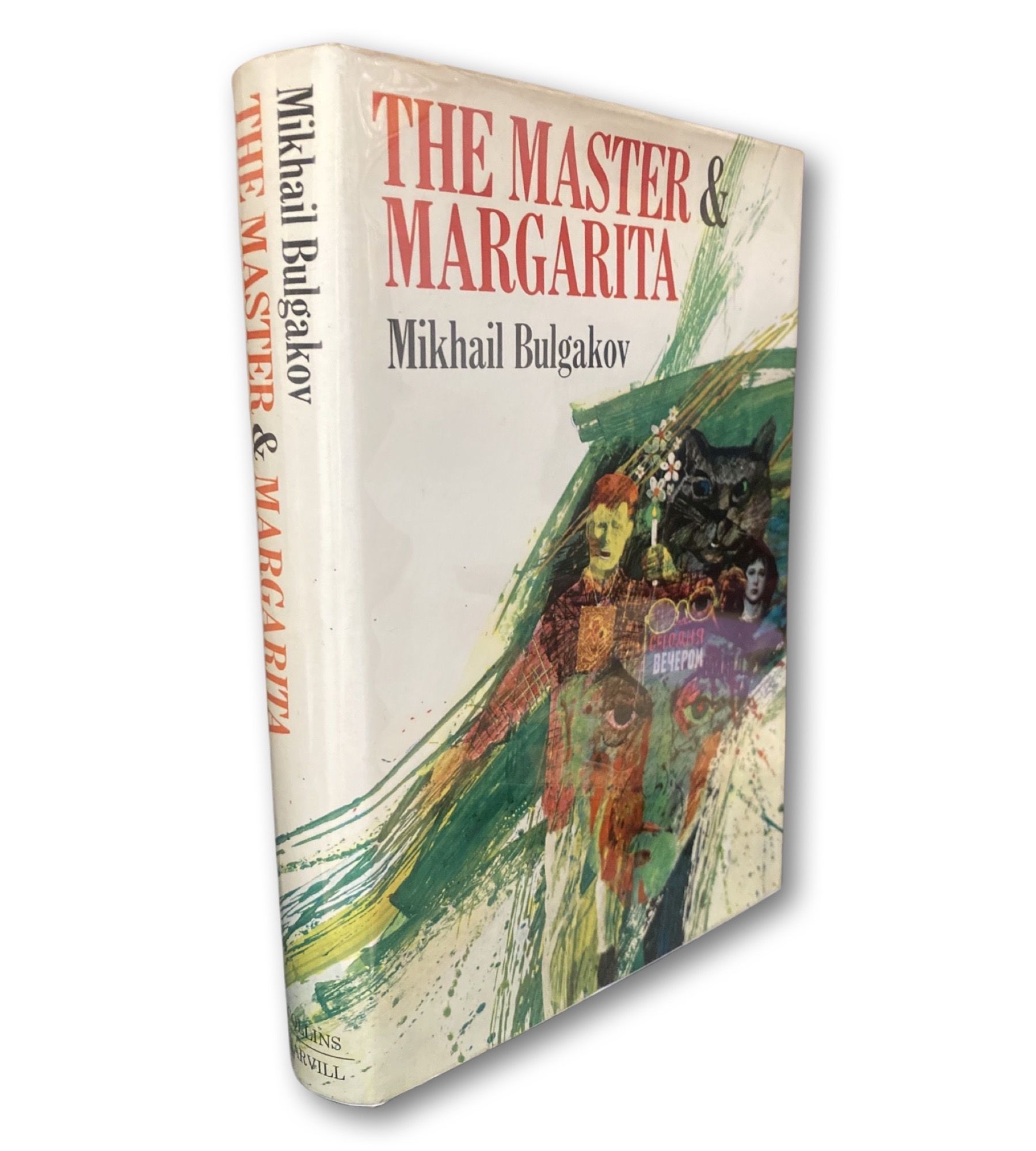 Collins and Harvill Press, 1967. First UK edition. Spine with slight lean, else fine in fine dust jacket in mylar cover.
Offered by Hermitage Book Shop.
by PELÉ WITH HERBERT RESNICOW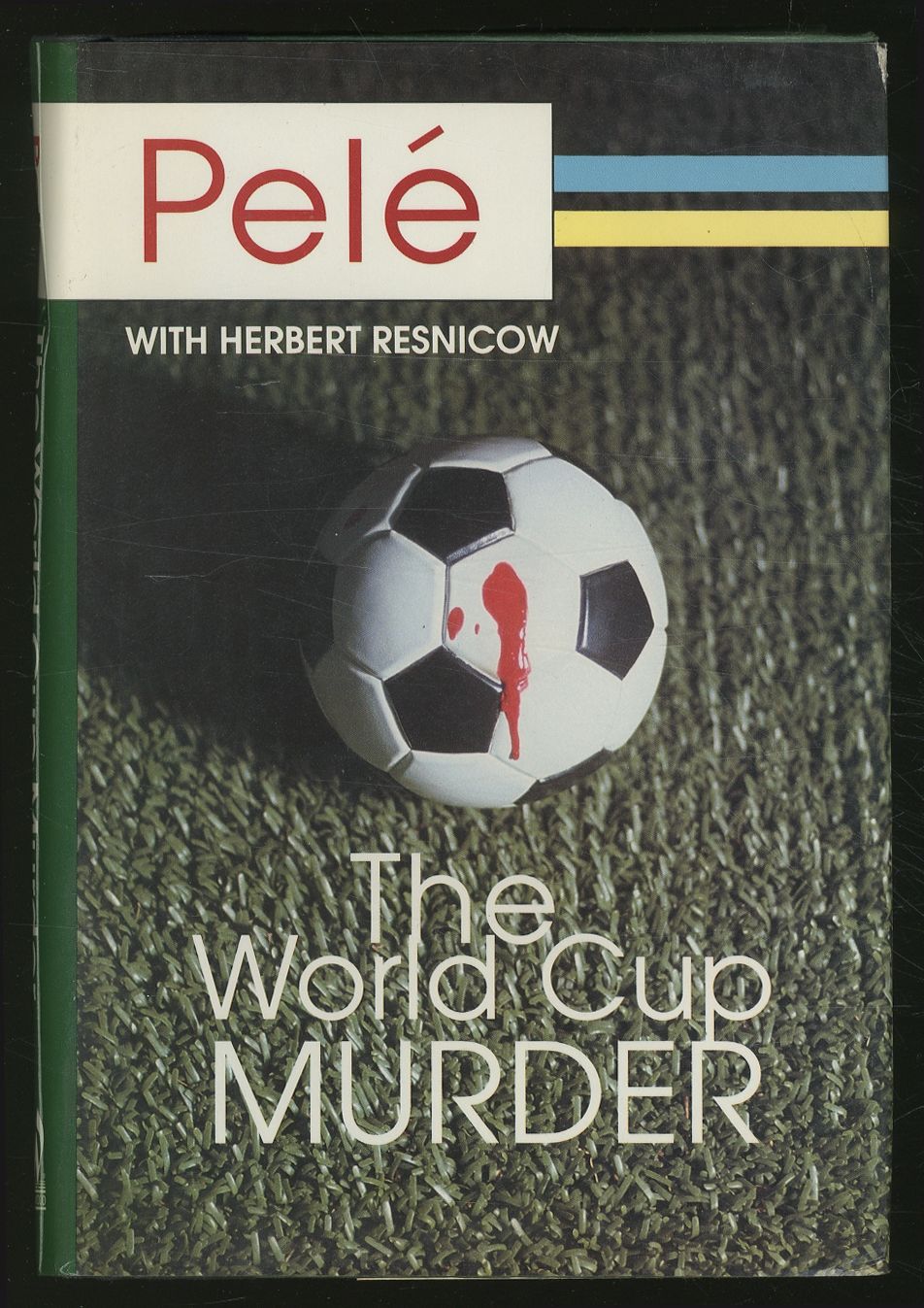 New York: Wynwood Press, 1988. Hardcover. Very Good/Near Fine. First edition. Bowed boards with small bumps on rear top edge else very good in a near fine dustwrapper with edgewear. Signed by the authors.
Offered by Between the Covers Rare Books.
Learn more or purchase this item...
A Symbolic Analysis of Relay and Switching Circuits [MIT Preprint of the AIEE paper]
by SHANNON, CLAUDE E. [ELWOOD] (ENROLLED STUDENT AIEE)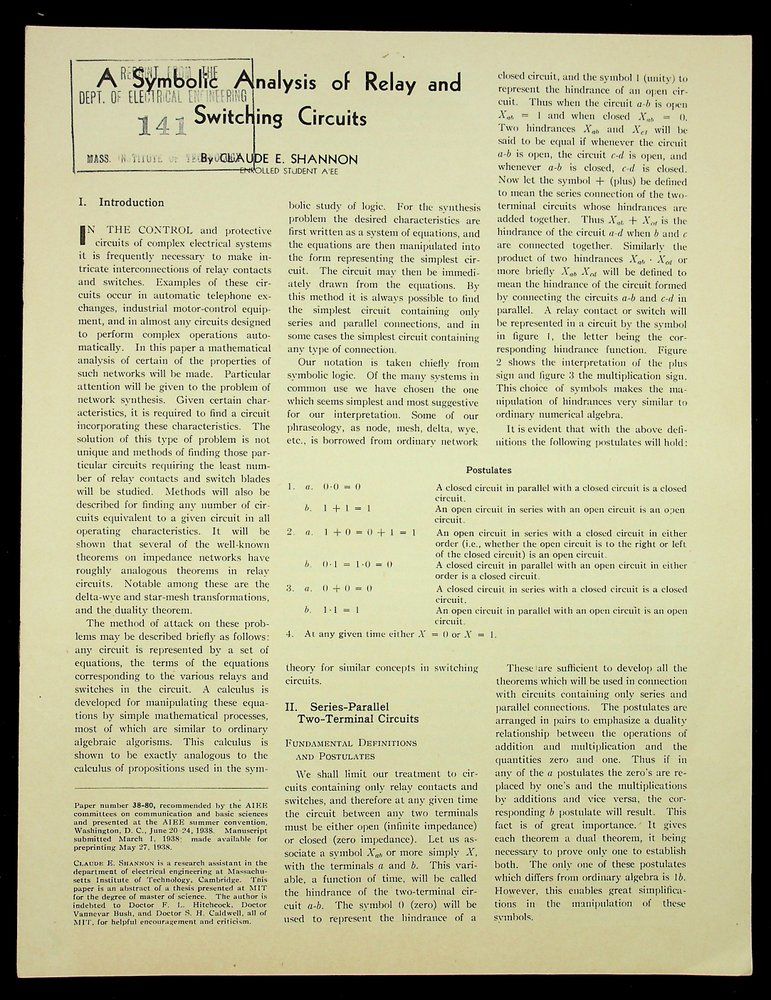 New York: American Institute of Electrical Engineers [AIEE], 1938. Wraps. Near Fine. [1]-11, 12 pages. 10 15/16 x 8 1/2 inches. Stapled self-wrappers. Hand-applied ink-stamp upper left "A Reprint from the Dept. of Electrical Engineering 141 Mass. Institute of Technology" partially covering the title and author of the paper. An excellent copy of this offprint, with just a touch of wear to the extremities, soft crease lower corners, and minor smudge on rear panel. Wraps. We offer an example of the very rare MIT preprint of Claude Shannon's AIEE paper "A Symbolic Analysis of Relay and Switching Circuits," a pivotal paper in the history of computing. (see #1.5 in COLLECTOR'S NOTES below for printing precedence).

This paper (often referred to as Shannon's famous Master's Thesis) is a fundamentally important work in the history of computing. It demonstrates how to combine the mathematical rigor of Boolean logic with the engineering practice of building circuits, a discipline previously more of an experimental art form than a true engineering discipline. This work provided the foundation for computer circuit design as we know it today, without which the phenomenal growth of computing (see Moore's Law) could not have happened.

"In 1936 [after obtaining the degrees of Bachelor of Science in Electrical Engineering and Bachelor of Science in Mathematics at the University of Michigan, Shannon] accepted the position of research assistant in the Department of Electrical Engineering at the Massachusetts Institute of Technology. The position allowed him to continue studying toward advanced degrees while working part-time for the department. The work in question was ideally suited to his interests and talents. It involved the operation of the Bush differential analyzer, the most advanced calculating machine of that era ... Also of interest was a complex relay circuit associated with the differential analyzer that controlled its operation and involved over one hundred relays. In studying and servicing this circuit, Shannon became interested in the theory and design of relay and switching circuits. He had studied symbolic logic and Boolean algebra at Michigan in mathematics courses and realized that this was the appropriate mathematics for studying such two-valued systems. He developed these ideas during the summer of 1937, which he spent at Bell Telephone Laboratories in New York City, and, back at MIT, in his master's thesis, where he showed how Boolean algebra could be used in the analysis and synthesis of switching and computer circuits." (Sloane and Wyner pp xi-xii)

The American Institute of Electrical Engineers recognized the significance of Shannon's thesis and invited the young Claude Shannon, an "Enrolled Student AIEE," to present an abstract of his thesis at the June 1938 Summer AIEE conference while still enrolled at MIT. "The thesis, his first published paper, aroused considerable interest when it appeared in 1938 in the AIEE Transactions. In 1940, it was awarded the [1939] Alfred Noble Prize of the combined engineering societies of the United States, an award given each year to a person, not over thirty, for a paper published in one of the journals of the participating societies." (Sloane and Wyner, pp. xi-xii).

Herman H. Goldstine notes: "This surely must be one of the most important master's theses ever written...The paper was a landmark in that it helped change digital circuit design from an art to a science." (Goldstine, pp 119-120)

"Shannon's paper, written in 1937 at Bell Labs, proved in theory what George Stibitz was demonstrating empirically at Bell Labs at just about the same time with his famous 'Model K' relay calculator...Shannon proved that the two-valued algebra developed by George Boole ... could be implemented electrically by telephone relays and used as a basis for designing computer circuits." (Origins of Cyberspace)

PROVENANCE: The personal files of Claude E. Shannon (unmarked). One of seven examples from Shannon's files (since our initial catalog, an additional file copy [as here] was discovered and the family decided to sell their remaining two copies).

The American Institute of Electrical Engineers' standard practice was to publish at least some of the papers from the Summer conference in the end-of-year annual Transactions volume. The first regular publication of Shannon's paper appears in this publisher's cloth-bound volume of the Transactions, Vol. 57 (1938). pp. 713-23 (1.6a above). For AIEE members who did not subscribe to the transactions, the AIEE also issued (in wrappers) a year-end Supplement (December 1938), including Shannon's paper (1.6b above). No precedence is currently known.
Offered by Keunzig Books.
Water Street (Signed First Edition)
by James Merrill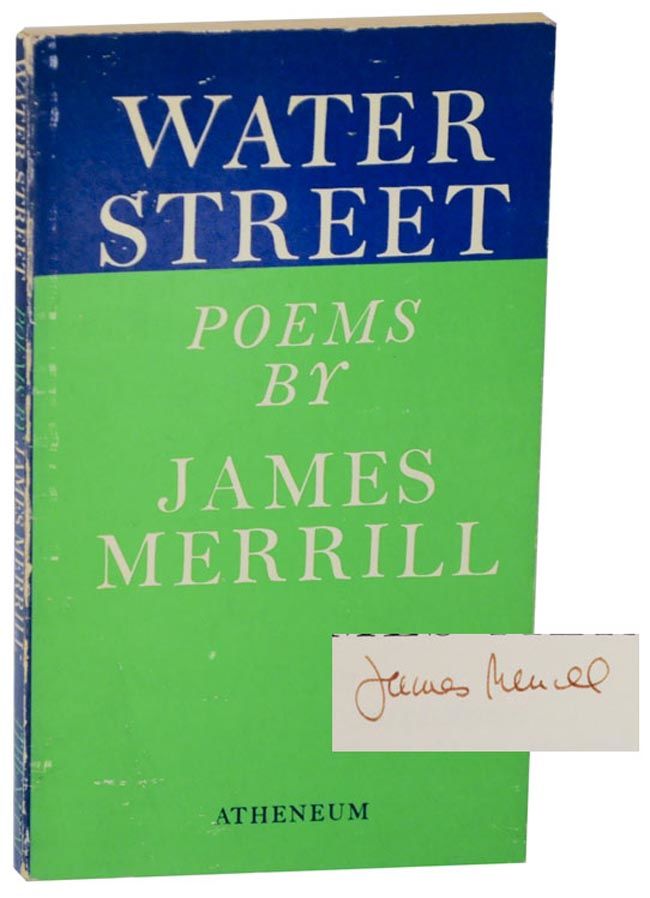 New York: Atheneum, 1962. First edition. Softcover. The simultaneous paperback edition of his scarce third collection of poetry and seemingly his most uncommon trade edition. A very good plus in wrappers that have some rubbing and minor wear. Signed by Merrill on the title page. Uncommon thus.
Offered by Jeff Hirsch Books.
Learn more or purchase this item...
THE CHRISTMAS BOOKS: A CHRISTMAS CAROL; THE CHIMES; THE CRICKET ON THE HEARTH; THE BATTLE OF LIFE; [and] THE HAUNTED MAN
by DICKENS, CHARLES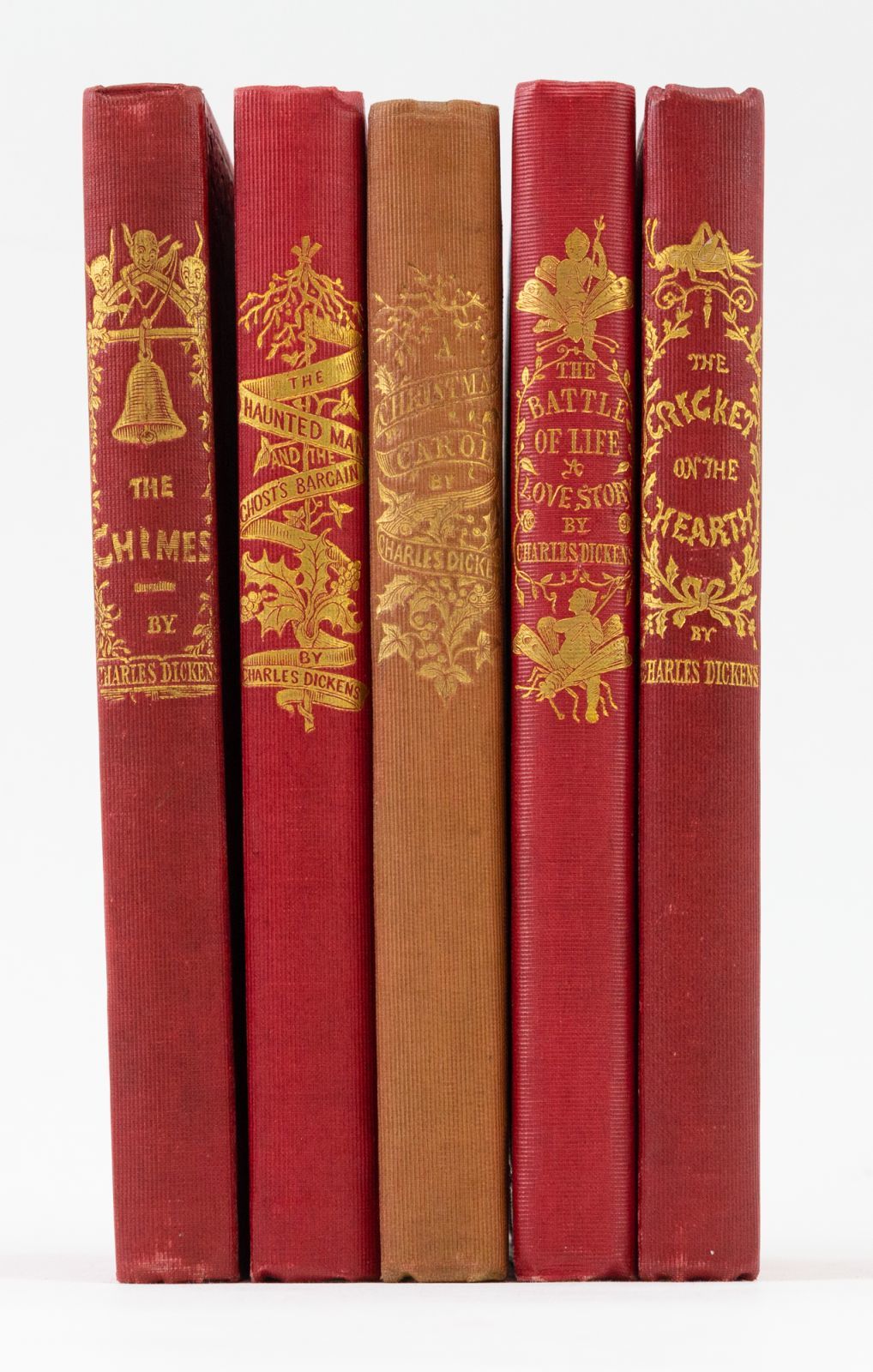 London: Chapman and Hall (first three); Bradbury & Evans (last two), 1843; 1845 [but 1844]; 1846 [but 1845]; 1846; 1848. FIRST EDITIONS, "Carol" in FIRST STATE (closest interval between blind-stamped left border and left extremity of gilt wreath being 15 mm., "D" in Dickens on front cover in perfect condition); "Chimes" with First State of the vignette title page; "Cricket," and "Battle" in Second State ("Haunted" with no issue points). 170 x 107 mm. (6 3/4 x 4 1/4"). Five separately published works in five volumes..
Publisher's cloth ("Carol" in light reddish brown, the others in scarlet), decorated in gilt and blind, smooth spines with gilt lettering, "Carol" with green endpapers, the rest with yellow glazed endpapers. Housed together in a red cloth chemise inside a fine early 20th century crimson crushed morocco pull-off case by Zaehnsdorf (signed on inside top of box) designed to look like five volumes with raised bands and gilt titling. An aggregate total of 53 woodcut illustrations in the texts, four engraved vignette title pages (the one in "Haunted" tinted), and eight engraved plates (the four in "Carol" nicely hand-colored), the illustrations by John Tenniel, John Leech, D. Maclise, and others. Front pastedowns with morocco bookplate of Estelle Doheny; front free endpaper of "Carol" and "Cricket" with ink owner inscription of C. Wethered, the first dated 13 January 1844; front free endpaper of "Chimes" inscribed "Margaret Beasley / with her Nephew's love / 1845." Eckel 110-25; Smith II, 4-6, 8-9; Todd, "The Book Collector" (1961), pp. 449-54 (for "Carol"). Backstrip of "Carol" with a breath of sunning, "Cricket" and "Haunted" just very slightly cocked, faint offsetting to title page of "Haunted Man," but these imperfections merely trifling. AN UNSURPASSABLY FINE SET, everything smooth, sharp, and shining, with virtually no perceptible wear, and THE CONTENTS IMMACULATE.

From the splendid library of Estelle Doheny, these volumes comprise what could easily be the finest set in the world of the first editions of Dickens' beloved Christmas novels, beginning with the immortal "A Christmas Carol," the story of the redemption of the cold-hearted miser Ebenezer Scrooge. Proclaimed by Eckels "the greatest Christmas book from the pen of any man," it was a critical and commercial success of the highest order; the work is not only finely written, but its sentiments had great appeal for Victorian taste. Our copy has all of the text first issue points listed in Smith and Eckel, but those bibliographers disagree as to whether yellow (Smith) or green (Eckel) endpapers have priority. William Todd distrusted all internal issue points beyond uncorrected text, including color of the endpapers. He believed the most reliable way to determine priority of issue was by studying the location of the gilt wreath on the cover, which was stamped by a single machine. He says, "This desideratum is a single point, one encompassing all the others, and, if it is to be a sign of issue, the one last appearing in the course of manufacture." The brass stamp with the cover design shifted to the left and developed imperfections as time went on, so Todd assigned priority to volumes with the most distance (14-15 mm.) between the right edge of the blind-stamped border next to the front joint, and the left-most extremity of the gilt wreath and with a perfect "D" in the author's name within that wreath. By these criteria, our copy is a first issue. As a result of the warm reception of "A Christmas Carol," Dickens launched a series of four further Christmas books. "The Chimes" was described by Dickens to his friend (and biographer) John Foster as striking "a blow for the poor," while "The Cricket on the Hearth" presented domestic life in the ideal Victorian home. "The Battle of Life" is a love story with a happy ending (a Victorian rom-com for the holidays), and "The Haunted Man and the Ghost's Bargain" finds another Scrooge-like figure learning about the spirit of Christmas from a ghost. Dickens' audience—and later collectors—never lost their appetite for the beloved yuletide tales, in which good triumphs over evil in the spirit of the season. Estelle Doheny (1875-1958) was one of the most distinguished women book collectors of the 20th century. The wife of oil tycoon Edward Doheny, she began collecting books in the 1920s, eventually amassing a library of approximately 7,000 books and 1,300 manuscripts. Her interests included illuminated manuscripts, incunabula, and Western Americana in addition to fine and historic bindings, and her collection of fore-edge paintings was the most extensive ever assembled. In the summer of 1931, at the height of the Depression, she spent an average of $1,000 per day on books--something that would have shocked both the miser Scrooge and his crusading creator. Like virtually all sets of the Christmas books, this one was assembled over the years, but, remarkably, "Christmas Carol" and "Cricket on the Hearth" have been together since C. Wethered acquired the second title in 1845--nearly 180 years ago. And our "Chimes" was originally, as intended, presented as a Christmas gift. The handsome case by Zaehnsdorf, likely commissioned for Mrs. Doheny, has kept these copies in almost unbelievably fine condition..
Offered by Phillip J. Pirages Fine Books.
by Hannah Arendt
Chicago: The University of Chicago Press, 1969. Collector's edition. vi, 333 pp. Bound in publisher's illustrated boards, housed in matching slipcase. Fifth impression of the first edition with a dramatically redesigned binding and matching slipcase not present in prior or later printings. Near Fine with slightly toned spine, in Near Fine slipcase with light shelf wear, a few tiny creases. A surprisingly rare, beautifully-designed edition of a philosophical history of what it means to be human.
Offered by Burnside Rare Books.
George Washington's Second Thanksgiving Proclamation, Sent to American Consuls
by EDMUND RANDOLPH

"When we review the calamities which afflict so many other nations, the present condition of the United States affords much matter of consolation and satisfaction."

A day before it is publicly issued, Secretary of State Edmund Randolph Sends Washington's Proclamation to all American Consuls, as "a better comment upon the general prosperity of our affairs than any which I can make." According to the President, "the present condition of the United States affords much matter of consolation and satisfaction. Our exemption hitherto from foreign war; and increasing prospect of the continuance of that exemption; the great degree of internal tranquility we have enjoyed…Deeply penetrated with this sentiment, I GEORGE WASHINGTON, President of the United States, do recommend to all Religious Societies and Denominations, and to all Persons whomsoever within the United States, to set apart and observe Thursday the nineteenth day of February next, as a Day of Public Thanksgiving and Prayer…to beseech the Kind Author of these blessings…to impart all the blessings we possess, or ask for ourselves, to the whole family of mankind." EDMUND RANDOLPH.
Printed Document Signed, as Secretary of State, this copy sent to Nathaniel Cutting, American Consul at Havre de Grace, France, December 31, 1794, 3 pp and blank on one integral leaf. Randolph's circular on page one notes that he is attaching a reprint of Thomas Jefferson's August 26, 1790 letter to our Consuls, and an extract of Jefferson's May 31, 1792 letter calling attention to a part of the Act of Congress governing the security that consuls have to give to insure they can meet obligations they take on for the United States. He then attaches the full text of Washington's Second Presidential Thanksgiving Proclamation, which was publicly issued a day later, on January 1, 1795. 15½ x 12⅞ in.

Historical Background

As the first Secretary of State, from 1790 to 1793, Thomas Jefferson had sent a circular to all U.S. consuls and vice-consuls around the world at the end of each session of Congress to apprise them of any new laws or other matters related to their duties. His successor, Edmund Randolph, continued the practice. Randolph sent the circular offered here to Nathaniel Cutting, U.S. consul in the port city of Havre de Grace, France. As a summary of recent events and the current state of the Union, Randolph found that President Washington's second proclamation for a "Day of Public Thanksgiving and Prayer" was best suited to the purpose.

As Secretary of State, Randolph faced many of the same challenges that his predecessor, Thomas Jefferson, had attempted to address. Randolph managed the settlement of the Citizen Genêt Affair. He prompted a resumption of talks with Spain and assisted in the negotiations of the 1795 Treaty of San Lorenzo, which opened the Mississippi River to U.S. navigation and fixed the boundaries between Spanish possessions and the United States. Randolph continued Jefferson's efforts to maintain close relations with France and minimize Alexander Hamilton's influence over President Washington. However, Washington endorsed Jay's Treaty, securing commercial ties with Great Britain at the expense of neutral trade, particularly U.S. shipping to France. Randolph, along with the Senate, strongly objected.

Jefferson's August 26, 1790 circular to the consuls, reprinted here, requests "information of all military preparations, and all other indications of war which may take place in your ports…" It ends with the admonition "not to fatigue the government in which you reside, or those in authority under it, with applications in unimportant cases… and let all representations to them be couched in the most temperate and friendly terms; never indulging in any case whatever, a single expression which may irritate."

As president, Washington proclaimed only two days of Public Thanksgiving and Prayer. The first was on October 3, 1789, just over five months after he became president. Washington celebrated the fact that the United States had emerged victorious from a long war with the world's greatest military power, and that the nation had "Peaceably"
established a new government designed to balance necessary powers with strong protections of individual rights. The danger of disunion was real, but had been avoided during the heated debate over the Constitution's ratification, and compromise was reached with the promise of a Bill of Rights. On the same day that it had passed the first twelve amendments to the Constitution to be sent to the states for ratification, Congress requested that the president issue a Thanksgiving Proclamation.

His second proclamation, printed here, is addressed to "to all religious societies and denominations, and to all persons whomsoever." He calls for thanks to "The Great Ruler of Nations" and "the Kind Author" of national blessings. As with his first proclamation, he does not reference Jesus Christ. While some Christian ministers criticized the omission, others believed that Washington wished to be viewed "merely as the political Head of the Union," and not "the Dictator of its religious opinions and worship."

The Whiskey Rebellion

In celebrating "liberty with order," Washington particularly gives thanks for the end of the Whiskey Rebellion: "the seasonable controul which has been given to a spirit of disorder, in the suppression of the late insurrection."

Under the Constitution, direct taxes levied by Congress had to be apportioned among the states, according to a decennial census. The arguably indirect whiskey tax was free from the apportionment burden. Plus, soaking up this lucrative revenue source would deprive the states of that potential income, thus strengthening the federal government. The "Whiskey Tax," which Congress passed on March 3, 1791, immediately stoked anger, especially on the frontier: whiskey was the most efficient way for Western farmers to process harvests into an easily transportable commodity. It was even used as a currency. The tax hit small producers hardest. Revenue collectors became as hated and reviled as British troops had been in Boston on the eve of the Revolution. A cartoon of the time, "Excise Man," minces no words: "Just where he hung the people meet; To see him swing was music sweet; A Barrel of whiskey at his feet."

Congress revised the act on May 8, 1792. At Hamilton's suggestion, they reduced but did not eliminate the duties and regulations. Public outcry thus continued, and on September 15, 1792, President Washington issued a proclamation condemning those who obstructed the law. The impact of the Excise Act took several years to take full effect, however, as federal collectors were repeatedly attacked and forced—often under threat of mob violence—to resign from their positions. Unrest came to a head after subpoenas were issued in early 1794 for violators of the Excise Act, who had no intention of appearing in court. Two new Acts passed on June 5, 1794 were the final straws as long-simmering resentment flared into open rebellion. The "Whiskey Rebels" attacked a federal marshal and burned the home of a local inspector. Negotiations proved unsuccessful. Washington issued a proclamation ordering the rebels to return peaceably to their homes. He sent peace commissioners to negotiate and simultaneously began raising troops to suppress the insurrection.

On September 30, the president and Alexander Hamilton left Philadelphia to rendezvous with a federalized force of 12,950 men at Carlisle, Pennsylvania. They arrived four days later and marched with the militia to Bedford. After reviewing the troops and preparing his officers to advance when ordered, Washington returned to Philadelphia to meet with Congress. Shortly thereafter, General "Light-Horse Harry" Lee led troops into western Pennsylvania and arrested the core of the rebel army. The uprising quickly collapsed. Suppressing the rebellion represented the first real test against internal threats for the newly created Constitutional government.

America and the World

Washington gives thanks for "Our exemption hitherto from foreign war [and]—an increasing prospect of the continuance of that exemption." When war broke out between France and Britain in 1793, America was extremely vulnerable. Britain recognized America as an ally of France (by the treaty of 1778), and both Britain and France attacked American ships. In the French Caribbean alone, American merchants eventually lost over 250 ships to British capture. America's "perpetual" attachment to France, our first and most important Revolutionary War ally, had waned since the onset of the bloody French Revolution. The Federalists' preferred strategy of military buildup and negotiations, however, proved inadequate. In March of 1794, Congress passed the Embargo Act, temporarily halting American shipping in order to relieve pressure on American sailors and merchants without provoking Britain.

In the short term, the Embargo protected the lives of sailors and allowed Washington's administration time to build up the nation's military strength and to pursue negotiations. However, like embargos before and after, it proved financially damaging to American merchants, particularly in the northeastern states, and it failed to resolve the underlying problems.

Anti-Federalists still favored France. Meanwhile, the Embargo divided Federalists who believed that asserting American sovereignty abroad depended first on enforcement of sovereign principles against all encroachers, and Anglophile Federalists who believed that unfettered access to British manufacturing technology and expanding American mercantile power would give America greater leverage. The arrival of Jay's Treaty in America in the middle of 1795, exacerbated the political breach. Washington's Farewell Address, issued the next year, provided a less rosy outlook than his 1795 Thanksgiving Proclamation.

Other Presidential Thanksgiving Proclamations

Presidents John Adams and James Madison also issued Thanksgiving Proclamations, but thanksgiving days more typically remained state holidays. Abraham Lincoln was the next president to issue multiple national Thanksgiving Proclamations. He began by closing government departments for a day in 1861, and in March 1863, he called for a day of "national humiliation, fasting, and prayer." After the Battle of Gettysburg, he issued another, assigning August 6, 1863, as a day of "National Thanksgiving." Soon after, Lincoln was moved by a letter from Sarah Josepha Hale, who had lobbied the four prior presidents unsuccessfully to make Thanksgiving the third national holiday – after Independence Day and Washington's Birthday. On October 3, 1863, exactly 74 years after George Washington's first presidential Thanksgiving proclamation, Lincoln proclaimed the fourth Thursday in November as a national day of Thanksgiving. President Franklin D. Roosevelt moved the holiday up a week, but in 1941 Congress fixed the date as the fourth Thursday in November, setting the precedent that remains to this day.
Offered by Seth Kaller.
by Dale L. Morgan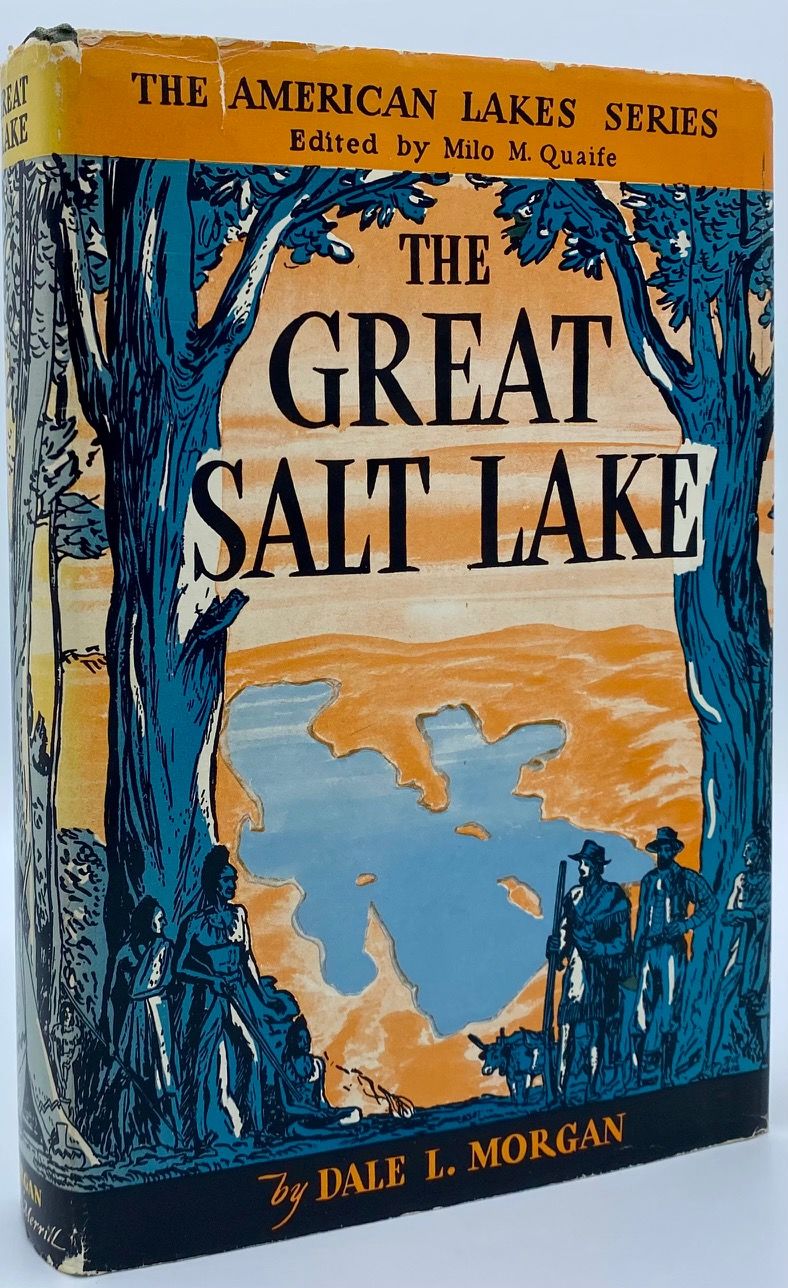 Indianapolis: The Bobbs-Merrill Company, 1947. First Edition. 432pp. Octavo [22.5 cm] Green cloth with gilt stamped titles on the front board and backstrip. Very good/Very good. Signed on a special tipped-in sheet that is attached to front flyleaf. Bobbs-Merrill's series on American lakes was sponsored as an attempt to recapture a market share from Farrar & Rinehart's widely successful Rivers of America Series. Great Salt Lake dealt more with the historical context of the lake than the body of water itself, describing the epochal history of the lake itself, early exploration and mapping, the settlements of Salt Lake City, tourism and recreation, and the advent of railroads beside and across the lake. Besides his incomplete history of the Mormons, this work contains the only published example of Morgan's historical treatment of his religious culture.
Offered by Tschanz Rare Books.
Learn more or purchase this item...
Gay Parisienne. Aug.-Sept., 1938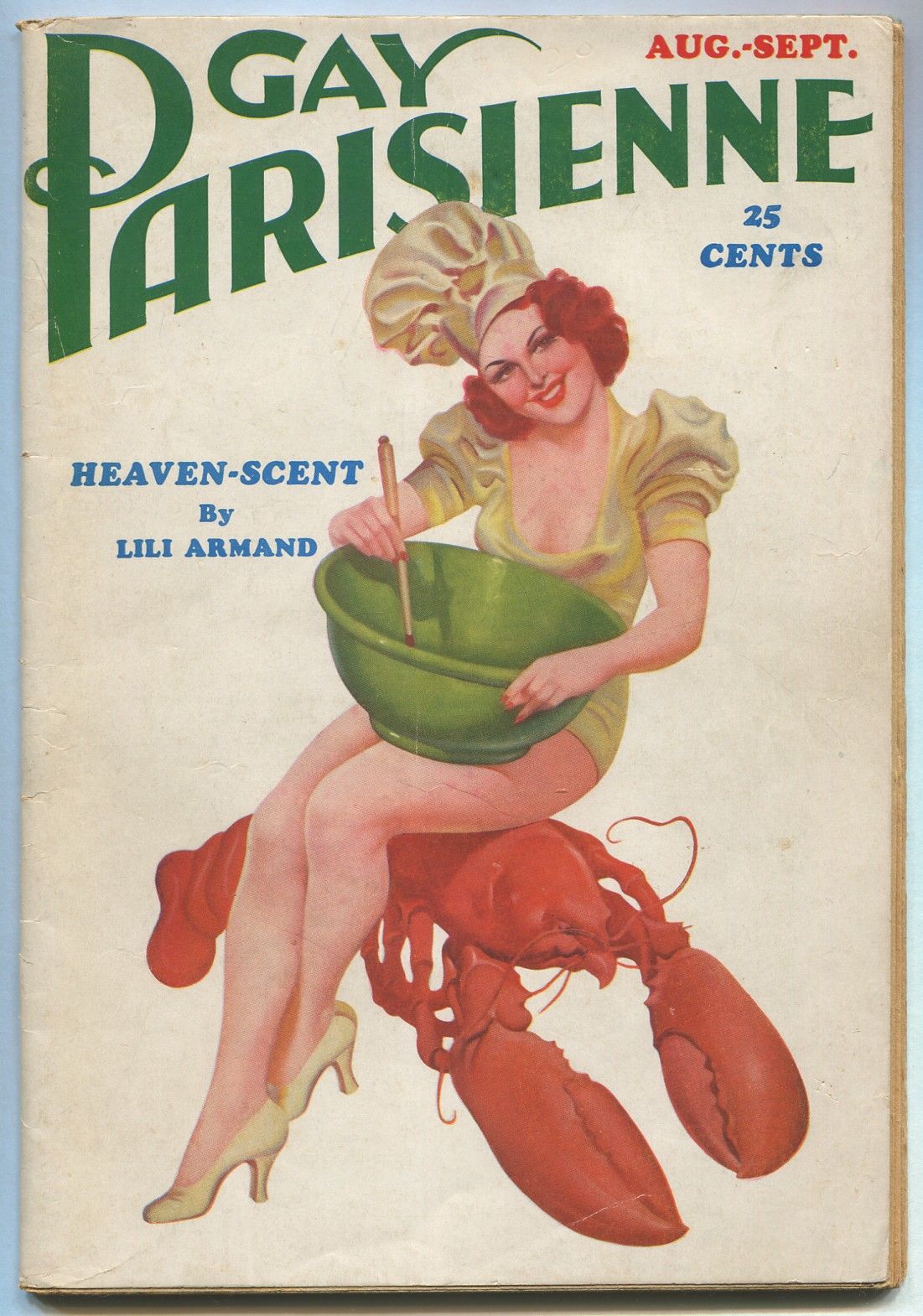 Dover, Del: D.M. Publishing Co, 1938. Softcover. Near Fine. Quarto. Illustrated wrappers. Cheap paper is toned but stable, foxing inside front covers, otherwise handsome and very good or better. Risque pulp magazine with slyly ribald stories, with French pretensions mostly manifested by sprinkling the dialogue with French phrases. Cover story "Heaven-Scent" by Lili Armand. Attractive.
Offered by Between the Covers Rare Books.
Learn more or purchase this item...
by ERASMUS (DESDERIUS)

Erasmus (Desiderius, of Rotterdam): L'Eloge de la Folie (In Praise of Folly) … traduit par Mr. Gueudeville. Amsterdam: Francois L'Honore, 1731. Engraved frontispiece (partially wrinkled and detached), also portrait with Erasmus, Sir Thomas More, and Hans Holbein, six folding plates and 75 text engravings. These are the same copperplates as used in the first "counterfeit" edition of 1713/1714. Tall 12mo, [xxiv] 234 pp. + [xvii] index; vintage mottled calf, gilt-titled label on spine.
In 1509 Erasmus composed his famous essay as a satirical attack on superstitions and other unconventional traditions in European society. Since its inception it hasbeen considered one of the most important works of the Renaissance and helped develop early stages of the Protestant Reformation. Erasmus uses satire to examine doctrine and corruption within the Catholic Church, even though he was devoted deeply to Catholicism. He concludes with statements supporting Christian Protestantism and frequently references Greek mythological creatures and figures. Early printing of this popular translation from Latin into French.
Offered by Battledore.
Learn more or purchase this item...
Raging Bull (Original photograph of Martin Scorsese and Robert DeNiro on the set of the 1980 film)
Beverly Hills, CA: United Artists, 1980. Vintage photograph of a relaxed director Martin Scorsese and actor Robert De Niro "conferring in the ring" on the set of the 1980 film.
Based on the 1970 memoir by former middleweight champion Jake LaMotta, about his struggles in and outside the ring. Nominated for eight Academy Awards, including Best Picture, Best Director, Best Supporting Actor for Joe Pesci, and Best Supporting Actress for Cathy Moriarty, winning two, including De Niro's first and only Best Actor statuette (after previously winning Best Supporting Actor for "The Godfather Part II").

Set in predominantly in New York City, shot on location there.

10 x 8 inches. Faint diagonal scratch, else Near Fine.

National Film Registry. Ebert. Spicer US Neo-Noir.
Offered by Royal Books.
THE ADVENTURES OF HUCKLEBERRY FINN
by TWAIN, MARK (PSEUDONYM OF SAMUEL LANGHORNE CLEMENS, 1835-1910)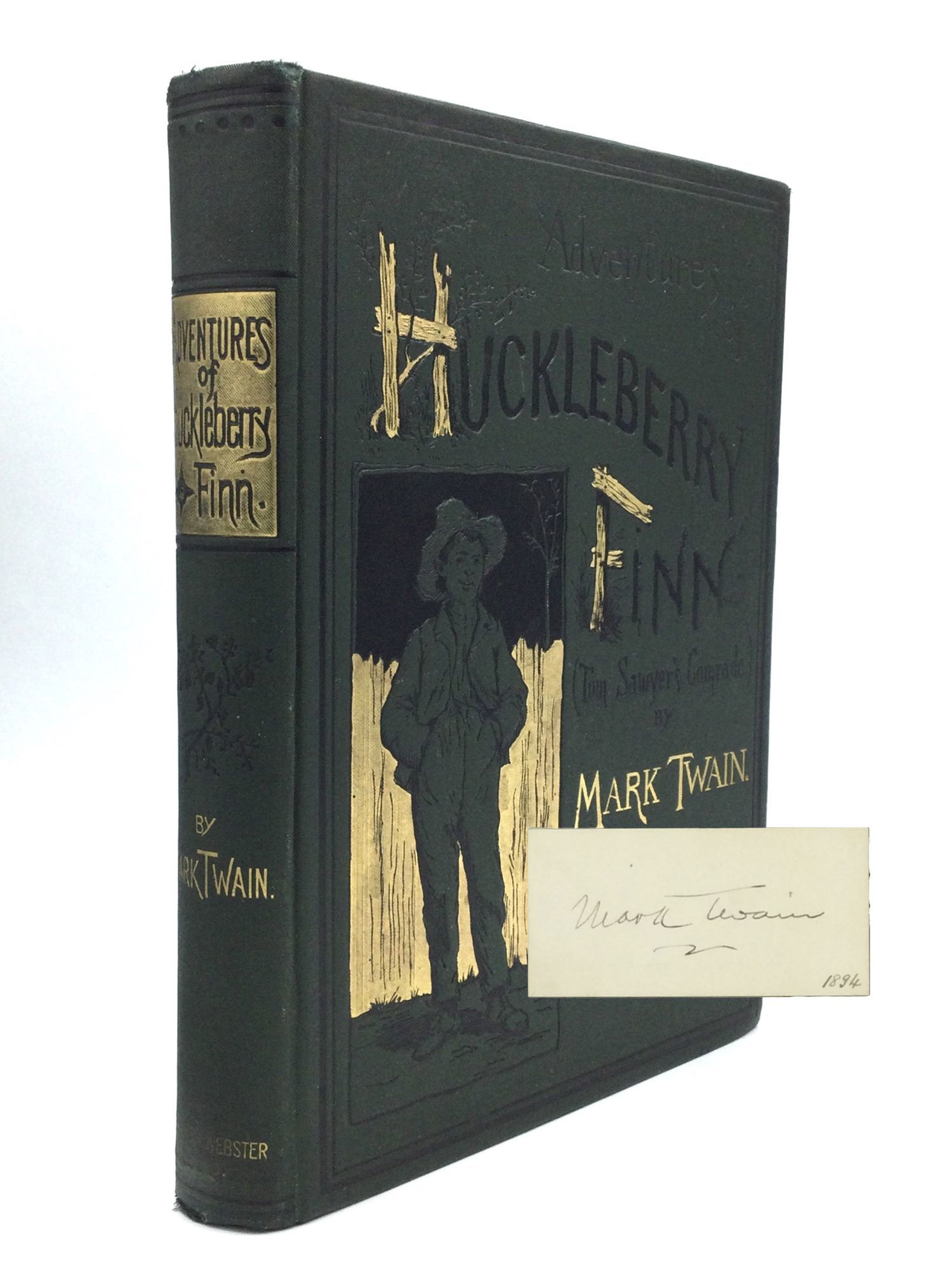 New York: Charles L. Webster and Company, 1885. First Edition. Hardcover. Very good. First edition, early state with all three first printing points: the "Decided" misprint on page 9, the erroneous page reference ("88") on page 13, and the "with the was" error on page 57. In addition, this copy features a portrait frontispiece with the cloth under the bust visible and the Heliotype imprint (State A), as well as the tipped-in title page with 1884 on the copyright page (State B) and the tipped-in p.283 with the replaced Uncle Silas engraving (State C). These last three points do not have bearing on priority of issue, nor does the binding.

Laid in is a small card (3" x 1 1/2") signed and dated (1894) by Mark Twain.

Hilariously picaresque, epic in scope, alive with the poetry and vigor of the Antebellum South, Mark Twain's story about a young boy and his journey down the Mississippi was the first great novel to speak in a truly American voice. As Ernest Hemingway observed, "all American literature comes from one book by Mark Twain called Huckleberry Finn... there was nothing before. There has been nothing as good since."

Large octavo: 366 p. with 174 illustrations by E.W. Kemble. Original green cloth binding, with pictorial gilt and black stamping. Just a hint of foxing to the prefatory and concluding leaves and along the edges. Some general dust staining to the top edge. Mild wear to the corners and tips, with a bit of rubbing to the stamping at the spine heel; otherwise very good. BAL 3415.

An especially attractive copy, housed in an elaborate custom clamshell box.
Offered by Johnson Rare Books & Archives.
WITH PROLOGUES ATTRIBUTED TO ST. JEROME AND THE INTERPRETATION OF HEBREW NAMES.
AN EXCEPTIONAL ILLUMINATED VELLUM MANUSCRIPT BIBLE IN LATIN BY THE BARI ATELIER
Paris, 3rd quarter of 13th century. 221 x 150 mm. (8 3/4 x 5 7/8"). Double column, 51 lines in a tiny gothic pearl script. [490] leaves. COMPLETE.
Attractive 19th century dark brown morocco by Riviere & Son (stamp-signed in gilt on front turn-in), covers with blind-tooled frame flanked by thick and thin blind rules and a floral tool in each corner, raised bands, all edges gilt (subtle repairs to head and tail of spine and upper joint). Housed in a morocco-backed cloth box. Rubrics in red, capitals touched in red, chapter numbers and running titles alternately in red and blue, a great many two-line initials in red or blue with contrasting penwork, textual corrections within red and blue cartouches, catchwords from f. 272v onwards within elaborate pen and ink cartouches in the shape of various animals, 84 LARGE ILLUMINATED INITIALS AND 81 HISTORIATED INITIALS, with an ESPECIALLY IMPRESSIVE GENESIS INITIAL MEASURING THE ENTIRE LENGTH OF THE PAGE, showing the seven days of Creation and the Crucifixion, and decorated with animals, grotesques, naked warriors, knights fighting from the backs of dragons, and an archer shooting an owl. Front pastedown with book label of the Gloddaeth Library. Several pages with later (16th century?) marginal notations and ink trials (see below). First leaf a little soiled, four initials (two historiated and two decorative) somewhat smeared, some long penwork extensions in lower margins just slightly trimmed in places (but the margins very generous all around), occasional light marginal dampstains, small spots, and other trivial defects, but IN VERY FINE CONDITION THROUGHOUT, the vellum clean and smooth, the paint vibrant, and the detail extremely well preserved.

Attributed to the eminent Bari Atelier, this is an outstanding example of Parisian Bible illumination, possessing everything the discriminating collector could hope for: it is complete, is beautifully illustrated with 81 exceptionally fine historiated initials and numerous decorative initials, is in exemplary condition, and has distinguished provenance dating back to the 16th century.
Offered by Phillip J. Pirages Fine Books.
Learn more or purchase this item...
Harmless Poisons, Blameless Sins
by MRABET, MOHAMMED; PAUL BOWLES [TRANSLATOR]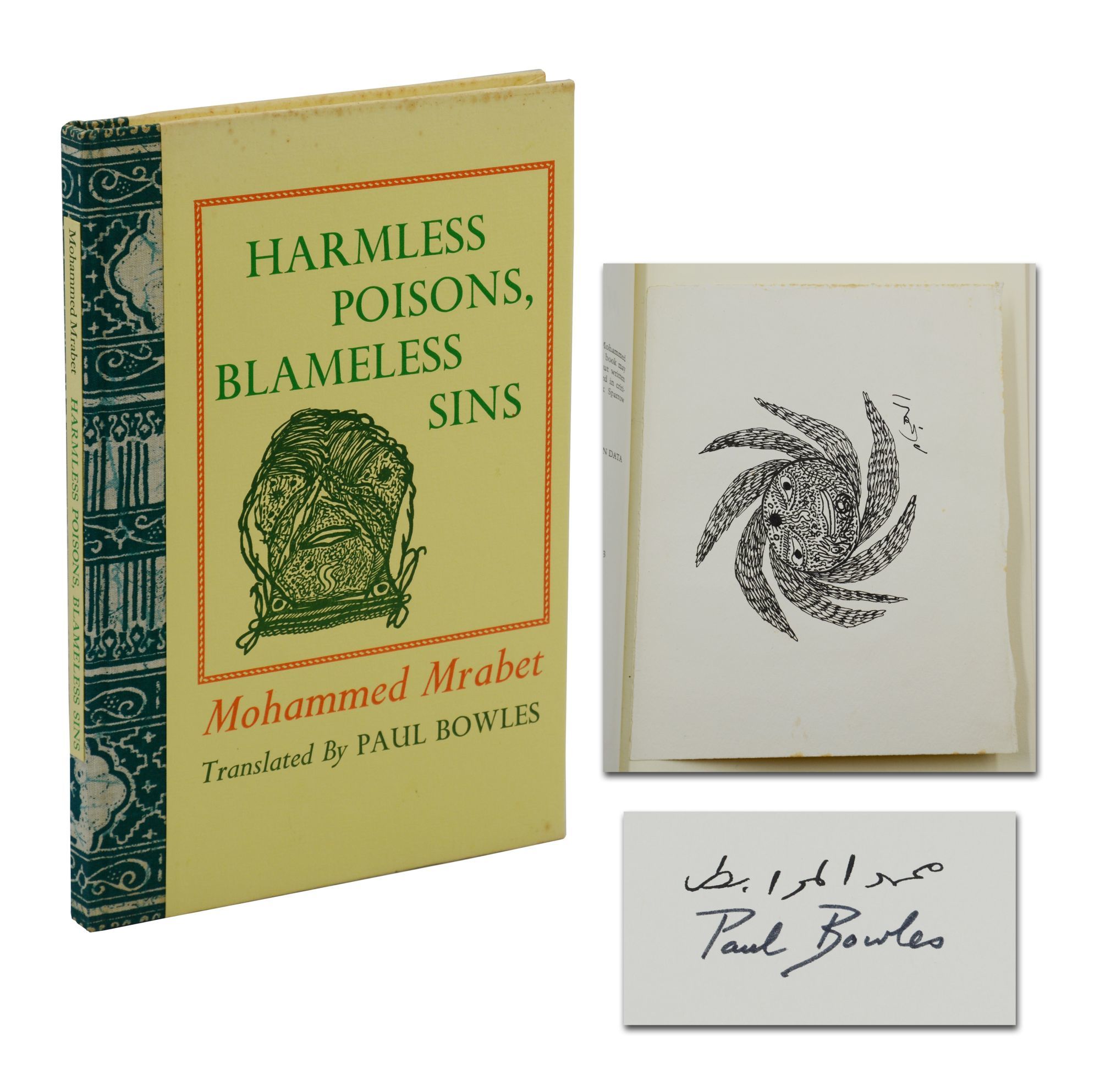 Santa Barbara: Black Sparrow Press, 1976. First edition, signed lettered issue with artwork. First edition, lettered issue. Signed by Mohammed Mrabet and translator Paul Bowles on limitation page at rear, copy "Q" of 26 lettered copies with a signed original ink drawing by Mrabet mounted to page bound in at the front. 100, [6] pp. Handbound in boards by Earle Gray. Very Good+ with some foxing to boards and edges, in publisher's clear acetate. Stories by the Moroccan oral storyteller.
Offered by Burnside Rare Books.
Learn more or purchase this item...
Original Photograph of Billie Holiday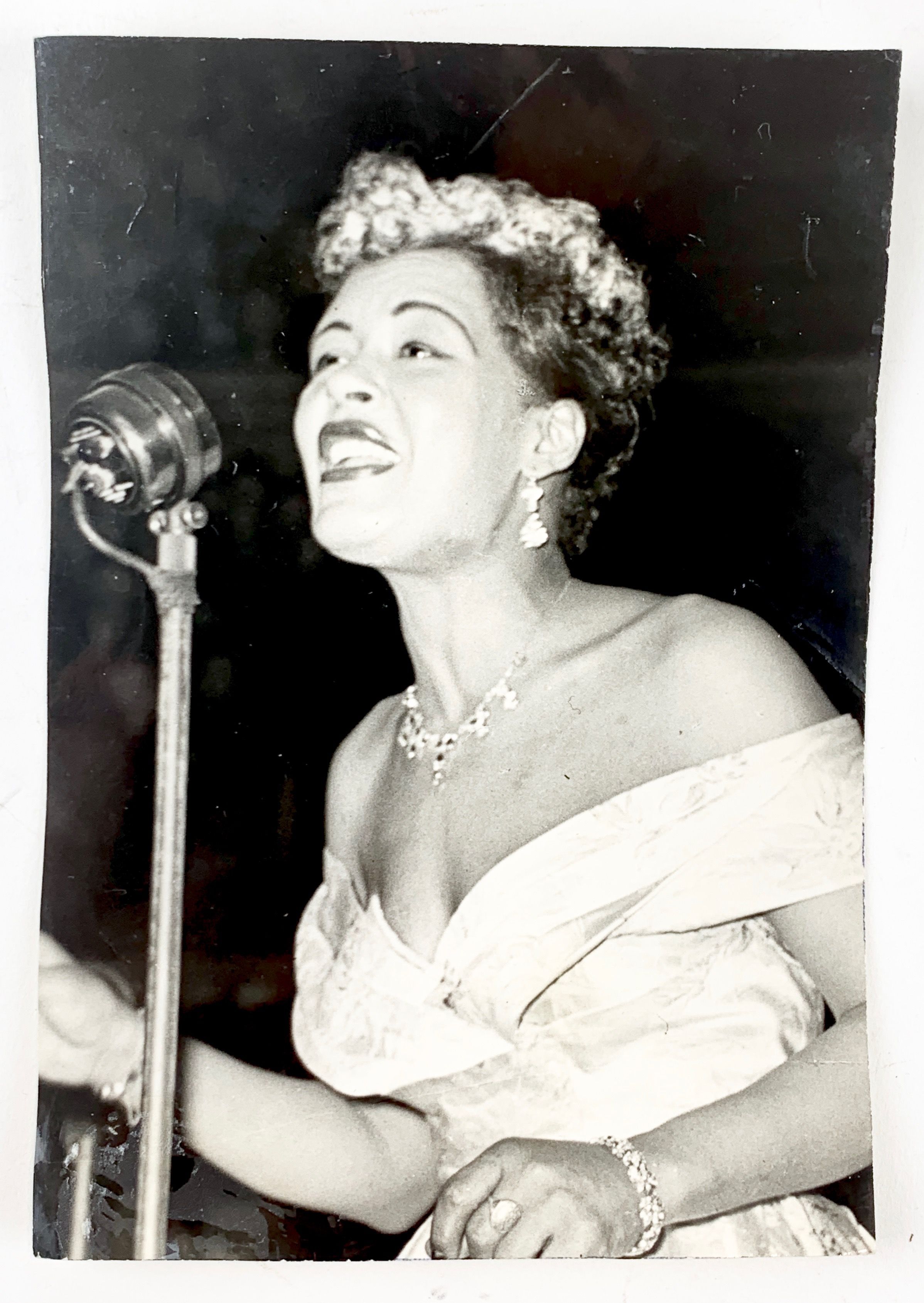 Used; Like New/Used; Like New. Small format original candid photograph of the legendary jazz singer in performance, inscribed in an unknown hand on the verso "Mis Yoo - + lot's of love, Bxx" [SIC]. 4.5 x 6.5 inches (11.4 x 16.5 cm.). Irregularly trimmed, some light surface impressions, else fine.
Offered by Schubertiade Music & Arts.
Smiling Jack-O-Lantern -- Halloween Decoration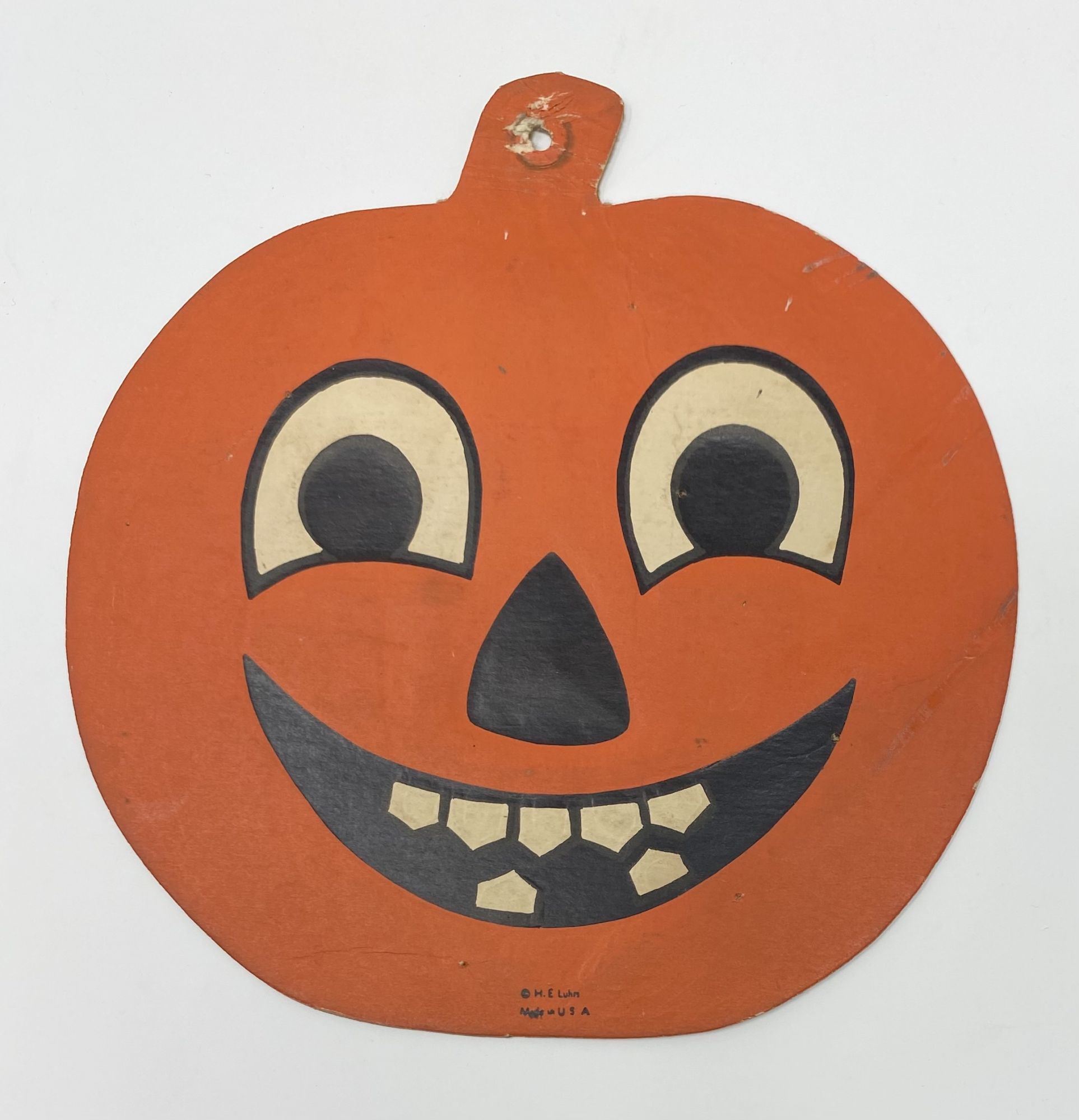 Made in U.S.A. [Pittsburgh, Pennsylvania]: H.E. Luhrs [The Beistle Company], 1950. Ephemera no binding. Very good. [EPHEMERA] [HOLIDAY: HALLOWEEN]. 6" x 6"; color printed stiff die-cut pumpkin-shaped paper decoration, stamped design and embossed; punched hole for hanging; wear to hole, light crease to face on right side; very good minus. Halloween decoration made by the prolific American party decoration company, The Beistle Company, during the Luhrs ownership. The Beistle Company was founded by Martin Luther Beistle in 1900 and started manufacturing paper Halloween party goods in the 1920s. Henry E. Luhrs, Beistle's son-in-law, took over the company in 1935 after Beistle's death.
Offered by Sandra L. Hoekstra Bookseller.
Learn more or purchase this item...
Whirl -- Halloween Fortune and Stunt Game
by Sandra Pearl

Made in the USA: The Beistle Co., [1950]. Bend upper right corner.. A 9" x 7" litho on card game board with a volvelle with numbers and a spinner at center. The number indicated by the spinner corresponds to a fortune on the reverse. It also points to a stunt to be completed by a party attendee. The volvelle is moved between each turn and the spinner is respun. There are a set of printed instructions on the reverse plus a corresponding set of numbers between 1 and 20 for boys and for girls and provides the player with a fortune relevant to love or life.
The stunts include tasks as "Leap like a frog and give a croak to Throw ten feet never fail Three potatoes in a pail". Fortunes from "Hitch your wagon to a star And some day you can buy a car" to You'll meet a boy who's tall and slim And quickly fall in love with him". Fun and whimsy.
Offered by Eclectibles.
Learn more about or purchase this item...
by GOERG, EDOUARD, ILLUSTRATOR. BAUDELAIRE, CHARLES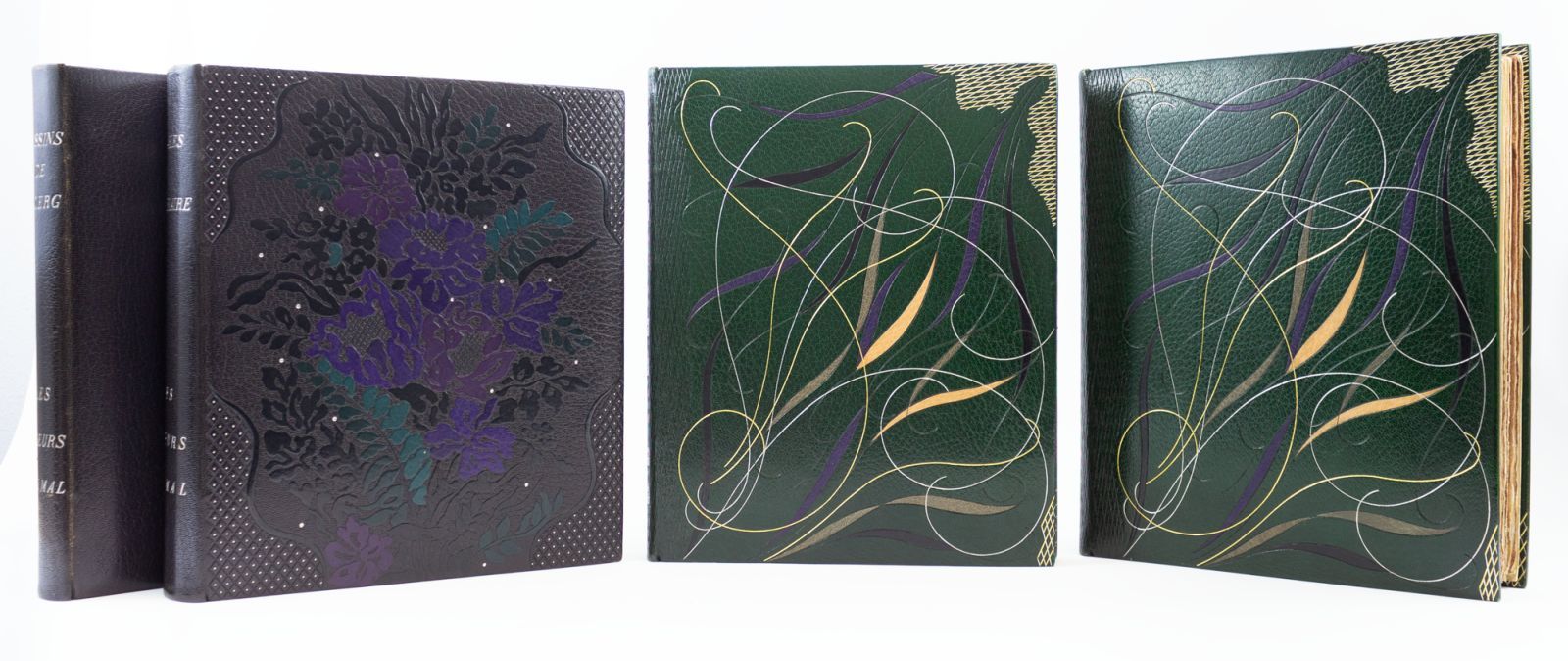 Paris: Marcel Sautier, 1948, 1952. No. 1 OF 10 SPECIAL COPIES (of 200 total), this copy inscribed by Goerg to bibliophile Daniel Sickles. 335 x 275 mm. (13 1/4 x 11"). Four volumes..
Volume I and its supplementary volume in ANIMATED DARK GREEN CRUSHED MOROCCO BY J. ANTHOINE-LEGRAIN (stamp-signed in gilt on front turn-in and dated 1949 on rear turn-in), boards with elaborate curvilinear gilt, silver, and inlaid morocco in purple, tan, olive, and black forming a swirling design, spines and turn-ins with elaborate tooling in blind, gilt, and silver, brown silk endleaves, top edges gilt, original wrappers bound in. In leather-lined, morocco-backed chemises and marbled paper slipcases. Volume II in DEEP PURPLE MOROCCO BY CREUZEVAULT (stamp-signed in argent on front turn-in), front board with elaborate tooling in blind with silver highlights, and with additional inlaid sections of green and purple morocco forming a floral decorative scheme, green suede endleaves, original wrappers bound in. Supplement to volume II in plain black crushed morocco by Creuzevault, green suede endleaves. Both in morocco-backed wooden board chemises and slipcases. WITH MORE THAN 1,161 ILLUSTRATIONS, COMPOSED OF: 269 ORIGINAL MONOCHROME LITHOGRAPHS BY EDOUARD GOERG, many double-page (144 in the first volume, 125 in the second); Volume I with an additional selection of 25 LITHOGRAPHS (IN BLACK IN FIRST STATE) from the original 144, followed by complete SUITES OF ALL 144 ILLUSTRATIONS IN BLACK AND IN SANGUINE; Volume II with an additional selection of 29 LITHOGRAPHS (IN BLACK IN FIRST STATE) from the original 125, followed by complete SUITES OF ALL 125 ILLUSTRATIONS IN BLACK AND IN SANGUINE; AND with two additional volumes containing MORE THAN 300 ORIGINAL DRAWINGS BY GOERG done in the process of illustrating the work. Limitations page of Volume I inscribed in ink by Goerg to Col. Daniel Sickles, expressing his pleasure that this book has given them the opportunity to meet and his hope that it will make them friends. Three newspaper articles about Goerg's work (dated 1964-77) and other material laid in at front of volume I. Strachan, "The Artist and the Book in France," pp. 142-44, 333. Just a breath of rubbing to extremities of Volume II and its supplement, but in outstanding condition--flawless internally, and in dramatic, well-preserved bindings.

Inscribed to a prominent bibliophile and imaginatively bound by two modern French masters, this unique deluxe edition of Baudelaire's masterpiece of Symbolist poetry contains Goerg's original designs for the illustrations, offering an exclusive view into his artistic process. Britannica proclaims "Fleurs du Mal" "perhaps the most important and influential poetry collection published in Europe in the 19th century" and hails Baudelaire (1821-67) "as a crucial link between Romanticism and modernism and as a supreme example, in both his life and his work, of what it means to be a modern artist." Composed over a 20-year period, Baudelaire's "Flowers of Evil" deals with the ecstasies and the horrors of life in vivid imagery; the Oxford Companion to French Literature admires his ability to "extract poetic magic from the hideous realities of life." According to Strachan, painter and engraver Edouard Goerg (1893-1969) was "in evident sympathy with the verses of the 'poète maudit'" and "technically superbly equipped to respond to their 'evocative sorcery' and the whole range of emotions they arouse. . . . Goerg's virtuosity is impressive, both as a designer of the many double-page spreads with variations of symmetrical and asymmetrical arrangements, and as an exponent of lithography." The artist spent six years creating in excess of 200 illustrations for the work, and we can see his ideas and designs evolve in the more than 300 original compositions contained in the supplements. Louis-Lazare Creuzevault (1879-1956) and especially his son Henri (1905-71) made the family bindery one of the most famous workshops in Paris during the first half of the 20th century. In the words of Duncan & De Bartha, the father "blended an appealing but anonymous classicism with Marius-Michel's doctrines," while the son "established himself as a contender to Adler and Bonet in the vanguard of the modernist movement in French bookbinding." Jacques Anthoine-Legrain (1907-93) took over the famed workshop of his step-father, the innovative and influential bookbinder Paul Legrain, in 1929. According to Duncan & de Bartha, Anthoine-Legrain initially "continued the Legrain tradition by applying a similar range of linear compositions and inlays of color to leather bindings, often with additional animal skin or metal accents," but later struck out on his own artistic course, as the maelstrom of inlays and tooling on our bindings attests. One of the newspaper articles laid in here notes that former owner Daniel Sickles spent 10,000 francs to have this set bound in 1952; he sold it at auction 11 years later for 78,600 francs. A prodigious collector, Sickles (1900-88) was a completist who endeavored to acquire all editions of a work--including, when possible, the manuscript; his outstanding library of 19th and 20th century French literature numbered more than 10,000 volumes. It is easy to understand the pleasure expressed by Goerg in the inscription here; the inclusion of his original sketches alongside manuscripts by the luminaries of French literature would be an honor, and Sickles was a very desirable friend for a book artist to make..
Offered by Phillip J. Pirages Fine Books.
Learn more about or purchase this item...
The Lords of Discipline (Signed First Edition)
by Pat Conroy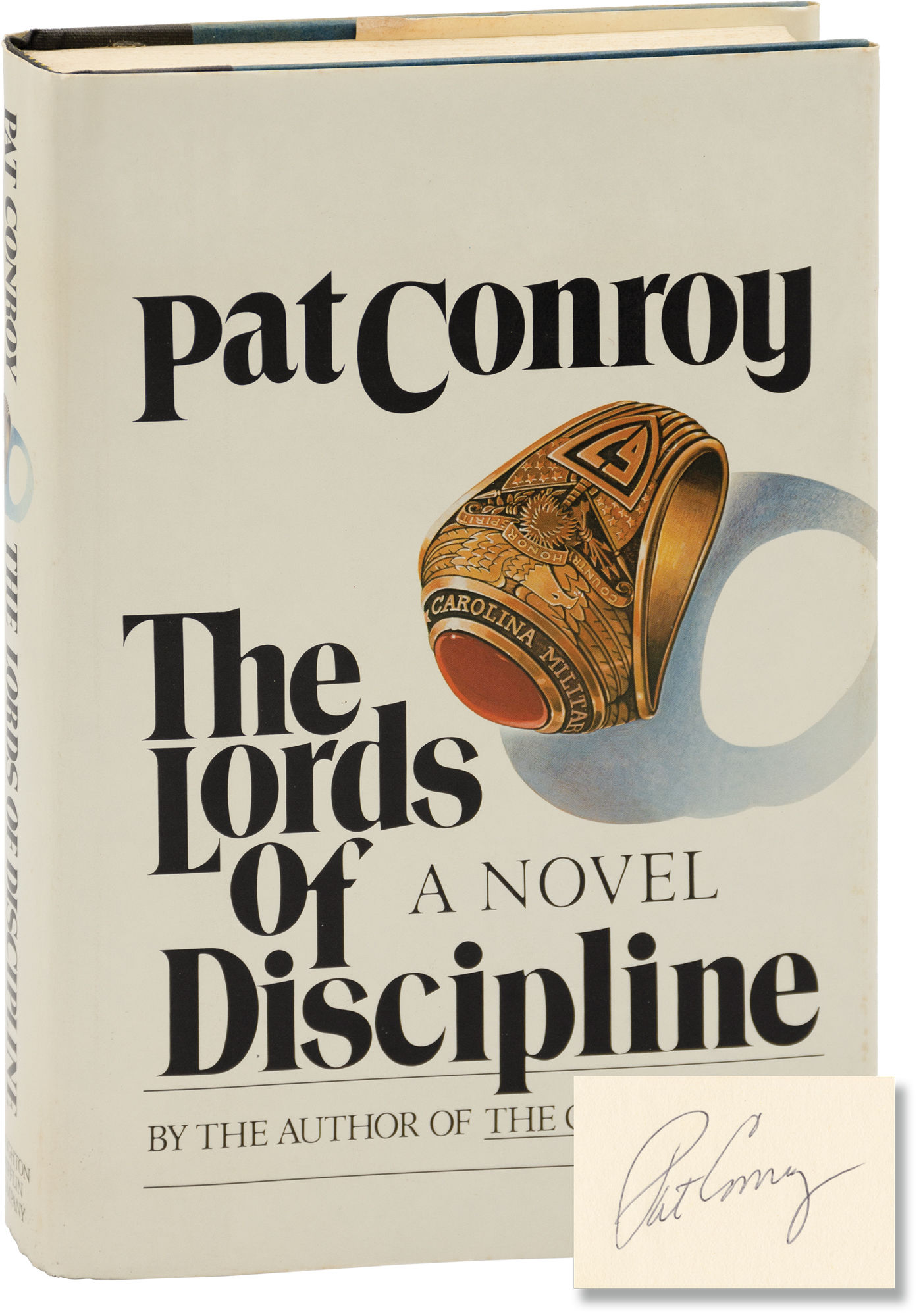 Boston: Houghton Mifflin, 1980. First Edition. First Edition, SIGNED by the author on the title page. Very Good plus in a Very Good plus dust jacket. A bright copy.
Offered by Royal Books.
Hours of Guillaume II Molé (Use of Troyes); in Latin, illuminated manuscript on parchment.
by ILLUMINATED BY THE ROSENBERG MASTER (ACTIVE LYONS, C. 1470-1500)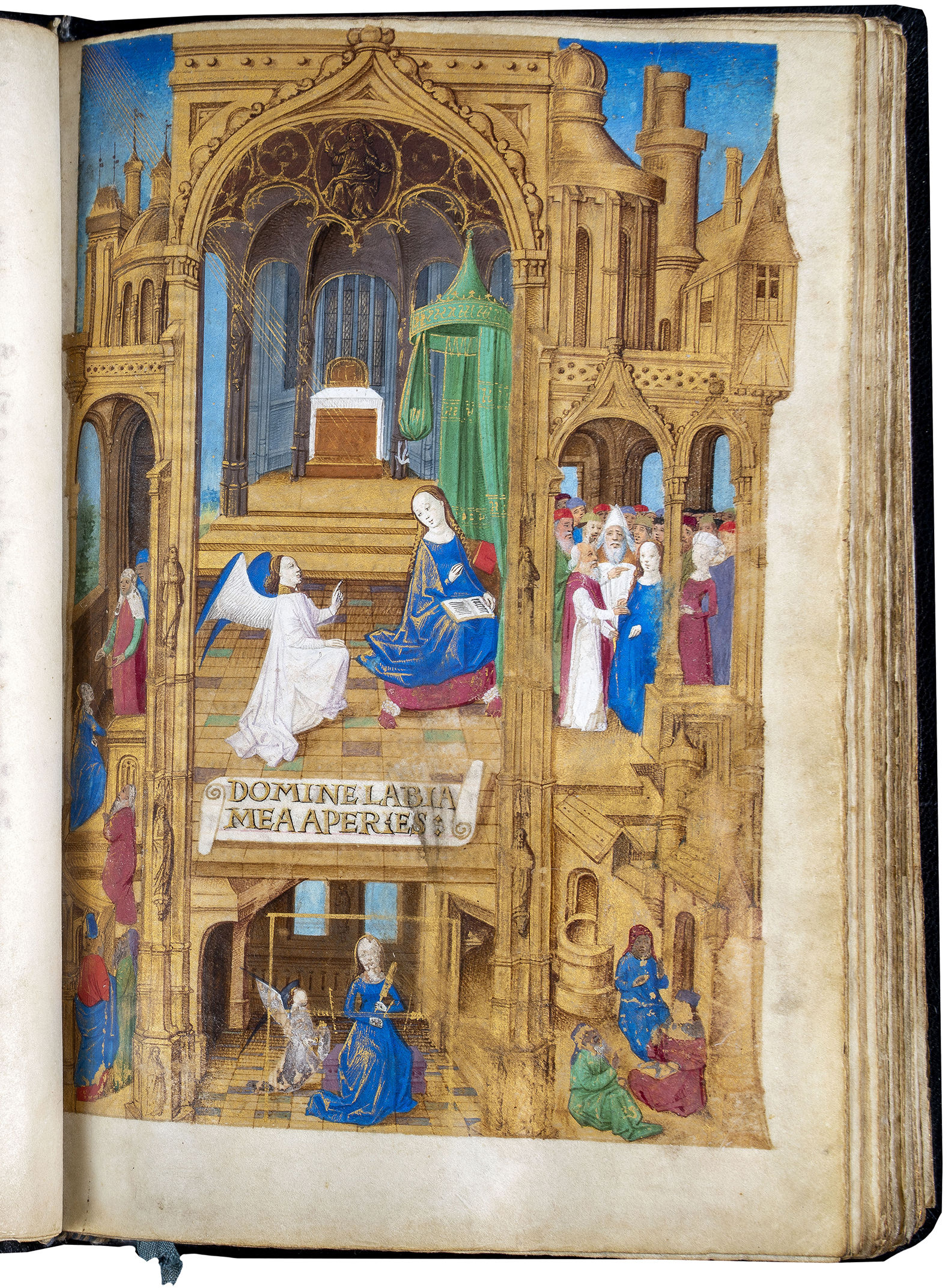 BOOK DESCRIPTION: LAVISHLY ILLUMINATED, FIFTEENTH-CENTURY BOOK OF HOURS; THE PERSONAL PRAYER BOOK OF A SUCCESSFUL FRENCH MERCHANT. In Latin, illuminated manuscript on parchment, Dimensions 153 x 102 mm., 128 folios, lacking 3 leaves likely with full-page miniature and text, each replaced with a modern parchment folio supplying the missing text, occasional catchwords, written in brown ink in cursive gothic bookhand on 24 lines, one-sided panel border on every text page, often with motto "en attandant," 34 historiated initials, 24 small calendar miniatures, and 13 full-page miniatures by the Rosenberg Master, France, Lyons, c. 1480-1490. BINDING: Bound in 20th-century polished black calf, spine re-using an 18th-century green leather title-piece lettered in gilt; leather case, the front cover embossed with a monogram "AE."
ILLUSTRATION: This lavishly decorated manuscript is the name work of the Rosenberg Master, who was part of the flourishing workshop of the scribe Guillaume Lambert. Its illustration offers a rare and dazzling example of Lyons illumination. The Rosenberg Master's personal manner is distinguished in details such as the dark blue clouds in the skies from which divine radiance shines forth, or towering rocks and round trees edged with yellow highlights punctuating the spacious landscapes. A series of historiated initials with close-up portraits of men and women demonstrate a mastery in the modelling of the figures that is unexpected from this artist, for his draftsmanship has often been underestimated.
PROVENANCE: Written and illuminated in Lyons for Guillaume II Molé (d. 1507), a prominent salt and arms merchant, and alderman of Troyes. Introduced by a full-page armorial frontispiece (f. 2) with his shield; a separate note, now lacking, was reported to have been written around 1820 and read "Col. Cooper, bought in Italy;" belonged to H. Harvey Frost (1873-1969), his printed bookplate on the upper pasteboard; belonged to Sven Ericson, Stockholm; sold Sotheby's, London 13 July 1977, lot 76, to Laurence Witten; William H. Schab Gallery, bought by Alexander P. Rosenberg on 27 March 1979; New York, Collection of Elaine and Alexander P. Rosenberg, MS 5, bookplate upper pasteboard, with initials "APR"; loaned by Rosenberg to the landmark exhibition The Last Flowering. French Painting in Manuscripts, 1420-1530, from American Collections, organized at the Pierpont Morgan Library in 1982-1983.
CONDITION: A few flakes, one stain, a few faces partially rubbed, one over-painted (face of the Virgin Mary, f. 35v), otherwise in excellent condition.
Offered by Les Enluminures.
Learn more about or purchase this item...
by ANONYMOUS [BEATRICE SPARKS, LINDA GLOVACH, ET AL]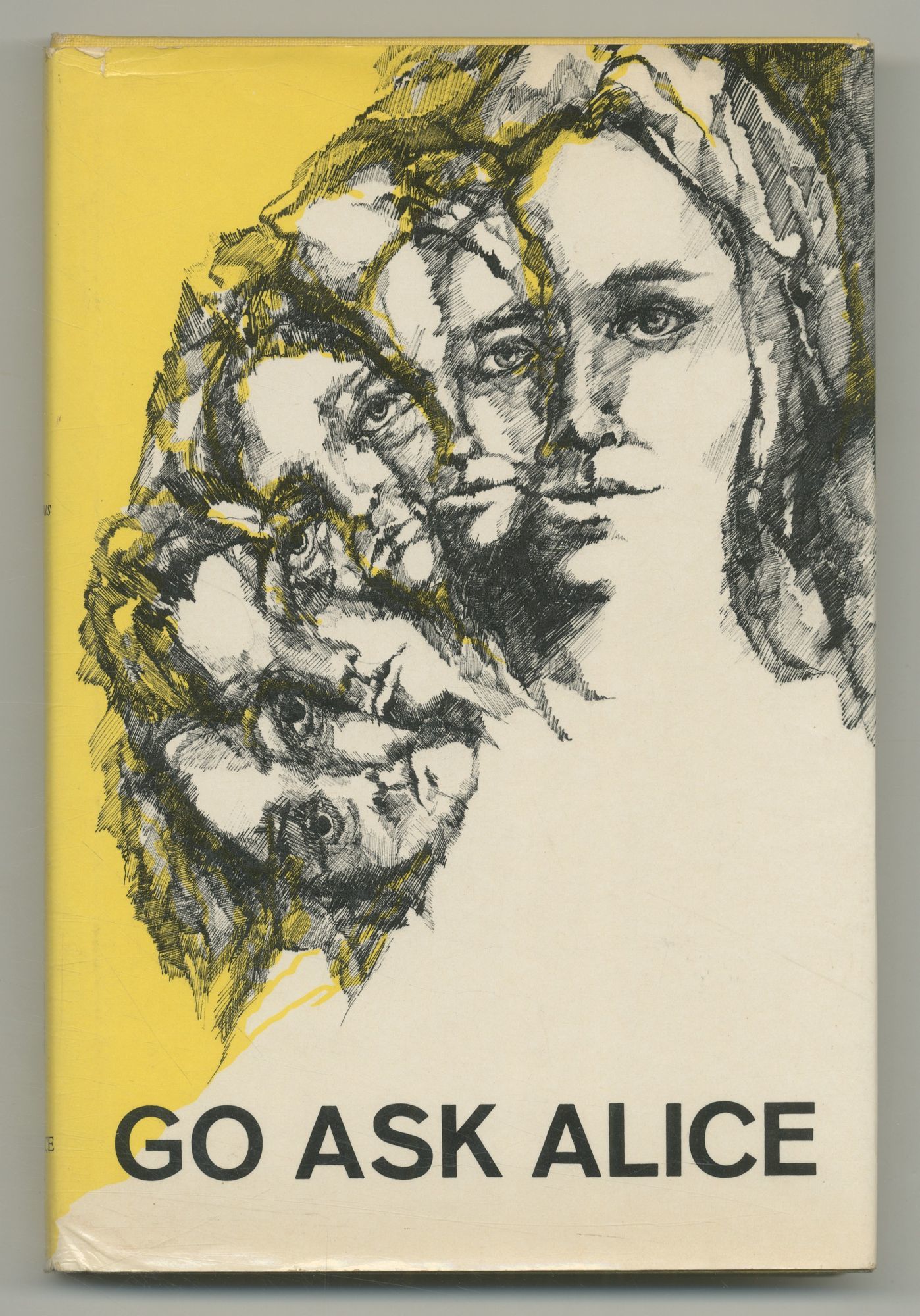 Englewood Cliffs, N.J.: Prentice-Hall, 1971. Hardcover. Fine/Near Fine. First edition. Fine in very near fine dust jacket with tiny creases on the jacket flaps. Fictitious "diary" of a smart, 15 year-old who descends into heavy drug use and other ills, allegedly found by her parents after her death by overdose and published as a cautionary tale. The book was actually the product of author and "editor" Beatrice Sparks and other "preparers" who have since produced a number of similar first-person warnings for youth, though the exact authorship remains unknown. Despite (or perhaps because of) its manufactured origins, surprisingly compelling reading. Basis for a 1973 TV movie with William Shatner as Alice's father and Mackenzie Phillips, in her prophetic debut, as one of Alice's ill-influencing friends. Something of a cult classic, reprinted several times, and very scarce in the first edition.
Offered by Between the Covers Rare Books.
Learn more or purchase this item...
Tell me what sort of wall paper your room has and I will tell you who you are
[leaf of wallpaper sample, mimeographed title-page & leaves of wallpaper samples with printed captio...] by CARRIÓN, ULISES
[1] leaf of wallpaper sample, mimeographed title-page & [20] leaves of wallpaper samples with printed captions. Small 8vo (173 x 110 mm.), orig. black paper wrappers, orig. black cloth tape over spine, staple-bound. Amsterdam: In-Out Productions, 1973.

The extremely rare first edition, one of 50 numbered copies; ours is inscribed by Ulises Carrión (1941-89) on the title-page. This edition is not recorded in WorldCat, but it does show two examples of the 1974 second edition held by SUNY Buffalo and Jan van Eyck Akademie. We are handling this cryptic bookwork for the first time after years of searching. Smaller than the second edition, it is certainly among the rarest of Carrión's editioned bookworks. The present copy is also specially inscribed by the artist with a note that reads: "To Brauer(?), a good friend whose room I still don't know, Ulises C." Tell me what sort of wall paper... is in line with nearly all of Carrión's books in that he did not sign the edition or part of it. This copy is a rare exception, inscribed to a friend and seemingly given as a gift.

According to Tineke Reijnders in her essay on the In-Out Center Archives website (see below), the bookwork originated with Carrión's discovery of discarded sample books assembled by the famous Rath & Doodeheefver wallpaper maker. He cut these up to constitute the leaves of what became the first edition of tell me what sort of wall paper... The numbered edition of 50 copies was quickly disseminated by sale, gift, or exchange, so Carrión undertook a second edition in January 1974.

Carrión's bookwork gives us a tour of the imagined bedrooms of his relatives and associates. In order, we are presented with wallpaper specimens from: "my room," "my parents' room," "my sister's room," "my oncle's room," "my wife's room," "my teacher's room," "my doctor's room," "my accountant's room," "my lawyer's room," "my psychiatrist's room," "my boss' room," "my lover's room," "my friend's room," "my neighbour's room," "my servant's room," "Guest room," "Their room," "Your room," "A room," "......'s room." Omitting any suggestion of narrative, the artist leaves us to form our own associations and interpretations of the wallpaper selections and the rooms we visit through the course of the bookwork.

"In Carrión's bookworks, the ellipsis of the literary text is accompanied by an ellipsis of the narrative, as can be seen in the listing of names or the identification of characters that are not linked by any narrative relationship within a story...In Tell me what sort of wall paper..., Carrión cuts out and binds together a set of wallpaper samples, typing on them the name of the room in which each will appear. The names start in the first person (my room), then identify the members of his family and relations...finally reaching a progressive lack of differentiation of the person to whom the room with the specific wallpaper belongs (your room, a room, ...'s room). The subtlety of this bookwork is apparent not only in the readymade of the wallpapers but also in the suggestion of a narrative that does not require a text for its construction: the simple association of the identities of the rooms' owners in the first person informs us that the narrator has a teacher, a wife, etc. The progression of these identifications suggests a leaving of the family home to enter the world, the framework of so many narratives found in short stories, novellas, and novels. The new art of making books permits the insinuation of a story without resorting to text or narrative. The textual ellipsis liberates the interpretation of the dear reader, who, instead of reading a story, could create his or her own."-João Fernandes, "Art as Subversion: Make and Remake to Make Anew," in G. Schraenen, Dear reader. Don't read. (2016), p. 41.

A fine and fresh copy of a most scarce Carrión bookwork.
Offered by Jonathan A. Hill, Bookseller.
Learn more or purchase this item...
by SILKO, LESLIE MARMON; LEE MARMON (PHOTOGRAPHS)

New York: Seaver Books, 1981. First Edition. First printing. Oblong octavo (17cm x 24cm). Cloth hardcover; dustjacket; 278pp; illus. Tight, unmarked copy, near fine but for some mild fading to board edges. In the original dustwrapper, unclipped (priced $17.95 on front flap); faint trace of rubbing to spine ends, but still a fine example. Silko's acclaimed third book, a blend of fiction, poetry, memoir and photography inspired by traditional Laguna Pueblo oral story-telling traditions. Most of the photographs are credited to Lee Marmon, the author's father.
Offered by Lorne Bair Rare Books.
Original Documents Lithographiques design sheet, plate 10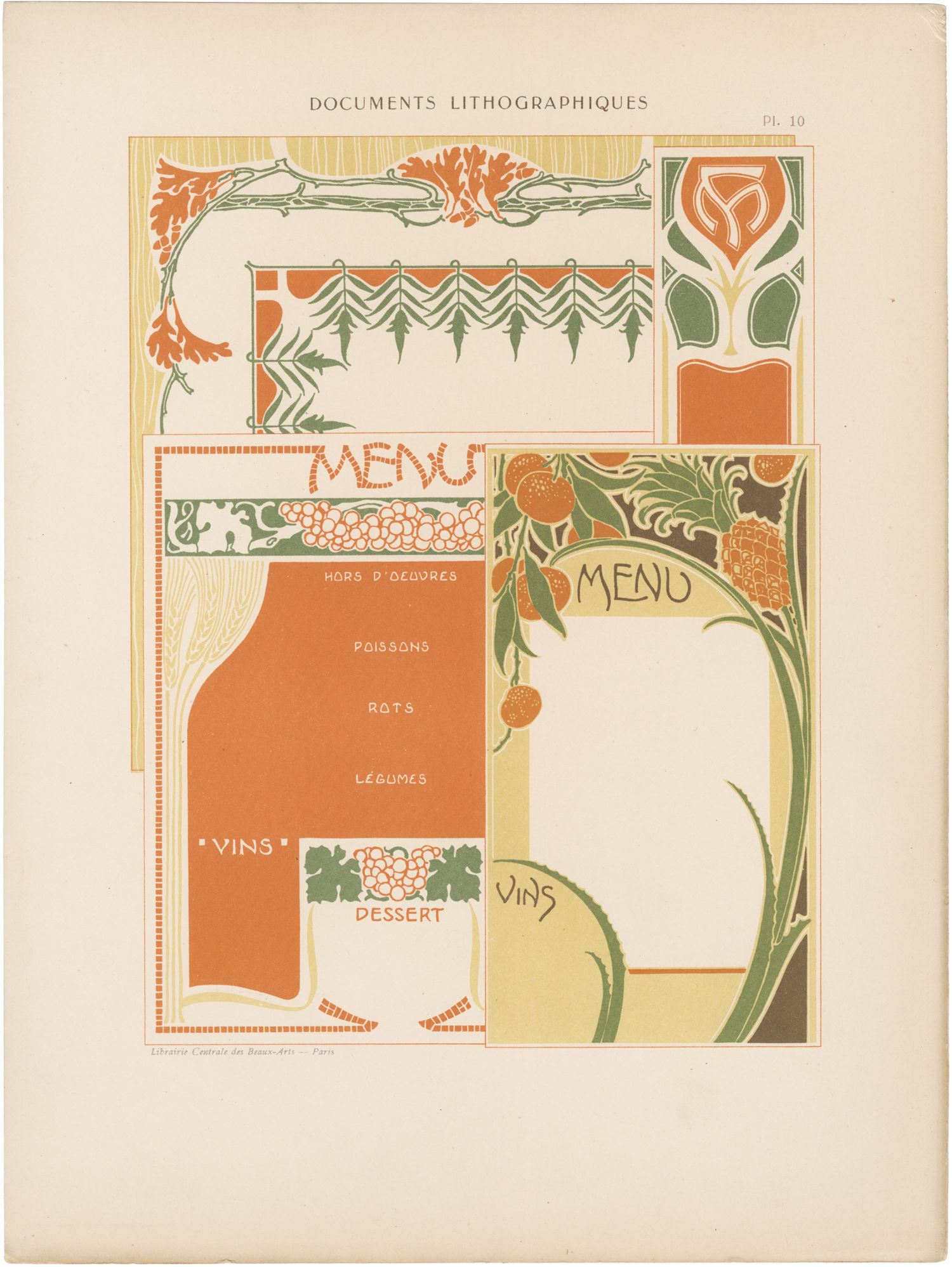 Paris: Librairie Centrale des Beaux-Arts, 1900. Vintage Documents Lithographiques design sheet, plate 10, with a "Wm. J.C. Klamm" provenance stamp on the verso. Art Nouveau color lithograph design sheet featuring menu and border designs, for use by designers and typographers in the arts and industry, published by the Librairie Central des Beaux-Arts, Paris, circa 1900.

11 x 15 inches. Very Good plus, with faint toning at the extremities and light edgewear.
Offered by Royal Books.
The Pooh Books, Including: When We Were Very Young; Winnie-the-Pooh; Now We Are Six; and The House at Pooh Corner
by MILNE, A. A. [E. H. SHEPARD, ILLUSTRATOR]

London: Methuen & Co. Ltd, 1928. First editions. Fine/Near Fine. A Fine set in Near Fine jackets. WWWVY in the second state, with IX on the contents page. Slight toning to the jacket spine and a few minor nicks, but much better than typically found. Winnie the Pooh jacket with slight toning to the spine and one short tear at the crown repaired on the verso with archival adhesive. Now We Are Six with some toning to the jacket spine, otherwise a fresh copy. House at Pooh Corner with a few spots of foxing to the closed text block and a touch of soiling at the jacket crown. Overall, a lovely set, preserved in a custom clamshell case.

A set of children's classics treasured the world over, the Pooh Books' "sweet, oft-befuddled bear actually evolved out of A. A. Milne's unquiet time on the Western Front during WWI. Injured at the First Battle of Somme in 1916, his time in the trenches left Milne with 'shell shock' (what we now call PTSD). The following year, he uprooted his family, moving from London to the quieter country retreat of Crotchford Farm. Milne and his only child, Christopher Robin...spent countless hours exploring the woodlands of the Ashdown Forest, often accompanied by his son's stuffed animal collection" (Smithsonian Magazine). From these periods of pain and healing came a series of books about friendship and kindness that continue shaping people's lives from childhood through adulthood. And while film and television produced by Disney have across the decades re-shaped some of the stories and images of "that silly old bear" and his friends, the originals still endure. Fine in Near Fine dust jacket.
Offered by Whitmore Rare Books.
Learn more or purchase this item...
by Louisa M. Alcott
Roberts Brothers, 1868. first. hardcover. very good. First edition, first issue. Two volumes, Part One and Two, 1868 and 1869. With 1868 on title page of first part and price of $1.25 for Little Women in the ads in the back of the book. Part Two-1869 on title page, first issue state of Part Two-on p. IV no notice for Little Women, Part One. Both volumes very good. Possibly recased. Penciled name on 2nd free end paper in Part Two. Housed in a custom-made collector's clamshell case.
Offered by Bookbid.
Learn more or purchase this title...
Jazz Graphics of David Stone Martin
by DAVER, MANEK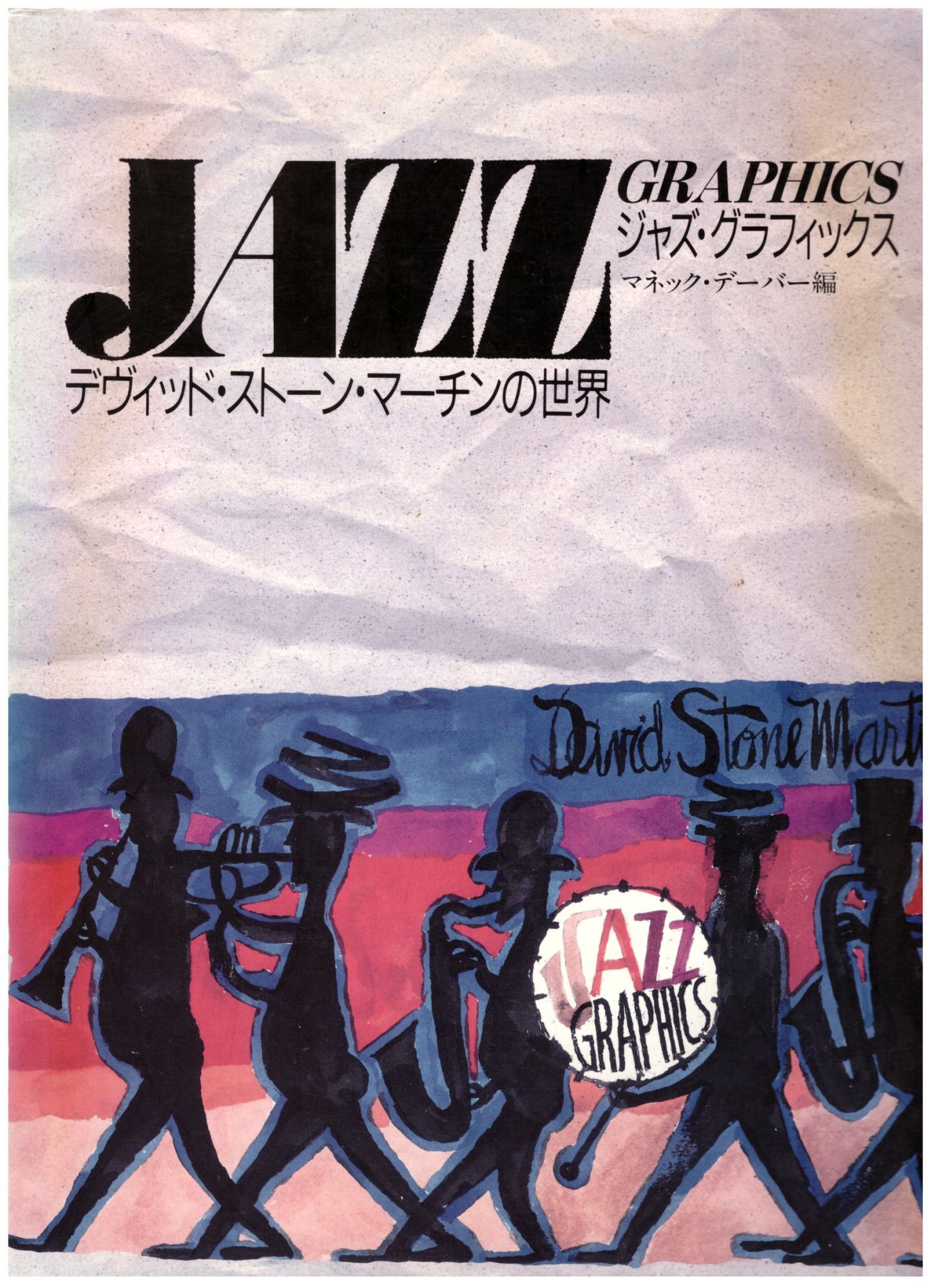 Tokyo: Graphic-sha Publishing Group Co., Ltd, 1991. First Edition. Wraps. Fine/Fine. An important work on the career of legendary artist & illustrator David Stone Martin. First Printing. Clean, crisp copy with dust jacket over wraps that is pristine.
Offered by Artisan Books & Bindery.
Learn more about or purchase this item....
by Tom Lea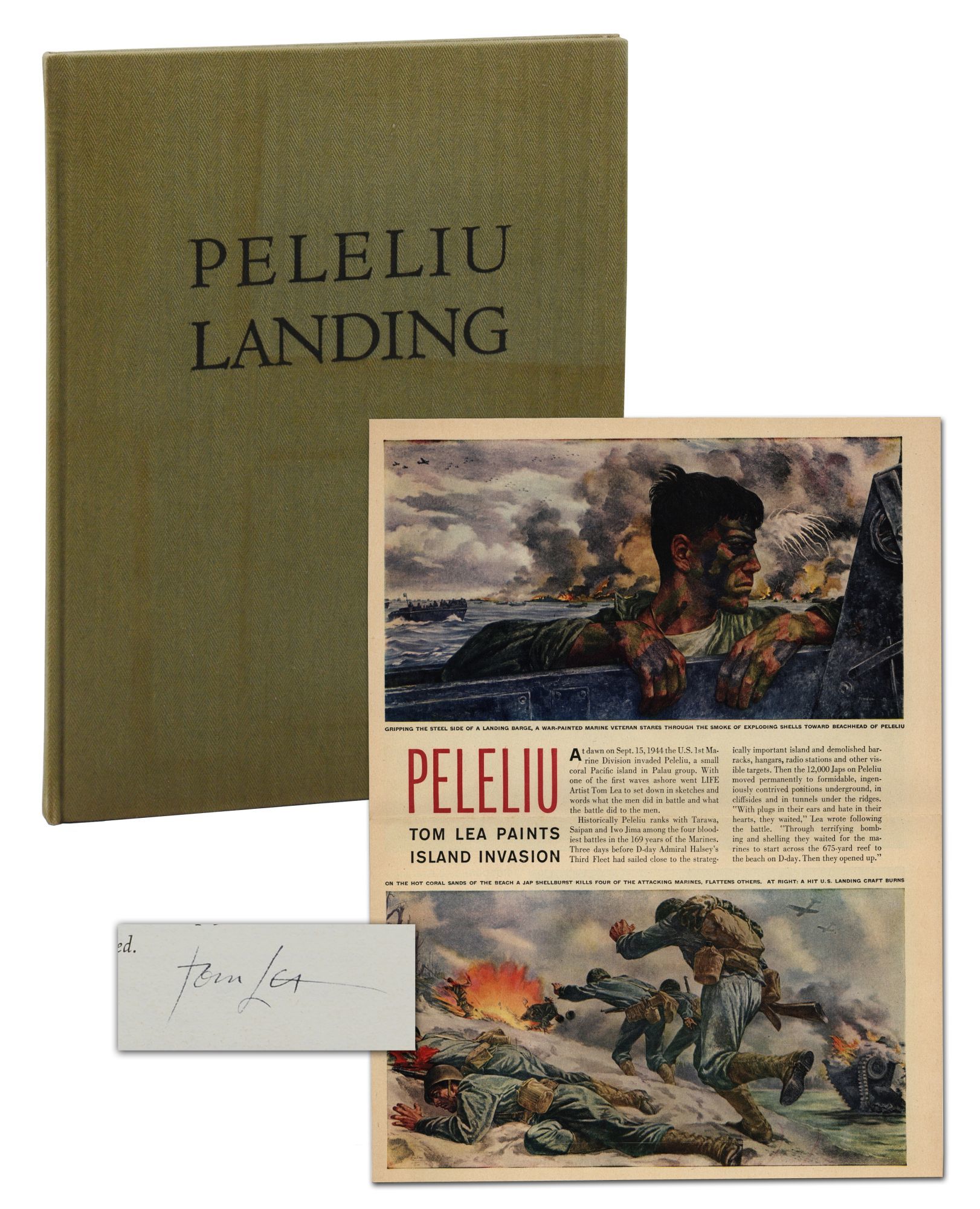 El Paso: Carl Hertzog, 1945. Signed limited first edition. First edition, one of 500 numbered copies signed by Tom Lea on the limitation page. [iv], 34 pp. 10 full-page plates after drawings by Lea. Bound in Marine Corps green herringbone cloth, pictorial endpapers from a photograph by Lea. With the eight-page Life magazine color insert laid-in, as called for, housed in envelope. Toning to cloth, else Near Fine with a hint of mustiness.

Lea was an artist for Life who went to record the Pacific theater of combat during WWII. But, he writes, "On the beach I found it impossible to do any sketching or writing; my work there consisted of trying to keep from getting killed and trying to memorize what I saw and felt under fire." He was present for the first 32 hours of the Marines' assault on Peleliu Island. His text and sketches brilliantly capture the terror and shock experienced by the Marines in those first few critical hours. From Wikipedia's article on the landing, "In the US, [The Battle of Peleliu] was a controversial battle because of the island's negligible strategic value and the high casualty rate, which exceeded that of all other amphibious operations during the Pacific War." The publisher's choices of type face, paper and binding compliment Lea's narrative and sketches. Certainly this work must be counted as one of Carl Hertzog's greatest achievements, who later called the book: "The most daring, exciting, and innovative volume produced in Texas to that time." Katherine Simmons said of it, "All the agony and shock of the Marine landing on Peleliu Island are in Lea's narrative. The black and white of the sketches he drew 'before my hand steadied' are stark and poignant beyond the paintings he later made from them for Life magazine.
Offered by Burnside Rare Books.
Learn more about or purchase this item...
The Lord of the Rings, 3 volumes, The Fellowship of the Ring, The Two Towers and the Return of the King 1st editions
by J.R.R Tolkien

Boston: Houghton Mifflin, 1956. First US editions. hardcover. Near fine./Near fine.. All three first printings of the US edition, with all first edition points in the bibliography, including the correct dates on the title pages (matching the copyright dates) and the correct information on the jacket flaps. Near fine in near fine jackets. Housed in a custom-made collector's clamshell case with a leather spine and lettered in gold.
Offered by Bookbid.
Learn more about or purchase this item...
by Ayn Rand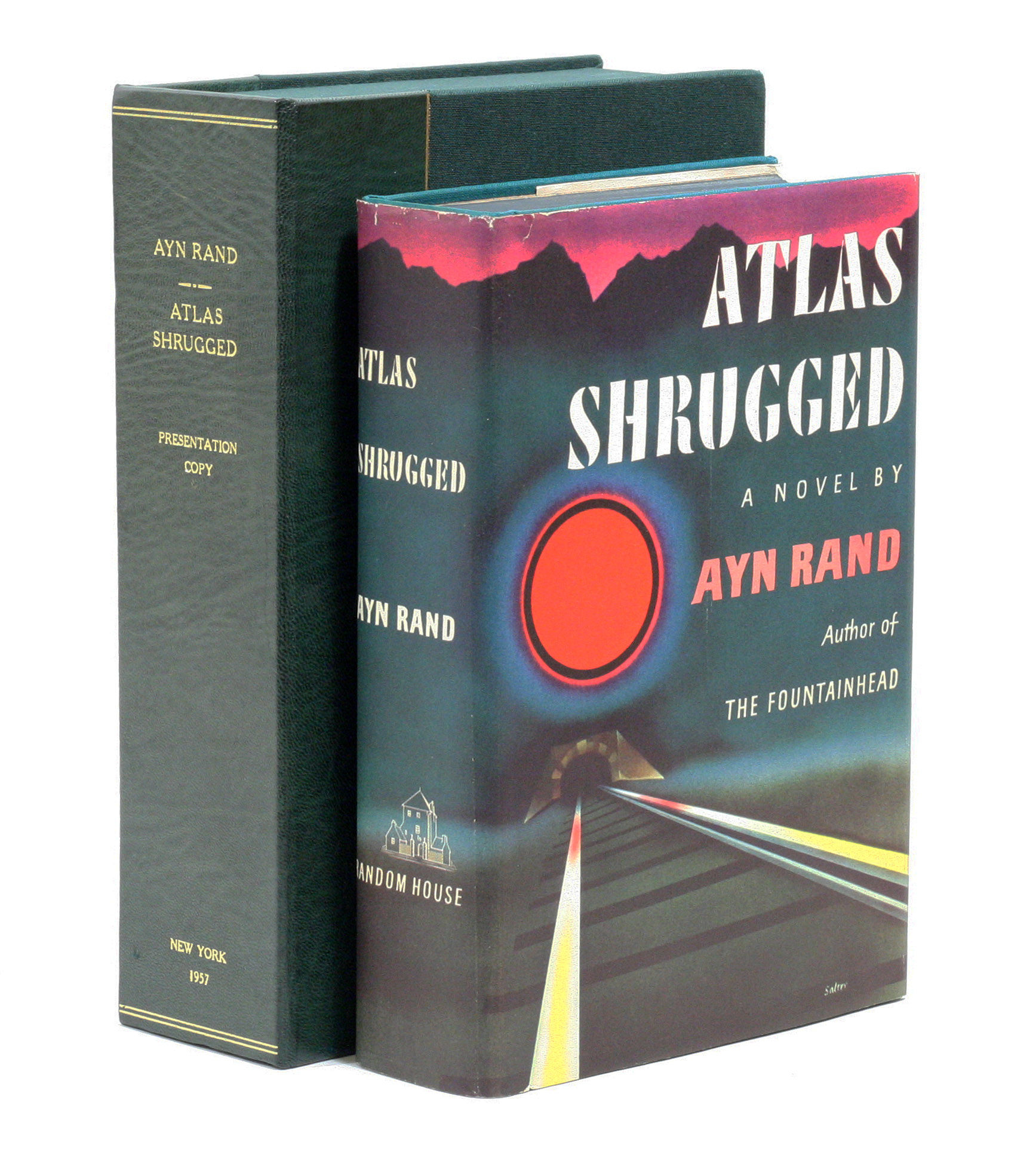 New York: Random House, 1957. First edition. Original cloth, original dust jacket. Fine/Fine. FIRST EDITION, FIRST ISSUE of Rand's masterpiece; INSCRIBED BY RAND TO LUDWIG VON MISES: "To Dr. and Mrs. Ludwig von Mieses- / -Cordially- / Ayn Rand / 8/22/57". A spectacular association copy linking two of the most influential economic figures of the twentieth century. In August 1957 - nearly two months before the book was available to the public - Rand presented this copy of the first edition of Atlas Shrugged to Ludwig von Mises (sometimes spelled "von Mieses"), the Austrian-American economist and philosopher who was one of the leading figures of the modern libertarian movement, and immediately found a sympathetic ear.

New York: Random House, 1957. Thick octavo, original green cloth, original dust jacket; custom box. Only the most trivial wear.

A beautiful copy, and one of the most significant copies, of one of the most influential books of the century.
Offered by Manhattan Rare Book Company.
Learn more about or purchase this item...
by Hunter S. Thompson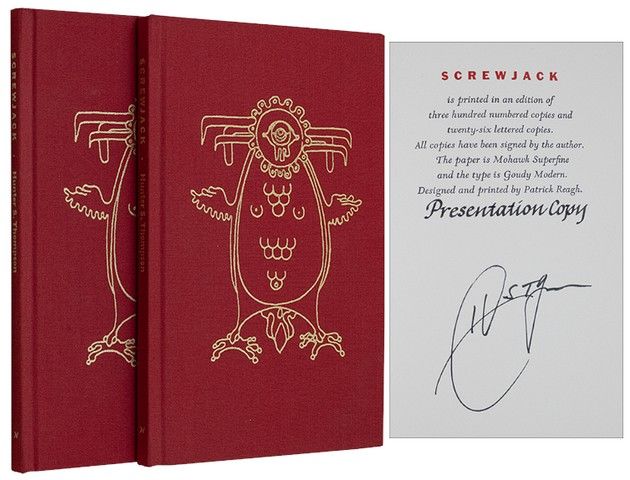 Santa Barbara: Neville. 1991. Two volumes of Thompson's first limited edition, which includes three short pieces by him, along with a half-mad letter to the publisher that serves as introduction to the volume. There were 300 numbered copies and 26 lettered copies; offered here are one of an unspecified number of "presentation copies" (as stated on the colophon) signed by Thompson and a printer's proof copy, bound, but without colophon or signature. Both volumes are fine, without dust jacket, as issued, and housed together in a custom slipcase. Both of these issues of Screwjack are extremely scarce: we've had each only once before, and seldom seen other copies offered for sale. Unless otherwise noted, our first editions are first printings. First Edition. Hardcover. Fine.
Offered by Ken Lopez - Bookseller.
Learn more about or purchase this item...
Adventure, and Other Papers Signed by Fridtjof Nansen
by FRIDTJOF NANSEN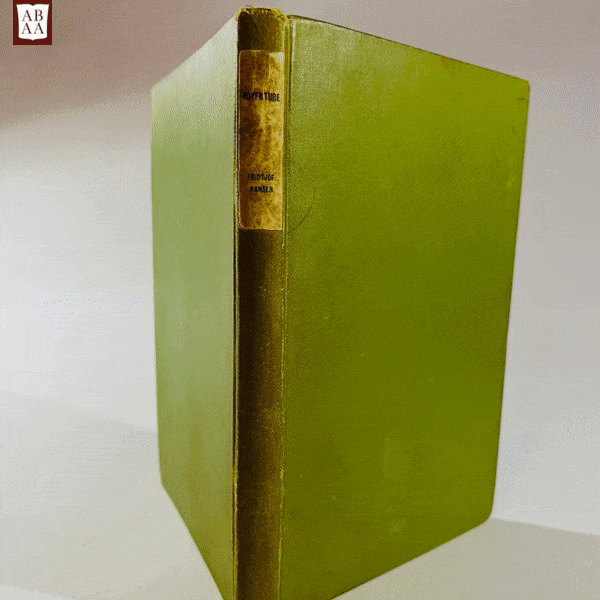 London: Leonard and Virginia Wolfe, 1927, First Edition. 12mo – 18.8cm. 82pp. Publisher's green cloth with original paper title label on spine. A clean and complete copy in Very Good condition showing foxing to spine label and intermittent prior reader's soft graphite margin notations.
A Scarce copy of Nansen's three essays published in one volume titled: Adventure, No More War and Peace. Adventure being the lead and main essay describing among other issues is the reasoning behind his unorthodox (but successful) approach to hos first crossing of Greenland and wisdoms gathered from his good friend Knud Rasmussen learned from primitive Eskimo of the Barren Lands. An interesting and informative read providing insights and thoughts by one of the greatest explorers and humanitarians of all time. This unique copy being signed by Fridtjof Nansen.
Offered by Chet Ross Rare Books.
Learn more about or purchase this book...
by DELISLE, GUILLAUME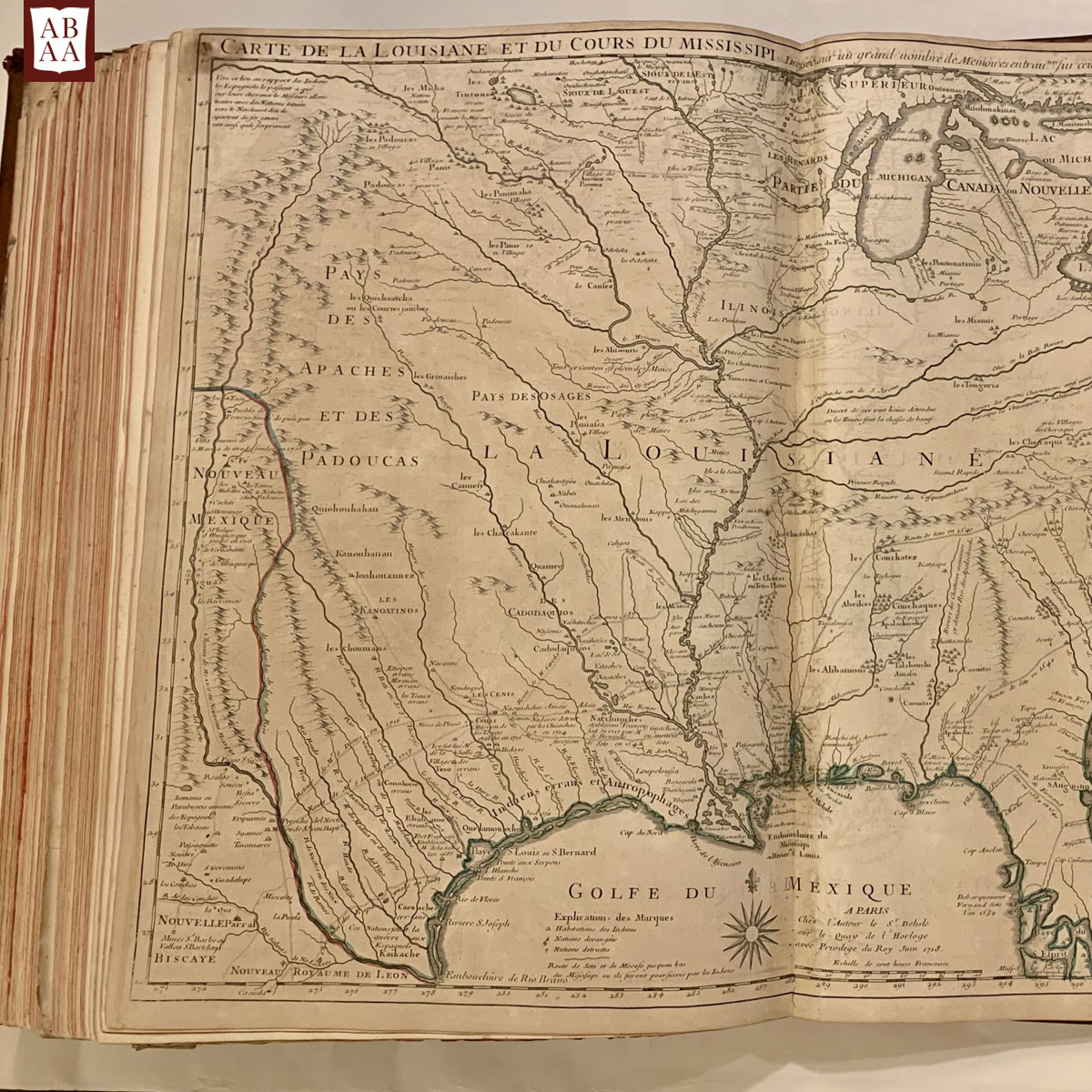 Paris, 1730. Folio atlas. 20 1/2 x 15 inches. Undated, 97 double-page hand-colored maps throughout, manuscript title, and index 2pp., with page numbers in manuscript. [Italiae missing, 4 maps, 1 chart not listed in the index by Philippe Buache - possibly tipped in later]. Full contemporary brown leather, gilt-decorated spine with tooled cover; corners lightly bumped, with some scuffs and chipping. Paris: Delisle, Circa 1730. Very good (+). First several maps are split along centerfold with upper corners toned and chipped. Mappe Monde quite toned, Hemisphere Septentrionale and Meridionale stained, and the Italy map has split in two with stains. All of the important Americas maps are in good condition. Hemisphere Occidental, 1st issue 1724; Carte d'Amerique, 1st issue, 2nd state 1722; Carte du Canada, 2nd issue 1703-1708; Carte de la Louisiane, 1st issue, 1718 (without New Orleans), Carte du Mexique et de la Floride, 3rd issue; Carte de l'Isle de Saint Dominque, 1st issue 1725; Carte des Antilles, 1st issue 1717; Carte de L'Isle de la Martinique; Carte de la Terre Ferme du Peru, du Brazil, 2nd issue 1703-1708; Carte du Paraguay du Chili, 2nd issue 1703-1708. The maps by Philippe Buache include Carte du globe terrestre ou les terres de l'Hemisphere Meridl du France; Carte du France, 1746; Carte du Lac de Geneve, 1750; and a chart Carte d'une Partie de l'Amerique pour la Navigation des Isles et du Golfe du Mexique, 1740. Philippe Buache (1700--1773) was a French geographer who trained under the geographer Guillaume Delisle. Guillaume Delisle (1675-1726) was a legendary French cartographer known for introducing a new standard of accuracy into 17th-century mapmaking. He was one of the cartographers who propelled the French school of map-making away from Dutch dominance. The French school emphasized science and accuracy over ornament. He used astronomical observations to determine locations and draw more precise coastlines and he continued to update his maps in order to dispel prevailing geographical inaccuracies throughout his life. His wife Marie Angelique Delisle and her family took over the business and kept publishing maps well into the late 18th century.
Offered by Argosy Book Store.
Read the full description or purchase this book...
by HELLER, JOSEPH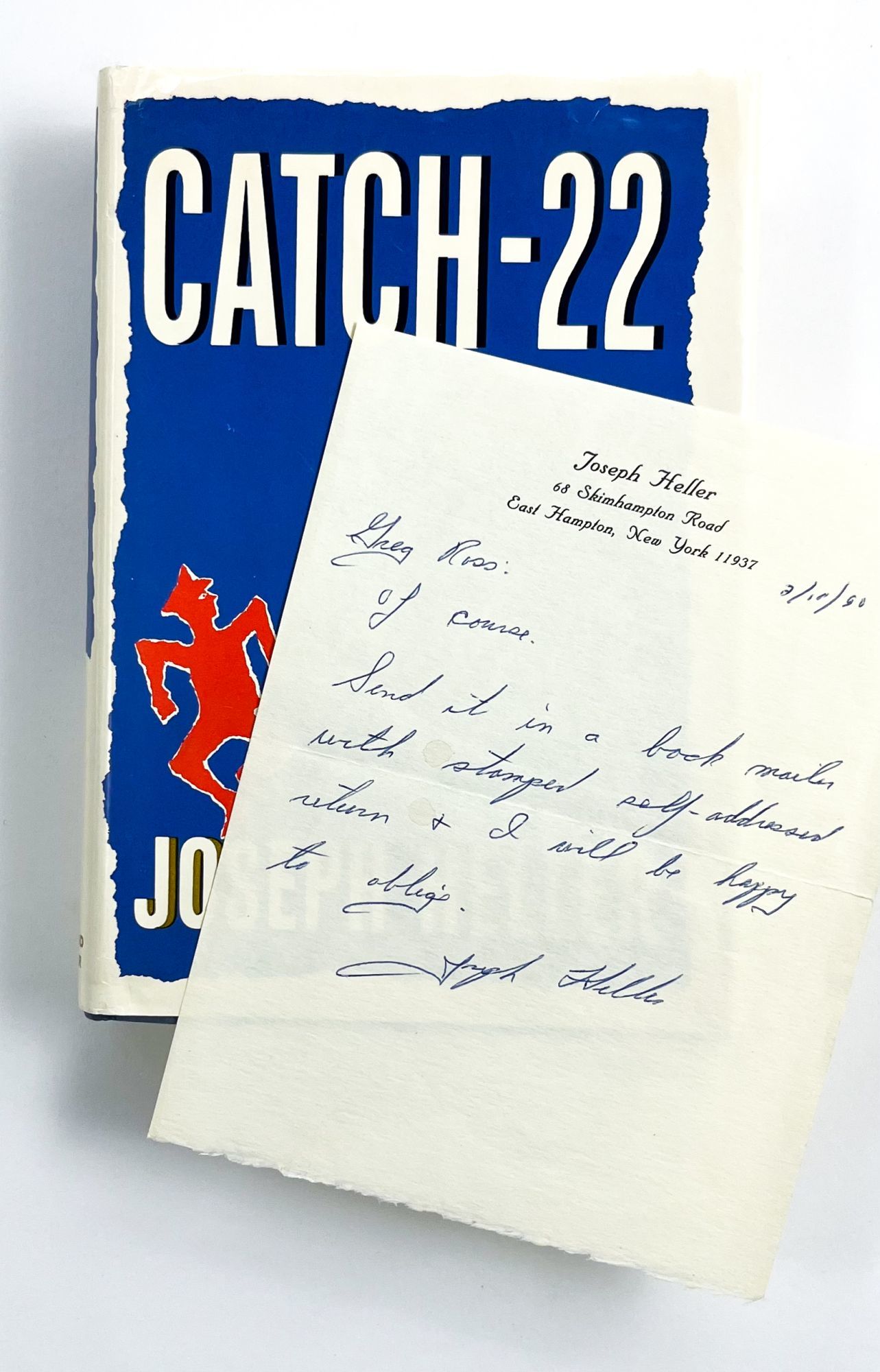 New York: Simon and Schuster, 1961. First printing. Near fine in near fine jacket.. Beautifully inscribed first edition of this dark satire on the patriotic narrative of American triumph in World War II, with a brief accompanying letter from Heller. A supreme example of black comedy in 20th-century war fiction, CATCH-22 emphasizes the existential disillusionment of soldiers witnessing their companion's deaths: graveyard humor taken to the same extremes as warfare. CATCH-22 has gone on to become a modern classic, familiar even to those who haven't read it through its influence on our linguistic culture: "Many consider the novel to be the definitive statement of the modern antiwar position. The phrase 'Catch-22', symbolizing the absurdity of all institutional logic, has become a permanent part of our language" (NYPL). A wonderful example in exceptional condition, exhibiting little of the usual fading to the red of the jacket, with a warm and revealing inscription. Rare thus. 8.25'' x 5.25''. Original full blue cloth, spine lettered in white. In original unclipped ($5.95) blue and red pictorial dust jacket designed by Paul Bacon, with author photo by Seymour Linden on rear panel. Red topstain, fore-edge machine deckle. 443, [1] pages. Inscribed by Heller on the front endpaper: "To Patrick, Christopher, / Celia, / + / Greg Ross. / It is a pleasure / indeed to inscribe / this first edition / of one of my / favorite novels -- still [underlined] / after 28 years. / Joseph Heller / Feb, 1990 / E. Hampton, N.Y." Brief ALS from Heller on his letterhead and with original mailing envelope also included to same recipients, agreeing to sign book. Touch of fading to spine of jacket, trace wear here and there - close inspection only. Book has bookplate to front pastedown. Some very faint wear to cloth. Else remarkably bright, clean, and sharp. Letter fine. Both book and letter housed in blue custom archival clamshell case, with display window for letter built-in to lid.
Offered by Type Punch Matrix.
Learn more or purchase this book...
by John Steinbeck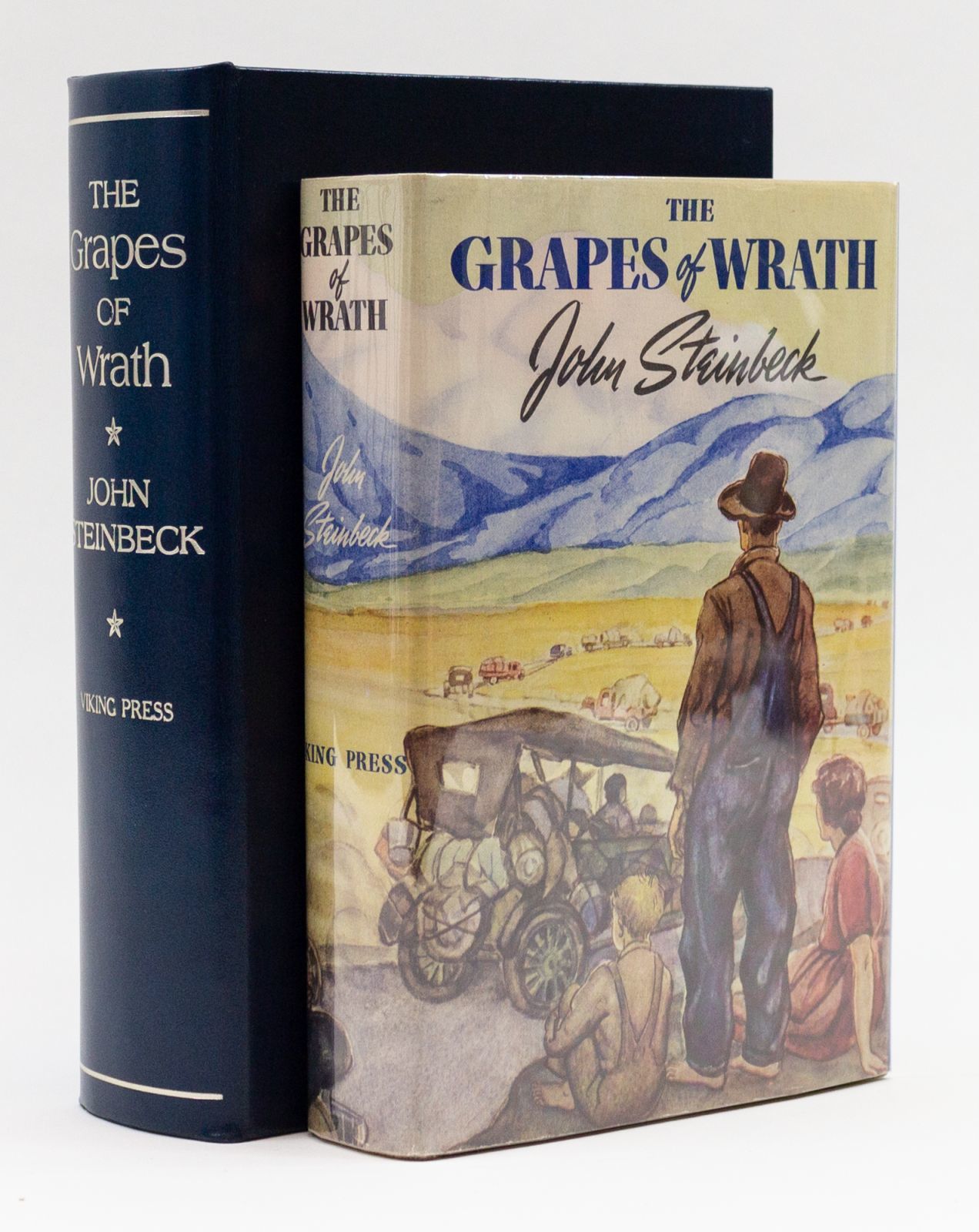 New York: The Viking Press, 1939. FIRST EDITION, First Printing, with the words "First Published in April 1939" printed on the copyright page. 210 x 135 mm. (8 1/4 x 5 3/8"). 3 p.l., 619 pp.
Publisher's pictorial linen, endpapers printed with the sheet music for "Battle Hymn of the Republic." In the original, unclipped dust jacket displaying the $2.75 price and "First Edition." In a fine modern blue calf clamshell box. Goldstone-Payne A12.a. A PRISTINE COPY.

Published when America was still deep in the Great Depression, "The Grapes of Wrath" is a novel detailing the heartbreak of rural dispossession and a work that, in the words of ANB, "captured the decade's angst as well as the nation's legacy of fierce individualism, visionary prosperity, and determined westward movement." In citing it as one of the "Books that Shaped America," the Library of Congress noted, "Few novels can claim that their message led to actual legislation, but 'The Grapes of Wrath' did just that. Its story of the travails of Oklahoma migrants . . . ignited a movement in Congress to pass laws benefiting farmworkers. When Steinbeck won the Nobel Prize in 1962, the committee specifically cited this novel as one of the main reasons for the award." The novel won the Pulitzer Prize in 1940 and was printed in a large press run, making it readily available at the time and ever since. But the present unsurpassably fine copy of Steinbeck's greatest work is almost literally from a time capsule: it is one of a dozen or so copies discovered in a warehouse in the 1980s, still in their unopened boxes from Viking Press. While the copies at the bottom of the box had suffered some water damage, those in the upper layers, like the present one, look unchanged from the day they were packed by the publisher. While there are numerous copies of this book currently on the market, the condition here sets it far above the competition. It is certainly the finest copy of any important modern first edition we have ever offered for sale
Offered by Phillip J. Pirages Fine Books.
Read full description or purchase this book...
A HISTORY OF THE AMISTAD CAPTIVES: BEING A CIRCUMSTANTIAL ACCOUNT OF THE CAPTURE OF THE SPANISH SCHOONER AMISTAD, BY THE AFRICANS ON BOARD; THEIR VOYAGE, AND CAPTURE NEAR LONG ISLAND, NEW YORK; WITH BIOGRAPHICAL SKETCHES OF EACH OF THE SURVIVING AFRICANS. ALSO, AN ACCOUNT OF THE TRIALS...COMPILED FROM AUTHENTIC SOURCES
by BARBER, JOHN W.

New Haven, Ct.: E.L. & J.W. Barber, 1840.. 32pp. plus folding frontispiece, with thirty- eight wood-engraved silhouette portraits, one wood-engraved map, and two illustrations. Original plain wrappers. Wrapper lightly soiled, a few small chips, spine mostly perished and with glue residue along spine. Scattered light foxing, offsetting from rear wrapper to final page. Very good. In a cloth chemise and half morocco and cloth slipcase, spine gilt. First edition of Barber's rare and exceedingly important history documenting what Eric Taylor calls "the most famous of all shipboard revolts," published the same year the New Haven court ruled the slave owners had no claim on the Amistad rebels, and preceding publication of Adams and Baldwin's 1841 Supreme Court arguments. The work features a large folding engraved frontispiece depicting the death of the Amistad's captain, along with Barber's thirty- eight engraved profiles of the Amistad rebels made during his visits to jail, a map of Mende and a Mende village in Africa, and an engraving of nine Amistad Africans chained in the slave ship that took them to Cuba.

In 1839, fifty-three enslaved Africans aboard the Amistad rose up, killed two members of the Cuban slaver's crew, and captured their slavers, Ruiz and Montez. The new crew took control of the vessel and sailed it to Long Island, where they were captured by the U.S. Navy and ultimately incarcerated in New Haven.

"The rebellion became one of the most important events of its time....Assisted in their legal battle by distinguished attorneys Roger S. Baldwin and former president John Quincy Adams, who made dramatic speeches before the U.S. Supreme Court in February and March 1841, the Amistad rebels won their freedom....The abolitionist movement claimed a great, historic, and altogether unlikely victory...To many, especially African Americans enslaved and free, the Amistad rebels rekindled the radical egalitarian hope of the American Revolution" - Rediker, THE AMISTAD REBELLION.

This rare first edition of A HISTORY OF THE AMISTAD CAPTIVES contains the most famous image of the Amistad rebellion in its large frontispiece (9 1/2 x 19 inches unfolded), engraved by John Warner Barber. Barber "attended the court hearings of Jan. 7-13, 1840, and was present when Judge Andrew Judson ruled that the Africans were recently, and therefore illegally, imported to Cuba, and hence not to be returned to their so- called owners, Ruiz and Montes. On April 1, Barber began to draw the Amistad Africans in jail. Over the next two months he would create drawings and engravings of them to illustrate the 32-page pamphlet" - Rediker. In his monograph about the rebellion, Rediker particularly notes how Barber's powerful frontispiece "depicts the rebels as identifiable individuals - Cinqué at the far left with the cane knife in hand, attacking Captain Ferrer, and the similarly armed Konoma at the far right, rushing into battle."
Offered by William Reese Company.
Read full description or purchase this book...
by Christina Rossetti (Illustrated by Arthur Rackham)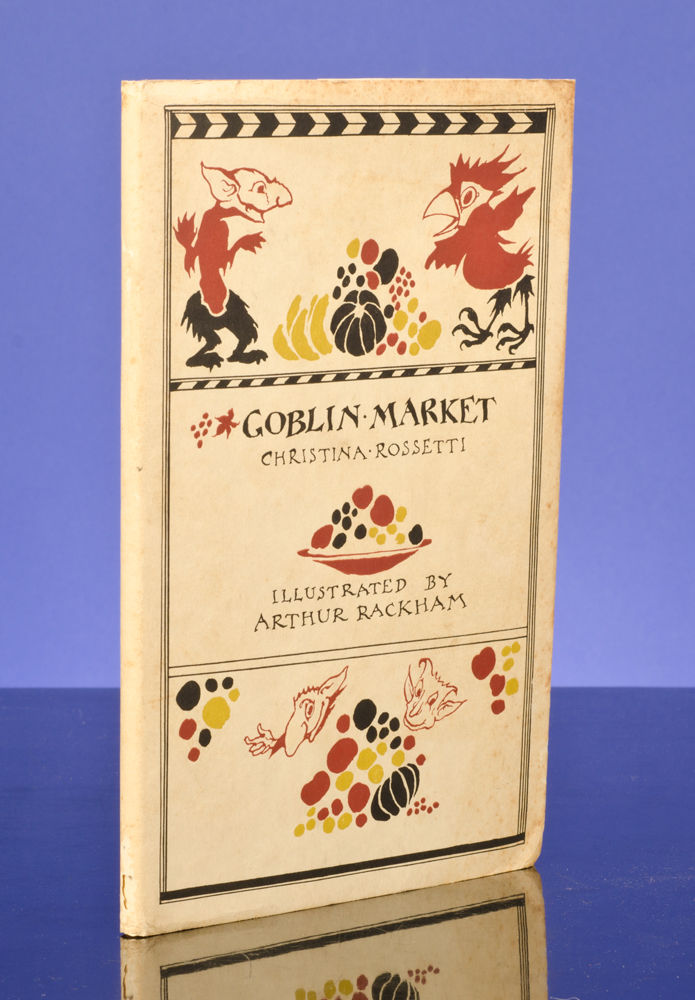 London: George G. Harrap & Co., Ltd. [1933]. First trade edition, with a fine, three-quarter page original pen & ink drawing by Rackham inscribed to Mr. & Mrs. Percy MacKaye and dated Christmas 1937. The drawing depicts Mr. Rackham himself as an anthropomorphic tree.

Octavo (8 3/4 x 5 1/2 in; 222 x 136 mm). 42, [4] pp. Four color plates. Original stiff-card wrappers in color. Original dust jacket with just a tiny amount of insect damage at foot of spine and flap-folds. A near fine copy.

American dramatist and poet Percy MacKaye (1875-1956), whose poetry collection, The Far Familiar (1938) was graced with a frontispiece by Arthur Rackham, was the first champion of civic theater and is considered to be the first poet of the Atomic Era because of his sonnet "The Atomic Law," which was published in the Christmas 1945 issue of The Churchman.

Goblin Market (composed in April 1859 and published in 1862) is a narrative poem by Christina Rossetti. In a letter to her publisher, Rossetti claimed that the poem, which is interpreted frequently as having features of remarkably sexual imagery, was not meant for children. However, in public Rossetti often stated that the poem was intended for children, and went on to write many children's poems. When the poem appeared in her first volume of poetry, Goblin Market and Other Poems, it was illustrated by her brother, the Pre-Raphaelite artist Dante Gabriel Rossetti.

Goblin Market is about two close young sisters, Laura and Lizzie, who hear the sounds of the goblin fruit market from their house where they reside by themselves. At first they try to ignore the enticing calls of the goblin men but eventually Laura decides to go out and see what's happening. Lizzie warns her not to, but Laura is too curious. The goblin men offer her their fruit, and Laura thinks it looks tasty. She doesn't have any money, but the goblins offer to take a piece of her golden hair instead. So Laura gives up some of her hair, gorges herself on goblin fruit, and heads on home to her sister.

But after eating all that goblin fruit, Laura starts to waste away. Lizzie gets worried and decides to go down to the market to see what's what. The goblin men try to tempt her the way they tempted Laura, but Lizzie stands firm. The goblin men turn violent and try to stuff fruit in Lizzie's mouth, but she squeezes her mouth shut, so they just end up getting juice all over her. Lizzie runs back to their house all covered in goblin fruit juice. Laura kisses the juice off her sister's cheeks and is miraculously, but painfully, healed.

Years later, Laura and Lizzie are both wives and mothers, and they describe their experience in the goblin market to their own children as a cautionary tale about the importance of sisterly love.
Offered by David Brass Rare Books.
Read full description or purchase this book...
by THOMPSON, RUTH PLUMLY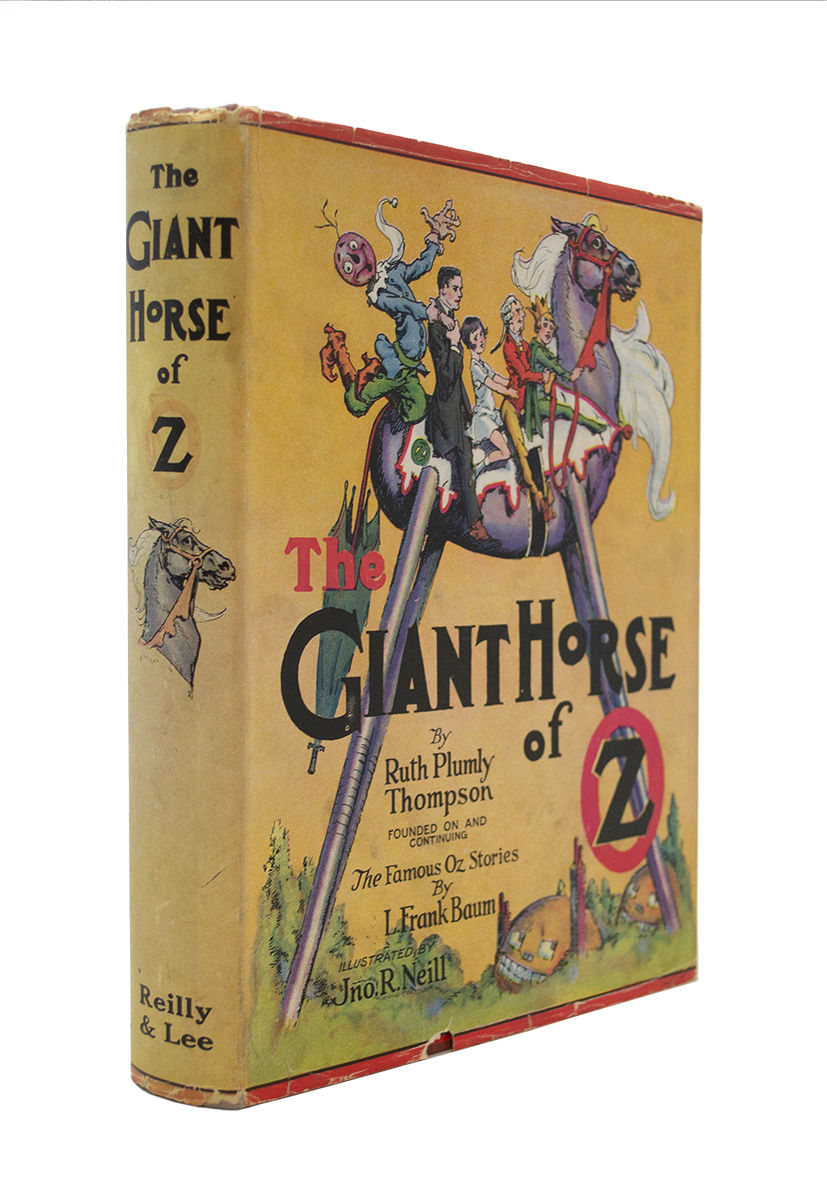 First Edition, In Dust Jacket [BAUM, L. Frank]. THOMPSON, Ruth Plumly. The Giant Horse of Oz. By Ruth Plumly Thompson. Founded and Continuing the Famous Oz Stories by L. Frank Baum "Royal Historian of Oz". Illustrated by John R. Neill. Chicago: The Reilly & Lee Co., 1928. First edition with "Oniberon" on the frontispiece and color illustrations coated on one side only. In dust jacket. Complete with twelve color plates. Octavo (8 7/8 x 6 3/4 inches; 226 x 170 mm)). [5]-[15], 16-283, [1, blank] pp. Publisher's original rust cloth. Spine stamped and lettered in black. Front board with color pictorial label. Illustrated endpapers. All edges yellow. In the publisher's pictorial dust jacket. Jacket with some wear to spine extremities and along edges. A small chip from bottom edge of front panel. Some minor repairs to inside of jacket along edges and at top of spine. Jacket spine lightly sunned. Overall a near fine copy in a very good jacket. Housed in a black cloth slipcase, with color pictorial label affixed to front.
Offered by Heritage Book Shop.
Read more details or purchase this book...
ILLUMINATED ILLUSTRATIONS OF THE BIBLE. COPIED FROM SELECT MSS. OF THE MIDDLE AGES
by WESTWOOD, J[OHN] O[BADIAH]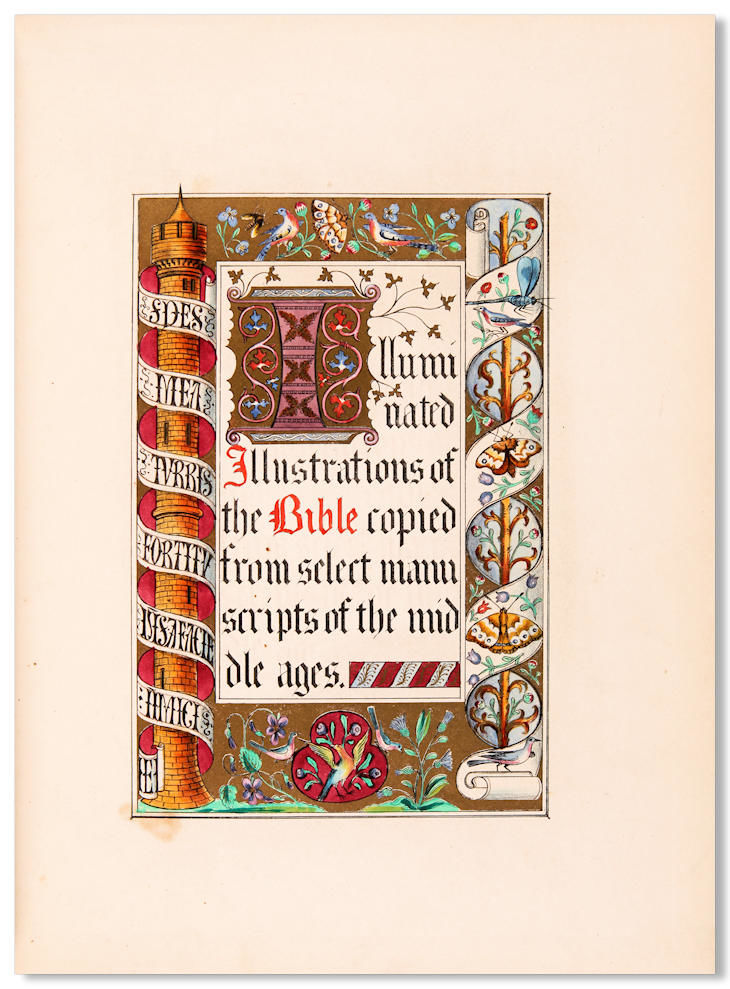 London: Wm. Smith, 1846.. [4],[5]-8pp. plus extra illuminated color title and 39 additional chromolithographed plates, with accompanying text leaves and tissue guards. Large quarto (33 x 26 cm). Contemporary three quarter calf, neatly rebacked in cloth with the original backstrip laid down and new endsheets, a.e.g. Extremities somewhat shelf- worn, occasional typical slight tanning and some isolated foxing to some of the text leaves, a small spot to half-title and first guard has left a faint shadow at the lower corner of the pictorial title, slight cracking at gutter between a few plates and their text leaves, otherwise a very good copy. First edition of this ambitious (and popular) work, featuring chromolithographed plates reproducing examples from some twenty-five manuscripts from the BM, Oxford, Trinity and other locations. The text and plates were printed by Bradbury and Evans. Westwood (1805 - 1893) published several works in the field featuring then near state-of-the-art color printed facsimiles from manuscripts, but he was also a well-known entomologist, serving in 1834 as the secretary for the newly founded Entomological Society of London. OCLC: 719584.
Offered by William Reese Company.
Read more details or purchase this book...
The Defeat of Baudelaire. a Psycho-Analytical Study of the Neuroses of Charles Baudelaire
by Rene LaForgue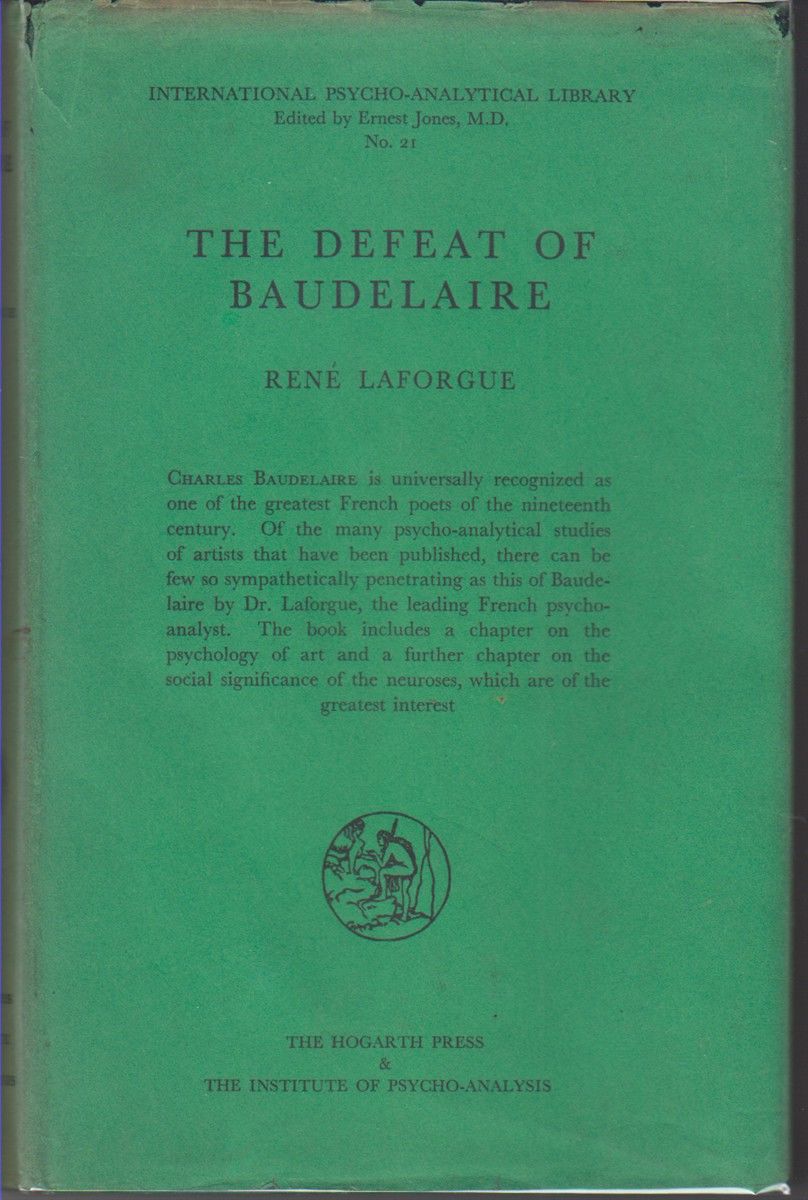 London: Hogarth Press. 1932. 1st Edition in English; First Printing. Hardcover. Near fine but for spotting on boards in very good+ with wear and chips to top edge and sunned spine and one and half inch tear and small chip and wrinkles on back panel. ; 8vo 8" - 9" tall; 191 pp .
Offered by Beasley Books.
Read full description or purchase this book...
Breathless (Two original photographs of Jean-Luc Godard at work on the 1960 film)
Paris: N.p., 1960. Two vintage photographs of director Jean-Luc Godard, dark sunglasses and cigarette accounted for, reviewing still photographs for his 1960 film, "A bout de souffle." Shot by Philippe R. Doumic. Both photographs with Godard's name stamped in blue on the verso.

Both photos 5 x 7 inches. Fine.
Offered by Royal Books.
Read full description of purchase this book...
Jane Eyre. An Autobiography. Edited by Currer Bell In Three Volumes
by Charlotte Bronte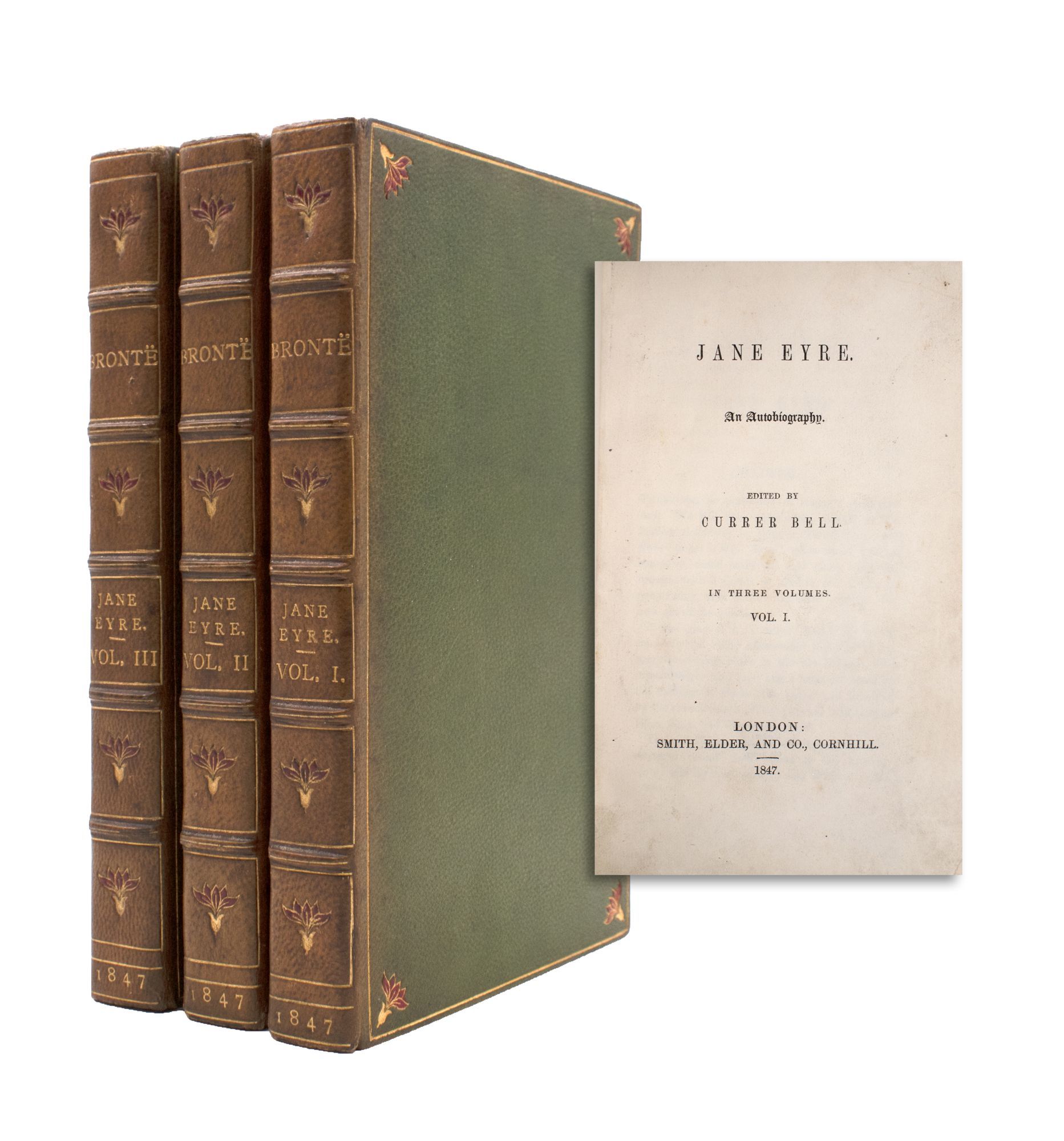 London: Smith, Elder, and Co., Cornhill, 1847. First edition, without publisher's adverts or notice for the Calcutta Review found in some copies. With half-titles; [iv] 304; [iv] 304; [iv], 311, [1] pp. 3 vols. 8vo (7-1/2 x 4-3/4 inches; 190 x 120 mm.). Bound in full green pebbled morocco by Wood, cover with red floral devices and single gilt rule, spines similarly decorated in compartments with raised bands(uniformly faded to brown), t.e.g.; foxing to endpapers and contents, chiefly confined to front and end sections, with repairs to the gutter of the title page of vol. 3. First edition, without publisher's adverts or notice for the Calcutta Review found in some copies. With half-titles; [iv] 304; [iv] 304; [iv], 311, [1] pp. 3 vols. 8vo (7-1/2 x 4-3/4 inches; 190 x 120 mm.). The rare first edition, with half-titles. The first published novel by the Brontë sisters, in a small edition of about 500 copies. It was immensely popular and enthusiastically received. Readers and critics reacted to it passionately and dividedly, and it was speculated that the author was a woman. It was republished the following year, dedicated to Thackeray, with a new preface, and a third edition quickly followed.

"Jane Eyre's impassioned individualism and personal acts of rebellion against authority and social convention were seen as vigorous and powerfully original, but also as alarmingly analogous to political ferment of the time" (ODNB). One of the first novels to master the first-person voice of its heroine in its full expression, it opened the door to the interiority of the novels of Joyce, Proust, and Woolf, who wrote about the novel in The Common Reader: "As we open Jane Eyre once more we cannot stifle the suspicion that we shall find her world of imagination as antiquated, mid-Victorian, and out of date as the parsonage on the moor, a place only to be visited by the curious, only preserved by the pious. So we open Jane Eyre; and in two pages every doubt is swept clean from our minds. ...The writer has us by the hand, forces us along her road, makes us see what she sees, never leaves us for a moment or allows us to forget her. At the end we are steeped through and through with the genius, the vehemence, the indignation of Charlotte Brontë" Parrish, p 87-89; Wolff 826a; Sadleir 846a; Ashley I:72; Grolier, English 83; David Magee Victoria R.I. 117; Smith 2.
Offered by James Cummins Bookseller.
by TOKLAS, ALICE B.; ROSE, SIR FRANCIS [ILLUSTRATOR]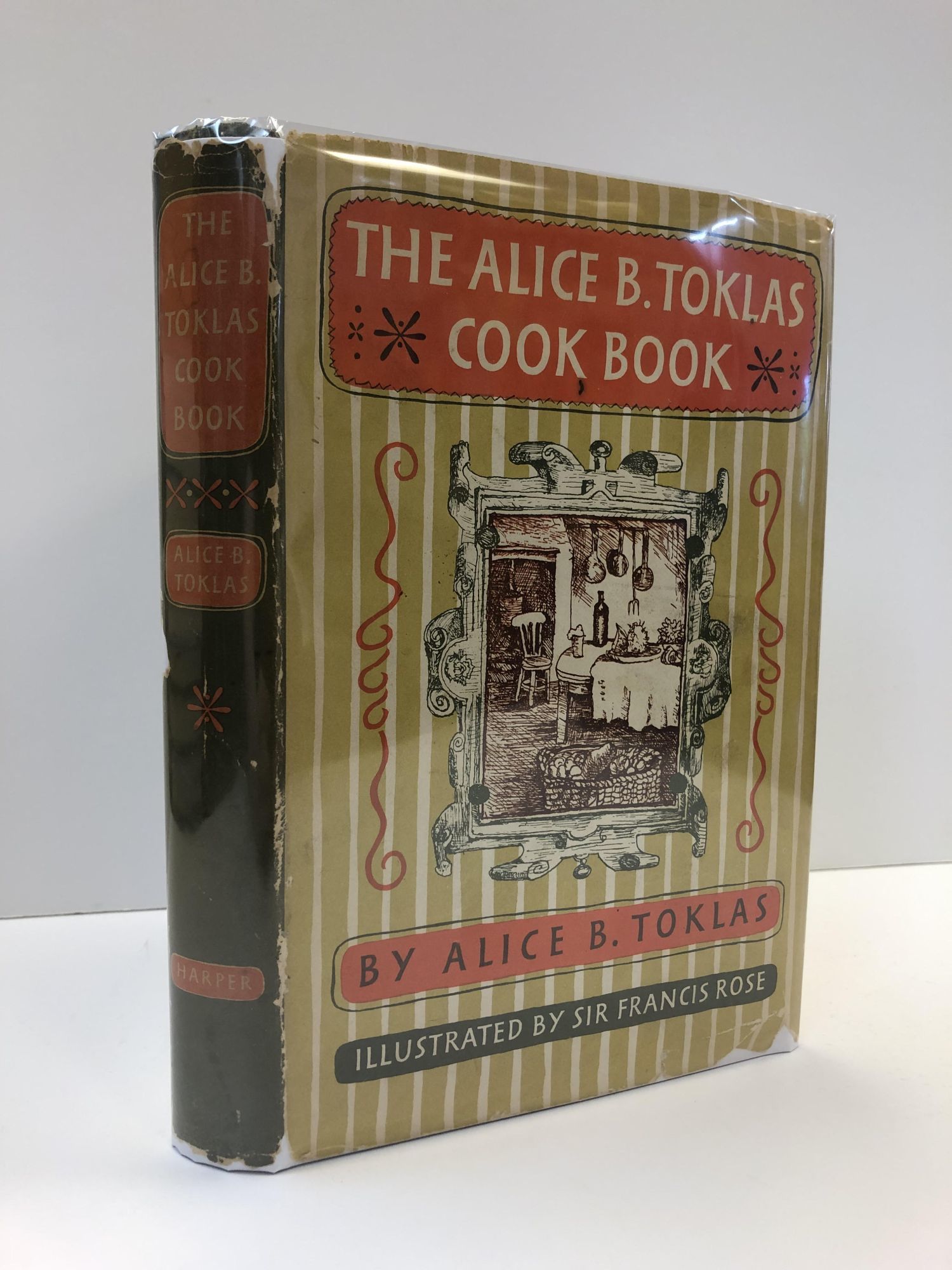 New York: Harper and Brothers, 1954. First American Edition, First Printing. Hardcover. Octavo, 288 pages; VG-/VG-; spine dark green, with yellow labels with white lettering; dust jacket protected with a mylar covering; mild shelf wear and soiling; corners bumped; small closed tear at lower edge of jacket front; some wear to jacket joints; crown and tail of jacket spine missing; small chip missing at center of jacket spine; small chip missing at upper edge of jacket back; price uncut '$4.00'; two soiled spots at textblock fore edge; contains black and white illustrations; pages clean; shelved Case 12. The American edition omits the recipe for "Hashich [sic] Fudge" found in other editions.
Offered by Second Story Books.
Ghost Land, or, Researches into the Mysteries of Occultism. Illustrated in a Series of Autobiographical Sketches
by Emma Britten Hardinge

Chicago: Progressive Thinker Publishing House, 1897. Hardcover. Very good. Early reprint of this edition (first published in 1896). 357 pp + publisher's catalogue (listing other occult titles), with errata slip tipped in at title page. Bound in original dark red cloth with silver lettering and decoration, with floral patterened endpapers. Slight spine lean, ribbon bookmark added. Written on the title page in ink: "Rebecca Rindlaub. This book, Ghostland, is now, 1925 - quoted at seven dollars -- must be out of print." Ms. Rindaub has also written her name and partial address on the front free endpaper. Publisher's description for the Cambridge University Press edition: "A lecturer and writer on spiritualism, Emma Hardinge Britten (1823?99) acted as a medium in both England and America. Allegedly written by an enigmatic nobleman, 'Chevalier Louis de B.', Ghost Land was prepared for publication by Britten in 1876. The author's real identity is unknown, and scholars have attributed the work to various personalities, including Ernest de Bunsen, Britten's husband William, and Britten herself. The book is divided into two parts, 'The Neophyte' and 'The Adept'. Each part includes a series of sketches from the life of the author, who was initiated into the ancient mysteries of the occult. The book also describes the spiritual encounters of an Englishman referred to as 'John Cavendish Dudley'. Britten claimed to have translated the French parts of the manuscript and edited the English sections. Of enduring interest in the history of spiritualism, the work reflects a strong theosophical influence.
Offered by Walkabout Books.
Signed Photograph, Knut Hamsun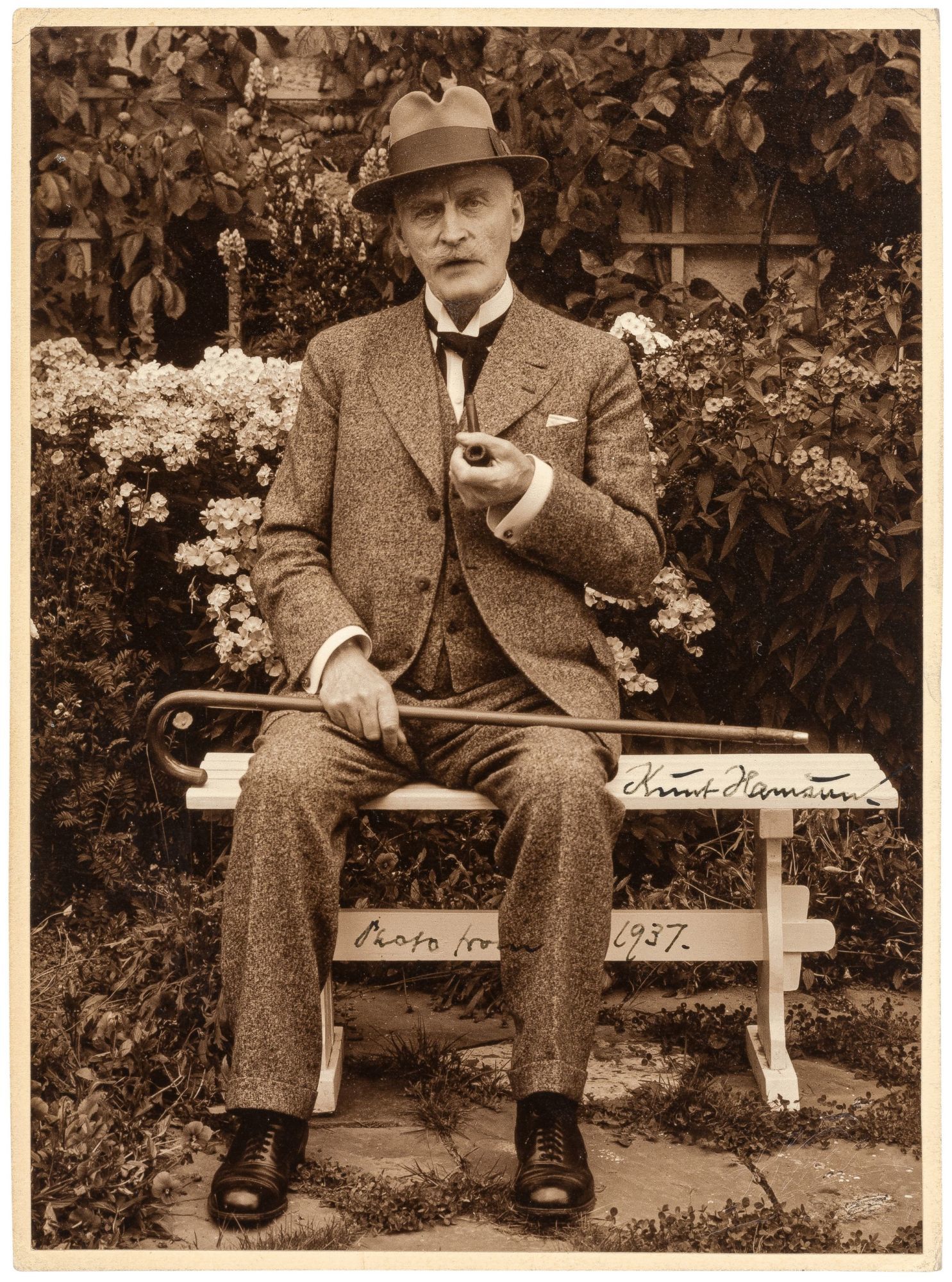 Unbound. Fine. original sepia tone gelatin silver portrait photograph. 4.5" x 7". Fine. The Nobel Prize-winner is posed in a suit and hat with walking stick and a pipe, seated on a bench. Signed by Hamson on the horizontal white parts of the bench: " Knut Hamsun. Photo from 1937." Embossed photographer's mark in lower right corner, we haven't managed to identify it yet.
Offered by Between the Covers Rare Books.
by James Clerk Maxwell (1831-1879)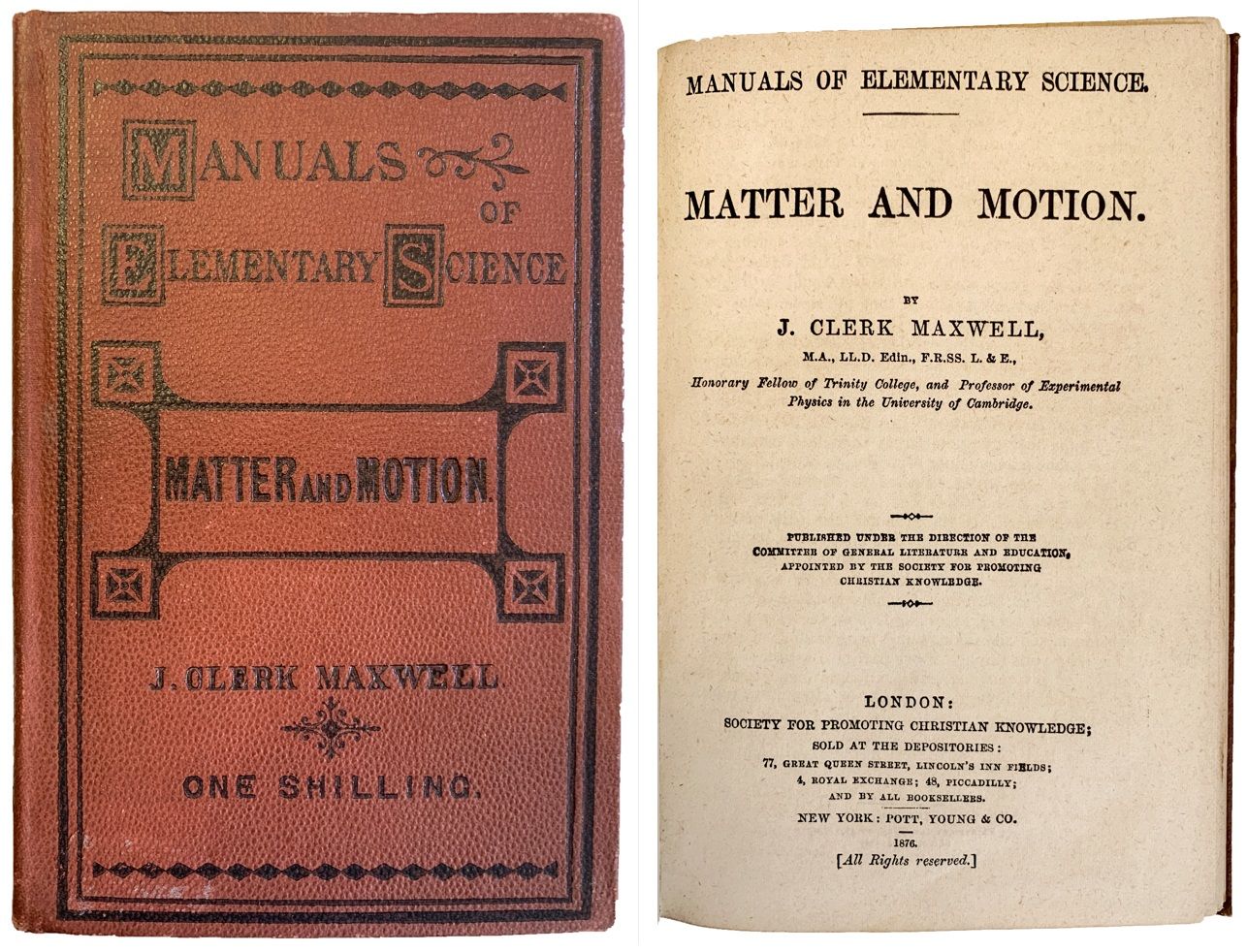 London:: Society for Promoting Christian Knowledge, 1876., 1876. Series: Manuals of Elementary Science. Slim 8vo. viii, (9)-128, (4) pp?. 18 figures, index, ads. Original black-stamped dark brick-reddish-brown cloth; slight hint of wear to one corner as well to the spine ends, but a very handsome, clean copy. From the Franklin Institute Library with their bookplate (no other markings). Very good +. FIRST USE OF THE TERM "RELATIVITY" IN PHYSICS. First edition and the work that first introduced the term "relativity" in physics. / A "masterpiece of natural philosophy, notable especially for introducing into physics the term relativity in a passage that combines strenuous scientific insight with a mystical awareness . . . [It] had a strong influence on Poincare." – Routledge Encyclopedia of Philosophy, p. 209. / "More light is thrown on Maxwell's own opinions about the problem of relative and absolute motion and the connection between dynamics and other branches of physics by the delightful monograph Matter and Motion, published in 1876." – DSB. See: Flood, McCartney & Whitaker, James Clerk Maxwell: Perspectives on his Life and Work, 2014, p. 27.
Offered by Jeff Weber Rare Books.
FREEWHEELIN FRANK: Secretary of the Angels
by Frank Reynolds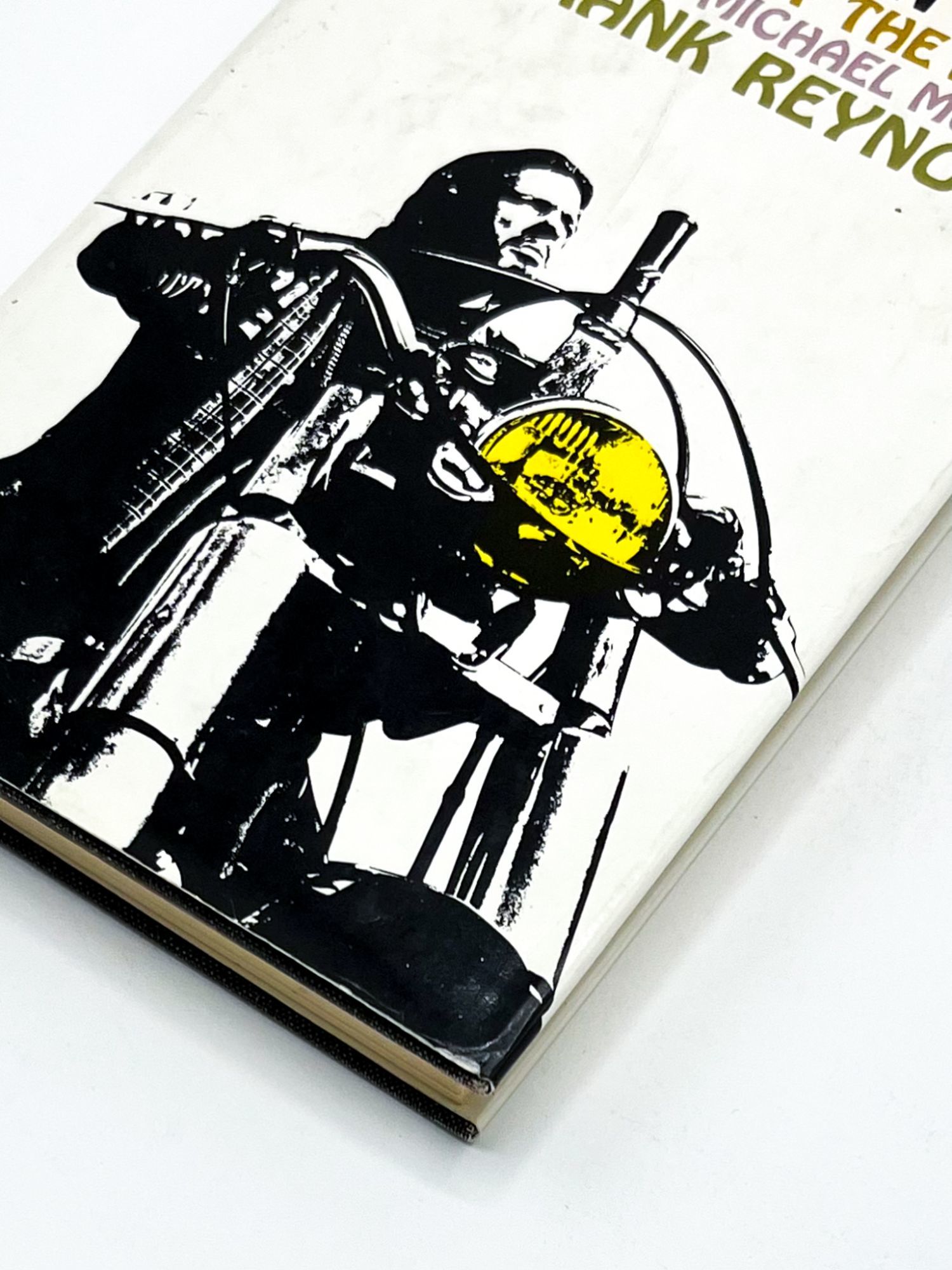 New York: Grove Press, 1967. First printing (stated). Very good plus in a very good minus jacket.. Rare inscribed first edition of this landmark outlaw biking memoir from one of the leaders of its most notorious gang: the Hell's Angels. Written with beat poet Michael McClure, Reynold's autobiography marked the first time an Angel had told his story (Barker). It remains a classic of biker literature. Reynolds left the life by the 1980s, devoting himself to the study of Zen. He died in 2003; this is the first signed copy of this book we've seen, vividly inscribed with one of the central tenets of the Angels "F[uck] T[he] [W]orld / Ride Free!" 8'' x 5''. Original dark grey cloth. In original unclipped ($5.00) color pictorial jacket designed by Kuhlman Associates. 160 pages. Inscribed by Reynolds on the front free endpaper: "Minstrel Mg Brother / F.T.W. Ride Free! / Frank "68". Jacket lightly rubbedwith a one-inch tear to rear panel and some faint staining to top edge of the rear panel. Book has slight lean. Else clean and sound throughout.
Offered by Brian Cassidy Bookseller at Type Punch Matrix.
by Bernard Wolfe
New York: Random House, (1952). First Edition. First printing. Octavo. Black cloth hardcover, with foil-stamped decorations in colors; dustjacket; 438pp. Small spot of abrasion at upper edge of rear board; mild ageing to endpapers; still a tight, Very Good or better copy. In the original dustwrapper, unclipped (priced $3.50 on front flap), bright and whole with a few small closed tears at extremities, VG+.

Future dystopia, set in 1990 following a Third World War. "...A fierce attack on 20th century civilization and its constant attempts to find utopia through excision of perceived evils" (Lewis, Utopian Literature in the Pennsylvania State Libraries, p.212).
Offered by Lorne Bair Rare Books.
A.J. Johnson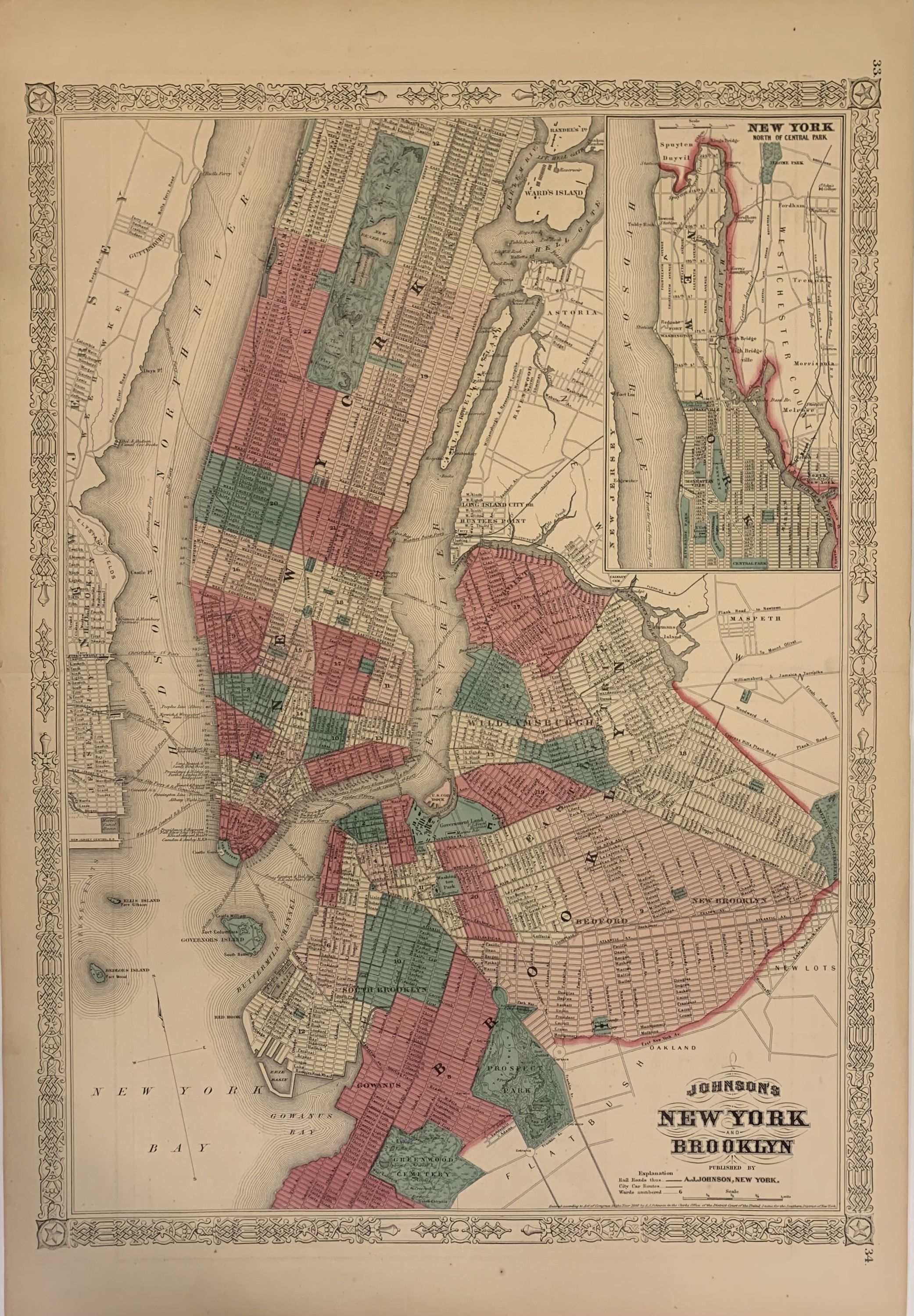 New York: Johnson & Ward, 1866. unbound. Map. Engraving with original hand coloring. Measures 26.5" x 18". A detailed map of Manhattan south of 116th Street and Brooklyn. Borders of Brooklyn are drawn to the eastern border of Greenwood Cemetery, the southeast corder of Prospect Park, along East New York Ave, and then up from Highland Park to include Williamsburg. Includes inset "New York North of Central Park," (upper Manhattan).
Alvin Jewett Johnson (1827-1884) is one of the most prolific American publishers of the 19th century. He opened his own company in 1856 that produced atlases, maps and encyclopedias. The company made great maps based on those by J.H. Colton and Johnson produced a newly updated version every year up until the late 19th century.
Offered by Argosy Book Store.
THE MUMMY! A Tale of the Twenty-Second Century
by Jane Wells Webb
The Mummy! A tale of the twenty-second century. London: Henry Colburn, 1828. Three volumes. 12mo. viii, 309; [ii], 331, [1, blank]; [ii], 311, [1] pages, no half-titles present; uniformly bound in early half calf over marbled boards, spine decorated in gilt with red leather spine labels, lettered in gilt. Corners bumped, moderate edgewear with small losses, somewhat rubbed and abraded, Volume II with lower joint starting, small pinhole worming to the upper joint, and damage to the head of the spine where it has been pushed and creased. Later gray endpapers, edges untrimmed; penciled booksellers' notation (some effaced) to the front free endpaper recto. Extensive gutter repairs through the first half of Volume I and scattered throughout Volumes II and III, some affecting text, lightly foxed and soiled, moderate insect damage and soiling to some gutters, chiefly unaffecting text except for inner blank margins of pages 209-212 (Volume I), text block edges toned with minor wear and soiling.
Second Edition, 1st impression. An important book in the speculative canon, preceded one year by the first edition (although this text is largely revised for this new version). An early Science fiction novel, one of the first prototypes where the action takes place in a posited future markedly different from the present in more ways than simply political / ideological. Like Mary Shelley a decade earlier, young Webb clearly shows the influence given to scientific reincarnation as opposed to magic ritual. Considering the growth of Science Fiction, it's remarkable that two of its most important early works were both written by teenage girls.
Offered by Battledore.
The Mountains and Lakes of Switzerland, the Tyrol, and Italy. From drawings made during a tour through those countries. With descriptive letterpress.
by HERING, GEORGE E. [EDWARDS] (1805-1879).

London:: M.A. Nattali, 1847., 1847. 4to. 14.5 x 11 inches. With 20 splendid color lithographed plates (including frontispiece and dedication) [Plates are numbered I-XVIII]. Original gilt-stamped half red morocco, marbled boards, spine massed with gilt tooling, all edges gilt, marbled endleaves; light wear to extremities. Early ownership signature of Isabella L. Bird[?]. Handsome copy. First edition. Hering was a noted English landscape painter and he illustrated this and other works, including Scotland, Italy. His paintings of the Italian Lakes, and Genoa, are in the Fitzwilliam Museum.
Offered by Jeff Weber Rare Books.
Hommage à Marc Chagall. Numéro Spécial XXe Siècle. With one original lithograph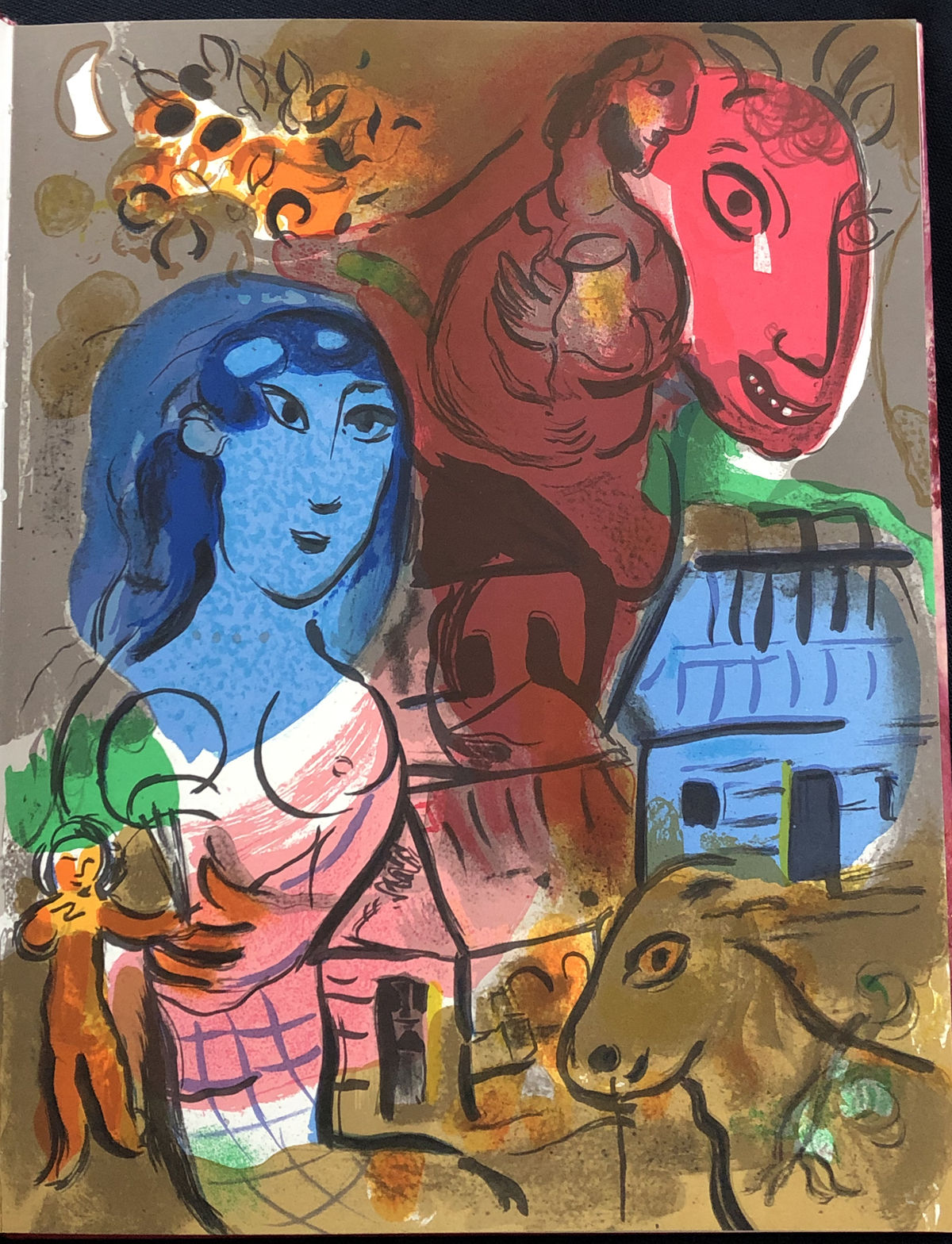 XXe Siècle, Paris. Richly illustrated with photographs in color and black and white, with one original lithograph in color by Chagall. Text in French.
Very good. Please, ask for complete conditions report.
Offered by Marinart.
by Don DeLillo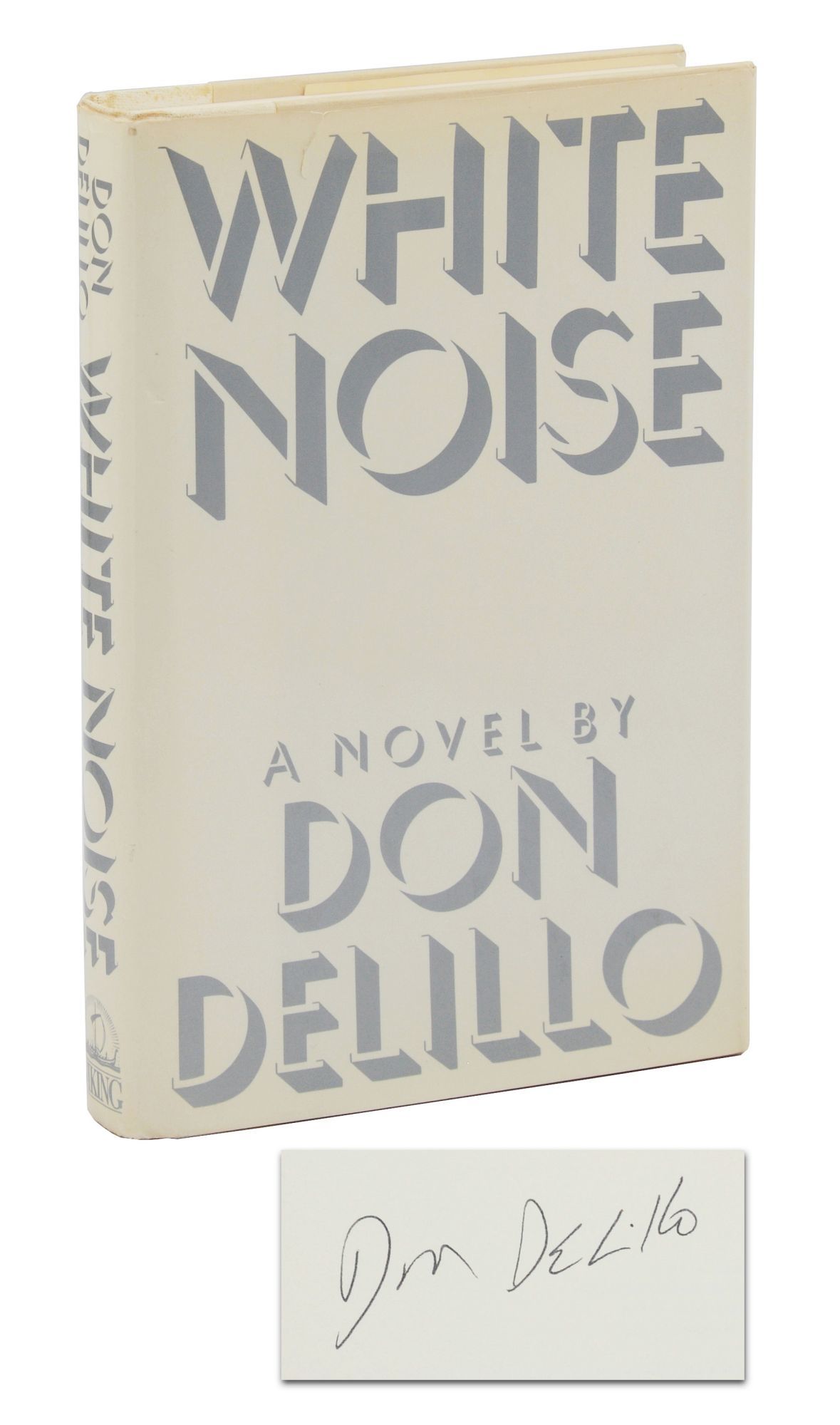 New York: Elizabeth Sifton Books / Viking Penguin Inc, 1985. First Edition. First edition. Signed by Don DeLillo on the title page. [x], 326 pp. Bound in publisher's gray boards with white cloth backstrip lettered in silver. Near Fine with subtle toning to top edge of cloth, in Near Fine dust jacket with a tiny closed tear in the front panel, light shelf wear. A signed copy of the author's best-known novel, winner of the National Book Award. The basis of a 2022 Netflix film directed by Noah Baumbach.
Offered by Burnside Rare Books.
Typography (published Quarterly)
by HARLING, ROBERT (EDITOR AND ILLUSTRATOR)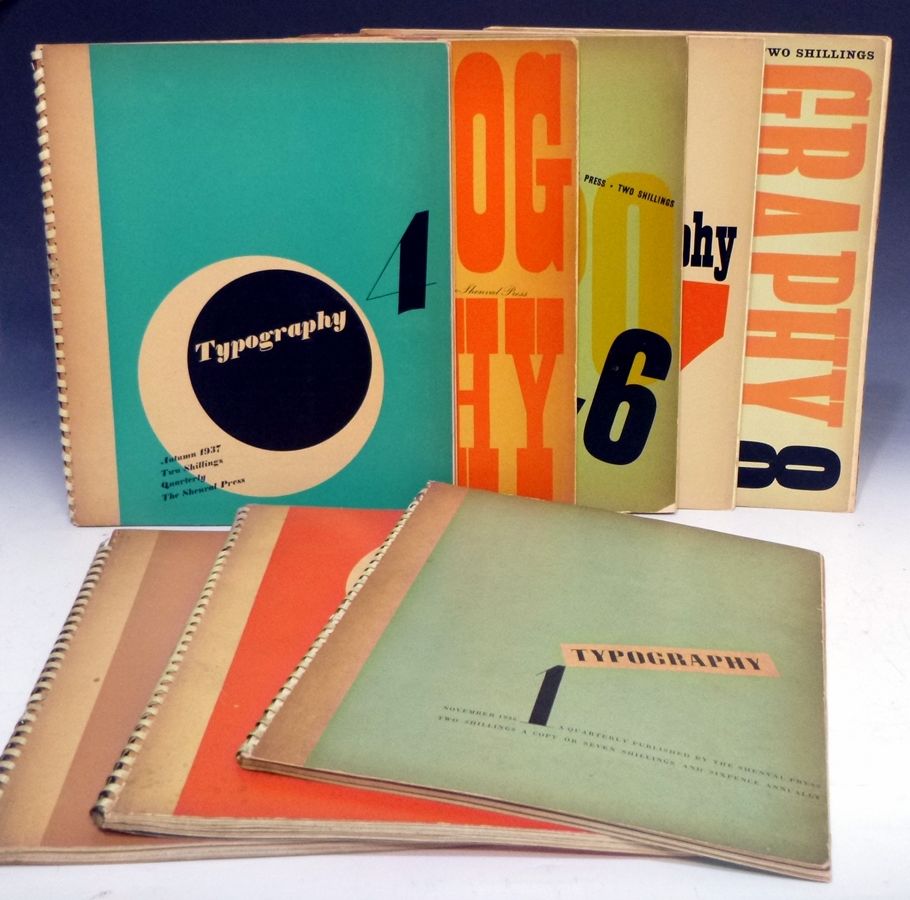 London and Hertford, 1936-1939: The Shenval Press. First Editions. Quarto. Vols 1-8. published quarterly. Illustrated by Robert Harling (all pbd) original plastic ring-bound stiff printed wraps. Various articles pertaining to the art of typography including advertising in color and in black and white on multiple paper stocks, also includes several tipped in examples within all volumes. Interesting and informative articles including Jan Tschichold, one of the foremost typographical influences of England, writes on Type Mixing and illustrates his premises with some highly interesting examples. work to be published in Britain. Initially published in editions of 1,200 copies, the press run expanded to 2,500 copies by 1939. Issue #1 sold out very quickly and Volume #2 added another 300 copies and volume three would have more issue printed than the first. A very scarce set and quite uncommon with all eight volumes. For more information, visit modernism101.com. A very nice set with a few of the plastic spirals with 1 to 3 broken pieces.
Offered by Alcuin Books.
Records of a Girlhood / Records of Later Life / Further Records 1848--1883: A Series of Letters
by KEMBLE, FRANCES ANN

New York: Henry Holt, 1884 / 1882 / 1891. First American Edition. First printings of Records of Later Life and Further Records. Second American edition of Records of a Girlhood. Octavo (19.5cm). Uniformly bound in varying colors of cloth, stamped with white floral all-over design, titled in gilt on front and spines; chocolate brown endpapers; [vi],605,[1]pp; [vi],676pp; [iv],380pp; lists of titles at front; portrait frontispiece in each volume. Records of a Girdhood is ex-library, with Egremont Free Library bookplate, paper and glue adhesions to pastedowns, and call number on spine; else straight, and sound with scattered foxing: Good. Records of Later Life is straight and tight, front hinge cracked, lightly rubbed, Very Good. Further Records lightly rubbed, sewing mildly loosened, both hinges cracked, just Very Good.

Fanny Kemble was a popular British-American actress and bestselling memoirist. Her several journals are "rich psychological and cultural documents," with "keen insights into the enormous changes transforming" America (Mainiero American Women Writers II:446). Her best-known work is now the abolitionist Journal of A Residence on a Georgian Plantation, 1838-1839 (1863), which contains her first-hand observations on slavery during her brief marriage to a Southern plantation owner.
Offered by Lorne Bair Rare Books.
by Anonymous

New York: William Godwin, 1933 First edition. The story of a skilled, compassionate doctor who performs abortions illegally. Written from what we'd now call a pro-choice perspective, the story depicts abortion frankly and treats both the doctor and his patients with respect. At the end of the book, the doctor faces neither legal nor social repercussions, and heads off on his honeymoon with his new wife.
Publisher's tan cloth titled in dark blue. Oxtavo. Slight discoloration to spine and some minor toning to leaves. In the very good and remarkably well-preserved original dust jacket. A very good, bright copy of a rare pro-choice novel. Illegal Doctor belongs to an early-twentieth-century trend of abortion narratives in American fiction, though it is unusual for its boldly pro-abortion stance. While many stories featured lurid details about conniving abortion providers and murdered babies, others were sympathetic toward women seeking abortions and instructed readers on how to obtain abortions for themselves. In her article "Modern American Abortion Narratives and the Century of Silence," Meg Gillette writes, "Giving readers practical scripts for negotiating the price of the abortion and warning readers about the potential for sexual abuse [by doctors], modern abortion narratives circulated valuable information about how to negotiate the illegal abortion market," (p. 669). These narratives also instructed readers on how to debate America's abortion laws and galvanized the national conversation around reproductive rights that would characterize second-wave feminism. By "writing abortion as an act against capitalist inequities, or as a consequence of women's liberation, or as a referendum on segregations policies," Gillette writes, "modern literature transformed abortion from a private women's issue to a national political crisis," (p. 667).
Offered by Michael R. Thompson Rare Books.
Spanish in One Lesson with Phonetic Pronunciation [cover title]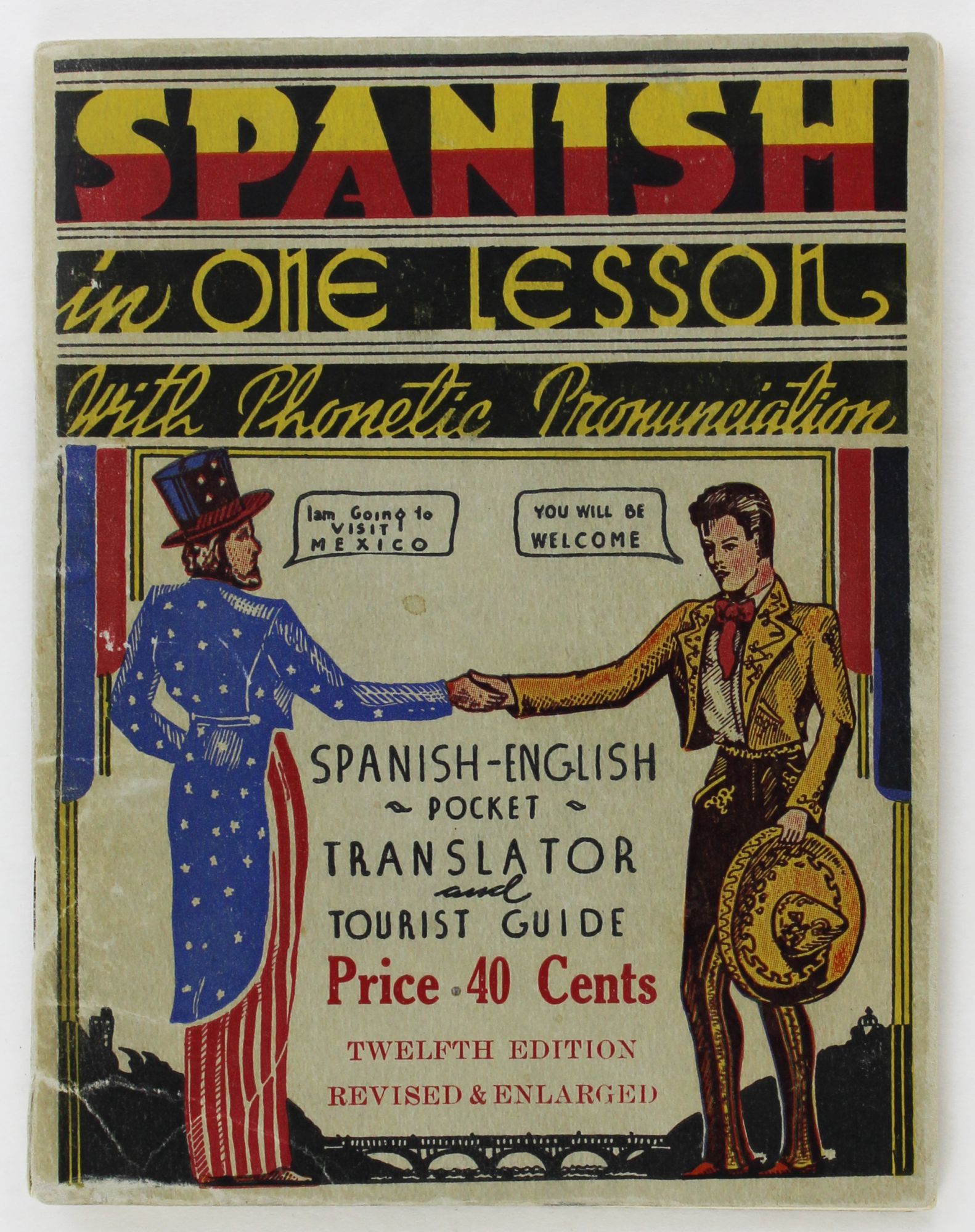 Laredo, Tx, 1951. Very good.. 64pp. Original pictorial wrappers, stapled. Light toning; minor wear. Attractive copy of this Spanish phrasebook for U.S. travelers crossing the border into Mexico through Laredo. Stated twelfth edition.
Offered by McBride Rare Books.
by Gwendolyn Brooks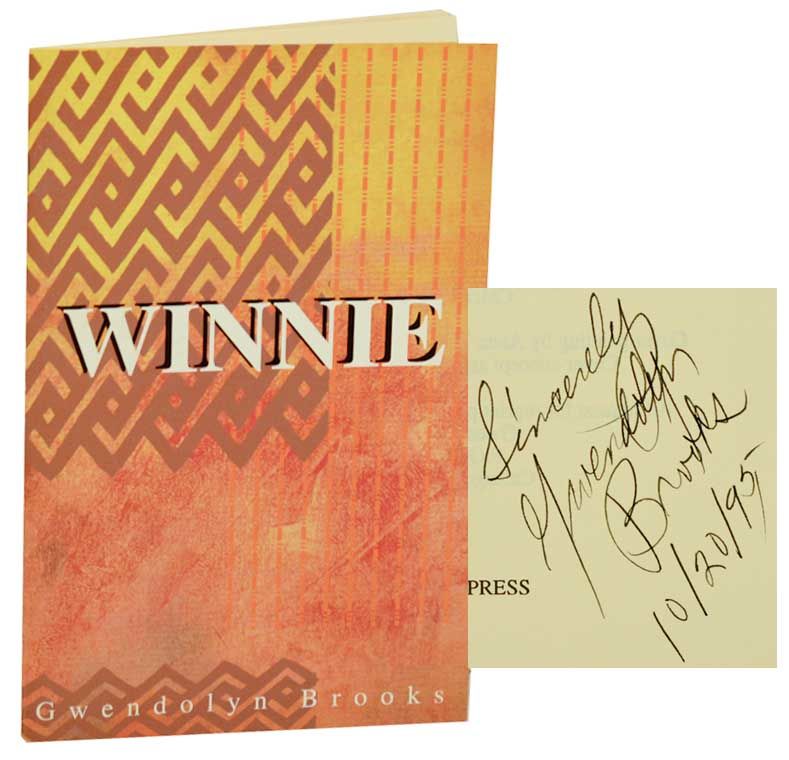 Chicago: Third World Press, 1991. First edition. Softcover. 23 pages. A single long poem about Winnie Mandela an accomplished anti-apartheid activist and politician who was also the wife of Nelson Mandela. A fine copy in stapled wrappers. Signed by Brooks on the title page in 1995. A lovely copy.
Offered by Jeff Hirsch Books.
Anarchy Comics. No. 1 (1978) through No. 4 (1987) (all published)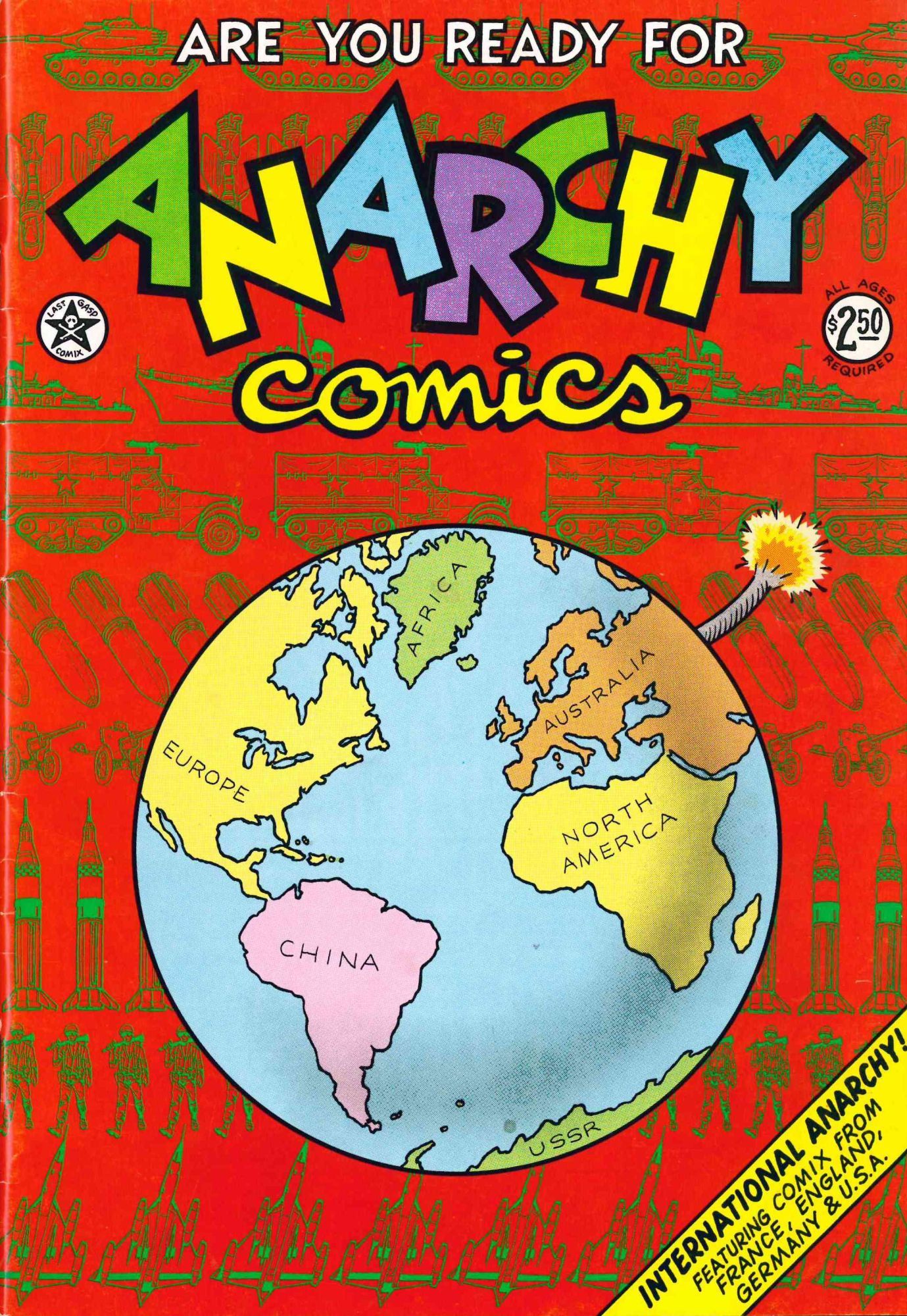 Berkeley, California: Last Gasp, 1978-1987. Issue no. 1 a third-edition reprint from 1988. 25.5 x 17.5 cm. Original colorful illustrated side-stapled wrappers. Issues unpaginated: 32, 32, 46, and 40 pages. Overall fine condition. A complete run in four issues of the underground comic, edited by American author, underground cartoonist, and Bijou Funnies member Jay Kinney. Anarchy Comics combined anarchist politics with an underlying punk sensibility. Its contributors came from the United States and Europe, including France, England, Germany, and the Netherlands. The writers and artists whose work is featured in these pages includes Jay Kinney, Melinda Gebbie, Spain (Manuel Rodriguez), Gilbert Shelton, Epistolier, Volny, M. Trublin, Peter Pontiac, Paul Mavrides, Spud Silber, M. Tsetung, Dohrn, Steve Stiles, Sharon Rudahl, Albo Helm, Clifford Harper, Steve Lafler, Gerd Seyfried, Gary Panter, Dave Lester, Norman Dog, and Byron Werner.

A note inside the front cover of the first issue reads, "This comic began as a whimsical idea a year ago - but as the idea caught fire it has come together amazingly fast. All of the work in this issue has been inspired by - or base on - anarchist ideas and history. As it becomes increasing clear that the real 'terrorists' are not a few isolated leftists but are the governments and corporations of this world who hold us hostage with their armaments, militaries & intelligence activities, anarchism becomes more & more relevant!"

(1) Anarchy Comics Nos.1-4, 1978 - 1987. Complete run of the underground comic that melded anarchist politics with a punk sensibility. Edited by Jay Kinney for Last Gasp, Berkeley. In fine condition.
Offered by Bernett Penka Rare Books.
by University of Niorth Carolina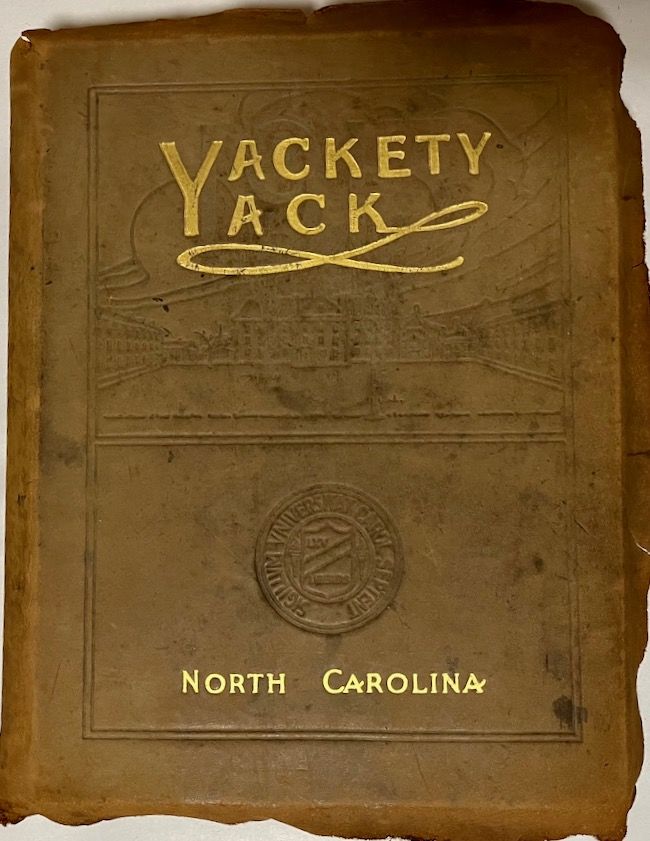 Chapel Hill: University of North Carolina, 1913. Soft cover. Good. Soft cover. 350 pages, [38] pages of advertisements, [10]. Illustrated. Soft leather bound covers with blind stamped illustration and gold title on the front cover. Illustrated end papers. Covers are worn, rubbed, and chipped on the over flaps. Light foxing to the foredge, early pages and the rear end sheets.
Offered by Americana Books.
by Vera Caspary

Boston: Houghton Mifflin Company, 1943. Hardcover. Good/Good. First edition. A bit cocked, small tears and light fraying at the crown, a good copy in a price-clipped good later issue dustwrapper which is sunned at the spine and has some chipping on the front panel. An exceptional association copy of this title. Inscribed by Caspary in the year of publication to George and Miriam Sklar: "For Miriam and George - who feed and shelter me, sympathize with me in my worst moods, listen to my beefs, and still collaborate, with my best, first-class, grade-A love - Vera Jan. 21, 1943." The Sklars were very close to Caspary. George Sklar was a leftist playwright and novelist and the co-author with Caspary of the play adaptation of *Laura,* as well as several other plays. One of the scarcest film source books, basis for the classic 1944 film directed by Otto Preminger (and Rouben Mamoulian) and starring Gene Tierney, Dana Andrews, Vincent Price, and Clifton Webb. The film is reportedly to be remade. The only significant association copy we've ever seen offered for sale.
Offered by Between the Covers Rare Books.
Salman Rushdie collection: signed first editions and advanced proofs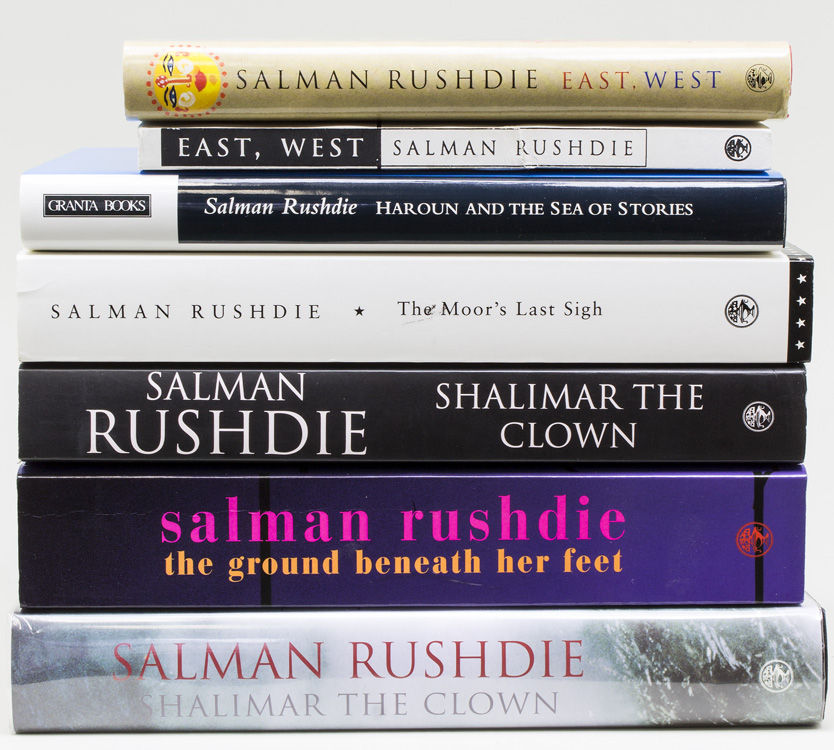 London: Jonathan Cape and Granta Books, 2005. All first UK editions. 7 vols. Aside from one or two minor blemishes, all the books are fine, as new copies. All first UK editions. 7 vols. A fine collection of Salman Rushdie works, including 3 signed first editions and 4 uncorrected proofs, as follows:

Haroun and the Sea of Stories, London:1990, signed by the author on a tipped in bookplate
East, West, London: 1994, signed by the author
East, West, Uncorrected proof, London: 1994
The Moor's Last Sigh, Uncorrected proof, #201 of 1,000, London: 1995
The Ground Beneath Her Feet, Uncorrected proof, London: 1999
Shalimar the Clown, signed and dated by the author, London: 2005
Shalimar the Clown, Uncorrected proof, London: 2005.
Offered by James Cummins Bookseller.
Howl and Other Poems (SIGNED BY 5 OF THE BOOK'S PRINCIPAL FIGURES)

San Francisco: City Lights Pocket Bookshop, 1956. Original wraps. Near Fine. A remarkable Association copy of the 1956 correct 1st edition. This copy not only conforms to all the original issue points but is in beautiful, near-pristine condition. Furthermore, THIS COPY IS SIGNED BY 5 OF THE KEY FIGURES IN THE BOOK'S GENESIS: 1) ALLEN GINSBERG (on the title page); 2) LAWRENCE FERLINGHETTI (on the copyright page); 3) LUCIEN CARR (on the dedication page); 4) WILLIAM BURROUGHS (also on the dedication page); and 5) CARL SOLOMON (on the first blank endpaper). In other words, this copy is signed by the book's author, its publisher and by 3 of its 5 dedicatees (only Jack Kerouac's and Neal Cassady's signatures are missing from this copy). Notably, of the 5 signatures, all critically important to the birth and evolution of "Howl", Lucien Carr's appears to be the most elusive. We know that Carr's relationship with the Beats grew tense early on and that he insisted his name be removed from all subsequent printings of "Howl". We also know that Carr himself introduced William Burroughs (an old friend from their St. Louis upbringing) to Jack Kerouac and Allen Ginsberg --and that Carr's infamous career at Columbia (as documented in the 2013 film "Kill Your Darlings") saw him as a very important muse to this budding literary scene. A fresh, tight copy, immaculate internally and easily Near Fine overall, while legitimately approaching Fine (even down to its unrusted staple). Also includes a hand-made chemise (signed by Ginsberg at a later date), a folded cardboard reproduction of the book's front cover which, among other things, capably protects the fragile 1st edition and no doubt helps to explain its remarkable condition. Of the 1,000 copies of "Howl" initially published, this must certainly rank as among the very most historic and significant.
Offered by Appledore Books.
by SANSON, NICOLAS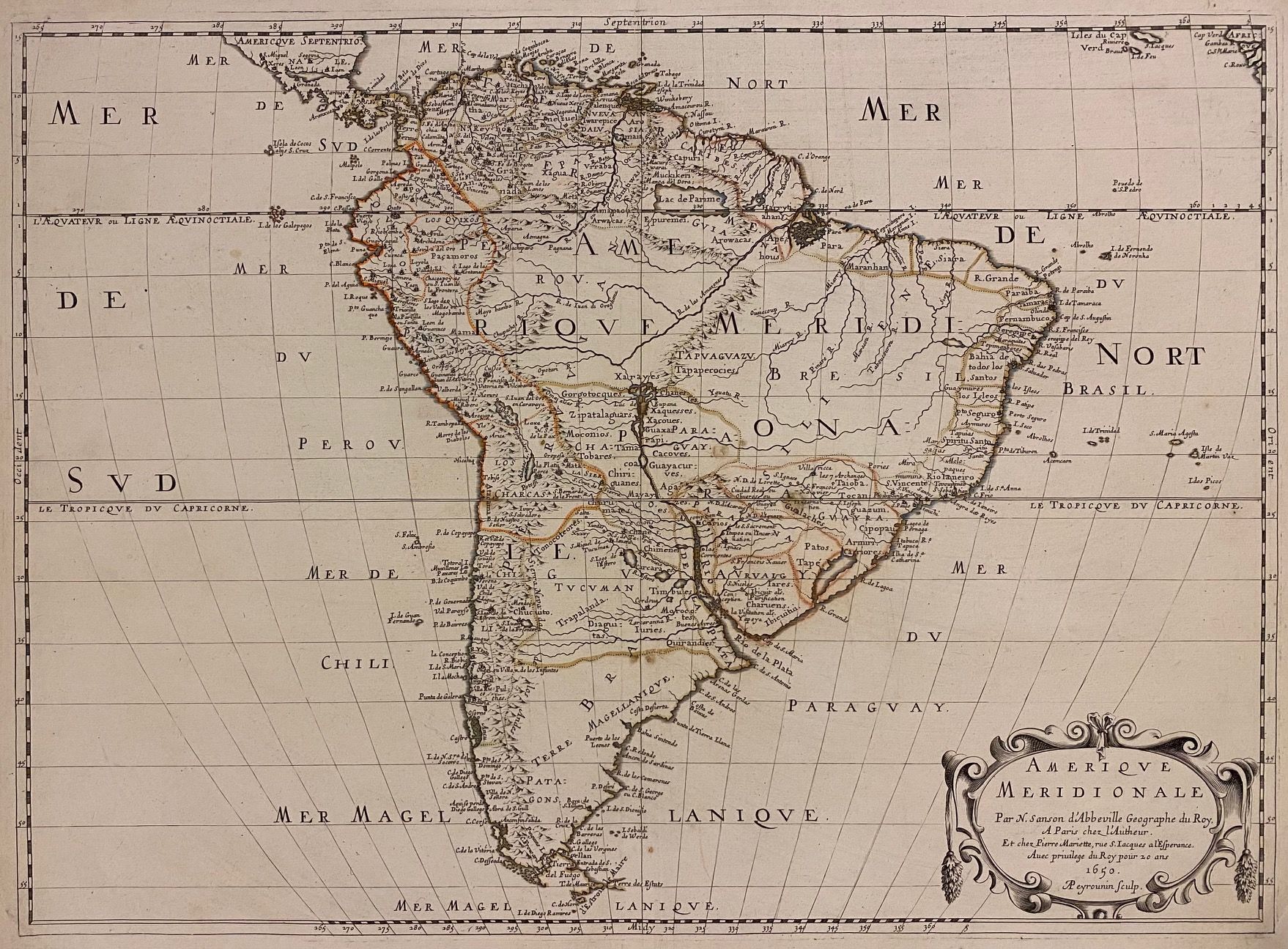 Paris: Pierre Mariette, 1650. unbound. Abraham Peyrounin. Map. Engraving with original outline color. Image measures 15 3/4" x 21 3/4" This exceptionally fine map of South America covers the continent in fine detail. Coastlines are extensively labeled, and mountains beautifully rendered in profile. The Orinoco and Amazon Rivers, as well as Rio de la Plata, are prominently rendered. Sanson refrains from drawing a southern coastline to Tierra del Fuego, and the relatively unknown Amazon region is depicted in minimal detail. Sanson does, however, include the mythical lake "Lac de Parime", and the city of gold "Manoa del Dora" between the Orinoco and Amazon rivers. Nice dark impression. In very good condition. Minor dampstain to lower margin not affecting the image, and some faint stains near the center of the map - otherwise clean and bright. Hard to find.
Nicolas Sanson (1600-1667) is considered the founder of the French school of cartography. In reaction to the prevailing trend of Dutch lavishness, Sanson favored minimal details, focusing rather on accurate cartography than ornament.
Offered by Argosy Book Store.
The Works of Christopher Marlowe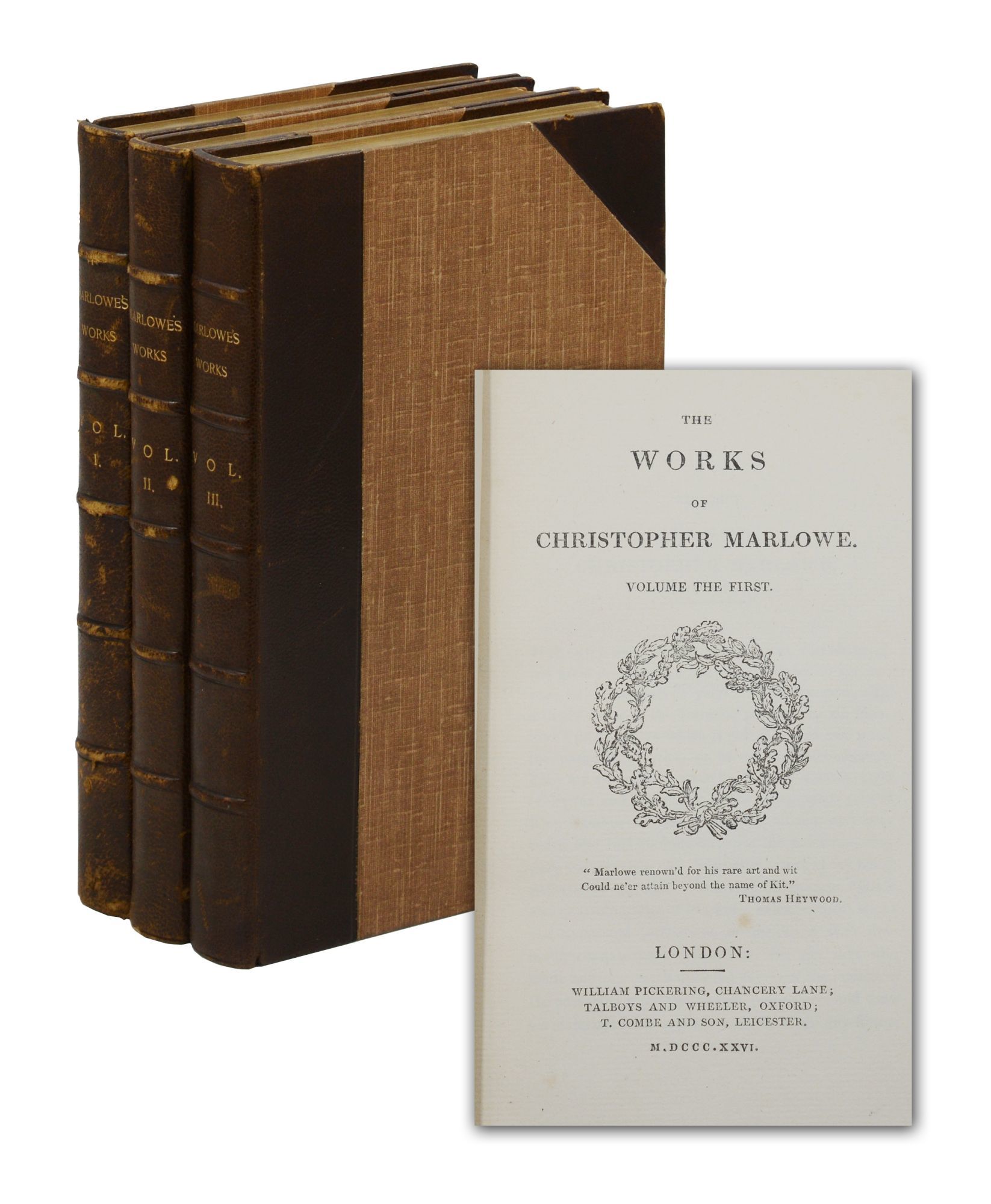 London: William Pickering, Talboys and Wheeler, & T. Combe and Son, 1826. First Edition. First edition of Marlowe's collected works. Complete in three volumes. 20th century three quarter leather with beige cloth sides, spine lettered in gilt, top edges gilt. Very Good+ with a few light scuffs to leather, light edge-rubbing, contents fairly bright with little reading wear. The Elizabethan poet and playwright's oeuvre including Tamburlaine the Great and The Tragical History of the Life and Death of Doctor Faustus.
Offered by Burnside Rare Books.
Nuremberg: Anton Koberger, 17 February 1483. The Ninth German Bible. 415 x 290 mm. (16 3/8 x 11 1/2"). Textually Complete. Text in double column, 50 lines, gothic type. (Without one flyleaf.) Two volumes.
Excellent contemporary Nuremberg "Koberger Publisher's" binding by the so-called Schedel Meister, featuring blind-stamped calf over thick wooden boards, upper covers with two frames, the outer one decorated with rosettes connected by leaf-wrapped staffs, the inner one stamped with repeating floral sprig lozenges, these frames enclosing a central panel with blind-tooled vines forming ogival compartments, each of these containing a botanical stamp, both volumes titled in blind at head of outer frame; lower covers with similar outer frame, inner frame with repeating griffin stamp, central panel with either botanical (volume I) or double-headed eagle (volume II) stamps, covers with intricately tooled brass corner- and centerpiece bosses, raised bands, original brass clasps and catches with newer leather straps, (spine of first volume restored ca. 1900, with newer endleaves). Capitals struck with red, more than 1,000 three-line Lombard initials in red, blue, or green, hundreds of slightly larger initials in red, blue, or green, some with penwork extensions, dozens of six- to eight-line initials in red and blue, some with pink and green penwork infilling, volume II opening with two six-line initials in blue or pink with white tracery on a background of delicately etched burnished gold, with acanthus leaf extensions, and 109 WOODCUTS BEAUTIFULLY COLORED BY A CONTEMPORARY HAND. Rear pastedowns with book label of Alexander Schippan. Goff B-632; BMC II, 424; ISTC ib00632000. For the binding: Schunke/Rabenau 11, 205; Kyriss 11, Tafelband 117. Thin vertical crack to spine of volume II, minor crackling or chafing to leather, other insignificant external wear, but the contemporary volumes handsome, sturdy, and well preserved. Inner margin of the opening five folios of the first volume expertly renewed without loss of text, the next 60 leaves with expert repair at the bottom of inner margin, occasional faint dampstains, smudges or small stains to margins, other trivial imperfections, but A VERY FINE COPY, the text clean, fresh, and bright, the margins ample, and the hand coloring extremely rich.
Offered by Phillip J. Pirages Fine Books.
The Pocket Encyclopaedia of World Aircraft in Color (6 volumes)
by MUNSON, KENNETH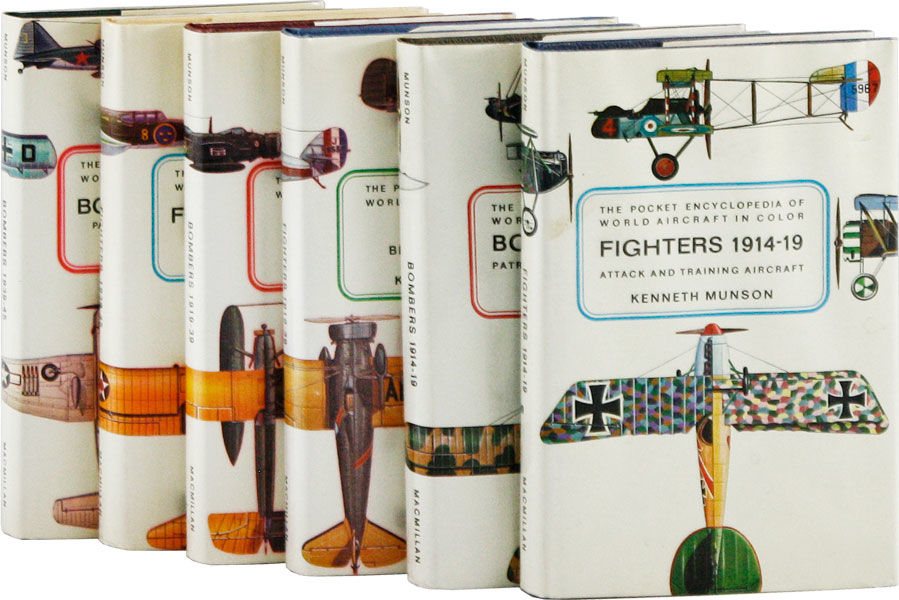 New York: Macmillan, 1968-69. First Edition. Mixed set, with first printings of Fighters 1914-19, Bombers 1914-19, and Bombers 1939-45; and first UK printings of Fighters Between the Wars 1919-39, Bombers Between the Wars 1919-39, and Fighters 1939-45. 12mo (19cm). Hardbacks in several colors of cloth, all stamped with gilt planes on front board, in original cream pictorial dust jackets; 183pp; 180pp; 164pp; 165,[1]pp; 163,[1]pp; 163,[1]pp; color illustrations throughout. Clean and sound, lightly rubbed, with neat ownership inscriptions to f.f.e.p.: Near Fine. Jackets unclipped, lightly rubbed, one or two small smudges, light toning to a few edges: Very Good to Near Fine.

Includes Fighters 1914-1919; Bombers 1914-1919; Fighters Between the Wars 1919-1939; Bombers Between the Wars 1919-1939; Fighters 1939-45; and Bombers 1939-45.
Offered by Lorne Bair Rare Books.
James Weldon Johnson's The Book of American Poetry, First Edition Anthology of the Harlem Renaissance, 1922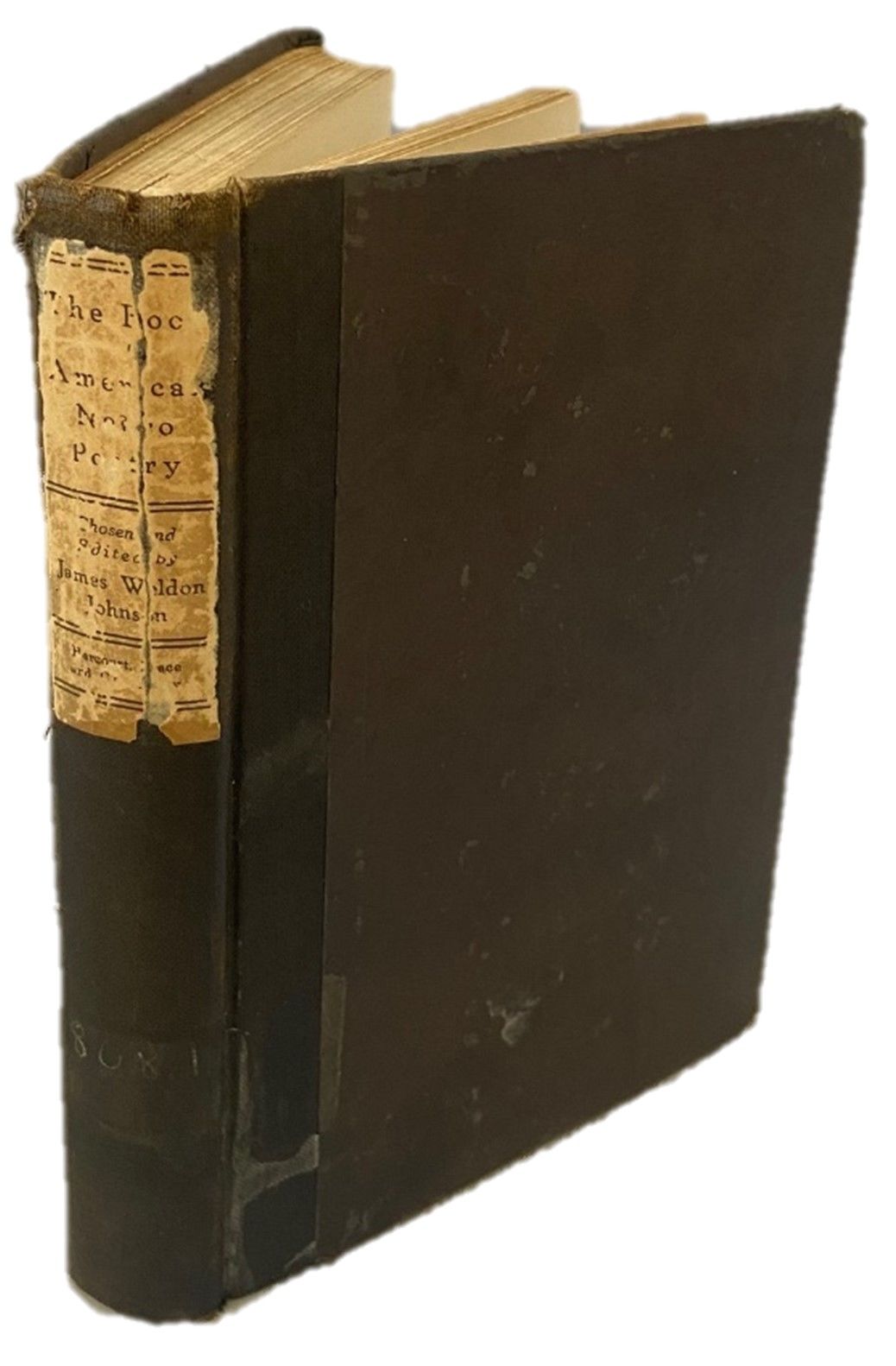 James Weldon Johnson. The Book of American Negro Poetry. Harcourt, Brace and Company: New York, 1922. First edition. Original brown boards with paper spine label. 5.5 x 8 inches. 217 pages. The first of its time, this anthology, compiled by James Weldon Johnson, contains the work of 31 poets, all prominent voices in the Harlem Renaissance. In the book's preface, Johnson writes, "A people may become great through many means, but there is only one measure by which its greatness is recognized and acknowledged. The final measure of the greatness of all people is the amount and standard of the literature and art they have produced. The world does not know that a people is great until that people produces great literature and art. No people that has produced great literature and art has ever been looked upon by the world as distinctly inferior." Johnson was the president of the NAACP at the time of publication, and the compilation was as much a part of his civil rights work as that position. His vision for its impact was clear. Anthology includes poetry by W.E.B Dubois, Claude McKay, Alice Dunbar-Nelson, and Johnson himself. Library reference number faintly written on spine. Ex libre with stamps to title page. Light shelf wear. Spine partially cracked but intact. Paper spine label worn but mostly legible. Text block clean and intact. Overall good condition.
Offered by Max Rambod.
by Neil Gaiman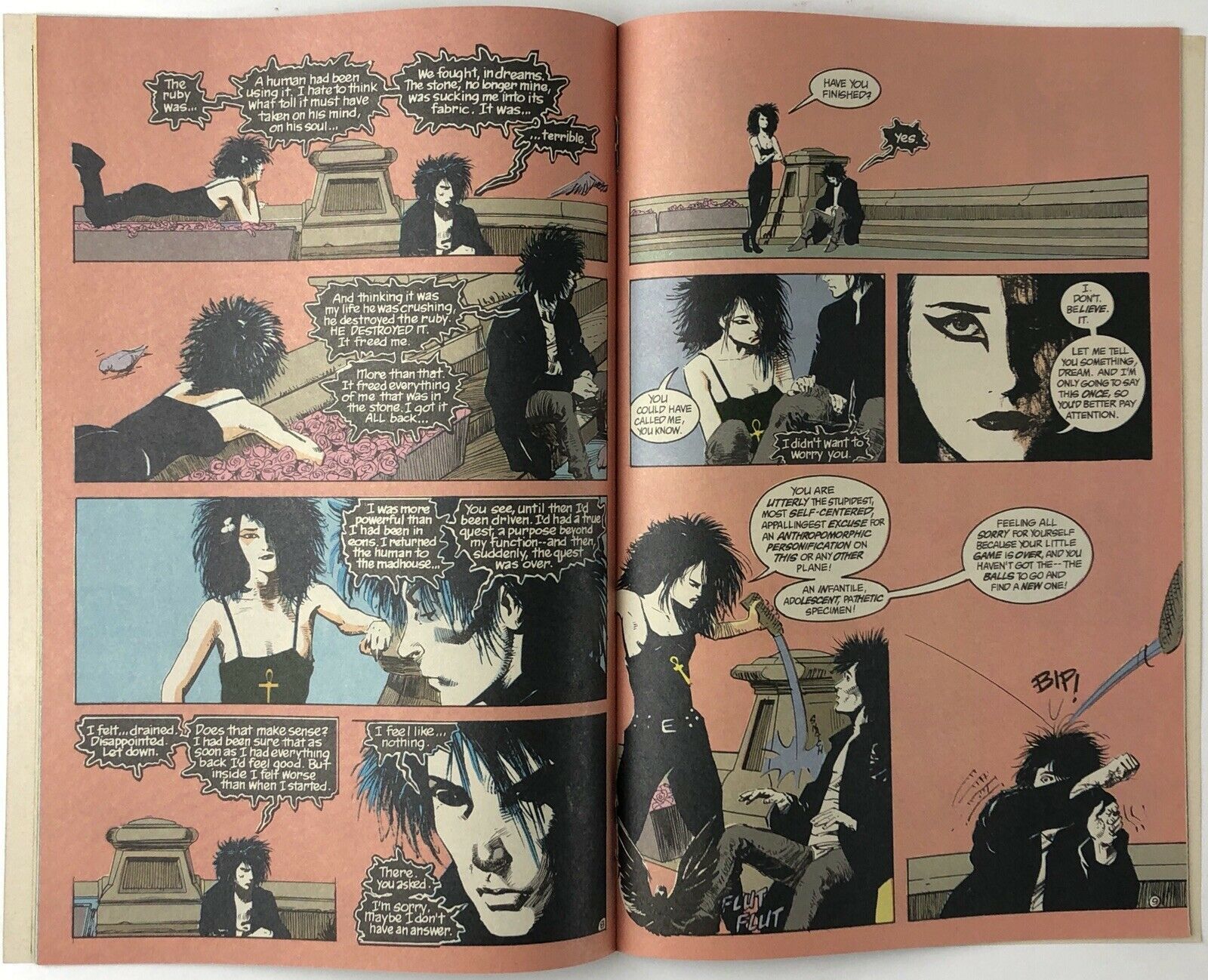 New York: DC Comics, 1989. Saddle-stitched. Condition is VF+ with light edge-wear and bumping corners (cover); minor crease/dent to bottom edge of spine (back cover); book has a slight vertical crease/bend visible on back cover (~1/4" from spine); a few very light stress marks on spine.
Offered by Second Story Books.
PICASSO, Femmes et Faunes, 12 dessins, lavis, aquarelles
by ANTONINA VALLENTIN - PABLO PICASSO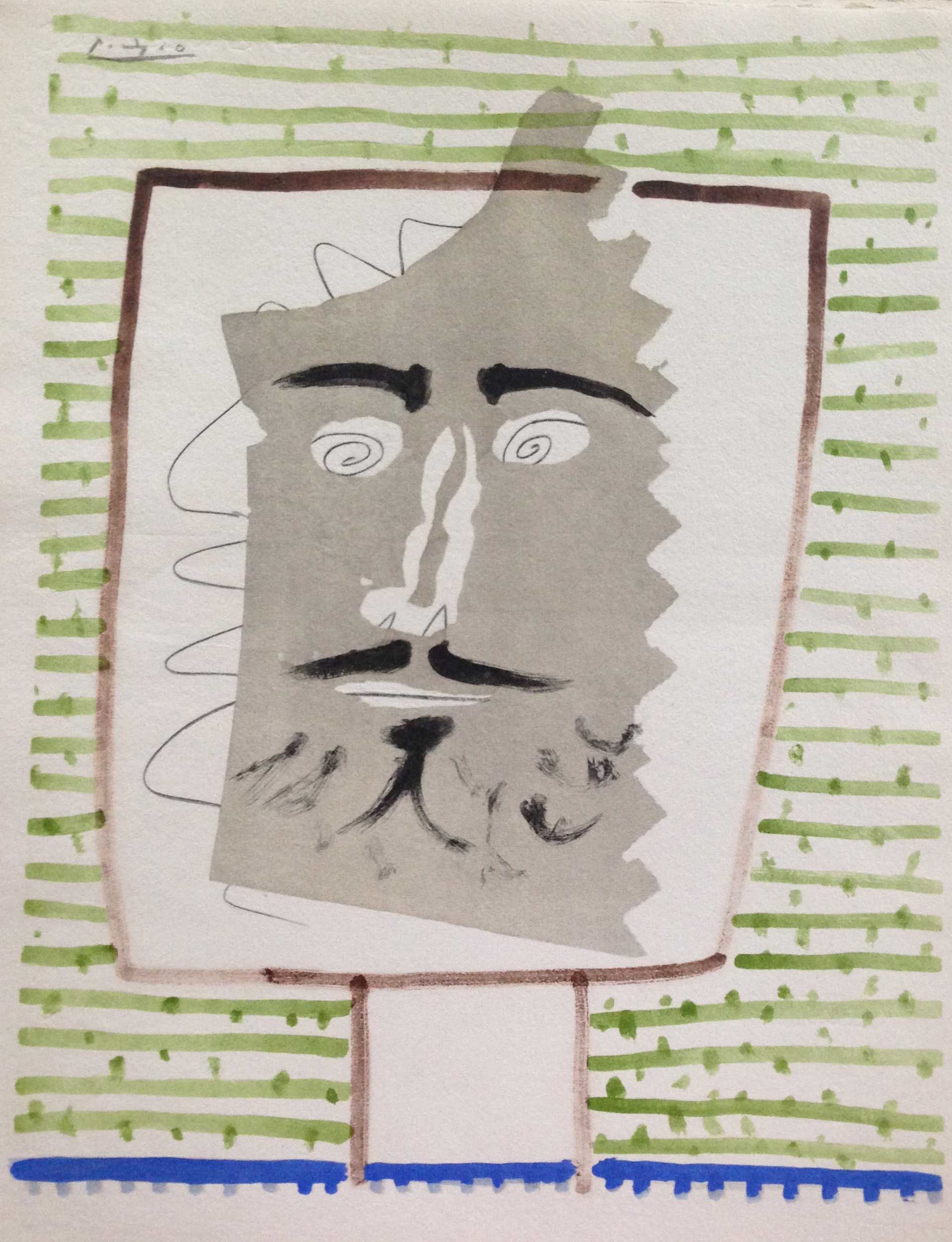 Foreword by Antonina Vallentin. Limited numbered edition of 200 copies + 26 H.C on Richard de Bas paper. Portfolio with 12 pochoirs of drawings after Picasso. Guarded in the original pictorial cloth folder. Folder worn.
Offered by Marinart.
BLEAK HOUSE. [Complete in 20-in-19 monthly serial parts.]
by Charles Dickens
1852. [20-in-19 serial parts] With Illustrations by H.K. Browne. London: Bradbury and Evans, 1852-1853. Original light blue-green pictorial wrappers.

First Edition, in the original 20-in-19 monthly serial parts that were issued from March 1852 through September 1853 (at the end of which time the novel was published in book form). Written just after DAVID COPPERFIELD and just before HARD TIMES, this is Dickens's famous attack on Chancery, the London legal system -- featuring such characters as the lawyer Tulkinghorn, the claimants Lord and Lady Dedlock, and of course the law firm of Jarndyce & Jarndyce. Though lives come to an end all around it, the case goes on and on, finally concluding when (surprise!) all of the fortune has been devoured by legal fees. Included are forty plates by "Phiz," of which ten are "dark plates" made possible by a new procedure. As for completeness of this set, all of the correct wrappers are in place (no substitutions!), all of the plates are of course present (with only one in Part IX followed by three in Part X, as is proper), all of the preliminary "Bleak House Advertiser" leaves are present, all but four of the 82 terminal ads are present, and all but one of the 25-or-so preliminary slips are present. (It is worth mentioning that Part XV does include the 8-page "Village Pastor" booklet -- "a rather scarce item (often wanting)" according to H&C.) And as for condition, first and foremost there is NO "improvement" of these parts -- no later spines, no repairs. Parts II through XVIII are near-fine to fine; as is often the case, the first and last parts show the most wear, mainly Part I's front wrapper (with an edge-chip) and Part XIX/XX's rear wrapper, as well as both parts' spines. In all, quite a collectible set of BLEAK HOUSE, housed in a(n edge-worn) full-calf pull-off case with red leather label. Hatton & Cleaver pp 273-304; Smith I pp 79-84. From the renowned Jeremy & Penny Martin Collection of literature, with their bookplate on the interior paper chemise.
Offered by Sumner & Stillman.
by ELIOT, T.S.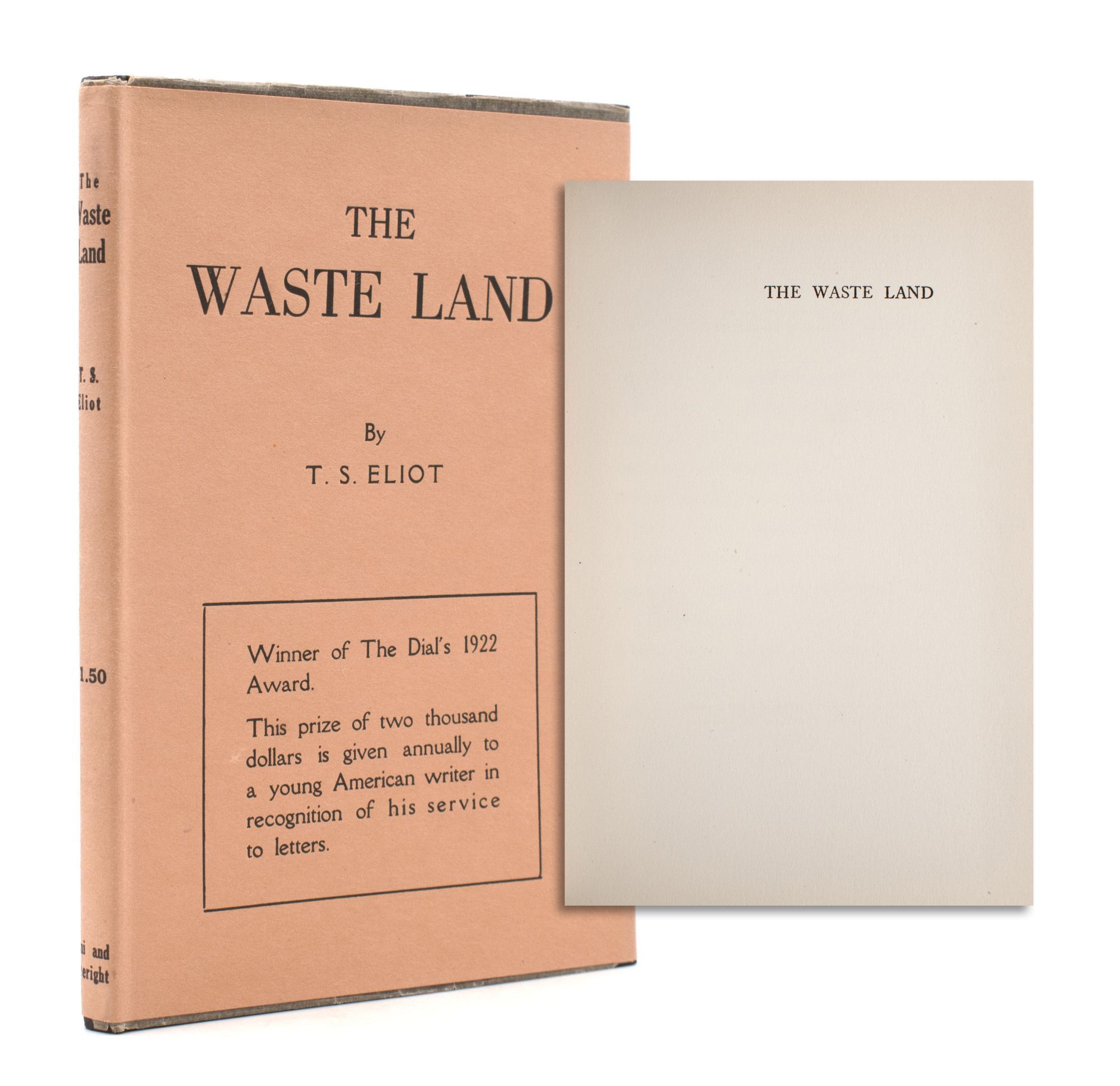 New York: Boni & Liveright, 1922. First edition, first issue, first state, no. 184 of 1000 copies (of which c. 500 are first issue). 64 pp. 1 vols. 8vo. Publisher's flexible black cloth, titled in gilt, in original glassine wrapper under printed salmon-colored dust-jacket, slighest chipping to glassine edges. Invisible scratch to rear panel of dust-jacket, below the Boni & Liveright logo. Truly a fine copy. First edition, first issue, first state, no. 184 of 1000 copies (of which c. 500 are first issue). 64 pp. 1 vols. 8vo. Superb copy of The Waste Land. First edition, first issue, first state, of this landmark modernist poem. T.S. Eliot, whose literary reputation was established with his first book in 1917, was awarded the annual literary prize of The Dial magazine for The Waste Land in 1922 by publisher Scofield Thayer, a friend and classmate from Milton Academy and Harvard. Thayer's aim was to establish Eliot and American literature among the vanguard of modern cultural activity. "It did not hurt that 1922 also saw the long-heralded publication of Joyce's Ulysses, or that in 1923 Eliot linked himself and Joyce with Einstein in the public mind in an essay entitled 'Ulysses, Order and Myth.' Meteorically, Eliot, Joyce, and, to a lesser extent, Pound were joined in a single glow - each nearly as notorious as Picasso" (ANB).
Offered by James Cummins Bookseller.
View all new listings on abaa.org...
Browse recent catalogs of rare books and print ephemera from ABAA members...
Please note, all items are unique, so if a link takes you to a blank page, the book has been sold!