The New York International Antiquarian Book Fair takes place at the Park Avenue Armory in New York City, April 21-24, 2022. Here are some highlights from among the rare books and related ephemera ABAA members are bringing to the fair!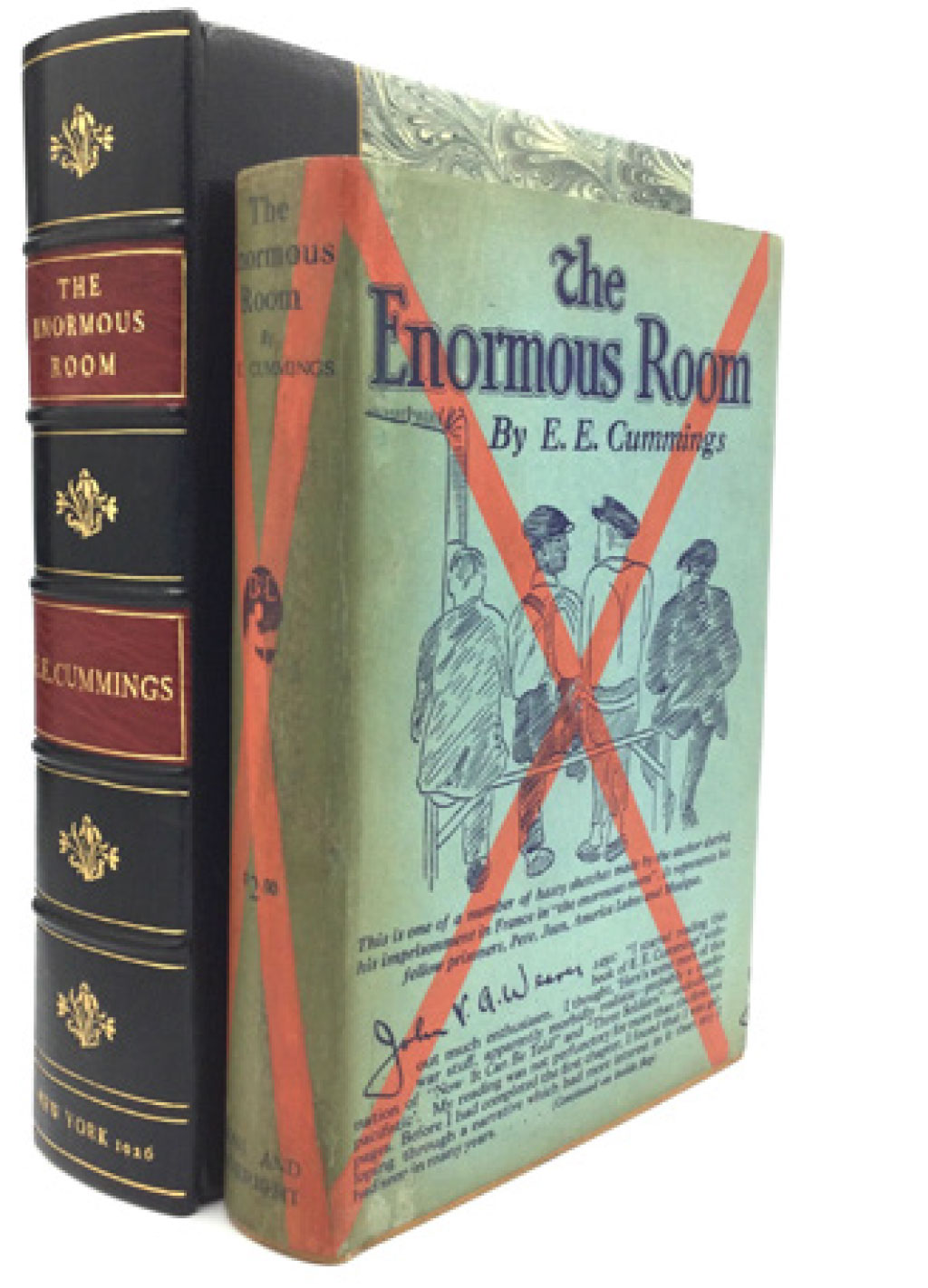 Offered en bloc by johnson rare books & archives on behalf of the family of Roger Gozdecki.
[LINCOLN LIFE MASK & HANDS] Volk, Leonard (1828-1895; sculptor) Bronze Life Mask and Hands produced by the "Lost Wax" method. Chicago: Jules Berchem, American Art Bronze Factory, c1886. Signed by Volk below the chin of the mask and on the cuff of each hand.
THE YEAR 1886. A beardless Lincoln had suddenly become popular after the 1886 publication of Lincoln's secretary's 10-volume biography that used Chicago's Alexander Hesler's beardless photograph for their frontispiece. Hesler then began producing copies of these photographs –taken of the presidential nominee at the behest of the Republican Party in 1860 – and had wide success in selling them. As well, when Richard Gilder "discovered" the original mask residing with Wyatt Eaton, Gilder and Augustus St. Gaudens got up a subscription to purchase the mask to donate it to the National Museum (now the Smithsonian). [33 replicas in plaster and bronze were produced as gifts to those who donated monies for the project of acquiring the original mask for the nation.]
Volk certainly saw this commercial angle for his shaven mask and took advantage of that popularity by issuing his own mask and hands, but only in bronze and not in "cheap plaster!" By Volk's commission, Berchem produced this (and at least one other known set) for commercial purposes. Volk's collaboration with Berchem is documented by the inscriptions on these mask and hands. Berchem signed Volk's name on the mask, "A. LINCOLN/1860/L.W. VOLK, fecit". On the cuffs of each hand it's incised, "A. LINCOLN/L.W. VOLK/1860/fecit. // Cast by J. Berchem/Chicago".
It is instrumental to note that this mask and these hands are "signed" by Volk; he commissioned them, using Berchem's foundry, so they are rightfully considered as originals of Volk himself. In contrast, the St. Gaudens replicas are not signed (incised) by Volk, as St. Gaudens rightly knew these were not Volk productions and should not bear the artist's representative name or signature.
BACKGROUND:
Original castings of Lincoln face: March 31, 1861;
Original castings of Lincoln hands: May 20, 1861;
The mask was given to his artist son, Douglas, who thence presented it to his artist friend, Wyatt Eaton. This mask now resides in the Smithsonian in Washington, DC. Through the efforts of Richard Gilder and Augustus St. Gaudens, who made 33 replicas in 1886-88, both in plaster and in bronze.
While residing in Rome in 1870-72 (thankfully missing the Chicago fire), Volk had the noted formitore in plaster, Malpricari, produce molds of the original mask and hands all under his direction. Upon returning to Chicago in 1873 Volk produced three mask replicas.
The First he gave to his son's professor in the Beaux Arts, Jean-Leon Germone (they later went to Truman Bartlett and now are in the Massassuchetts Historical Society).
The Second he gave to Douglas who gave it to Wyatt Eaton to replace the original that landed in the Smithsonian (not it resides with the Zeta Psi fraternity at the University of Illinois).
The Third was retained by Leonard and is known as the "Artist's Copy." It is this copy that was used by Berchem to produce copies at Leonard Volk's behest in 1886.
Jules Berchem (1855-1930), owner of the American Art Bronze Factory in Chicago and European educated, was a master artisan in art bronze, known for making large statues (such as the pair of lions in front of Chicago's Art Institute and Leonard Volk's Lincoln atop the Soldiers' and Sailors' Monument in Rochester, New York) each executed under his hand and direction. He came to be regarded as America's master artisan in art bronze, collaborating with the foremost sculptors in his faithful reproduction of their works – Volk being one of them.
Approximate dimensions:
MASK: 8" wide (ear to ear); 8" deep (chin to rear of head); 5-1/4" high
RT. HAND: 5" wide; 6" deep; 3-1/2" high
LT. HAND: 4" wide; 6-1/2" deep' 2-1/2" high
Offered by Abraham Lincoln Book Shop.
Herbert, Frank. Dune.
Philadelphia: Chilton Books, 1965. First edition, first printing book in a first printing, first state dust jacket, with four lines at bottom of rear jacket flap. Publisher's light blue boards, titles in white to spine, gray endpapers with wavy lines design; original dust jacket with wraparound illustration by John Schoenherr, map of Dune on rear panel. Near fine book with light toning to edges, and very light soiling to boards and text block edges; very good unclipped dust jacket with a few shallow chips to spine ends and corners, light wear and rubbing to edges, a few creases to jacket flaps, and very light toning to spine. Overall, a beautiful copy of the first book in the epic Dune series in the original dust jacket.
Dune is a science fiction epic set thousands of years in the future, where humanity is spread across the universe and ruled by an emperor. The story focuses on Paul Atreides, who comes to the desert planet Arrakis, or Dune, at a young age and rises to become an all-powerful and messianic figure. Incredibly ambitious in its scope, the novel deals with such issues as environmentalism, religion, eugenics, politics, and philosophy. Frank Herbert began researching and writing the novel after being inspired by the sweeping sand dunes near Florence, Oregon. He wrote two separate serials in Analog Science Fiction and Fact, which were later combined and published together as Dune. The novel was awarded the two most prestigious science fiction awards, the Hugo Award and the Nebula Award. The best-selling science fiction novel of all time, and arguably the greatest, the novel has had an enormous influence on the science fiction genre, perhaps most notably with the Star Wars series. Frank Herbert wrote five sequels to the novel, and his son, Brian Herbert, and the author Kevin J. Anderson wrote over a dozen more books in the series after Frank's death. The novel has a long history of film adaptations, including the aborted yet highly influential Alejandro Jodorowsky version, David Lynch's version in 1984, and the critically acclaimed Denis Villeneuve version released in 2021.
Offered by B&B Rare Books.
[The Northern and Southern "Pagan" Constellations] Haemisphaerium Stellatum Boreale Antiquum (and) Haemisphaerium Stellatum Australe Antiquum [Exceptional original hand-color with highlights in gold]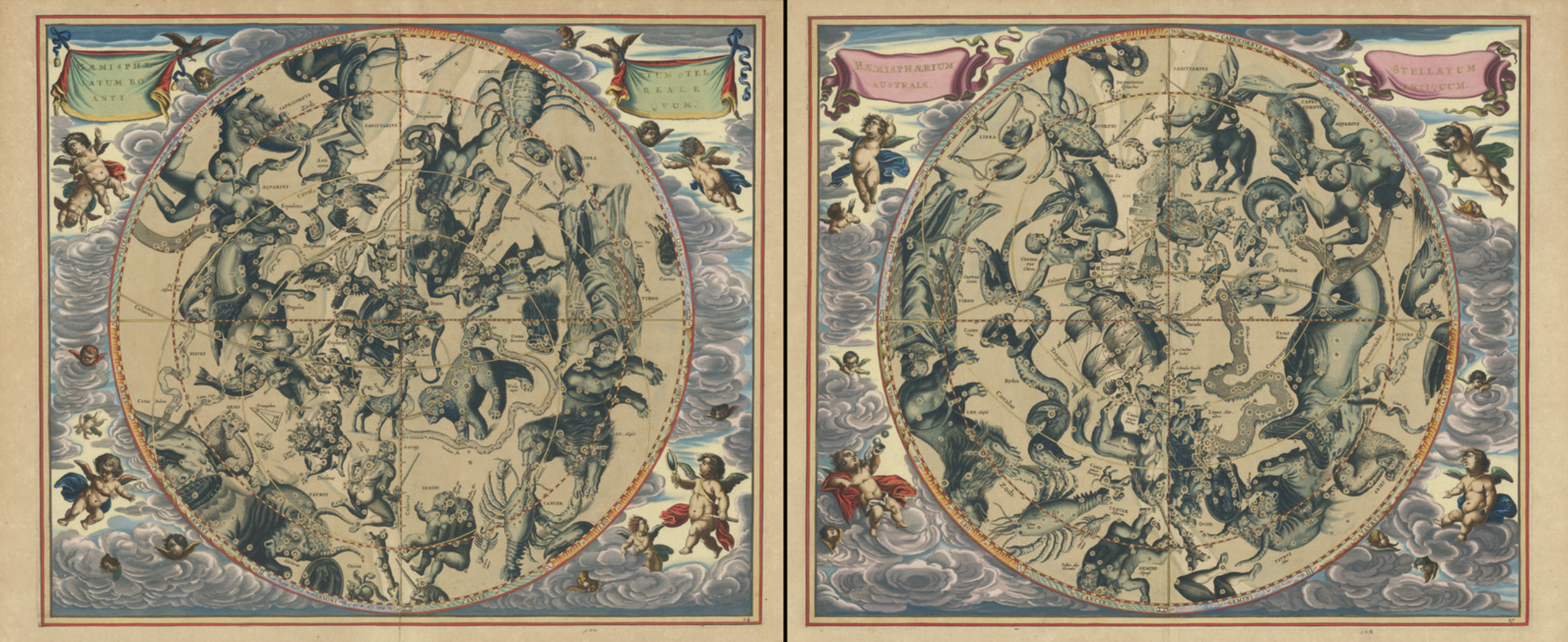 Exceptional original hand-coloring and heightening in gold. The best extant example of this pair.
Cellarius's fantastic depiction of the Northern and Southern Hemisphere sky illustrating the pagan constellations as visible from the earth. Here presented in two sheets, one showing the northern ("boreal") sky and one showing the southern ("austral") sky, these were published in the 1661 edition of Cellarius's tremendous Harmonia Macrocosmica . This is a remarkable original-color example that was executed by one of the greatest Dutch colorists of the 17th century.
The celestial maps provide a fantastic image of the stars in a planiform projection. In particular, the chart gives an up-to-date mapping of the constellations of the southern hemisphere, most notable for its inclusion of the most recently observed constellations, i.e., those that could only have been seen on voyages to the deep southern latitudes. It bears noting that many of the Southern Hemisphere constellations had become known to European scholars less than 70 years before this book was published, through the observations of Frederick de Houtman in 1595-97. These were published by the great Dutch astronomer and cartographer Petrus Plancius.
Visible on these two maps are the Southern Cross, Centaur, Hydra, Cancer, Leo, Gemini, Ursa Major, and the line of the zodiac.
Offered by Barry Lawrence Ruderman.
Earliest Representation of a Rare Books Auction
NICHOLLS (Sutton) [1668-1729]
The Compleat Auctioneer, circa 1700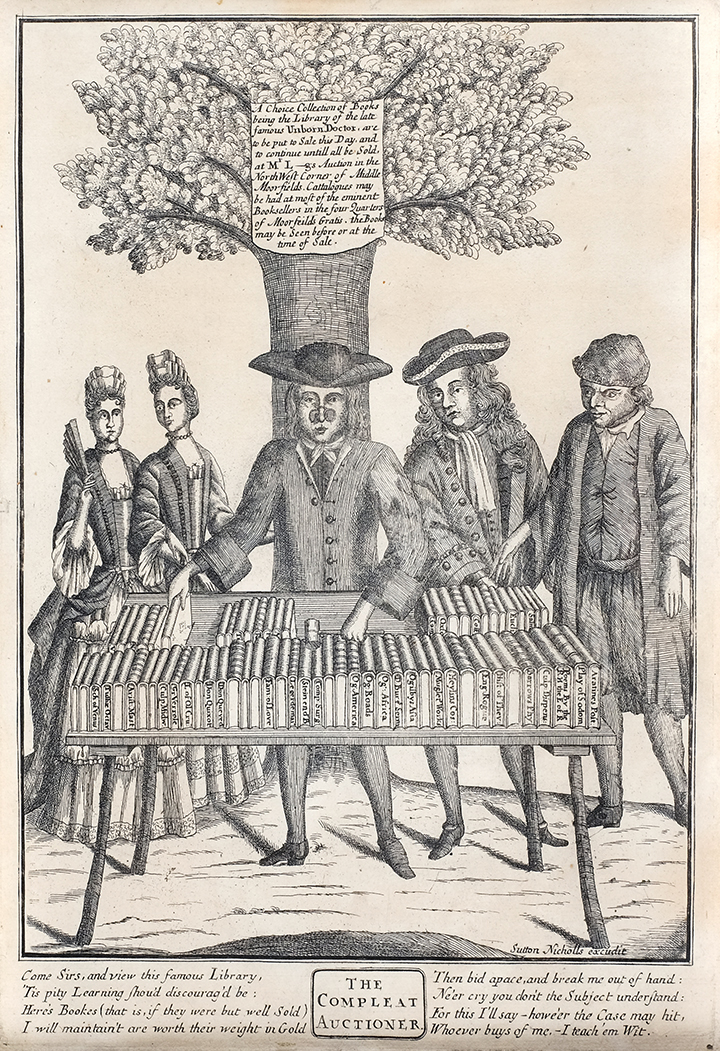 Very rare engraving of an auctioneer standing behind a stall of books, with two ladies and two gentlemen alongside, behind them a tree bearing the printed notice 'A Choice Collection of Books being the
Library of the late famous Unborn Doctor…" Measures 10-3/4 x 7-1/4 inches on larger sheet. Provenance: Martin Orskey Collection (Dominic Winter, June 2019)
Offered by Battledore, Ltd.
STAINDL, Balthasar. Ein künstlichs und nutz lichs Kochbüch. [Augspurg: Hainrich Stayner], 1544. Bound With: RYFF, Walther Hermann. New Kochbüch/ Für die Krancken. [Franckfurt am Meyn: Christian Egenolff, 1545.]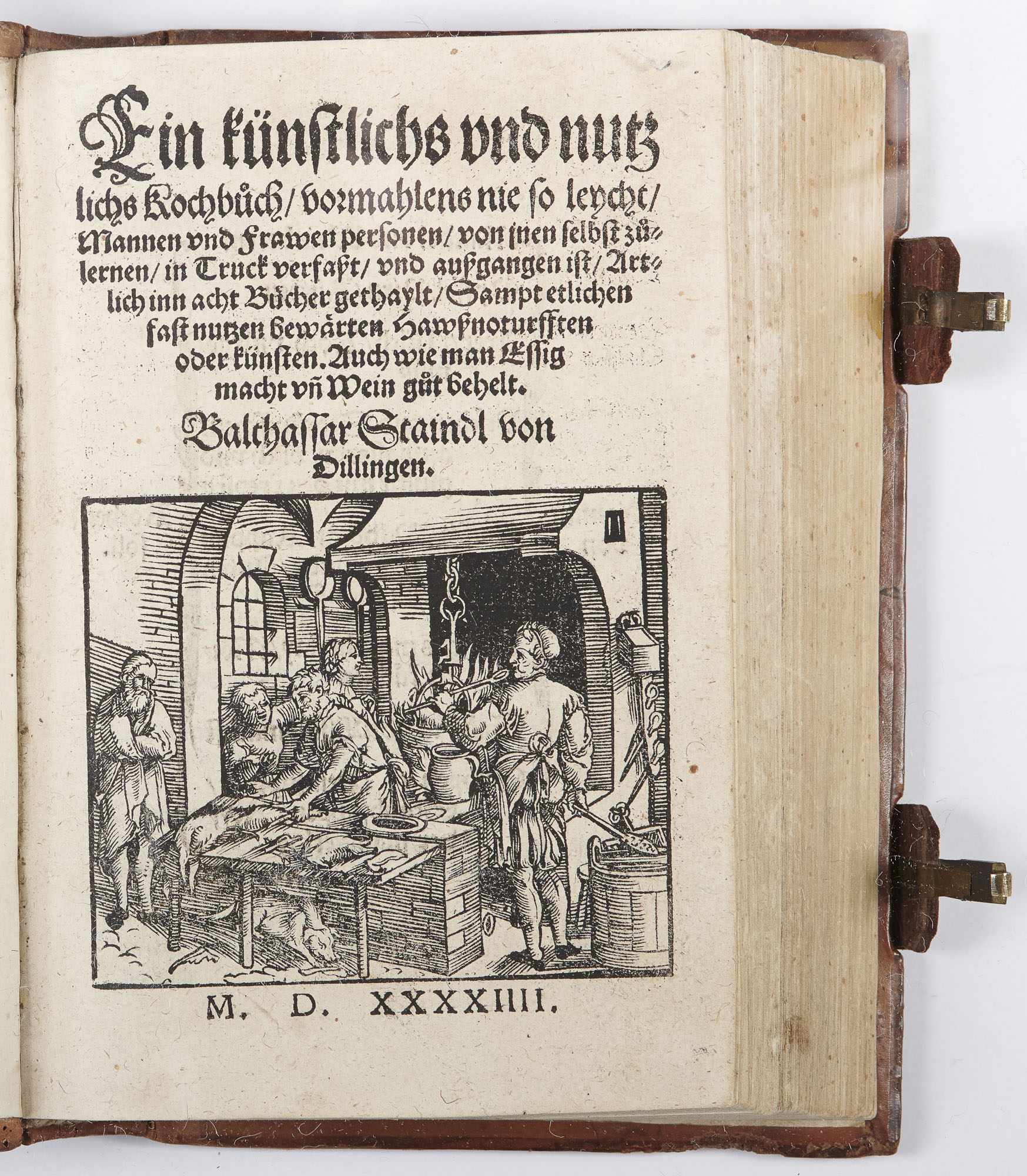 I. STAINDL: 4to. One large woodcut on the title page and one large woodcut in the text. 4 p.l., LII leaves. II. RYFF: 4to. Large woodcut on title page, title page printed in red and black ink, seven woodcuts in the text. 4 p.l., 152 ll. Blind-stamped calf over wooden boards; metal clasps; spine in four compartments with triple fillet around sides of each spine compartment; small hole to center of bottom spine compartment; "kock book" in manuscript to upper spine compartment; spine slightly faded; beveled boards; paneled blind roll-pattern to boards; biblical scenes blind stamped to outer panel; the titles of both books stamped in gilt (one title to each board) on the frame of the inner panel along with rosettes and turnips; inner panel decorated in various blind-stamped arches, leaves, and buds; small hole to calf of lower board with wooden board showing through.
Offered by Ben Kinmont, Bookseller.
Piper, Watty [a publisher's house name]
The Little Engine that Could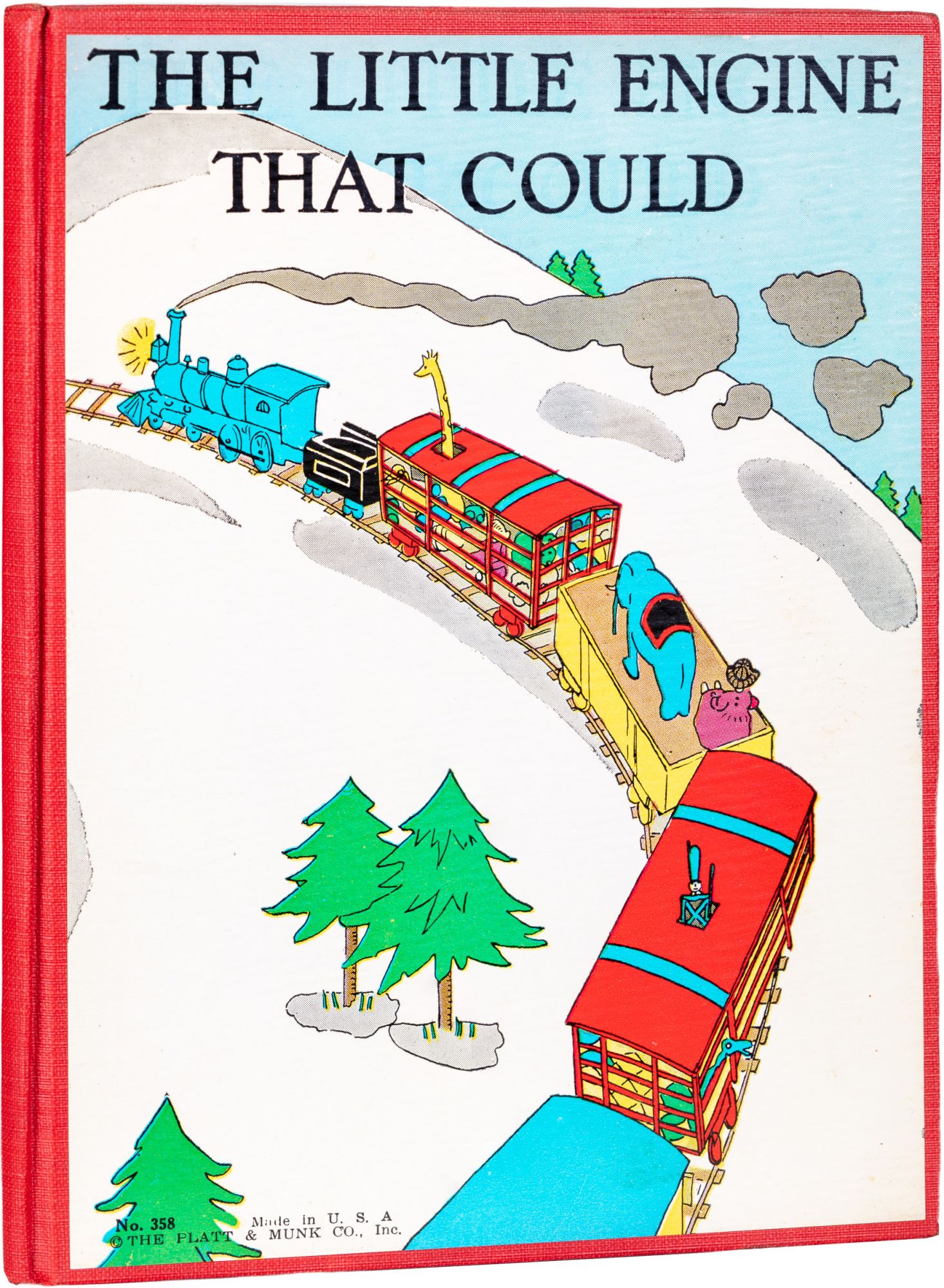 New York: Platt & Munk, 1930. First Edition. Hardcover. 1st edition, 1st printing of the dustjacket (a few copies with the same state of the sheets, boxed, without a dustjacket precede). Universally famous and legendarily rare, beyond the reach of even the most resourceful collectors. The basis for it was an evolving, oral folk tale, occasionally printed from 1902 (in a Swedish journal) and then with various titles including The Pony Engine (in Kindergarten Review, 1910, under the name Mary Jacobs, and in a 1916 journal under the name Mabel Bragg). The title was changed to The Little Engine That Could in 1920 (vol. 1 of My Book House by Olive Miller, a series sold door–to–door), but none of these author's took convincing credit for originating the fable, and though all these retellings have the train carrying toys and good food for children living on the other side of the mountain, the stories are all brief and thin. In our book it is finally developed into the expanded, codified account that's immortal. Original red cloth in fine condition, with a glossy, color cover illustration and 9 titles listed on the verso of the front free endpaper (this is state Aa, but the book was unchanged in its earliest reprintings, so you need the dustjacket to confirm that it is correct), tiny Robinson's Bookstore ticket to the rear pastedown, confirming our copy's sale at retail. Both book and jacket have the 2–line imprint starting with No. 358. This is the 1st printing dustjacket (state Aa) with blank flaps, the back panel with 4 titles all priced $1.00 each (4 titles is the critical point, not 6 or 9 which are all reprints and calling them 1st editions, even if moderated with qualifiers like early issue, or 2nd issue, or 2nd state, is a deception), tears, creases and chips including a large chip to the bottom of the blank rear flap), undeniably a shaky jacket, but it's still good, and fresh, and integral, and never repaired. Fine half morocco case. A notorious rarity by any measure when it's correct. It looks like only 1 copy in a genuine 1st printing jacket is listed in the auction record for the last 50 years, while 3 others listed were in the wrong jacket and miscataloged, and the copies offered online are also wrong, and they have descriptions that should embarrass their sellers, who would be better served being silent as a picture hanging on a wall, and the value of copies in the wrong jacket will have less permanence than a U. S. Indian treaty. fine / good.
Offered by Biblioctopus.
The Wonderful Wizard of Oz by L. Frank Baum, illustrated by W.W. Denslow.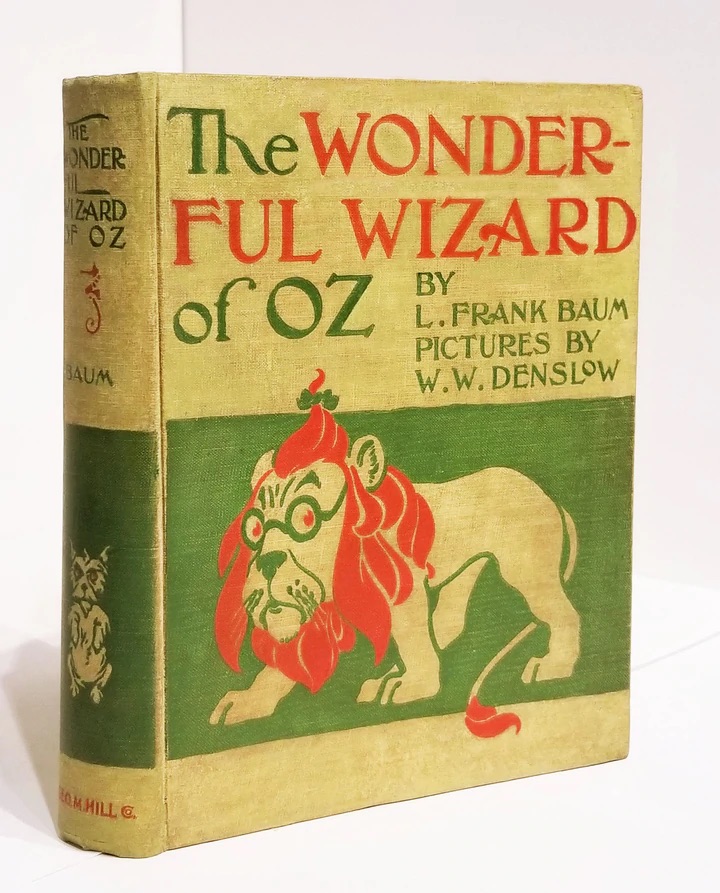 1900 first edition in remarkably fine, bright condition. The only copy we have ever seen where the light green cloth has not faded to tan – not even on the spine!
Offered by Books of Wonder.
"Hop-O-'My Thumb"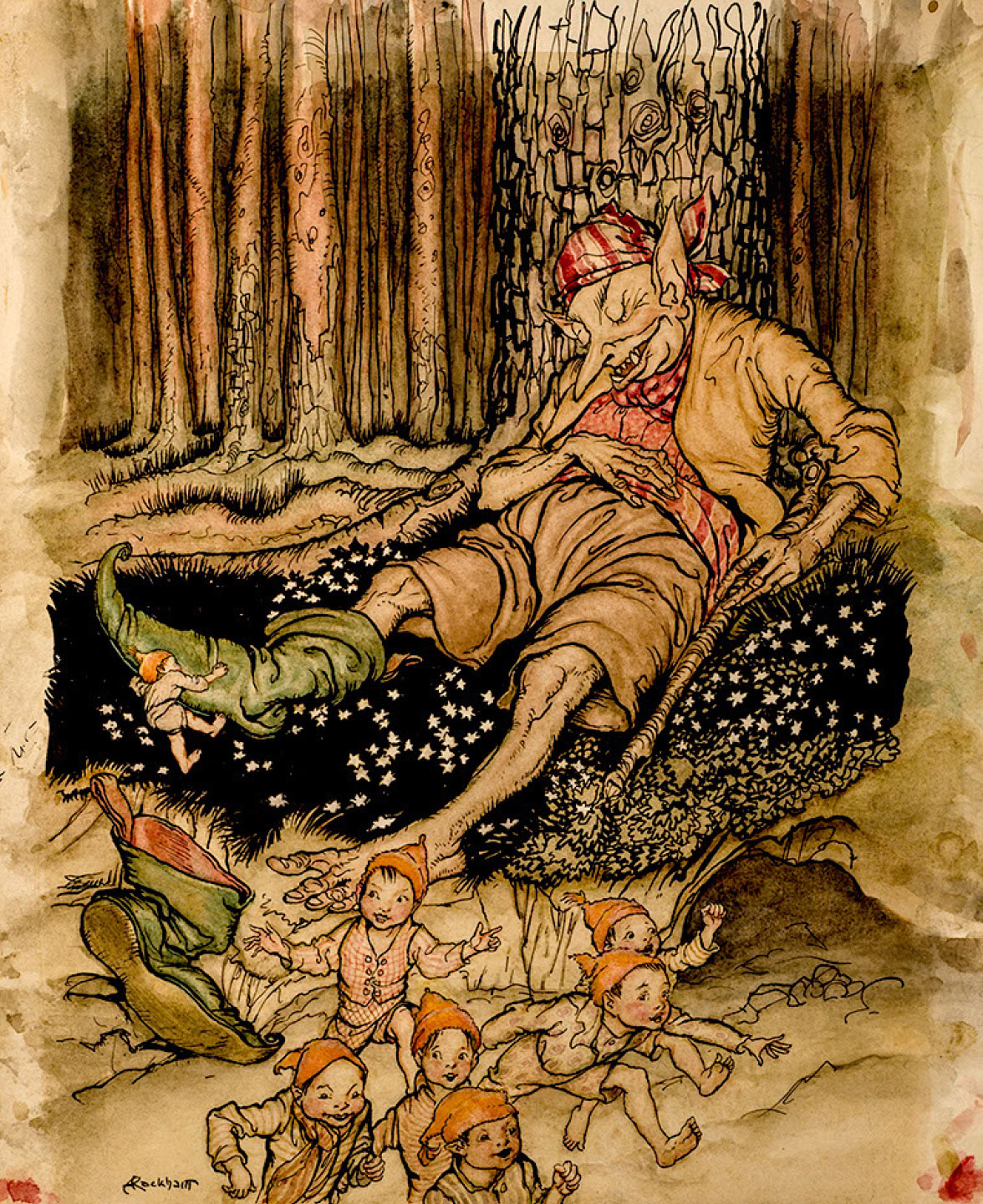 RACKHAM, Arthur, artist. "Hop-o'-my-thumb went up to the Ogre softly and pulled off his seven-league boots" [Sussex]. 1933. Original pen-and-ink and watercolor drawing, signed "A Rackham" on lower left-hand corner, for the color plate facing page 28 in the The Arthur Rackham Fairy Book. London: George G. Harrap & Co., Ltd. [1933]. Image size: 9 1/2 x 6 3/4 inches; 241 x 172 mm. (board size: 10 3/16 x 8 3/8 inches: 259 x 212 mm.). Matted, framed and glazed. "Seven-league boots are very tiresome to the person who wears them; so the Ogre now began to think of resting, and happened to sit down on the very rock where the poor children were hid. As he was so tired, and it was a very hot day, he fell asleep, and soon began to snore so loudly that the little fellows were terrified. When Hop-o'-my-thumb saw this he said to his brothers, "Courage, my lads! Never fear! You have nothing to do but to steal away and get home while the Ogre is fast asleep, and leave me to shift for myself."
The brothers now were very glad to do whatever he told them, and so they soon came to their father's house. In the meantime Hop-o'my-thumb went up to the Ogre softly, pulled off his seven-league boots very gently, and put them on his own legs: for though the boots were very large, yet, being fairy boots, they could make make themselves small enough to fit any leg they pleased." This illustration was also used on the front panel of the dust jacket on the first trade edition. This is an exceptional watercolor encapsulating everything that Rackham is known for.
Offered by David Brass Rare Books.

Teasdale, Sara
Sonnets to Duse [first edition, inscribed, with autograph material]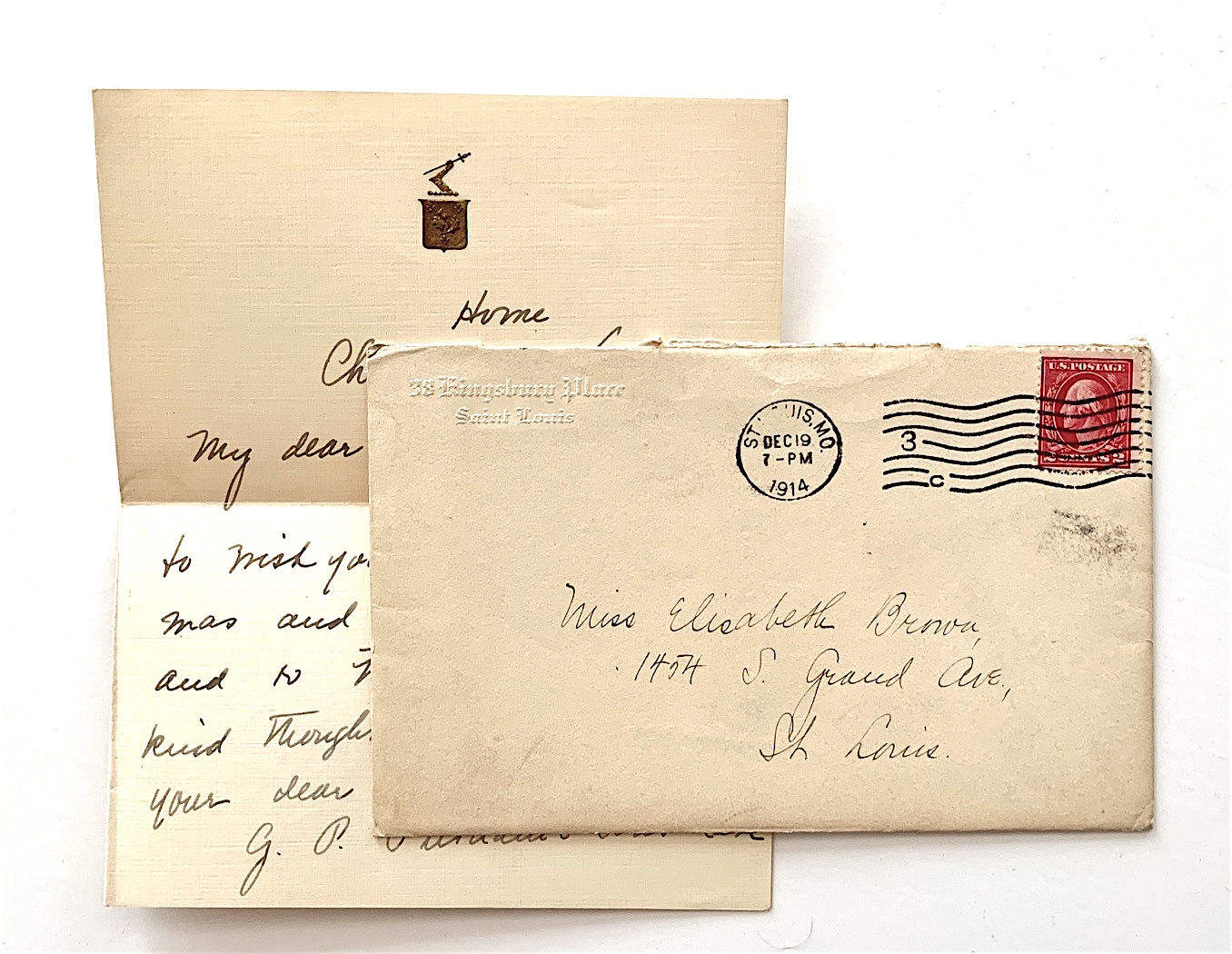 Boston: The Poet Lore Company, 1907. First edition. 44 pp. Original dark gray paper boards, printed labels on front board and spine. Slight rubbing to boards and corners, spine label darkened, near fine. Teasdale's first book, which was published at her parents' expense in an edition of one thousand copies. A collection of lyrics in which Teasdale projected her ideals of the perfect artist of beauty and femininity onto the great Italian actress Eleonora Duse, whom ironically Teasdale never saw perform. Inscribed by Teasdale on the front free endpaper and dated in 1907. Laid in is an Autograph Letter Signed by Teasdale to the same recipient, in original mailing envelope withTeasdale's embossed St. Louis return address, postmarked 1914, and an Autograph Postcard Signed as well. The relationship of Teasdale to the recipient, Miss Elizabeth Brown, is unclear, but quite warm.
Offered by Triolet Rare Books.
De Tocqueville, Alexis. Democracy in America. Part the First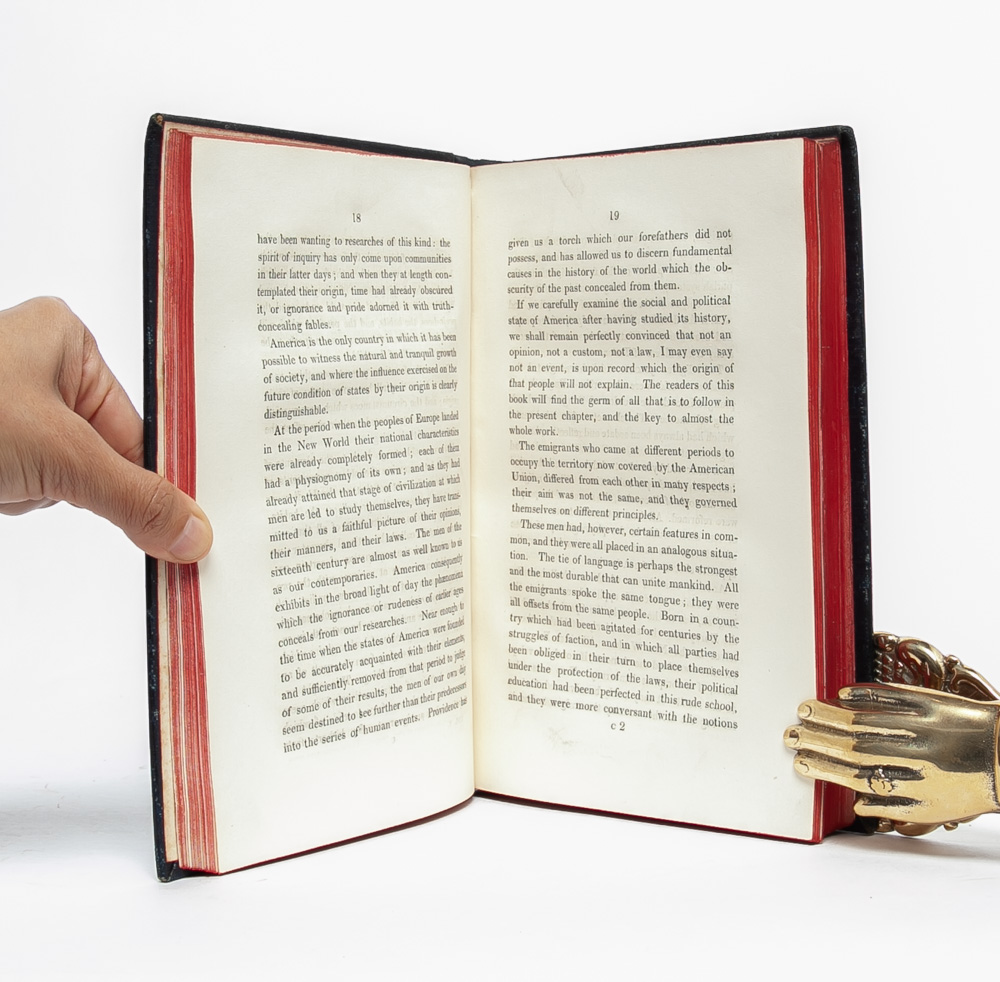 London: Saunders and Otley, 1835. First English language edition. Two octavo volumes,collating xliv, 333,[1 blank]; viii, 462: complete with the folding map to the front of volume 2and half titles in each volume. Bound full blue cloth with spines stamped in gilt, all edges stainedred. Chip to the cloth at the crown of volume 2. Folding map, outlined in color, has a long tearwith amateur tape repair on the verso, otherwise an excellent set internally. Bookplate of JosephKing on the front paste-down of each volume. Complete as issued, Part II of Democracy in America would not appear in first edition in the Paris or London imprints until 1840. De Tocqueville, a French aristocrat, visited America between 1831 and 1832, ostensibly to study the penal system, although his interest was considerably broader. It seems logical that France would look to America as a beacon of hope for a successful democracy. After France embraced the goals of equality and democracy in 1789 at the start of the French Revolution, it found itself first in a dictatorship under Napoleon and then in one constitutional monarchy after another during the years following. De Tocqueville's astute observation of several aspects of American society and culture provides an invaluable lens of foreign perspective on our young nation's political growth.
Democracy in America was an immediate and sustained success. Almost from the beginning it enjoyed the reputation of being the most acute and perceptive discussion of the political andsocial life of the United States ever published. Whether perceived as a textbook of American political institutions, an investigation of society and culture, a probing of the psyche of the United States, or a study of the actions of modern democratic society, the book has maintained its place high within the pantheon of political writing."No better study of a nation's institutions and culture than Tocqueville's Democracy in America has ever been written by a foreign observer; none perhaps as good" (The New York Times).
Offered by Whitmore Rare Books.