Browse the latest catalogs, newsletters, and e-lists of rare books, fine bindings, incunabula, print ephemera, and much more from the members of the ABAA below. (Also includes podcasts, blog posts, and other digital formats.)
*New* indicates any catalogs brought to our attention since mid-April 2022.
AARDVARK BOOKS/EZRA TISHMAN BOOK APPRAISALS
ANTIPODEAN BOOKS, MAPS, PRINTS
Featured item:
by James Baldwin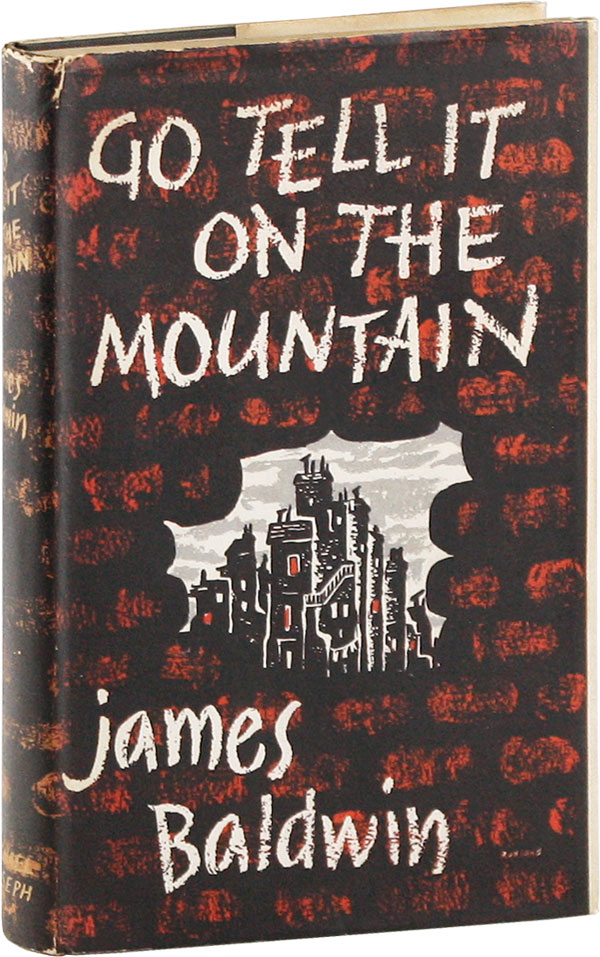 London: Michael Joseph, 1954. First Edition. First Impression. Octavo (21cm); black cloth, with titles stamped in gilt on spine; dustjacket; [10],11-256pp. Hint of sunning to spine ends, with a tiny London booksellers ticket to lower front pastedown, else a fresh, very Near Fine copy. Dustjacket is unclipped (priced 12s.6d. net), gently spine-sunned, with some light wear and a few tiny tears at crown and upper corners, and some mild dust-soil on rear panel; Near Fine.
Baldwin's semi-autobiographical debut novel, which examines the role of the Christian Church in the lives of African-Americans, both as a source of repression and moral hypocrisy and as a source of inspiration and community. Through the character of fourteen-year-old John Grimes, Baldwin relates his experiences growing up in Harlem, attending the Temple of the Fire Baptized. "Flashbacks tell of the early life of his father and others in the South. A psychologically intense study of minority Christians bitterly trapped in the world of non-Negro Christians" (Coan, America In Fiction, p.178). An uncommonly well-preserved copy of Baldwin's most enduring work of fiction.
Offered by Lorne Bair Rare Books and found in "Catalog 37."
W. C. BAKER RARE BOOKS & EPHEMERA
Sixty Books About Love -- Just in time for Valentine's Day, an offering of books about true and not-so-true love and its consequences, together with paeans and complaints to those beloved, and advice to aspiring lovers.
Featured item:
Collection of Original Paris Commune Lithographs.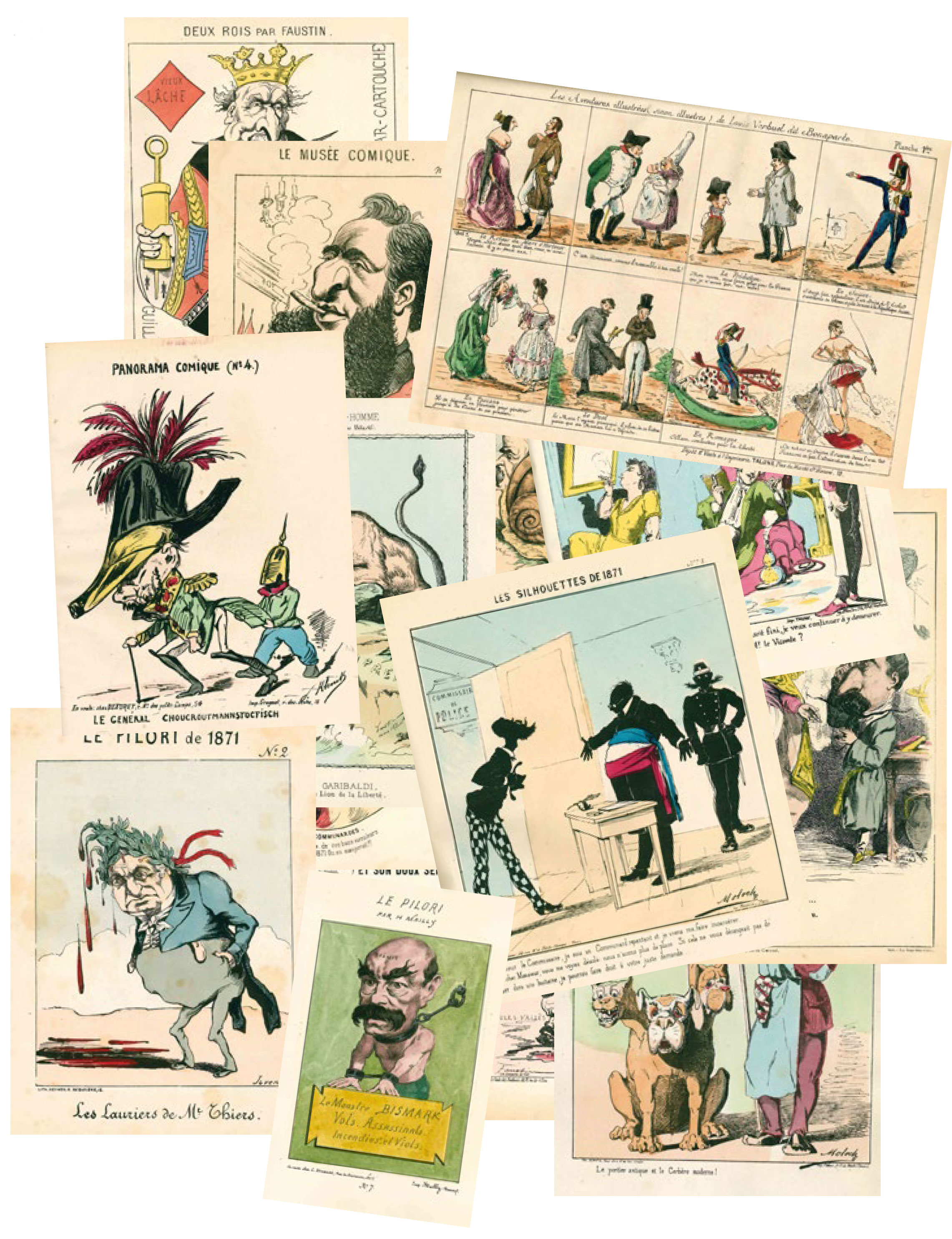 Collection comprising a total of twenty suites of lithographs published during or shortly after the Siege of Paris and the Paris Commune. Paris: various publishers, 1870–1871. Twenty volumes, ranging in size from 2 to 40 lithographs, some with decorative title pages, for a total of 238 plates. Various sizes, mostly quartos to small folios. Two suites housed in original publisher's boards, loose as issued, the rest bound in more recent portfolios by a private collector. Scattered toning and light handling wear; minor foxing; occasional tiny private ex libris stamps; overall very good.
A striking group of lithographs, mainly satirical political cartoons and caricatures related to important figures and events from the time of the Paris Siege and the Commune. The depictions include Prussians, military figures, politicians, Napoleon Bonaparte and Marguerite Bellanger, Otto von Bismarck, Louis-Jules Trochu, Marie Joseph Louis Adolphe Thiers, Jules Favre, Ernest Picard, Giuseppe Garibaldi, Victor Henri Rochefort, Félix Dupanloup, Victor Hugo, Jules Grévy, Charles Floquet, Felix Pyat, General Vinoy, General Chanzy, Emile Ollivier, Baron Haussmann, Louis Veuillot, Helmuth von Moltke, and others. The artists include known illustrators and caricaturists of the period, such as André Belloguet, Victor Coindre, Henri Demare, Faustin (Faustin Betbeder), Napoléon Charles Louis de Frondat, Paul Klenck, Hippolyte Mailly, and Moloch.
Offered together with a suite of eight mounted albumen prints by Louis Lafon depicting Parisian ruins after the violent outbreaks of 1871, including Grenier d'abondance, Magasins réunis, Porte Saint-Martin, Gare d'Auteuil, and others. After the fall of the Second Empire, censorship in France was relaxed, which helped lead to an outpouring in the production of satirical drawings. They were circulated in the press, collected in albums, or even hung up in shop windows. This flourishing of satire combined with the incredible drama and violence of the Paris Commune resulted in a large number of politically charged cartoons and caricatures being created around the events and central figures of the period. An extensive collection of satirical cartoons, of crucial importance for the visual culture of 1870/71. Many of the volumes are not listed in KVK and OCLC; others have no copies located in North American institutions.
Offered by Bernett Penka Rare Books and featured in their recent catalog "New York Book Fair 2022 - General."
Featured item:

BRYAN, Alfred and Herman Paley

[Sheet Music]: She's Good Enough to be Your Baby's Mother, and She's Good Enough To Vote With You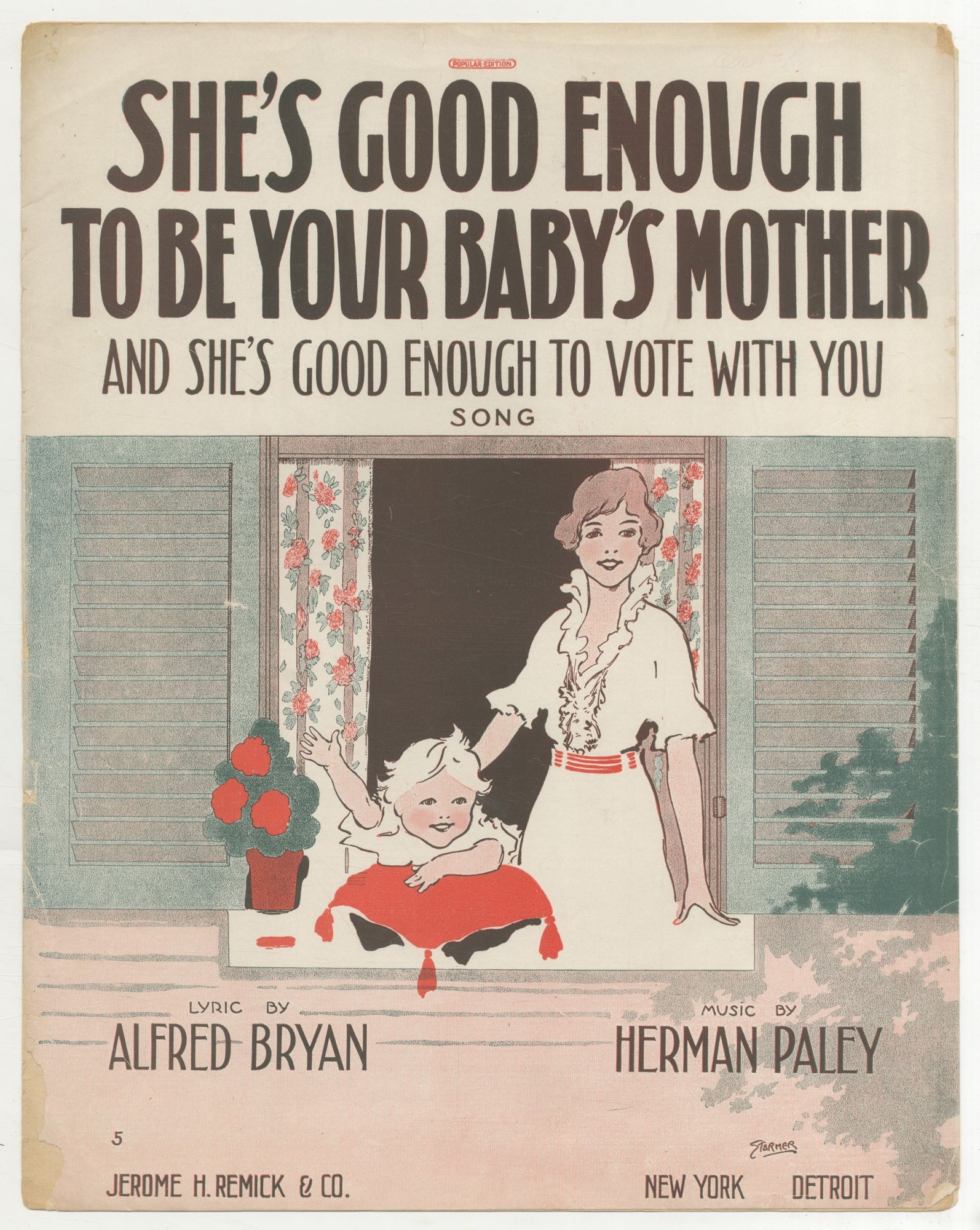 New York: Jerome H. Remick & Co., 1916.
Hardcover. First edition. Lyric by Alfred Bryan. Music by Herman Paley. Quarto. [6]pp. Wrappers separated at spine and the cover with a bit of loss at the corners, interior leaf lightly toned, good only. *OCLC* locates 8 copies.
Offered by Between the Covers Rare Books and found in "E-catalog 129."
"A Short list of auction and bookseller catalogues on historic and designer bindings." A PDF is available upon request from robin.bledsoe1@verizon.net...
Featured item:
Walton, Isaak [1593-1683] & Cotton, Charles (1630-1687)
The Complete Angler, Or Contemplative Man's Recreation; Being A Discourse On Rivers, Fish-Ponds, Fish, And Fishing. In Two Parts: The First written by Mr. Izaak Walton, The Second by Charles Cotton, Esq; With The Lives Of The Authors, And Notes, Historical, Critical, and Explanatory. By Sir John Hawkins, Knt. The Third Edition. Two Parts in One [The Compleat Angler]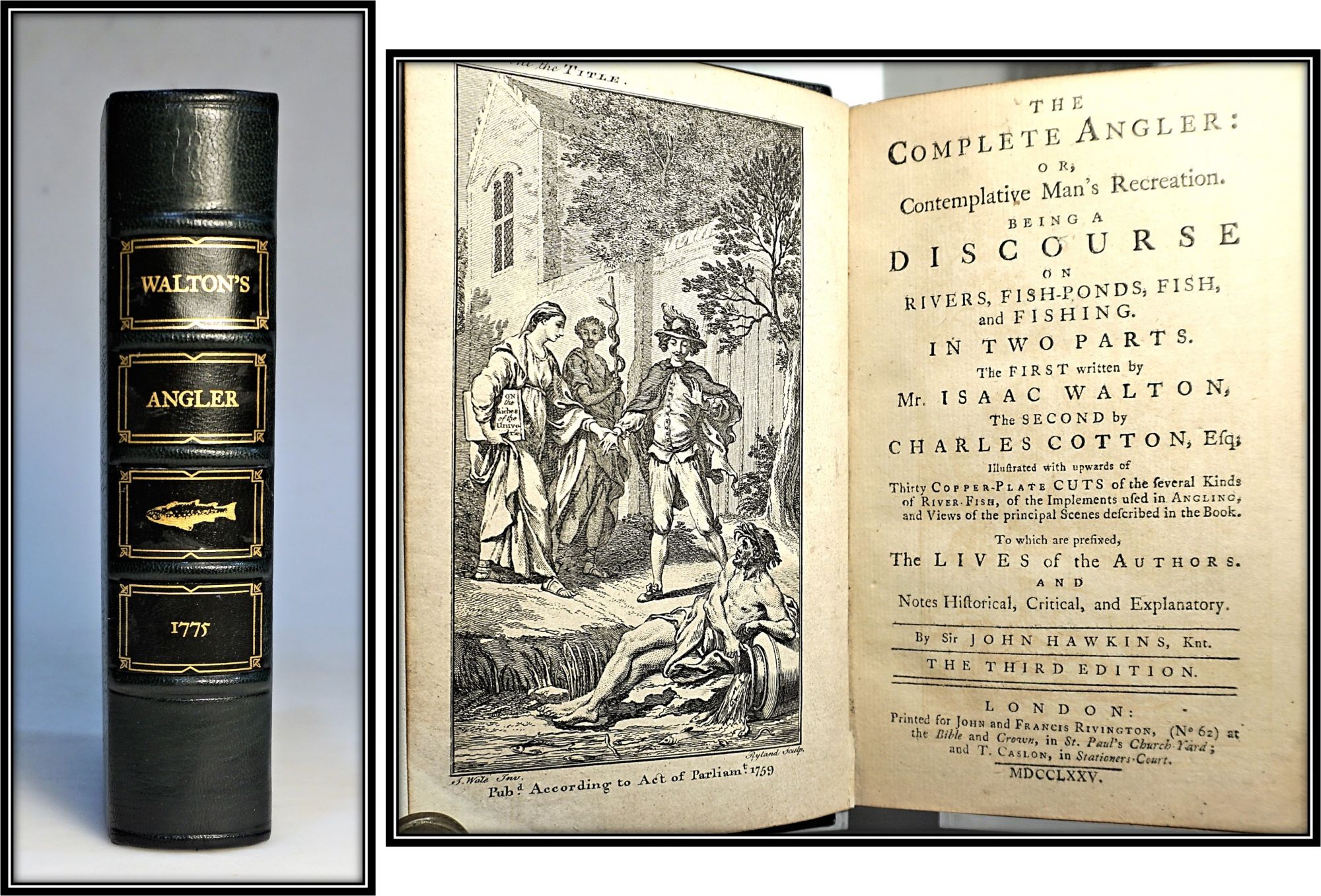 London: Printed for John, Francis, and Charles Rivington, 1775. Hardcover.

Izaak Walton wrote one of the most famous books in the English language, The Compleat Angler; or, the Contemplative Man's Recreation. The first edition appeared in 1653, and it was reissued frequently with additional material. The book not only describes the technique of angling, but it draws a picture of peace and simple virtue that was Walton's protest against the civil wars taking place at the time.

Rebound by James Tapley of Sarasota, Florida in dark blue full calf in an 18th century-style, with five raised spine bands. Spine labels of gilt on black goat. Edges trimmed and gilted. Endpages renewed. The bindings are tight and square. Text clean, moderate age-toning. 12mo; 7 inches tall; lxxviii, (1), 303; (1) 128, [8. index]

Illustrated with 15 engravings: with 2 copper-plate frontispieces 14 full-page engraved plates by Ryland after drawings by Wale and text-illustrations depicting several kinds of river-fish and the implements used in angling and views of the Principal Scenes described in the book as in the earlier Hawkins editions.

Two Parts in One. The Hawkins - Third Edition; Printed at the Bible and Crown in St. Paul's Church Yard and T. Calson in Stationer's Court.

Ref: Oliver 12; Gingrich, 27ff; Coigney 12; Westwood & Satchell, 343.

Fine / No Dust Jacket As Issued.
Offered by Blind Horse Books and found in "More Than Meets the Eye!"
Featured item:
Catharine Susan's Little Holiday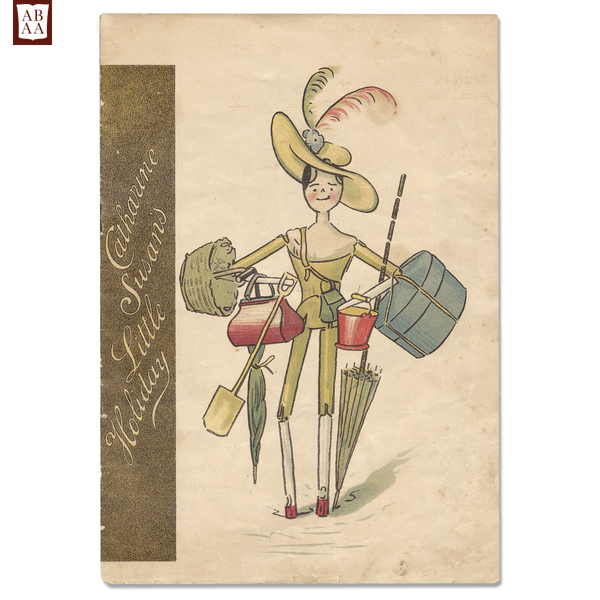 Unrecorded. If John Held and Dare Wright collaborated to produce a children's book, this might have been the result. Catharine Susan is a jointed doll in a disjointed narrative. A schoolgirl, she gets to go on vacation. After a dream of a pillow-fight with other doll girls, she finds herself shipwrecked with a young soldier boy doll.
As the two dolls picnic, a completely-benign green frog startles Susan causing her to swoon from the sheer amphibious horror. Catching her limp form, and breaking her fall, her gallant boy toy simultaneously (and gallantly) takes his rapier and stabs the defenseless frog through its heart. (Listen to "It's not Easy Being Green (Kermit's Song)" to better understand this frog's point-of-view.) This violent act bizarrely segues into Susan getting ready for a baseball game and of then encountering an "ugly farmer" who grows kind. Susan then goes home and writes about her holiday journey.
Watt & Shand of Lancaster and Columbia, Pennsylvania published this oddity. They wanted the local children to visit their Fancy Goods Carnival and to buy their wood and iron toys and their books: "Our Book Counters will be one of the busy corners of the store. Picture books, Story Books ... [etc.]" They also advertised their Doll Family. From plain to elegant, from 25 cents to $5.00 each.
Description: [Watt & Shand]. Catharine Susan's Little Holiday.
[Likely Lancaster, Pennsylvania. ca. 1910s]. [12] leaves. Self-titled wraps. Moderate soil and small flaws to covers; overall, very good.
Offered by Ian Brabner, Rare Americana and found in "Twenty on the Tues."
Featured item:
LES ROBES DE PAUL POIRET RACONTÉES PAR PAUL IRIBE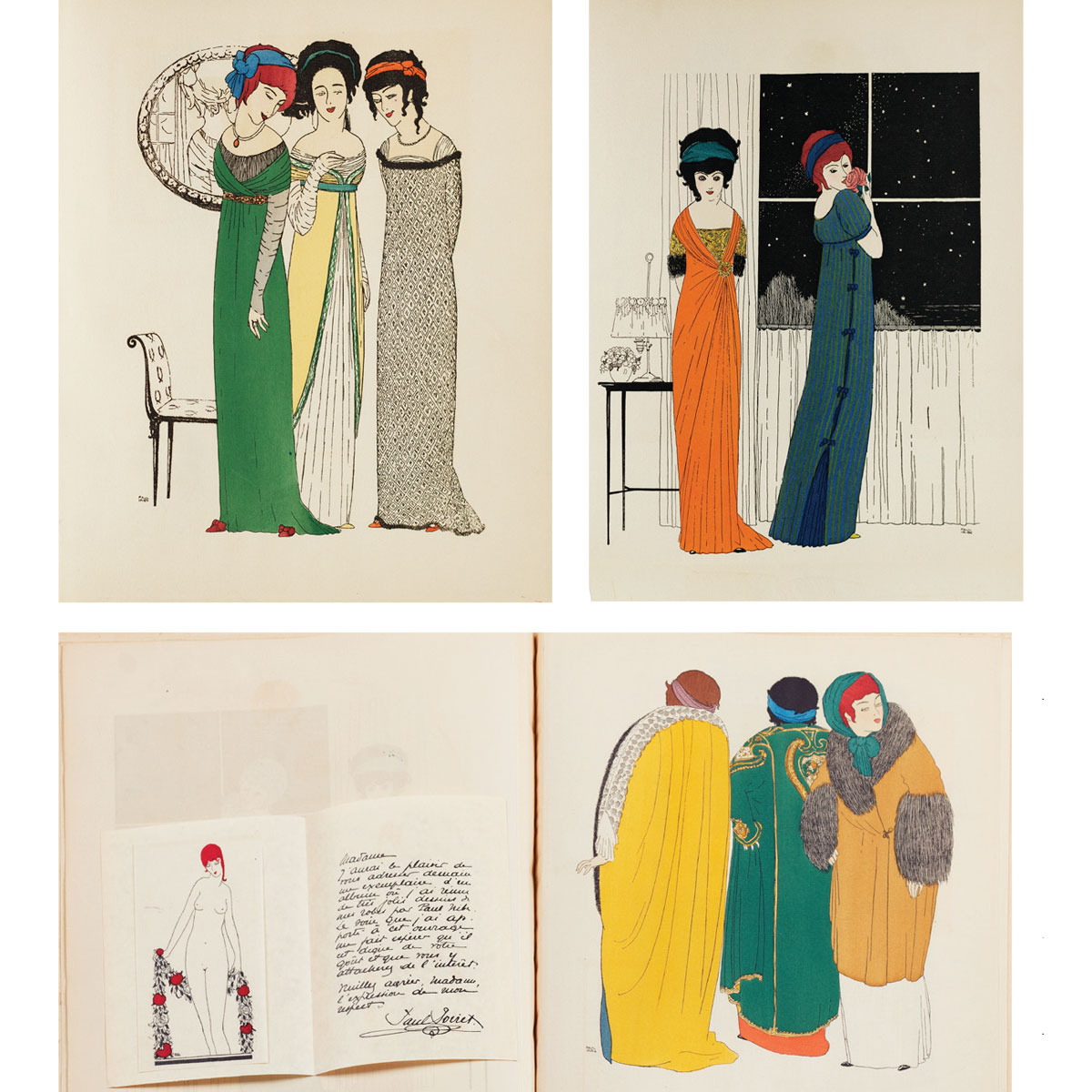 Paris: La Société Générale d'Impression (1908). Folio, publisher's boards with printed garland swag surrounding lettering in red. Moderate rubbing to boards; plates clean and bright. In handsome custom dark red crushed morocco-backed boards and black board slipcase. Small folding card with printed presentation by Poiret and tipped-in color illustration of a nude. One of 250 copies on Holland paper, this one out-of-series, with ten vivid pochoir plates, two of which are folded, of Poiret's fashions by Paul Iribe.
Paul Poiret was the most celebrated couturier from pre-World War I years until the late1920s. Long before Coco Chanel, he created supple clothes which freed women from their corsets (while often hobbling them with narrow hem lines). His interest in theatrical costume and Orientalism defined his work. A famous publicity album: according to Pages d'Or de l'Édition Publicitaire, it was the first of its genre. Paul Iribe, an artist, designer and illustrator, was the perfect interpreter of Poiret's clothes. In his studio he designed furniture, textiles and wallpaper and later designed sets and costumes for Cecil B. DeMille's films. His work here started a new style of fashion illustration which inspired Georges Lepape, Charles Martin, Georges Lepape, and André Marty.
This album is included in the 2019-2020 Metropolitan Museum exhibition "In Pursuit of Fashion: The Sandy Schreier Collection": "The printed page became a nascent space for Poiret to pursue the integrated whole of his artistic vision."
Offered by Marilyn Braiterman and found in "Catalogue 37."
Featured item:
James Baldwin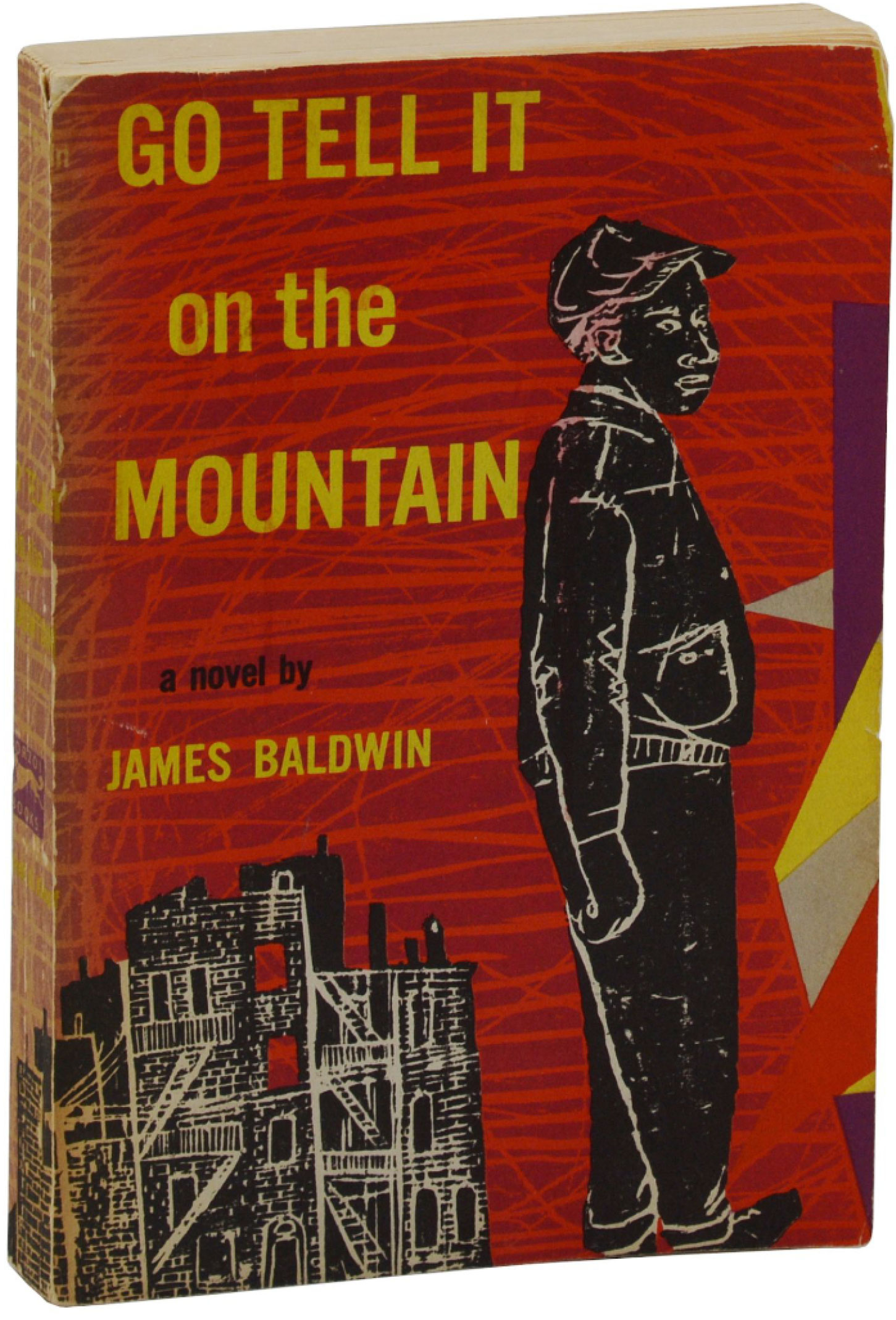 New York: Alfred A. Knopf, 1953. Advance reading copy, issued to reviewers before publication of the first edition, with alternate artwork not used in the first edition. [x], 303, [1] pp. Perfectbound in publisher's illustrated wraps. Very Good, dampstain to front wrap; spine sunned, creased, and rubbed along edges. Slight curling to front wrap, wear at corners. Small marginal tidemark to upper margins of prelims. A rare prepublication copy of the celebrated African American author's first book.
Offered by Burnside Rare Books and found in "African Americana."
ANDREW CAHAN, BOOKSELLER, LTD.
DE SIMONE COMPANY, BOOKSELLERS
Catalog #88, Medical Books from the Fifteenth to the Twentieth Centuries -- This catalog is print-only. To request a copy, contact MedBks@aol.com...
Featured item:
Emerald City: The Collected Works by Jennifer Egan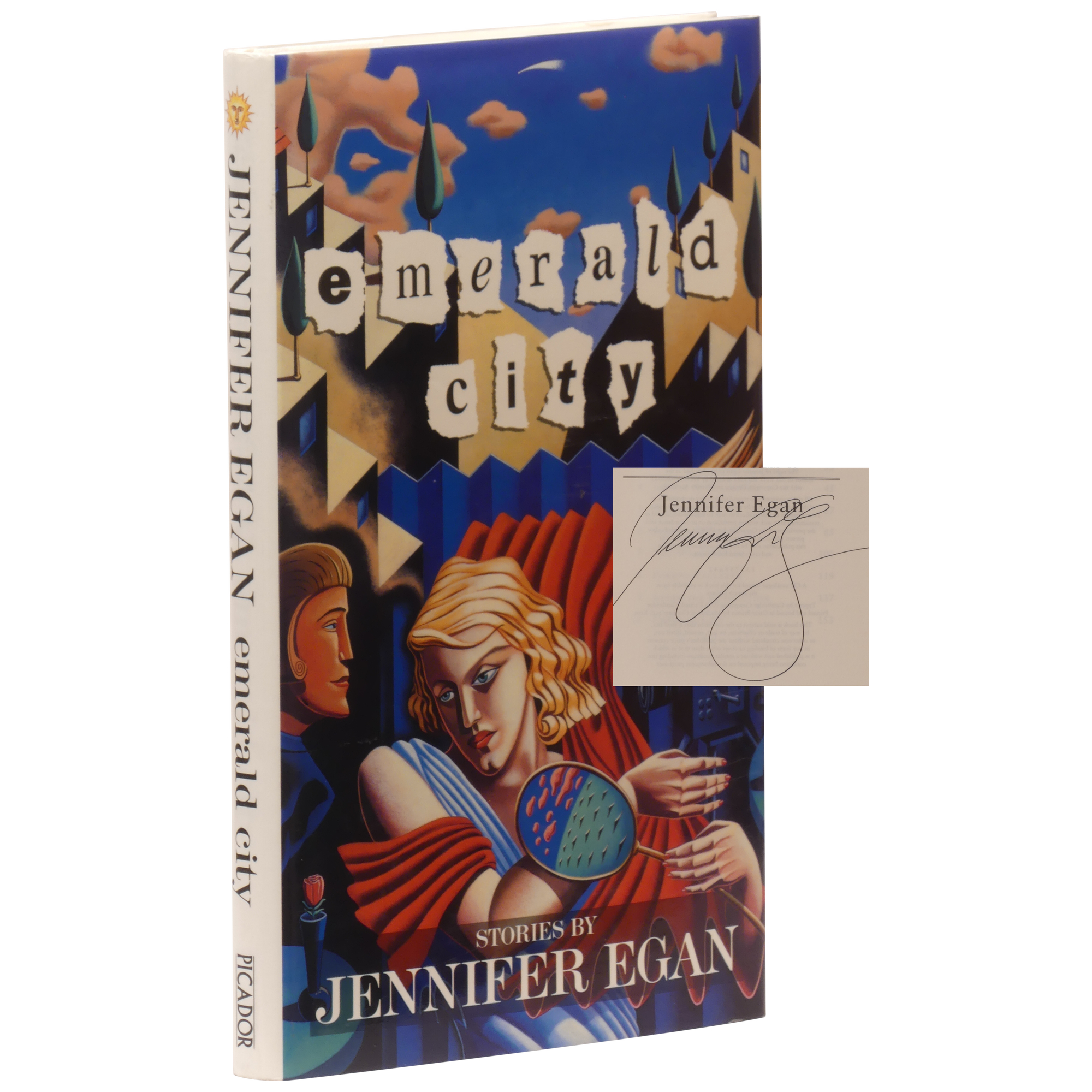 Notes: The Pulitzer Prize-winning author's first book, a collection of short stories published in the UK several years before it appeared in the US. An uncommon debut book.

Your cataloguer can't decide if the subtitle reflects brio—writers' "collected works" usually cap careers, not start them—or modesty, with Egan's collected works just one slim volume of stories.
Edition + Condition: First edition (first printing, with a numberline ending in 1). A fine copy in a fine dust jacket. Signed by the author on the title page.
Publication: London: Picador, 1993.
Offered by Downtown Brown Books and found in "List 69: Modern Firsts, including Science Fiction."
Comic collection of William "Gatz" Hjortsberg -- Details available upon request from info@elkriverbooks.com...
Featured item: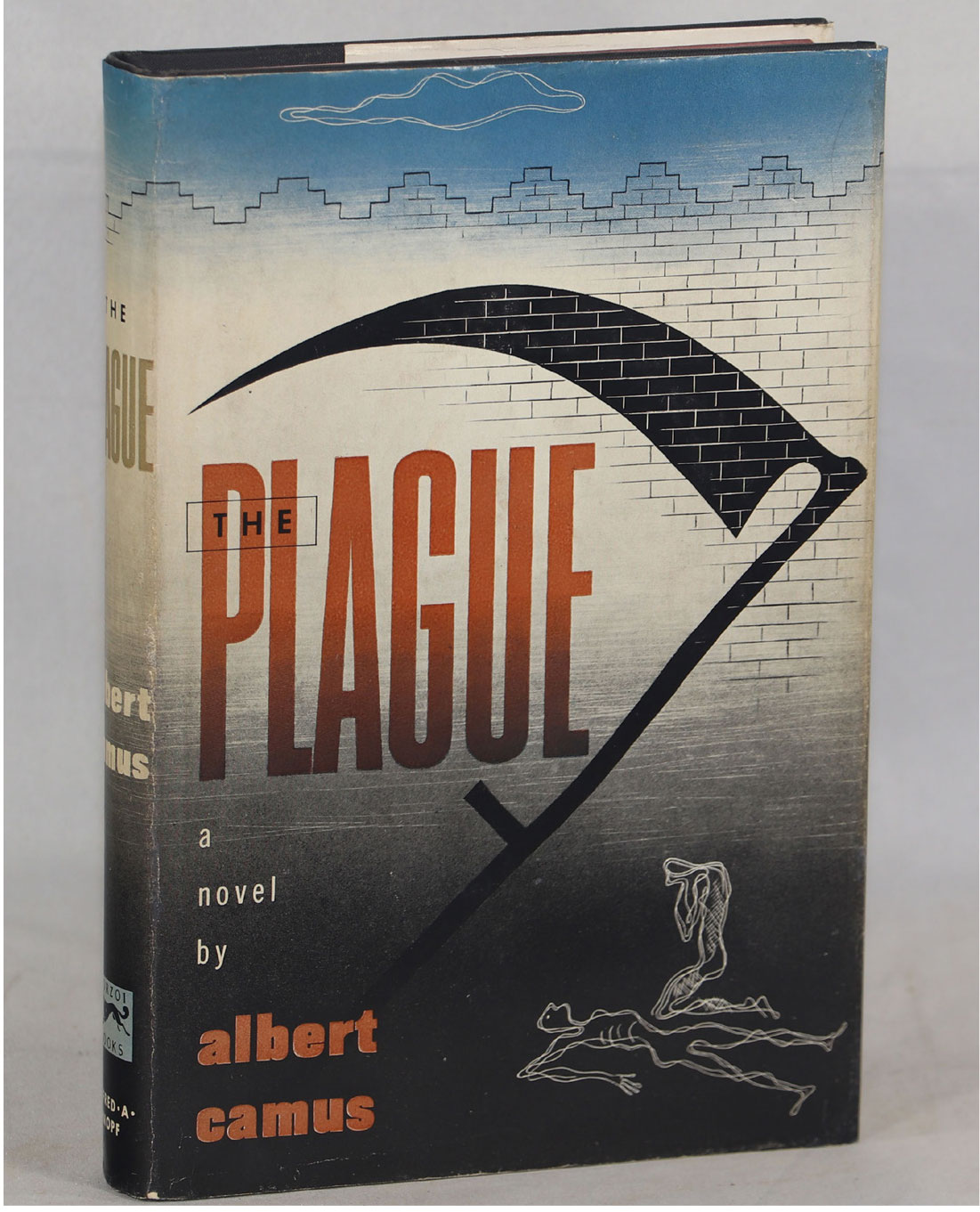 New York: Alfred A. Knopf, 1948. First American edition. 8vo. [5], v, [3], 3-278, [2] pp. Black cloth with the Grimm Reaper stamped in blind on the front board, gold lettering on the spine; purple topstain. Price of $3.00 on the front flap of the jacket. With a few in-text designs. Translated from the French by Stuart Gilbert. Very near Fine in Near Fine dust jacket. Jacket has been minutely touched up at the very tip of the spine panel and at three of the corners of the folds. The story of a cordon sanitaire in an Algerian city, Camus' novel focuses on characters in lockdown as an epidemic rages in their town. Unsurprisingly, the book experienced a resurgence in its popularity during the recent pandemic. A sharp copy.
Offered by Evening Star Books and found in "May 2002: New Arrivals."
RODGER FRIEDMAN RARE BOOK STUDIO
OCCASIONAL LIST 22: A Miscellany: Original Art Work; Small Archive of Major English Watercolourist; Interesting Theatrical Pieces; Manuscript Material, Etc., Etc. -- available on request from fgrare@fgrarebooks.com...
Has the following lists available: California, Texas, Kansas, Missouri, Minnesota, Iowa, Nebraska, Oregon, Louisiana, Colorado, Ohio and New York. Will email to interested parties. Contact info@ginsbook.com to request...
THOMAS A. GOLDWASSER RARE BOOKS
DAVID A. HAMILTON AMERICANA BOOKS
JONATHAN A. HILL, BOOKSELLER, INC.
Sharon Dolin Center for the Book Arts Poetry Chapbook Archive -- A detailed list is available upon request from james@jamesjaffe.com
Jonathan Williams / The Jargon Society: a comprehensive selection of their publications -- The 233-page illustrated catalogue offers over 550 items, including books, manuscripts, letters, photographs and ephemera. The catalogue is available upon request from james@jamesjaffe.com -- There is no digital version of this catalogue.
Featured item: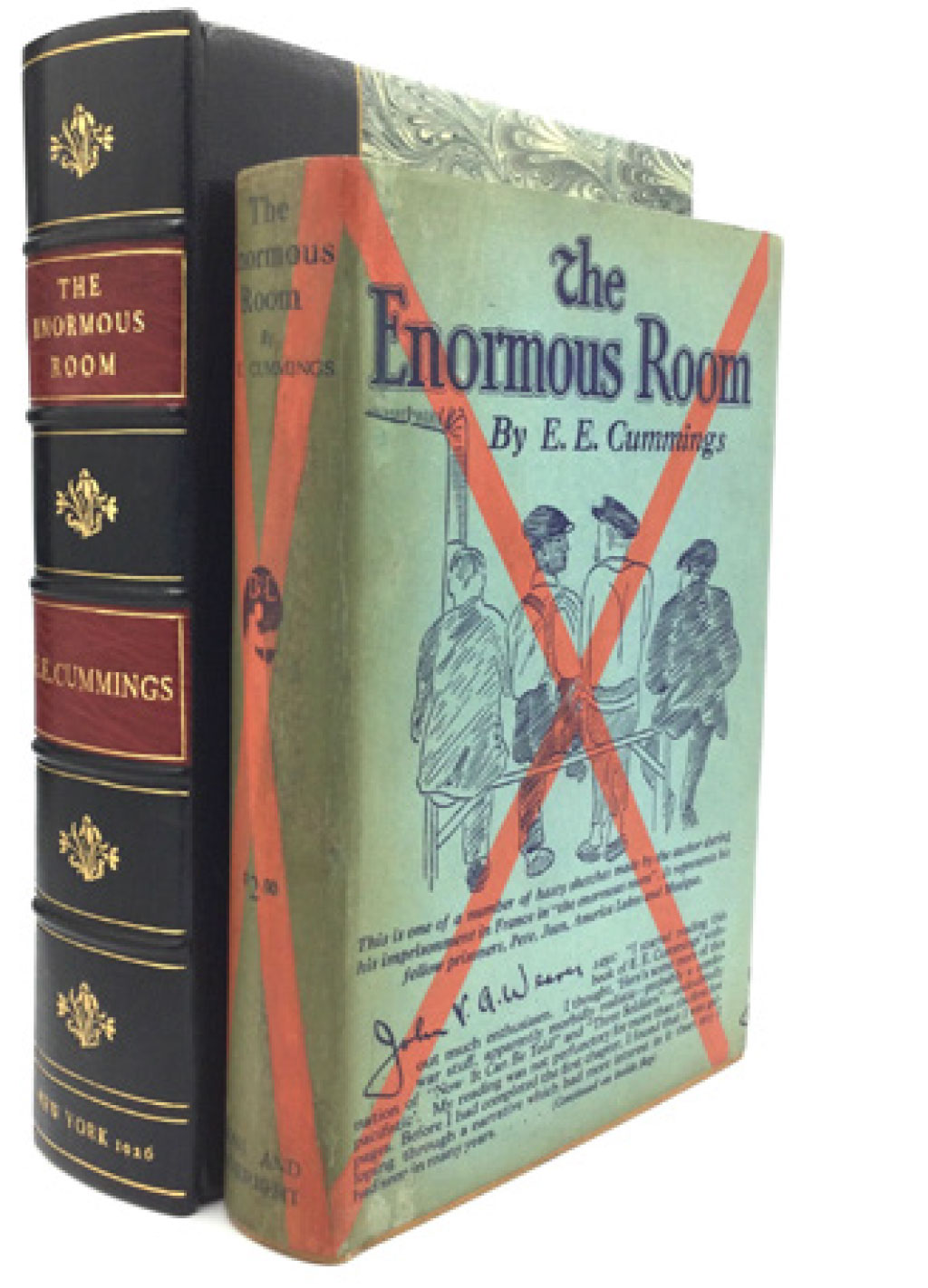 Offered en bloc by johnson rare books & archives on behalf of the family of Roger Gozdecki.
JOHN W. KNOTT, JR., BOOKSELLER
Catalog #74: 100 Rare Books -- with an emphasis on history and military affairs. Please request from mail@kubikbooks.com...
MICHAEL LAIRD RARE BOOKS & MANUSCRIPTS
DAVID M. LESSER, FINE ANTIQUARIAN BOOKS
LIBER ANTIQUUS, EARLY PRINTED BOOKS & MANUSCRIPTS
Featured item:

GLANCY, Diane
Cache Fourche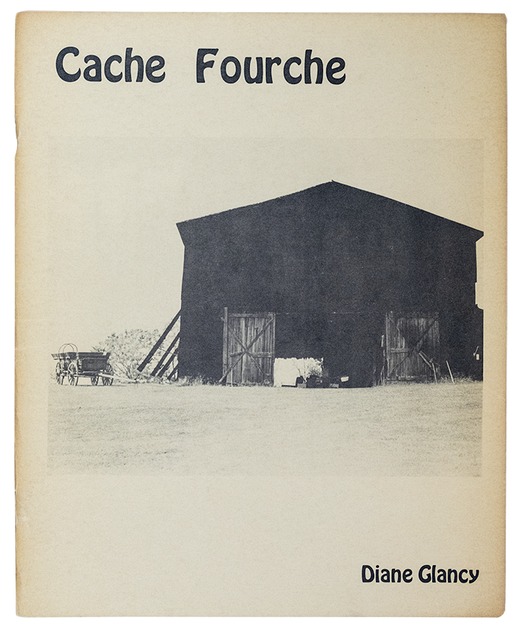 (Tulsa), (Hadassah Press), (1981). An early book, a collection of poetry, by this author of Cherokee descent. Glancy's first several publications were chapbooks that she published herself, first as the Hadassah Press, and then as the MyrtleWood Press: Hadassah is the Hebrew word for Myrtle, the author's grandmother's name. This title was published the same year as Drystalks of the Moon and Clearing Ghostlaw's Field: only one book, Traveling On, preceded, in 1980. OCLC locates only one copy of Cache Fourche, and this is the first time we have encountered this title. Trace spotting to covers; a very near fine copy in stapled wrappers. Extremely scarce, both in the market and in library holdings.
Offered by Ken Lopez Bookseller and found in "E-list 190."
J. & J. LUBRANO MUSIC ANTIQUARIANS
STUART LUTZ HISTORIC DOCUMENTS
MAIN STREET FINE BOOKS & MANUSCRIPTS
Featured item: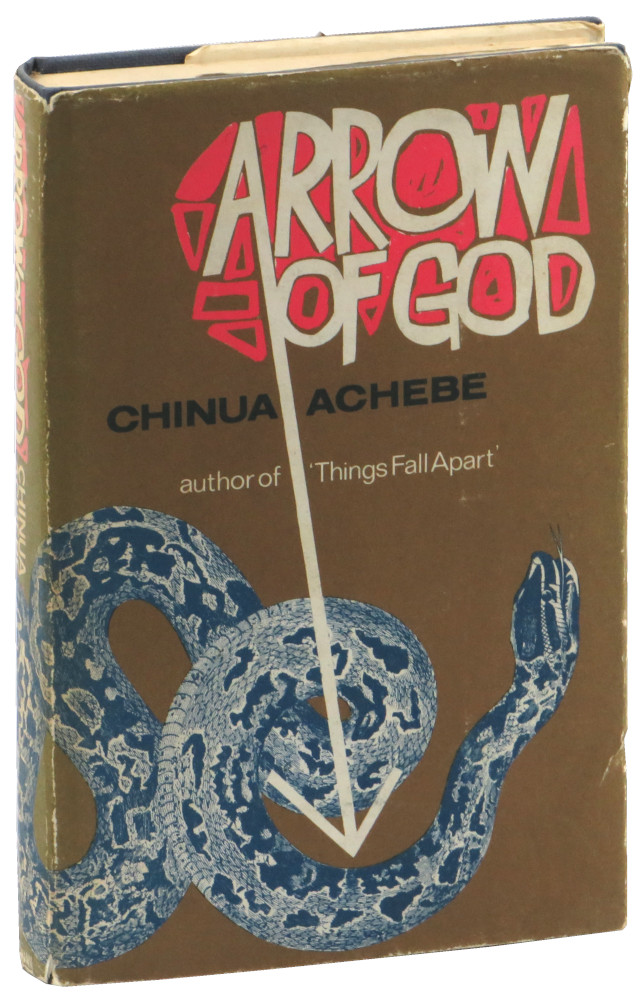 London: Heinemann, 1964. Hardcover. First Edition. Some foxing to foredge of textblock and prelims, else a very good hardback in a price clipped, lightly rubbed and edgeworn jacket that has a few tiny closed tears and a hint of sunning to the spine.

Ink gift inscription from Nigerian Diplomat and Academic Christopher Kolade to previous owner on front free endpaper. Very good. The third book in Achebe's African Trilogy; uncommon in the first edition.
Offered by Kenneth Mallory, Bookseller and found in "New Arrivals."
Featured item:
WHITMAN, WALT.
Complete Poems & Prose of Walt Whitman 1855... 1888 [Leaves of Grass]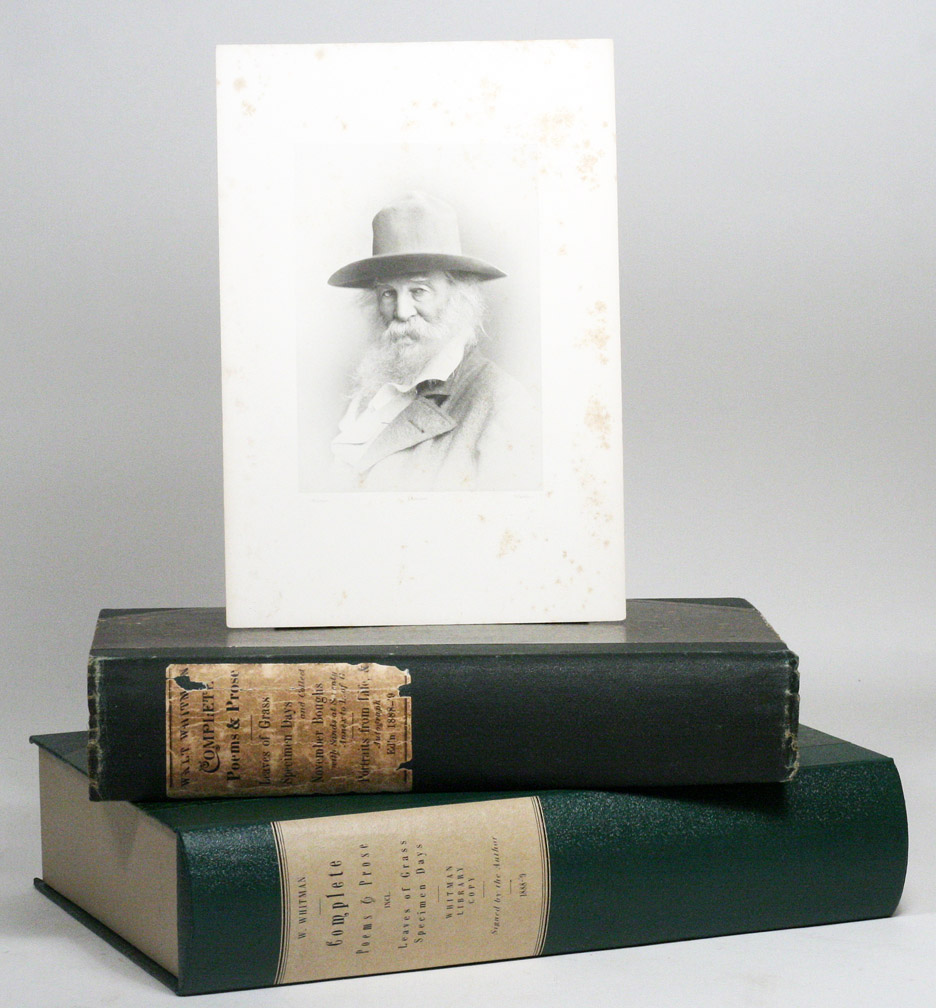 SIGNED FIRST EDITION OF THE DEFINITIVE COLLECTION OF WHITMAN'S WORK; A REMARKABLE COPY FROM WHITMAN'S PERSONAL LIBRARY.

On this Edition:

"Whitman never lost his passion for joining disparate parts into a whole: it was the basis of his politics, his philosophy, and his bookmaking. He wrote to one acquaintance in 1886 that 'I think of... bringing out a complete budget of all my writing in one book.'... Horace Traubel was again involved in getting this big book out, and he and Whitman had endless discussions about all aspects of its production."

Whitman was worried about his failing health and terrified that he would die before his "big book" was published. "At one point the poet told Traubel, 'I am in a hurry—in a hurry: I want to see the book in plates: then I can die satisfied. We will attend to the presswork and binding when we come to it. The main thing is the plates—the plates. Horace, I am on the verge of a final collapse: I look on the future—even tomorrow, next day—with a feeling of the greatest uncertainty. I am anything but secure: let us make the book secure.' ... Whitman was immersed in every aspect of his bookmaking" and was very pleased with the result, for upon receiving the first copies he declared to Traubel, "it's better—far, far better—than the best I looked for." (All quotations from Ed Folsom, Whitman Making Books/Books Making Whitman).

Whitman's "big book"– what he thought of as the final monument to his career – was published in only 600 copies "for the author's own use", with each copy signed on the title page. This copy is the first issue – without the limitation number added by hand by Horace Traubel. (All copies that were distributed before Feb. 14, 1889 were unnumbered.) In Myerson's binding A.

On this copy – from Whitman's own personal library:

With presentation inscription on the front free endpaper from Thomas Biggs Harned:

"To John Lewis Cochran, Esq., with the compliments of Thomas B. Harned, June 11, 1897 / This book is one of a few copies of this edition found among the author's effects after his death and it came into the hands of his literary executors. T.B. Harned."

"One of Whitman's three literary executors, Thomas Biggs Harned [1851-1921] was a prosperous Philadelphia lawyer and a brother-in-law of Horace Traubel. His twenty-year acquaintance with Whitman involved nearly daily contact during the poet's final years. Harned's well-furnished Camden home was a social center where Whitman dined and drank richly, amused Harned's three children, and met prominent religious and political men. Harned funded the construction of Whitman's mausoleum and co-arranged his funeral, at which he participated as speaker and pallbearer. Later, Harned wrote the introduction to the definitive ten-volume Camden Edition of Whitman's works (1902)." (The Walt Whitman Archive). The "Thomas Biggs Harned Collection of the Papers of Walt Whitman" now resides in the Library of Congress.

The recipient, John Lewis Cochran (1857-1923), was a Philadelphia businessman who later moved to Chicago and became a prominent real estate developer.

Laid in are prints of four photographs (possibly unique prints) of Whitman's mausoleum in Camden, NJ (funded by Harned). It appears that the man with the long beard in three of the photographs is Richard Maurice Bucke (along with Traubel and Harned, Whitman's literary executor) and that the shorter man with the mustache is Harned. (The third man in one of the photos remains unidentified.)

Also with a beautiful phototype portrait of Whitman by the Philadelphia photographer Frederick Gutekunst and a broadside printing of "An impromptu criticism on the 900 page Volume 'the Complete Peoms and Prose of Walt Whitman'" by Bucke laid-in.

Book complete with title page portrait (Linton engraving after G.C. Potter photograph) and engraved portrait of Whitman as a young man (used as frontispiece in the 1855 Leaves of Grass) bound in at page 28, before Leaves of Grass.

Complete Poems & Prose of Walt Whitman, 1855...1888. Authenticated and Personal Book (handled by W.W.) Portraits from Life... Autograph. Philadelphia: Ferguson Bros. & Co., 1888-89. Large octavo, publisher's three-quarter pebbled cloth over marbled boards with original paper label (Myerson's Binding A). In superb custom box by Natasha Herman of Redbone Bindery matching original binding. Text block and hinges (nearly invisibly) stabilized internally, binding with light edgewear and a few chips to rare original label.

A MAGNIFICENT SIGNED COPY FROM WHITMAN'S OWN LIBRARY OF HIS "BIG BOOK"; A MONUMENT OF HIS LIFE'S WORK.
Offered by Manhattan Rare Books and found in "Modern Poetry."
Illustrated Catalog on Carlos Merida (1891–1984) -- Mexican painter, sculptor, writer and graphic designer -- available by request from mmbooks@comcast.net
MARTAYAN LAN RARE BOOKS & MAPS
BRUCE MCKITTRICK RARE BOOKS, INC.
Louis M. Jason's book Literary (and Other) Celebrity Doodles II is now available. Contact the store at info@mysterypierbooks.com to order...
PHILADELPHIA RARE BOOKS & MANUSCRIPTS
PHILLIP J. PIRAGES FINE BOOKS & MEDIEVAL MANUSCRIPTS
RABELAIS BOOKS ON FOOD & DRINK
Featured item:
Hiller, Elizabeth O. Fifty-two Sunday Dinners a book of recipes, arranged on a unique plan, combining helpful suggestions for appetizing, well-balanced menus, with all the newest ideas and latest discoveries in the preparation of tasty, wholesome cookery.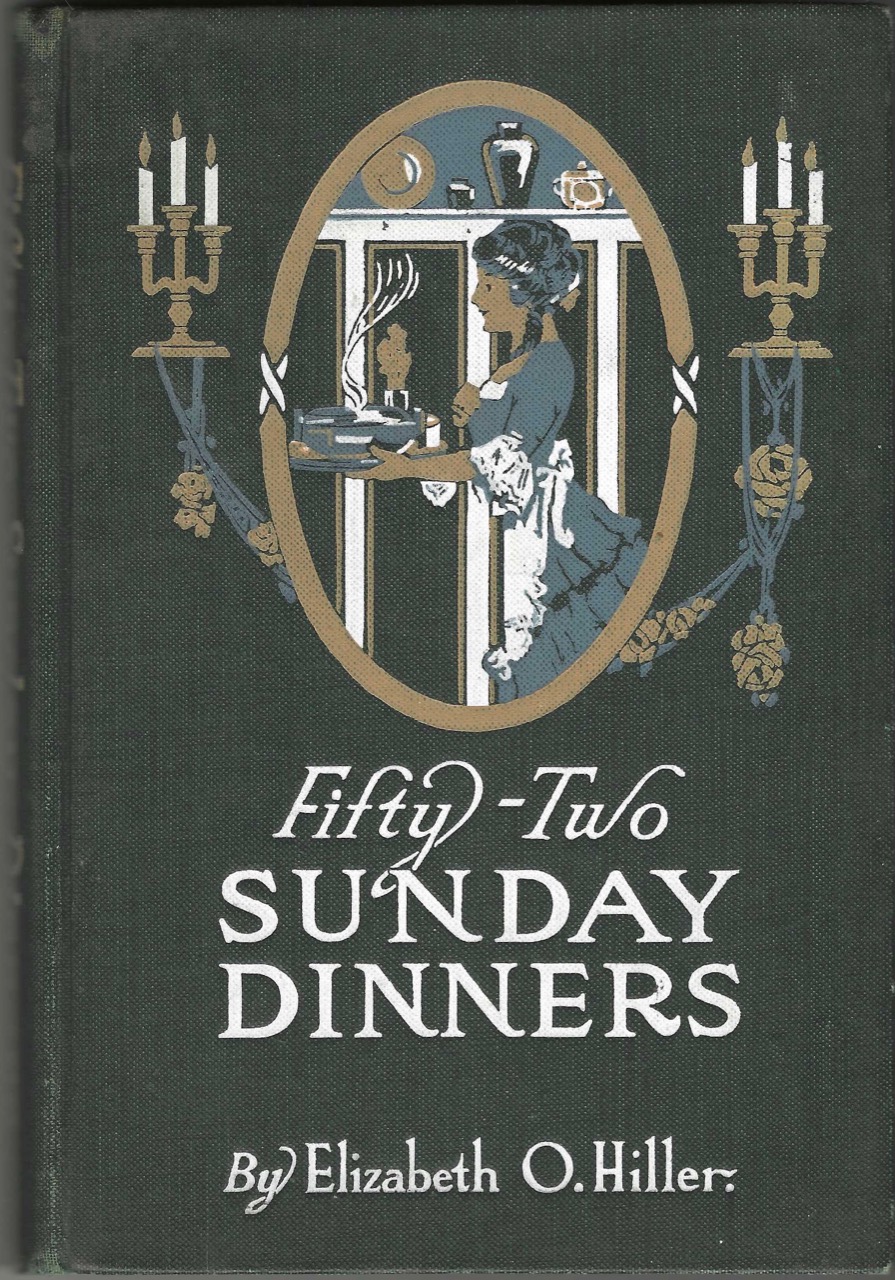 Chicago: N.K. Fairbank Co.; Hammond Press, W.B. Conkey Company, 1915. Small octavo (21.5 x 14.5 cm.), 192 pages. Illustrated. Index.

FIRST EDITION. Elizabeth O. Hiller was a prominent "lecturer on household science" and principal of the Chicago Domestic Science Training School. She was also a shill for the N.K. Fairbank Company, and the firm's cottonseed oil-based Cottolene products appear in many, if not most, of the recipes contained in Fifty-two Sunday Dinners. Hiller was also the compiler of many of the fanciful calendars produced by the Volland Company in the nineteen teens and twenties. Light creasing to title page, otherwise near fine in publisher's green and white-decorated green cloth.
Offered by Rabelais Books on Food & Drink and found in "Fresh Arrivals, No. 85."
RICHARD C. RAMER, OLD & RARE BOOKS
ROOTENBERG RARE BOOKS & MANUSCRIPTS
BARRY LAWRENCE RUDERMAN ANTIQUE MAPS, INC.
Featured item:
The Only Known Example of Pagano's Separattely Issued Map of the Battle of Algiers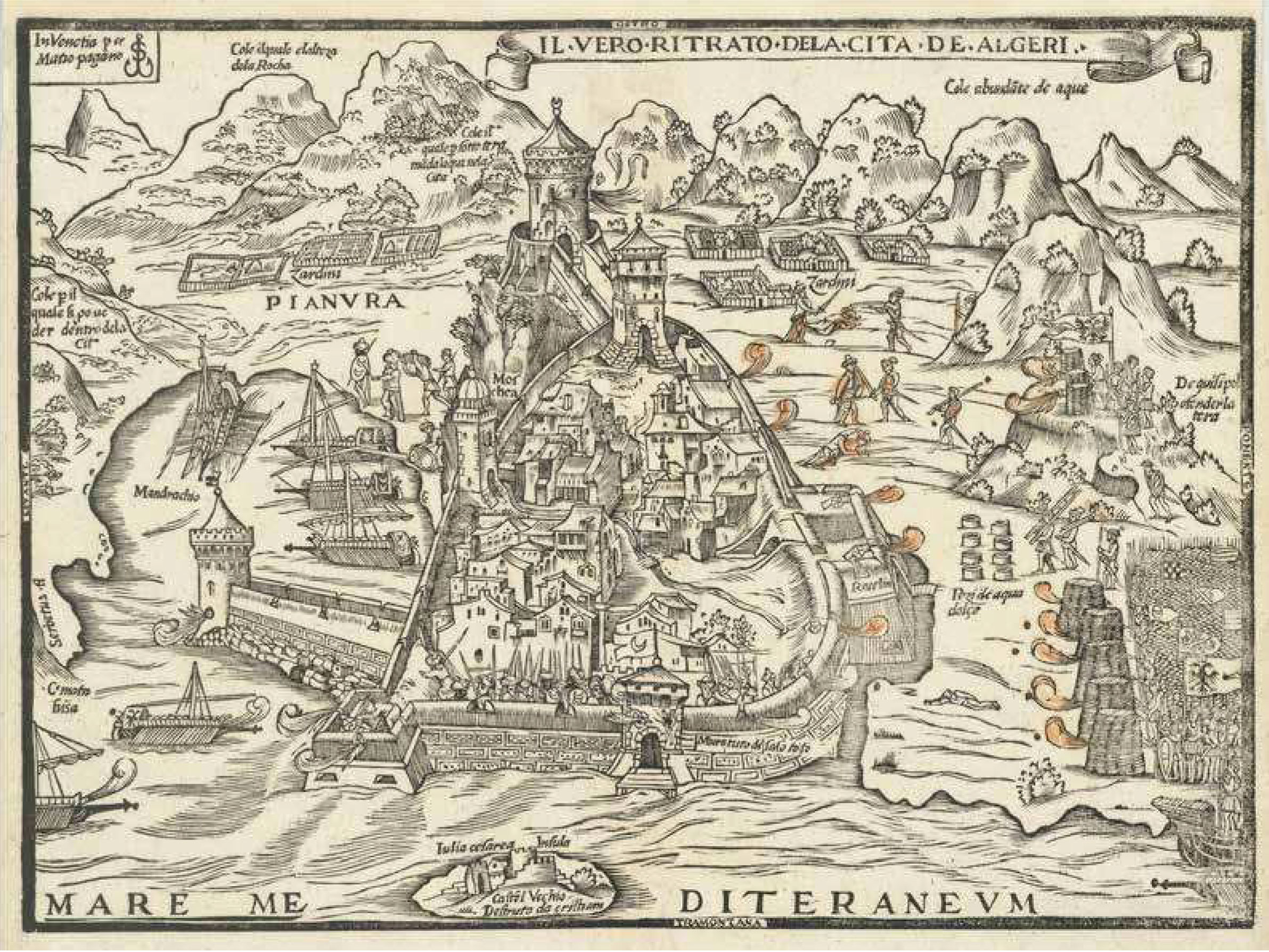 Venice / 1542 ca. The only known example of Matteo Pagano's Map of the 1541 Conquest of Tunis, engraved in Venice by the master engraver Matteo Pagano.
This rare and until recently unknown woodcut map was irst catalogued by Szathmáry (1992) who in 1987 bought the only known example of this work in Arezzo. The work was part of a small collection of woodcut plates signed by Matteo Pagano, Giovanni Andrea Vavassore and Tommaso di Salò, which were then sold separately. After that the work was part of the Fritz Hellwig collection.
Szathmáry, in the cataloging of these unpublished woodcuts, dated the map to 1541, probably based on the military events depicted in the table, relating to the siege of Algiers in 1541 by the leet led by Charles V. However, if we accept the hypothesis that the model of this work is the De stadt van Aelgier (1542) by Cornelis Antoniszoon, the work of Pagano must necessarily be later. The other theory, that this plate is the model for the Dutch one, seems to be disproved by the fact that Antoniszoon took part in the expedition of Charles V to the African coast.
The 1541 Algiers expedition occurred when Charles V of the Holy Roman Empire attempted to lead an amphibious attack against the Ottoman Empire's stronghold of Algiers, in modern Algeria. Inadequate planning, particularly against unfavourable weather, led to the failure of the expedition.
Algiers had been under the control of the Ottoman Emperor Suleiman the Magniicent since its capture in 1529 by Barbarossa. Barbarossa had left Algiers in 1535 to be named High Admiral of the Ottoman Empire in Constantinople, and was replaced as governor by Hassan Agha, a eunuch and Sardinian renegade. Hassan had in his service the well-known Ottoman naval commanders Dragut, Sālih Reïs, and Sinān Pasha.
Charles V made considerable preparations for the expedition, wishing to obtain revenge for the recent siege of Buda. However the Spanish and Genoese leets were severely damaged by a storm, forcing him to abandon the venture. The Expedition began in late September 1541, delayed by troubles in Germany and Flanders. The leet was assembled in the Bay of Palma, at Majorca. It had more than 500 sails and 24,000 soldiers. After enduring dificult weather, the leet only arrived off the coast of Algiers on October 19. The most distinguished Spanish commanders accompanied Charles V on this expedition, including Hernán Cortés, the conqueror of Mexico, though he was never invited to the War Council.
Charles established his headquarters on a land promontory surrounded by German troops. German, Spanish, and Italian troops, accompanied by 150 Knights of Malta, began to land while repelling Algerine opposition, soon surrounding the city, except for the northern part. The fate of the city seemed to be sealed, however the following day the weather became severe with heavy rains. Many galleys lost their anchors and 15 were wrecked onshore. As more troops were attempting to land, the Algerines started to make sorties, slaughtering the newly arrived. Charles V was surrounded, and was only saved by the resistance of the Knights of Malta. Andrea Doria managed to ind a safer harbor for the remainder of the leet at Cape Matifu, 5 miles east of Algiers. He enjoined Charles V to abandon his position and join him in Matifu, which Charles V did with great dificulty. From there, still oppressed by the weather, the remaining troops sailed to Bougie, still a Spanish harbor at that time. Charles abandoned his army and sailed home.
RARITY This is the only known example, as previously documented by Bifolco-Ronca. All Matteo Pagano separately published maps are of the utmost rarity.
PROVENANCE Fritz Hellwig collection, purchased at Reiss & Sohn in 2019.
CONDITION DESCRIPTION Worming at centerfold expertly restored on verso. A bit of original color.
Offered by Barry Lawrence Ruderman Antique maps, Inc. and found in "Spring 2022."
Featured item:
L'OBEL, MATTHIAS DE. 1538-1616. Icones stirpium seu plantarum tam exoticarum, quam indigenarum in gratiam rei herbariae studioforum in duas partes digestae.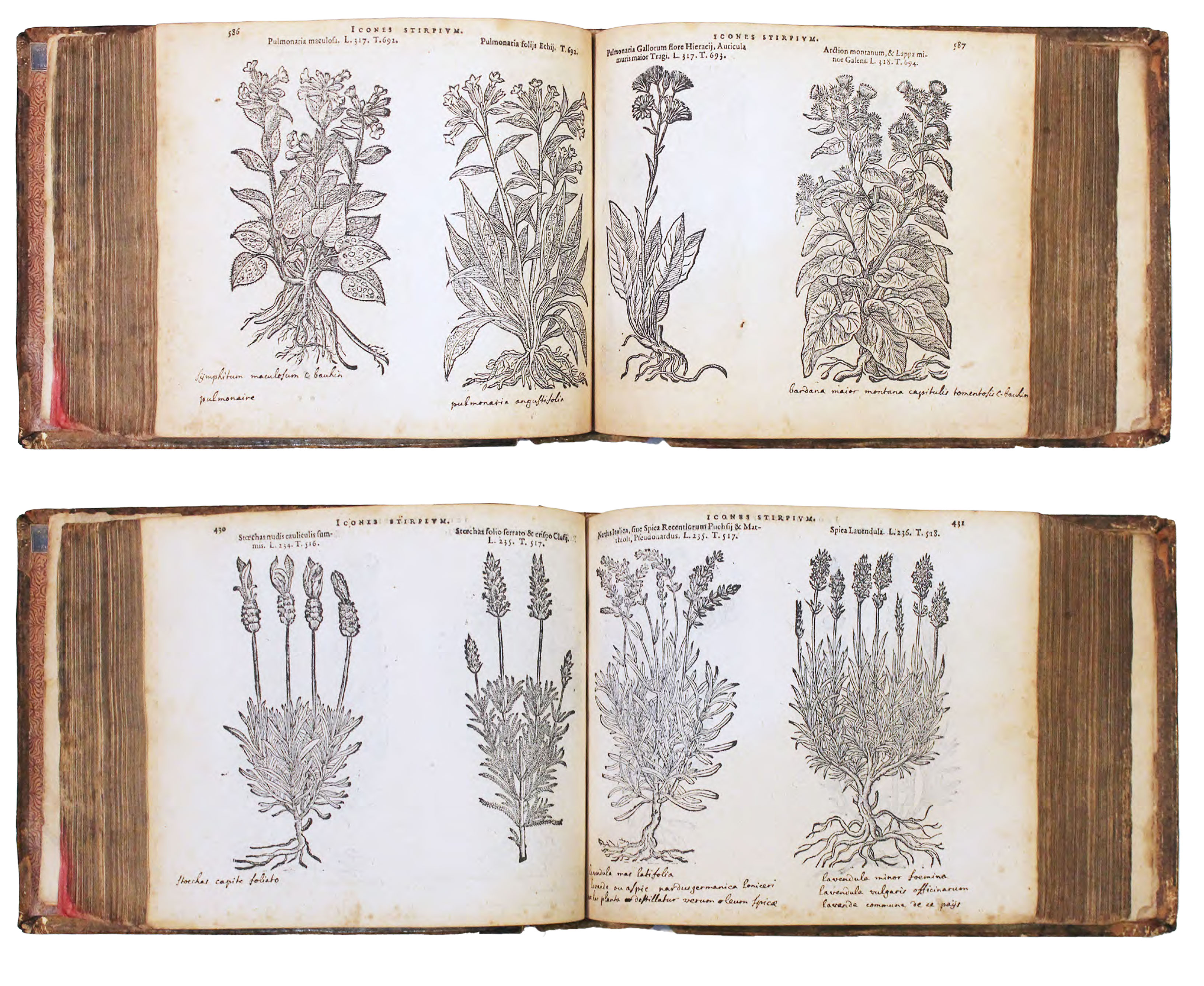 Antwerp: Plantin, 1591. 2 volumes in one, oblong 4to. Woodcut printer's device on title-page, 2173 woodcut illustrations printed 2-3 per page, indexes of plant names in Latin, French, Italian, Portuguese, German, Dutch, and English at end. Contemporary blindstamped pigskin, initials "A.V.G.H." and date 1593 gilt stamped on upper cover; hinges and spine ends repaired in vellum, later endpapers. Second edition, of the "most useful reference work in connection with the study of 16th-century botanical illustration." (Hunt) This copy contains frequent French plantnames and notes added in a legible hand (17th c?), sometimes referring to Bauhin, Dodoens, Mattioli, et. al. Bookplate of The Horicultural Society of New York. Kenneth K. Mackenzie.
Offered by Sanctuary Books and found in "Botany & Gardening."
Featured item:

BILL JUSTICE (1914-2011) Animator for Disney Studios.
Two Original Sketches Signed. Chip 'n' Dale Sketch Signed, on a 3 x 5 inch card, undated. Pinocchio Sketch Signed on the LOVE Stamp First Day Cover, postmarked Aug. 8, 1988.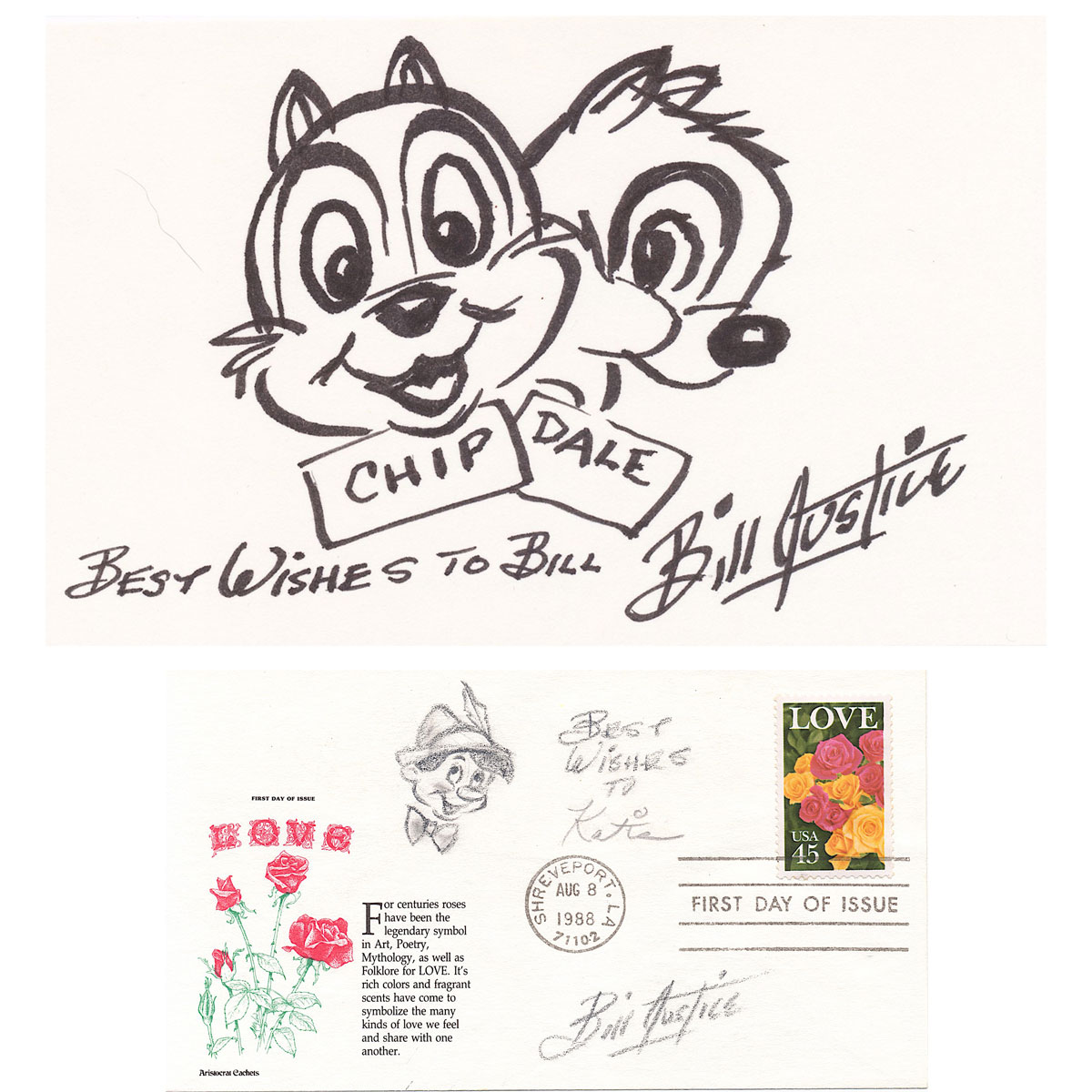 Two Original Sketches Signed. Chip 'n' Dale Sketch Signed, on a 3 x 5 inch card. Justice sketched two of his popular and favorite characters, the chipmunks Chip and Dale. He inscribed and signed the drawing rendered in black marker, "Best wishes to Bill, Bill Justice." Undated. (A note to Baby Boomers: Justice directed the animated Mickey Mouse March opening for "The Mickey Mouse Club. [can be purchased separately for $295.00] Pinocchio's smiling face grace's the LOVE Stamp First Day Cover. Pencil sketch, inscribed and signed, postmarked Aug. 8, 1988. Justice sketched Pinocchio near the red "LOVE" above four red roses identified as Aristocral Cachets and above the printed explanation of the rose's association with love. Between Pinocchio's face and the very popular and colorful rose adorned Love stamp, Justice wrote, "Best Wishes to Kati," and signed, "Bill Justice," below the postmark. Perhaps best known as the animator of the chipmunk duo, Chip and Dale, Justice was a contributing animator for "Pinocchio," Disney's 1940 animation film. Justice's long career for Disney Studios involved many aspects of animation film making and also included engineering projects related to Disney theme parks.

Perhaps best known as the animator of the chipmunk duo, Chip and Dale, Justice was a contributing animator for "Pinocchio," Disney's 1940 animation film. Justice's long career for Disney Studios involved many aspects of animation film making and also included engineering projects related to Disney theme parks. (A note to Baby Boomers: Justice directed the animated Mickey Mouse March opening for "The Mickey Mouse Club.").
Offered by Schulson Autographs and found in "Catalog 189."
California Book Fair 2019: 130 Items on Science and Medicine is now available on request from scientiabk@gmail.com...
MARC SELVAGGIO, BOOKS & EPHEMERA
MICHAEL R. THOMPSON RARE BOOKS
2022: Catalog 1 -- print copies available at the upcoming California Book Fair!
Featured item:
BUNYAN, John (1628-1688); Rev. George B. [Barrell] CHEEVER (1807-1890). Lectures on the Pilgrim's Progress, and on the life and times of John Bunyan.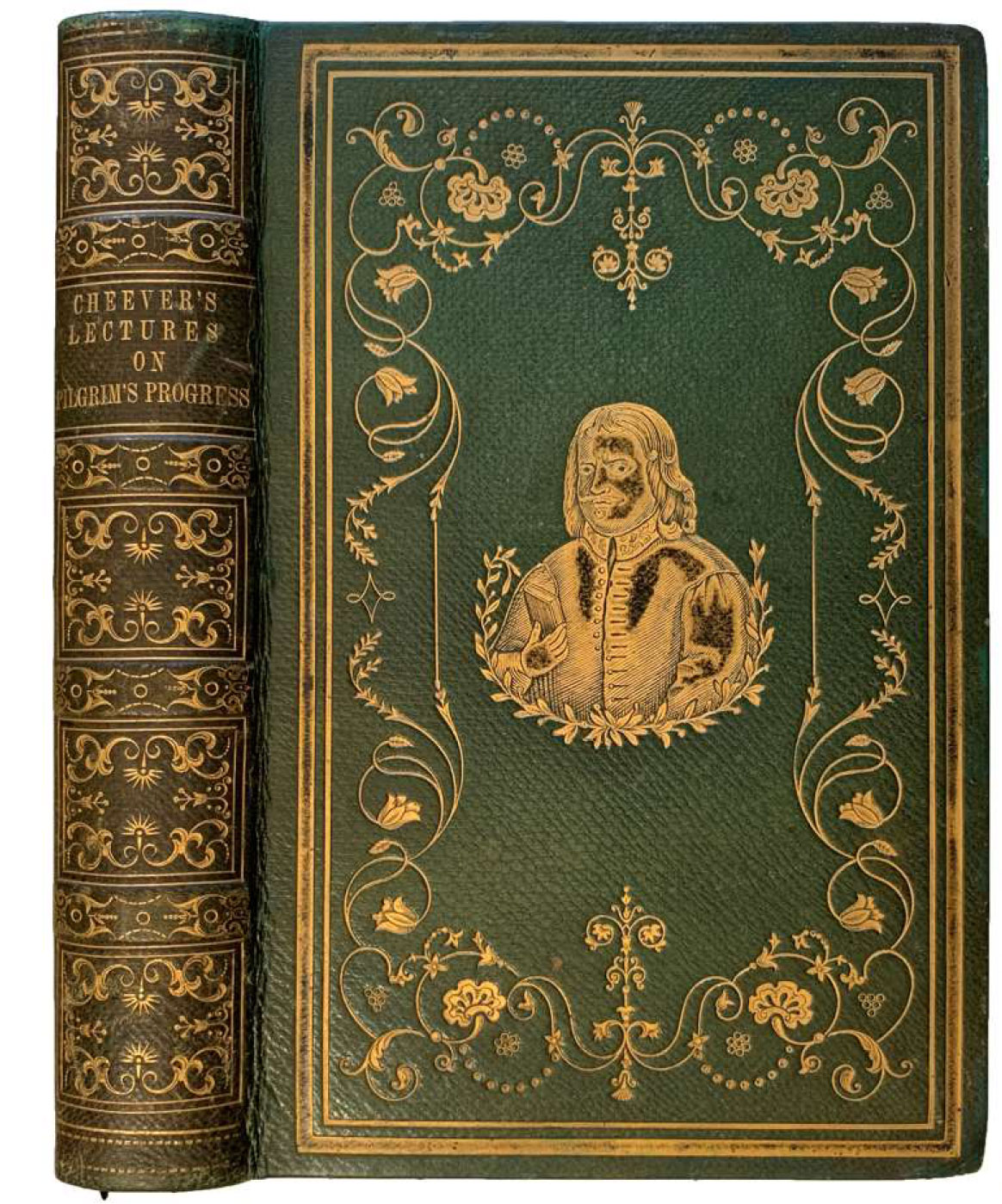 New York: Wiley and Putnam, 1844. 8vo. vi, 514 pp. Frontispiece, plates; some light penciling, moderate foxing. Original gilt-stamped green morocco, all edges gilt. INSCRIBED BY THE AUTHOR, "Rev. Dr. Malan, With the grateful respect and love of his friend and brother, The Author, New York, April 16, 1850."
Showing some wear, but still a highly decorative American leather binding. George Barrell Cheever was a well-known and controversial abolitionist minister and writer. "In fact, Cheever was the generally acknowledged leader of the anti-reform forces, America's most famous champion of the gallows, and, in all probability, the man most responsible for the very limited success of the reform." See: PHILIP ENGLISH MACKEY, "Reverend George Barrell Cheever: Yankee Reformer as Champion of the Gallows."
Offered by Jeff Weber Rare Books and found in "Catalog 272."
JOHN WINDLE ANTIQUARIAN BOOKSELLER
--
Remember, you can always browse and download the latest catalogs published by ABAA members on ABAA.org by visiting the following link: https://www.abaa.org/catalog/... (You can also access this page by selecting 'Booksellers' from the top menu, scroll to the bottom of the page to 'Member Catalogs', and click on 'View All'.)
---
Get to know the members of the ABAA...