Browse the latest catalogs, newsletters, and e-lists of rare books, fine bindings, incunabula, print ephemera, and much more from the members of the ABAA below. (Also includes podcasts, blog posts, and other digital formats.)
*New* indicates any catalogs brought to our attention since late-September 2022.
AARDVARK BOOKS/EZRA TISHMAN BOOK APPRAISALS
ANTIPODEAN BOOKS, MAPS, PRINTS
Featured item:
Alice's Adventures in Wonderland (Richard Adams' copy)
Carroll, Lewis [pseudonym of Charles Dodgson, (1832-1898)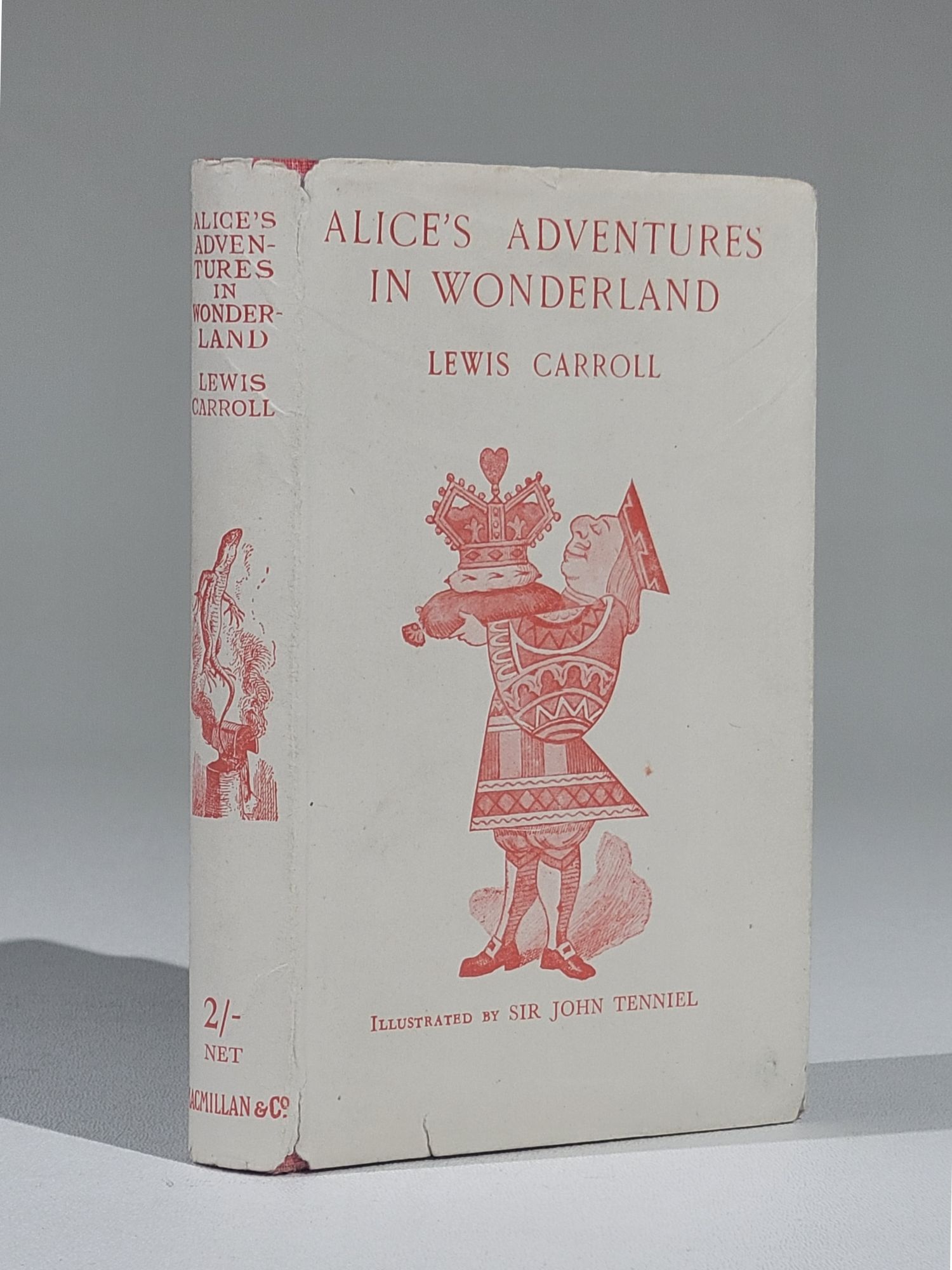 London: Macmillan and Co., Limited, 1934. Illustrated by John Tenniel. Cloth over boards. Sixteenmo. [viii], 201 pages (+2 page publisher ad). Near fine in a very good dust jacket. Bound in red cloth over boards with gilt-stamped spine and upper board. Slight extremity bumps. Jacket has a few shallow extremity chips and short, closed, edge tears.

A handsome little 1934 copy of Alice, with the classic original illustrations by Sir John Tenniel. This copy belonged to Richard Adams, author of another children's classic, Watership Down, and bears his rabbit-themed bookplate on front pastedown.
Offered by Back Creek Books and found in "E-list #29."
W. C. BAKER RARE BOOKS & EPHEMERA
Featured item:
Illustrations for Harvard Business Review's "The New Religion of Risk Management"
Edward Gorey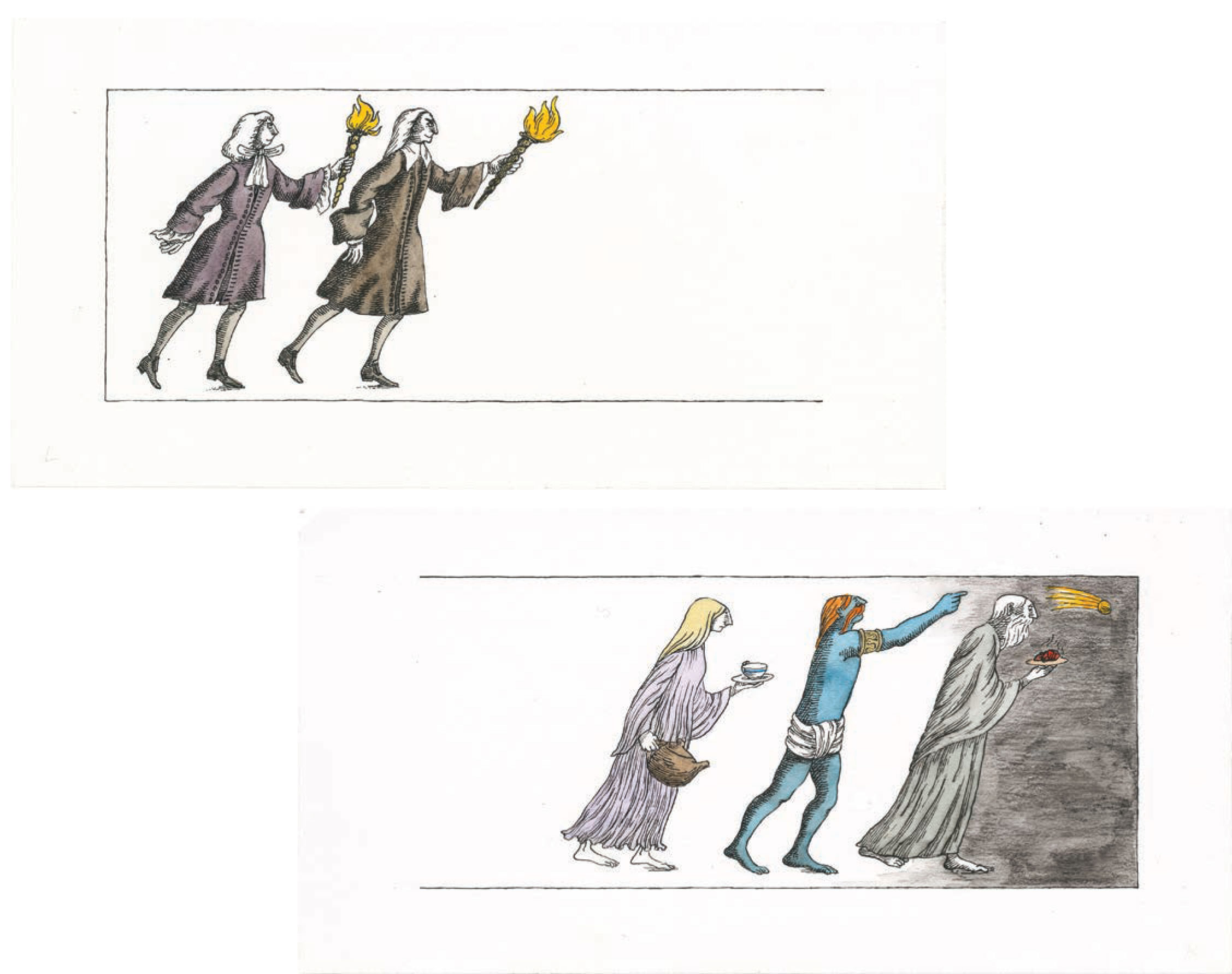 Watercolor and ink on paper. First two images approximately 3⅓ x 7⅔ inches, sheets 5 x 10 inches; third image approximately 2¼ x 6¾ inches, sheet 4½ x 9¼ inches. Traces of graphite guide lines; graphite inscriptions, "L" and "R," on first and second sheets, respectively. Colored illustrations for Peter L. Bernstein's article, "The New Religion of Risk Management," in the March-April 1996 issue of Harvard Business Review. The first two images show Blaise Pascal and Pierre de Fermat bearing lighted torches, as figures of "old religion" walk off into the night. The third shows the same Enlightenment thinkers behind three painted wheels inscribed with "3," "7," and "9." Responding to a question of how fairly to divide money wagered on an interrupted game of dice, Pascal and Fermat together solved an old mathematical puzzle, laying the foundation of probability theory. But today, Bernstein asks, "Have we replaced old-world superstitions with a dangerous reliance on numbers?"
Offered by W.C. Baker Rare Books & Ephemera and found in "Edward Gorey, 10 Original Artworks."
Sixty Books About Love -- Just in time for Valentine's Day, an offering of books about true and not-so-true love and its consequences, together with paeans and complaints to those beloved, and advice to aspiring lovers.
Featured item:
Collier, Jeremy An Essay upon Gaming, In a Dialogue Between Callimachus and Dolomedes.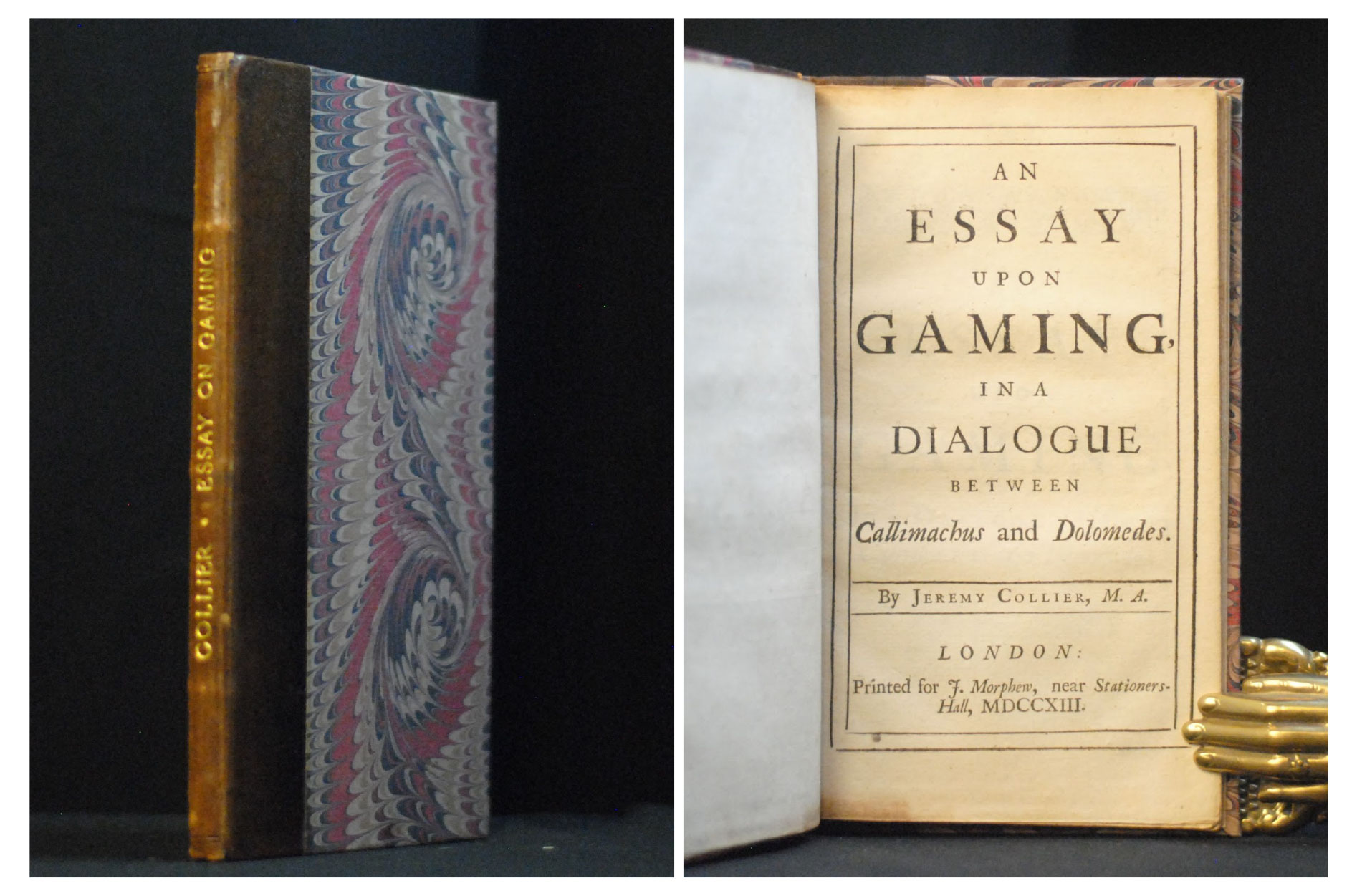 London: Printed for J. Morphew, 1713 An essay upon the dangers of gambling by Jeremy Collier, better known for his earlier anti-theatrical polemics. Callimachus interrogates and reproaches his friend Dolomedes, who has been out gambling. 'Your Point is to raise Scruples, to spoil Pleasure, and disturb Repose. And notwithstanding the Honesty of your Meaning, I almost wish I had mis'd your Company' (45-6). Jessel 289. As recorded by Jessel, later reprinted by Edmund Goldsmid in 1885. Handsomely rebound in a quarter leather binding with marbled paper, author and title in gilt on the spine. Half-title, title, 3-46 pages. 10.5 x 18 cm. Very Good.
Offered by B Street Books and found in "Catalog of Gambling Books."
Featured item:
Leigh, Michael; Louis Berg, M.D. [Foreword]
New York: Macfadden Books, 1963. First edition, first issue with dedication to Louis Berg and Rabbi Julius A. Leibert on copyright page rather than table of contents. 192 pp. Wraps. Very Good+ with light wear, small indent to front wrap, faint corner crease. An account of unusual and fringe sexuality published in the tamer half of the '60s. Reputedly avant garde composer and musician Tony Conrad found a copy on the street in New York and then showed it to the musical group that would take their name from it. Lou Reed, in particular, read and enjoyed the book according to biographer Anthony DeCurtis; he liked the idea of the secret "underground" chronicled herein.
Offered by Burnside Rare Books and found in "Autumn Catalog."
ANDREW CAHAN, BOOKSELLER, LTD.
DE SIMONE COMPANY, BOOKSELLERS
Featured item:
BISHOP, Isabella Bird. Among the Tibetans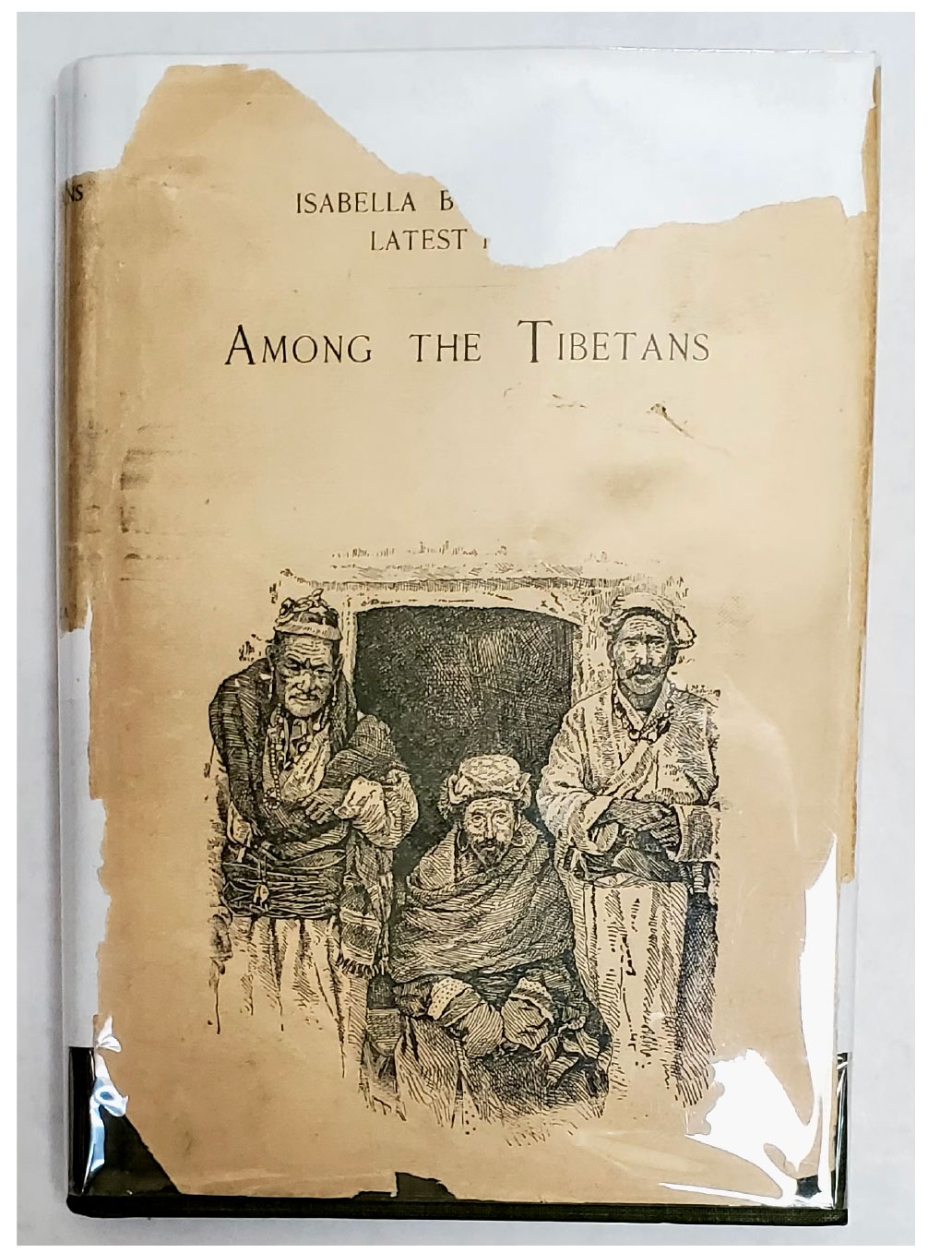 London: Religious Tract Society, (1894). First edition, Small Octavo. 159, [1] pp. including 21 full page illustrations. Publisher's green cloth with gilt spine lettering. gilt lama figure on front. In the exceedingly rare dust jacket (albeit
with large chunks missing from spine and upper front). A spotless copy in a printed dust jacket.

Isabella Bird Bishop (1831-1904) was an English traveler who made a remarkable series of journeys at the end of the 19th century. She is what we would call an inveterate traveler and explorer. Her first journey was occasioned by an illness; she set sail for Canada and the U. S. in 1854 to recover. She must have gotten the travel bug for she did not stop traveling for many decades (and mostly alone). Her next stop was Hawaii and she chronicled that in her book Six Months in the Sandwich Island published in1875. On to Japan and finally to the locale that she was most fascinated by; Northern India and Tibet. She traveled to Kashmir and Ladakh in the far north on the border with Tibet. During her travels one of her horses lost its footing while crossing a river. The horse drowned and Bird suffered two broken ribs. On her return to Simla in northern India she met up with Major Herbert Sawyer who was on his way to Persia. The two traveled together through the desert in midwinter and arrived in Tehran half-dead. After depositing the major at his new duty station, Bird set out alone and spent the next six months traveling at the head of her own caravan through northern Iran, Kurdistan, and Turkey.
Offered by Nat DesMarais Rare Books and found in "Tibet."
Featured item:
Optimistic Boxes 1-5 [Complete]
Robert Filliou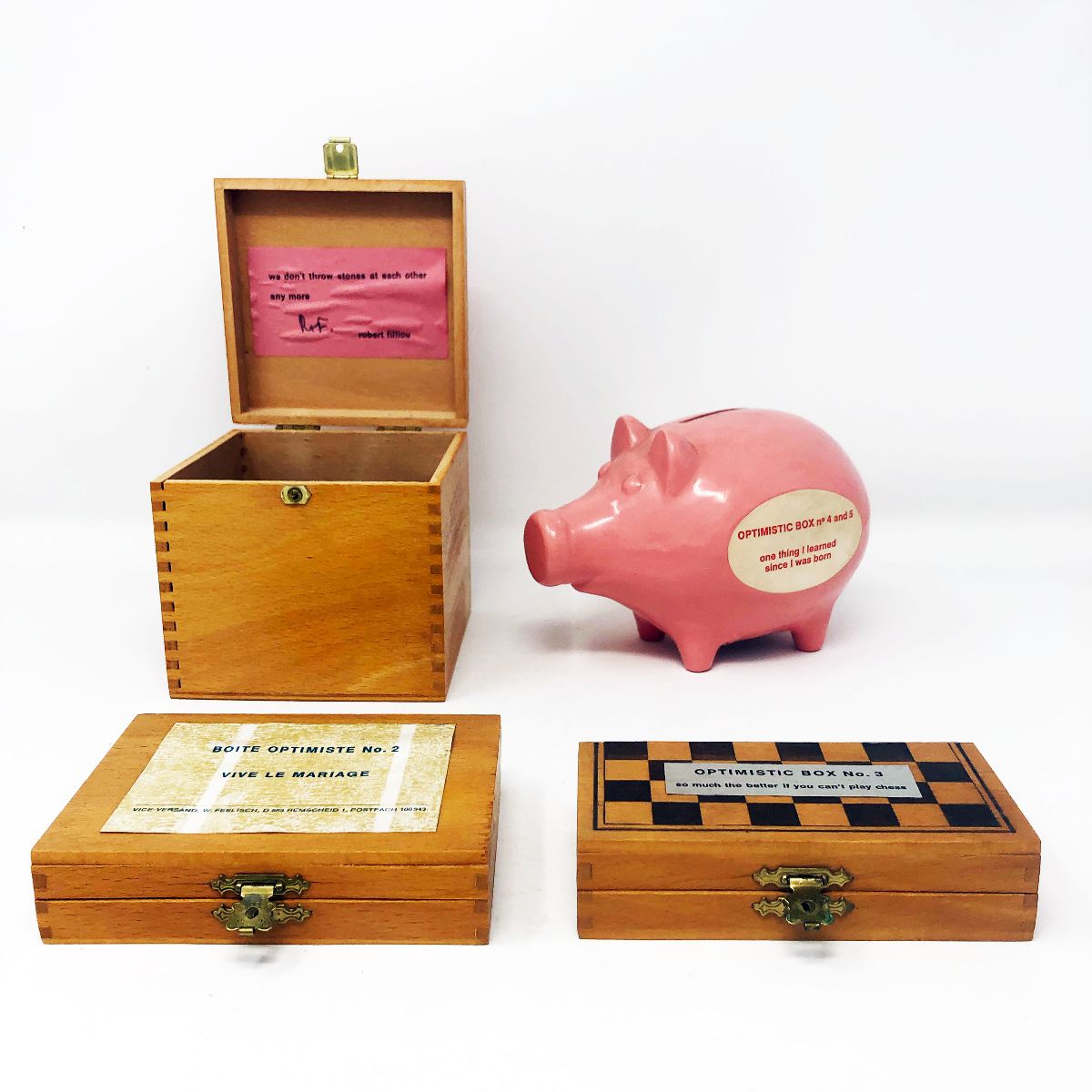 Remscheid, Germany: VICE-Versand, 1968-1981. Three wooden boxes, a stone, and a pink ceramic pig, each in varying dimensions, with affixed labels, each initialled by the artist.
A rare complete set of Filliou's most infamous, linguistically canny series of multiples, issued in numbers over a 13 year period. Each of the the multiples conveys a sentence broken into two parts, which in their division gain a suprising or ironic meaning. The first three numbers each present boxes, with printed labels on the top of each which bear the first half of each sentence.
Optimistic Box No. 1 bears a pink label on the top panel, which states "thank god for modern weapons..." The inside contains a hefty, roughly boxed shape rock, with the second title label inside the top panel finishes the sentence; "we don't throw stones anymore."The inside label is initialled by the artist.
Boite Optimistie No. 2 states "VIVE LE MARIAGE" on the upper label. The box opens to display an initialled spine label inside, which comples the phrase with "A TROIS." Inside the lower portion of the box is pasted a pornographic photograph of a threesome.
Optimistic Box No. 3 is a small wooden box that unfolds into a chess set. The silver title label on the upper panel reads "so much the better if you can't play chess" and opens to show a silver paper label inside the top cover, which reads "you won't imitate Marcel Duchamp." The box is empty.
The final installment of the series is a double number, and materially quite different from the previous numbers, taking the form of a glazed pink porcelain piggy bank, approximately 6 inches long and four inches wide. The pink color of the pig echoes the pink labels of Optimistic Box No. 1. There are labels on two sides of the pig. One label states "one thing I learned since I was born" and the second "that i must die since i was born."
Near fine to fine, with some minor bubbling to the labels of no. 1. The upper label also shows a short nick to upper margin. The labels of No. 2 show some apparent discoloration, similar to all examples we've handled. The labels of the final number are somewhat toned, with the signature largely faded.
Scarce in commerce, particularly the final number.
Offered by Division Leap and found in "Fall New Arrivals."
WEBB DORDICKMosdern
Catalog #88, Medical Books from the Fifteenth to the Twentieth Centuries -- This catalog is print-only. To request a copy, contact MedBks@aol.com...
EDITIO ALTERA RARE BOOKS & MANUSCRIPTS
Comic collection of William "Gatz" Hjortsberg -- Details available upon request from info@elkriverbooks.com...
RODGER FRIEDMAN RARE BOOK STUDIO
OCCASIONAL LIST 22: A Miscellany: Original Art Work; Small Archive of Major English Watercolourist; Interesting Theatrical Pieces; Manuscript Material, Etc., Etc. -- available on request from fgrare@fgrarebooks.com...
Has the following lists available: California, Texas, Kansas, Missouri, Minnesota, Iowa, Nebraska, Oregon, Louisiana, Colorado, Ohio and New York. Will email to interested parties. Contact info@ginsbook.com to request...
THOMAS A. GOLDWASSER RARE BOOKS
DAVID A. HAMILTON AMERICANA BOOKS
JONATHAN A. HILL, BOOKSELLER, INC.
Featured item: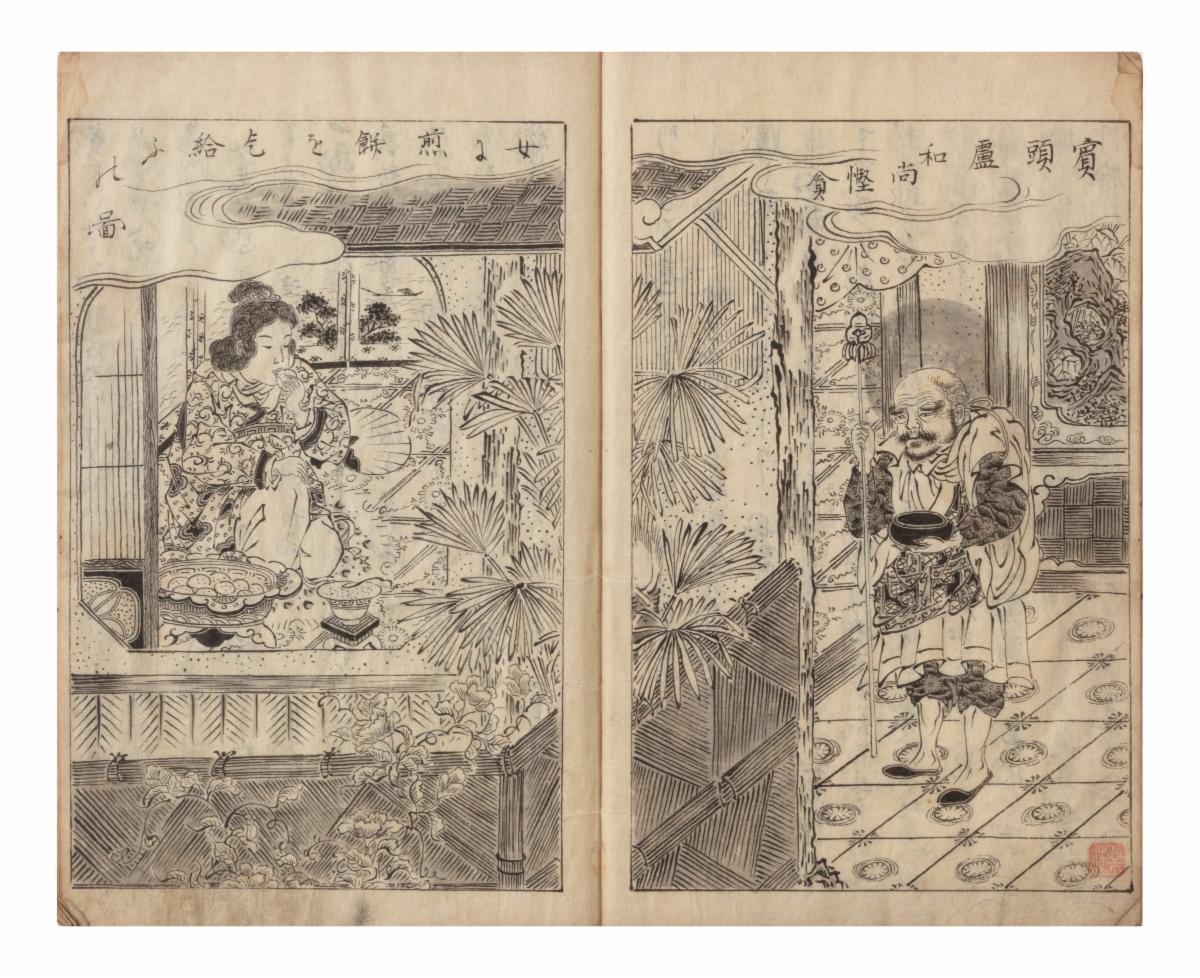 Illustrated manuscript on paper, signed "Yashiro Nakagawa" on the first leaf.
One full-page & three double-page brush drawings in black & gray. 12 leaves, mostly folding. 8vo (243 x 160 mm.), orig. hand-drawn pictorial wrappers (a little stained & worn), stitched as issued, label on upper cover "Soba narabini kendon no yurai" ("Notes on Soba & Origins of the Word Kendon). [Japan: at end "copied 1833"].

A fascinating and nicely illustrated manuscript on soba noodles, with a history, recipes, and related stories. The illustrations are finely and expressively drawn.

On the first leaf of text, we learn this was written by Yashiro Nakagawa and edited by Tainotei. The fine full-page drawing at the beginning depicts a man kneading soba dough surrounded by all the ingredients and tools of his profession. Behind him is a woman tending the fire underneath a large boiling pot of water. The beginning text describes the materials used to make various soba noodles.

The text transitions to a moral story of a Chinese woman with kendon (selfish) qualities who does not want to share her food. In the first double-page illustration, she is shown sitting in a Chinese-style room and is approached by a Buddhist priest, Pindola Bharadvaja (or, in Japanese, Bindora osho), one of the Sixteen Arhats, Buddhist practitioners who had taken vows of poverty. Pindola is shown practicing takuhatsu, the act of going house to house asking for food and donations. This illustration is entitled (in trans.): "Pindola asking a selfish woman for a food donation."

The story shows a deep knowledge of Buddhism and is filled with witty puns, kyoka poems, and parodies of ethical behavior. The next double-page illustration depicts the rotting corpse of Pindola being dragged away by disciples, who are holding their noses because of the odor. The text returns to the subject of soba and tea ceremony in Japan. There is a discussion of the famous Grand Kitano tea ceremony hosted by Hideyoshi in 1587, during which soba noodles were served. The text also states that soba is good for health.

The final double-page illustration shows the woman being punished for her stinginess.

This is followed by a series of kyoka poems about soba. It is stated that the entire text was edited in 1713 and was copied in 1833. This manuscript presents many mysteries, and we have only suggested the possibilities of research.

In very good condition.
Offered by Jonathan A. Hill, Bookseller, Inc. and found in "Illustrated Japanese Gastronomic Manuscripts."
Featured item:
Print Inspired by Poe's The Raven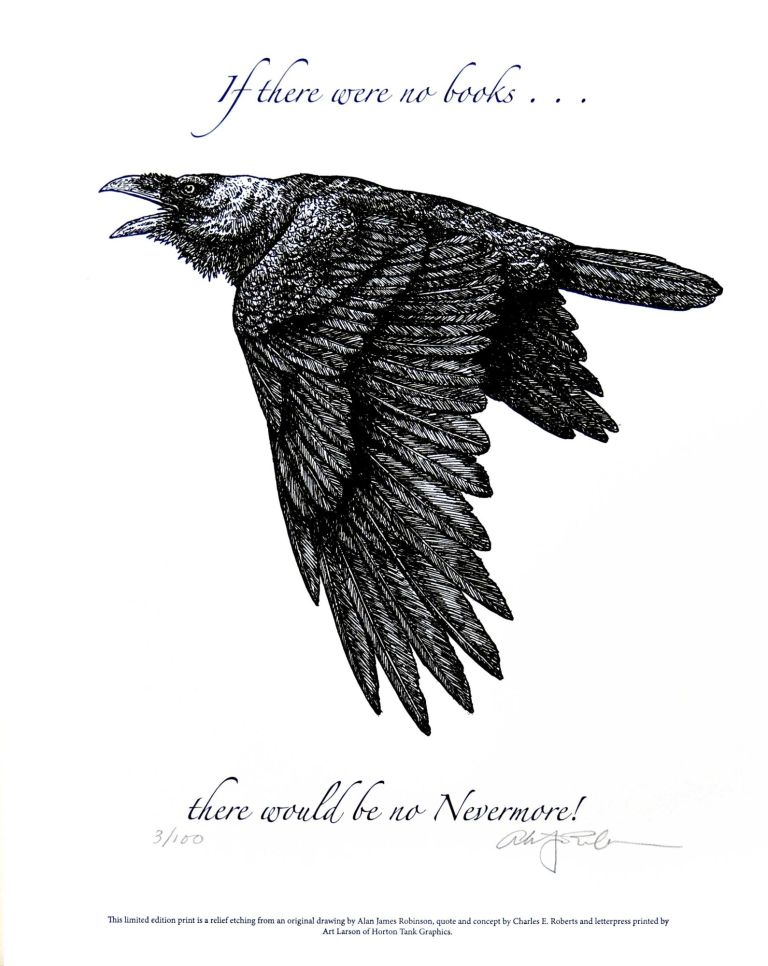 [Cheloniidae Press] Robinson, Alan James (Poe, Edgar Allan). If there were no books ... there would be no Nevermore! PRINT.
Easthampton, MA: Cheloniidae Press, 2016.
Limited to 100 copies. Signed and numbered by the artist. This is one of the Cheloniidae Press's first new works in twenty years. It is a letterpress printed broadside featuring an image of a raven from Edgar Allan Poe's famous poem and the quote "If there were no books ... there would be no Nevermore!" Printed by Master Printer Art Larson from a relief etching by Alan James Robinson on archival Cranes Lettra paper. Size: 11 x 14 inches. Fine.
Offered by Kelmscott Books and found in "Kelmscott Halloween 2022."
JOHN W. KNOTT, JR., BOOKSELLER
Catalog #74: 100 Rare Books -- with an emphasis on history and military affairs. Please request from mail@kubikbooks.com...
MICHAEL LAIRD RARE BOOKS & MANUSCRIPTS
DAVID M. LESSER, FINE ANTIQUARIAN BOOKS
LIBER ANTIQUUS, EARLY PRINTED BOOKS & MANUSCRIPTS
Featured item:
by John Berger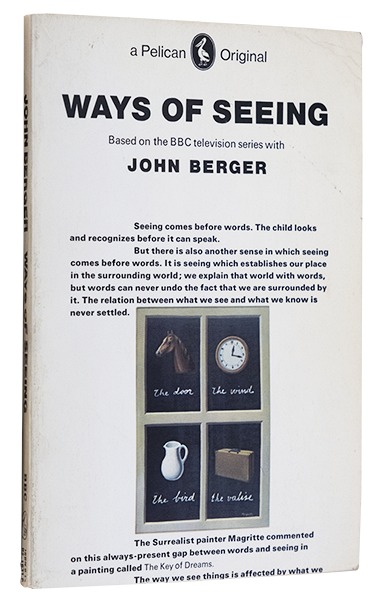 London, BBC/Penguin, (1972). Berger's influential art text, based on the BBC series of the same name, which popularized the deconstruction of art and advertising, particularly as applied to the ways that women are seen, and are subjected to what would later come to be called (by Laura Mulvey) "the male gaze," i.e., "...Men look at women. Women watch themselves being looked at. This determines not only most relations between men and women but also the relation of women to themselves." Ubiquitous in reprints; the true first is scarce. Very light wear to covers; near fine in wrappers. No hardcover edition was done until the U.S. edition a year later.
Offered by Ken Lopez Bookseller and found in "E-list 192: New Arrivals."
J. & J. LUBRANO MUSIC ANTIQUARIANS
Featured item:
BRAHMS, Johannes 1833-1897
[Op. 73]. Zweite Symphonie (D dur) für Grosses Orchester ... Op. 73. Partitur. [Full score]. Berlin: N. Simrock [PN 8028], 1878.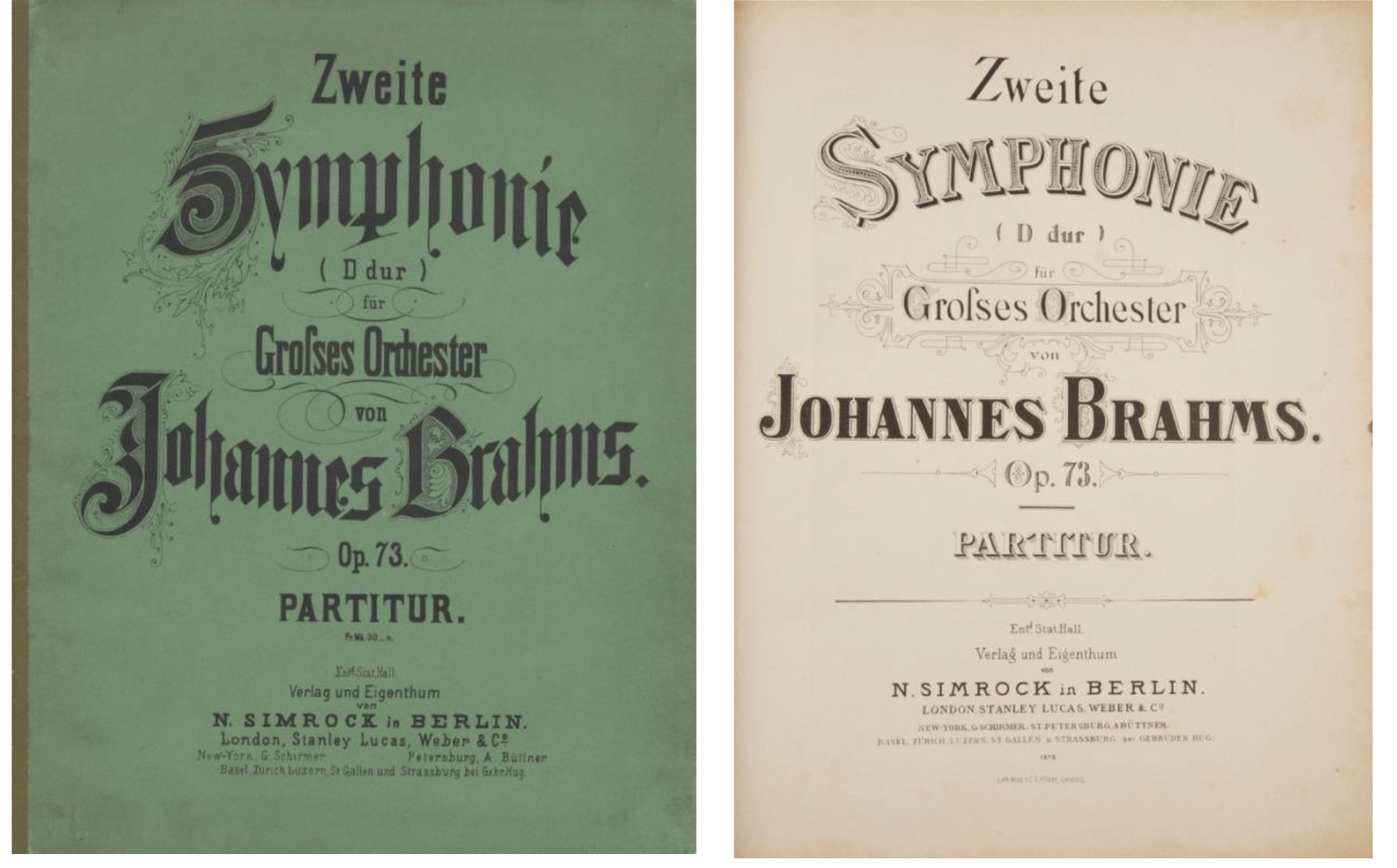 Folio. Original publisher's cloth-backed green printed wrappers. 1f. (recto title, verso publisher's note), 3- 71 printed music, (blank) pp. Engraved. in custom-made full green cloth box with dark brown leather title label gilt to spine. Box and wrappers very slightly worn. Minor wear; light uniform browning, very slightly heavier to edges. In very good condition overall. First Edition. McCorkle, p. 311. Hofmann, pp. 156-157. Fuld, p. 553. Sonneck Orchestral Music, p. 55. Hoboken 4,100. "The Second Symphony in D op.73, composed less than a year after the completion of the First, is often described as its sunny counterpart. The work indeed radiates a warmth and tunefulness absent in parts of the earlier work. But as Brahms himself acknowledged, the Second Symphony also has a 'melancholy' side. The lyrical opening theme of the first movement unravels almost at once into a dark passage for timpani and trombones. The voice of melodic continuity is reasserted often in this movement, however, first by the violin melody that follows the unravelling and again by the second group and the large coda. The pensive slow movement, in B major and in a modified sonata form, is dominated by a motivically rich, metrically ambiguous main theme remarkable for its combination of tunefulness and developing variation. The second half of the symphony distinctly brightens in mood, although it too contains sombre moments – often involving the trombones – that evoke the expressive world of the first two movements. The Allegretto recasts the traditional scherzo–trio alternation into a rondo-like structure that is one of Brahms's most original creations. Although the finale ends the symphony in a jubilant blaze of D major, it glances back at the mood of the earlier movements, especially in the haunting passage at the end of the development section (whose chains of descending 4ths Mahler recalled in his First Symphony) and in the syncopated episode for brass in the coda." George S. Bozarth and Walter Frisch in Grove Music Online.
Offered by J. & J. Lubrano Music Antiquarians and found in "Antiquarian Music Catalogue 97."
STUART LUTZ HISTORIC DOCUMENTS
MAIN STREET FINE BOOKS & MANUSCRIPTS
Featured item:
The Aleph and Other Stories 1933-1969
by Jorge Luis Borges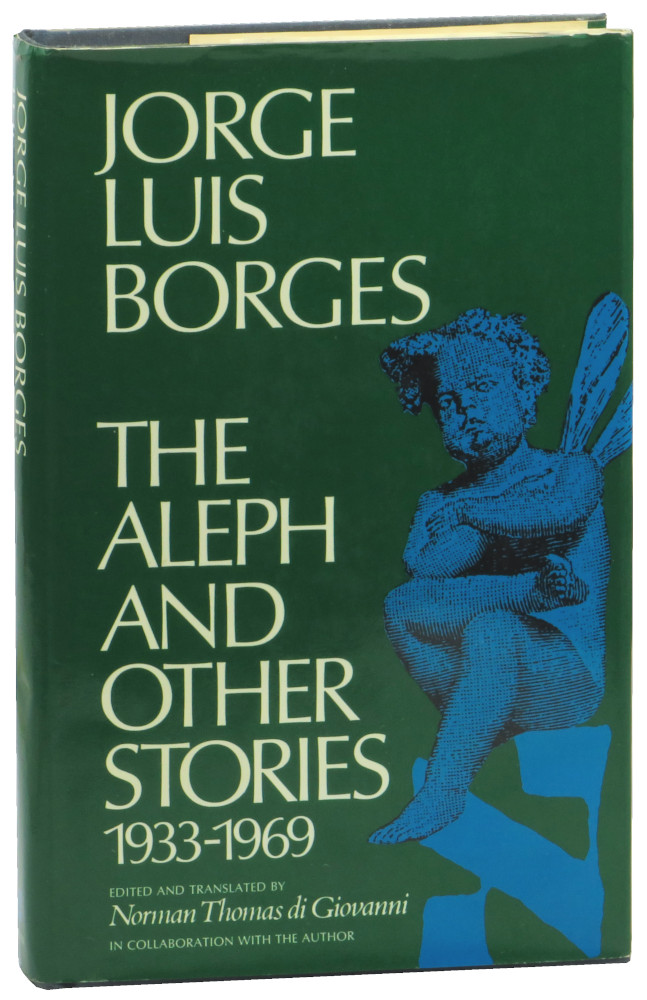 NY: Dutton, 1970. Hardcover. First Edition. Bookplate on front pastedown, else a very good hardback in a slightly tanned jacket.
Offered by Kenneth Mallory, Bookseller and found in their recent catalog "Fine Editions of Canonical Favorites in Fiction and Poetry."
Illustrated Catalog on Carlos Merida (1891–1984) -- Mexican painter, sculptor, writer and graphic designer -- available by request from mmbooks@comcast.net
MARTAYAN LAN RARE BOOKS & MAPS
BRUCE MCKITTRICK RARE BOOKS, INC.
Featured item:
Dean's New Scenic Books No. 3: Cinderella
London: Dean & Son, [1866]. 9-3/4 x 7 inches. 8pp printed recto only, each with a three-layer pop-up illustration affixed to it that can be pulled upright by a silk ribbon that runs through the layers. Illustrated paper-covered boards backed in green cloth. Color lithographs. Professionally rebacked, with six leaves discretely reinforced along gutter; neat repair to verso of first leaf. Boards rubbed and worn, with long crease to paper only on front board (possibly a byproduct of the rebacking); light soiling to leaves and folded-down versos of outer pop-up layers; minor soiling to a few illustrations; nicks to edges of most leaves. Front layer of pop-up on p. 7 partially loose at fold. All pull ribbons appear to be original; illustrations overall remarkably clean and bright. Good.
A presumed first edition copy of this early moveable book, issued in an edition of 5,000 copies in October, 1866, as per the code printed on the corner of the rear endpaper. The illustrations ingeniously pull up, rather than pop up, by the reader gently pulling on the silk ribbons running through all three layers of the illustrations, causing them to rise to a vertical position and create three-dimensional views of figures and scenes from the story.
Dean & Son capitalized on the popularity of moveable books and technological advances in lithography early on, becoming the first publisher to issue moveables in large print runs. Nevertheless, few copies of any of their publications have survived, much less in good condition and with fully operational illustrations, repaired or otherwise.
Offered by Kate Mitas, Bookseller and found in"E-list #18."
Louis M. Jason's book Literary (and Other) Celebrity Doodles II is now available. Contact the store at info@mysterypierbooks.com to order...
Featured item:
A MAP of the most INHABITED part of NEW ENGLAND, containing the PROVINCES of MASSACHUSETS BAY and NEW HAMPSHIRE, with the COLONIES of KONEKTIKUT AND RHODE ISLAND. Divided into Counties and Townships: The whole composed of Actual Surveys and its situation adjusted by ASTRONOMICAL OBSERVATIONS.
Braddock Mead (aka John Green), Thomas Jefferys
This extremely rare first edition, first state issue of one of the most important and iconic American maps ever produced is nothing short of spectacular. Admired by collectors, curators, and experts alike for its cartographic precision and geo-political significance, as well as its incomparable aesthetic qualities, this is one of the most extraordinary pre-Revolutionary War maps on the market.
Issued in 1755, at the height of British colonial rule and the initial stages of the French and Indian War (1754-63), this superb masterwork encapsulates the prowess of British might in North America prior to the Revolution. It was crucially influential in how its audience in Great Britain perceived of the American colonies and made a powerful claim to further British territorial interests on the continent. What we know now, but few understood at the time, is that the map reflected both the height of Britain's American empire, but also the cusp of its collapse.
The large format (40 x 42.3 in) was a cartographic innovation for regional maps at the time, allowing the mapmakers to pack it with tremendous detail. The amount of information afforded, and the precision with which it could be represented, was a key element in the map's commercial success and a core reason why it still stands as a crowning achievement of New England cartography. It stands alongside two other fundamental maps published in 1755: John Mitchell's A Map of British and French Dominions in North America..., and A General Map of the Middle British Colonies, in America..., by Lewis Evans. Events of the 1750s in North America occurred at such a rapid pace that a revised version soon was necessary, and a second state was published only four years after the first. While the differences in the two states may seem obscure, experts understand that they are an important reflection of different points in the course of the French and Indian War. The map was then extensively altered and re-engraved for a new edition, which was published by Thomas Jefferys in his 1768 atlas General Topography of North America. It immediately became the standard reference for mapmakers, soldiers, and statesmen alike, and was reissued repeatedly well into the 1790s. By the time new maps were drawn up after Independence, the political landscape had changed so dramatically that regional mapping was largely abandoned in favor of mapping
the new States individually.
Offered by Neatline Antique Maps and found in "Catalogue: Autumn 2022."
PHILADELPHIA RARE BOOKS & MANUSCRIPTS
PHILLIP J. PIRAGES FINE BOOKS & MEDIEVAL MANUSCRIPTS
RABELAIS BOOKS ON FOOD & DRINK
RICHARD C. RAMER, OLD & RARE BOOKS
ROOTENBERG RARE BOOKS & MANUSCRIPTS
BARRY LAWRENCE RUDERMAN ANTIQUE MAPS, INC.
California Book Fair 2019: 130 Items on Science and Medicine is now available on request from scientiabk@gmail.com...
MARC SELVAGGIO, BOOKS & EPHEMERA
MICHAEL R. THOMPSON RARE BOOKS
JOHN WINDLE ANTIQUARIAN BOOKSELLER
--
Remember, you can always browse and download the latest catalogs published by ABAA members on ABAA.org by visiting the following link: https://www.abaa.org/catalog/... (You can also access this page by selecting 'Booksellers' from the top menu, scroll to the bottom of the page to 'Member Catalogs', and click on 'View All'.)
---
Get to know the members of the ABAA...