Browse the latest catalogs, newsletters, and e-lists of rare books, fine bindings, incunabula, print ephemera, and much more from the members of the ABAA below. (Also includes podcasts, blog posts, and other digital formats.)
*New* indicates any catalogs added in the last month.
AARDVARK BOOKS/EZRA THE BOOKFINDER
ANTIPODEAN BOOKS, MAPS, PRINTS
W. C. BAKER RARE BOOKS & EPHEMERA
Featured item:
ALL ABOUT CALIFORNIA and the Inducements to Settle There. [For Gratuitous Circulation].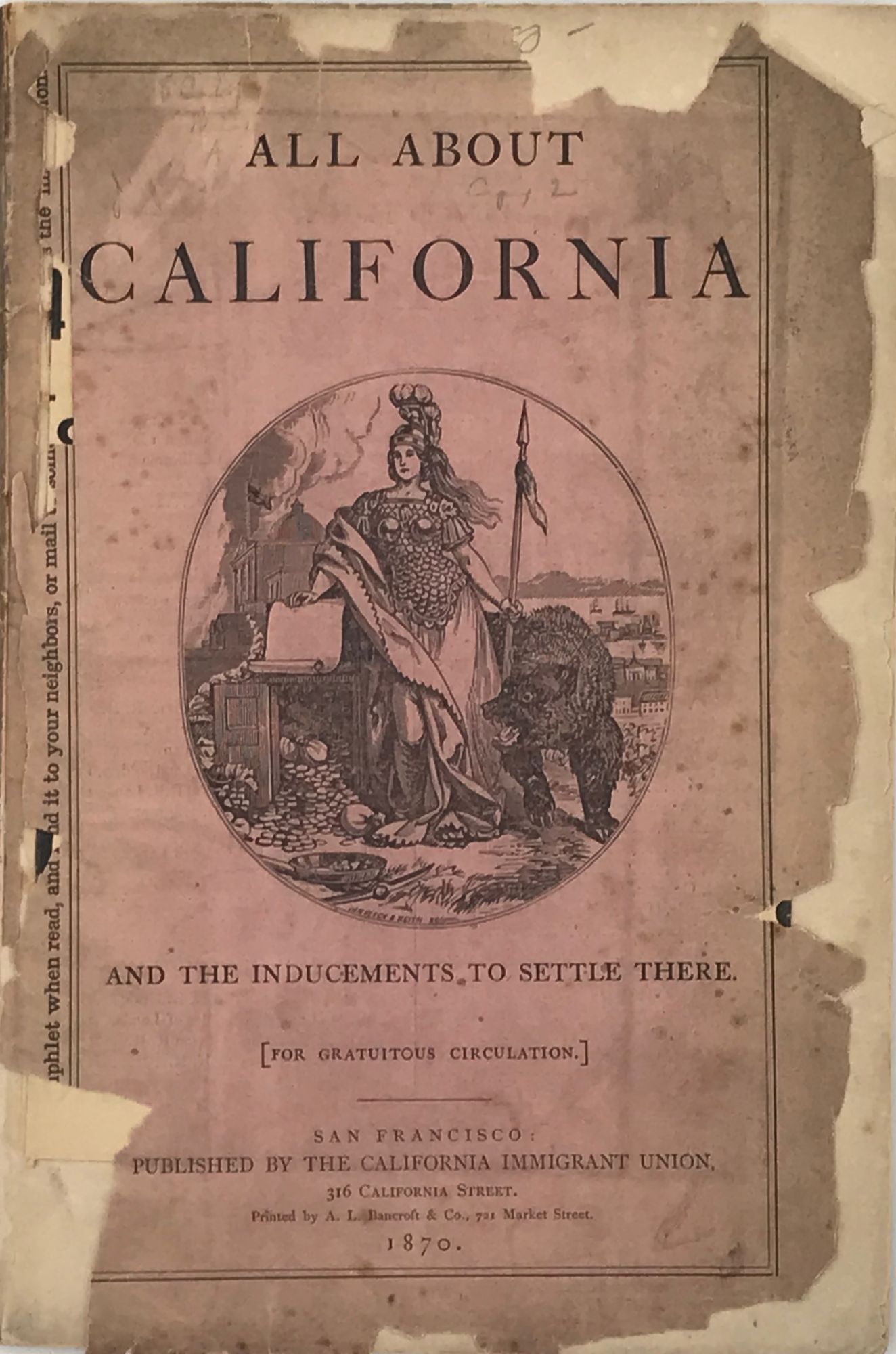 San Francisco: Published by the California Immigrant Union, 316 California Street. Printed by A. L. Bancroft & Co., 721 Market Street, 1870. Second edition. 8vo. 64, 16pp., [30] ads etc., folding map of overland route. In text double page map of California, and double page map of San Joaquin Valley. Printed pink wrappers (detached, significant chipping with loss of some text on the wrappers). HOWES C36 - attributes some text to John S. Hittell.
Offered by Bartleby's Books and found in "Miscellaneous Americana."
Featured item:

Pressbook: Beach Blanket Bingo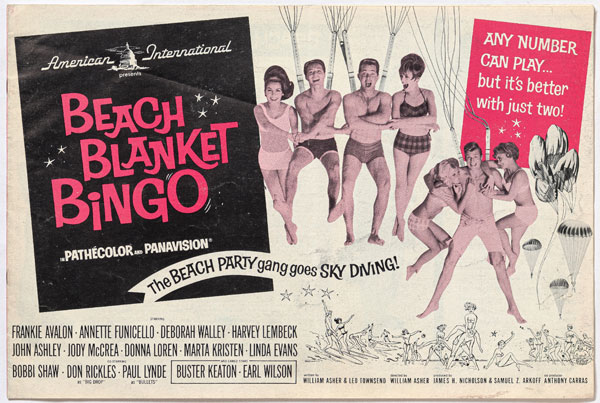 Softcover. Oblong folio. [16]pp. Stapled illustrated self-wrappers. Small scrape on front wrap, faint bend on the pages, very goods. Compilation of available posters, lobby cards, heralds, ads, publicity, suggested sales strategies, etc. for exhibitors.
Offered by Between the Covers Rare Books and found in "E-catalog 98: Summer."
"A Short list of auction and bookseller catalogues on historic and designer bindings." A .pdf is available upon requeest from robin.bledsoe1@verizon.net...
Feature item:
Smith, Adam. AN INQUIRY INTO THE NATURE AND CAUSES OF THE WEALTH OF NATIONS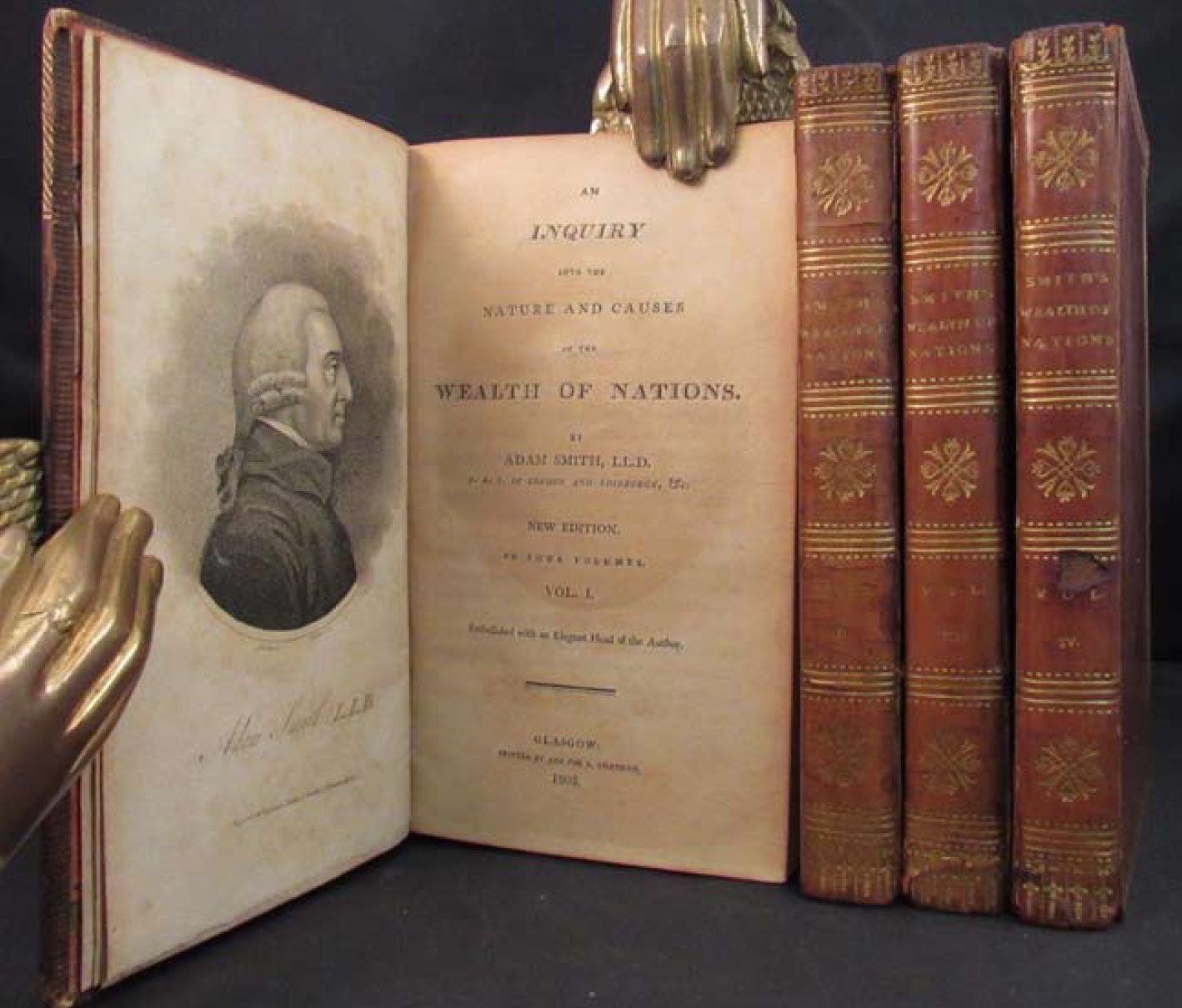 (Glasgow: Printed by and for Chapman, 1805) 4 volumes. The First Glasgow Edition, the First Printing of the Wealth of Nations in Scotland and the First to Contain a Portrait of the Author.
Provenance: William Morris; Charles MacGarvey. 12mo (175 x 105 mm.; 6 7/8 x 4 1/8 inches), a completely unrestored set handsomely bound in contemporary polished calf, the original backs fully gilt with the compartments separated by triple gilt filleted and stippled lines, the compartments gilt decorated with fine central ornaments tooled in gilt, the covers with double gilt ruled lins at the borders enclosing a rolled border tooled in blindedges and endleaves marbled. viii, 304; iv, 286; iv, 284, [4]; [ii], 280 pp.
A handsome set in original period polished calf unrestored, the bindings with a bit of wear at the edges and to the outer joints and hinges, some rubbing to the tails of the spines, one head-cap with a small chip, the inner hinges strong and unbroken, the text-blocks tight and clean, some mellowing to the paper as is normal, a pleasing survival of a scarce book. HIGHLY IMPORTANT AND RARE FIRST AMERICAN EDITION IN ORIGINAL PERIOD BINDING GILT WITH FINE PROVENANCE. PERHAPS THE GREATEST BOOK EVER WRITTEN IN THE HISTORY OF ECONOMIC THOUGHT.
Offered by Buddenbrooks, Inc. and found in "Recent Acquisitions (May 2021)."
ANDREW CAHAN, BOOKSELLER, LTD.
DE SIMONE COMPANY, BOOKSELLERS
Catalog #88, Medical Books from the Fifteenth to the Twentieth Centuries -- This catalog is print-only. To request a copy, contact MedBks@aol.com...
Comic collection of William "Gatz" Hjortsberg -- Details available upon request from info@elkriverbooks.com...
Featured item:
CONRADUS DE SAXONIA [CONRAD HOLTNICKER OF SAXONY], Sermones de sanctis et de communi sanctorum and Speculum Beatae Virginis Mariae [Mirror of the Blessed Virgin Mary]; with Sermons by ALDOBRANDINUS DE CAVALCANTIBUS, ANTONIUS AZARO OF PARMA, MARTINUS POLONUS and unidentified authors In Latin, decorated manuscript on parchment Austria (Vienna?) or Southern Germany, c. 1275-1300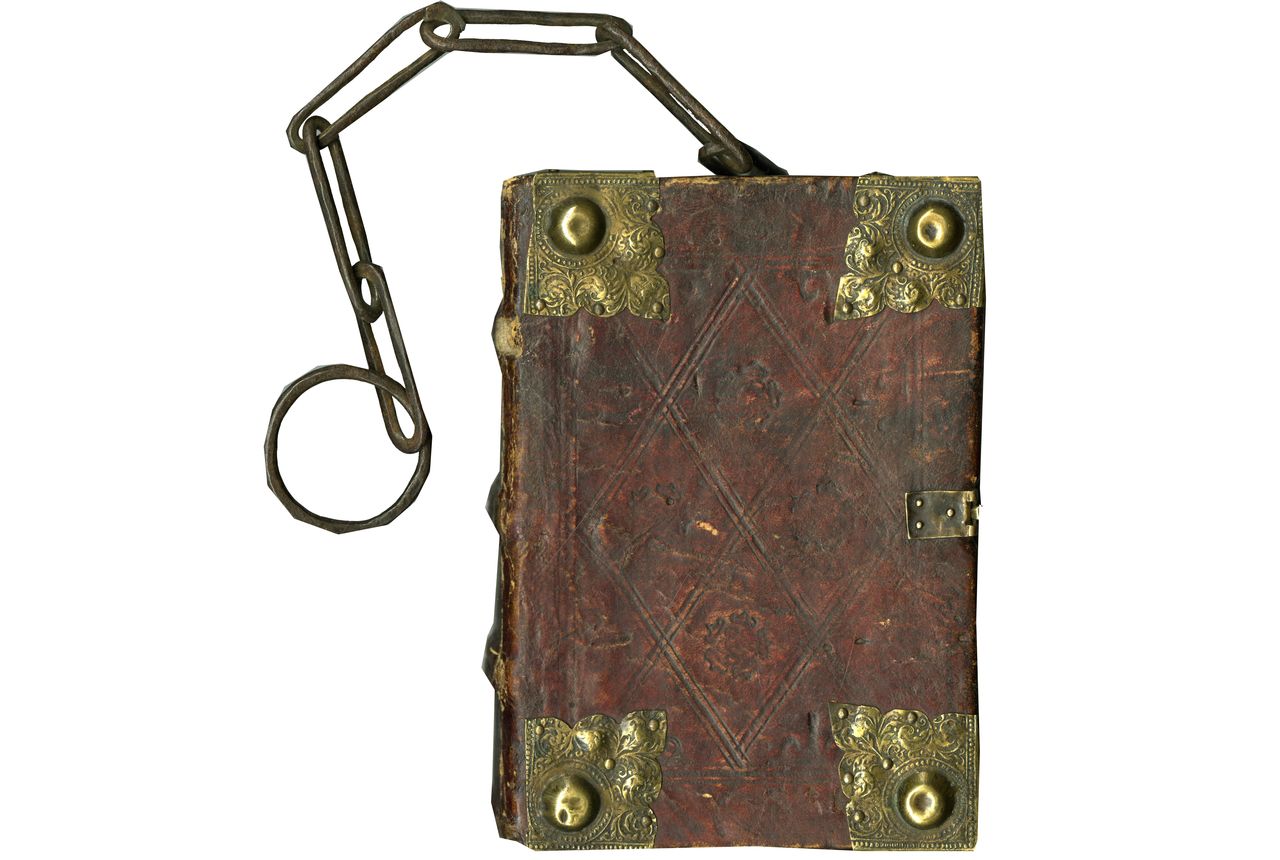 i (parchment) + 190 folios on parchment, modern foliation in pencil, top outer recto, 1-61, 61bis, 62-72, 72bis, 73-188 (collation, i-xix10), quires i-xviii signed in Roman numerals jus -xiijus in center lower margin of final verso, ff. 1-98, 109- 117 ruled very faintly with full-length vertical bounding lines, ff. 98v-108v, 117v-188v ruled in brown ink with fulllength horizontal and vertical bounding lines, prickings visible in upper, lower, and outer margins (justification, 141- 143 x 96-100 mm.), text written in a rapid Gothic hand with cursive influence in two columns of thirty-two to thirtyseven lines, ff. 1-40v written in pale brown ink, ff. 41-188 written in dark brown ink, guide notes for rubrication partially visible in lower margin (ff. 119, 122, 125, 128v), red rubrics, majuscules and names of cited authorities stroked in red, rhymed phrases underlined in red, red paraphs, 2- and 3-line plain red initials, 2-line red initial on f. 131v has some flourishing in red, corrections in scribe's hand, partially cropped in the outer margin of f. 79, medieval marginal notes in several hands with some notes cropped in the outer margin of f. 89, pointing hands, narrow gap in parchment along outer margin of f. 72bis stitched with green thread, rust stain in outer margin of ff. 184-188 from nail protruding from inside of the lower board, on ff. 187-188 the rust has begun to eat away at the parchment at this location. Bound in fifteenth-century red calf blind-tooled with intersecting diagonal triple fillets within a rectangular triple fillet frame, forming four lozenges stamped with five-petalled rosettes and eight triangles stamped with headed edge stamps, and with scrolls stamped below and, on the upper board, above the fillet frame, over wooden boards with three double bands, with eight engraved and bossed cornerpieces, fore-edge clasp, back to front, chain hasp at the top of the lower board with chain intact and terminating in a ring, stamp partially visible in the inside of the lower board in the lower outer corner, front flyleaf is a parchment bifolium on which psalms have been copied in a late fourteenth- or early fifteenth-century gothic bookhand, rotated so that the fold runs horizontally across the leaf and the outer side of the bifolium serves as the recto, cropped along one outer edge (now the bottom edge), with red wax seal with coat of arms on its present outer edge, pastedown on lower board is a parchment manuscript leaf containing a passage from Deuteronomy, copied in a fourteenth- or fifteenth-century gothic bookhand, cropped on its left side and pasted upside down, modern repair reattaching the back cover with new material sewn to the exiting thongs and laced into the cover boards under the exiting laced-in tabs, in excellent condition. Dimensions 182 x 127 mm.
This collection of some of the most important works by the early Franciscan writer, Conrad of Saxony, was copied not long after their composition. In spite of its wide circulation, there are only four copies of the Speculum beatae Mariae virginis recorded in the United States and it is rare on the market (only one copy recorded as sold in the last century). It survives in a handsome fifteenth-century binding in a remarkably fine state of preservation, including a chain attached to its lower board attesting to its use in a late medieval chained reference library.
Offered by Les Enluminures and found in "E-catalogue 7: Cover to Cover."
RODGER FRIEDMAN RARE BOOK STUDIO
OCCASIONAL LIST 22: A Miscellany: Original Art Work; Small Archive of Major English Watercolourist; Interesting Theatrical Pieces; Manuscript Material, Etc., Etc. -- available on request from fgrare@fgrarebooks.com...
Has the following lists available: California, Texas, Kansas, Missouri, Minnesota, Iowa, Nebraska, Oregon, Louisiana, Colorado, Ohio and New York. Will email to interested parties. Contact info@ginsbook.com to request...
THOMAS A. GOLDWASSER RARE BOOKS
DAVID A. HAMILTON AMERICANA BOOKS
JONATHAN A. HILL, BOOKSELLER, INC.
Featured item:
by Elaine Gross and Fred Rottman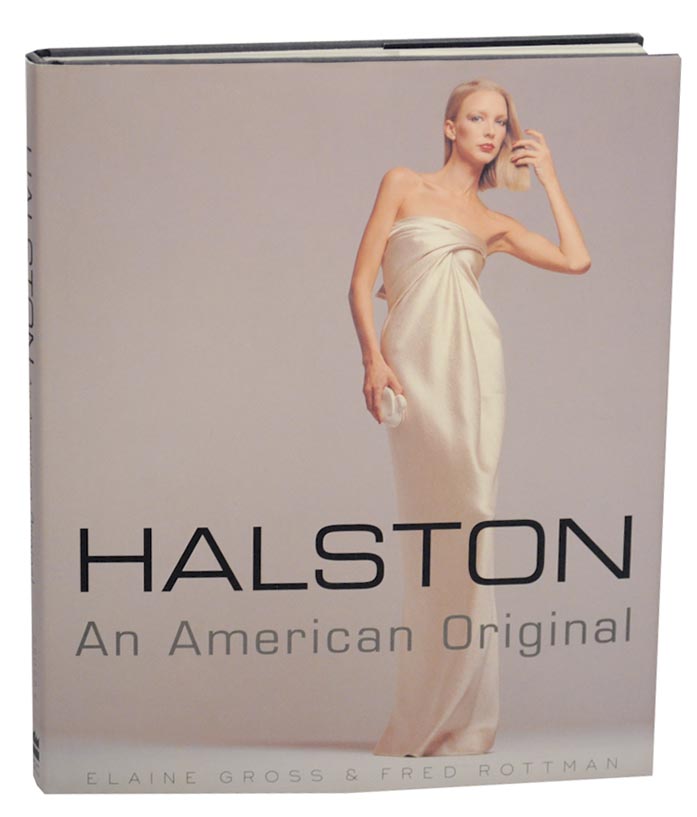 New York: HarperCollins, 1999. First edition and first printing. Hardcover. 236 pages. An illustrated biography of this fashion icon. Includes numerous color and black and white photographs. A fine copy in very near fine dust jacket. A very nice copy of one of the better books on Halston who is the subject of current Netflix mini series with Ewan McGregor in the title role.
Offered by Jeff Hirsch Books and found in "E-list 180."
Featured item:
OZAWA, Zenpei. Budō baiyōhō tekiyō [trans.: A Summary on grape cultivation].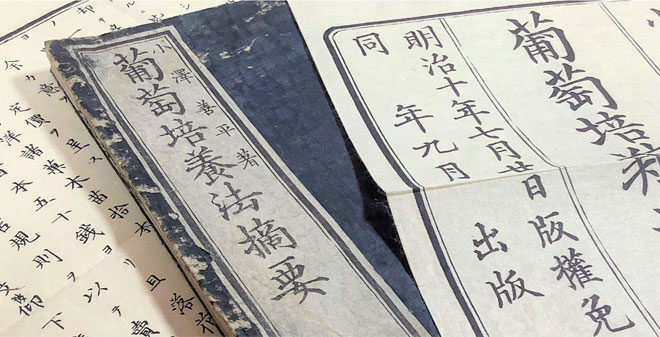 Tokyo: Ozawa Zenpei, 1877. 22.7cm x 15.2cm. Upper pastedown printed on pink paper, several woodcuts (some of which are full page) in the text. [32] folding leaves. Original dark blue wrappers, rubbed overall, binding string renewed.
The FIRST & ONLY EDITION of this illustrated guide to grape cultivation written by Ozawa Zenpei (1840-1904), an important pioneer of wine in Japan. Ozawa was responsible for introducing over one hundred varieties of grapes to Japan from overseas, especially from America. The current work discusses plant cultivation; preparation of the soil; care of the vines (one chapter devoted to the first year, another to the second year); and the importance of selecting the variety of grape according to the weather of the region. The several woodcut illustrations depict the Delaware grape; grape leaves (five different types of vines, one of which is the Japanese variety "Edo"); and various planting and grafting techniques.
Interestingly, in Budō baiyōhō tekiyō, there is quite a bit about Andrew Fuller (1828-1896), the extremely influential American viticulturist whose work The Grape culturist (first ed.: 1864) was a nineteenth century best-seller. Our author has translated numerous parts of Fuller's text into Japanese(beginning on leaf "14"[i.e. 16]); this is then followed by an exhaustive list of grape varieties (including early American varieties such as Catawba, Clinton, Concord, Delaware, & Isabella) and a summary of Fuller's viticultural practices.
"Eventually, in 1875, the first attempts at commercial wine-making were undertaken in Yamanashi, where grape-growing had begun over a millennium before. An enterprising merchant who had seen foreigners at the port of Yokohama drinking wine set out to make a substitute from local grapes. The early product was not good, but the effort was enough to convince local authorities to permit the import of European vinifera and American vines as the basis of a new industry." – Robinson, The Oxford companion to wine, p. 528. This work comes out of this initial effort by the Japanese to make western-style wine.
This copy also includes two printed elements not usually preserved. One is the original book sleeve that the book was inside of during its original point of sale. The other is an advertising leaflet for Ozawa's nursery where he was cultivating and selling western plants to the Japanese market. The advertising broadside is printed recto only and it is even rarer than the book sleeve. Both are folded and in fine condition. I would like to thank Toshie Marra, Librarian for the Japanese Collection at University of California, Berkeley, for her assistance in the research of this work. OCLC lists only one copy in Japan to which the National Diet Library Catalogue of Japan adds one further (also in Japan). There is also a copy at the University of California (Davis).
Offered by Ben Kinmont, Bookseller and found in "June Harvest."
JOHN W. KNOTT, JR., BOOKSELLER
Catalog #74: 100 Rare Books -- with an emphasis on history and military affairs. Please request from mail@kubikbooks.com...
MICHAEL LAIRD RARE BOOK & MANUSCRIPTS
DAVID M. LESSER, FINE ANTIQUARIAN BOOKS
LIBER ANTIQUUS, EARLY PRINTED BOOKS & MANUSCRIPTS
J. & J. LUBRANO MUSIC ANTIQUARIANS
STUART LUTZ HISTORIC DOCUMENTS
Featured item:
Murphy, Jamie. One Thousand, Seven Hundred and Fifty Three.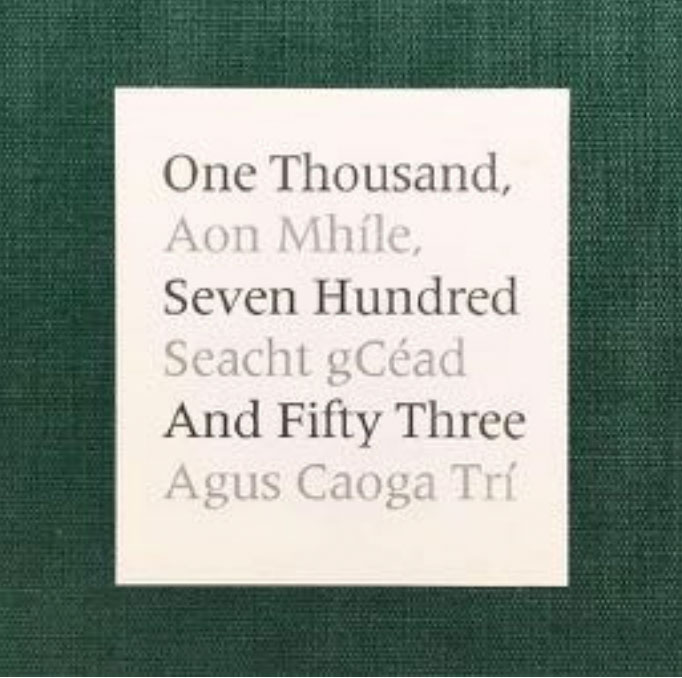 Dublin: The Salvage Press, 2019. Limited Edition. Tight, bright, and unmarred. 110 sections of 16 pages in adhesive-less medieval style binding on raised double linen chords, ebonised oak boards tapered to fit the swell of the spine. Large 8vo, printed in black, silver and green on 140gsm Zerkall smooth. Housed in a cloth covered solander box. Numbered limited edition of eight copies. Fine in Fine Archival Box. Hardcover.
Offered by Lux Mentis Booksellers and found in "RBMS Catalog."
MAIN STREET FINE BOOKS & MANUSCRIPTS
Illustrated Catalog on Carlos Merida (1891–1984) -- Mexican painter, sculptor, writer and graphic designer -- available by request from mmbooks@comcast.net
MARTAYAN LAN RARE BOOKS & MAPS
BRUCE MCKITTRICK RARE BOOKS, INC.
R & A PETRILLA, ANTIQUARIAN BOOKSELLERS
PHILADELPHIA RARE BOOKS & MANUSCRIPTS
PHILLIP J. PIRAGES FINE BOOKS & MEDIEVAL MANUSCRIPTS
RABELAIS BOOKS ON FOOD & DRINK
RICHARD C. RAMER, OLD & RARE BOOKS
B&L ROOTENBERG RARE BOOKS & MANUSCRIPTS
BARRY LAWRENCE RUDERMAN ANTIQUE MAPS, INC.
California Book Fair 2019: 130 Items on Science and Medicine is now available on request from scientiabk@gmail.com...
MARC SELVAGGIO, BOOKS & EPHEMERA
MICHAEL R. THOMPSON RARE BOOKS
JOHN WINDLE ANTIQUARIAN BOOKSELLER
Featured item:
Our Exagmination Round His Facification For Incamination Of Work In Progress; with Letters Of Protest By G.V.L. Slingby and Vladimir Dixon
by Beckett, Samuel, Marcel Brion, Frank Budgen, Stuart Gilbert, Eugene Jolas, Victor Llona, Robert McAlmon, Thomas McGreevy, Elliot Paul, John Rodker, Robert Sage, William Carlos Williams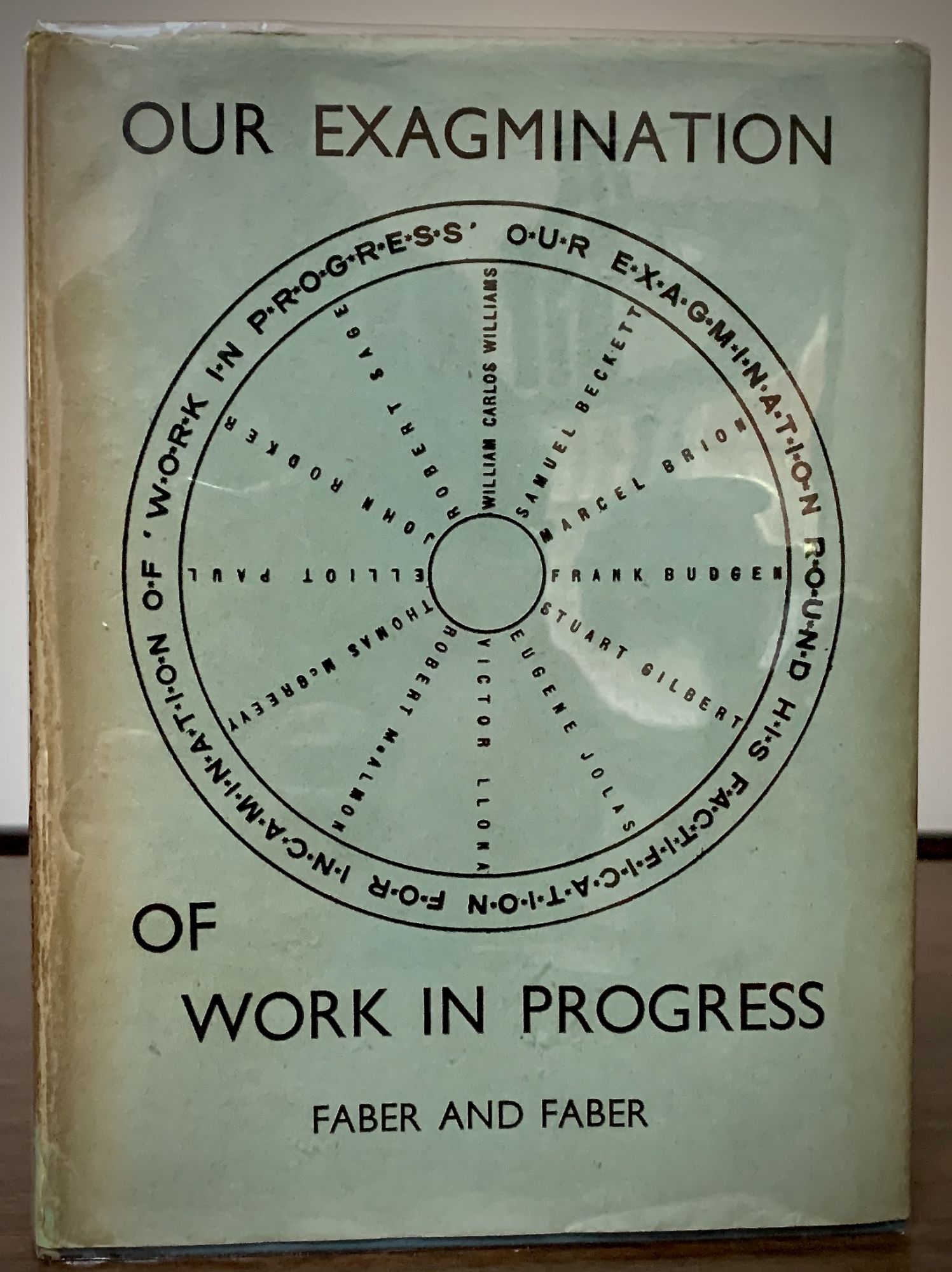 London: Faber And Faber, (1929). First English language edition. Hardcover. 191 (2) pages. 19 x 14.5 cm. Published from the original French sheets. Critical essays on Joyce's "Finnegans Wake. Beckett, in Joyce's company at the time, and his essay (the first of the essays here published, by virtue of the alphabet) is his first publication notes, "It takes few intellectual prisoners: " . . . if you don't understand it, Ladies and Gentlemen, it is because you are too decadent to receive it." Clean copy, pencil notations front free endpaper. Orig. azure blue cloth spine lettered in gilt. Near fine in very good dust wrapper with slightly faded spine.
Offered by Roy Young Bookseller and found in "New Arrivals: Mostly Literature."
--
Remember, you can always browse and download the latest catalogs published by ABAA members on ABAA.org by visiting the following link: https://www.abaa.org/catalog/... (You can also access this page by selecting 'Booksellers' from the top menu, scroll to the bottom of the page to 'Member Catalogs', and click on 'View All'.)
---
Get to know the members of the ABAA...