Browse the latest catalogs, newsletters, and e-lists of rare books, fine bindings, incunabula, print ephemera, and much more from the members of the ABAA below. (Also includes podcasts, blog posts, and other digital formats.)
*New* indicates any catalogs brought to our attention since the starts of July 2022.
AARDVARK BOOKS/EZRA TISHMAN BOOK APPRAISALS
ANTIPODEAN BOOKS, MAPS, PRINTS
W. C. BAKER RARE BOOKS & EPHEMERA
Sixty Books About Love -- Just in time for Valentine's Day, an offering of books about true and not-so-true love and its consequences, together with paeans and complaints to those beloved, and advice to aspiring lovers.
ANDREW CAHAN, BOOKSELLER, LTD.
Featured item:
HEBENSTREIT, Joannes. PROGNOSTICON | PHYSICVM: | Des Jhars Jheſu | CHRIſti/1565. Auff ergangene | Exempla der verloffenen Hiſtorien/ und | alten Weiſſagung gegründet. [Colophon D4r]: Gedruckt zu Erffordt/ durch Georgium Baw- | man/ zum bunten Lawen/ bey S. | Paul. [Erfurt: Georg Baumann, 1564]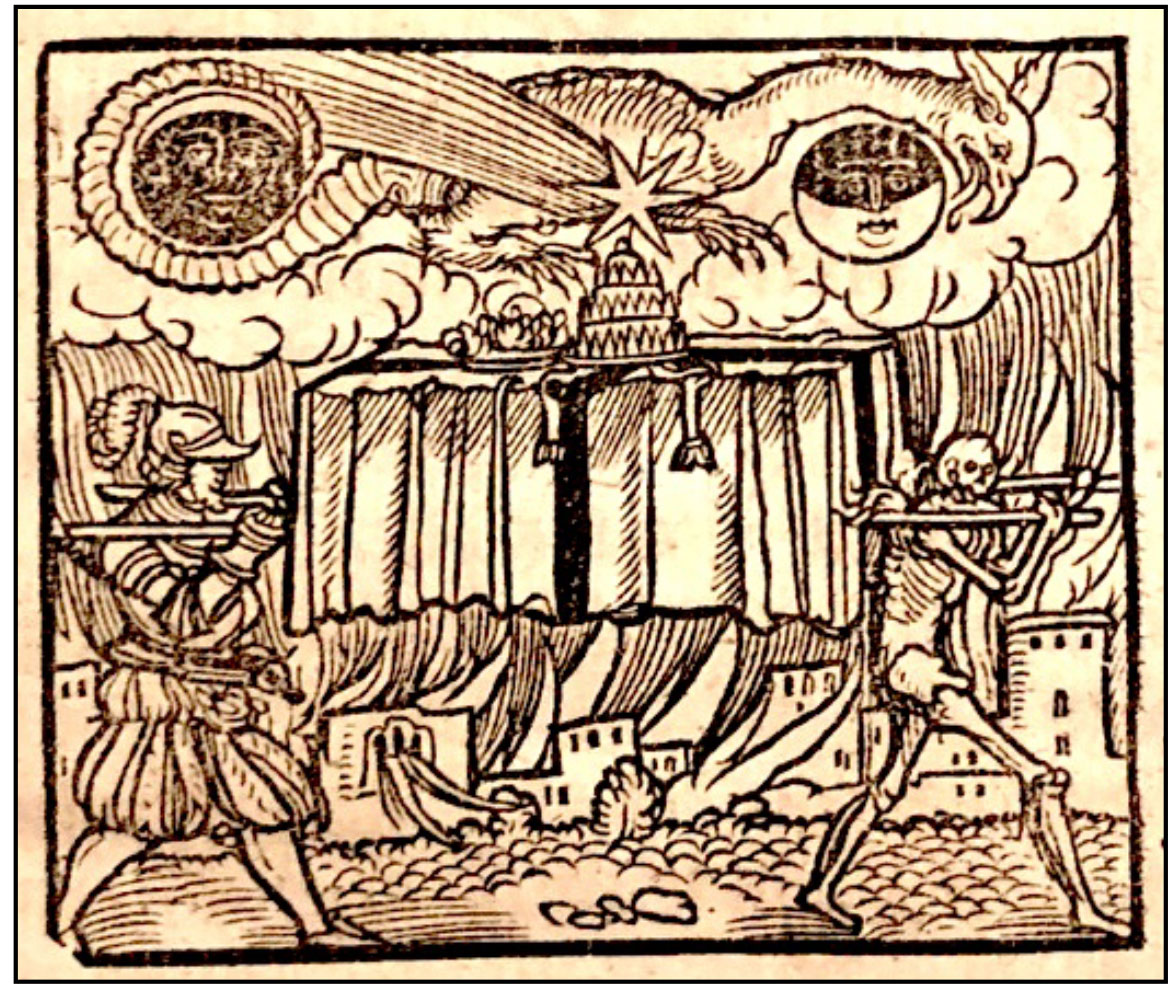 First edition of an especially virulent astrological prediction for the year 1565 by the Erfurt physician and astronomer Joannes Hebenstreit, who produced prognostications for every year from 1553 until his death in 1569, but exemplars from some of these years have not survived. The text surrounding the bizarre title woodcut sums up Hebenstreit's main points well: in 1565 the Pope will die, the Turks will perish, plague will reign, war will ravage, the Empire will fall. The arresting title woodcut illustrates a soldier and a skeleton bearing a coffin upon a catafalque covered with a mortcloth and topped with a papal tiara, all set against a backdrop of a burning city, the smoke from which roils in a turbulent sky where a dragon encircles two foreboding, eclipsed suns. Each of Hebenstreit's predictions are provided in graphic, apocalyptic detail, and he offers ideas for neither remedy nor prevention. Indeed, in the final section, Hebenstreit predicts not only a resurgence of plague, but something new and even worse: a fresh pestilence that will bring with it untold suffering and an unimaginable symptomatology that will drive the afflicted mad before it kills. The most doomsaying prognostication in Hebenstreit's oeuvre. No copies located in American libraries.
Offered by W.S. Cotter Rare Books and found in "Heat Wave."
DE SIMONE COMPANY, BOOKSELLERS
Catalog #88, Medical Books from the Fifteenth to the Twentieth Centuries -- This catalog is print-only. To request a copy, contact MedBks@aol.com...
Featured item:
Miniature Biographies Published by Duke Brand Cigarettes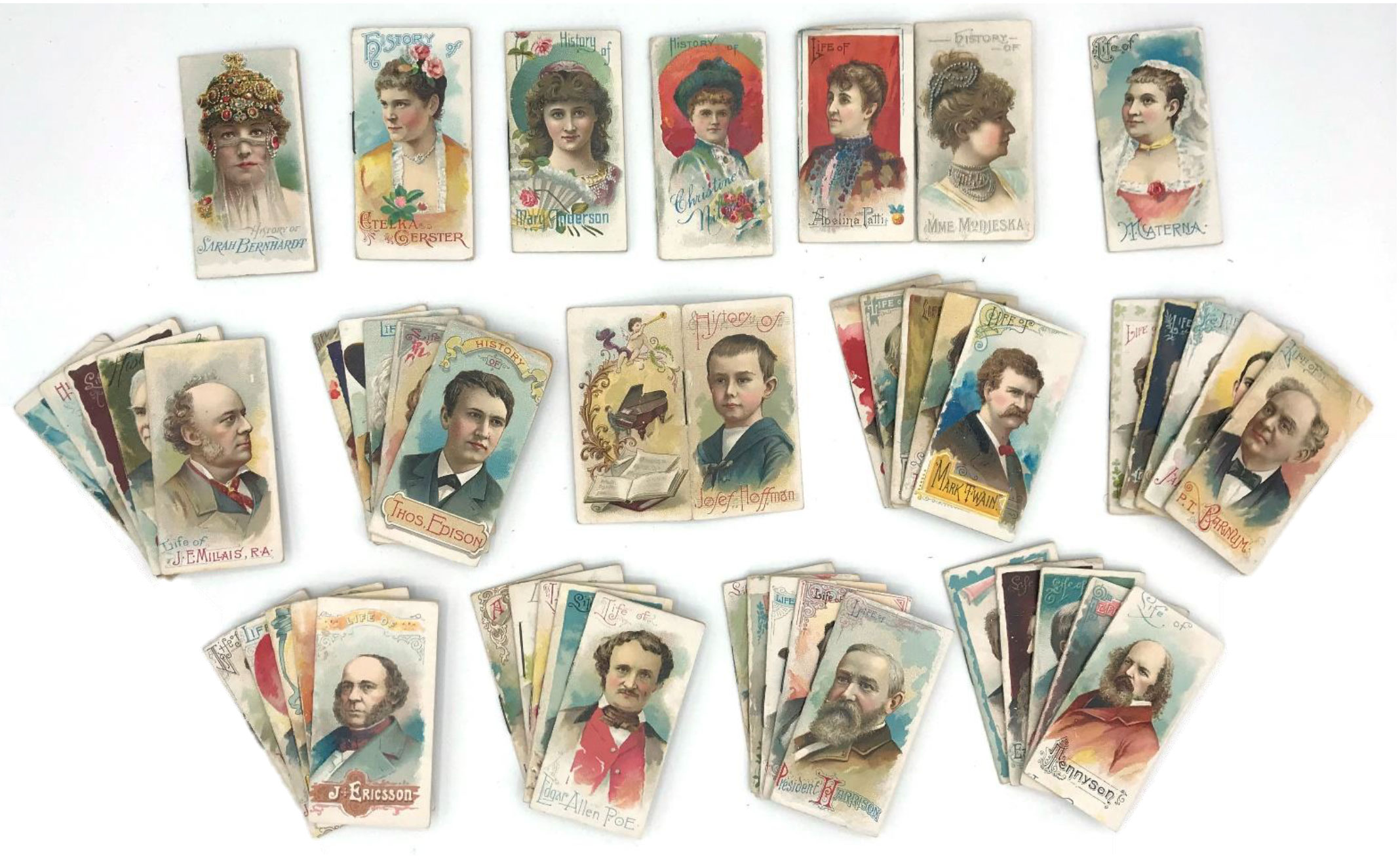 Knapp & Company. Park Place, New York. 1890s. A complete set of 48 absolutely charming miniature chromolithographed biographies, published as part of an advertising campaign for Duke Brand Cigarettes. Each was issued in a box of cigarettes in a "collect-them-all"-type marketing ploy. The complete set here includes 7 women and 41 men. Each measures approx. 3" by 1.5", is approx. 16 pp., and stapled in original chromolithographed illustrated wrappers.
The wrappers are particularly well-designed, and feature a portrait of the subject on the upper wrapper, and an allegorical/metaphorical illustration on the lower wrapper that matches that figure's accomplishments. For example, industrialist Andrew Carnegie has a coal worker shoveling coal on his lower wrapper, while Edgar Allan Poe has a raven perched atop a pile of books on his lower wrapper. Explorer and hunter Henry M. Stanley has an African woman's bust inside a map of Africa on his lower wrapper. Other prominent figures run the gamut from actors (Edwin Booth, Sarah Bernhardt), to writers and poets (Tennyson, Irving), to businessmen (Vanderbilt), engineers and inventors (James B. Eads, Mary Anderson), and politicians (William Henry Harrison). There is even one child, the musical prodigy Josef Hoffman.
Offered by Eclectibles and found in "E-list No. 87."
Comic collection of William "Gatz" Hjortsberg -- Details available upon request from info@elkriverbooks.com...
RODGER FRIEDMAN RARE BOOK STUDIO
OCCASIONAL LIST 22: A Miscellany: Original Art Work; Small Archive of Major English Watercolourist; Interesting Theatrical Pieces; Manuscript Material, Etc., Etc. -- available on request from fgrare@fgrarebooks.com...
Has the following lists available: California, Texas, Kansas, Missouri, Minnesota, Iowa, Nebraska, Oregon, Louisiana, Colorado, Ohio and New York. Will email to interested parties. Contact info@ginsbook.com to request...
THOMAS A. GOLDWASSER RARE BOOKS
DAVID A. HAMILTON AMERICANA BOOKS
JONATHAN A. HILL, BOOKSELLER, INC.
Featured item:
Bruno Munari. Uomini sulla Luna.

Milan: Sugar Editore, 1962. First edition of Bruno Munari's science fiction panorama depicting a colony on the moon, accompanied by two discs containing audio of the imaginary lunar settlement. A single paragraph at the beginning of the panorama sets the scene, introducing space captain "Bill Ventura" in his spaceship, followed by Munari's stunning color-printed lunar panorama, which can be viewed in two-panel sections or as an unbroken landscape. Viewers encounter a space station above the moon, with windows revealing the activities of the astronauts inside, followed by the bustling lunar colony itself, built under a protective dome, featuring decorative trees, a theater, a tennis court, and a swimming pool.
The flip side of the panorama offers a rough timeline of missile developments from the 1940s to the 1960s, ending with the United States Army's Nike Zeus of the early 1960s. In the front and back folds of the panorama are two discs from outer space: the first contains messages from the space station to the lunar settlement, and the second the sounds within the first city on the moon. Text in Italian. OCLC records one holding, at Stanford. A near-fine example of popular space race iconography in the years just before humans set foot on the moon.
Double-sided panorama, measuring 7.75 inches square, 93 inches fully unfolded. Printed in color on both sides, with pockets in first and last panels holding flexible white 33-rpm records. Lightest edgewear.
Offered by Honey & Wax Booksellers and found in their recent catalog "12 New Acquisitions."
Sharon Dolin Center for the Book Arts Poetry Chapbook Archive -- A detailed list is available upon request from james@jamesjaffe.com
JOHN W. KNOTT, JR., BOOKSELLER
Catalog #74: 100 Rare Books -- with an emphasis on history and military affairs. Please request from mail@kubikbooks.com...
MICHAEL LAIRD RARE BOOKS & MANUSCRIPTS
DAVID M. LESSER, FINE ANTIQUARIAN BOOKS
LIBER ANTIQUUS, EARLY PRINTED BOOKS & MANUSCRIPTS
Featured item:

Brunhoff, Jean de
Histoire de Babar; le petit éléphant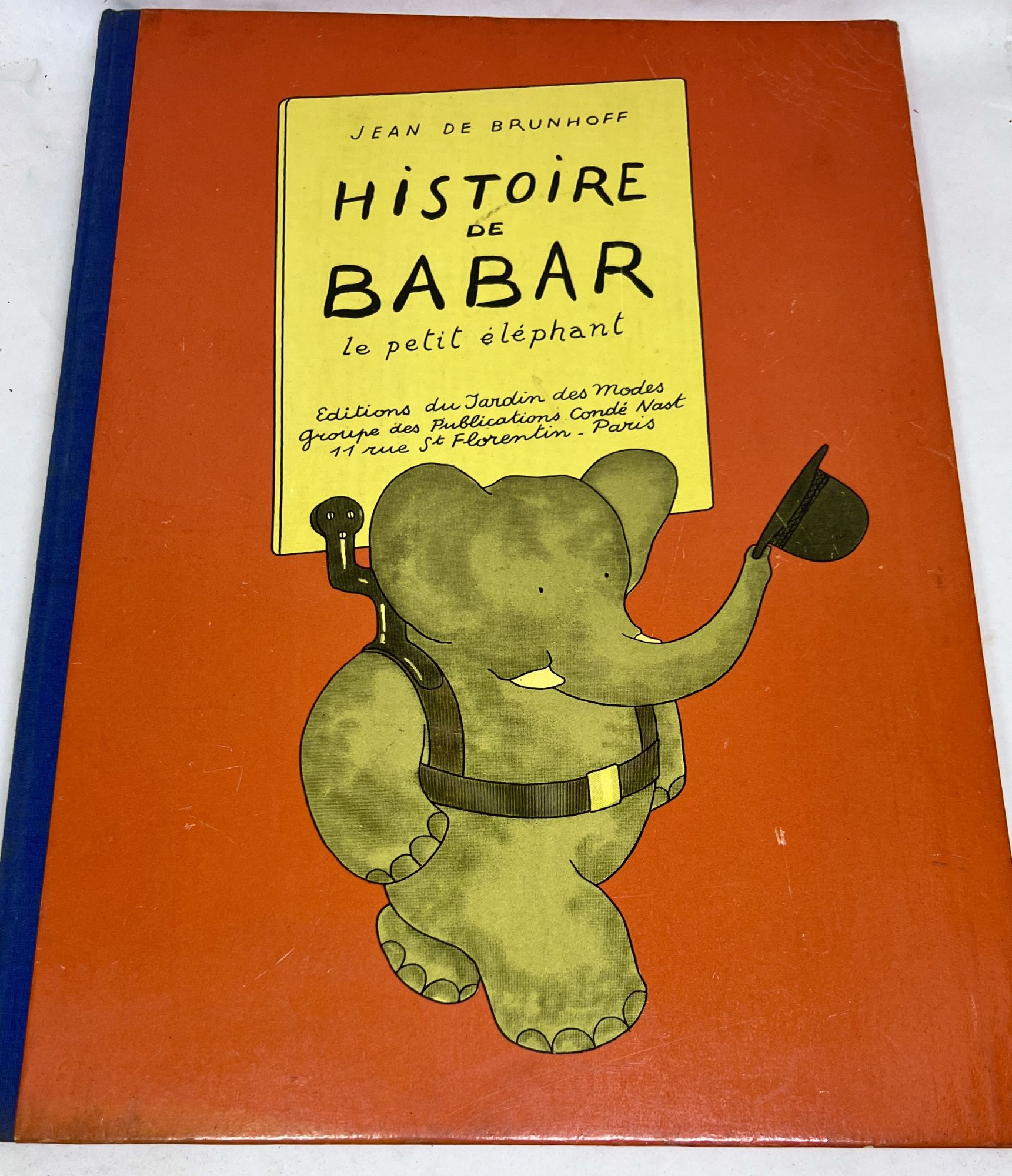 Paris: Editions du Jardins des Modes, 1931. First Edition. Hardcover. 47 [1] pages. 37 x 27 cm. An exceptional copy of the first Babar title in remarkably good condition. After his mother is killed by a hunter (why is the mother always killed?), Babar avoids capture by escaping to the city, where he is looked after by the kindly Old Lady.Text in French. A classic. Boards rubbed at corners. Interior crisp and clean. Red illustrated boards, blue cloth spine. Very good.
Offered by Lizzyoung Bookseller and featured in "Children's Books."
J. & J. LUBRANO MUSIC ANTIQUARIANS
STUART LUTZ HISTORIC DOCUMENTS
MAIN STREET FINE BOOKS & MANUSCRIPTS
Illustrated Catalog on Carlos Merida (1891–1984) -- Mexican painter, sculptor, writer and graphic designer -- available by request from mmbooks@comcast.net
MARTAYAN LAN RARE BOOKS & MAPS
BRUCE MCKITTRICK RARE BOOKS, INC.
Featured item:
CLASSICAL DICTIONARY — Vocabularius variorum terminorum: ex poetis et historiographis congestus.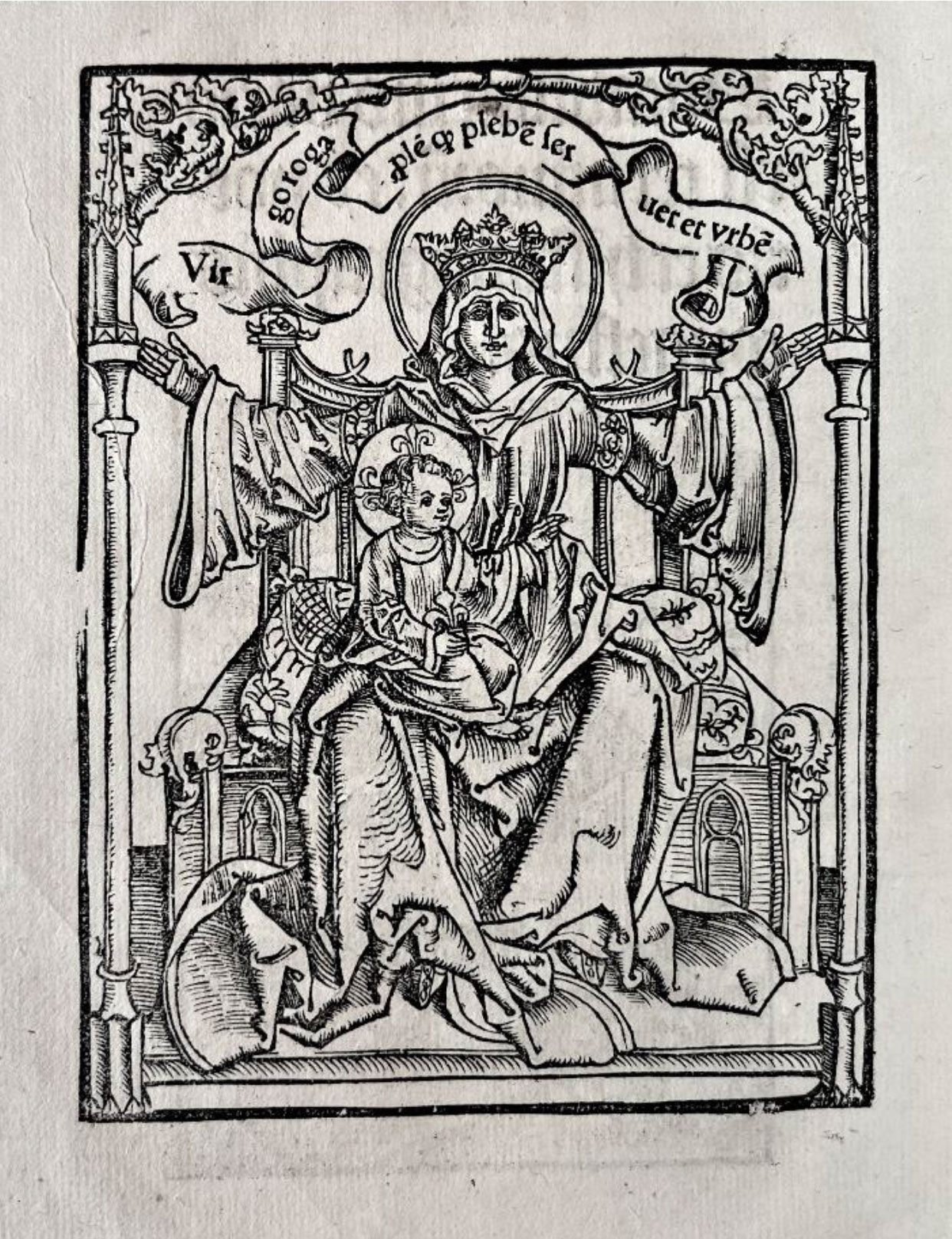 Strassburg: Johann Prüss, 18 February [25 January] "MCCCCII" (i.e., 1502). 4to (200 x 142 mm). [34] leaves, the last blank. Title and headings in gothic type, text in roman. Annunciation woodcut on title: the Virgin and angel within a floral wreath, angels above and two worshippers below; on verso a full-page woodcut of the Virgin and Child in Majesty, with typographic inscription "Virgo roga pr[o]le[m] q[uod] plebe[m] seruet et urbe[m]" on an undulating banner. A nice copy (first and last leaves each with a short marginal tear to title-leaf, small stain to penultimate leaf, a couple of colored pencil underlines to colophon). Modern parchment over thin boards.
FIRST EDITION, FIRST ISSUE, with the dating error in the colophon uncorrected, of a basic and still useful index of places and people in classical history, literature and mythology (mainly Greek). Written in simple Latin, this handy booklet provides concise identifications of "proper names of famous men [and women], cities, provinces, mountains, and rivers, most often found in poetry and histories." The three-line introduction states that the glossary was condensed from Tortellius (from his massive Orthographia, first printed Rome 1471) and other unspecified works.

Offered by Musinsky Rare Books and found in "E-catalogue 25."
Louis M. Jason's book Literary (and Other) Celebrity Doodles II is now available. Contact the store at info@mysterypierbooks.com to order...
Featured item:
[Binding, Fine- Club Bindery, 100 Copies with 27 India Ink Drawings by E. Fitch] Main, David M. Three Hundred English Sonnets.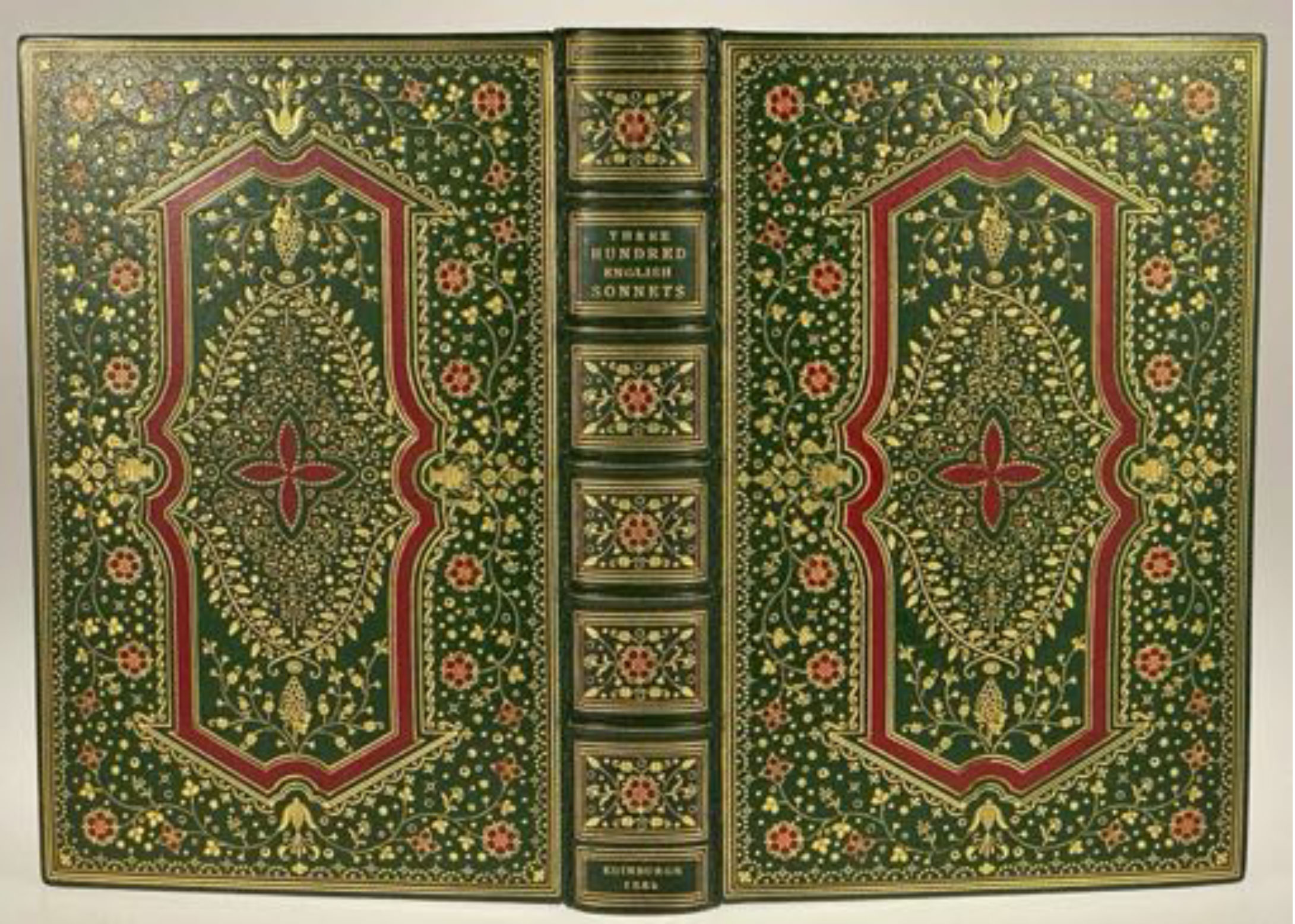 Edinburgh and London: William Blackwood and Sons, 1884. 320pp. AEG. A magnificently crafted Club Binding (signed in the front dentelle, "Club Bindery, 1901) bound in full green Morocco with incredibly ornate and detailed all-over "cottage room" design on both covers and spine featuring inlaid crimson centerpieces, as well as center "star" and surrounded by 24 floral blossoms (with 4 and 5 petals) and dots. As well, the binding features an exquisite and complicated gilttooled design of floral sprays, pointelle spirals, and urns from which vines of stippled gold extend outward, mosaic and similar design work on spine; doublures and flyleaves of crimson moiré sild, gilt dentelles with rosettes. Sensitively and beautifully extra-illustrated containing 27 India ink and black and white wash drawings by E. Fitch (Edward W. Fitch), 19th Century artist whose work is represented in the Paul Mellon Collection at the Yale Center for British art. The wonderfully crafted drawings range from small corner drawings to nearly full-page landscapes, seafaring scenes and cityscapes. LIMITED TO 100 COPIES, only 75 of which are numbered: this is copy #47. Very fine condition, with no signs of wear, stunning! A fine example of the work of one the greatest American fine binders. Housed in a contemporary full brown Morocco gilt box. Pictured in full color, Item 18, in Tom Boss's wonderful book, "Bound to Be the Best: The Club Bindery," 2004. Roderick Terry's copy, with his engraved bookplate (by A.N. MacDonald). Dr. Roderick Terry, Sr. (1849-1933), learned bibliophile and assiduous collector of books and manuscripts from Newport, where he was active in philanthropist pursuits and various cultural institutions such as the Redwood Library, the Newport Historical Society, and served as the President of the Board of Directors for the Redwood Library and Athenaeum from 1916-1933. His substantial collection was auctioned by Anderson Galleries making $270,000 at three sales in 1934 and 1935.
Offered by Nudelman Rare Books and found in "Catalog 48."
PHILADELPHIA RARE BOOKS & MANUSCRIPTS
PHILLIP J. PIRAGES FINE BOOKS & MEDIEVAL MANUSCRIPTS
RABELAIS BOOKS ON FOOD & DRINK
RICHARD C. RAMER, OLD & RARE BOOKS
ROOTENBERG RARE BOOKS & MANUSCRIPTS
BARRY LAWRENCE RUDERMAN ANTIQUE MAPS, INC.
California Book Fair 2019: 130 Items on Science and Medicine is now available on request from scientiabk@gmail.com...
MARC SELVAGGIO, BOOKS & EPHEMERA
MICHAEL R. THOMPSON RARE BOOKS
2022: Catalog 1 -- print copies available at the upcoming California Book Fair!
Featured item:
The Stanbrook Abbey Press 1956-1990. With an Introduction by John Dreyfus, and a Memoir of Dame Hildelith Cumming by the Abbess of Stanbrook.
Butcher, David.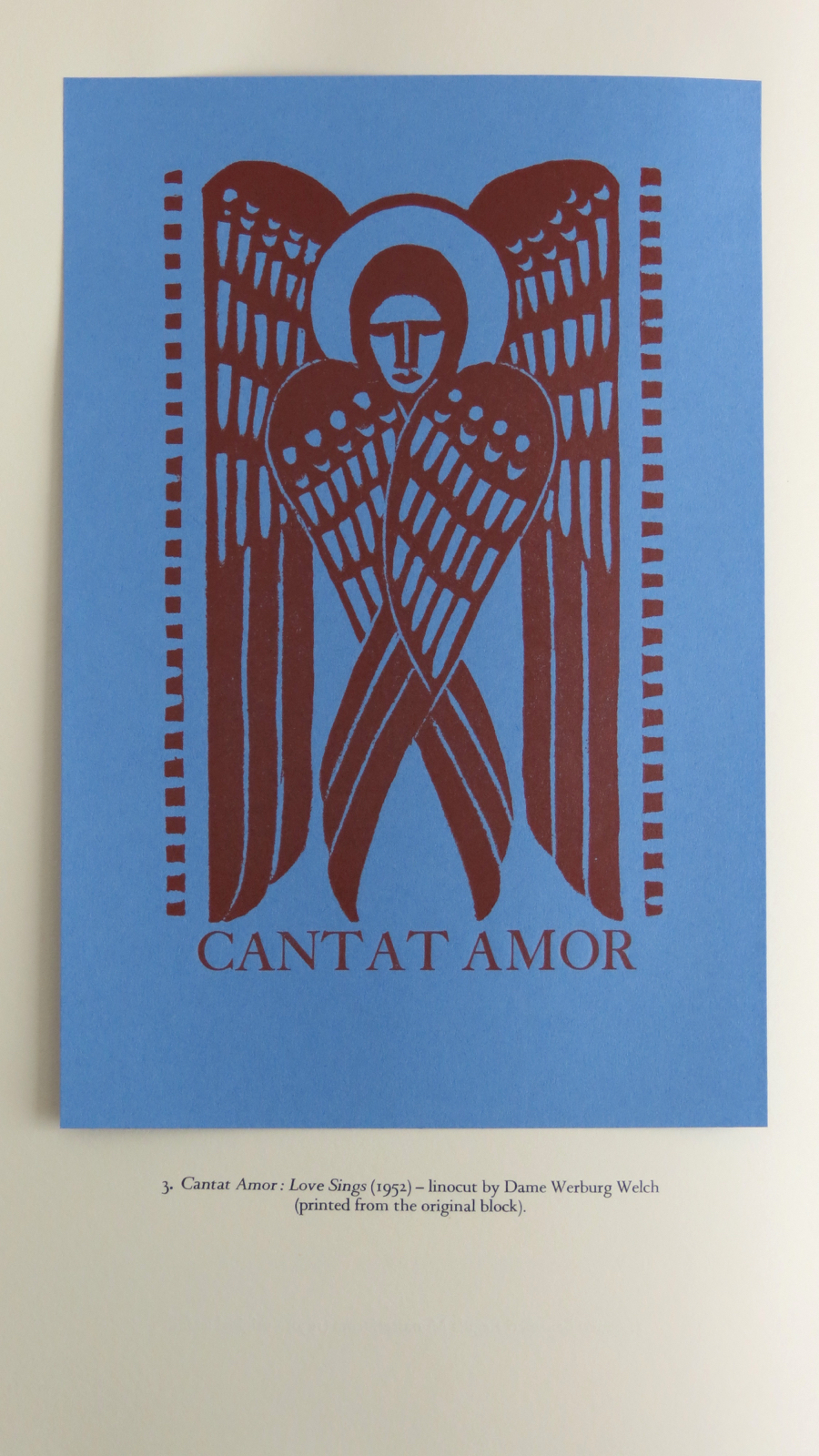 Andover: Whittington Press, 1992. Two volumes. 9 x 12 1/2. Photographic frontis, xvi, 225 pages, 2 photographic plates, 8 tipped-in original leaves, original wood engraving, and honey label. Quarter vellum & marbled boards. A separate cloth & boards portfolio holds 20 original specimens of Stanbrook Abbey printing (both ephemera and leaves from books). Both volumes housed in slipcase. Fine. Item #13157

One of 50 special copies (of 350), signed by the authors. Butcher's illuminating discussion of the Press is followed by a complete bibliography. A Century for the Century 98.
Offered by The Veatchs Arts of the Book and found in "Leaves and Leaf Books."
Featured item:
The American Diary of a Japanese Girl
(Yone Noguchi) Miss Morning Glory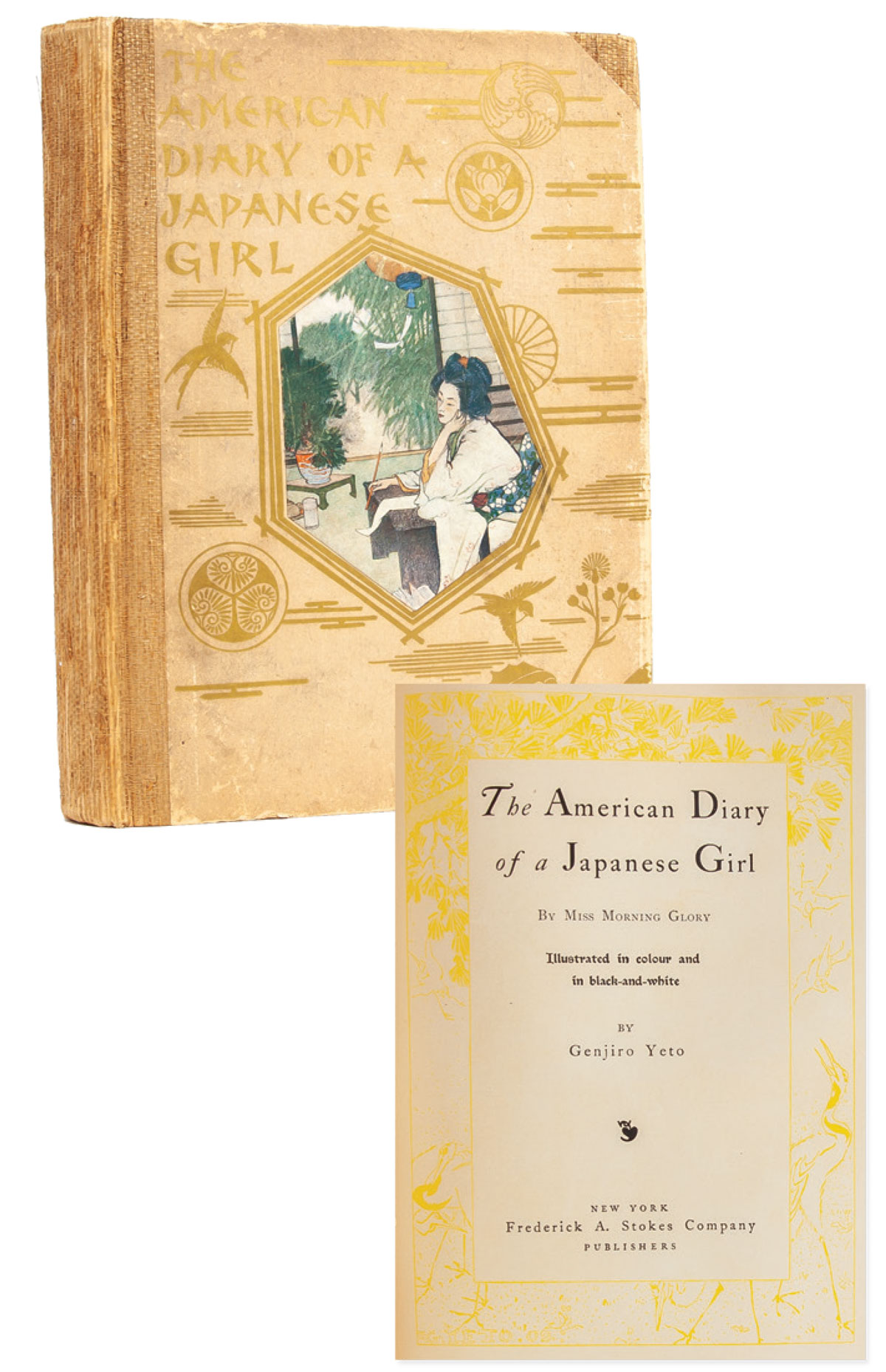 New York: Frederick A. Stokes Company, 1902. First edition. Original half bamboo mat over pictorial boards, with its delicate spine and corners intact. A touch of toning to the boards and some gentle shelfwear to edges. Internally complete, unmarked and pleasing. A work that has become scarce, likely owing to the fragility of its binding, OCLC reports fewer than 50 surviving in libraries, and it has not sold at auction since 1924.
"The first American novel by a writer of Japanese ancestry, The American Diary of a Japanese Girl is a landmark of modern American fiction and Japanese-American transcendentalism. First published in 1902, Yone Noguchi's novel describes the turn-ofthe-century adventures of Tokyo belle Miss Morning Glory in a first person narrative that the New York Times called 'perfectly ingenuous and unconventional.' Initially published as an authentic journal, the Diary was later revealed to be a playful autobiographical fiction written by a man. No less than her creator, Miss Morning Glory delights in disguises, unabashedly switching gender, class, and ethnic roles. Targeting the American fantasy of Madame Butterfly, Noguchi's New Woman heroine prays for 'something more decent than marriage'" (Franey). In many ways, Miss Morning Glory and her creator are reflections of each other; both question social definitions imposed upon them, pressing for a more complex and less binary understanding of individuality, humanness, and romantic connection. Yone Noguchi, the son of a sculptor, lived in the United States from 1893-1904. During that time he was "an immigrant and a studentlaborer who came to America in hopes of becoming an English language poet. He was very much connected with the Japanese American community...but at the same time really wanted to 'belong' in America. He had no idea about the kind of racism and Orientalism he would face" (Sueyoshi). His isolation and feelings of difference were both heightened and assuaged through his romantic and sexual relationships, and through the embrace of his own queer identity. During his time in the U.S. he engaged in a long-term affair with the poet Charles Warren Stoddard as well as with two white women, Ethel Armes and Leonie Gilmour, before marrying Matsu Takeda. "Diary serves as one of Asian America's earliest queer texts…and Noguchi's later public confession that Miss Morning Glory was in fact him and the narrative was about his own life prompted those longing for more public representations of queer love and attraction to read Morning Glory" (Sueyoshi). Near Fine.
Offered by Whitmore Rare Books and found in "Centering Narratives of Joy & Resistance."
JOHN WINDLE ANTIQUARIAN BOOKSELLER
--
Remember, you can always browse and download the latest catalogs published by ABAA members on ABAA.org by visiting the following link: https://www.abaa.org/catalog/... (You can also access this page by selecting 'Booksellers' from the top menu, scroll to the bottom of the page to 'Member Catalogs', and click on 'View All'.)
---
Get to know the members of the ABAA...