Browse the latest catalogs, newsletters, and e-lists of rare books, fine bindings, incunabula, print ephemera, and much more from the members of the ABAA below. (Also includes podcasts, blog posts, and other digital formats.)
*New* indicates any catalogs added in the last month.
AARDVARK BOOKS/EZRA THE BOOKFINDER
Spring Miscellany -- Signed Items, Rare Americana, Early Printed Books, and more...

*New*
Featured item:
Put N' Take: A Collection of Gambling Sheet Music Scores, 1889-1987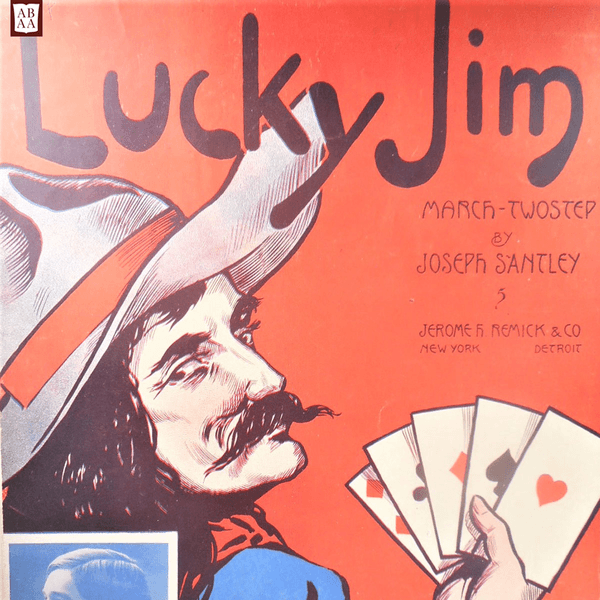 This collection comprises 103 sheet music scores relating to gambling published from 1889 to 1987. The subjects covered represent some of the many ways gambling has affected human culture, society and history in the last 132 years. Among the themes are gambling as a metaphor for love and loss, gambling in the African-American and Asian-American communities, warnings about the perils of gambling, the fraternal nature of gaming, the gambler as either a hero or a cautionary tale, the occult and songs based around a variety of games.

The majority of these scores were published in the USA, the outliers being 2 from Canada, 2 from Argentina and 4 from England. Some of the scores are not about gambling, per se, but use gambling themes in their illustrations and titles to underscore the song's message. There are some uncommon imprints included. A few of these scores have condition issues, but the majority are in very good condition. All are housed in plastic sleeves. A full bibliographic catalog of the scores is available upon request. Following is a brief outline of the subjects included in the collection with a photograph for each subject which captures the general feel of that subject as well as the often attractive illustrations which were used to sell these scores.
Offered by Anderson Butler Rare Books.
ANTIPODEAN BOOKS, MAPS, PRINTS
Featured item:
Fancies and Goodnights by John Collier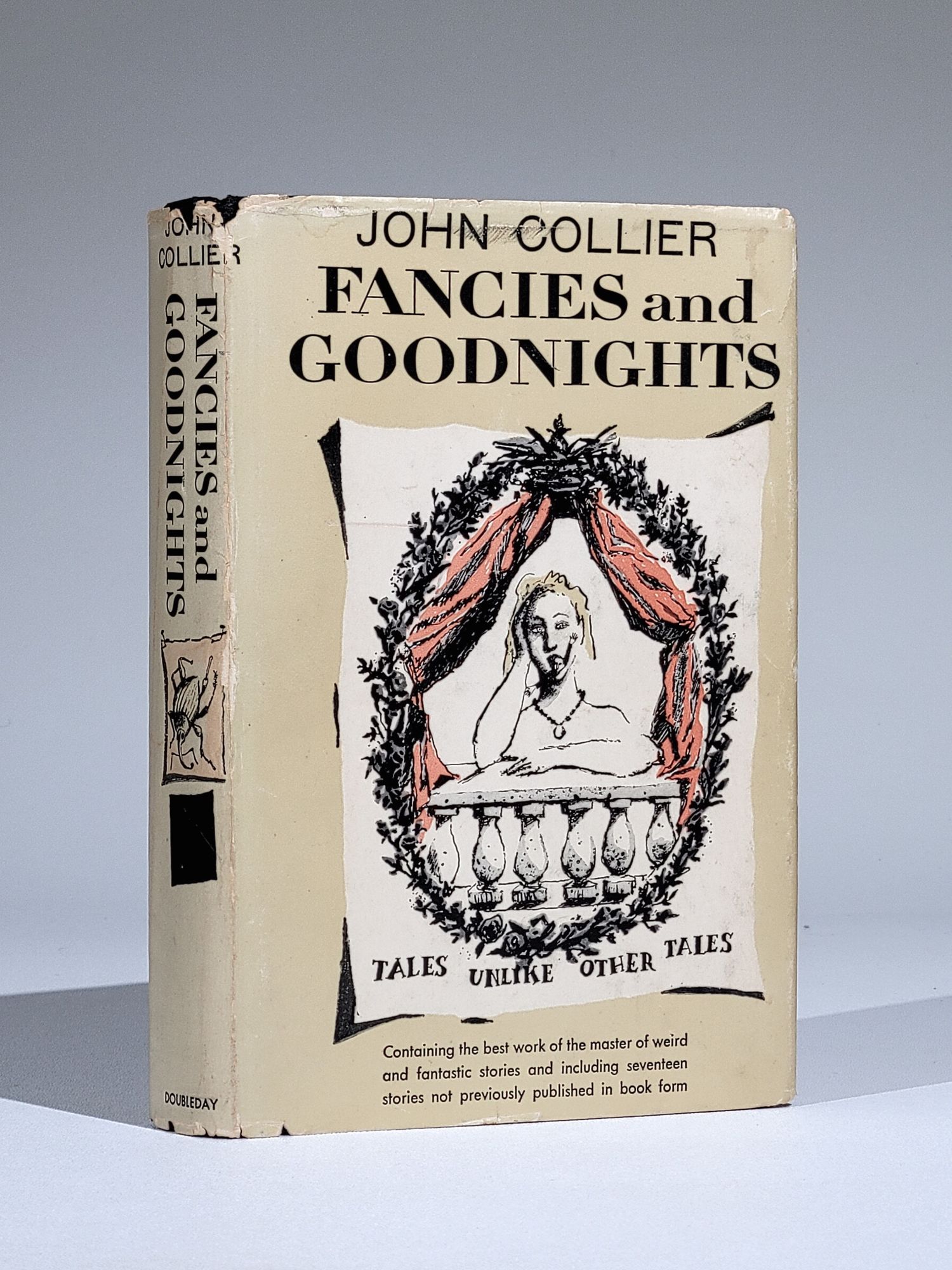 Garden City: Doubleday & Company, Inc., 1951. First edition. Hardcover. Octavo. [xii], 364 pages. Very good in a very good dust jacket. Bound in black cloth over boards with spine titles stamped in pink, pink endpapers, pink topstain. Shallow bumps to spine ends and fore corners. Jacket has some edge chips at spine ends, some rubs along joint and fore edge folds, and a diagonal vertical crease along spine.

John Collier was an English writer and master of weird and fantastic stories. His stories appeared in The New Yorker in the 1930s to 1950s and he spent much time in Hollywood writing for film and television.

Collier's stories are so well crafted that he is considered by many to be "a writer's writer," particularly admired by the likes of Ray Bradbury, Roald Dahl, Neil Gaiman, Anthony Burgess, and Michael Chabon.

Collier's stories are broadly fantasies but are really of their own kind. Some of them were written for or adapted as episodes of Alfred Hitchcock Presents and The Twilight Zone. This collection won both the both Edgar Award and the International Fantasy Award in 1952.
Offered by Back Creek Books.
W. C. BAKER RARE BOOKS & EPHEMERA
Featured item: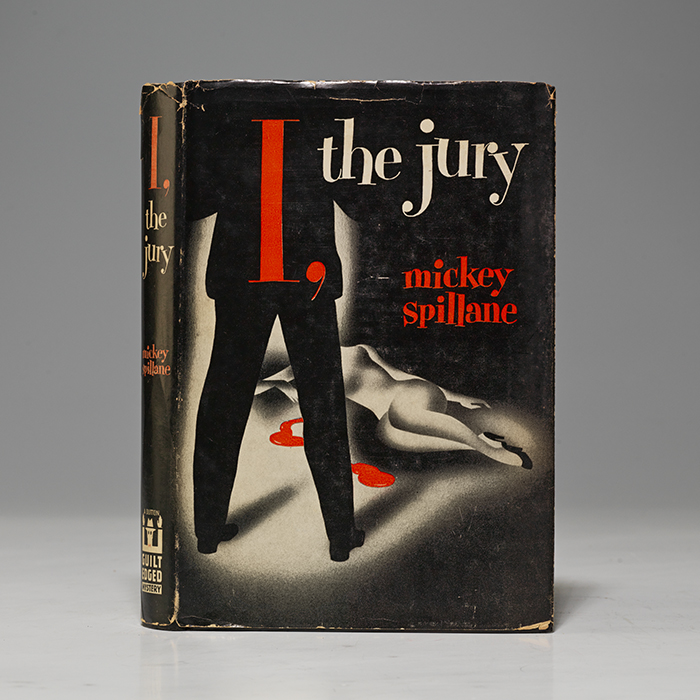 New York: E.P. Dutton, 1947. Octavo, original black cloth, original dust jacket. First edition of Spillane's first book, introducing Mike Hammer—"raised the level of toughness to new levels"—in original dust jacket.
Written in only nine days, Mickey Spillane's first book launched "the bestselling P.I. series in history… [and] raised the level of toughness to new levels" (Penzler, 45). With Spillane's Mike Hammer, the hard-boiled mystery found a private detective who was "courageous, loyal, patriotic, much more intelligent than critics have generally allowed, but above all else tough. Hammer's career as a private eye and Spillane's as a novelist began together with I, The Jury, the first mystery to exceed 6 million sales in the United States" (Reilly, 133334). "The rough-hewn poetry of Spillane's narrator creates a fantasy city, a New York of myth and dream, populated by the same character types as those found in the work of Daly, Hammett and Chandler… delivered with a unique fever-dream fervor" (Max Allan Collins, Mystery & Suspense Writers, Vol. II). "First edition" with no printings stated on copyright page. First issue dust jacket with price of $2.50 on lower front flap, rear flap with advertisement for The Fabulous Clipjoint, rear panel with "Your check-list of new Dutton Mysteries," notices for four titles beginning with Fabulous Clipjoint, ending with Best Detective Stories of the Year—1947. Hubin, 385. Johnson, Dark Page II, 172. Small owner inscription.
Book fine; light edge-wear mainly to spine head of colorful near-fine dust jacket.
Offered by Bauman Rare Books and found in their newsletter "Mysteries & Detective Stories."
Featured item:
Lewis, Lange [pseudonym of Jane Lewis Brandt]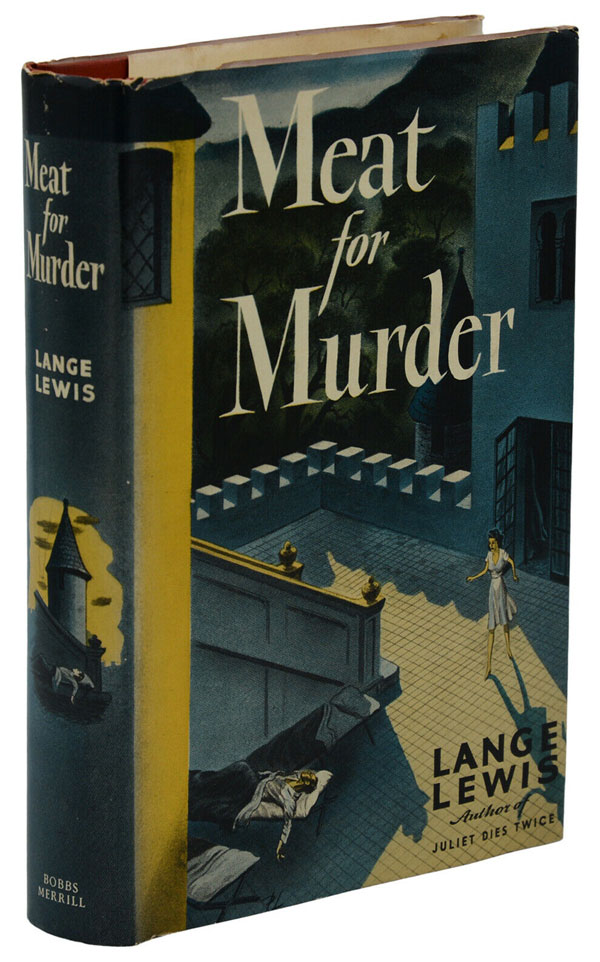 New York: The Bobbs-Merrill Company, 1943. First edition. Bound in publisher's red cloth with titles stamped in gilt. Near Fine with light offsetting to endsheets and a very vibrant topstain. In a stunning, unclipped dust jacket, Near Fine, with light edge wear, light foxing, a vertical crease to the rear flap and a faint graphite check mark to the spine. A fantastic copy. Jane Lewis Brandt's third book, about the murder of a vegetarian, written under pseudonym.
Offered by Burnside Rare Books.
ANDREW CAHAN, BOOKSELLER, LTD.
DE SIMONE COMPANY, BOOKSELLERS
Catalog #88, Medical Books from the Fifteenth to the Twentieth Centuries -- This catalog is print-only. To request a copy, contact MedBks@aol.com...
Featured item:
A collection of over 50 paper Fabric Labels or "tickets" demonstrating print, design and culture 1850s-1890s.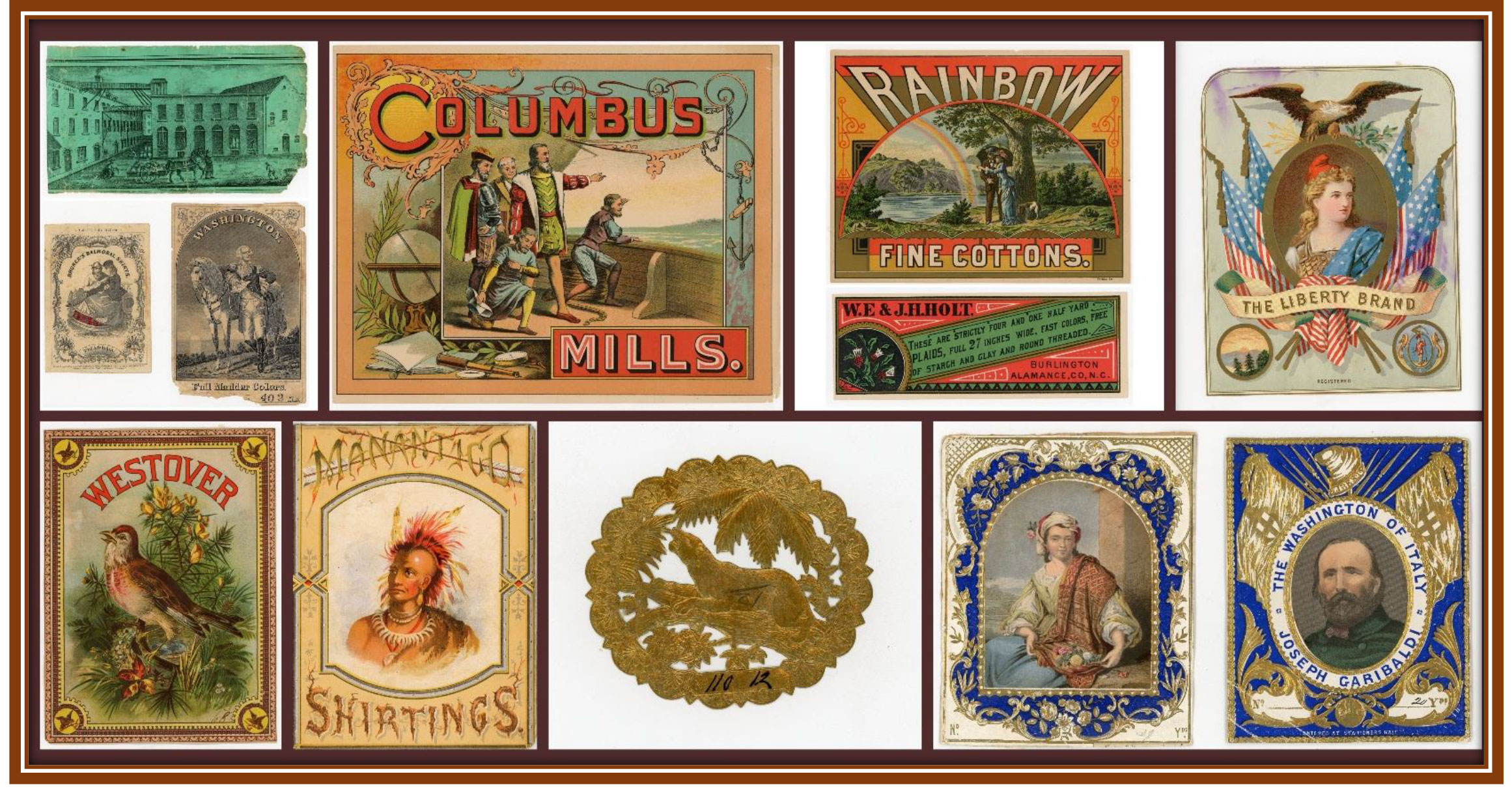 The collection spanning half a century presents a sampling of over 50 paper fabric labels or "tickets" used to differentiate and promote various type of fabric. From the early days forward they include:| embossed die-cut silvered 3 ¼" x 4" labels with elaborate border decoration and mostly animals or women as the central image. No indication of product or manufacturer. |Solid coated stock with embossed decorative borders surrounding a central image. Some include areas to write numbers and quantities. Usually rectangle, but some die-cut shapes with elaborate design |Polished stock with border decoration and product name at center. Still relatively small format. Vivid color. |Black and white engraving with relevant product imagery and name. Often imagery of exterior of mills. |Large format with elaborate border decoration, large central image of interest often unrelated to the product and product name. |Artistic printing employing numerous type faces and design elements, product name and unrelated appealing imagery.|Simple border with very large central image often drawn from popular culture, history or patriotism amidst relative items relative to the central image, but unrelated to the named product. 8" x 9 ½" or larger. This category includes an even larger label that includes a map of the United States and a backdrop of flags.
Offered by Eclectibles and found in "E-list 80."
Comic collection of William "Gatz" Hjortsberg -- Details available upon request from info@elkriverbooks.com...
RODGER FRIEDMAN RARE BOOK STUDIO
Featured item:
Personal Recollections of the Plot to Kill HItler
Scholtz, Dr. Gerhard (1899–1958).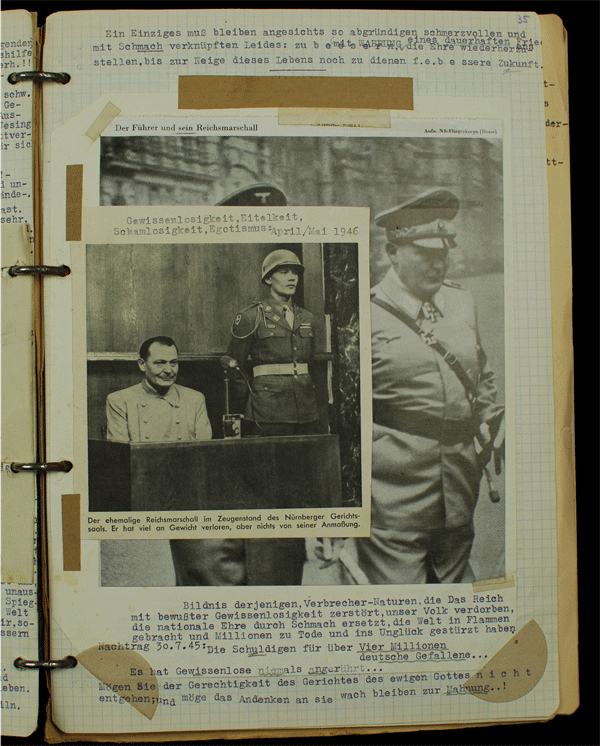 A4 sized original densely typed pages with hundreds of newspaper clippings in six black binders of the time. 1) May 3, 1945-December 31, 1945: [156] pp. includes [7] pp. from August 31, 1939 predicting Ger - many's loss in World War II; also includes a summary of 1932-1946; 2) 1949: [104] pp. (three-hole punched); 3) 1950: [167] pp.; 4) 1951: [209] pp.; 5) 1952: [120] pp.; 6) 1953: [141] pp. In German. Very good. The diaries are depicted on the cover of this List.
Dr. Scholtz was a military historian and biographer of German mil - itary figures such as Carl von Clausewitz (1780-1831, author of On War), Friedrich Carl (1828-1885, Prussian military commander), and Hermann von Boyen (1771-1848, inventor of the military draft). Dr. Scholtz was also a co-conspirator in the July 20, 1944 plot to kill Hitler. These are his diaries from August 1939, 1945, 1949, 1950, 1951, 1952, and 1953 – a total of 897 pages. On July 20, 1944, Claus von Stauffenberg, Ludwig Beck, and other conspirators attempted to assassinate Adolf Hitler with a bomb. The aim of the assassination attempt was to take control of Germany and make peace with the Allies. Ludwig Beck was one of the main conspirators and after Hitler's assassination was to become interim President of Germany. The plot narrowly failed, and Hitler survived with minor injuries. In response, the Gestapo promptly arrested more than 7,000 people, of which they executed a staggering 4,980 people.
On July 28, 1944, Dr. Scholtz was together with Wilhelm Beck (1881– 1963; only living brother of Ludwig Beck), and an unknown individual identified as "Wetzell", when all three were arrested by the Gestapo. What followed, Dr. Scholtz describes as the most terrifying experience of his life. He was one of the lucky ones, released on October 2, 1944 after 67 days of interrogation.
Offered by Mark Funke, Bookseller and found in "Catalogue C: Fascism."
OCCASIONAL LIST 22: A Miscellany: Original Art Work; Small Archive of Major English Watercolourist; Interesting Theatrical Pieces; Manuscript Material, Etc., Etc. -- available on request from fgrare@fgrarebooks.com...
Has the following lists available: California, Texas, Kansas, Missouri, Minnesota, Iowa, Nebraska, Oregon, Louisiana, Colorado, Ohio and New York. Will email to interested parties. Contact info@ginsbook.com to request...
THOMAS A. GOLDWASSER RARE BOOKS
DAVID A. HAMILTON AMERICANA BOOKS
JONATHAN A. HILL, BOOKSELLER, INC.
Interview:
ABAA-member Jonathan A. Hill talks with Nigel Beale about "The Importance of Bookseller Catalogues" (
The Biblio File Podcast
)
Featured item:
"M[ada]me B[ertin], née de V[erceil];" Jean Démosthène Dugourc (illustrator). Les Spectacles Instructifs, ou Les Serins Hollandais, Les Moineaux Francs du Palais-Royal, La Chasse au Faucon, Le Cormoran Pêcheur de la Chine, Le Lièvre Intrépide, Les Singes Militaires, Les Serpens Indiens, etc.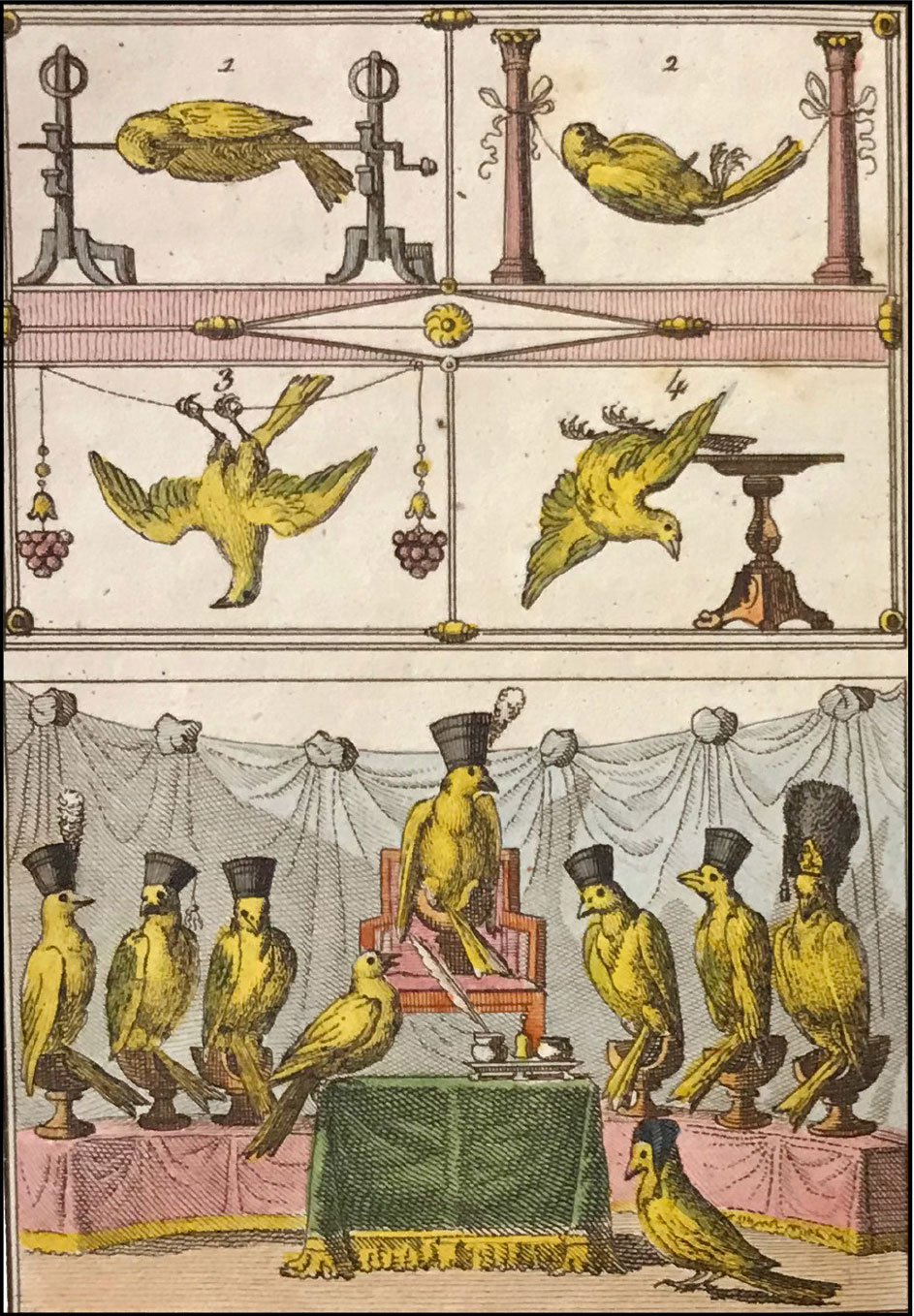 Paris: A. Nepveu, 1817. First edition of this curious French pocket guide to trained animals, with a decidedly military bent. The stated purpose of the book is to encourage children to improve their skills through practice, by showing how mere animals, "dressés à des exercices difficiles et pour lesquels ils n'étaient point nés," can perform as soldiers, musicians, and acrobats if they are rigorously trained. The primary appeal of the book, however, lies less in its didactic aim than in Dugourc's remarkable engravings. Some are realistic: tame sparrows playing with children at the Palais-Royal, a falcon released for the hunt, a dancing marmot of Savoy. Others are surreal: a musical hare who plays the drums, monkeys in military costume with bayonets, a warlike group of Dutch canaries who execute a deserter with a miniature cannon.
Much of the text is drawn from Les Animaux Savants, a larger volume (in both format and content) issued the previous year by Didot; the pocket format of Les Spectacles Instructifs required a new series of illustrations from Dugourc, published here for the first time. OCLC locates five institutional holdings (BNF, Harvard, Princeton, UC-Santa Barbara, Yale.) A fine copy of a scarce and intriguing book. Eighteenmo, measuring 5 x 3 inches: viii, 191, [1]. Nineteenth-century polished calf, boards and spine decoratively tooled in blind and gilt, deep blue marbled endpapers, gilt dentelles, all edges gilt, green silk ribbon marker. Eight hand-colored engraved plates after designs by Dugourc.
Offered by Honey & Wax Booksellers and found in "20 Before 1820."
JOHN W. KNOTT, JR., BOOKSELLER
Catalog #74: 100 Rare Books -- with an emphasis on history and military affairs. Please request from mail@kubikbooks.com...
MICHAEL LAIRD RARE BOOK & MANUSCRIPTS
DAVID M. LESSER, FINE ANTIQUARIAN BOOKS
LIBER ANTIQUUS, EARLY PRINTED BOOKS & MANUSCRIPTS
J. & J. LUBRANO MUSIC ANTIQUARIANS
STUART LUTZ HISTORIC DOCUMENTS
MAIN STREET FINE BOOKS & MANUSCRIPTS
Illustrated Catalog on Carlos Merida (1891–1984) -- Mexican painter, sculptor, writer and graphic designer -- available by request from mmbooks@comcast.net
MARTAYAN LAN RARE BOOKS & MAPS
BRUCE MCKITTRICK RARE BOOKS, INC.
Featured item:
HORAE B.M.V., use of Rome. Hore christifere virginis marie.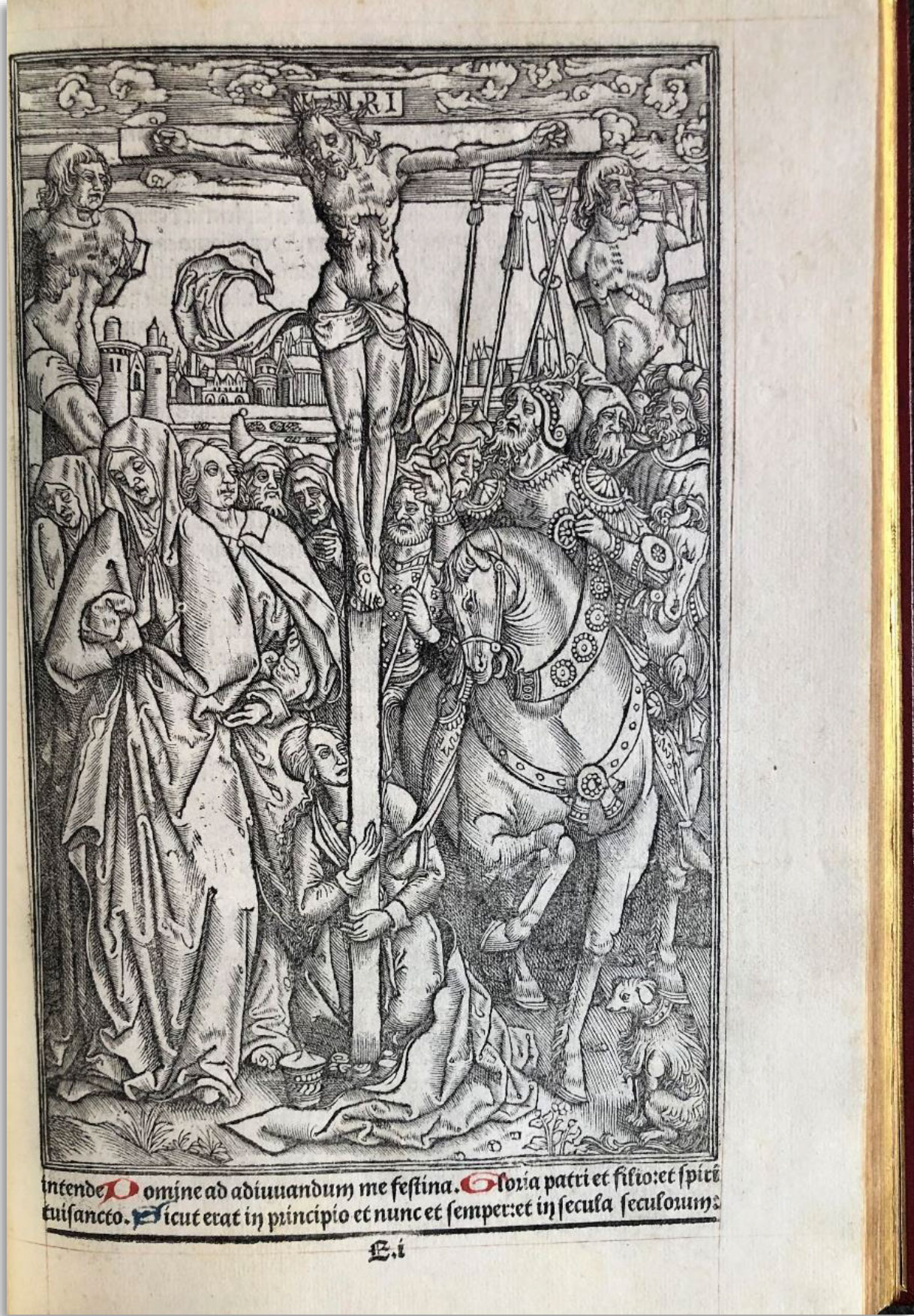 Paris: Simon Vostre. A FINE, LARGE, RED-RULED COPY of the most lavishly illustrated of Simon Vostre's quarto editions, called the "grandes heures" as much for the richness of their illustrative material as for their format. Vostre's complete new series of fourteen very large full-page metalcuts, attributed to the workshop of Jean Pichore, first appeared in this edition; only three had appeared previously. This copy is bound with six pages of contemporary manuscript prayers and devout meditations by a woman, preserved by the binder Capé when the copy was luxuriously rebound in the 19th century in a retrospective style. 4to. 14 full-page and many smaller metalcuts, including page borders assembled from individual cuts. 19th -century red goatskin with a strapwork décor, by Capé. The Robert Hoe - Cortland Bishop - Mary S. Collins copy.
Offered by Musinsky Rare Books and found in "Sixteenth-Century Illustration Catalog."
R & A PETRILLA, ANTIQUARIAN BOOKSELLERS
PHILADELPHIA RARE BOOKS & MANUSCRIPTS
PHILLIP J. PIRAGES FINE BOOKS & MEDIEVAL MANUSCRIPTS
RABELAIS BOOKS ON FOOD & DRINK
RICHARD C. RAMER, OLD & RARE BOOKS
B&L ROOTENBERG RARE BOOKS & MANUSCRIPTS
BARRY LAWRENCE RUDERMAN ANTIQUE MAPS, INC.
California Book Fair 2019: 130 Items on Science and Medicine is now available on request from scientiabk@gmail.com...
MARC SELVAGGIO, BOOKS & EPHEMERA
Featured item:


Epinal Pellerin, ( n.d. (1875)), n.p. Square 8vo, 20 cm. Unpaginated. (16) pp. Color plates.
This is a rare and charming alphabet book for children, using a nautical theme for the letters. I know you're most curious, so I'll get right to the point. Letters "X" and "Z" (always the shortest chapters in nautical dictionaries) are illustrated with a cat and a monkey. Worldcat shows only a library in Switzerland holding what may or may not be a hard copy of this book (the citation comes with the curious designation, "online resource.") The Worldcat entry also supplies a date of 1875 for its publication. Light wear, in illustrated wrappers. Very good condition.
Offered by Ten Pound Island Book Company and found in "Maritime List 297."
MICHAEL R. THOMPSON RARE BOOKS
Featured item:
Frasconi, Antonio. Veduti di Venezia.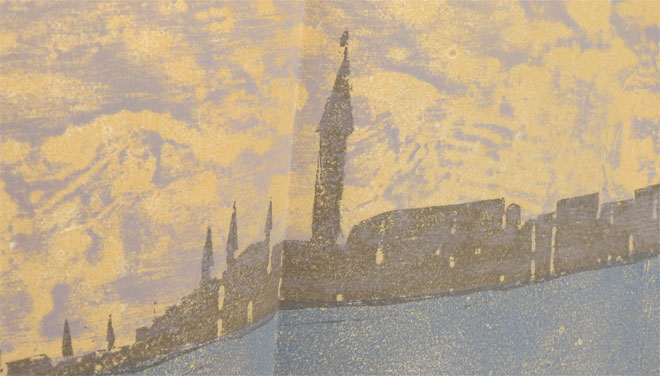 (South Norwalk, 1969). 9½ × 13. Twelve fascicles: 10 are multi-color woodcuts: two are double spread on full sheets folded twice; 8 are smaller woodcuts tipped into a folder printed with their titles. The double-spread of Isola di San Giorgio is signed. There are also a printed title folder and a printed colophon. Laid into in a cloth tray case covered with paper marbled by the artist. Fine. $4,200 Frasconi's sights of Venice are richly colored in lavender, purple, blues, greens, & greys, gold, vermillion, & rose, shimmering with metallic highlights. Canale della Guidecca is a double-spread. Other views are Basilica San Marco, Piazzetta San Marco, two different Palazzo Ducale, Bacino San Marco, Basilica della Salute, Palazzo Dario, and Ponte di Rialto. The woodcuts were printed by the artist on Hosho and Goyu handmade papers and mounted on Rives. An 11th, single color, cut appears on the colophon page. The text was printed at The Spiral Press. No. 6 of 25 signed copies.
Offered by The Veatchs Arts of the Book.
JOHN WINDLE ANTIQUARIAN BOOKSELLER
Featured item:
(Villard et Weill) Le Toton Equilibriste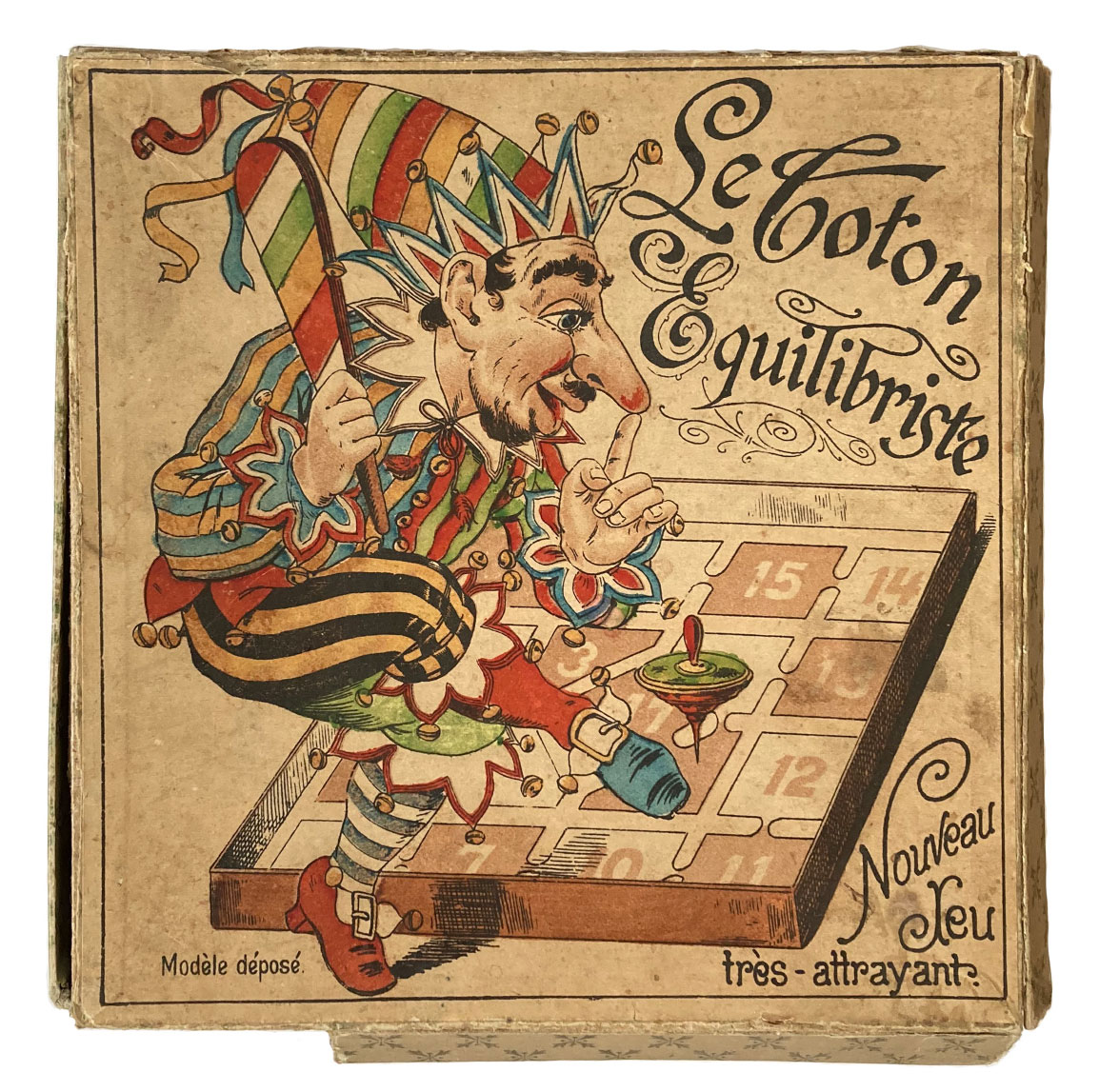 Paris: L. & A. Cresson Freres, n. d. (ca 1890). Dexterity game; square, card stock box with a chromolithographed lid, 6 ½" x 6 ½"; game board set in the box; a small wooden toton (spinning top); game instructions to lid verso; box with inconspicuous repairs to two of the edges and a bit of age-toning and dust-dulling to margins of board; lid with some loss of paper to aprons; in good or better condition.
The amusing and quite-challenging dexterity game was created by the Villard et Weill game manufacturers in the late 19th century. Established by brothers-inlaw Henri Villard and Jules Weill in 1834 in Strasbourg, the company was active for over 130 years, surviving and thriving, despite two major fires in 1904 and 1916 and all through the Second World War. It would ultimately close down in 1968.
The game itself consisted of 16 numbered squares and a rhombus in the middle (#17), separated by raised ridges, except for small gaps between neighboring spaces. According to the instructions, a player was required to hold the box in his/her left hand, place the toton in square 1 in the upper left corner with his/her right hand, spin it, and then guide the spinning top through the gaps, by tilting the box, to rhombus 17. The rules also stipulated that there were three possible victory outcomes - the winner could be the player to reach the highest number with a single spin, the player, who could accumulate the highest total from three spins, or the first player to reach the #17 space.
Offered by ZH Books and found in "Games & Gaming."
--
Remember, you can always browse and download the latest catalogs published by ABAA members on ABAA.org by visiting the following link: https://www.abaa.org/catalog/... (You can also access this page by selecting 'Booksellers' from the top menu, scroll to the bottom of the page to 'Member Catalogs', and click on 'View All'.)
---
Get to know the members of the ABAA...