Browse the latest catalogs, newsletters, and e-lists of rare books, fine bindings, incunabula, print ephemera, and much more from the members of the ABAA below. (Also includes podcasts, blog posts, and other digital formats.)
*New* indicates any catalogs brought to our attention since the end of March 2023.
AARDVARK BOOKS/EZRA TISHMAN BOOK APPRAISALS
ANTIPODEAN BOOKS, MAPS, PRINTS
W. C. BAKER RARE BOOKS & EPHEMERA
Sixty Books About Love -- Just in time for Valentine's Day, an offering of books about true and not-so-true love and its consequences, together with paeans and complaints to those beloved, and advice to aspiring lovers.
Featured item:
Lloyd Alexander, [The Chronicles of Prydain]: The Book of Three, The Black Cauldron, The Castle of Llyr, Taran Wanderer, The High King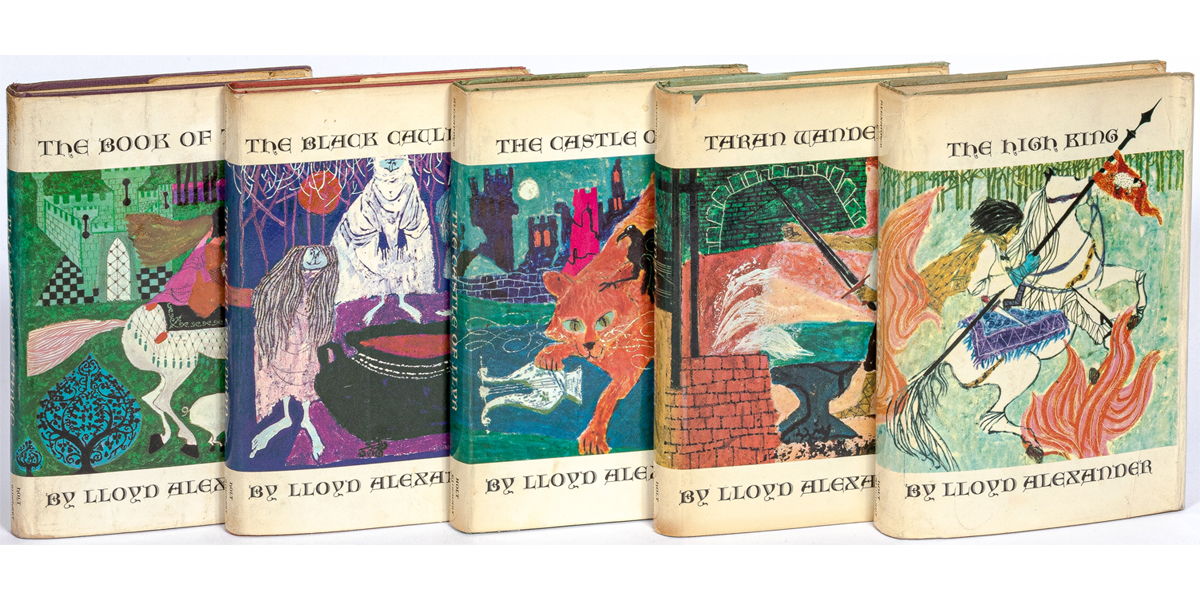 New York: Holt, Rinehart and Winston (1964-1968). First editions. Five volumes, the complete set of Alexander's award-winning series "Chronicles of Prydain." Each volume is Inscribed by Alexander. The Black Cauldron won the 1966 Newbery Honor award, and The High King won the 1969 Newbery Medal and was a finalist for both the National Book Award and the American Book Award. The first two books were adapted into the 1985 Disney animated film The Black Cauldron.
Offered by Between the Covers Rare Books and found in "eList 160."
Featured item:
Carrie Fisher, Photograph, Signed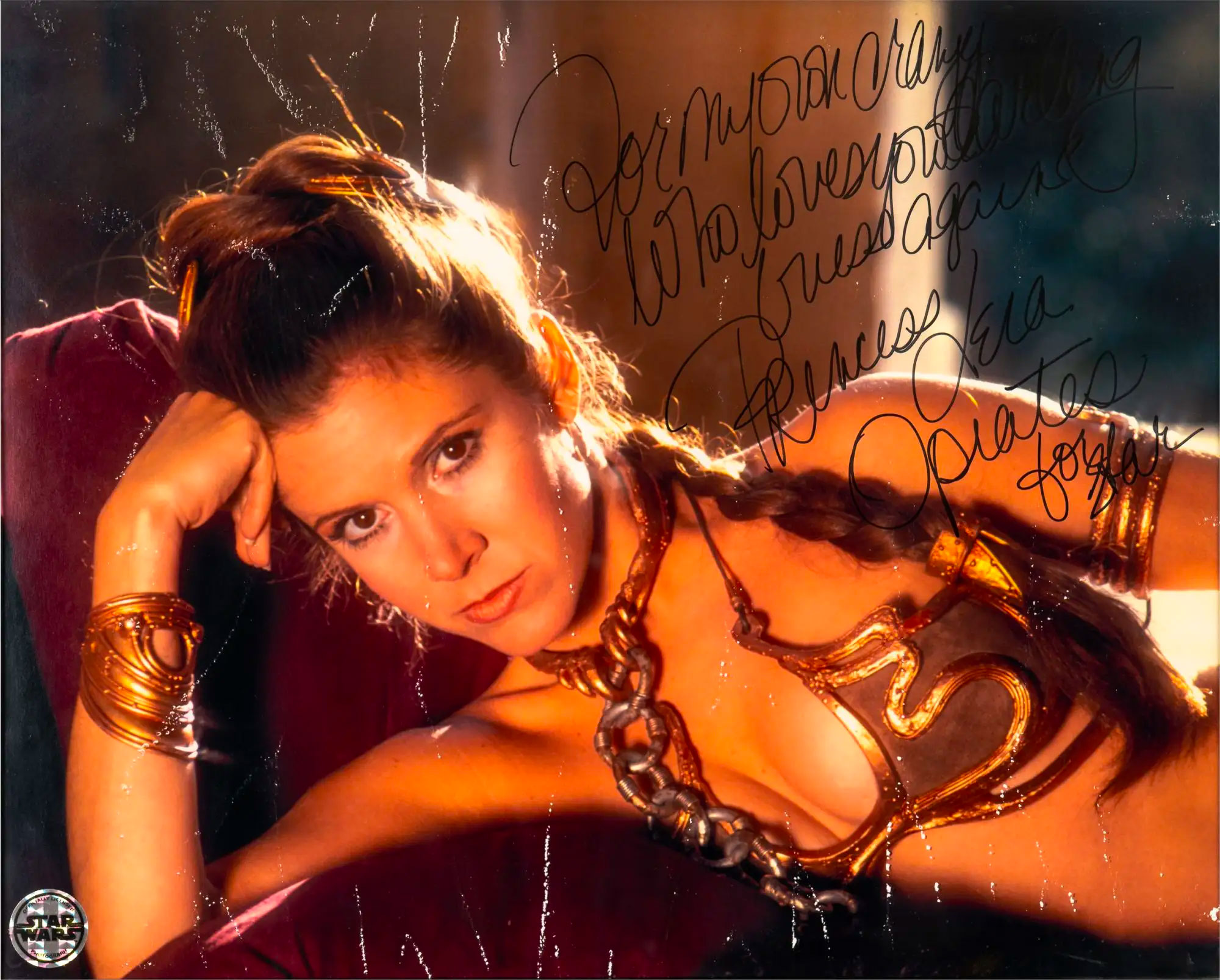 LUCAS Films, 1983. Sensational, original, presentation, color photograph (20" X 16") of Carrie Fisher as Princess Leia, in her gold bikini slave costume from Star Wars VI (Return of the Jedi). Boldly inscribed, in black ink, to (the infamously nefarious) Dr. Arnold Klein, "For my own crazy. Who loves you darling [?] Guess again. Princess Leia. Opiates for sure." With the original hologram sticker ("Officially Licensed Star Wars Photograph") in the lower left–hand corner. Several lines of emulsion flaking, else very good. Framed. Very good.
Offered by Biblioctopus and found in "E-List: Women 1808-2013."
Featured item:
Bush, Richard J.
Reindeer, Dogs, and Snowshoes: A Journal of Siberian Travel and Exploration in the Years 1865, 1866, and 1867.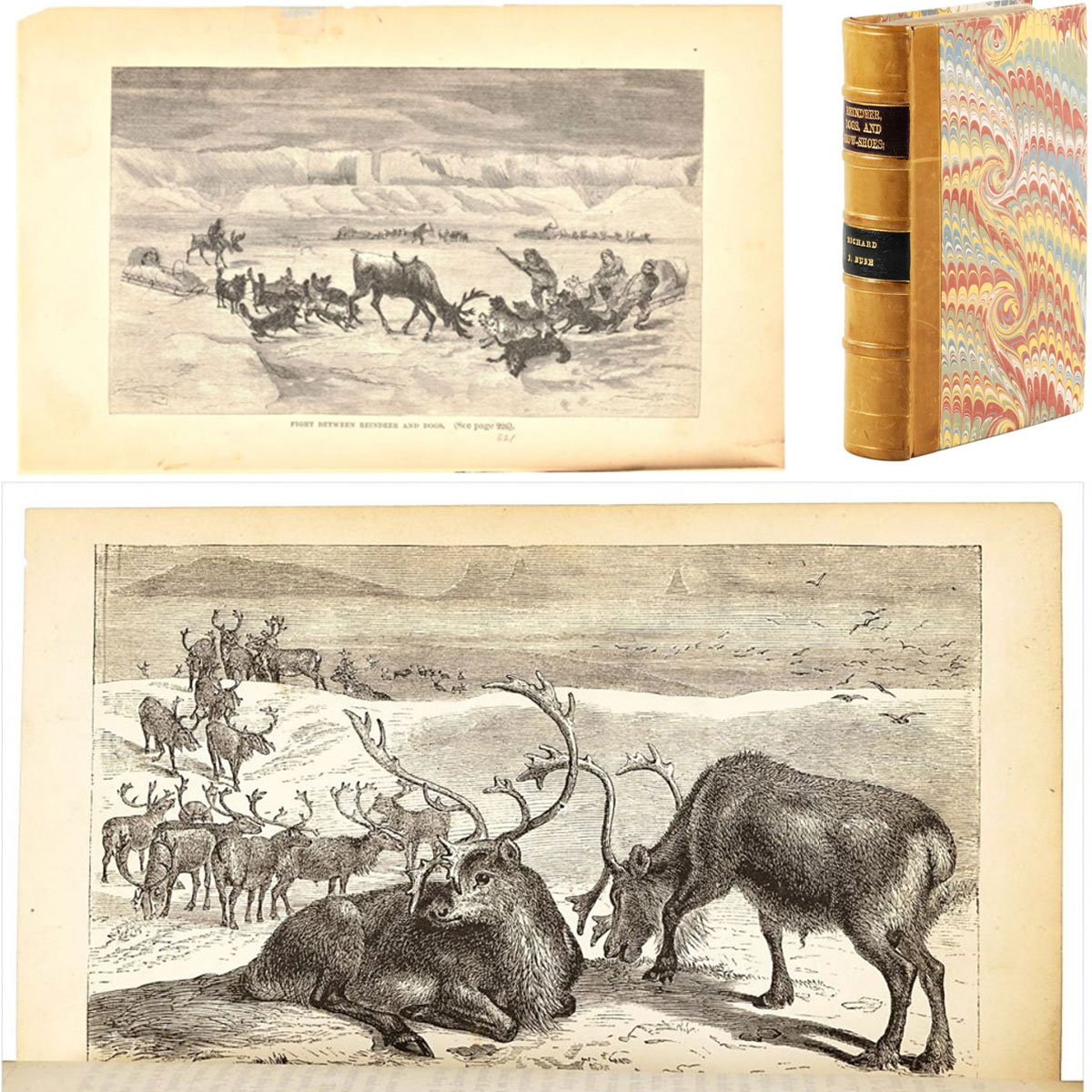 New York: Harper & Brothers, Publishers, 1871. First Edition, First Printing. A Near Fine Hardcover. Bound in modern calf-backed marbled boards, raised bands, morocco spine labels lettered in gilt; new endpapers by G. Mottram Stamford. 8vo; 19.8 by 12.5 cm, 7.75 by 5 inches; xx, [25]-529, 6 ad pp. Illustrated with 40 woodcut engravings including frontispiece; plates have tissue-guards; Plus a large folding map of route at rear. Meteorological tables: pages 521-529. First Edition. Bindings are tight and square. Text clean, light even toning, scattered soiling, and foxing. Moderate shelf handling wear, the folded map is toned and torn along folds and has been professionally repaired with minimal loss. A few pages that had 'dogears' have been repaired.

Is it possible to connect two continents by a telegraph line through Bering Strait? Richard J. Bush thought it was possible even though he encountered challenges such as a sinking ship, shortage of supplies, annoying mosquitoes, hungry dogs.

Background Information: With After three years of military service in the Southern USA, Bush and two other men accepted a mission to explore Siberia under the leadership of Russian Major Serge Abasa. This book complements George Kennan's Tent Life in Siberia. It describes Bush's lengthy expedition in behalf of the Russian- American Telegraph Company's survey in Siberia in the 1860's. Bush spent several years in Siberia surveying the proposed route of the Russian-American Telegraph Company's line.

He here recounts his travels from the Kamchatka Peninsula to Sakhalin Island to the Sea of Okhotsk, down the Anadyr River, and from thence to the Bering Strait. In the long run, the telegraph expedition, while an abject economic failure, provided a further means by which America was able to expand its Manifest Destiny beyond its national boundaries and may have precipitated the US purchase of Alaska.

Along with George Kennan, the author was a member of the party exploring for a telegraph to Europe through Alaska and Siberia, as the undersea cable had failed.
Offered by Blind Horse Books and found in their new catalog "Polar Exploration."
Featured item:
CERVANTES SAAVEDRA, Miguel de. The Life and Exploits of the Ingenious Gentleman Don Quixote de la Mancha. Translated from the Original Spanish by Charles Jarvis.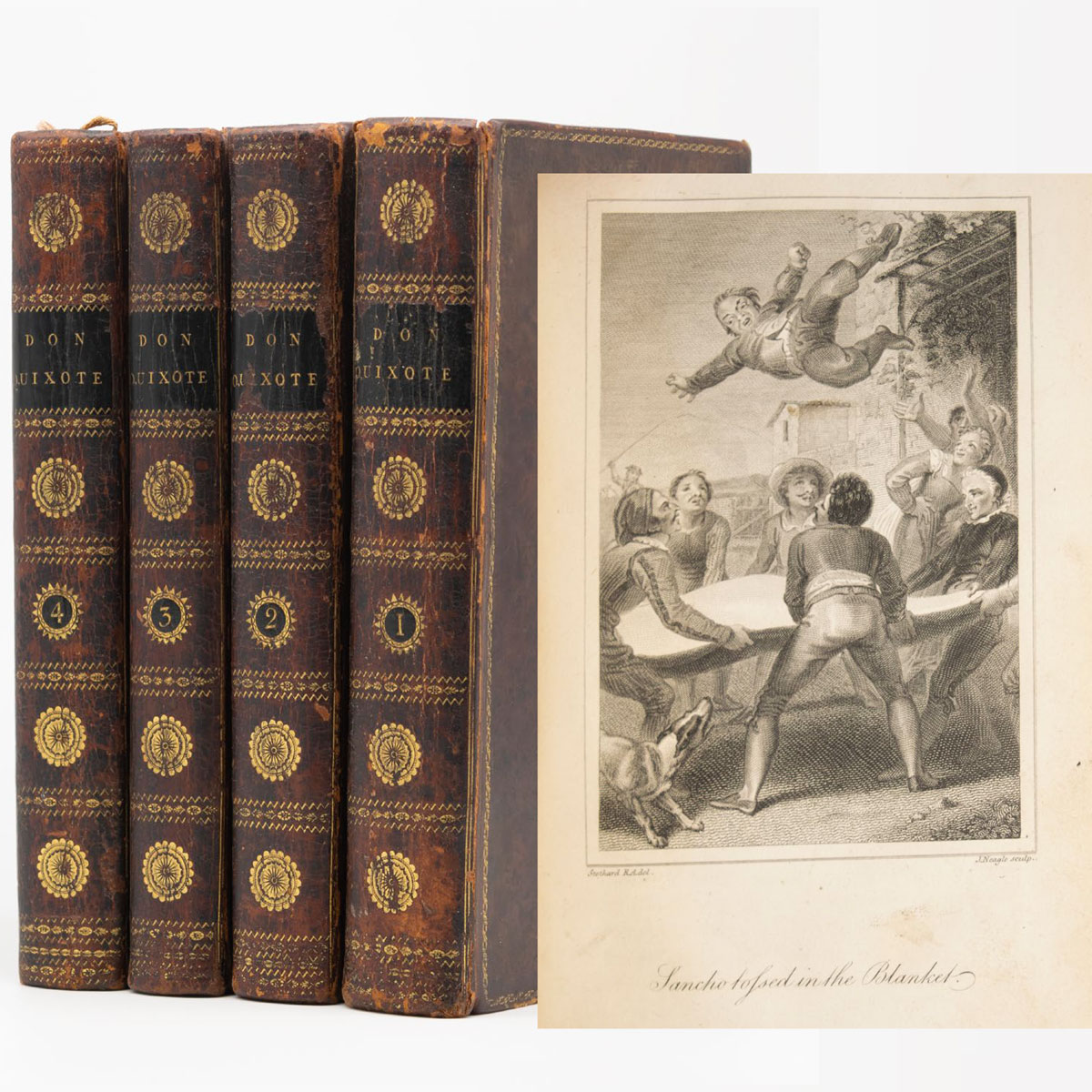 London: William Miller, 1801. 4 vols. 8vo. Folding engraved map showing Don Quixote's route and 20 engraved plates after Stothard, Jones, Banks and others (including portrait frontispiece by Anker Smith). cxlv, [1], 371, [1]; ix, [1], 412; xvi, 391, [1]; xii, 440, [8, ads] pp. Contemporary mottled calf, spines gilt, black morocco spine labels; some rubbing to extremities Rius praises this edition for its typography, illustrations, and textual correctness, noting that the past half century had produced innumerable inferior editions of Don Quixote.
Offered by Bull's Head Rare Books and found in "List 2: Don Quixote."
ANDREW CAHAN, BOOKSELLER, LTD.
Featured item:
Gerald Donnelly et al.

Archive of World War I Letters, Photographs, and Ephemera, addressed to Francis P. Deimer of Napoleon, Ohio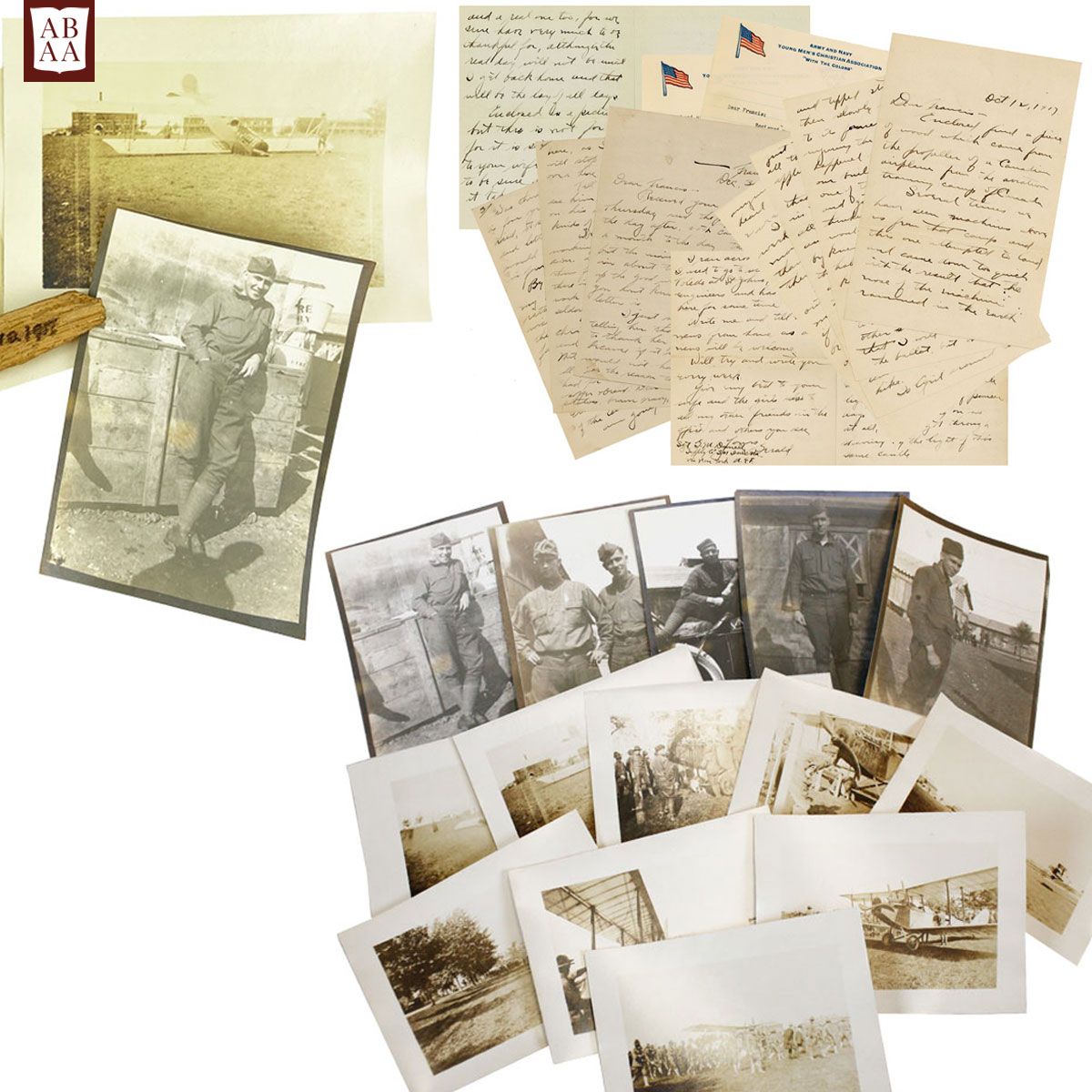 Columbus, Sacket Harbor, Is-sur-Tille, and Others: 1917-1919. Archive consisting of 38 letters, mostly autograph and accompanied with original mailing envelopes; 14 snapshot photographs; and the shard from a wooden airplane propeller. Letters with usual mail folds and some wear, else a Very Good, well-preserved archive.

Collection of letters addressed to businessman Francis P. Deimer, general manager of the Napoleon (Ohio) Home Telephone Co. The vast majority (30) of letters are from former office-mate Gerald Donnelly, whose correspondence spans the entirety of his participation in the Great War, from his arrival at the Columbus Barracks in Ohio to the Madison Barracks in Sackett Harbor, New York, to "Somewhere in France" (later revealed to be the American Expeditionary Force Camp William in Is-sur-Tille, a village fifteen miles west of Dijon). Donnelly proved to be a steady, observant, and humorous correspondent. Early letters, written while still in Ohio, describe the perks of enlisting: "Just had dinner a short while ago and am stuffed full, I will be so fat when I get back that you won't know me. For dinner we had boiled beef, mashed potatoes, tapioca pudding with raisins in it, corn on the cob with butter and water to drink and all the meals run along that order and you get all you can put into you" (August 16, 1917).

Two weeks later Donnelly describes the Ohio State fair: "It is soft to get in, anybody with a U.S. uniform on just walks in with his head high in the air and don't even look at the man taking tickets." His transfer to Madison Barracks proves no less comfortable: "Have nice quarters right on the lake front and a pretty place here" (September 17, 1917). A special highlight from Donnelly's tenure at Sackets Harbor is witnessing the crash of a Canadian airplane from the aviation training camp north of the border. "Several times we have seen machines above us from that camp and this one attempted to land and came down too quick with the result that the nose of the machine rammed in the earth and tipped straight up and then slowly settled back to the former position, without injuring the aviator" (October 12, 1917). As one of the first on the scene, Donnelly was able to keep a piece of the wooden propeller, which he enclosed with his letter describing the event and present here. A collection of nine photographs sent a couple weeks later includes images of the crash itself. Donnelly would be shipped to France in December of that year, the quality of life described in his letters steeply declining: "Just washed my hands and face a rare occurence and one to be celebrated as it happens only once in a while" (February 27, 1918).

Additional correspondence includes five letters from an E.C. Donnelly, possibly a brother of Gerald's, who was stationed with the 38th Balloon Company in Arcadia, California: "A week or so ago a storm came up and one balloon broke loose and went up to 6500 ft and was struck by lightening [sic] and started to burn, as soon as all the gas escaped the rain put the fire out and the balloon fell to earth. The Lt. was in the basket and froze his hands coming down. In landing the basket hit a fence post and drove thru the bottom of [the] basket pinning the lieut. between the post and the side of [the] basket but it did not hurt him. He was out the next day" (June 15, 1918). On a lighter note, later in the summer, E.C. writes "Charlie Chaplin is in camp now I guess they expect to take a picture here today as the movies bought one of our old balloons and I understand they are going to blow it up Sunday" (August 29, 1918). We have been unable to ascertain which Charlie Chaplin action film included a hot air balloon blowing up. Overall the archive provides a detailed and diverse account of the American experience of the Great War both at home and abroad.
Offered by Capitol Hill Books and found in "E-list #19."
DE SIMONE COMPANY, BOOKSELLERS
Catalog #88, Medical Books from the Fifteenth to the Twentieth Centuries -- This catalog is print-only. To request a copy, contact MedBks@aol.com...
EDITIO ALTERA RARE BOOKS & MANUSCRIPTS
Comic collection of William "Gatz" Hjortsberg -- Details available upon request from info@elkriverbooks.com...
RODGER FRIEDMAN RARE BOOK STUDIO
OCCASIONAL LIST 22: A Miscellany: Original Art Work; Small Archive of Major English Watercolourist; Interesting Theatrical Pieces; Manuscript Material, Etc., Etc. -- available on request from fgrare@fgrarebooks.com...
Has the following lists available: California, Texas, Kansas, Missouri, Minnesota, Iowa, Nebraska, Oregon, Louisiana, Colorado, Ohio and New York. Will email to interested parties. Contact info@ginsbook.com to request...
Join the ABAA-Public Google Group, a listserv where ABAA members announce select books for sale, share information on their participation in upcoming book fairs, and showcase their recent catalogs!
The ABAA-Public Google Group is a read-only email group, so email traffic is kept to a minimum and only ABAA members can announce books for sale — ensuring all items are in full compliance with our Code of Ethics.

Subscribers to the group can opt to receive emails individually, or have each day's emails combined into a daily digest to limit the number of emails they receive.
THOMAS A. GOLDWASSER RARE BOOKS
DAVID A. HAMILTON AMERICANA BOOKS
JONATHAN A. HILL, BOOKSELLER, INC.
Featured item:
Daphne du Maurier, The Apple Tree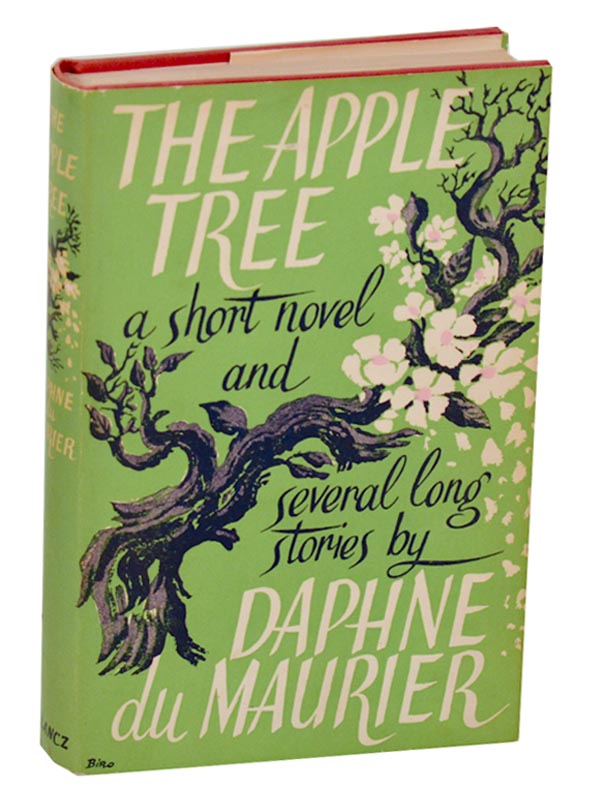 London: Victor Gollancz Ltd., 1952. First edition and first printing. Hardcover. 264 pages. A collection of six short stories that includes "The Birds" which was the basis for the classic Alfred Hitchcock directed movie with Tippi Hedren, Rod Taylor and Jessica Tandy. A near fine copy in a close to near fine dust jacket with a few small edge tears and tiny chips. Still, a very pleasing copy.
Offered by Jeff Hirsch Books and found in "elist 218."
Featured item:
1920s Coca-Cola Portable Wheeled Cooler for Stores Advertising Card.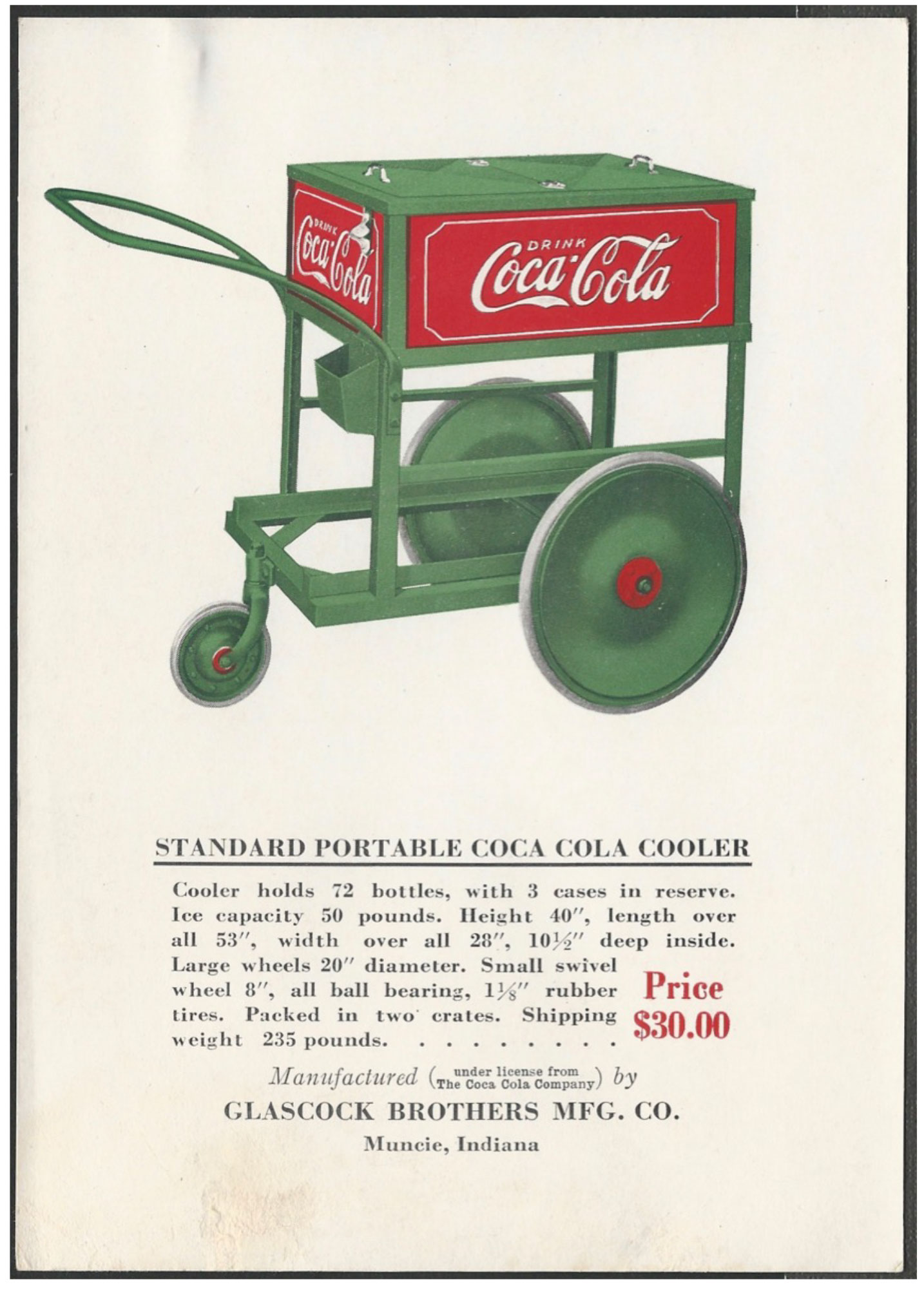 The coolers were manufactured by Glascock Brothers in Muncie, Indiana. The firm manufactured coolers and dispensing machines for Coke for decades. Card. 5"x7". Minor soil, light wear, paperclip mark.
Offered by Joslin Hall Rare Books and found in "Merchandising Coca-Cola, 1920-1970."
JOHN W. KNOTT, JR., BOOKSELLER
Catalog #74: 100 Rare Books -- with an emphasis on history and military affairs. Please request from mail@kubikbooks.com...
MICHAEL LAIRD RARE BOOKS & MANUSCRIPTS
DAVID M. LESSER, FINE ANTIQUARIAN BOOKS
LIBER ANTIQUUS, EARLY PRINTED BOOKS & MANUSCRIPTS
J. & J. LUBRANO MUSIC ANTIQUARIANS
STUART LUTZ HISTORIC DOCUMENTS
MAIN STREET FINE BOOKS & MANUSCRIPTS
Illustrated Catalog on Carlos Merida (1891–1984) -- Mexican painter, sculptor, writer and graphic designer -- available by request from mmbooks@comcast.net
MARTAYAN LAN RARE BOOKS & MAPS
BRUCE MCKITTRICK RARE BOOKS, INC.
Children's Dance Theater Archive of Carla Blank and Jody Roberts

*New*

-- Offered jointly with Jeff Maser, Bookseller. Details available on request from maser@detritus.com...
Louis M. Jason's book Literary (and Other) Celebrity Doodles II is now available. Contact the store at info@mysterypierbooks.com to order...
Featured item:
CHEERFUL WEATHER FOR THE WEDDING
Strachey, Julia Frances.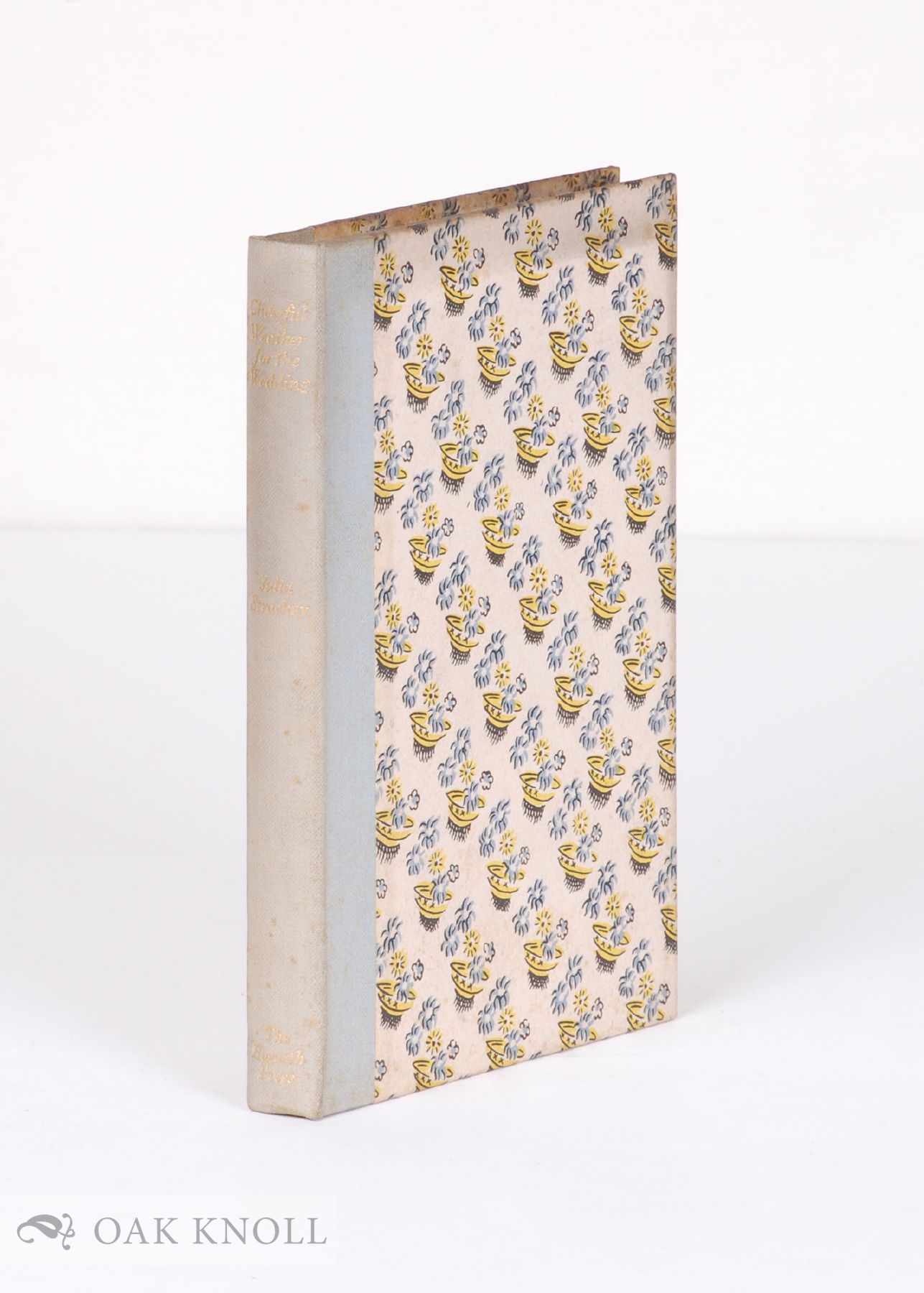 London: Leonard and Virginia Woolf at the Hogarth Press, 1932. 8vo quarter cloth over decorated paper covered boards. 119 pages.
First edition. Top edge of boards shows light uneven soiling. Spine lightly foxed and faded, else near fine. Novel by the daughter of Lytton Strachey.
Offered by Oak Knoll Books and found in "Virginia & Leonard Woolf and the Hogarth Press - New Acquisitions."
Featured item:
Halaban, Gail Albert; Caujolle, Christian (Introduction); Remy, Cathy (Introduction).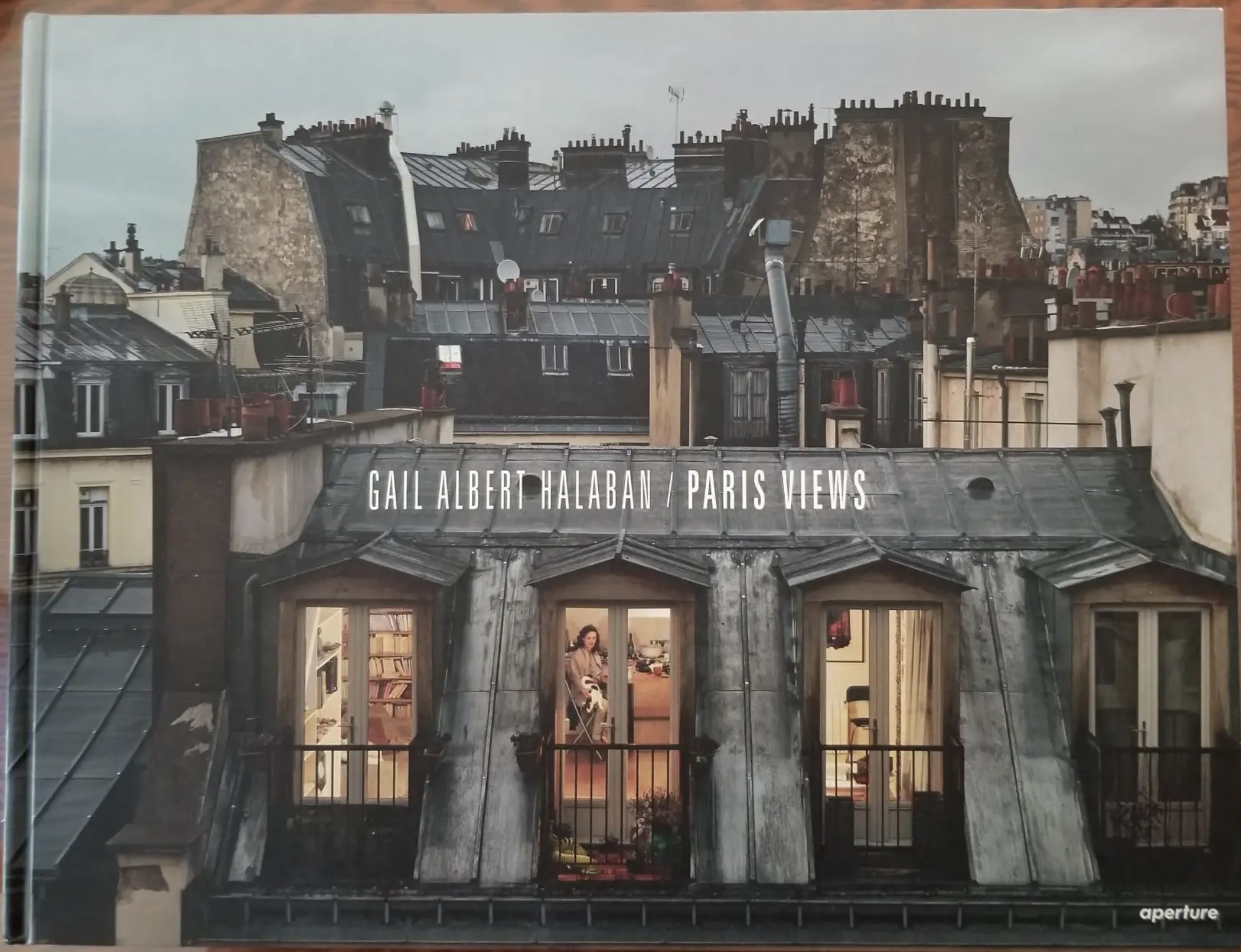 New York: Aperture, 2014. Hardcover. First Edition. First Printing. Oblong Folio. Unpag. Clean, crisp copy. No dust jacket as issued. Fine.
A book of stunning images that combines the beautiful facades of Paris apartments with the human tableux within. Although the photographs were staged, the viewer feels like they are witnessing a slice of Paris life behind doors. Many of the subjects and buildings flow from one photograph to the next.
Offered by Craig Olson Books and found in "Photography."
PHILADELPHIA RARE BOOKS & MANUSCRIPTS
PHILLIP J. PIRAGES FINE BOOKS & MEDIEVAL MANUSCRIPTS
Featured item:
Van Vliet, Claire. GROUP OF JANUS PRESS EPHEMERA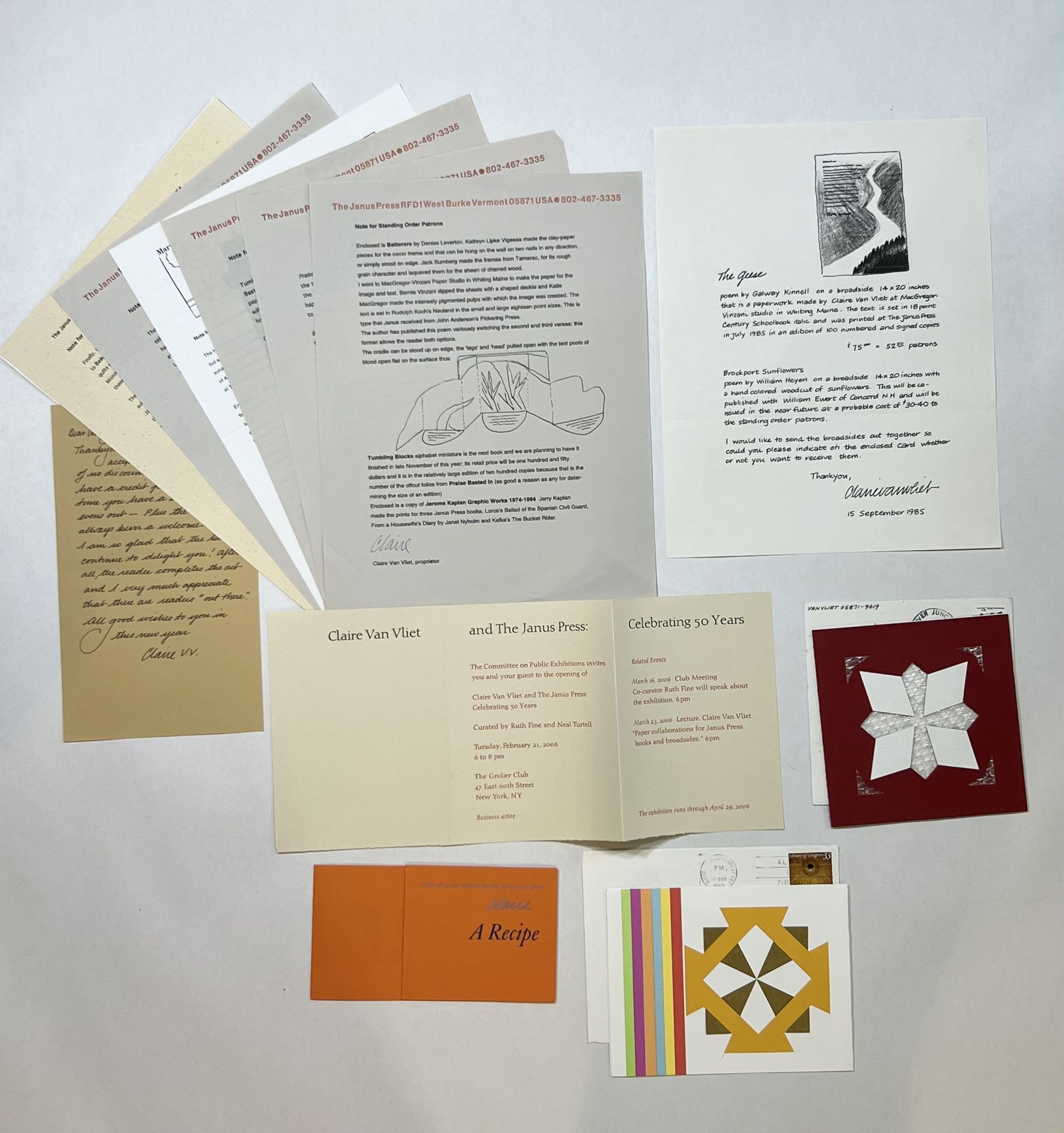 Newark, VT: Janus Press. Unbound. An assortment of correspondence from Van Vliet to "Standing Order Patrons." The group includes (8) typed letters signed by "Claire" that accompanied books, one with a customer invoice, the dates range from 1995-2003. (1) photocopied manuscript letter announcing a Galway Kinnell broadside, order slip not included; (3) holiday cards, two with envelopes and postmarks in 1998 and 2000, the third, without envelope is likely contemporary, all are signed and two have generalized well-wishing; (1) manuscript note related to account balances though the tone is very familiar and warm; (1) trifold exhibit mailer for a 2006 Grolier Club exhibition celebrating 50 years of Claire Van Vliet and the Janus Press.
Offered by Michael Pyron, Bookseller and found in "Women in Printing."
RABELAIS BOOKS ON FOOD & DRINK
Featured item:
Wagon-Restaurant Menu pour les Petits Enfants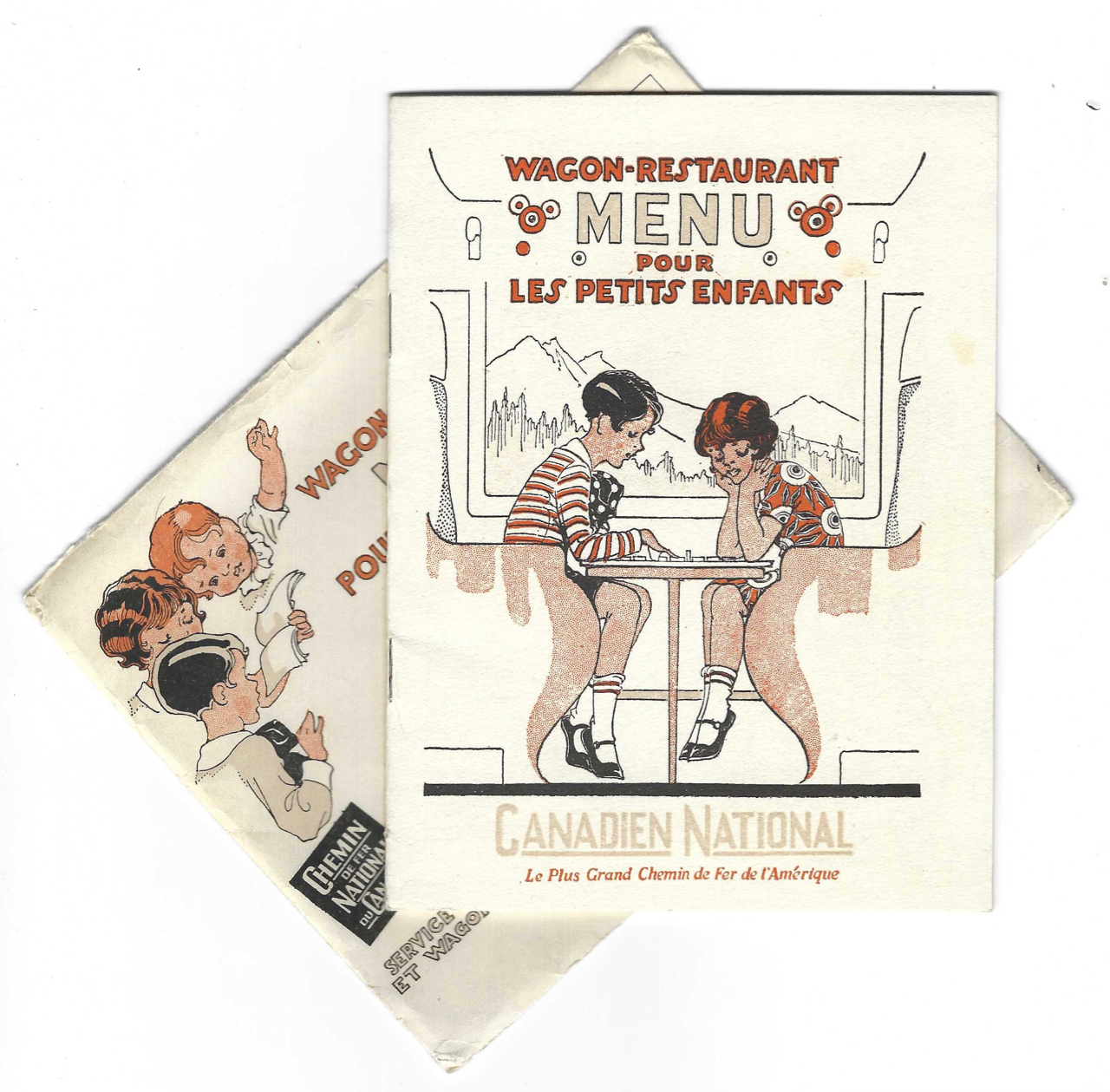 [Imprimé en Canada: Chemin de Fer National du Canada, 1928]. Booklet with menu, stapled in wrappers (15 x 11 cm.), [16] pages.
FIRST EDITION. A little booklet that serves as a children's menu on board the Canadien National trains, and also as an illustrated children's book telling the story, in verse, of children of various ages, traveling via the C.N.F. The attractive illustrations are printed in black, orange, and tan, and the decidedly Art Deco design is rich in pattern, especially in the clothing of the children. The centerfold contains the menu "pour petits garcons et petites filles" offering options at four prices for Dejeuner, Diner, and Thé. Interestingly, many of the prices on the menu (each for a full meal) have been crossed out in the print and revised downwards. Also present is the original mailing envelope, also illustrated and then printed in three colors, unaddressed and unmailed. Very slight soil to wrapper panels, otherwise fine. The envelope is very good.
Offered by Rabelais Books on Food & Drink and found in "Fresh Arrivals no. 92."
RICHARD C. RAMER, OLD & RARE BOOKS
ROOTENBERG RARE BOOKS & MANUSCRIPTS
BARRY LAWRENCE RUDERMAN ANTIQUE MAPS, INC.
Featured item:
[Cummington Press.] From this hill. Cummington, Massachusetts: Cummington Press, 1940-41.
2 volumes, 8vo, pp. [22]; [20]; woodcuts by Zola Marcus and Frederick Marantz; about fine in original pictorial wrappers. Ownership stamp of Will Ransom inside the back cover of each volume noting these were purchased directly from the press in November 1941 for 75 cents each. From the library of Kim Merker.
Of the 1940 volume the University of Nebraska notes: "A collection of eleven poems and a short story, with contributions from Margaret Currier, Harry Duncan, Raphael Hayes, Harriet Anderson, Jane Gray Ward, and Samuel French Morse. Of the 217 copies of this book originally printed, 200 were destroyed by mutual agreement of the contributors." Yale, Emory, Iowa, Berea, Nebraska, Princeton, Tulsa, and Texas in OCLC. Richmond 2."
Of the 1941 volume: "A collection of poems by Jane Gray Ward, Harry Duncan, Milton Klonsky, Barbara Howes, Elaine Gottlieb, Angelo Bruno, and David Newton, with woodcuts by Zola Marcus and Frederick Marantz, cover by Ralph Pendleton. Richmond 5."
Offered by Rulon-Miller Books and found in "Books Designed and/or Printed by Harry A. Duncan."
KURT A. SANFTLEBEN - PAPER AMERICANA
California Book Fair 2019: 130 Items on Science and Medicine is now available on request from scientiabk@gmail.com...
MARC SELVAGGIO, BOOKS & EPHEMERA
MICHAEL R. THOMPSON RARE BOOKS
Featured item:
Traité de la Reliure de Livres. A Bilingual Treatise on Bookbinding Translated from the French by Claude Benaiteau.
Gauffecourt, Jean-Vincent Capronnier de.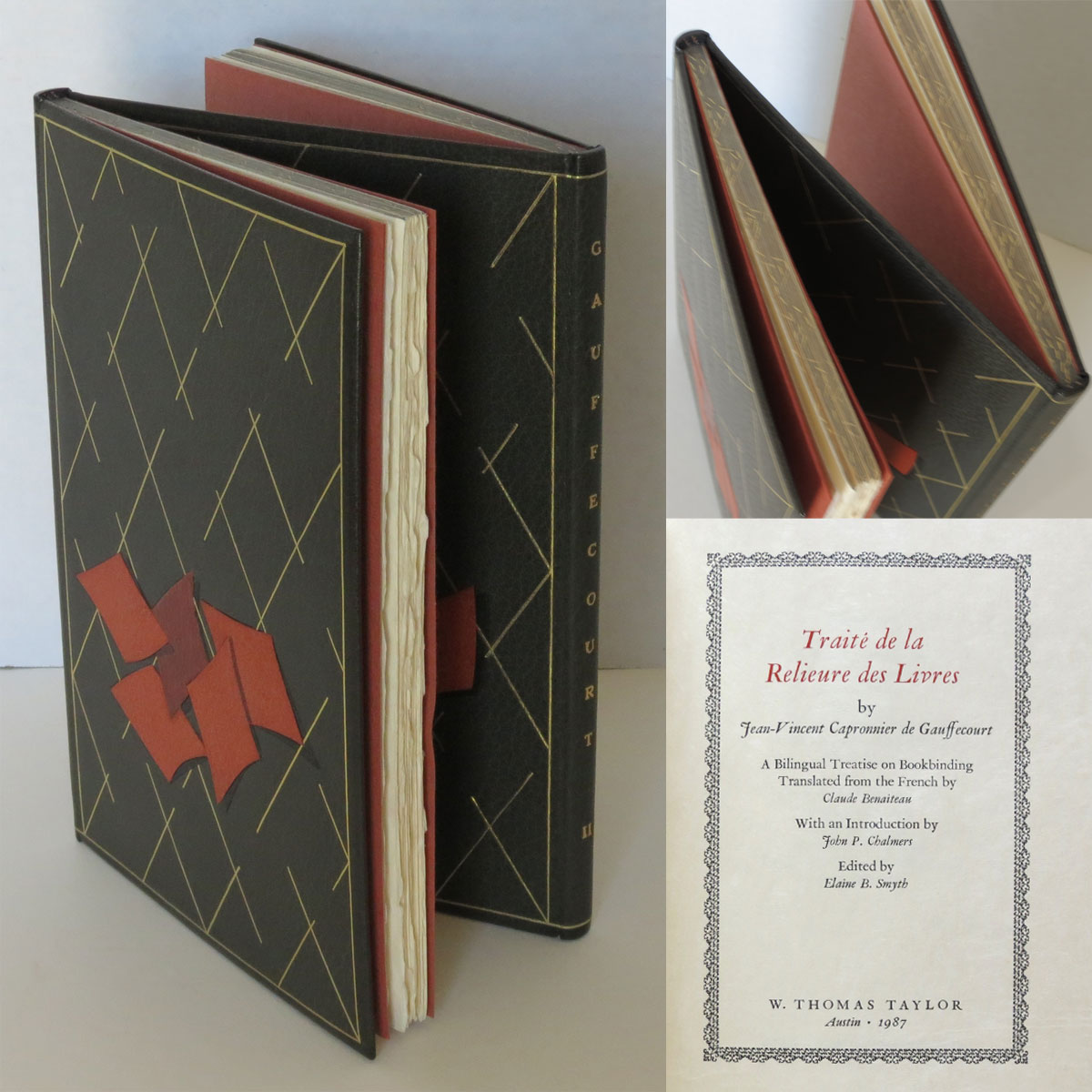 Austin: W. Thomas Taylor, 1987. 6 1/4 x 9 1/2. 130 pages. Dos-a-Dos binding by Silvia Rennie (signed in front hinge) of full green morocco tooled in gilt with 5 onlays of binders' brown morocco "scraps" on both covers. Part I has one darker morocco piece, while part II as 2 darker pieces. The spines are titled "Gauffecourt I" and "Gauffecourt II." Top edges have a gilt design on graphite; black & gold headbands. Fine in suede-lined tray case. Item #15446

A most appropriate book for a dos-a-dos binding, the English version appears in side I, the French in side II. One of 40 copies beautifully printed on Gampi paper. (There were 260 copies on plain paper.)

This is the first reprint of the first (1763) French bookbinding manual, with an English translation by Claude Benaiteau.
Offered by The Veatchs Arts of the Book and found in their recent catalog "Bookbinding."
Featured item:
H. Atwell. Department Manual, Women's Ready-to-Wear. Unpublished.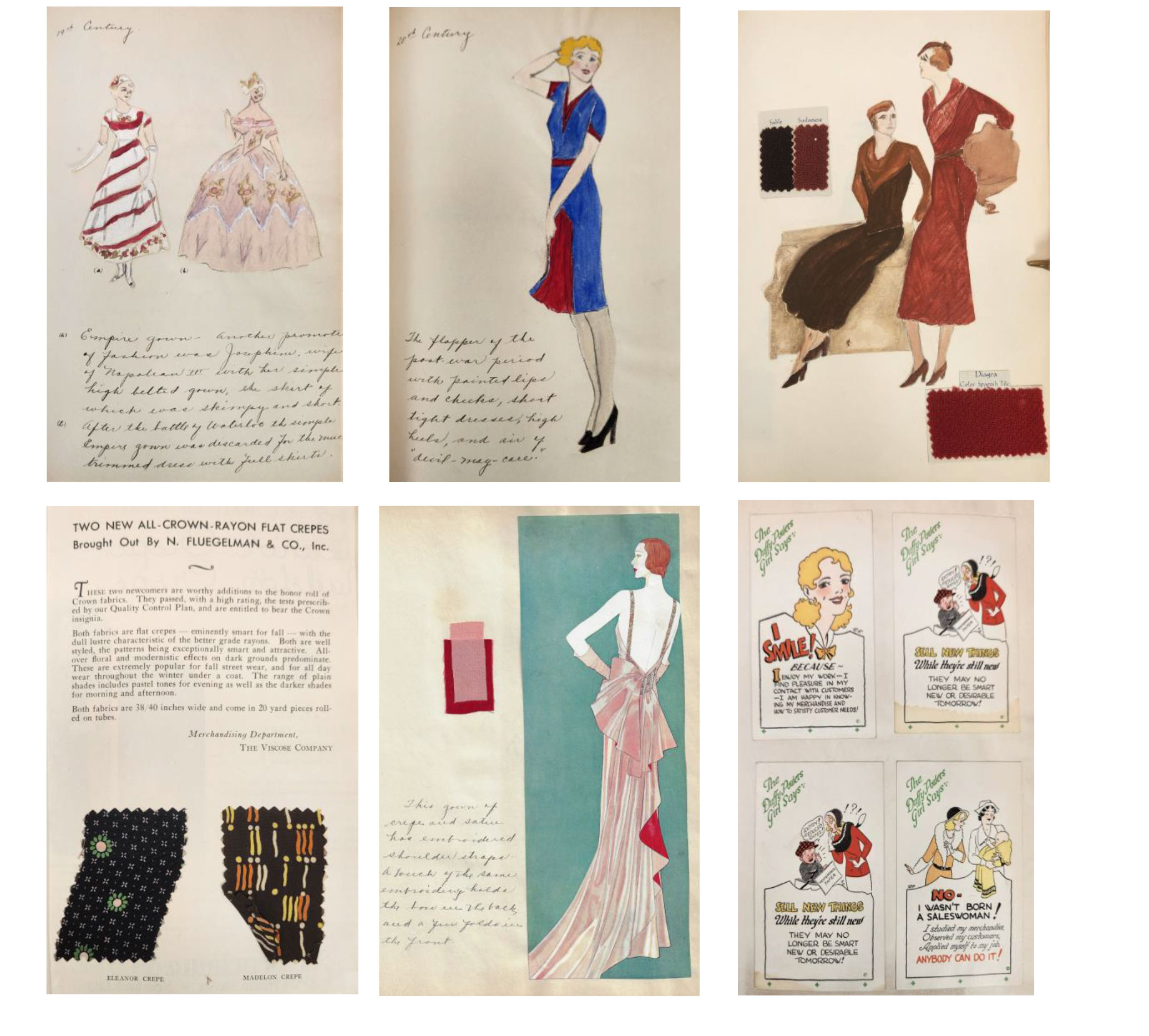 [Rochester, NY, 1932]. Black buckram springback binder, 9" x 11.25", containing 164 unnumbered leaves with content on rectos only. Very good. A hand-made manual for selling women's clothing, created in 1932 by an employee of the Duffy-Powers Department Store in Rochester, NY. Founded in 1907 as the Duffy-McInnerney Company (the name was changed in 1911), Duffy-Powers was the self-described "largest retail store in New York State outside New York City."
The book, which contains handwritten text, fashion illustrations (23 hand-drawn and painted, the rest clipped from magazines) accompanied by actual fabric swatches, and printed instructional and motivational materials for salespeople, includes a short introduction explaining its goals: There is a constant drive in every department of a store to secure more business each season…. Experience shows that promoting merchandise which follows the trend of fashion is highly successful...Undeniably fashion is a powerful force which is responsible for continual rejuvenation in business, increased consumption, and large profits…..Though the buyer follows the trend in selecting the right merchandise, though the advertising department promotes the prevailing mode, though the consumer may be enthusiastic about that which is fashionable, having been well informed through advertising and fashion magazines, unless the salesperson has an accurate knowledge of that which is fashion right and recognizes the value of this information in selling, the result of all efforts is complete failure. The purpose of this manual is to train salespeople in recognizing the place of fashion in relation to other values sought by the customers in the Ready-to-Wear department.
The text is clearly based on considerable research, and the author cites her sources, which include books, magazines, and interviews with Duffys' employees and customers. She begins with an extensive illustrated overview of "Fashion Trends in Women's Clothing" from Ancient Greece through the 1920s. Part II, "Merchandise Information," discusses the composition, manufacturing, and qualities of various textiles made of wool, silk, and rayon. Part III, "Selling Technique," includes advice and training materials for salespeople as well as examples of newspaper ads and articles describing various dress styles currently in fashion. The last section, "Fall and Winter Fashions 1931-1932," includes articles and clipped illustrations from newspapers and magazines describing textiles and showing their use in a variety of garments. This section incorporates 79 fabric swatches, including woolens, silks, satins, velvets, crepes, and chiffons.
Offered by Walkabout Books and found in "E-list 20."
Featured item:
BOSSU, Jean Bernard (1720-1792). Nouveaux Voyages aux Indes Occidentales ; Contenant une Relation des differens Peuples qui habitent les environs du grand Fleuve Saint-Louis, appelé vulgairement le Mississipi; leur Religion; leur gouvernement; leurs mœurs; leurs guerres & leur commerce.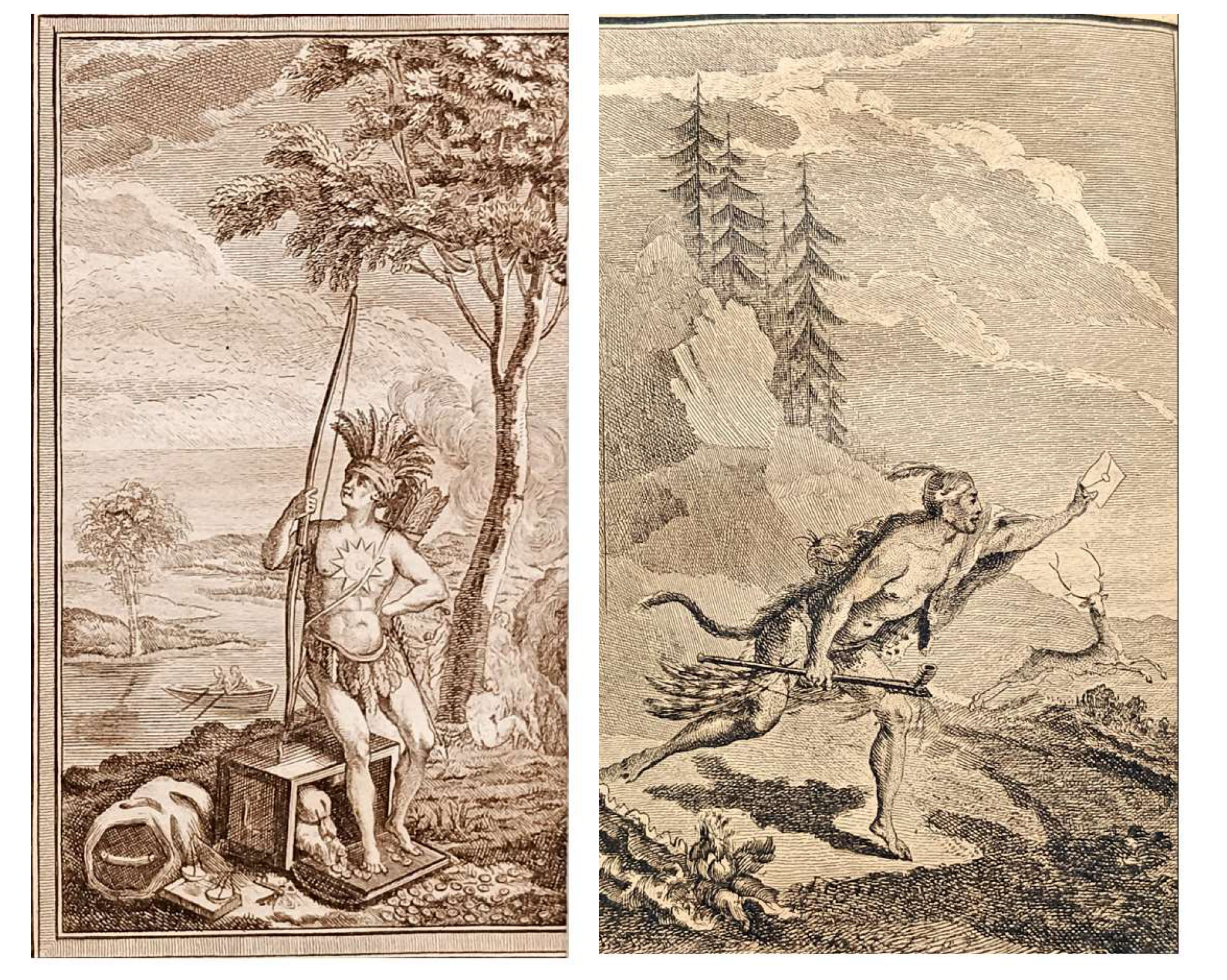 Paris : Chez Le Jay, 1768. 2 volumes in 1. 12mo. 16.5x10 cm (6½x4"). xx, 244; [iv], 264 pp. Illustrated with 4 copper-engraved plates (including 2 engr. frontispieces). Original period full mottled calf, spine tooled in gilt, black morocco lettering label, marbled endpapers, edges marbled; extremities worn. Faint signature (erased) of B.F. Gibson, 1921/4. Very good.
Second edition (same year as first) of this important work on the exploration of the interior parts of North America, consisting of a series of twenty-two letters by Bossu, a French army officer, relating his life and travels from 1751 to 1762 in the Louisiana territory to as far north as Fort Chartres in what is now Illinois to as far east as the French post at Mobile [Alabama].
Streeter notes that "Bossu wrote well and his letters not only give an interesting picture of life and travels in the Mississippi Valley and the Mobile country to the east at the beginning of the second half of the eighteenth century, but incorporated also are many sketches of events of the preceding years. Bossu came to New Orleans only thirty-three years or so after its founding and only eighty years after La Salle's journey down the Mississippi, and the first and second hand recollections were still fresh." – Streeter III:1518.
"For comments, too critical of the ministry, Bossu was imprisoned and his book banned for a while in France; this probably accounts for the scarcity of the first edition, of which Sabin found no record." – Howes.
"In 1750 Bossu was a member of military reinforcements being send to New Orleans, the capital of the French colony Louisiana. Bossu's convoy left France on 1750-12-26 and travelled first to Cap-François in Saint-Domingue, where it arrived mid-February. After a short stay the convoy left for New Orleans on 1751-3-8 finally arriving in early April. Soon after his arrival in New Orleans Bossu set out to explore the Mississippi River and neighbouring areas. First he travelled to the Natchez and later to the Quapaw, who made him a member of their tribe. Later he explored the lower parts of the Arkansas River and followed the Mississippi River into Illinois. in 1757 Bossu returned to France to report on the state of the French colony and was ordered back to New Orleans the same year. Louis Billouart the governor of Louisiana sent him from New Orleans to Fort Toulouse at the eastern border of the colony. In 1759 he was assigned to lead a convoy to Fort Tombeché (now Sumter County, Alabama), where the Choctaw were living. He returned to New Orleans the same year, and little is known what he did until early January in 1763 when he returned to France. Back in France he had to spend six weeks in prison for having criticized Louis Billouart for assigning the command of the convoy to Fort Toulouse to less experienced officer." [Wikip.].
Some added notes: The letters of Bossu contain early descriptions of America, the cruelties of the Spaniards, mining work, the true origin of Naples disease, a description of Fort Havana, the Gulf of Mexico, an early description of the Mississippi River, coming to Arkansas, Illinois, a caravan of elephants arriving near the Oyo [Ohio] River. In letter 15 he describes a manner of punishment for adultery. How the dead are buried and mourned in Alabama. Letter 17 recounts an escape from a crocodile in Alabama. And throughout his travels, returns to Europe and conflicts he encounters.
Howes B626; Clark, Old South II:5; Field 156; Graff 361; Sabin 6465 (locating no record of the first issue).
Offered by Jeff Weber Rare Books and found in "291: BOOKSELLER'S CABINET, BEING HIGHLIGHTS & RECENT ACQUISITIONS OR, 'BROWSING THE SHELVES'" (item #7).
JOHN WINDLE ANTIQUARIAN BOOKSELLER
Featured item:
NEW YORK. NEW YORK CITY. A group of eleven chromolithographed cards of Views in Central Park.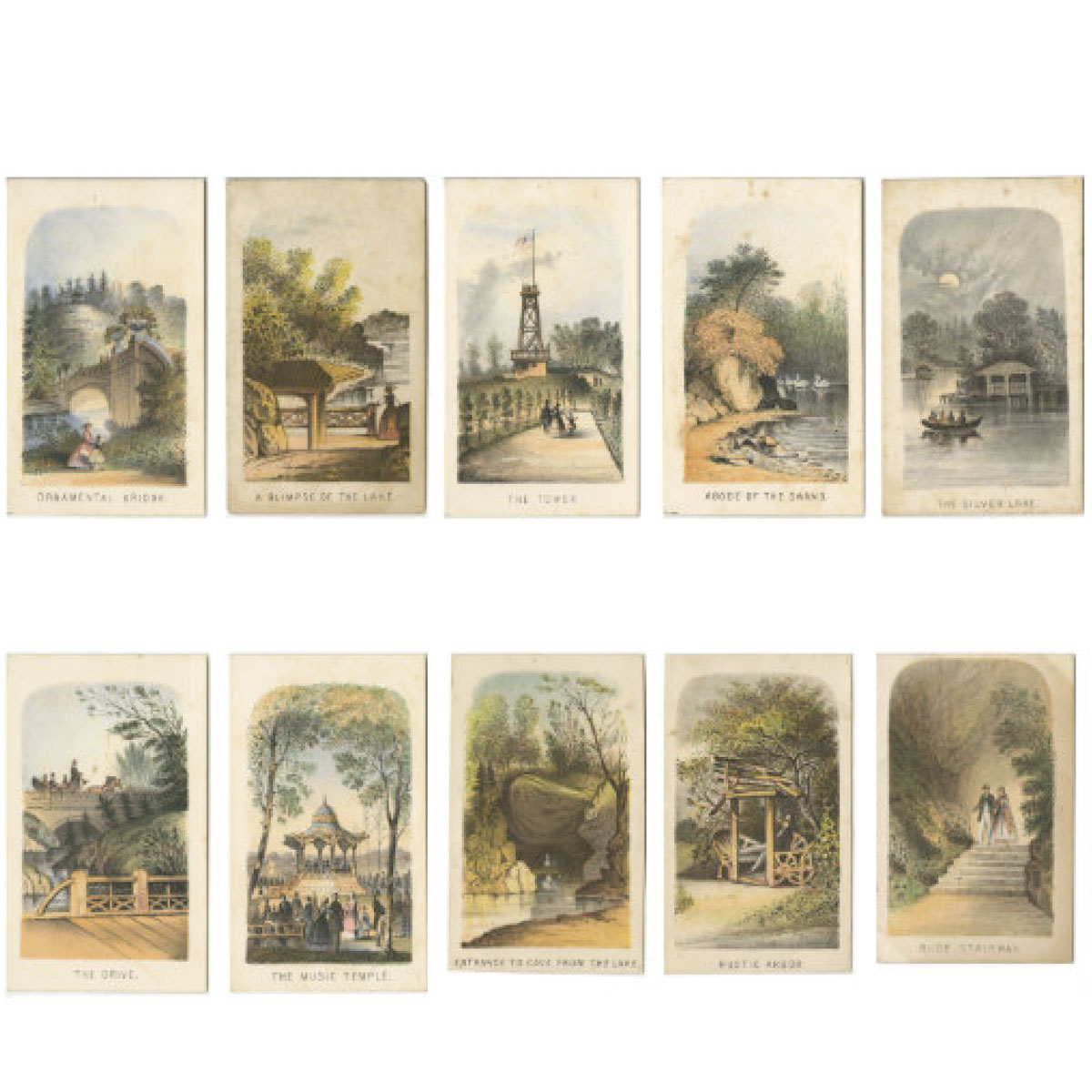 Boston, 1864. A group of eleven charming and lovely views of Central Park as they appeared within the first decade of its opening. These are album cards printed by America's prolific chromolithographer Lous Prang and designed for inclusion in albums or scrapbooks. There were 36 cards issued in total during this period, 12 per series. By 1869, another two series, titled a bit differently, were issued, making a total of 60 cards in all. (Our 11 cards are all from the first series). Ours include: The bridle path; Ornamental bridge; The music temple; The drive; The tower; Abode of the swans; Rustic arbor; The silver lake; A glimpse of lake; Rude stairway; and Entrance to cave from the lake. "Prang's publication of album cards was an especially happy idea. In the late 19th century an album holding colorful cards was found on the center table of every parlor. The cards were put up in envelopes containing twelve cards each..." - K. McClinton, The chromolithographs of Louis Prang, p. 4. I am aware of only one holding of the complete series, Avery Library at Columbia.
Offered by Charles B. Wood, Bookseller and found in "Catalog 193: Landscapes & Gardens, Part II".
Featured item:
Dickens, Charles & Wilkie Collins. All The Year Round No. 1 Saturday, April 30, 1859 - No. 76 Saturday, October 6, 1860 A Weekly Journal Conducted by Charles Dickens.
London: No. 26, Wellington Street, 1859-1960. 624, 568, 620 pages. 24 x 16 cm. Contains the first appearances of a Tale of Two Cities by Dickens and The Women in White by Wilkie Collins. Interior contents clean and fresh, binding very solid. Raised bands in with gilt application, black leather spine labels printed in gilt. Collins and Dickens had a life-long friendship. ECKEL, pp. 87-90, 219. GIMBEL E9, SMITH I:13. Contemporary half calf and pebbled grained brown cloth, spines sunned. All edges marbled. Very good. 3 Vols.
Offered Roy Young Bookseller and found in "New Arrivals."

--
Remember, you can always browse and download the latest catalogs published by ABAA members on ABAA.org by visiting the following link: https://www.abaa.org/catalog/... (You can also access this page by selecting 'Booksellers' from the top menu, scroll to the bottom of the page to 'Member Catalogs', and click on 'View All'.)
---
Get to know the members of the ABAA...