Browse the latest catalogs, newsletters, and e-lists of rare books, fine bindings, incunabula, print ephemera, and much more from the members of the ABAA below. (Also includes podcasts, blog posts, and other digital formats.)
*New* indicates any catalogs added in the last month.
AARDVARK BOOKS/EZRA THE BOOKFINDER
ANTIPODEAN BOOKS, MAPS, PRINTS
Featured item:
Lot of 26 UFO Photos from Around the World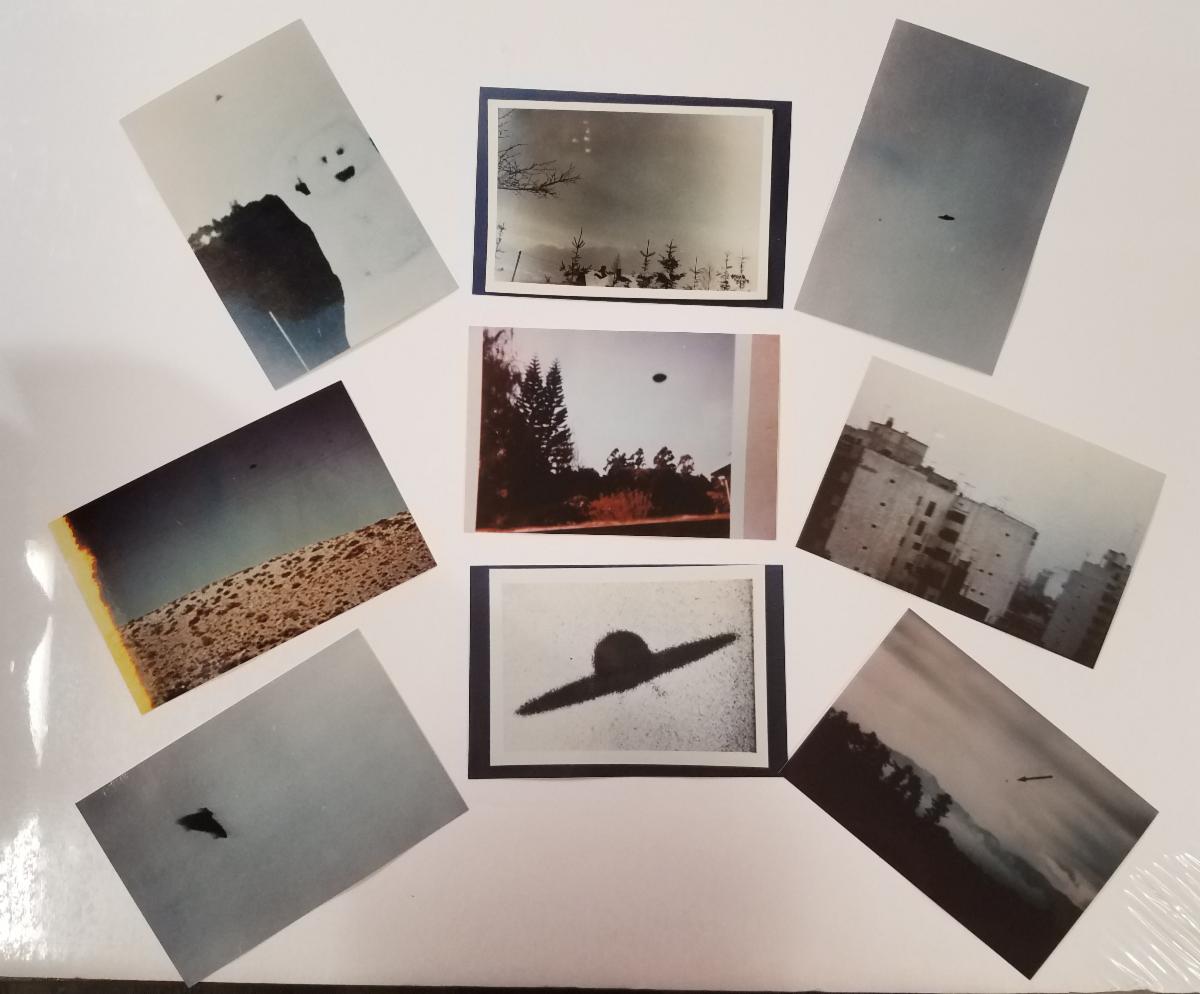 Set of 26 UFO photos from the UFO photo archives of Wendelle Stevens, no negatives. The photos are all labeled in pen on the verso. All in fine condition. Contained in Costco envelope.
All the photos were taken in 1975 and come from Argentina, Japan, South Africa, Canada, and Austria.
Offered by Back of Beyond Books and found in "A Selection from Wendelle Stevens UFO Photo Archives."
W. C. BAKER RARE BOOKS & EPHEMERA
Featured item:
ALL ABOUT CALIFORNIA and the Inducements to Settle There. [For Gratuitous Circulation].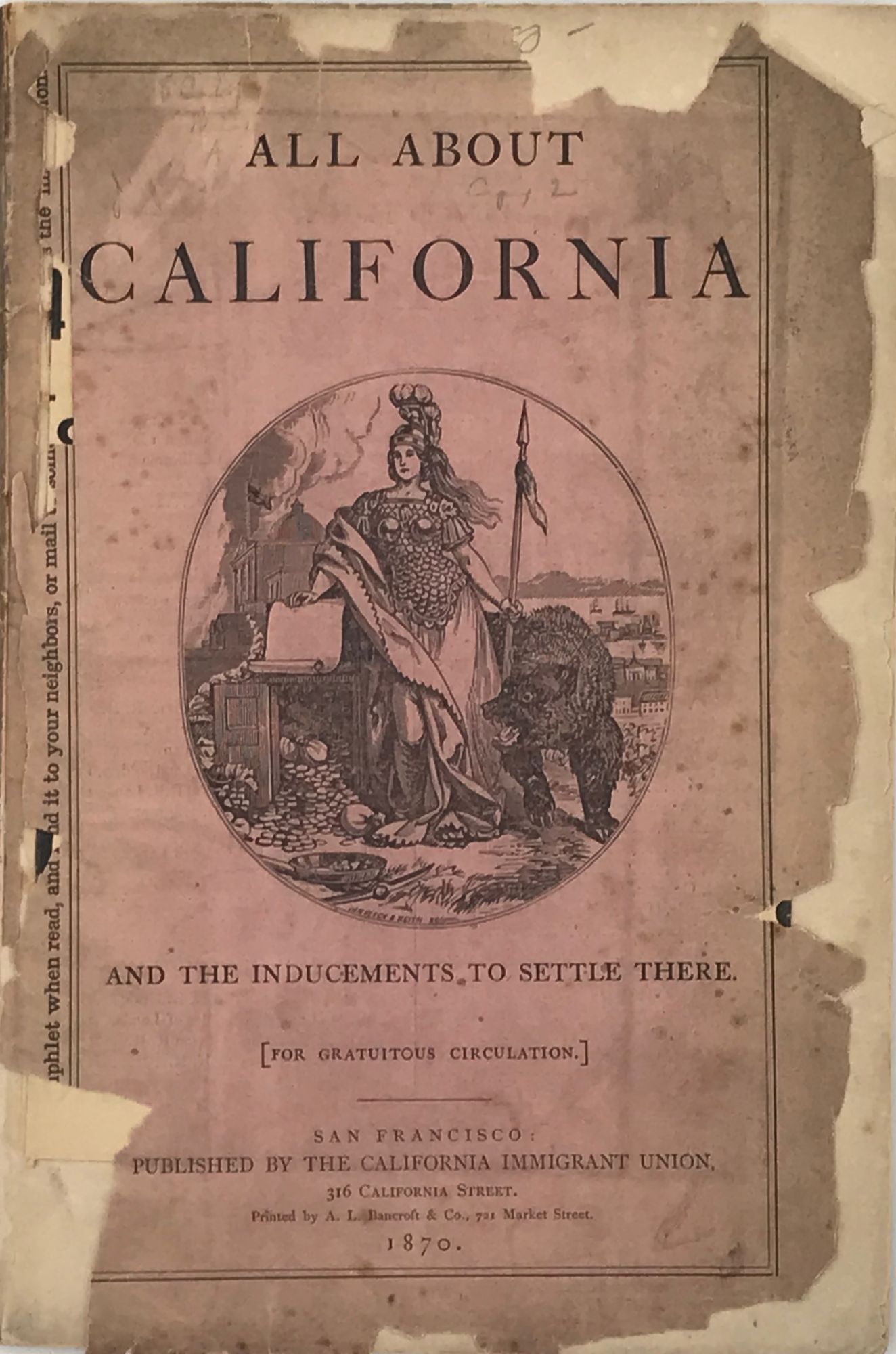 San Francisco: Published by the California Immigrant Union, 316 California Street. Printed by A. L. Bancroft & Co., 721 Market Street, 1870. Second edition. 8vo. 64, 16pp., [30] ads etc., folding map of overland route. In text double page map of California, and double page map of San Joaquin Valley. Printed pink wrappers (detached, significant chipping with loss of some text on the wrappers). HOWES C36 - attributes some text to John S. Hittell.
Offered by Bartleby's Books and found in "Miscellaneous Americana."
"A Short list of auction and bookseller catalogues on historic and designer bindings." A .pdf is available upon request from robin.bledsoe1@verizon.net...
Featured item:
LA MARSEILLAISE. CHANT NATIONAL PAR ROUGET DE LISLE. TISSAGE DE LA MAISON CHATEL ET TASSINARI
Lyon: Bernoux & Cumin (1899). Folio, attractive new blue cloth portfolio with original printed cover label describing the illustrations laid down on front cover and new tricolor ribbon ties. One of 300 copies of this rendering of the French national anthem by Eugène Grasset, one of the great Art Nouveau illustrators. Fine. Printed title and four pictorial panels in the original mats bordered in tricolor ribbon, each measuring 13 by 9 inches, woven in fine silk with a technique based on the punch-card system used by Jacquard and following principles developed by Charles Babbage for his experimental calculating machine.
According to a copy of a 1970 letter, which is laid in, from the Curator of the Textile Museum of Lyon, the work ("ce véritable chef-d'oeuvre de tissage lyonnaise") is comparable to the most beautiful woven portraits of the 19th century. He quotes Tassinari et Chatel, the company which did the original weaving, as stating that even though they still have the original cards, the cost of reproducing it made it highly unlikely that they would ever do so. The first plate, the title panel, shows a fierce Marianne, personification of France, flying over a battlefield waving sword and helmet; the borders incorporate symbols of war's destruction, including flames, wreaths, torches and human figures. The second panel, with words and music woven into the fabric within a classical frame, includes a portrait of Rouget de Lisle, author of the anthem. The third and fourth panels give the remaining verses flanked by monumental figures of winged Victory, French soldiers in rippling cloaks and martial emblems (trumpet, weapons, oak branches, etc.) within an architectural setting.
Offered by Marilyn Braiterman and found in "RBMS 2021."
ANDREW CAHAN, BOOKSELLER, LTD.
Featured item:
The Nun of Kenmare (Margaret Anna Cusack). Advice To Irish Girls In America.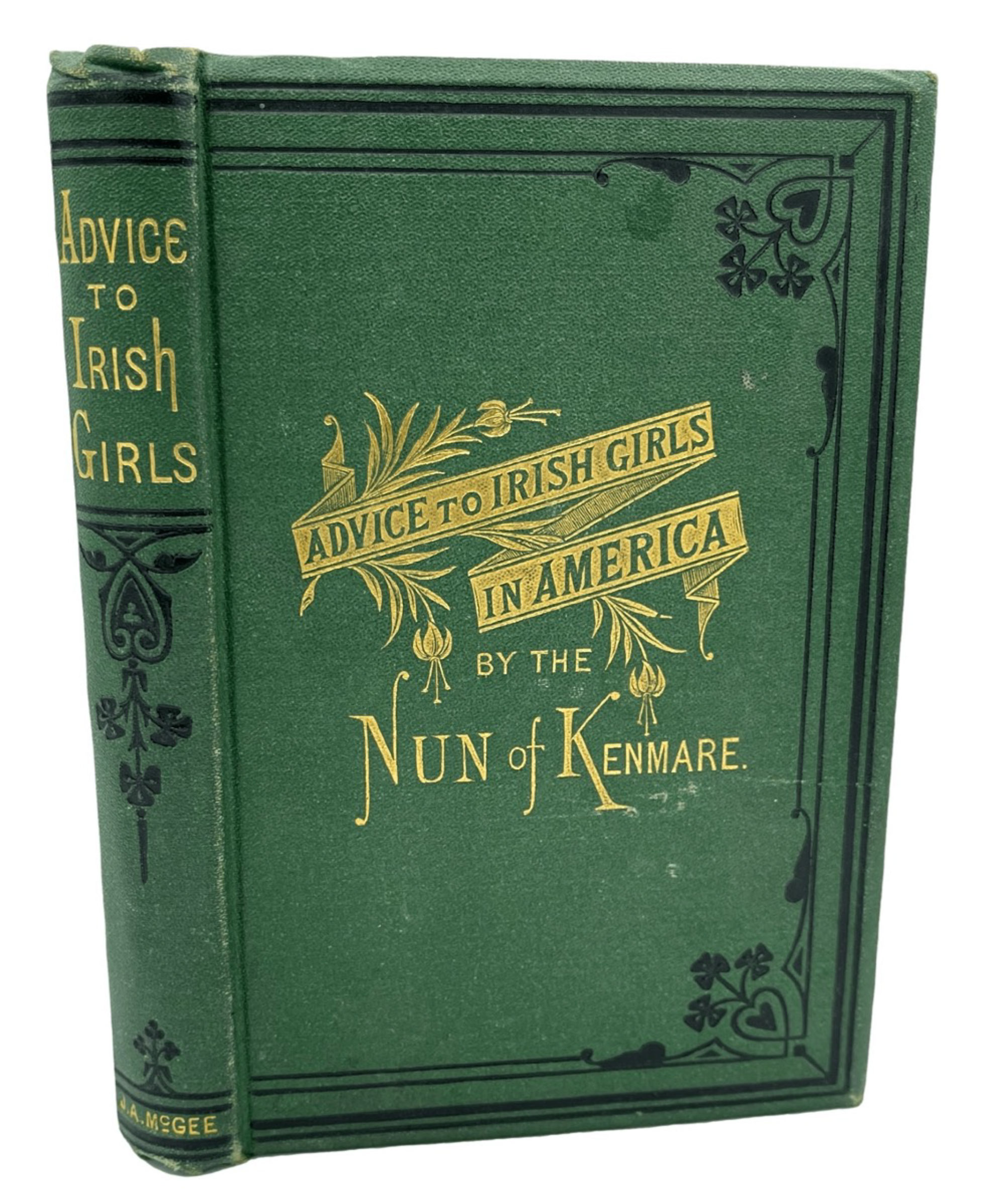 NEW YORK: J.A. MCGEE, PUBLISHER, 1872. 8vo, original green cloth with black and gilt decoration, gilt lettering to front cover and spine, 201 pp. "Tenth Thousand" edition per title page. A collection of advice for young Irish Catholic women recently emigrated to America by Margaret Anna Cusack, also known as Sister Mary Frances Clare, an Irish nationalist writer and social activist who founded a home for Irish servant girls in New Jersey as well as a religious congregation of women dedicated to peace. Chapter headings include "The Honor of Being Servants," "Advice About Honesty," "Wasting Food," "The Great Famine in Ireland," "Advice about prayer," "Unhappy marriages," "Do not marry a man given to drink," "You who left dear old Ireland and went to America," and more. A very attractive, bright copy with mild soiling and hint of wear to covers and bit of toning to pages.
Offered by Caroliniana and found in "19th Century America."
Featured item:
Rand McNally & Co.'s Indexed County and Township Pocket Map and Shipper's Guide of Wyoming
Folding map, 53 x 35.5 cm. 18 pp., plus 12 pp. ads. 12mo. Chicago: Rand McNally, 1904. Printed stiff brown wrappers. Unobtrusive library stamps, else a very good copy. Folding tan linen clamshell box.
Offered by James Cummins Bookseller and found in "Printed and Manuscript Americana, July 2021."
DE SIMONE COMPANY, BOOKSELLERS
Catalog #88, Medical Books from the Fifteenth to the Twentieth Centuries -- This catalog is print-only. To request a copy, contact MedBks@aol.com...
Comic collection of William "Gatz" Hjortsberg -- Details available upon request from info@elkriverbooks.com...
Featured item:
Chicago, ca. 1969. 24 x 20". Silk-screen broadside. Imagery is that of a young man in flames holding his fist up in solidarity with the Chicago 8. Text reads: You Can't Jail the Revolution, Stop the Trial, Free the Conspiracy 8, 28 E. Jackson Chicago 427-7773. Printed on cream paper with text and imagery in red.
The address printed on the poster is now in an area popular for student housing, close to the lake in the Loop and near DePaul, Columbia College, and Roosevelt University. Likely, this address and phone number were those of the residence of one of the student activists who organized the protests of the trial. Very near Fine. Britannica "The Chicago 7 Law Case".
The Chicago 8 was a group of young counter-culture figures that included Abbie Hoffman and Jerry Rubin, founders of the Youth International Party (YIPPIES), Tom Hayden, a co-founder in Students for a Democratic Society, Black Panther Chairman Bobby Seale, David Dellinger and Rennie Davis, members of the National Mobilization Committee to End the War in Vietnam (MOBE), and John Froines and Lee Weiner (accused of making stink bombs). These men were tried on charges of criminal conspiracy and intent to incite a riot while crossing state lines. The trial would last from late September of 1969 until February 18th, 1970. Eventually, seven of the eight had their convictions overturned, largely due to impropriety on the behalf of the FBI and Judge Hoffman's displayed biases against the defendants. However, Bobby Seale would spend four years in prison, found in contempt of the court. The Chicago 8 are known by several names, such as: "The Conspiracy 8", "The Chicago 8", and "The Chicago 7". The story of the Chicago 8 sheds light on twentieth-century police brutality, the counter-culture movement during the 1960s, and racism within America's judicial system. This poster is a bright, fascinating piece of ephemera from the turbulent trial that took place shortly after the also-turbulent Democratic National Convention of 1968.
Offered by Evening Star Books and found in "Americana: July 2021" (item 15).
RODGER FRIEDMAN RARE BOOK STUDIO
OCCASIONAL LIST 22: A Miscellany: Original Art Work; Small Archive of Major English Watercolourist; Interesting Theatrical Pieces; Manuscript Material, Etc., Etc. -- available on request from fgrare@fgrarebooks.com...
Has the following lists available: California, Texas, Kansas, Missouri, Minnesota, Iowa, Nebraska, Oregon, Louisiana, Colorado, Ohio and New York. Will email to interested parties. Contact info@ginsbook.com to request...
THOMAS A. GOLDWASSER RARE BOOKS
DAVID A. HAMILTON AMERICANA BOOKS
JONATHAN A. HILL, BOOKSELLER, INC.
Featured item:
Maurice Denis. Premiers Paysages. Les Leçons de Choses du Petit Coloriste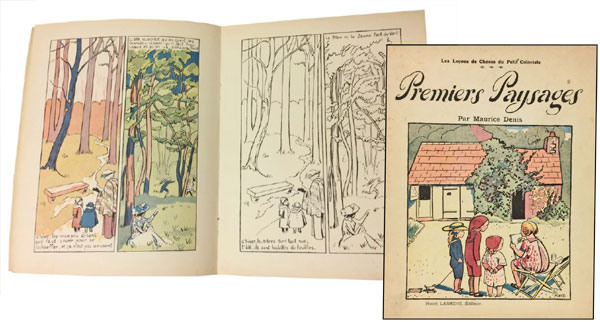 Paris: Henri Laurens, Editeur, [1911]. First edition of Maurice Denis's iconic modernist coloring book, Premiers Paysages. A founding member of the group of French painters known as Les Nabis, Denis was invited by editor Henri Laurens to contribute to a popular children's art series, Les Leçons de Choses du Petit Coloriste. In response, during the summer of 1911, Denis produced a series of dreamlike French landscapes. "Petits coloristes" can lose themselves in painting scenes of villages and mountains, countryside and seashore, with captions by Denis that provide a wry running commentary on his creative process: "Ce n'est pas difficile de faire des maisons quand on ne fait pas toutes les fenêtres." (Denis even reminds his young readers to keep their paints separate and their brushes clean.)
The quality of these vibrant landscapes, which exemplify Denis's famous definition of painting as "a flat surface covered with colors assembled in a certain order," was immediately recognized. In 1912, the bibliophilic society "Les XX" commissioned a deluxe edition of twenty signed copies, featuring an extra plate and multiple impressions of each image. This first edition of Premiers Paysages, while less lavishly produced, reflects the book's original identity as an inexpensive, ephemeral activity book, and is scarce in any condition. From the stock of legendary book scout Martin Stone (1946-2016), with his penciled note: "of the utmost rarity." We locate copies of this trade issue at BNF, Getty, Yale, and the Smithsonian: like the Yale copy, this one is staple-bound. A near-fine example. Side-stapled volume, measuring 10.5 x 8.5 inches: [16]. Original color pictorial paper boards. Seven color plates and seven matching uncolored plates, with two additional uncolored plates reproducing the color images printed on the boards. Light general foxing and toning.
Offered by Honey & Wax Booksellers and found in "Art & Design Education, Education 2021."
Featured item:
OZAWA, Zenpei. Budō baiyōhō tekiyō [trans.: A Summary on grape cultivation].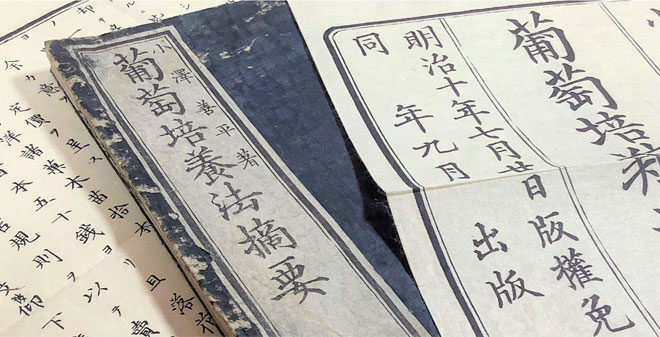 Tokyo: Ozawa Zenpei, 1877. 22.7cm x 15.2cm. Upper pastedown printed on pink paper, several woodcuts (some of which are full page) in the text. [32] folding leaves. Original dark blue wrappers, rubbed overall, binding string renewed.
The FIRST & ONLY EDITION of this illustrated guide to grape cultivation written by Ozawa Zenpei (1840-1904), an important pioneer of wine in Japan. Ozawa was responsible for introducing over one hundred varieties of grapes to Japan from overseas, especially from America. The current work discusses plant cultivation; preparation of the soil; care of the vines (one chapter devoted to the first year, another to the second year); and the importance of selecting the variety of grape according to the weather of the region. The several woodcut illustrations depict the Delaware grape; grape leaves (five different types of vines, one of which is the Japanese variety "Edo"); and various planting and grafting techniques.
Interestingly, in Budō baiyōhō tekiyō, there is quite a bit about Andrew Fuller (1828-1896), the extremely influential American viticulturist whose work The Grape culturist (first ed.: 1864) was a nineteenth century best-seller. Our author has translated numerous parts of Fuller's text into Japanese(beginning on leaf "14"[i.e. 16]); this is then followed by an exhaustive list of grape varieties (including early American varieties such as Catawba, Clinton, Concord, Delaware, & Isabella) and a summary of Fuller's viticultural practices.
"Eventually, in 1875, the first attempts at commercial wine-making were undertaken in Yamanashi, where grape-growing had begun over a millennium before. An enterprising merchant who had seen foreigners at the port of Yokohama drinking wine set out to make a substitute from local grapes. The early product was not good, but the effort was enough to convince local authorities to permit the import of European vinifera and American vines as the basis of a new industry." – Robinson, The Oxford companion to wine, p. 528. This work comes out of this initial effort by the Japanese to make western-style wine.
This copy also includes two printed elements not usually preserved. One is the original book sleeve that the book was inside of during its original point of sale. The other is an advertising leaflet for Ozawa's nursery where he was cultivating and selling western plants to the Japanese market. The advertising broadside is printed recto only and it is even rarer than the book sleeve. Both are folded and in fine condition. I would like to thank Toshie Marra, Librarian for the Japanese Collection at University of California, Berkeley, for her assistance in the research of this work. OCLC lists only one copy in Japan to which the National Diet Library Catalogue of Japan adds one further (also in Japan). There is also a copy at the University of California (Davis).
Offered by Ben Kinmont, Bookseller and found in "June Harvest."
JOHN W. KNOTT, JR., BOOKSELLER
Catalog #74: 100 Rare Books -- with an emphasis on history and military affairs. Please request from mail@kubikbooks.com...
MICHAEL LAIRD RARE BOOK & MANUSCRIPTS
Featured item:
Broadside: The Murder Members: The Following are the Names of the Members of the Partition Parliament Who Voted for the Murder Bill:-... Keep This List for Reference.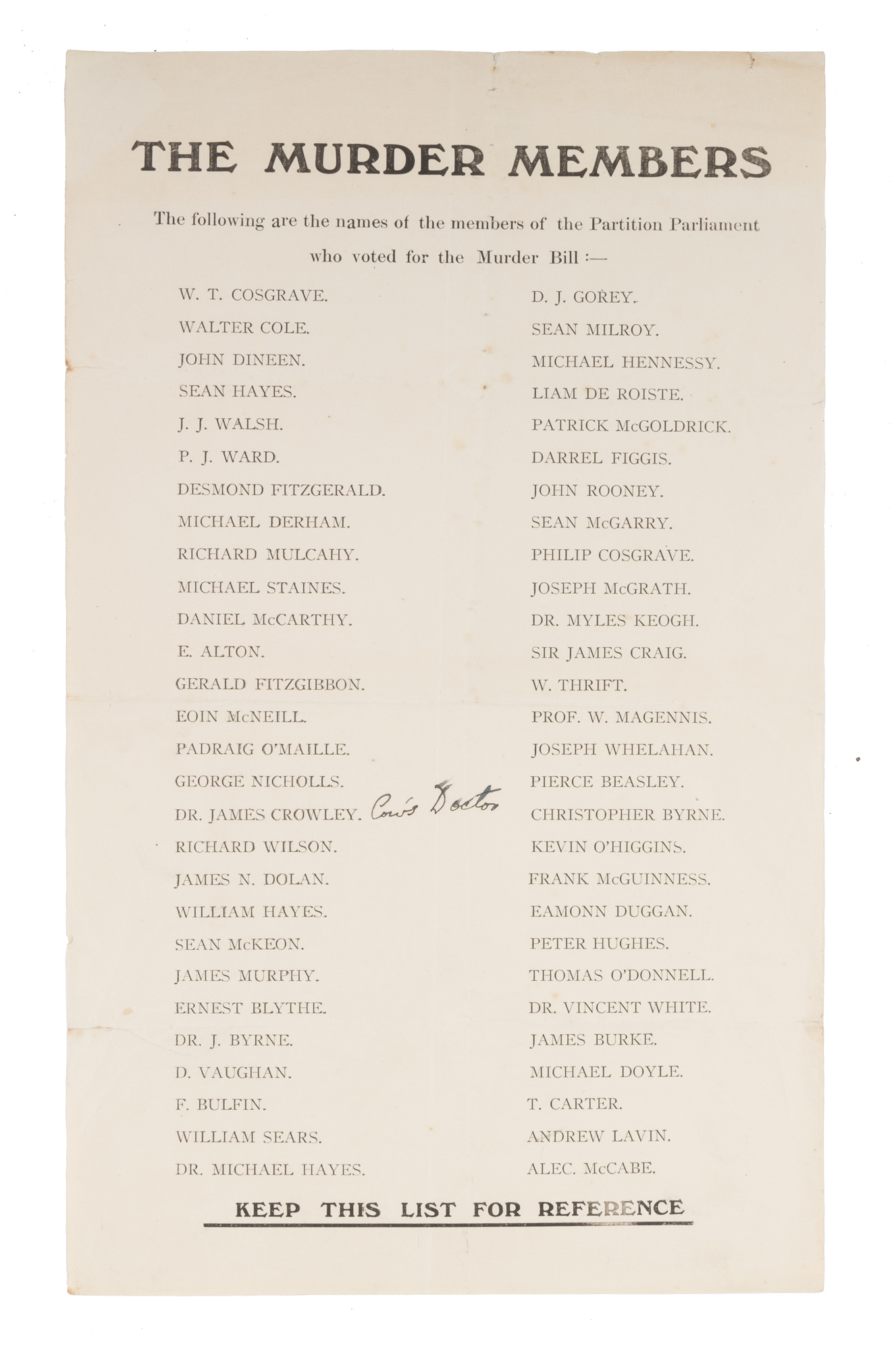 [N.p.: S.n., 1922]. 13" x 8" broadside, main text in two columns. Light toning and edgewear, horizontal and vertical fold lines, a few with tears, two repaired on verso with cellotape, "Con's Doctor" in contemporary hand near center.
Known to its opponents as the "Murder Bill," the Public Safety Act of 1922 was enacted by the recently-established Irish Free State to suppress the Irish Republican Army (IRA), which rejected the legitimacy of the Free State because it did include the counties of Northern Ireland. It was one of the key events of the Irish Civil War. The act imposed death sentences on any IRA member or supporter captured with a firearm or ammunition. Our pro-IRA broadside lists the members of the "Irish Partition Parliament" who voted for this bill. It clearly intended to mark them for assassination. And soon after its publication gunmen shot and wounded two of the members listed. A third, assumed to be another listed member, was killed in a case of mistaken identity. In reprisal, the government ordered the summary execution of four IRA prisoners. "Con's Doctor" is written next to the name of Dr. James Crowley. "Con" is probably Constance Markievicz [1868-1927] the Irish revolutionary and politician, then an active member of the IRA
Offered by The Lawbook Exchange and found in "Recent Acquisitions (July 20, 2021)."
DAVID M. LESSER, FINE ANTIQUARIAN BOOKS
LIBER ANTIQUUS, EARLY PRINTED BOOKS & MANUSCRIPTS
J. & J. LUBRANO MUSIC ANTIQUARIANS
STUART LUTZ HISTORIC DOCUMENTS
MAIN STREET FINE BOOKS & MANUSCRIPTS
Featured item:
Morrissey, Steven.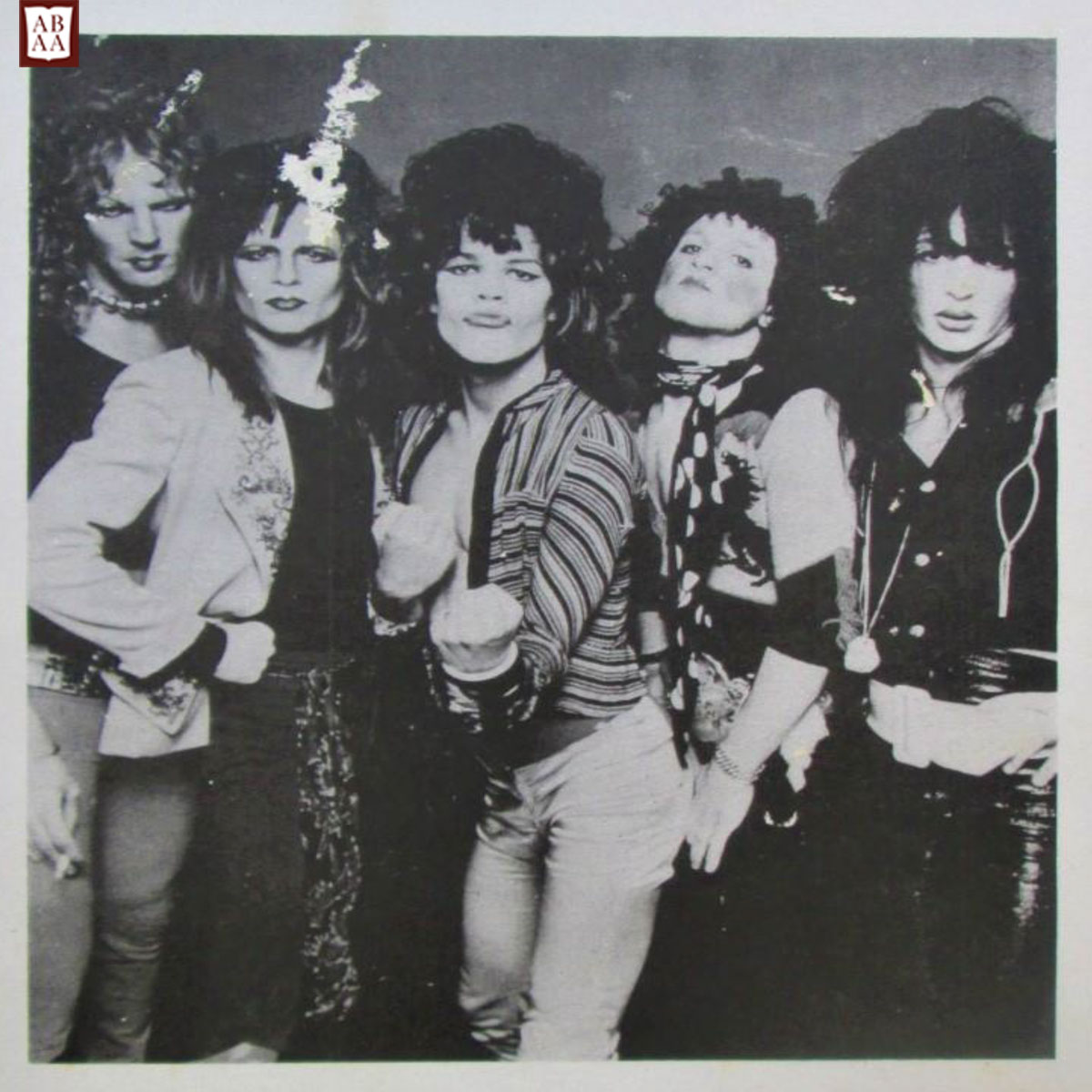 Babylon Books. London: no date (1981). Illustrated wraps. 48 pp., including covers. Black and white photos throughout. GOOD condition. Small area of scuffing to the upper front cover, with a tiny hole worn through. Minor toning, staining, foxing and soiling. Small dampstain on the center fore edge.
An ode by Morrissey to the groundbreaking group, the New York Dolls, discussing their music, sexuality, and other subjects. A mix of original content by Morrissey, with reprinted articles as well. Morrissey was president of the New York Doll's UK fan club, with the band serving as inspiration to his future career with The Smiths (and solo).
Offered by Mare Booksellers and found in "Catalog 14: Punk Fanzines & Fliers."
Illustrated Catalog on Carlos Merida (1891–1984) -- Mexican painter, sculptor, writer and graphic designer -- available by request from mmbooks@comcast.net
MARTAYAN LAN RARE BOOKS & MAPS
Featured item:
World War II-Era Vernacular Photo Album Depicting African-American Life in San Antonio, Texas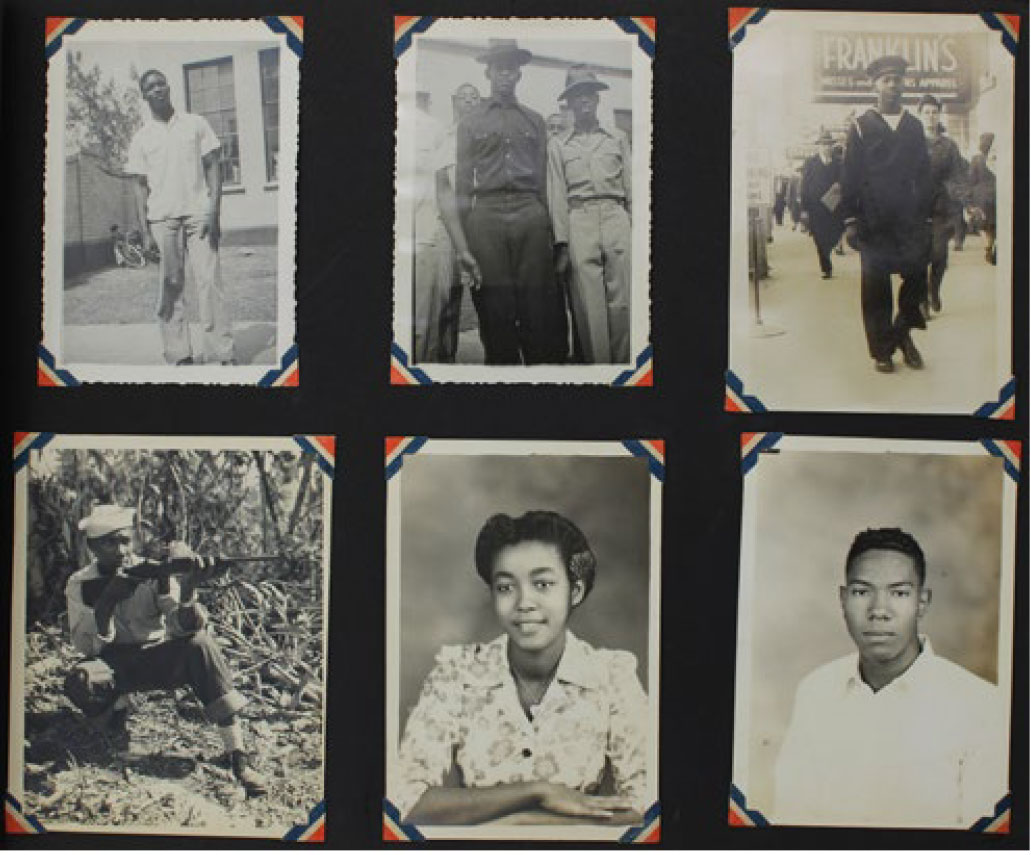 [San Antonio. ca. 1943-1947]. 181 original photographs, mostly smaller formats up to 3.5 x 5.5 inches, with a few scattered larger images. Oblong folio album, string-tied, with embossed, paper-covered boards. Light wear and soiling to boards. Album leaves brittle and occasionally chipping at edges; several leaves detached. Photographs affixed directly to album leaves and in corner mounts; occasional manuscript captions. Generally crisp, clear images. Still very good. An cohesive and well-composed vernacular photograph album containing over 180 original images of African-American life in East San Antonio during and just after World War II.
The main subject and probably compiler of the album was a young woman named Ollie Marie Owens, as identified in several captions. She attended Frederick Douglass Junior High and Phyllis Wheatley High School, the only two schools at those levels for Black students in the segregated San Antonio school district of this time. Like most other Black San Antonians of this era, Owens lived east of downtown, in an area today bounded by Interstate 37 on the west side and Fort Sam Houston on the north side. The album contains a very interesting chronicle not only of Owens' school life, but also of her social activities, friends, neighborhood , and neighbors. The first series of photographs in the album document a period in Spring 1943 during which Owens graduated from junior high school (one of the photos of Owens walking down a commercial San Antonio street is captioned, "Graduation day 1943"). Included here are images of a backyard gathering at Owens' house and portraits of the family and their neighbors posed in front of their houses or in their gardens, including a number of photos of Owens with her mother in their quite sizeable yard. The second series shows the beginning of her high school career at Wheatley, with several candid shots of Ollie with her friends, arriving for a school ball, posing in the building's front yard, and playing baseball. As the album progresses the ongoing war becomes more apparent -- Owens' older brother joins the Navy, and there are several candid and posed shots of him, as well as other male friends and relatives, in various uniforms. The album continues in this vein as Ollie progresses through her high school career, with many images of her and her friends, neighborhood gatherings, a larger class portrait, and more. The final series of photos dates to 1947, and show Ollie dressed for what appears to be a debutante ball or prom, and includes one large, formal portrait of her in her outfit.
In all, the album comprises an excellent visual record of African-American life in the segregated areas of San Antonio during the mid-1940s and the particular experiences of a young Black woman and her family.
Offered by McBride Rare Books and found in "List 30: Western Americana" (item 21).
BRUCE MCKITTRICK RARE BOOKS, INC.
R & A PETRILLA, ANTIQUARIAN BOOKSELLERS
PHILADELPHIA RARE BOOKS & MANUSCRIPTS
PHILLIP J. PIRAGES FINE BOOKS & MEDIEVAL MANUSCRIPTS
RABELAIS BOOKS ON FOOD & DRINK
RICHARD C. RAMER, OLD & RARE BOOKS
B&L ROOTENBERG RARE BOOKS & MANUSCRIPTS
BARRY LAWRENCE RUDERMAN ANTIQUE MAPS, INC.
California Book Fair 2019: 130 Items on Science and Medicine is now available on request from scientiabk@gmail.com...
MARC SELVAGGIO, BOOKS & EPHEMERA
MICHAEL R. THOMPSON RARE BOOKS
Featured item:
Kathleen Norris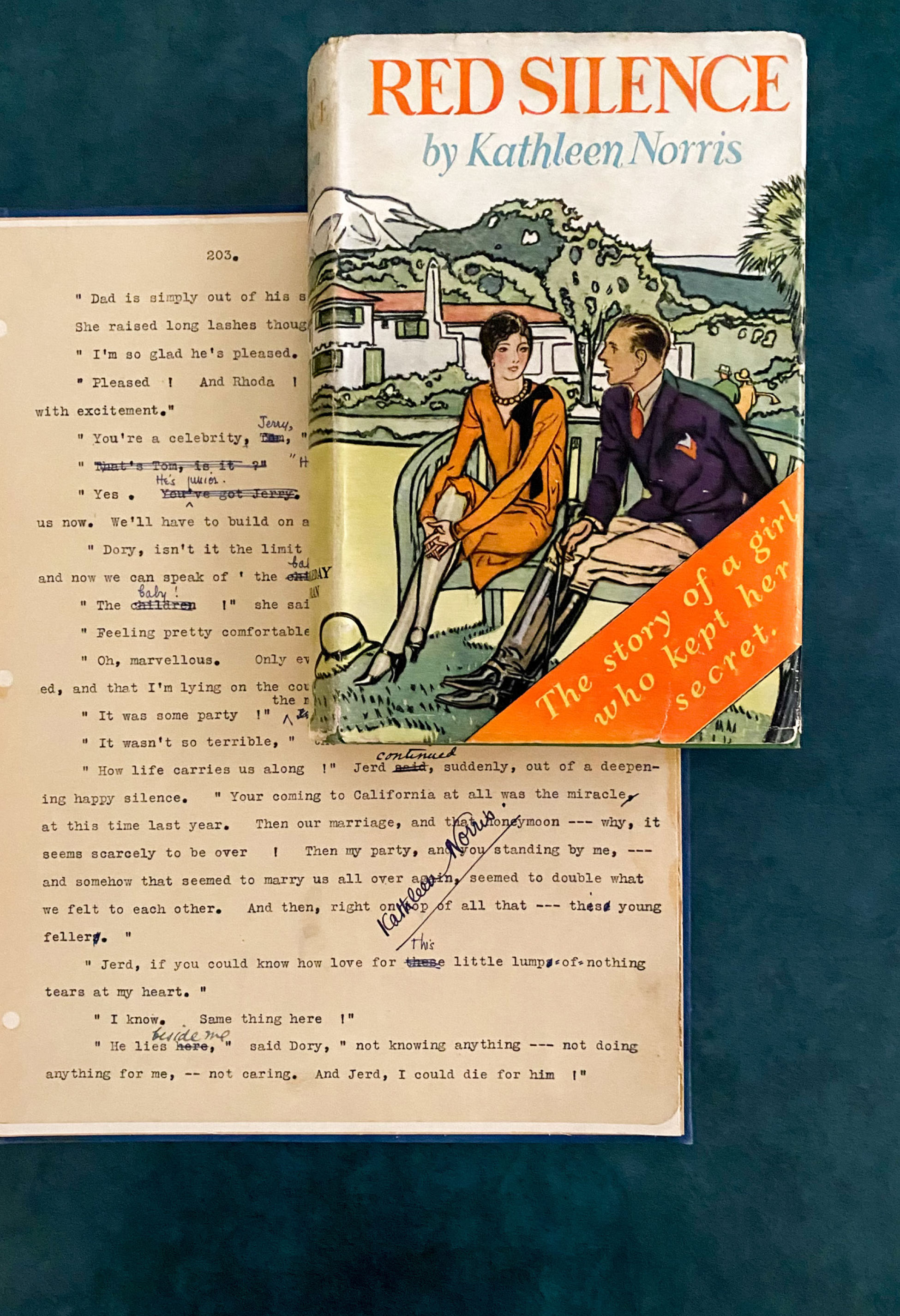 1929 First edition in book form, with a suite of leaves from the corrected original typescript, of this "second chance" romance, in which a woman finds love in the wake of a failed relationship by taking charge of her own destiny.
In this contemporary Jazz Age romance, a "New Woman" leaves her acting career and all her friends in New York to embark on a ship to San Francisco after she realizes that she cannot marry the man she has loved. The novel is something of a critical reworking of JANE EYRE: her lover is already married, but to a woman who has long been sequestered in an asylum. When the heroine realizes he will never leave his wife, she leaves him — and meets the real hero of the story. Their true love faces a test when her former lover becomes a widower and seeks her out in California. But the heroine has changed, and affirms her love for the hero. Notably, the couple navigates these obstacles together through honest communication, which is remarkable in part because of the hero's acceptance that the heroine has loved before him. Indeed, such an acceptance was considered too liberal through many of the years of Harlequin's rise, 1950-1980, when heroines were overwhelmingly depicted as inexperienced in love: before meeting the hero, they have rarely had a previous serious relationship.
Like many US romance novels of this period, RED SILENCE first appeared in serialized form (in WOMAN'S HOME COMPANION), then was published in book form later that year. Among her peers (notably Brookman, item 14), Norris remains one of the best-known US writers of popular romantic fiction. She was "one of the most widely read and highest paid women writers in the United States," notes biographer Deanna Paoli Gumina: "The appearance of Kathleen's name on the front cover of a magazine doubled its monthly sales" (13). This book is paired with four pages of the original typescript of the novel, featuring manuscript corrections in two hands (one of which is Norris's), and signed by Norris. These leaves were bound for presentation and given a special label: a production aimed at the collector. That Norris's work was considered collectible by her contemporaries gives some sense of her star power.
Offered by Type Punch Matrix and found in "The Romance Novel in English."
JOHN WINDLE ANTIQUARIAN BOOKSELLER
--
Remember, you can always browse and download the latest catalogs published by ABAA members on ABAA.org by visiting the following link: https://www.abaa.org/catalog/... (You can also access this page by selecting 'Booksellers' from the top menu, scroll to the bottom of the page to 'Member Catalogs', and click on 'View All'.)
---
Get to know the members of the ABAA...