One thing that distinguishes the book collector from the casual reader is a preference for owning first editions.
What is a First Edition?
A first edition is the format a book took when it was first made available for sale.
The ABAA glossary of book terms states:
First Edition: "All of the copies printed from the first setting of type; can include multiple printings if all are from the same setting of type."
Collectors distinguish between a first edition (the first printing of a book) and a modern first edition (which more-or-less applies to books printed from 1900 on -- although, the exact definition is open to debate between dealers).
What is a First Printing?
The first printing is the first batch of books printed from this first setting of type. For a small press, this might be the only printing a book gets, so all copies are first edition, first printings. (The ABAA glossary is a master of understatement when it says "Every printed book has a first edition, many never have later editions." For others, there might be dozens of printings, especially if a book becomes wildly successful. (Witness the current trend to keep popular young-adult novels -- Veronica Roth's Allegiant and John Green's Turtles All the Way Down, for two recent examples -- in hardcover for years, rather than replace the hardcover with a paperback edition a year after first publication.)
How Can You Tell if a Book is a First Edition?
In general, books before 1900 did not indicate first or subsequent printings. The best way to determine first printings of older books is by the date (usually on the title page), however the practices differed wildly between publishers in this period, so the best advice for pre-1900 books is to consult a reference guide (such as the ones listed at the end of this article) or simply to seek advice from an ABAA member.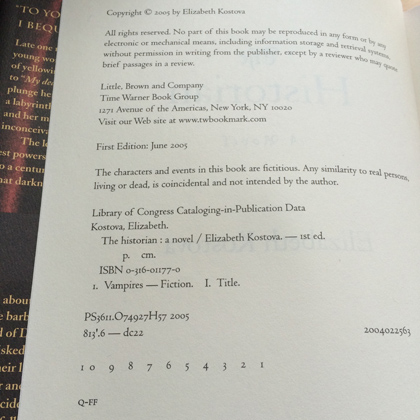 Copyright page for The Historian by Elizabeth Kostova (Little, Brown 2005) indicating a first edition (middle of the image) and first printing (number line at bottom).
When western publishers began indicating printing numbers on the copyright page of their books in the mid-1900s, they adopted various methods. Some print the words "First Printing" on the copyright page of the true first printing, and remove the designation on subsequent printings -- but not all do this. By the later half of the 20th century (as the theory of "mass-market hardcovers" increased the sales numbers of hardcover books), many American and British publishers included a row of numbers on the copyright page to indicate printing:
1 2 3 4 5 6 7 8 9 10
but the order of these numbers varied by publisher. 10 9 8 7 6 5 4 3 2 1 indicates a first printing, as do the same numbers in the opposite order, and oddly so does this configuration with the odd numbers on one side and the even on the other:
1 3 5 7 9 10 8 6 4 2
The unifying factor is that the lowest number indicates the printing, so
3 4 5 6 7 8 9 10 and
10 9 8 7 6 5 4 3 and
3 5 7 9 10 8 6 5 4 all indicate a 3rd printing.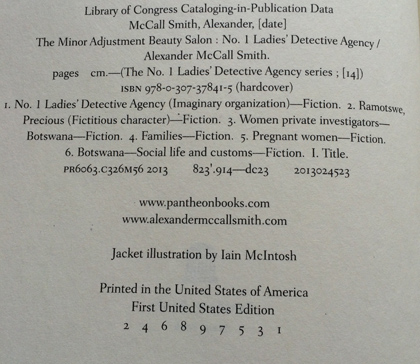 Copyright page for The Minor Adjustment Beauty Salon by Alexander McCall Smith (Pantheon Books, 2013) indicating First United States Edition (original publication being in the UK, the author's home) and first printing using the number line with even numbers to the left and odd to the right.
Just to make things more confusing, some publishers add a year to the printing number (usually seen in best-sellers which were reprinted frequently -- several times per year), leading to lines like this:
88 89 90 91 92 10 9 8 7 6 -- meaning 6th printing in 1988
Unless a collector is seeking to collect one copy of every book published within a certain year, we can assume there will be little interest in specific printings of the huge bestsellers likely to require this notation.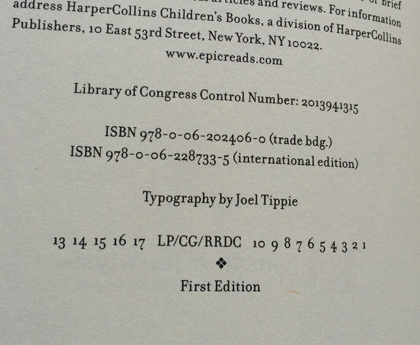 Copyright page for Allegiant by Veronica Roth (Harper Collins, 2013), which indicates the printing number on the right, and optimistically includes year notations on the left (anticipating many and rapid reprints for this hotly anticipated final book in the Divergent Trilogy).
For more information on methods of indicating first editions, see this informative article by ABAA-member Quill & Brush...
The bottom line is beware of placing blind faith in the words "First Edition." Publishers occasionally/frequently (delete according to how charitable you're feeling) leave the "First Edition" or "First Printing" notation on the title page when ordering a new printing. So, if a book's copyright page says:
First Edition, First Printing
10 9 8 7
it's the 7th printing, not the first.
Exceptions
As every publisher has their own ways of doing things, the above advice serves as a general rule, but doesn't always hold. Confused? Who wouldn't be! Thankfully, there are a number of excellent books by long-time book dealers which detail how individual publishers denote first editions. One of the best is Allen and Patricia Ahearn's Collected Books: The Guide to Values, which includes a trove of information on 19th century and 20th century publishers. Another classic is Edward Zempel and Linda Verkler's First Editions: A Guide to Identification. Professional booksellers keep these on hand for reference, as there are simply too many publishers and too many different notations to keep straight otherwise.

A page from Collected Books: The Guide to Values by Allen and Patricia Ahearn
First State
Most collectors prize the first edition, first printing because it was the way the book first appeared.*
To confuse matters, a "first state" is a term for the first printed form a book takes (each state referring to a minor change or group of changes to the type or paper). Usually, this is the first edition/first printing. However, occasionally errors are caught after the first printing ships. Depending on the severity of the error (one end of the scale comprising a single typo and the other whole chapters of the book being bound in the wrong order!) the whole print run may be pulped and reprinted -- without removing the "first edition" designation. (Publishers, like anyone else, prefer to sweep their mistakes under the carpet.)
If any books have been shipped to stores when this level of error is discovered, they are usually returned immediately, making surviving examples of some first states quite rare indeed! If you collect the unusual, the very rare, or the unique, then certain notorious first states may be of great interest. For example: the first state of Franzen's The Corrections had pages 430 and 431 transposed.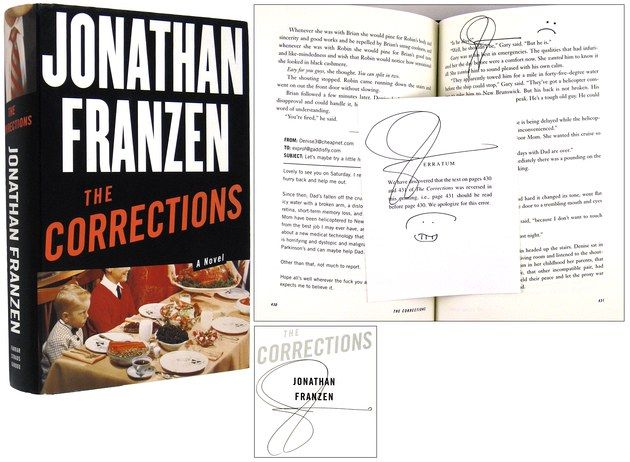 The Corrections by Jonathan Franzen (NY: Farrar Straus Giroux. (2001). The first issue (pages 430 and 431 transposed) of his National Book Award-winner, in the first issue dust jacket, without the Oprah seal. Fine in a fine dust jacket with the slightest crimp to the crown. First Edition. Hardcover. Signed three times by Franzen: once on the title page, once on page 431 (with a frowny face); once on the erratum slip laid in explaining the error (with a smiley face).
This copy was offered by Ken Lopez - Bookseller, but is not longer available.
Most collectors do not get over-excited about first states, but as in any human endeavor, there are purists who pursue first states with a near-religious zeal. The choice of whether first states are something you want to collect depends upon your interests, collecting goals, and budget. Whether first states are "worth it" can be a bone of contention among booksellers and collectors. Famed book collector John Carter, in his classic guide to the terminology of the rare-book world, ABC for Book Collectors, described people who obsess over first states as "Point-Maniacs" -- beginning his page-long analysis of the uselessness of such activity thus: "These are the collectors who do not merely love POINTS but love them to excess." Another phrase he defines is "Issue-Mongers" -- booksellers who focus on first state points for profit's sake, declaring "The issue-monger is one of the worst pests of the collecting world, and the more dangerous because many humble and well-intentioned collectors think him a hero to whom they should be grateful." So, Carter clearly didn't think obsessing over first states was worth his time.
If you do go in for collecting first states, expect to attend a lot of book fairs and get to know a lot of dealers, as advice about, and the "secrets" of, first states are often kept close to the chest. In a market where anyone on eBay can pose as a book dealer, some antiquarian booksellers prefer to share their knowledge with serious collectors in person. Which is why we at the ABAA encourage you to get to know our members. Call a store to talk about a book you are interested in. Ask questions; request pictures. Go to book fairs and get to know antiquarian booksellers. The internet is a convenient method to source books you've been hunting for, but, though we guarantee the authenticity of our members' listings and have built a secure and robust ecommerce site, the internet cannot fully replicate the knowledge-sharing, camaraderie, and trust engendered by meeting dealers face-to-face.
Why Collect First Editions?
There are numerous reasons to collect first editions. Physically, they usually come without irritating "Winner" or "Nominee" stickers with which later printings are often defaced (although some might consider these award nominations an enhancement -- the publishers certainly hope so!), and they are perhaps less likely to be marred by cheap "staff pick" or price stickers. (When I was a bookseller, some of these stickers added by trade book stores used glue that marked the cover, and some publishers occasionally coated their dust jackets with a glossy substance that retained the ghosts of price stickers quite horribly -- I'm looking at you, Penguin Putnam!) But, most collectors simply want a copy of the original, the unassuming book that had not yet won awards, gained notoriety, or climbed the bestseller list. They want a copy of The Great Gatsby before it was "Gatsby!," a copy of The Satanic Verses before it set the world on fire, or The Corrections before it bore the Oprah seal of approval. Once you have a first edition, first printing of a book you desire, you can do no better -- unless it's signed, but that's another story, and one which brings a whole other set of issues with it…).
Thankfully, there are several useful guides that detail the intricacies of first editions, and any book collector, casual or dedicated, will want to read some of these, if not keep them on hand for reference:
* (This of course, overlooks, ARC/AREs -- Advance Reading Copies/Advance Reading Editions -- which are paperback printings of a soon-to-be-published book distributed free of charge to booksellers and reviewers in the months before a book is officially published. These are often based on uncorrected proofs, usually lack illustrations or maps (if any), and may or may not include the final cover art, dedication page, etc. Some people enjoy having these in their collections for curiousity value, but collectors do not consider these the first state.)
Note: It should go without saying that condition often trumps printing. Unless a book is exceedingly rare, most people will value a later printing in excellent condition over a first edition in tatters (exceptions are made for First Folios and the like...). The presense or absense of a dust jacket can also greatly affect value and desirability.
---
Gallery: a few first editions from among our members' current listings:
by WILLIAMS, JOHN

New York: The Viking Press, 1965. First Edition, First Printing. Hardcover. Near fine/good. First edition of Stoner by John Williams, in first state dust jacket.. Octavo, [6], 278pp. Brown paper boards over yellow cloth. Title stamped in black on spine. First printing statement on copyright page. Solid text block, light dust along top edge, ownership notation on front free endpaper. In the publisher's first state dust jacket, $4.95 on front flap, chipping to spine with some loss, closed tear to back panel, faint toning to spine, a scarce example of the first state dust jacket. Cover art by Ellen Raskin. The first printing of Stoner, published in 1965, was met with positive critical reviews but limited commercial success, selling less than 2000 copies. It was reissued as a mass-market paperback in 1972 and has enjoyed numerous printings since. Blumhouse Productions announced in 2017 that Andrew Bovell would be adapting Stoner into a screenplay for a film directed by Joe Wright and starring Casey Affleck.
Offered by First Edition Rare Books.
by Ian Fleming
London: Jonathan Cape, 1959 First edition, first impression, first issue, second state (lacking the 3mm diagonal line detail in the upper left area of the skull stamped to the front board, else identical to first state). Publisher's black cloth stamped in blind to front board with a line-drawing of a human skull with fifty-dollar gold pieces to each eye socket, lettered in gilt to spine; in the original pictorial dust jacket designed by Richard Chopping with the illustration of a human skull with gold coins in the eye sockets and a single red rose held between its teeth. A fine book, small bookseller ticket to rear pastedown; unclipped dust jacket, with short closed tear and a tiny nick to the head of the spine, faint rubbing to corners and spine folds, light toning to upper rear panel, bright and unfaded. Overall, a bright and near fine copy.
Goldfinger features the villain Auric Goldfinger, the richest man in England whose wealth is stored in his namesake mineral- gold. Indeed, the symbol of gold plays an important role throughout the text; the name "Auric" comes from the chemical element symbol for gold "Au," and Goldfinger murders his ex-girlfriend by covering her body completely in gold. In this novel, Bond must stop Goldfinger from completing Operation Grand Slam, a gold-smuggling plot that would cripple the world economy and give the Russian spy organization SMERSH total power over the West. Goldfinger also introduces one of the most memorable villainous sidekicks, Oddjob, whose deadly aim and razor-edged bowler hat make him a force to be reckoned with. First Edition. Hard Cover. Near Fine/Dust Jacket Included. Illus. by Chopping, Richard.
Offered by B &B Rare Books.
On the Origin of Species by Means of Natural Selection
by Charles Darwin
London: John Murray, 1859. FIRST EDITION. Original cloth. Very Good. FIRST EDITION IN ORIGINAL CLOTH of Darwin's masterpiece, "the most important single work in science" (Dibner). One of only 1250 copies printed. The Origin of Species marked "a turning point, not only in the history of science, but in the history of ideas in general" (Dictionary of Scientific Biography).

In the Origin, "Darwin not only drew an entirely new picture of the workings of organic nature; he revolutionized our methods of thinking and our outlook on the natural order of things. The recognition that constant change is the order of the universe had been finally established and a vast step forward in the uniformity of nature had been taken" (Printing and the Mind of Man). Diber 199. Freeman 373. PMM 344b. Norman 593. Garrison-Morton 220.

London: John Murray, 1859. Octavo, original green cloth (binding variant b, no priority); old custom box. With 32 pp. publisher's catalogue dated June 1859 (Freeman variant 2; no priority) at end. With all accepted first edition/first issue points: Half-title with quotations from W. Whewell and Bacon only on verso. Folding lithographic diagram by William West after Darwin bound to face page 117. With "species" mispelled "speceies" on page 20, with the whale-bear story in full on page 184.

Bookplate (Thomas Cope, Huyton) on front pastedown. Signatures ("George Taylor" and "Alexander Glass, Darin, Conn., U.S.A. 4-15-62" on half-title. Original cloth expertly re-cased. With minor patch of discoloration on front board and spine and tiny repaired closed tear to spine. Spine gilt extraordinarily bright. Text with a little foxing on some early pages, then very clean; last page of ads shaved a bit at margin (not affecting text). Occasional interesting and neat marginal pencil notes.

A HANDSOME FIRST EDITION IN ORIGINAL CLOTH OF ARGUABLY THE MOST INFLUENTIAL WORK IN THE HISTORY OF SCIENCE.
Offered by Manhattan Rare Book Company.
Les Fleurs du Mal (Presentation copy)
by Charles Baudelaire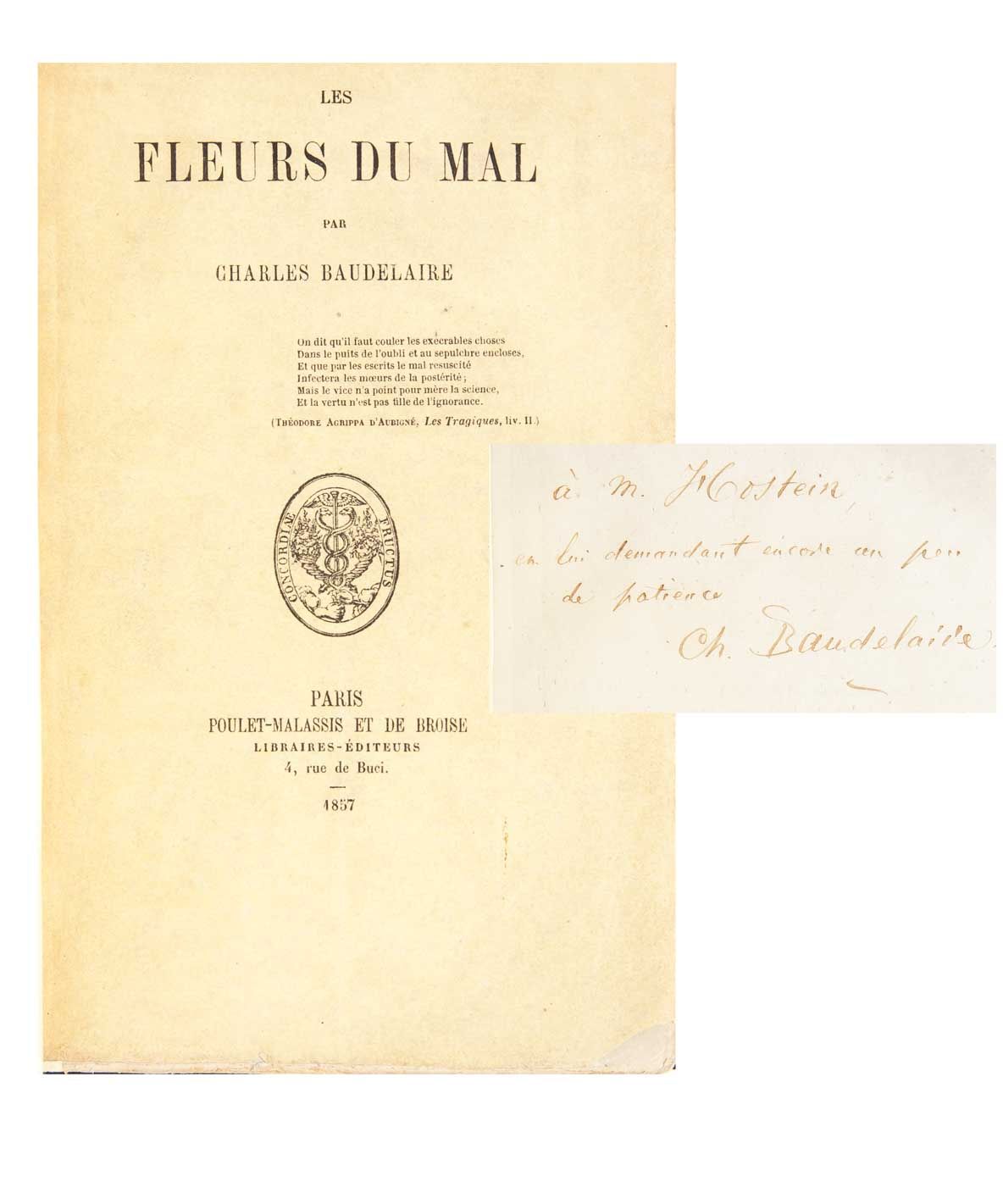 Paris: Poulet-Malassis et de Broise, 1857. First edition. First issue with the running title misprint "Feurs" on p. 31 and 108, p.45 misnumbered 44, and the misprint "captieux" on p. 201. It is complete with the six pièces condamnées whose removal was ordered only six weeks or so after publication (Les Bijoux, Le Léthé, A celle qui est trop gaie, Femmes damnées, Lesbos and Les Métamorphoses du vampire).

Inscribed by the author on the half-title, "à M. Hostein, en lui demandant encore un peu de patience, Ch. Baudelaire." Ink a bit faded. Hippolyte Hostein was a writer and the director of the Théâtre de la Gaîté in Paris from 1849 to 1858. Baudelaire had proposed a play to Hostein, a melodrama based on his poem Le Vin de l'assassin, where a worker kills his wife so that he can descend into drink without interruption or criticism. The part of the wife was meant for Marie Daubrun, an actress at the Gaîté with whom Baudelaire had fallen in love. Baudelaire never wrote the play, and perhaps he sent this book as an apology for still not producing his text (see F.W.J. Hemmings, Baudelaire the Damned, 2011).

12mo (189 x 122mm.), half-title, later crushed brown morocco by L. Peeters of Antwerp, top edge gilt, others uncut, original yellow printed wrappers in their second state (with the five typographical faults uncorrected and with the price of 3F. on the backstrip) bound in, marbled paper slipcase, small area of loss to lower corner of upper wrapper. This copy has bound at the end two facsimiles of the lower wrapper, in state A and state B, together with a printed note regarding Vicaire's research into the two states (now superseded by Carteret's bibliography).

Important association copies have brought much more (including a large paper copy inscribed for Delacroix at Sotheby's in 2007 for 603,000 euro), but these appear to be the closest comps from the auction record going back the last 15 years (and after parsing through the French descriptions): 127,000 euro in 2012 at Piasa (for Edmond About); 168,000 euro in 2011 at Vernator and Hanstein (for Edmond Texier); 169,000 euro in 2007 at Sotheby's (for Philarete Chasles); and $102,000 in 2004 at Sotheby's (for Monsieur Fowler). Many of these copies bound without wrappers (and many sold when the euro was much higher than it is today).
Offered by Whitmore Rare Books.
by Anais Nin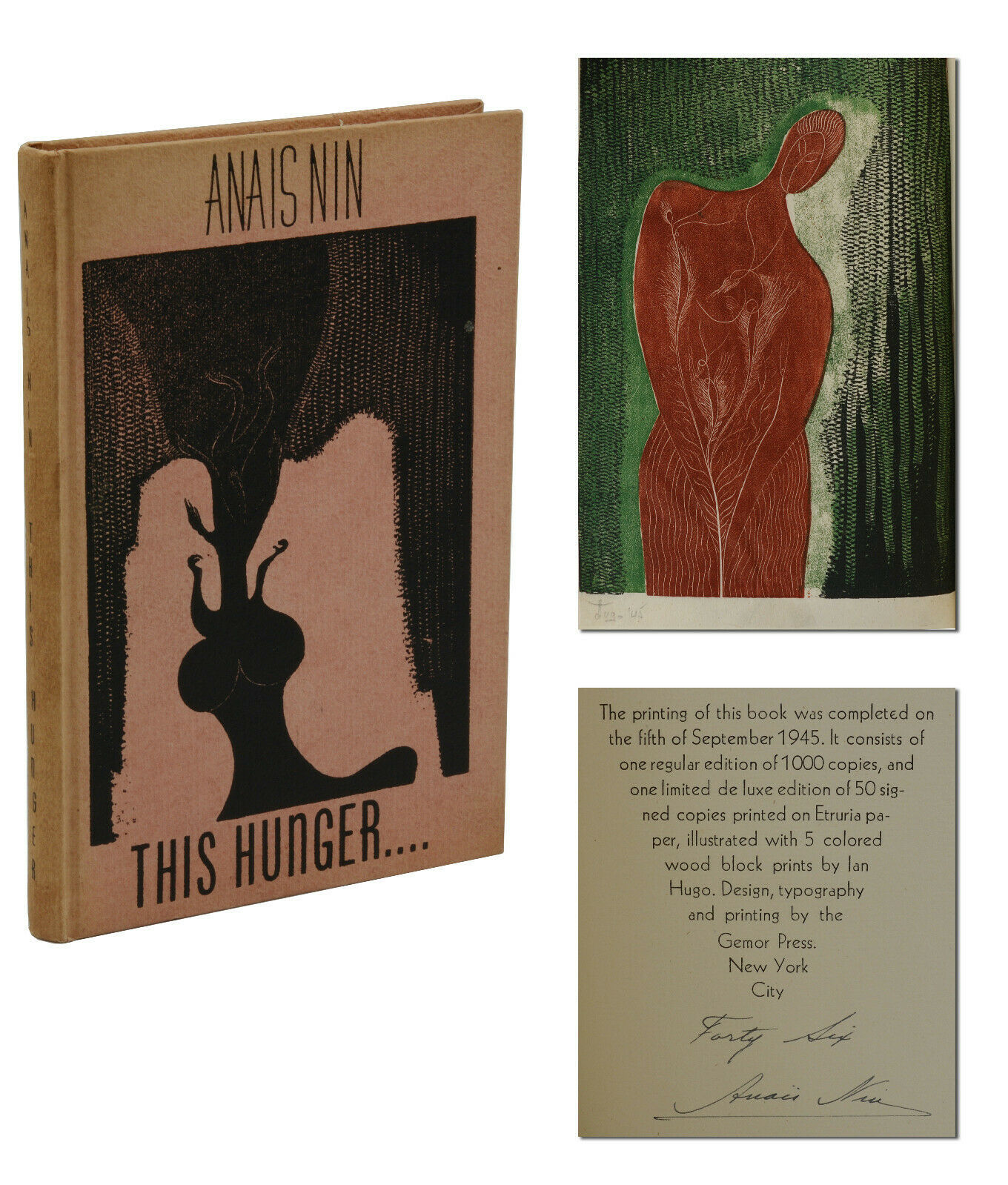 New York: Gemor Press, 1945. First Edition. Near Fine. First Edition. Deluxe edition, limited to 50 copies signed and numbered by Anais Nin at rear colophon, with five color hand-pulled woodblock prints by Ian Hugo tipped in (issued along side a regular edition with a limitation of 1,000 unsigned copies.) Publisher's pink paper covered boards printed in black on upper cover and spine. Near Fine with light soiling and light toning to covers, pages toned at edges, offsetting to pages adjacent to prints.
Offered by Burnside Rare Books.
The Underground Railroad (Signed, First Edition)
by WHITEHEAD, COLSON

Doubleday, 2016. First Edition (first printing). The sixth novel by the author of THE NICKEL BOYS and JOHN HENRY DAYS, the chronicle of a young slave's adventures as she makes a desperate bid for freedom in the antebellum South. Named as an Oprah Book Club selection and winner of both the Pulitzer Prize and the National Book Award. Also, longlisted for the Man Booker Prize in Britain. Fine/Fine but for incidental crimping at the head of the spine. Signed by Whitehead on the title page. Signed by Author. 1st Edition. Hardcover. Fine/Fine.
Offered by Bill Leone, Bookseller.
by James Joyce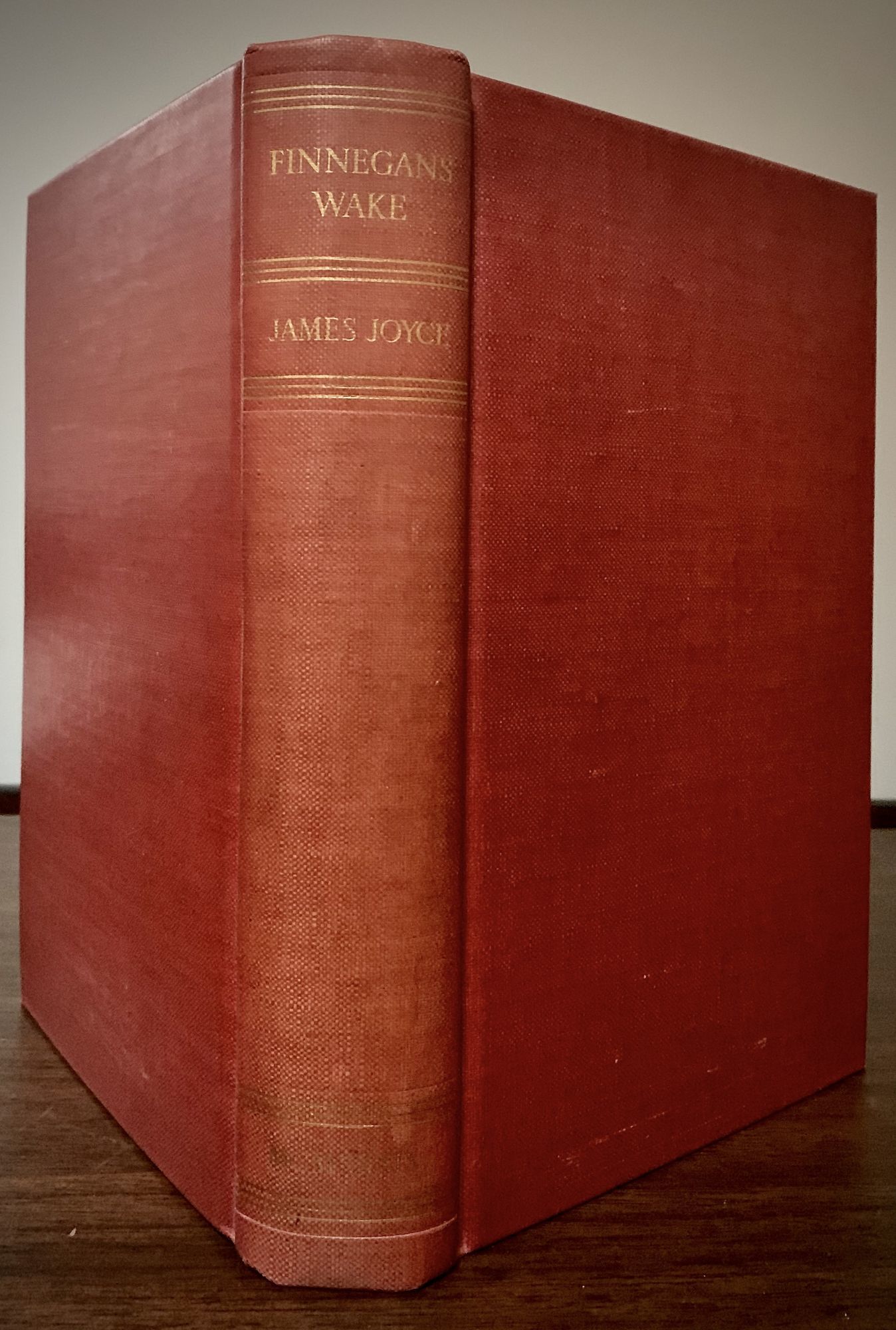 London & New York: Faber & Faber Limited & The Viking Press, 1939. First edition. Hardcover. Orig. publisher's orange/red buckram, backstrip lettered in gilt. Fine in the original yellow cloth slipcase as issued. Teg. 628 pages. 26 x 17 cm. Limited edition, copy 22 of 425 signed by James Joyce in green ink. Joyce wished to puzzle critics with his novel's plot which is not nearly as complex as the linguistic tactics he employed, and he did both. Finnegans Wake met with mixed review: some said it was unreadable, others praised Joyce for ingenuity. Joyce combined use of a number of languages with complex ironic implications to create wordplay and hidden meaning throughout this work. His polyglot idiom of puns and portmanteau words was intended to convey the relationship between the conscious and the unconscious. The density and layers of meaning have induced scholars to dedicate a good portion of their lives studying it. The critic and scholar Richard Ellman was best known for his literary biography of Joyce noted, "In his earlier books Joyce forced modern literature to accept new styles, new subject matter, new kinds of plot and characterization. In his last book (Finnegans Wake) he forced it to accept a new area of being and a new language." Connolly: The Modern Movement 87. Slocum & Cahoon A49. Slight spine fading, some minor soiling to slipcase.
Offered by Roy Young Bookseller.